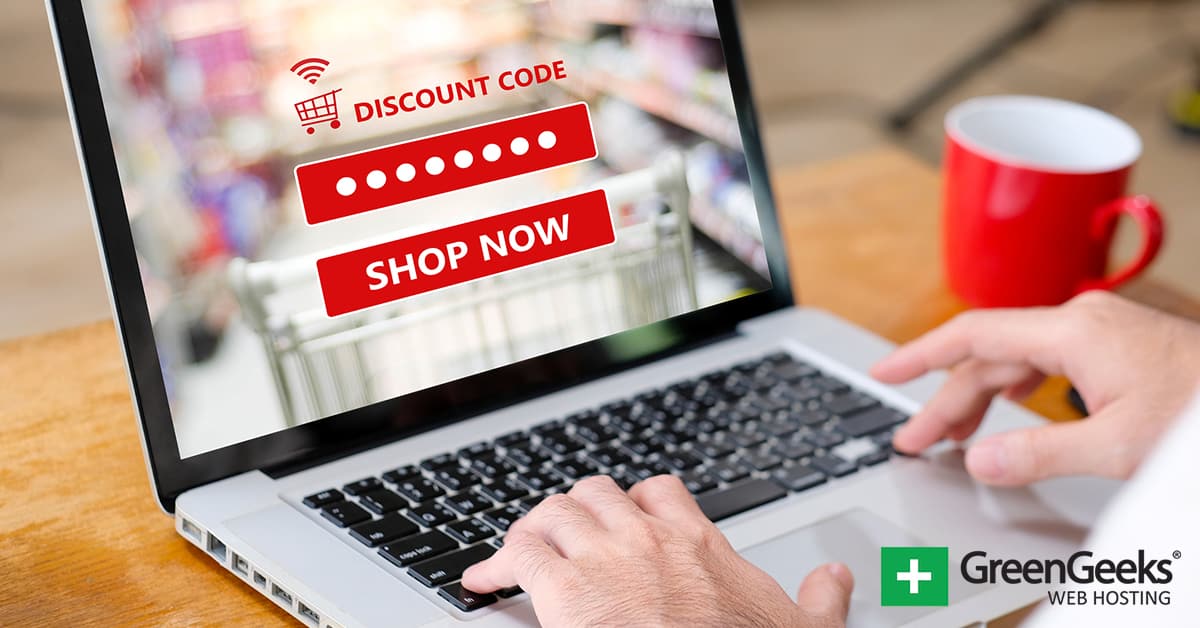 Why start a coupon blog? Because advertisers love coupons, and they'll pay you to offer them to your visitors. If you're interested in the coupon culture or only looking for a way to earn money online, look no further.
Brands love coupons because they attract new customers and drive sales. How effective are coupons? Well, 77% of us will spend $10 to $50 more than we might have when we redeem a mobile coupon. That's a lot of dollars. And when it comes to millennials, if you offer them a 30% discount, they will actually switch brands.
So it would seem that brand loyalty may soon be a thing of the past. Whether that's good or bad, that's the way a generation behaves. So, it would be foolish not to acknowledge it. By offering coupons on your website, you can benefit from that behavior.
How to Start a Coupon Blog From Scratch (Spoiler Alert: It's Easier Than You Might Think!)
If you don't have an existing blog or website, don't let that discourage you from starting one now. I promised that it would be easier than you think…let me prove it.
Secure a Home for Your Blog
That means setting up web hosting. If you don't have experience with your own webspace, it sounds like it could be a big project. But it's not. The truth is, you can be up and running in minutes.
In a move that shouldn't come as a shock, I recommend using GreenGeeks as your blog host. The support staff is smart and dedicated, and our hosting platform is optimized for WordPress (more on that in a minute).
Not only that, but GreenGeeks is powered by renewable energy. For every amp we pull from the grid, we match three times that power in the form of renewable energy via Bonneville Environmental Foundation. No other host anywhere matches that level of commitment. Your website will be "carbon-reducing" when hosted on our eco-friendly platform.
How to Set Up and Use a GreenGeeks Account
If you don't already have a domain name, it's time to choose one. GreenGeeks will give you a free .com, .net, .org, .us, .biz, or .info domain name. If your dream name isn't available, try combining two short words. Here's where your imagination comes into play.
Enter your account information and click the "Create Account & Get Started" button.
You'll receive a new account email with your username and password. Use them to log in to GreenGeeks.
Once you're logged in, click the "cPanel" button.
Now you can install WordPress with a couple of clicks.
There is no step 7. 😉 You now have a blog up and running on your own domain name.
Here's Why We'll Use WordPress for Our Coupon Blog
One of our steps was to install WordPress. I made it a step because I believe WordPress is the best option. It's established, dependable, and it has a vibrant ecosystem of themes and plugins.
Allow me to elaborate.
WordPress Is Easy to Use
You've already seen how easy it is to install WordPress. Once you poke around in it, you'll find that doing what you need to do is also easy. If you need to find information, we have over 1,000 WordPress tutorials. You should be able to find what you're looking for.
WordPress Is Perfectly Suited for a Coupon Blog
WordPress didn't invent blog software, but the developers perfected it. And through the use of plugins and widgets, it's the most flexible blog platform you can buy. Only you don't have to buy it as the platform is free.
One of the coupon sources we'll talk about provides code to display coupons in a widget area. And that's just one of the many advantages.
How WordPress Plugins and Themes Can Take Your Coupon Blog to the Next Level
Usually, when I talk about WordPress themes, I like to spotlight the free themes from wordpress.org. But a coupon blog is a specialized thing. The truth is, you'll get better results with commercial (paid) themes.
Paying $39 (or more) for a theme may seem like an unnecessary expense when there are many themes available for free. But trust me when I say you'll save way more than $39 worth of your time by buying a specialized theme.
Here are a few to consider.
Coupon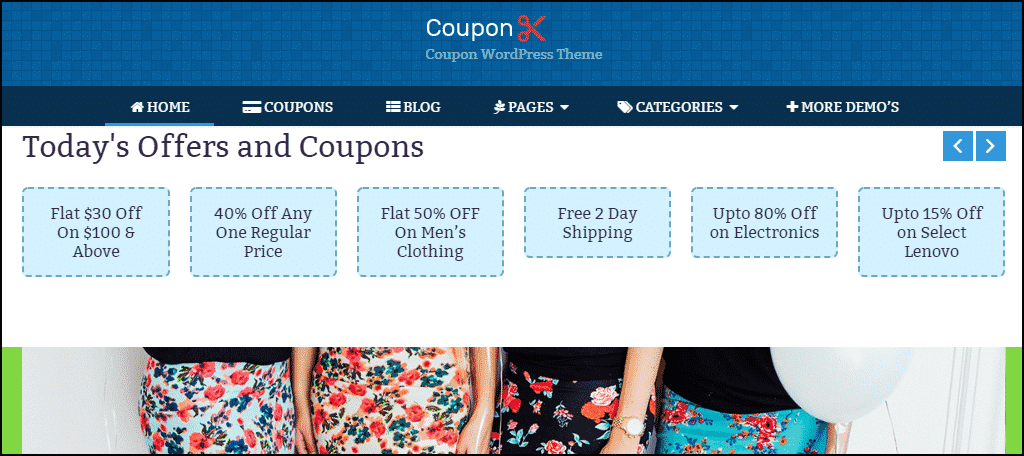 Coupon has an attractive default home page. Of course, you can switch up the appearance and still take advantage of the coupon publishing features. In fact, you can choose from six homepage layouts. It also offers video tutorials to help you get the most from the theme.
CouponXL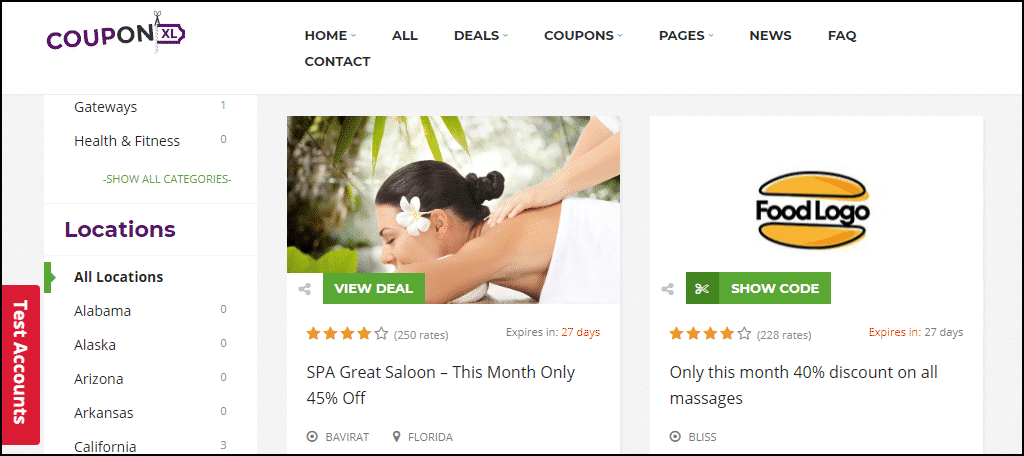 CouponXL includes a search tool that works by type or geography. The theme supports printable coupons, affiliate links, or traditional code-based discount coupons. CouponXL can accept XML files for importing deals that you get from a coupon affiliate. That feature alone will save you a lot of time.
Kupon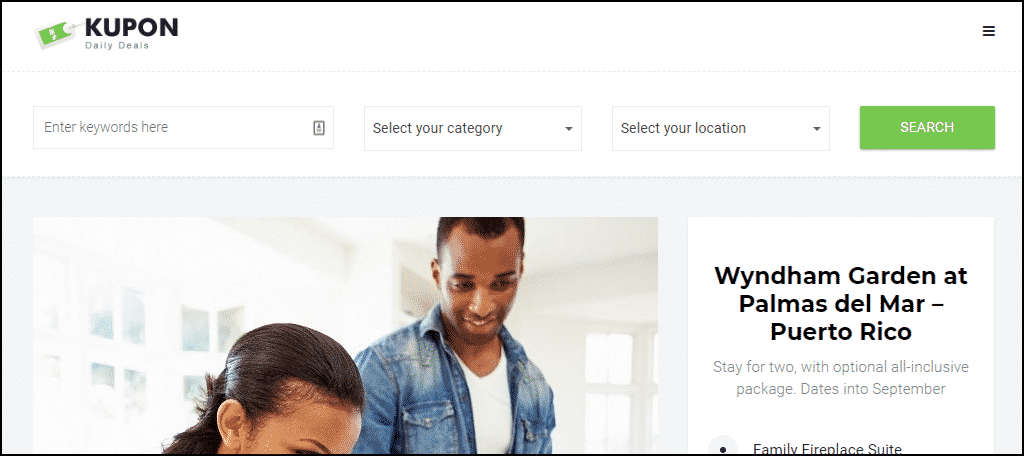 Kupon has the functionality you need to make your coupon blog a success. Sale countdowns and other custom timers can be used with Kupon to promote any time-sensitive coupons quite effectively. There are also dynamic pricing and discount tools.
WordPress Plugins for a Coupon Blog
Usually, there are half a dozen relevant plugins for any new blog project. But honestly, you don't really need any plugins for a coupon blog. The coupon affiliate networks handle most of the integration.
I'm about to talk about those networks, but first, here's a coupon plugin that you may find useful.
Affiliate Coupons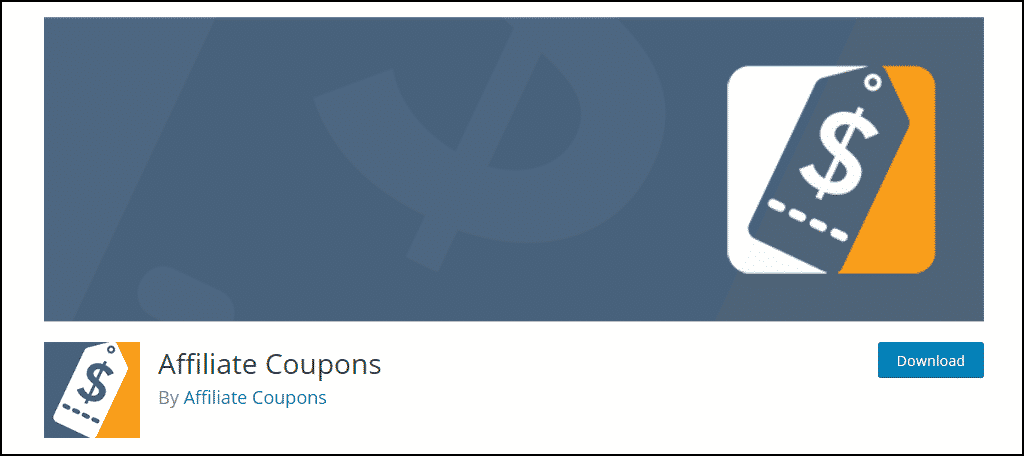 Affiliate Coupons is geared more toward creating your own coupons. And if that's something you think you'll want to do, this plugin will help you do it. We have an in-depth guide to installing and using it.
Where to Find Coupons to Offer on Your Blog
Starting a coupon blog is one thing; finding coupons to offer your visitors is another. But you don't have to scour businesses for opportunities. You can get all the coupons you need from a coupon affiliate network.
Affiliate networks pay you for sending buyers from your site to a merchant's website. Links using cookies or tracking codes let the merchant know the visitor came from your blog. If they complete a sale, you are paid a commission.
Coupon affiliate networks work in the same way. But instead of clicking a product link, your visitors click a coupon code. Then when your visitor buys, you get paid.
Here are a few coupon affiliate networks that could work for you.
Brandcaster/coupons.com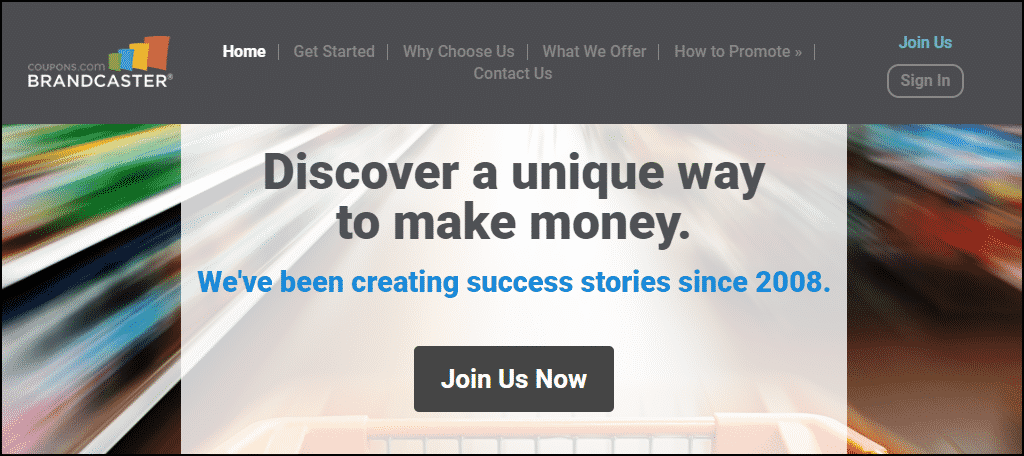 Brandcaster/coupons.com is easy to set up. (Though it's worth noting that most affiliate networks have an approval process that could take a few days.) You can add coupons.com code to a page or post on your site and create a coupon gallery instantly. It doesn't get any easier than that. They also provide coupon widgets, and you can use text links.
ShareASale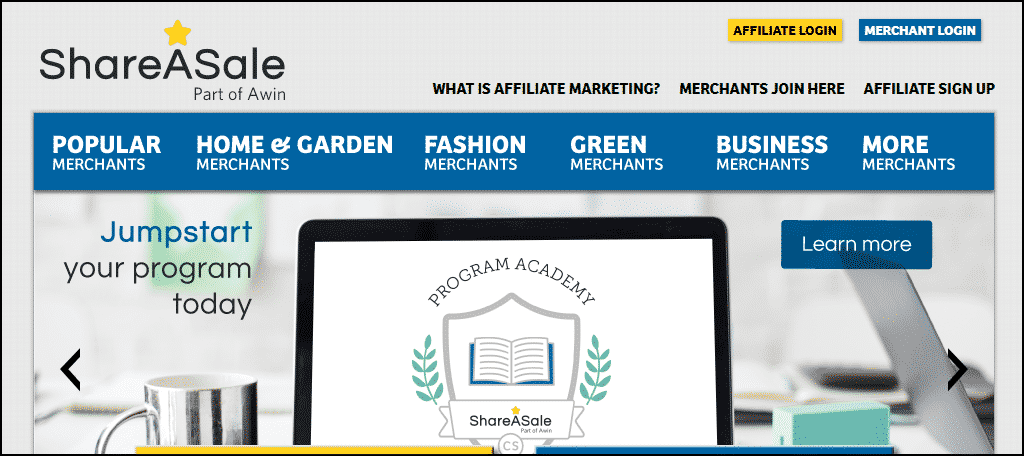 ShareASale offers affiliate programs for more than 4,500 merchants. Not all of the merchants have coupon offers, but it's the world's largest affiliate network, so there are plenty of opportunities. We're GreenGeeks, so I like ShareASale's "Green Merchants" category.
You apply to merchants individually, which can be time-consuming. But that's the way most big affiliate networks work. Luckily, the system has something for everyone. You'll find tons of products to promote.
CJ Affiliate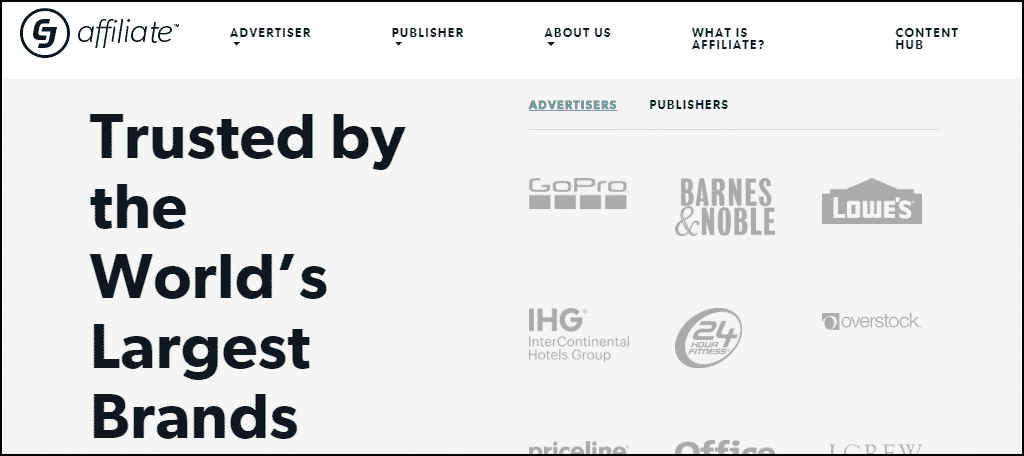 CJ Affiliate has everything from software to clothing all the way to offers from the InterContinental Hotels Group. CJ provides access to thousands of products from three thousand different merchants.
As with ShareASale, you'll apply to merchants individually. But CJ lets you apply to merchants from their dashboard. A major time-saver. If you want to sell from sites like Overstock, Lowes, Office Depot, Priceline, and GoPro, take a look at CJ.
Rakuten Marketing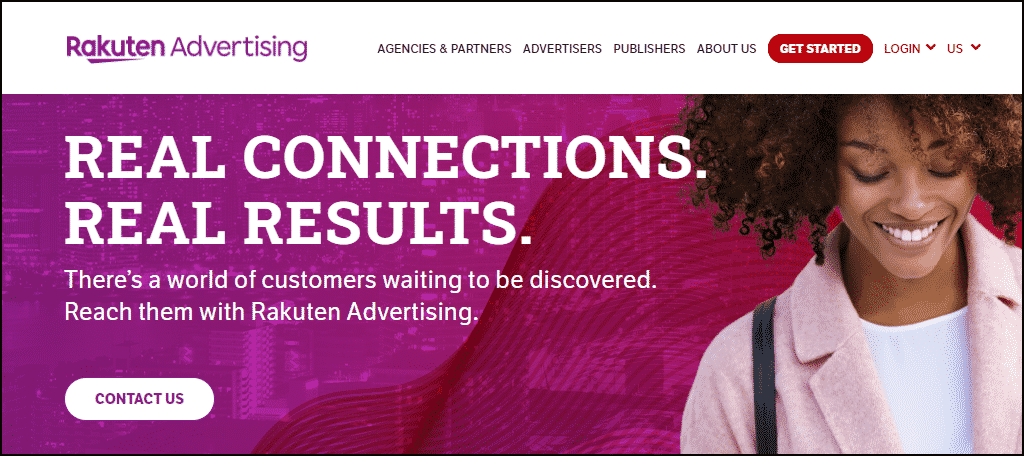 Rakuten Marketing is not a mega-network like ShareASale or CJ, but they still provide you access to just about everything. Products from major retailers like Walmart, Best Buy, Macy's, even Papa John's pizza. Rakuten also has an automatic coupon rotation feature and a data feed. You can use the data to make product comparisons.
Affiliate Disclosure
Coupon blogs are affiliate sites.
When you use affiliate links that pay a commission, you are subject to the Federal Trade Commission (FTC) affiliate disclosure guidelines. The guidelines state that anyone who receives a commission, payment, free products, or discounts in exchange for endorsing a product in any online medium is required to inform their site visitors that they are being compensated for the links.
To learn more about the guidelines, see the FTC list of answers to common questions.
How to Promote a Coupon Blog
The most successful coupon bloggers spend a lot of time getting the word out. That includes doing everything they can to attract people to their sites. Dedicating time to Search Engine Optimization (SEO). Establishing themselves as authorities in certain areas (even if that area is couponing).
Building an audience is critical. You'll earn a lot more from 10,000 visitors than you will from 10. That's just the mathematical reality. The best way to get those 10,000 visitors is to consistently post content that's useful. Then let people know about it via social media.
Open social media accounts for your coupon and post deals on them frequently. You may eventually find that one site works better for you, but start with as many as you can manage. You can get rid of the non-performers as you go.
You can use social media tools that automate much of the process and make management far easier.
It's Time to Clip This Article
But before I go, I know I mentioned you'll make more money with 10,000 visitors than 10. But that doesn't mean your coupon site can't earn money without tens of thousands of visitors.
It can. The majority of coupon or affiliate sites earn smaller sums for larger numbers of people.
And even the largest coupon blogs and websites had to start somewhere. There's no reason you can't join their ranks if you're persistent and motivated. And I know you're both.
I can feel it.
Now that you know how to make a coupon website, let us know about your experience in the comments.