The purpose of using a content management system is to make creating articles and web pages easier. WordPress is one such system and one of the most popular platforms on the Internet. Thanks to things like installing themes and plugins, almost anyone can create a professional-looking post or page.
Managing a WordPress site is relatively straightforward. You don't need any programming knowledge to create an amazing website. Because WordPress is so user-friendly, most of the elements are easy to understand.
In this tutorial, I'm going to show you how to create these WordPress posts and pages and the difference between the two.
Note: A new block editor was introduced in WordPress 5. This tutorial uses the previous WYSIWYG editor.
What is the Difference Between a Post and a Page?
Perhaps the easiest way to think of a post and page in WordPress is like this:
A Page is usually reserved for static content.
Things like your About Us, Contact, Terms of Service, Privacy Policy, and other things that stay the same are best as pages. They don't have categories and are best suited for stand-alone elements. You'd want to use pages in your navigation menu to bring attention to those important aspects.
A Post is the bulk of your content.
When you publish an article, such as a tutorial or news piece, it's often going to be a post. You can also connect posts together using things like tags and categories, which pages do not have.
When it comes to being searched in sites like Google, about 99.99% of the time, it'll be through your WordPress post, not a page.
So, your pages are the ultimately important parts of your website that you absolutely need, while posts are the articles you write.
Now, you do not need to create a page to have a successful website. In fact, I've seen many where the only page on the site was a pricing table. However, you'll want posts as your content to drive in visitors.
And I would highly suggest creating About and Contact pages when building your website. Mostly, this is because of Google's EAT system: Expertise, Authority, Trustworthiness. When you have an About and Contact page, it improves how Google ranks your website in search.
Something else to keep in mind is how WordPress will handle a post and page. Because of how the system is designed, it will adjust where to show content based on the type.
For instance, if you accidentally created a page as an article such as a news piece, it may not show correctly on your website. That's because the default function of WordPress is to show the most recent post first. If it's a page, the content will not appear.
Creating a WordPress Post
A post is the bread-and-butter of the WordPress website. It's the method in which you will create most of your content. Think of posts as articles, as I mentioned above.
It's incredibly easy to get started writing content in WordPress. It literally takes a few seconds to start a new post and save a draft.
From the WordPress dashboard, go to Posts and click, "Add New."
In the "Add New Post" screen, you'll see the WordPress editor. It's from here that you will create your piece of content. First, you will give your post a title.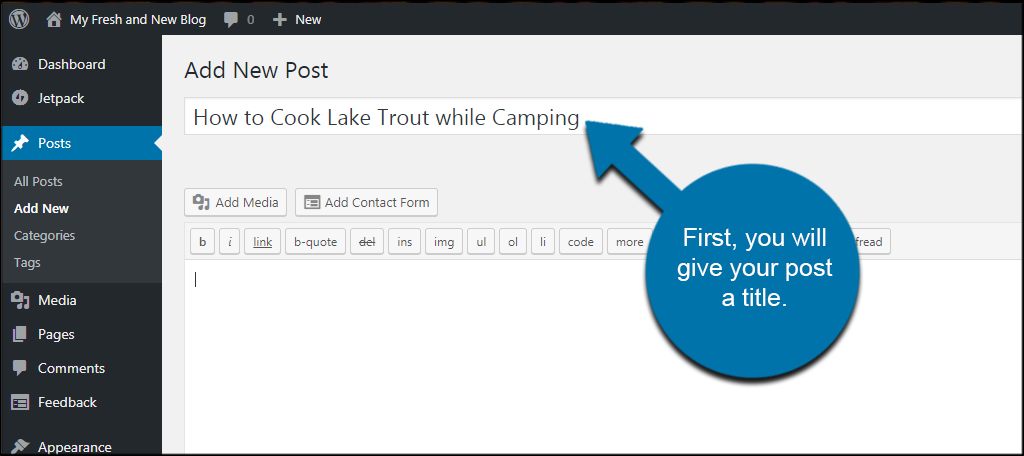 The system will automatically build the permalink for you, which is the URL of where your post will be located on the Internet.
Then, write the content related to the title and topic.
Now, you have two ways you can save your article: Save Draft and Publish. Click "Save Draft" to save your work without showing it on the website. This gives you a chance to come back to the article at a later time to finish writing before it goes live.
When you're ready to show your post to the world, click the "Publish" button on the right side of the screen. WordPress will then do the rest of the work to make sure your article is posted on the website.
Once you get the hang of the system, it doesn't hurt to learn the hierarchy of WordPress categories. It can help you keep the content organized and easy to find.
The above was done using the Classic Editor for WordPress. However, the steps to start a new page are identical in the newer Gutenberg Editor. You just click "Post" and then, "Add New."
Creating WordPress Pages
Pages are a bit different than posts. While the post is something that helps drive the content of your website, pages are more static. For example, the Contact Us, About and FAQs are pieces of content that don't move or change, as I stated above.
They remain stationary and usually part of the navigation menu.
In the left column of WordPress, go to Pages and click, "Add New."
Like the post, give the page a new title. For this example, I am going to make a quick "About" page.
Add in your content for the new page. Since this is "About," I would want to add information about my website, company or even myself. It all depends on the purpose of the site.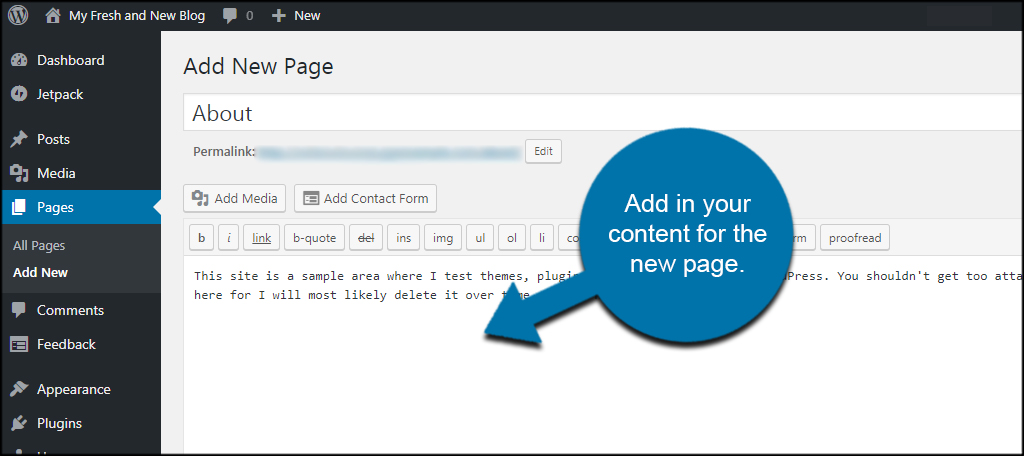 Pages can also be saved as drafts just like posts. This can be useful if you need time to perfect it before allowing everyone to read the material. Once you're ready to go live, click the "Publish" button to add the page to your site.
Like posts from earlier, this tutorial featured using the Classic Editor. And like posts, the beginning steps are the same. Just click on "Pages" and then, "Add New."
Just remember that your post and page are completely different elements. WordPress will handle them accordingly.
When you feel comfortable creating a post or page in WordPress, you may want to design custom menus. This lets you rearrange your navigation menu and customize its appearance.
That's the basics of creating pages and posts in WordPress. These are the two default methods for creating content in the system. However, more advanced options, plugins, and tools give you access to custom post types to accentuate your site even further.
The Post and Page are the Beginnings of Your Website
Writing content and publishing are probably two of the easiest things to do in WordPress. Before you know it, you'll be adding SEO tools like Yoast and finding new themes that work better for your site. But attracting guests begins with creating good content. Keep publishing and give people a reason to visit your website.
What kind of tools do you look forward to using in WordPress? How often do you share your posts or pages on social media to attract visitors?