Webmail is the free system that most people can use to access their email from cPanel. It comes with a couple of basic editor systems which allow you to read and send messages.
Although these tools aren't as elaborate as say, Outlook, it's a quick alternative that gives you a web-based method to operate email.
Today, I'm going to show you how to use Webmail from cPanel. There are a couple of different methods, and I'll go over each one briefly.
Along with accessing your webmail through cPanel, I am also going to touch on how to access webmail through your address bar and how to access it through port addressing.
For the most part, it's all self-explanatory.
Let's go ahead and dig in and see how far we can get together.
What is Webmail?
Simply put, webmail is web-based email accounts. More often than not, they are free email accounts that are accessed and operated from a website. A solid example of this is Gmail and Yahoo Mail.
However, you can also have webmail within your cPanel inside your web host account. This particular webmail is attached to the domain name you are running, making your email more professional-looking when needed.
Basically, webmail allows a user to access all of their emails as long as they have access to an Internet connection and a web browser. Webmail also means that a user is unable to read emails or draft new messages offline.
The user has to be inside the webmail portal to gain access to all functionality.
Within cPanel areas, webmail is usually made possible by webmail software like RoundCube, SquirrelMail, or Horde, which is installed and running on the server.
As mentioned above, you can't read or draft new messages without an Internet connection. However, this is also the main advantage of webmail over a desktop email client.
You can send and receive emails anywhere there is a connection. So it works as a catch-22.
cPanel is actually an online Linux-based graphical user interface (GUI). It is basically used as an interface to control and simplify all aspects of website and server management.
cPanel allows you to do all sorts of things and provides you with a ton of functionality. Some of the main features include:
Publish Websites
Manage Domains
Organize Web Files
Create Email Accounts
Add Sub Domains and Add-on Domains
Provides You With Softaculous
It basically gives you all the tools you need to fully manage websites and everything attached to them. At this point, cPanel is one of the most popular control panels in the United States.
Many web hosting companies, including GreenGeeks, provide their customers with a cPanel dashboard as part of the hosting package they choose.
cPanel basically has two interfaces.
A user interface called cPanel.
A server management interface called Web Host Manager (WHM)
The above combination allows for both users to easily manage their websites while allowing hosting providers the tools to manage the server.
A lot of people think that cPanel is free. It is in fact not free, but since most hosting providers include it, it makes it seem that way. In case you are wondering about privacy, cPanel is indeed private.
Just keep your username and password safe and secure.
How to Use Webmail
Today we are going to look at 2 ways you can use webmail. The first is directly through the cPanel and the second is by using the address bar.
While both of these will give you the same results, using the address bar is quicker and simpler.
That said, let's start with the cPanel approach.
Method 1: cPanel Approach
Step 1: Log in to cPanel
There are actually a couple of different ways you can log in to cPanel. You can use the address bar in whatever browser you are using and type in your website address name followed by a colon and 2083.
The login URL for cPanel to access webmail would look like this:

https://nameofyoursite.com:2083

Or, if you are a GreenGeeks customer you can access your cPanel by logging into your GreenGeeks Account Manager.
Either way, this gets you to the access point you need to be in to go ahead and start using webmail from cPanel. Let's take a look at how to do that now.
Step 2: Using Webmail from cPanel
From the cPanel dashboard, scroll down and click the "Email Accounts" tool. You probably accessed this before when creating a new email account.
Find the email account you wish to open. Click the "More" button on the right and select, "Access Webmail."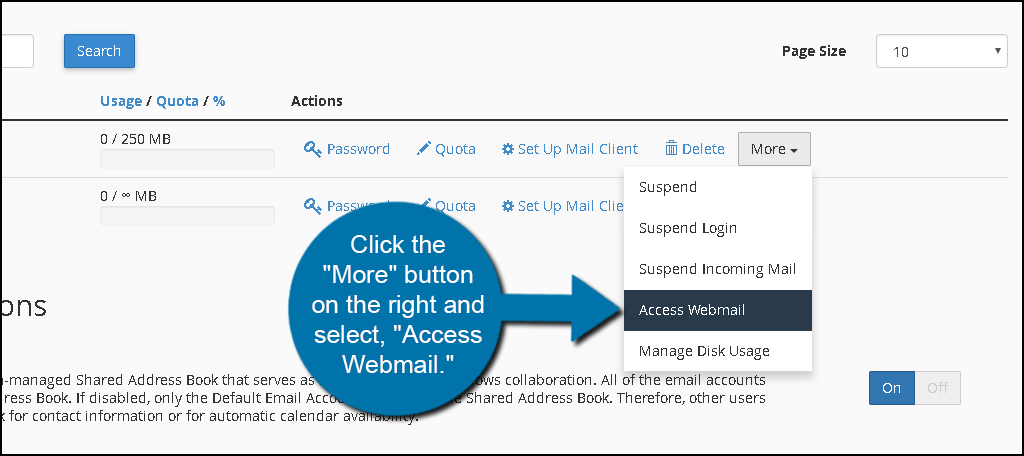 A new tab will open where you can select Horde, Roundcube, or Squirrelmail. Each of these are basic brands of email readers. Choose which one you want and log into the email account.
For instance, you could click on the Roundcube option from cPanel to launch its webmail login.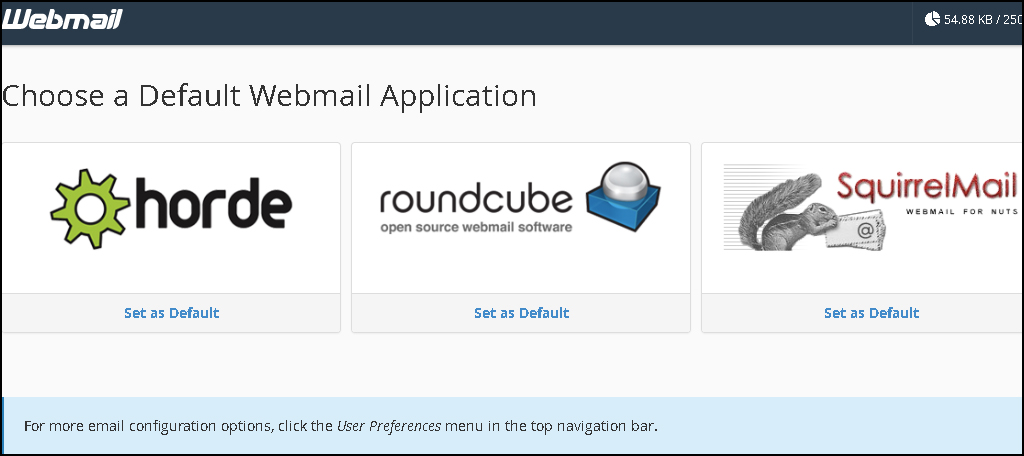 Method 2: Access Webmail from the Address Bar
Another method to access Webmail is by using the address bar of your browser. By default, cPanel will assign Webmail to operate as an extension of your domain.
Enter this into your address bar to open the system (replace "ggexample.com" with your domain):
http://webmail.ggexample.com/
If you use an SSL certificate attached to your website, you'll want to use this instead:

https://webmail.ggexample.com/

This will open the login screen of Webmail. Enter the address and password of the account you want to access and choose a default mail app if you haven't already.
In this case, I've accessed the page from cPanel for the Webmail login. All I would need is my email address and password.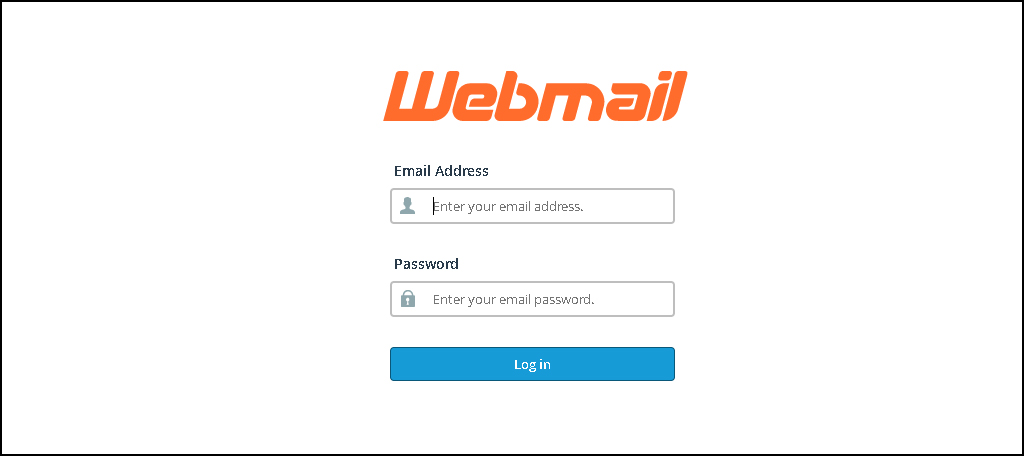 To speed up this process, I recommend bookmarking the URL link. This will enable you to just click on the bookmark and get to your webmail. Just keep in mind you will always have to log in.
Using Port Addressing
You can also access Webmail by inserting the port number of your site. Here are the defaults for both SSL-protected sites and regular domains:
SSL – https://ggexample.com:2096
Non SSL – https://ggexample.com:2095
In reality, it may be easier to access your Webmail using the address I showed earlier as opposed to ports. Sometimes ISPs will block access to these to combat spamming.
Multiple Ways to Access
There are plenty of ways you can access email from your website. Whether you're going directly to Webmail or using applications like Outlook or Thunderbird, you're always able to send and receive messages.
Using this web-based app merely gives you the ability to stay connected to your messages no matter where you are as long as you have access to the Internet.
Webmail vs Email Clients?
Again, there is really no wrong answer here. Both webmail and email clients have pros and cons. See, webmail's main problems include security, adverts, and more limited storage space.
Whereas the main problems with an email client include system updates, accessing email on multiple computers, and backup.
Either way, you go, you will have to deal with issues, but both are also very good and acceptable ways to handle email.
Things to Know About Using Webmail in cPanel
Is cPanel Email Secure?
cPanel allows you to encrypt email messages, which makes it one of the securest ways to send messages. The encryption uses a public key and only the intended viewer will have access to that key.
If you are concerned about email security, set up cPanel email encryption today.
That said, it is worth mentioning that you should only access your cPanel from a trusted computer. Otherwise, you may compromise your entire account, but to be honest, this is true for just about anything nowadays.
How Do I Change My Email Password in cPanel?
It is a good policy to change your password every six months and luckily, this is pretty easy to do in cPanel. It can be done in just four easy steps:
Log into cPanel and click on Email Accounts.
Find the email account and click on the "Manage" button.
In the Security section, enter a new password.
Click on the "Update Email Settings" button to finish.
It should take less than a minute to do and can help protect your account.
Can I View Webmail on My Smartphone?
Viewing and managing emails has become one of the most popular uses for smartphones, so you better believe you can use webmail on your mobile device. However, if you are looking for a dedicated app, then it doesn't exist.
Instead, you can set up the mail app that comes on your mobile device to receive and send emails for webmail. The process is slightly different depending on the app you use, so please refer to the information they provide.
Can I View Webmail in Microsoft Outlook?
Just like on your smartphone, Microsoft Outlook and other email clients can be set up to receive and send emails via webmail. The settings change depending on the tool you use, but it mostly just includes entering the port data.
This is a great way to view multiple email accounts in one place, and you may probably have access to Outlook through your Office subscription.
Can I block the Ads in Webmail?
If you are using Google Chrome, you can block ads by installing the Webmail Ad Blocker extension. This will fully block the ads you may encounter. Other browsers will have a similar tool you can use.
Final Thoughts
Webmail has been around for some time, and there are a lot of people that use it. Accessing your webmail from cPanel is not difficult, you just have to know where to log in and where to start.
You should have a much better understanding of what webmail is now, as well as what cPanel is, and how they work together. With this information and using the steps above, it should not be difficult for you at all to access and use your webmail through cPanel.
I hope the above tutorial gave you a simple rundown of how you can easily use webmail in cPanel when needed. Enjoy your webmail experience and be sure to contact us here at GreenGeeks if you run into any issues inside your account.