There are many things that need to come together on a website in order for it to rank high in searches. That being said, perhaps the most important thing you can have in place is proper SEO layout and structure. There are several tools that can help you with the process, including BoldGrid Easy SEO, which I will show you how to use in this article.
What is SEO?
SEO (Search Engine Optimization) is the art of optimizing a site or a web page in order to increase not only the quantity of traffic but also the quality of traffic a website receives from search engine queries.
Remember, there are all sorts of things you can do in order to get your site ranking high in search engines. However, SEO and proper keywords in WordPress help you rank organically. This is the most attractive way to rank, as it means your site is moving up without having to advertise.
Let's take a look at the WordPress SEO plugin we are going to use today in order to help website SEO and boost site rank higher organically.
BoldGrid Easy SEO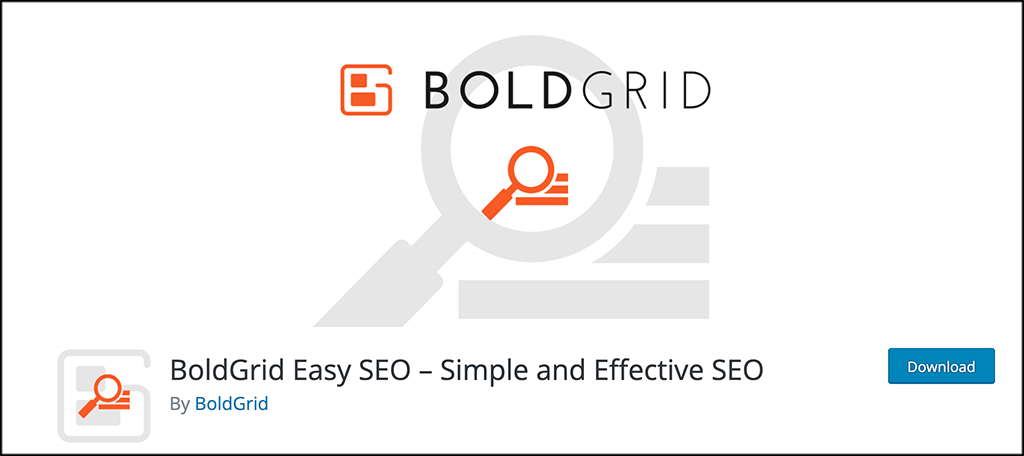 BoldGrid Easy SEO is a WordPress plugin that can help you create better content on the fly. The plugin looks at all your content in real-time and makes suggestions as you go through the creation process.
These suggestions work to not only create more searchable and better ranking content but also to make sure that you follow all SEO best practices when creating that material.
The plugin is lightweight, easy to use, and will not slow your website. You simply add a target keyword or key phrase to a post or page, and BoldGrid Easy SEO automatically gives you easy to follow suggestions on improving the overall structure.
This is a very powerful tool that can really help bump your website up in search rankings if used properly. The plugin comes packed with help and will allow you to improve SEO across a number of standards. Some of these include:
Optimal Keyword Density
Page Title and Descriptions
Header Tags and Content
Content-Length
Search Engine Indexing
Follow / No-Follow Links
Canonical URLs
If you are looking for a simple to use, yet powerful plugin that can help build SEO content in WordPress, then BoldGrid SEO is right up your alley.
Let's get the plugin running and go over how to write better content.
How to Use BoldGrid Easy SEO to Write Better Content
Step 1: Install and Activate the Plugin
In order to start building keywords in WordPress and adjust on-page SEO content, you first need to install and activate the plugin. You can do this by heading over to the Plugins page in the WordPress admin dashboard.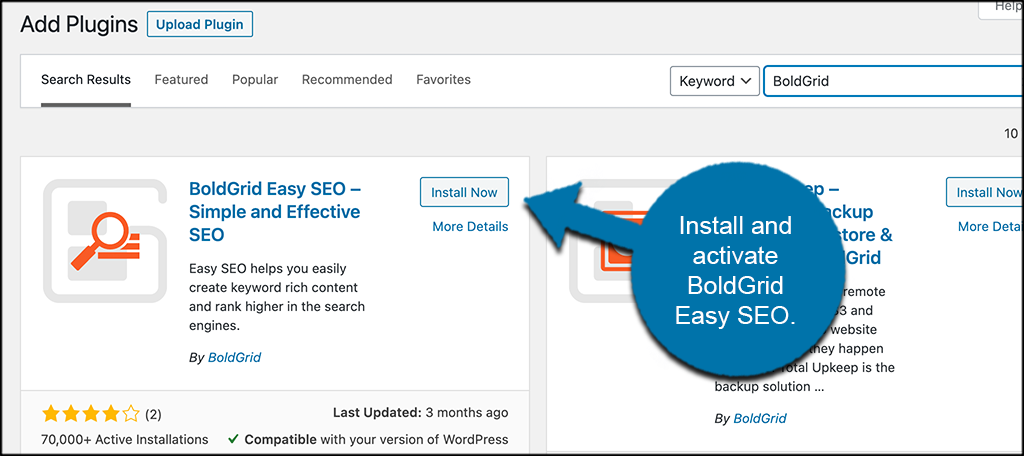 Simply use the search field that is provided to look for the plugin by name. When you see it pop up, install and activate it right from there.
Step 2: Go to the Posts Section
There are no settings to configure in the plugin. Once it is activated, it creates SEO tools that automatically show up in all your posts and pages. So, you can either open up an existing post and work on it or create a new article go from there.
Today, I am simply creating a new post to show you the available tools. Click on Posts > Add New, located on the left side menu area of the dashboard.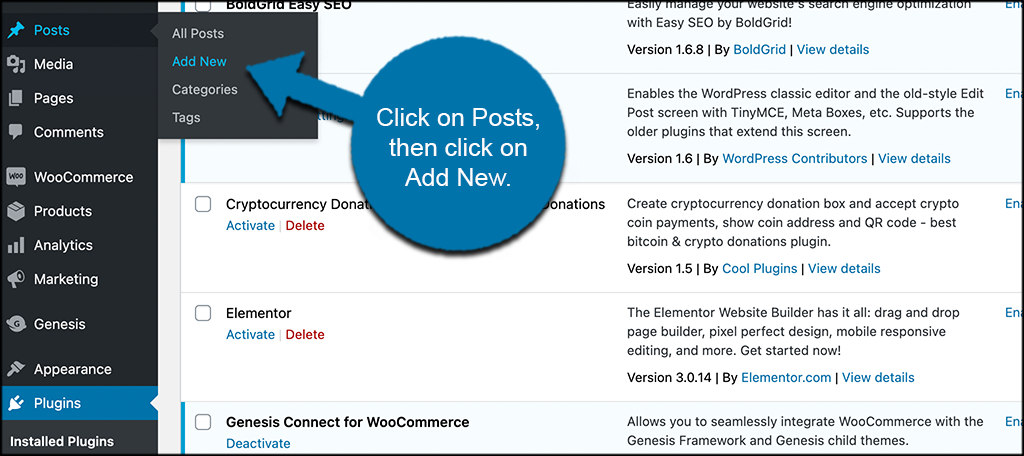 This opens up the post editor in your WordPress website. 
Step 3: Add a Title and Content to Your Post
Different people like to build around SEO in different ways. For this tutorial, let's go ahead and add a title and all the content you want to the current post.
Once all your content is in place, we can move forward to all the tools that BoldGrid SEO provides below the post.
Step 4: Scroll Down to the Easy SEO Box
Go ahead and scroll down until you see the Easy SEO box to see all of the configurations options.
You can see there are three main sections to go through to make sure the buttons are green for many different SEO standards. These sections include:
Keyword Phrase
Title & Description
Search Visibility
Each section provides numerous tips and suggestions on what to do to create better on-page SEO content.
Step 5: Add a Keyword Phrase
Go ahead and add a keyword or keyword phrase for your content. Below that, you see a number of suggestions on things to do to build up your SEO. The idea is to get all (or most) of those buttons to turn green.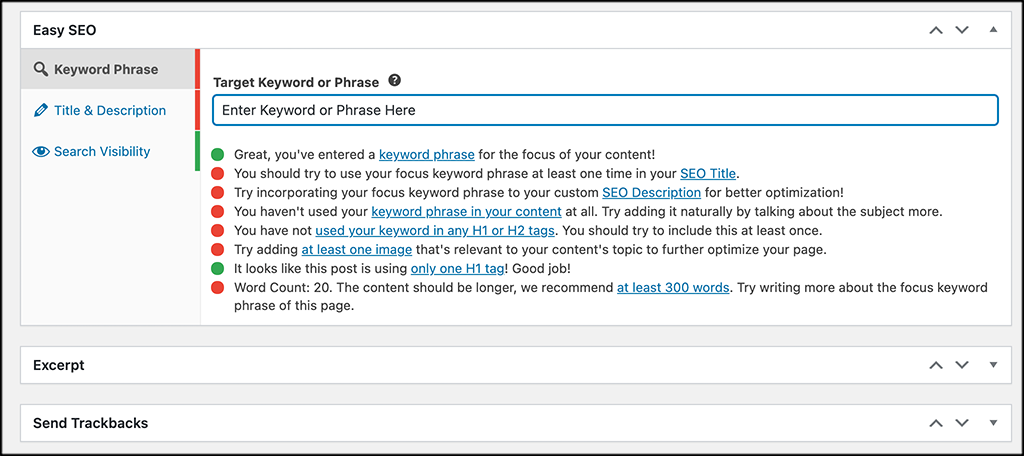 Step 6: Add SEO Title and Description
Now, click on the "Title & Description" section and go ahead and plug in an "SEO Title" and "SEO Description" for the content.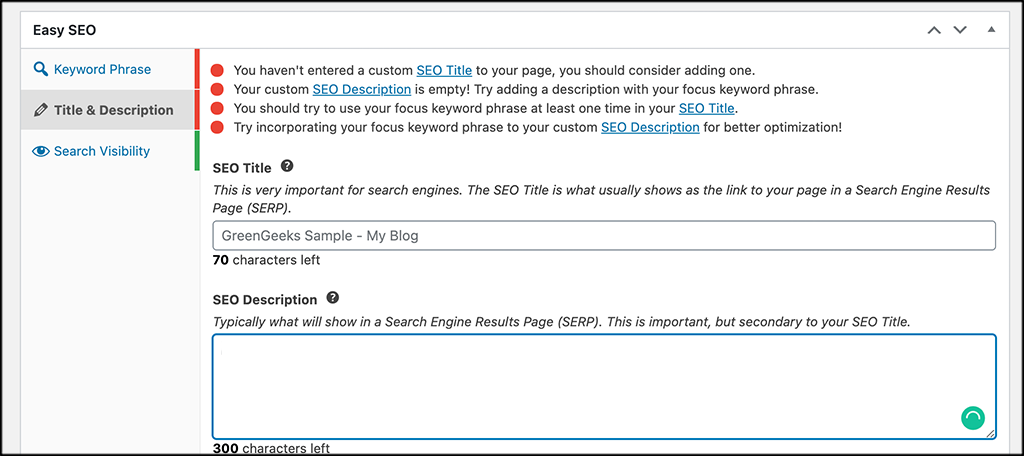 Again, get all the dots green for the best optimization. The SEO title and description you choose is what will actually show in search engines.
Step 7: Adjust Search Visibility Accordingly
The last section of the BoldGrid Easy SEO plugin allows you to adjust search visibility according to your needs.
You can adjust indexing and follow here, as well as let search engines know if another page should be indexed in place of this one. Go ahead and make your choices.
That's it! Once you feel you have the on-page SEO exactly how you want it, then preview the content and publish.
Complete the steps above for all your content, and before you know it, your website will start being ranked higher organically in search engines.
How Does SEO Work?
Now that you have a solid WordPress SEO plugin to help guide you through on-page optimization, it may be important to know exactly how SEO actually works.
Simply put, SEO works by trying to demonstrate to search engines that your content is the best result for the topic searched. In other words, SEO wants to show search engines that your content is not only good but also high-quality and authoritative.
Performing on-page SEO and overall website SEO plays a huge part in this. That's why it is important to not only have a good SEO structure but to also optimize your WordPress website in a number of ways. Speed, images, content, and structure all work together to help a site rank high when certain search engine results are returned.
Final Thoughts
There are a lot of really great SEO plugins and other tools out there to help you build a solid, content driven website. That being said, sometimes they can be difficult to find, and then difficult to understand because of the complexities surrounding SEO.
But, don't fret. Use this guide and the BoldGrid Easy SEO plugin to help you get your website SEO where it needs to be. The process does not have to be difficult when you have instructions and examples in front of you.
I hope this article was able to show you how easy it is to build good on-page SEO using the Easy SEO plugin.
Have you ever tried building proper SEO structure on a site without a plugin? Do you use a different plugin to help with SEO?