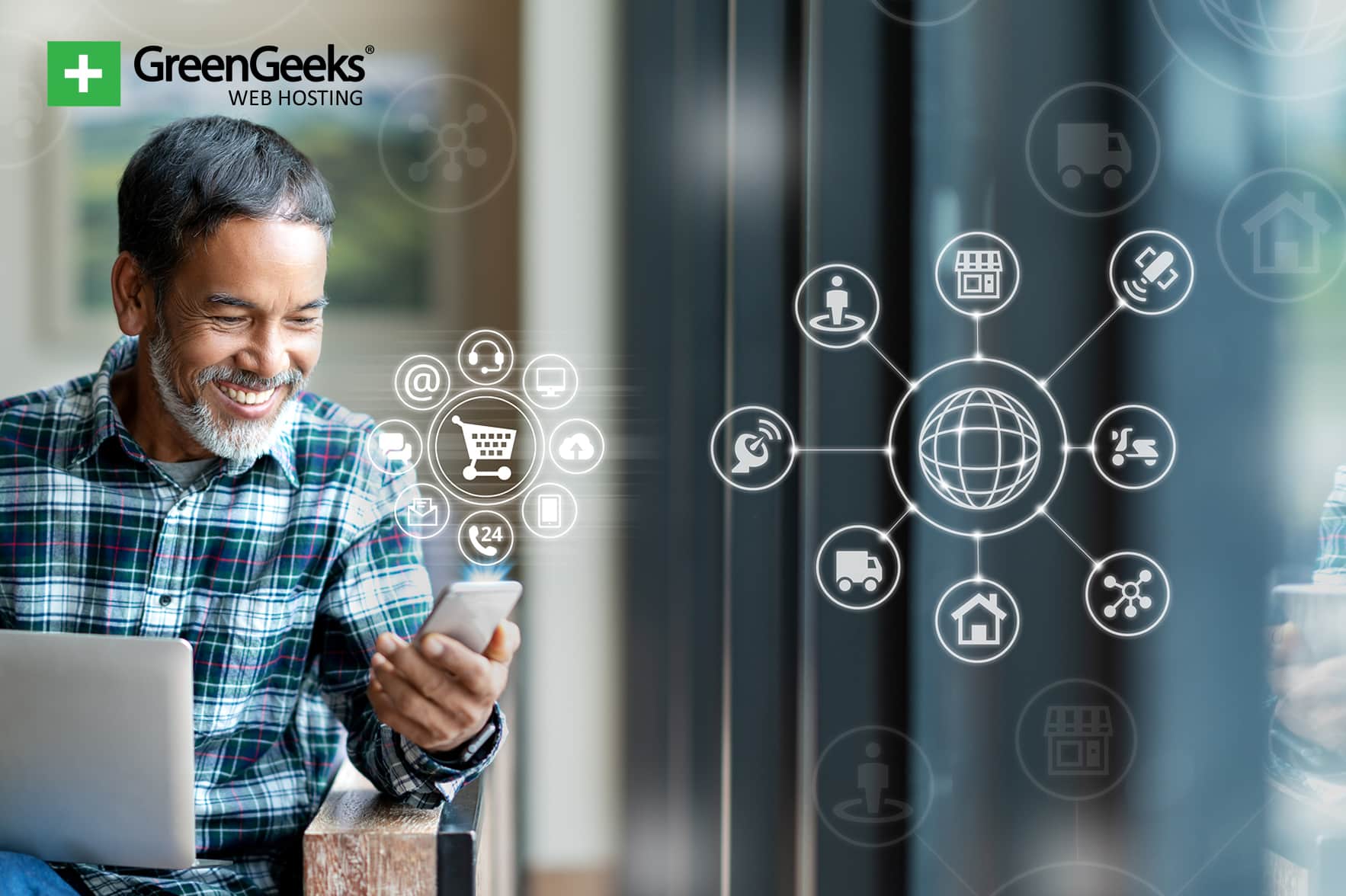 Before the Internet, it was much easier to keep track of contacts and customer information. Now, because we can connect on such a vast level, it can be much more difficult to manage contacts and customer data. This is where CRM apps come into play. Let's take a look at what these are and some of the best CRMs for small businesses.
If you own a small business, there are several things you have to be aware of when it comes to customer retention strategies. Marketing and social media presence are on the top of that list.
But so is customer relationship management. New CRM apps are popping up all the time, and figuring out what the best ones are and why you may need them can be difficult.
You want a simple CRM for small businesses, but you also want a tool that is easy to understand, easy to use, and easy to access. As there are a lot of different ones available, we are going to take a look at some of the best CRM tools for startups.
What is CRM?
A CRM, Customer Relationship Management, is a technology for managing all your company's relationships and interactions with current and potential customers. Small businesses are usually interested in this for one main reason; to improve business relationships.
CRMs also help you automate processes, which will save you time and money.
These apps help companies stay connected to customers, streamline workflow, and improve profitability. All of which is important for a small business that is growing.
When you hear someone talk about CRMs or CRM apps, they are referring to a tool that helps them with contact management, sales management, productivity, and more. The very best CRM for small business will also streamline a lot more for you including:
Customer Relationships
Customer Service
Supplier Relationships
B2B Relationships
There are literally hundreds of CRM apps out there. Pricing ranges from free to thousands of dollars, depending on what you are looking for. To help you sift through all of these, I have put together a list of the best CRMs for small businesses. This will, at the very least, give you a place to start looking.
Now that we have a little information about CRM apps and what they do, let's take a look at 15 of the best CRM for small businesses.
Best CRM Apps for Small Businesses
Zoho has come a long way the past few years since offering an email service. They now deliver one of the best CRM tools for small businesses. Zia, the conversational AI from Zoho, is the AI-powered sales assistant for any customer information you need from your CRM system.
Zoho has a multi-channel CRM that includes:
Email
Live Chat
Telephony
Social Media
It also provides you with detailed analytics and a blueprint of everything. Furthermore, you can also integrate the Zoho sales CRM system with popular business apps, so you are covered in every area imaginable.
If you have been researching for a management tool, then you have probably heard of HubSpot CRM. The HubSpot CRM app offers everything you need to organize and track customer leads. Perhaps the most attractive thing about HubSpot is that it is free.
With tons of automated tasks, less data entry for you means more time to spend getting to know those leads. Interactions are tracked automatically and deals are displayed on one dashboard for total visibility without added work.
HubSpot allows you to have up to 1,000,000 contacts, users, and storage without any expiration date for free. It's definitely worth checking out if you are looking for a simple CRM for small businesses.
They also have a solid social media networking tool.
Insightly has actually been voted one of the top choices when it comes to the best CRM for small businesses. They have a user interface that is simple to navigate and very easy to understand. This is a particularly attractive feature for someone who is new to the world of CRM apps.
As with any CRM system, there is a downfall of using Insightly. They do not provide you with custom reports or dashboards. However, many will look past this because the tool has such solid reviews and rankings.
For sales relationships, projects, and integrations, Insightly is definitely one of the best CRM apps you will find on the market today.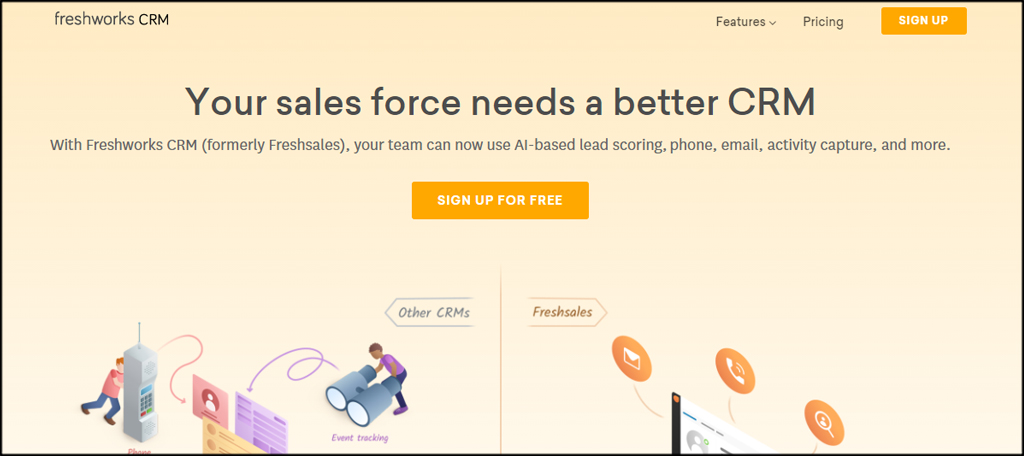 Freshworks provides a robust CRM system with AI-based lead scoring, built-in phone, email, activity capture, and much more. They claim to have over 40,000 customers, so we know they are solid and have a large base.
They have excellent reviews and provide you with a lot of features including:
Built-In Phone & Email
Sales Leads
Intuitive Sales Pipeline
With three affordable plans to choose from, Freshworks is perfect for just about any size business.
Salesflare is perfect for small businesses because it gives them all the tools they need to be more relevant in a B2B world. Their platform is right up there with anyone else's. Not sure? Book a free demo to check everything out first before making a decision.
Set up of the platform is straightforward and easy. They have an intuitive interface that is cloud-based and easy-to-use. You won't need too many technical skills to work the program, and neither will any other users that you assign to it.
As a matter of fact, many people will argue that this is actually the best CRM platform out there. They are second-to-none when it comes to pipeline, automation, and integrations. Some other features and aspects of Slaesflare CRM you will enjoy include:
Easy Integrations
Simple Set-Up
Intuitive Interface
Powerful Data Automation
Excellent Customer Support
Simple Yet Powerful
Email Automation
Sales Automation
Link Tracking
All-in-all, you will be hard-pressed to find a better CRM platform for small businesses than Salesflare so give them a look.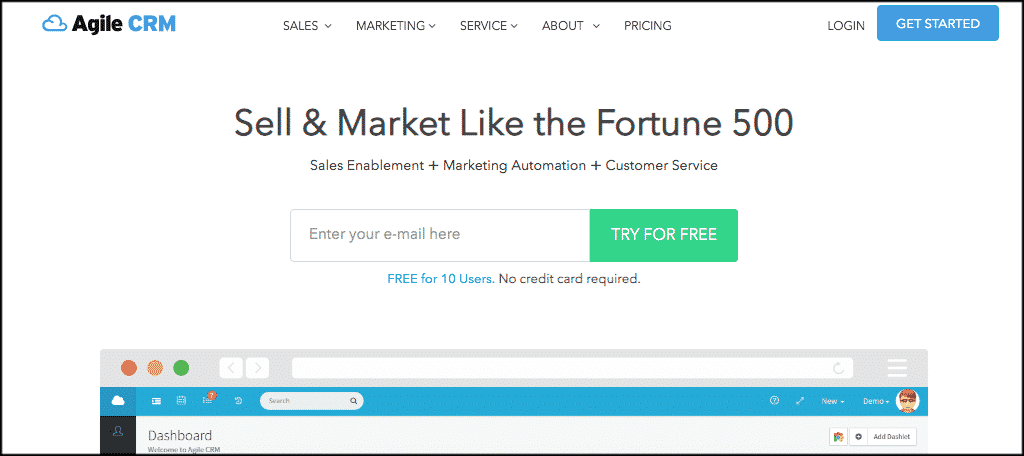 Agile states that you can use their CRM to "sell and market like a fortune 500 company." Of course, when you are starting a small business, something like this can be important because you want to give potential customers a look and feel of extreme professionalism.
The Agile all-in-one CRM app offers sales, marketing, service, and integrations. Within each major category, a long list of subtopics is included, and these more than cover anything you will ever need in a good CRM app.
There are a lot of great reasons to give Agile a test drive. They also have a version that is free for up to 10 users.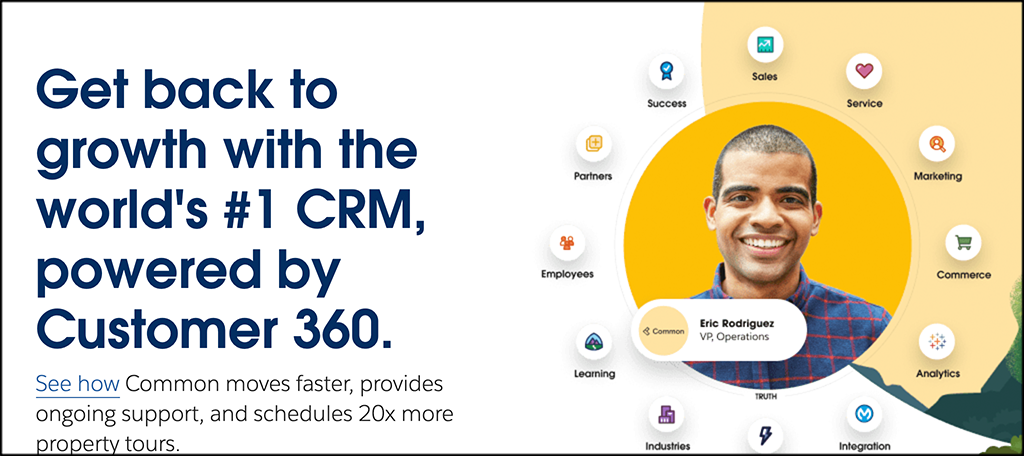 Whether you are familiar with CRM or not, you have probably heard the name Salesforce. They are the most used and #1 CRM for small businesses.
Salesforce excels in several areas, including pricing. They offer an all-in-one sales solution for just $25 a month. This is a solid plan for anyone trying to build a network and get their small business going in the right direction.
Salesforce includes everything imaginable within their dashboard. You can see all your customer information in one place, and even gain access to help when you need it. They provide excellent in-app assistance by giving you access to a guided setup and tons of tutorials.
With the ability to integrate with other popular small business apps, Salesforce provides everything for you and this will continue to keep them positioned as a leader in the field of CRM.
Pipedrive tracks emails, calls, and progress automatically. This allows you to dig into other parts of the CRM tool that may be more important to you. The Pipeline interface provides you with a single, streamlined view of your sales process. It gives clarity and gets your team on the same page.
The leading software review site G2Crowd rated Pipedrive the easiest sales tool to implement. Again, if you haven't dealt with CRM apps before this, it can be important for a small business owner. The easier, the better.
Over 100 apps come integrated into Pipedrive (you can add them) and these will give you everything you need to set up and manage client dashboards. This is a simple CRM for small businesses and if you are looking for a good place to start, then Pipeline CRM may be for you.
Freelancing is a huge part of the workforce today and is only getting bigger. Dubsado offers consultants and/or freelancers the ability to manage one-off jobs and collect hourly billing.
That being said, they also offer a full suite of CRM tools that includes:
Project Management
Client Relationship Software
Schedule Appointments
Create Workflows
Dubsado is one of the best CRM tools for small businesses, and the platform is specifically built to save you time and grow your business.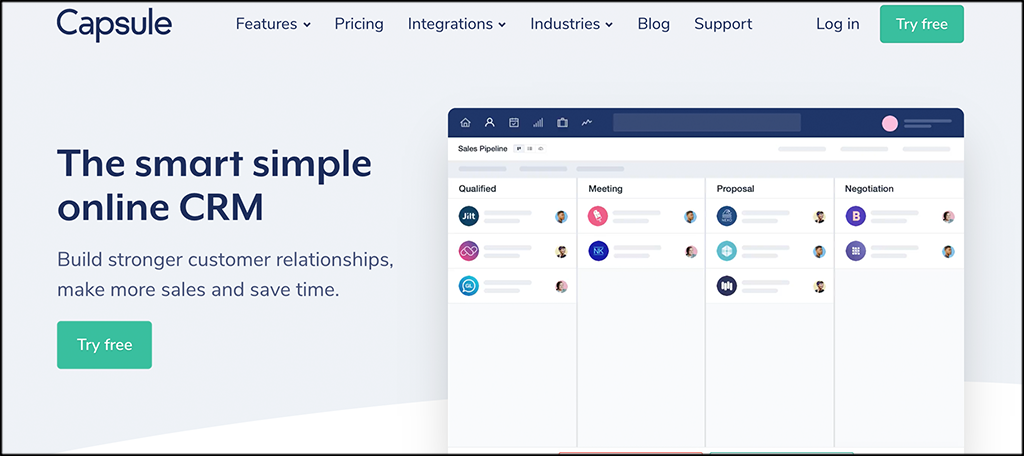 Get organized, collaborate, and make more sales using Capsule CRM. Capsule gives you and your team one complete view of all your customers. This allows you to easily see everything in one place, instead of having to click around the dashboard for different looks.
Capsule CRM offers:
A Complete Business View
Better Organization
Teams & Rolls
Sales Pipeline Management
Create Reports
The developer provides very easy-to-use software that will give you the ability to be up and running in just a few minutes. Customize and build your business capsule and you are off and running.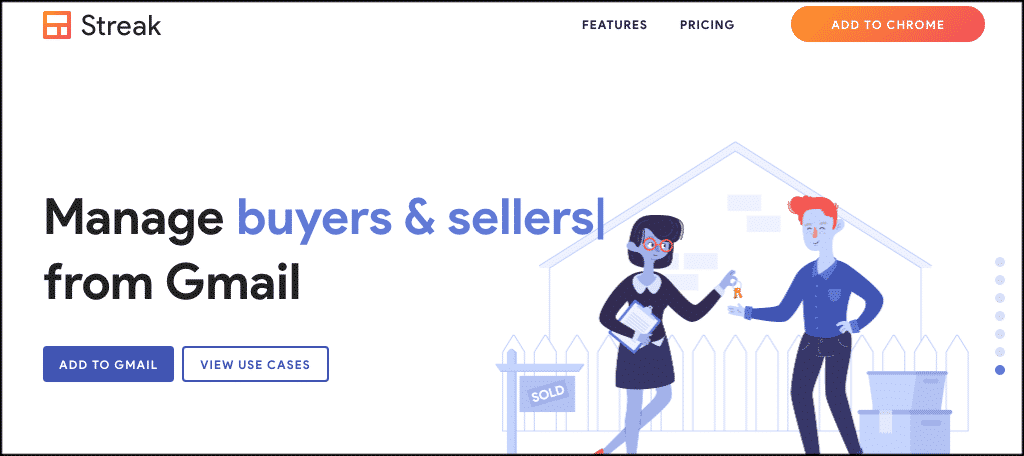 Streak offers all the things most of the top CRM apps do. However, they are unique in the fact that you are able to manage the entire platform right from your Gmail.
You can also add the Chrome extension to your Chrome browser and manage all functionality from that as well. Streak does offer a free personal CRM tool that may work for you. If not, their pricing is very fair and their tool is unique.
While other CRM apps give you the ability to add Gmail or other Google apps as a third-party add-on, Streak includes the entire tool already built right into your Gmail inbox. This is a fresh and unique way to manage clients and currently something only they offer.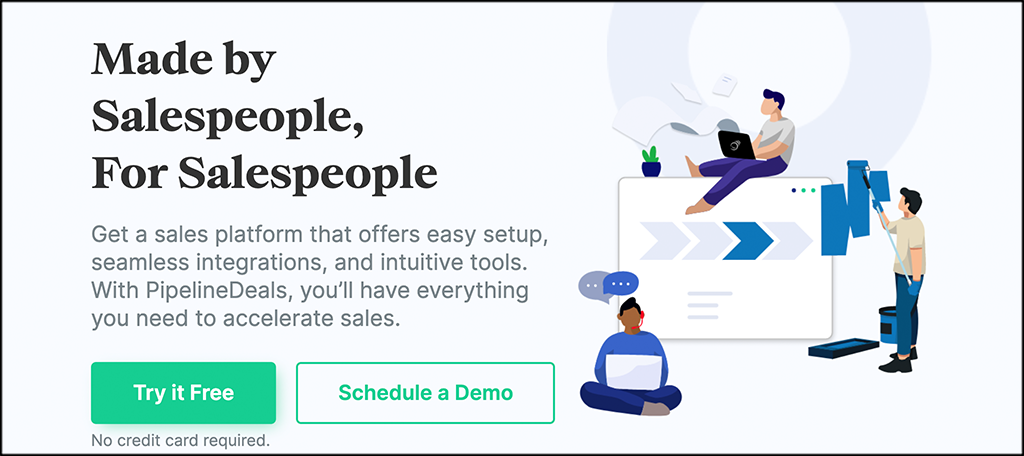 Pipeline Deals, which was formerly known as Batchbook, gives you a ton of options right at your fingertips. With the Pipeline Deals CRM app you get:
Sales Pipeline Tracking
Contact Management
Integrations
Unlimited Dashboards
Unlimited Reports
Custom Fields
A Mobile App
Furthermore, if you were already a Batchbook customer, a seamless and free migration is offered and is very secure. Checkout Pipeline Deals now if you are interested in a simple CRM for small businesses.
Bitrix24 offers a free version of its CRM app for up to 12 users and five gigs of storage space. After that, their pricing is fair and a good plan is available for just about any small business.
Bitrix24 is pretty vast and offers a ton of collaboration and customer management tools. Open an account with them and you will also get access to dozens of free tools for client management, tasks and projects, customer support, internal communications, and e-commerce.
The system is a truly impressive all-in-one tool that your small business could really benefit from if implemented properly.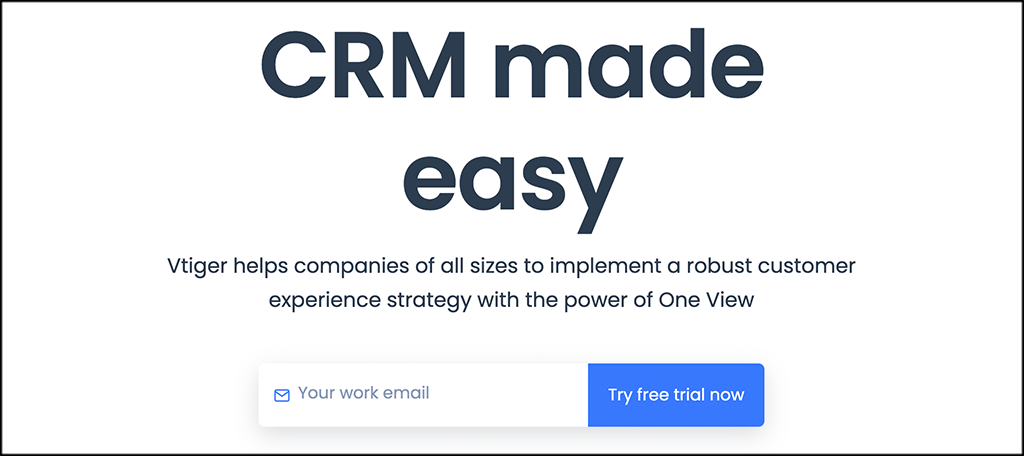 Vtiger offers an easy-to-use and customizable CRM interface that will help drive marketing, sales, and customer service teams. They specialize in keeping teams in-sync.
The overall system is easy to use and easy to set up. It will allow providing great customer support, is flexible and customizable, and is a solid choice for any small business.
If you are new to the world of CRM apps, give Vtiger a look to see if the easy setup and integration is something that you need.
Rounding out this list of the 15 best CRM apps is a simple tool for small businesses called Nimble. They are perfect for small business owners who live in their inbox. With the ability to integrate with Office 365 and G Suite, Nimble allows users to access company and contact insights. You can also manage deals right from within existing workflows.
With Nimble you can:
Build Relationships
Nurture Customer Relationships
Prospect Smarter & Faster
Close More Deals
Work Right From Your Inbox
A smooth and solid CRM app, Nimble is definitely worth a look if you want to manage everything from your email system.
Why CRM Matters For Your Small Business
Artificial Intelligence, or AI, is becoming more mainstream and expanding faster than anyone realizes. It is predicted that by 2021, CRM will be the single largest revenue area of spending on enterprise software.
Simply put, if your small business is going to last in the landscape of today's technology, then you are going to need a CRM strategy for the future to handle what is coming. If you have a startup, then you have sales targets, business objectives, and profitability measures written into a business plan.
Putting these into place and getting reliable information can be tricky. How can you possibly keep track and translate so many streams of data such as:
Sales
Customer Service
Marketing
This is where the best CRM for small business comes into play. The best CRM apps will give you a very clear and easy to read view of your customers and everything related to them.
How Can a CRM System Help Your Small Business?
Introducing a simple CRM for small business can immediately produce real results for your startup. We have talked some about what a CRM app is, now let's take a look at what results it can produce.
Having a solid CRM tool in place will give you results that include:
Bottom Line Improvements
Identify & Categorize Leads
Increase Referrals From Existing Customers
Offer Better Customer Support
Improve Products & Services
Reduce Costs
Conclusion
It is vastly important these days to be able to manage contacts and sales in a professional way. Gone are the days of writing everything down and filing it away. You now need these types of small business CRM tools to stay relevant and professional.
The above are some of the best CRMs for small businesses. Any one of them will get your customer relationships management and sales funnel tools going in the right direction.