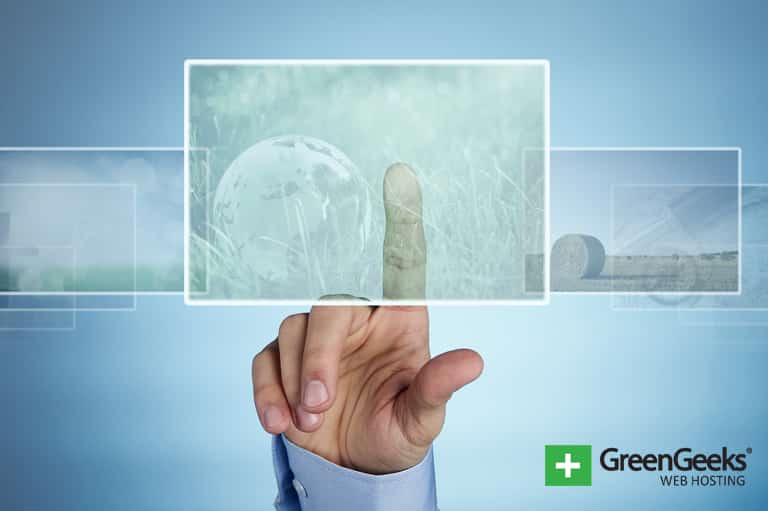 WordPress slider plugins have become increasingly popular over the last few years. So much so that at last count there were over 700 of them to choose from in the WordPress plugin repository. However, not all WordPress sliders are good. As a matter of fact, many of them slow down your site because they load too many scripts.
So, it is with that knowledge that I wanted to put together a list of the best WordPress slider plugins that you need to try. There are several things you want to look at when deciding which slider you want to use on your WordPress site.
Of course, you want a responsive plugin for WordPress. However, you also need other features added that work together to make the slider work properly on your site. Some other things you want in a solid slider include:
Speed
Ease of Use
Overall Features
Mobile Responsiveness
WordPress Slider Widget Availability
Why WordPress Slider Plugins Can Be a Problem
The main issue with WordPress sliders is that they have a tendency to slow down the website. If they are not coded correctly and created using best practices, then the load time of your web page is going to jump significantly.
This can even happen with how lazy loading in sliders can affect performance.
If you have an excellent WordPress hosting service, then this will help the load-time issue. However, if you are stuck on a bad hosting provider, then your pages will slow down even more and visitors will have a terrible experience.
This will cause site visitors to leave, which in turn will cause you to lose traffic and potential customers. Studies show us that slow loading times can decrease user traffic by 7% even when something as short as a second is added.
That can build up to very significant numbers if your page load time hits 4 seconds or longer.
The Best WordPress Slider Plugins
As is the case with any list, personal opinion is involved. However, the following list of WordPress slider plugins has all been added because they feature a solid combination of responsiveness (mobile and screen), load time, widget availability, ease of use and overall functionality.
So, save yourself the trouble of trying to browse through over 700 WordPress sliders. Let's take a look at 15 of the best WordPress slider plugins you need to try.
Note: Many of these sliders have both a free and a paid version. So be sure to check out both.
1. Soliloquy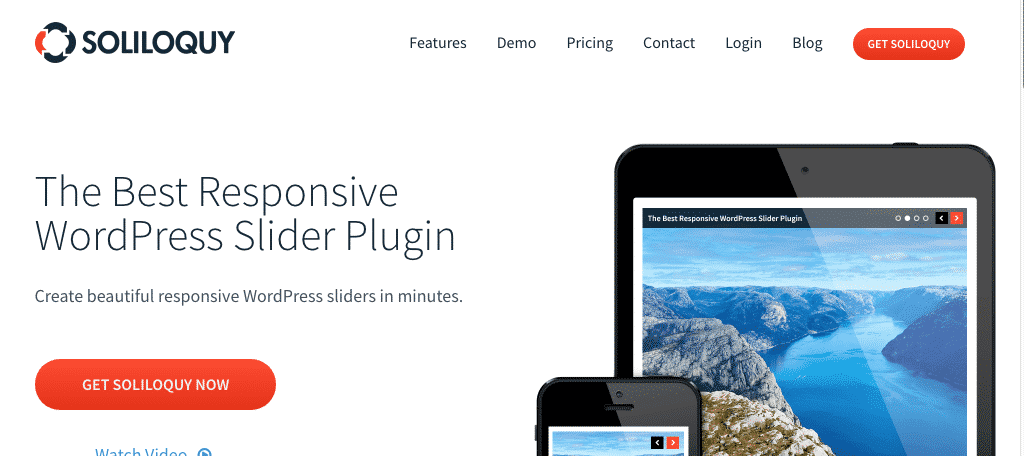 Soliloquy allows you to create beautiful, responsive WordPress sliders in no time at all. This WordPress responsive slider plugin is packed full of features that make it easy to use.
Some of the main features include:
Drag & Drop Builder
Mobile Responsive
Slider Templates
WooCommerce Product Slider
FullScreen Lightbox
Dynamic Sliders
Instagram Imports
Pinterest Pin It Button
PDF Slider
Soliloquy has been built with solid code and follows all WordPress coding guidelines. It comes with a simple-to-use interface that is easy to understand. You will be building dynamic and fun WordPress sliders in no time at all.
2. Nivo
There has to be several reasons why over a million websites use the Nivo WordPress slider widget. Nivo is known for the stylish way that it allows you to build sliders.
Yes, the plugin is built on solid code and follows best practices for WordPress coding, but the amount of great features is what really grabs you.
Some of the main features of the Nivo slideshow plugin WordPress slider include:
Works Out of the Box
Custom Slider Themes
Create Sliders Using Your Content
Compatible With All Sites and Themes
Tons of User Options
Mobile Responsive
Basically, Nivo will give you everything you need to build all types of sliders and put them on your website. It also comes with a WordPress slider widget to use on the sidebar areas of your website.
3. MetaSlider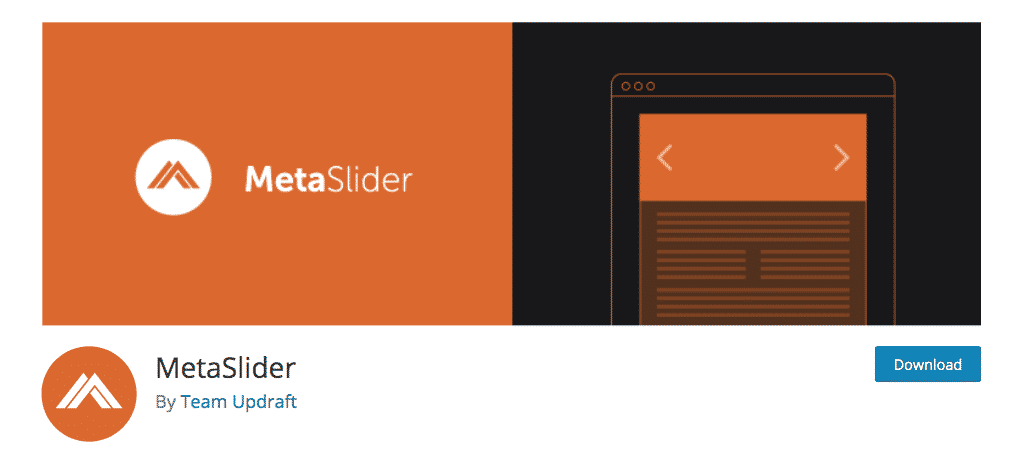 With almost a million downloads, MetaSlider is the most downloaded free slider plugin in the WordPress repository. Of course, they have a pro version as well, but the free version offers a ton of features and functionality.
Some of the main features of MetaSlider include:
Drag & Drop Functionality
Slider Captions
Slider Links
SEO Fields
Gutenberg Compatible
Intelligent Image Cropping
MultiSite Compatible
You can choose from 4 different slideshow types and then use shortcode or templates to place the slider where you want it to go on your website. With so many options and it being totally free, the MetaSlider plugin is one of the best WordPress slider plugins available.
4. Smart Slider 3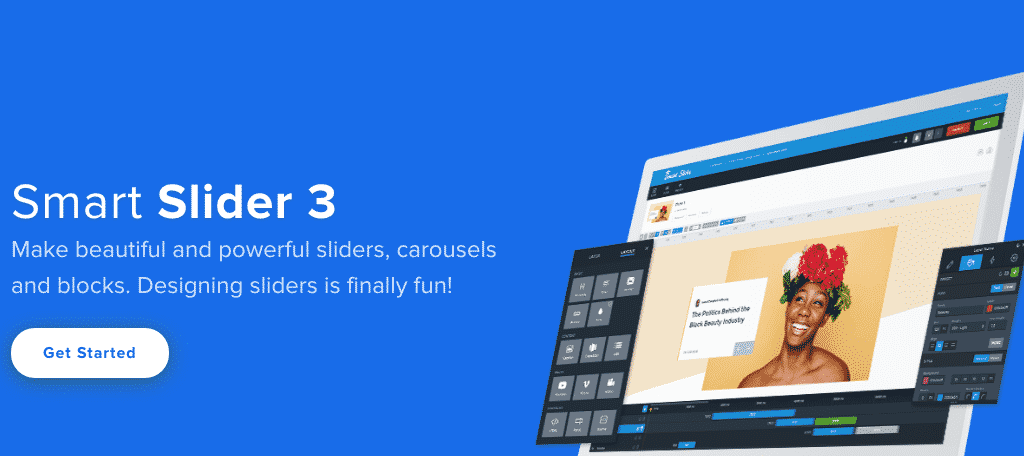 Smart Slider 3 is a powerful, visual and intuitive WordPress slider widget that allows you to create dynamic sliders and blocks for your website. The Smart Slider 3 plugin really pushes the limits of what you can do with sliders on a website, and this is a good thing!
This slider is absolutely epic, especially if you want to pay for the pro version and use that to create sliders for your site.
Some of the main features include:
Over a Dozen Layers
Live Previews
Lifetime Updates
Device Specific Settings
5 Slider Types
Expert Settings
SEO Friendly
Image Optimization
Lazy Loading
Accessibility Ready
The Smart Slider 3 slider is definitely one of the very best WordPress slider plugins out there today. At the very least, you should give the free version of it a test drive.
5. Slide Anything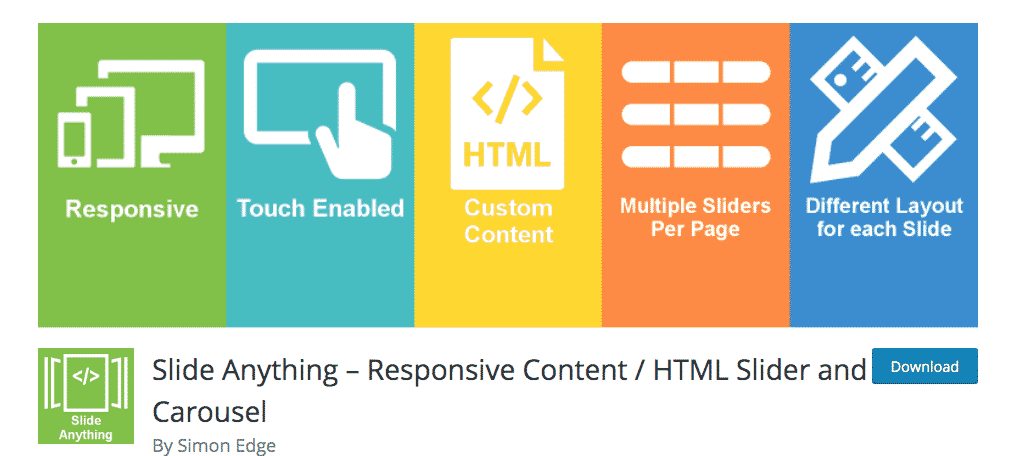 Slide Anything is high on this list of WordPress slider plugins because it allows you to create a carousel/slider where the content for each slide can be anything you want.
In other words, your sliders can be created from images, text, HTML and shortcodes.
This is a unique option among sliders and makes the Slide Anything tool worth a look.
Other main features of the slider include:
Touch & Drag Support
Fully Responsive
Support on All Modern Browsers
Lazy Load Images
Infinite Looping
Transition Effects
Slide Link Feature
Of course, Slide Anything does have a pro version as well with even more functionality. However, the free download version of this slider is capable of giving you everything you need to build dynamic and amazing sliders for your website.
6. SlideDeck Responsive Slider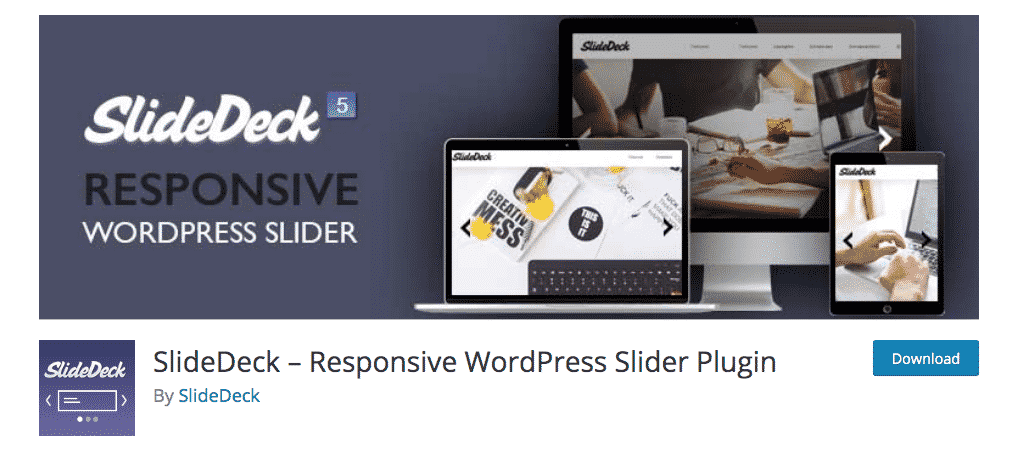 The SlideDeck Responsive Slider plugin allows you to create amazing WordPress sliders in just minutes without having to use any code. It is a feature-rich tool that makes it extremely easy to create a WordPress slideshow with features like a responsive slider, touch swipe, smooth transitions, SEO friendly and more!
Some of the amazing features this WordPress slider widget has include:
Touch Swipe
SEO Friendly
Video Slider Ability
Custom Code Your Own Slider
Recrop and Size Images
Add Unlimited Slides
There are also several extension bundles that you can get and use to enhance the plugin even more. SlideDeck is a solid slider solution with a lot of flexibility.
7. 10Web Slider
The 10Web WordPress responsive slider plugin allows you to add fast loading, responsive and SEO-friendly sliders to your website pages, posts, theme header or any other website location you desire.
This plugin will support both images and videos to use for slider creation. While this one has a free version that is a bit more limited than the other sliders on this list, there is still a lot of features and functionality including:
User Engagement
Better User Experience
Differentiation
Unlimited Sliders & Slides
Multiple Layers
Multiple Transition & Layer Effects
Image Watermarking
Social Sharing Ability
Parallax & Carousel Support
All in all, the 10Web slider is one of the best WordPress slider plugins out there and will give you a ton of freedom and functionality to use to build your visual layouts.
8. Master Slider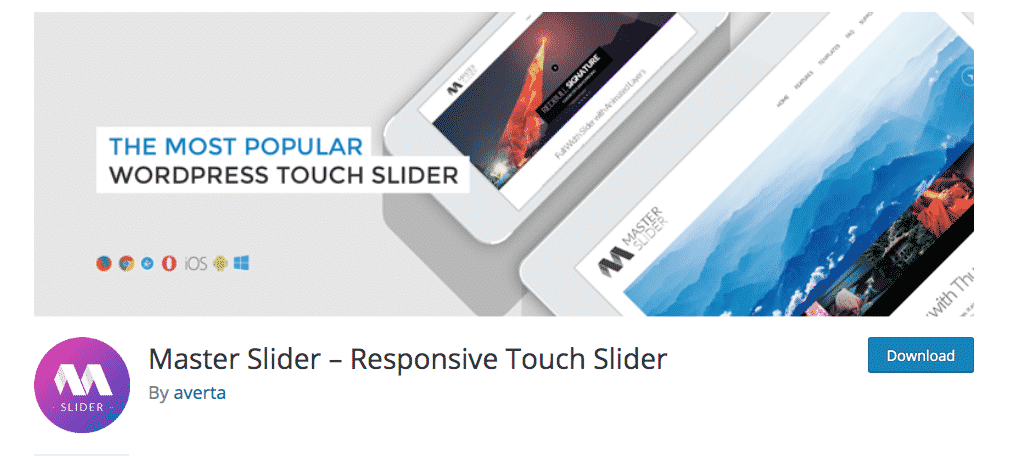 Another great tool you need to try on this list of best WordPress slider plugins is Master Slide. This slider was built using WordPress best practices on both the front and the back end. This means that the code is solid and gives you the ability to create excellent visuals that are compatible with any themes including all default WordPress themes.
Some of the main features of Master Slider slideshow:
SEO Friendly
Easy To Use Interface
Cross Browser Compatible Sliders
Lightweight
HTML5 Valid
Clean Markups
Touch Swipe Navigation
Smart Loading Assets
Built-In Cache Boosting
The list of features actually goes on and on for this amazing WordPress responsive slider plugin. It was definitely worth my time as I am sure it will be for you. Download it, test it out, and find out all the amazing types of sliders you can build.
9. Ultimate Responsive Image Slider
The Ultimate Responsive Image Slider is a fully responsive image and photo gallery plugin. This is a perfect slideshow plugin, as it gives you the ability to add an infinite amount of images in a single slider using the built-in uploader.
The slider is totally responsive and you can customize settings like height and width. You can also autoplay slides, integrate navigation buttons and configure each image gallery settings according to your preferences.
Other amazing features that are part of this WordPress slider plugin include:
Multiple Image Uploader
Add Unlimited Images
Image Slider Setting Dashboard
Customizing Thumbnails
Multiple Colors
Customizing Slider Distance
Slide Scale Mode
If you are looking for one of the best WordPress slider plugins for image galleries, then Ultimate Responsive Image Slider is probably one you will want to dive into and check out.
10. Slider by Supsystic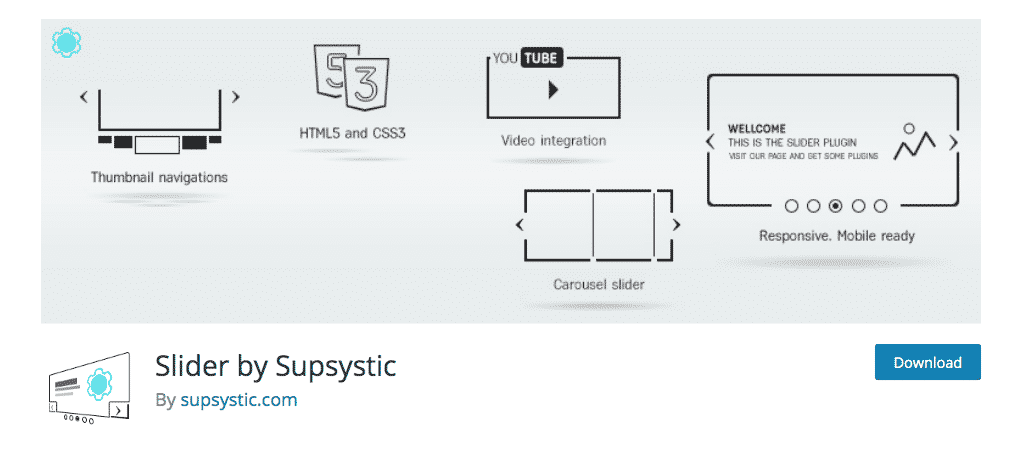 Slider by Supsystic gives you the ability to create really amazing image and video sliders without having to know code. The slider is fully responsive and will look and run perfectly on any mobile device.
Some of the amazing features that come with Slider by Supsystic include:
Responsiveness
Slideshow Themes
Easy to Use Interface
Content Slider
Captions
Thumbnail Slider
Video Slider
Slider by Supsystic is a solid WordPress responsive slider plugin that includes excellent support and also has transitions available in multiple languages.
11. MotoPress Slider Lite
The MotoPress Slider Lite WordPress responsive slider plugin provides website builders with an easy to use, simple solution to create beautiful slides. You can also combine them with stunning visual effects.
The slider comes with a ton of functionality including:
Drag & Drop Functionality
Build Unlimited Sliders
Create SEO Friendly Slides
Touch & Mouse Swipe Navigation
Fully Responsiveness
Full-Width Slideshow Support
Layer Based Animation
Unlimited Layers
As is the case with just about every WordPress slider plugin on this list, MotoPress does have a pro version. However, the free download offers so much that you will probably be good to go when you start creating your galleries.
12. Ultimate Slider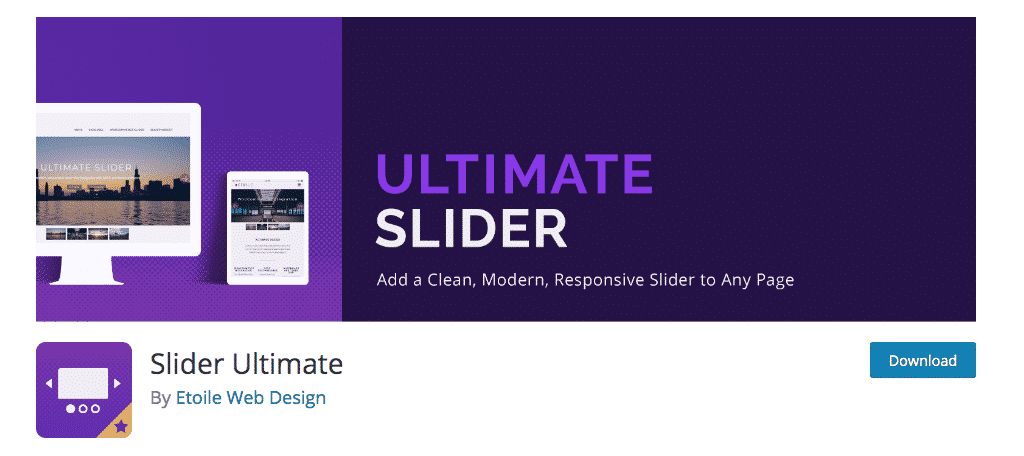 Ultimate Slider is a very easy to use, responsive slider plugin that allows you to add a clean, modern, image slider to any page on your WordPress site using a simple shortcode. Furthermore, the plugin includes a Gutenberg block for displaying the slider.
While all the Sliders on our list are compatible with the Gutenberg block editor, not all of them include their own built-in custom block. The main features of this slider include:
Responsive & Full-Width
Simple Slider Shortcode
Create Unlimited Slides
Slider Categories
WooCommerce Integration
Drag & Drop Functionality
If you are looking for a simple to use slider that is easily compatible with your theme, then give Ultimate slider a try.
13. Serious Slider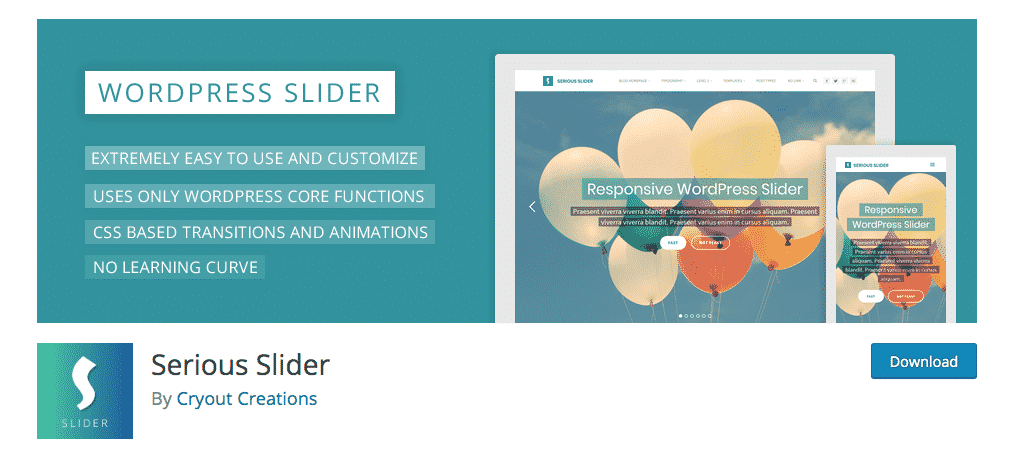 As we head for the homestretch of our WordPress slider plugins list, I want to visit Serious Slider. The main attraction here is the fact that this slider plugin is fully translatable accessibility-ready.
It is also totally free.
You can create beautiful, responsive slideshows in just minutes and place them on your site. The main features of this plugin include:
Unlimited Slides & Sliders
Add Titles, Text, Buttons
Easy To Use Interface
Auto Generated Shortcodes
Serious Slider Widget
Multiple Sliders on the Same Page
Cross Browser Compatibility
Translation Ready
Give Serious Slider a look if you are looking for a shortcode based slider plugin that offers a great deal of functionality. Especially if you're looking for something that supports multi-language formats.
14. Elementor Slides Widget
The Elementor Slides widget allows you to design really creative and pretty sliders in a very simple way. With a drag and drop interface and fast page loading speeds, this WordPress addition is sure to give you everything you need.
You will need to use the Elementor WordPress Page Builder to use this slider, but it is totally worth it. It actually prevents you from having to integrate another slider function into your design on top of the page builder.
Slider functions and features include:
Easy Transition & Interaction
Auto Alignment & Position
Easy Navigation
Ken Burns Effect
Content Animation
Full Width & Responsive
This WordPress slider widget integrates perfectly into any site built using Elementor. I'd say definitely take advantage of it if you're using Elementor.
15. Responsive FlipBook Plugin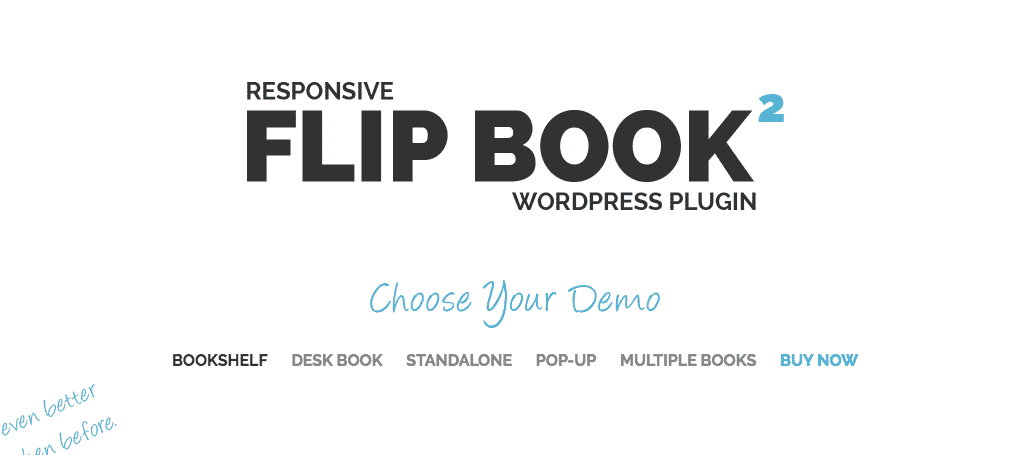 Rounding out this list of best WordPress slider plugins is the Responsive FlipBook Plugin. This slider plugin allows you to create flipbook type slideshows that are fully responsive for mobility on your website.
Some of the main features include:
RTL Support
Mobile Zoom
Lazy Load
Flat Admin Panel
9 Demo Books & Mockups
Batch Page Upload
Easy Print
Page Turn Sound
Popup Mode
This slideshow tool is the best WordPress flipbook style plugin available, and it will create amazing, dynamic and fun slideshows.
Final Thoughts
There are a lot of aspects to think about and consider when you are trying to decide which one of these WordPress slider plugins you want to use. My advice is to download a few of your favorites and give them a test drive.
This is really the only way you will figure out what you like the best. Again, personal opinion is always part of the decision making process. Now you have a list of the best WordPress slider plugins available today, and you can use this resource to help you choose.