Working out, staying healthy, fitness; these are all things that have become increasingly popular over the last couple of decades. The world of fitness and health is an $80 billion dollar a year industry, and people have started cashing in more by building websites using free WordPress fitness themes.
The idea that you need a website for your business is not something that should be surprising. Matter of fact, it should be one of the first things on your list when thinking about marketing and building your brand online.
Having a WordPress fitness blog is a good start. But taking it further with an entire website built around fitness and using overall workout themes will be much better for your business in the long run.
The main part of being able to create a website with workout themes is being able to find and access the best WordPress fitness themes available. You need a theme that is not only responsive, mobile-friendly and easy to build around, but you may also need a free theme if you are starting out.
Below, you will find 17 of the best free WordPress fitness themes available today. Using one of the WordPress workout themes from this list will get your health and fitness business going in the right direction.
Before I present the list, let's take a look at some things you want to make sure you include when building your WordPress fitness blog and website.
What to Include on Your Workout and Fitness Website
When building a website using one of the free WordPress fitness themes from the list below, you want to make sure you include certain things on the website. Including the following things and implementing these tips will allow you to not only achieve your goals but also get your brand out to the public.
Be Visual: Promote your gym or fitness center. Show pictures, be visual. People like to view graphics and pictures. It helps them get a feel and understand what they may be getting into.
Have a Schedule: Present a clear and easy to read and understand schedule of your hours, classes, etc.
Booking Page: Give people the choice to book a class or pay for good online right from your website.
Have a Staff Page: Showcase your staff, trainers, front desk people or anyone else that is involved with your business.
Sell Products & Supplements Online: Of course, you will sell products and supplements at your gym or fitness center. But make them available to purchase online as well.
Keep the above in mind when you are using a workout theme to build a WordPress website.
17 Free WordPress Fitness Themes
Here, you will find a list of 17 of the best free WordPress fitness themes available today. Select one of the themes and get started.
Create something special and get your brand out there today.
1. Fitness Hub
The Fitness Hub theme has everything you need to jump out and create a professional, mobile ready, easy to navigate fitness website. With tons of features that allow you to quickly and easily build an online presence, Fitness Hub is a great free WordPress fitness theme to use.
Some of the themes standout features include:
Customizable Widgets
Ability to Build Unlimited Pages
A Responsive Slider
Customizable Sidebars
Enrollment Page
Social Media Integration
Give this theme a look if you are interested in a fast way to set up a WordPress fitness blog and website.
2. FitClub
The FitClub workout theme is a responsive and intuitive theme that has been creatively designed in an effort to help you build a solid fitness website. With a fully responsive design and multiple layout options, the FitClub theme tries to provide you with everything you need to get off the ground.
Some of the main features include:
A Fully Responsive Design
A Live Customizer
Multiple Widget Areas
Multiple Header Styles
SEO Ready
Compatible with WooCommerce
3. WP Fitness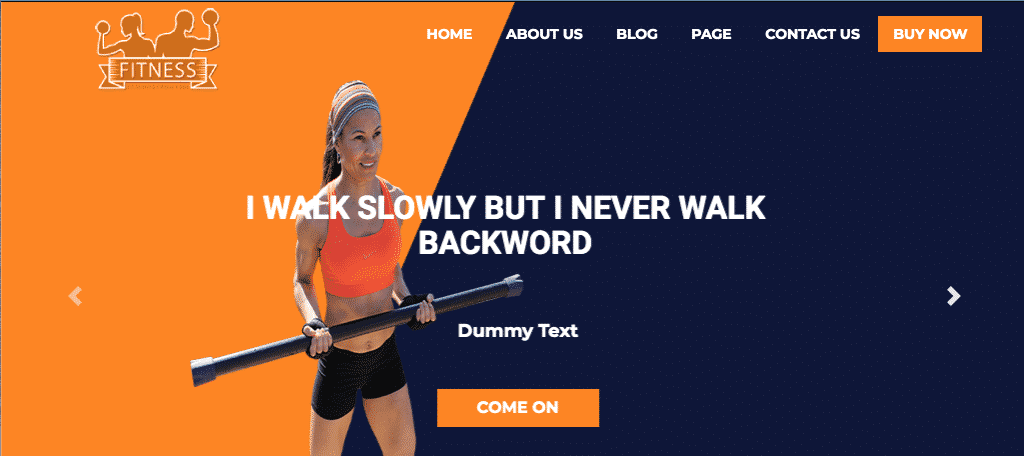 WP Fitness is a smooth, clean, professional free WordPress fitness theme that is designed to be compatible with anything fitness related. Gym, yoga, fitness, health club, personal training, weight lifting, coaching; If it is related to fitness, then the WP Fitness theme has got you covered.
Some of the main features of this theme include:
A Fully Responsive Design
Easy Social Media Integration
Sidebar Settings
Compatible With WooCommerce
Optimized and Secure Code
Supports Most 3rd-Party Plugins
Download this theme and start building to instantly grab the attention of potential customers.
4. Zakra
The Zakra WordPress theme is perfect if you are a Yoga teacher or have a Yoga center. Zakra is flexible, fast, lightweight and modern multipurpose theme that comes with many starter free sites. I other words, this theme is good for so many things other than fitness.
Some of the best features of this WordPress fitness theme include:
Compatible With Gutenberg
GDPR Compliance Built-In
SEO Ready
Easy Social Media Integration
The free Yoga template provides you all the features you need to get a solid yoga website up and running in no time at all.
5. Personal Trainer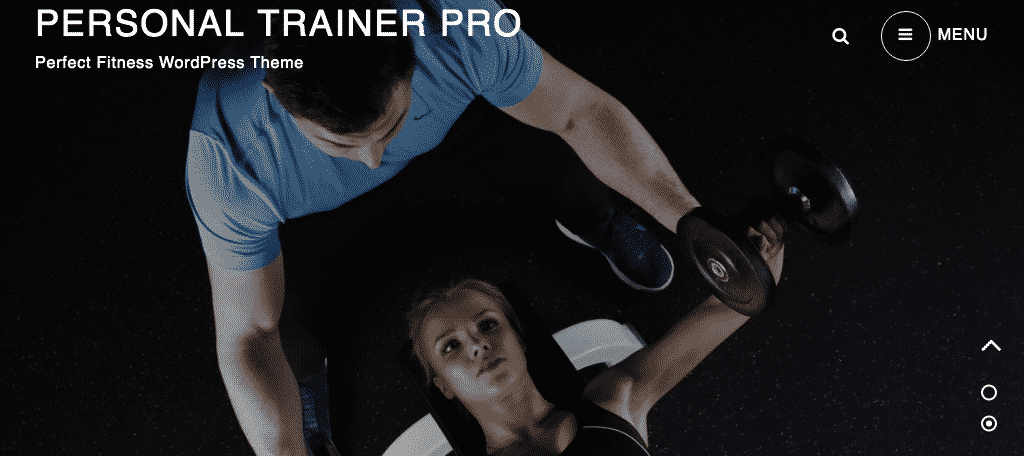 Personal Trainer is another highly customizable fitness theme. This theme will fit in perfectly if you are building a gym, fitness center, personal training or just about any other health and exercise-related website.
With tons of features, Personal Trainer is one of the best free fitness WordPress websites available today. Main features include:
Custom Header Image
Featured Slider
Featured Content
Testimonials
Reservations
Services
Header Contact Info
Cleverly designed, extremely flexible and fully responsive, this is a solid fitness WordPress theme.
6. Nutrigen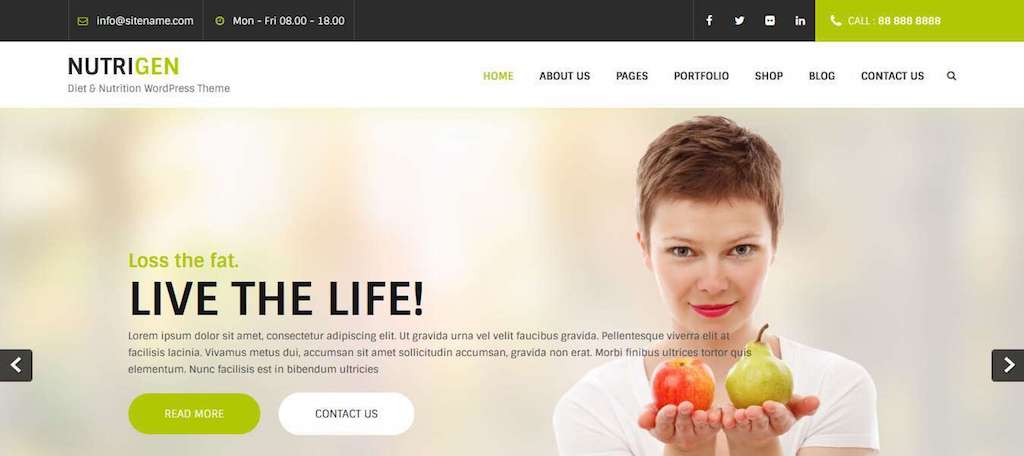 The first free WordPress fitness theme that is designed to focus on health, wellness and nutrition makes the list. The Nutrigen theme would cater most to fitness centers that are trying to provide people with healthy living and nutritional tips.
Key features of Nutrigen include:
Customizable Widget Areas
Logo Upload
Slides
Fully Responsive
Ready For WooCommerce
Built-In Contact Forms
If you are trying to build a nutrition base website, take a look at this free WordPress fitness theme.
7. Get Fit Lite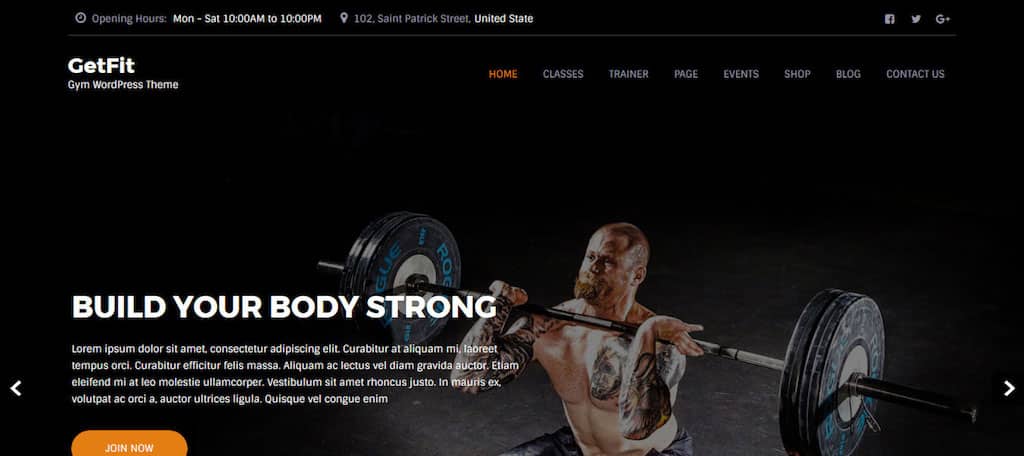 If you are into minimalism, then the Get Fit Lite theme may be exactly what you have been looking for. This theme is perfect for creating gym style websites and is excellent for beginners due to the fact that it is easily customizable.
Create a smooth, clean website and show off your gym or fitness center. Main features of this theme include:
Modern Style & Flexibility
SEO Friendly
Fully Responsive
Cross Browser Compatible
Gutenberg Friendly
It's basically everything you need in a free fitness WordPress theme.
8. SKT Strong
The SKT Strong theme has everything you need to build a solid fitness site from the ground up. With features that include an easy to change and manipulate logo area and Google Fonts, SKT Strong is all you need to showcase your business.
Other great features of this theme include:
SEO Friendly
Compatible With Plugins
Custom Logo
Fully Responsive
9. Fit Coach
If you still haven't seen anything you like on this list yet, then take a look at the Fit Coach theme. Perfect for fitness coaches and fitness centers, this theme comes stacked full of layouts and features. Some of the main features include:
Unlimited Color Options
Multiple Layouts
SEO Friendly
Localization Ready
Responsive Layout
Cross Browser Compatibility
The already built-in Google library of fonts is also sure to be a crowd pleaser. This theme can also be used for a WordPress fitness blog.
10. Fitness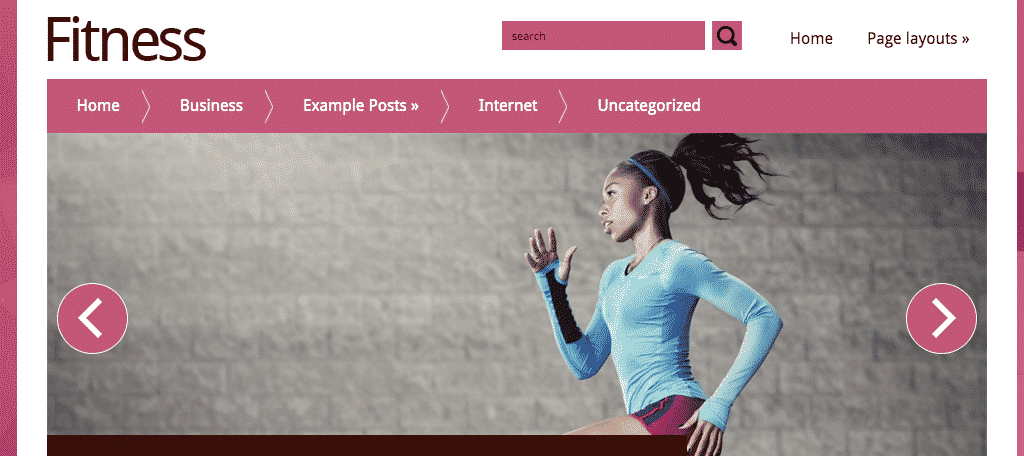 The name pretty much says it all in regards to this free fitness WordPress theme. Fitness provides a design that inspires and integrates the beautiful aspects of sports, health, nutrition and more all into one theme.
Perfect for a coach or a facility, Fitness features include:
SMT Framework
WooCommerce Ready
Google Maps Shortcode
Social Sharing
Custom Widgets
Translation Options
This theme is beautiful and solid from start to finish and will provide you with a professional look for your fitness related business.
11. Fitness Gymhouse
With Fitness Gymhouse, you get an exceptional WordPress theme that is best used for gyms, fitness centers, Yoga centers and other related websites. This theme offers various personalization options to help you give the look you require on your website. It's very easy to navigate and fits various screen sizes with ease.
Fitness Gymhouse comes with some amazing built-in features as well. Those include:
Easy to Install and Setup
Shortcodes
Google Font Integration
Customizable Colors
Responsive Layout
Solid Code
Start with a high-quality banner image and build from there. This free theme will impress anyone who sees it.
12. Pranayama Yoga
Pranayama is the second Yoga specific free fitness WordPress theme to be featured on this list. This is because of two things: Yoga is popular and this theme is excellent.
The Pranayama theme is a beautifully designed theme that can be used to develop an appealing website for a Yoga Studio or Yoga teacher. Main features of this theme include:
Responsive Design
Social Media Integration
Translation Ready
Optimized For Speed
Clean Code
If you are a Yoga teacher, then look no further than this theme to provide a professional design.
13. Sporty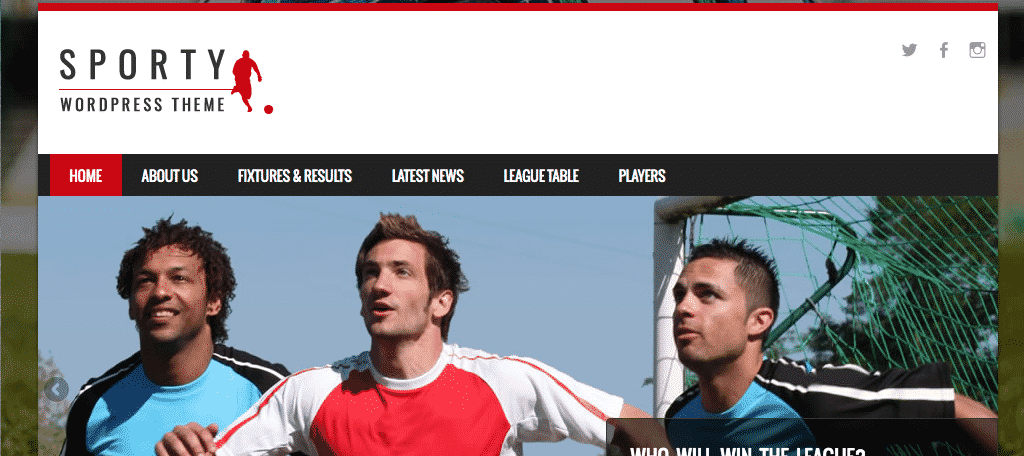 Sporty is a totally free WordPress fitness theme designed for someone who wants to build a sports club. However, the theme is also perfectly useful for creating any type of fitness website or blog.
While this theme is a bit more limited than some others on this list, it is still a fantastic option for beginners as the flexible and responsive layout makes building easy.
Other features of Sporty include:
Color Options
Multiple Layout Options
Responsive Design
Social Media Integration
Want to get your fitness site up and running in a matter of a few minutes? Try Sporty.
14. All Sport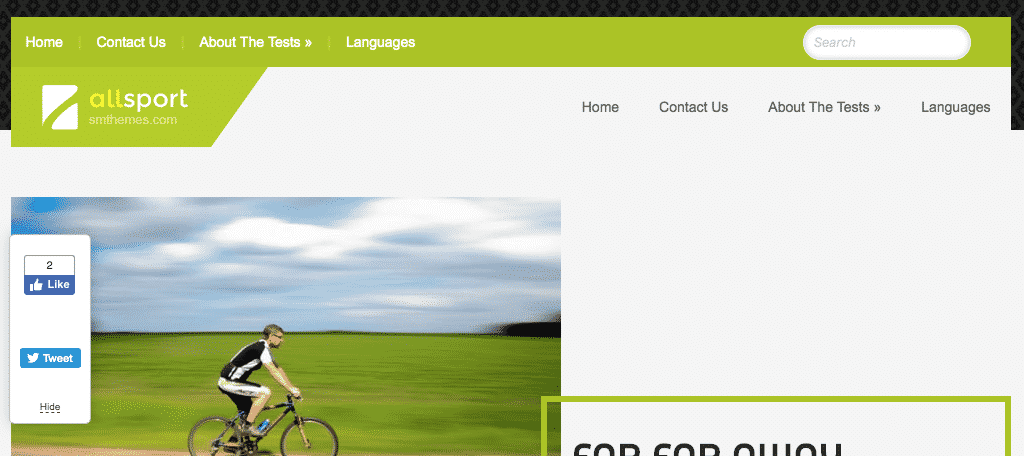 The All Sport theme is the perfect layout for a WordPress fitness blog. This free theme will let you create a news or health blog. It is also suitable for a sport journal of your achievements, goals or future plans.
The layout of All Sport is clean, fresh and professional looking. It will provide your readers with an easy to navigate website. Some of the main features of All Sport include:
SMT Framework
Google Maps Shortcode
Fully Responsive Design
Shortcode Ready
Social Sharing
Sliders
Translation Options
If you are starting a fitness or health related blog, then look no further than All Sport.
15. The West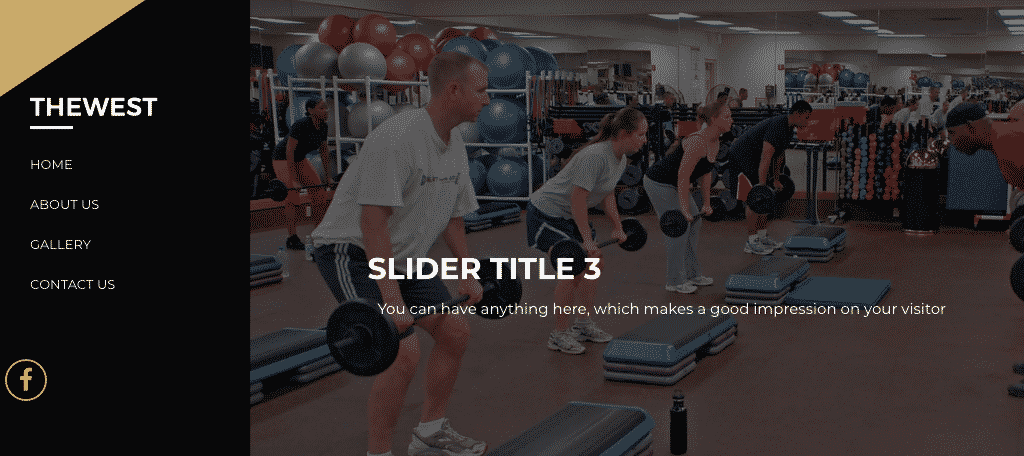 Even though the name of this free fitness WordPress theme may not sound like it, The West is actually a solid, multipurpose theme that is perfect for fitness. With an elegant and sleek look, this theme provides everything you need to get your fitness website up and running.
Some of the main features of The West include:
Members Area
Instant Product Access
Regular product updates
SEO Ready
Fully Responsive
3 Social Share Integrations
Basic Customizer Options
Off Canvas Menu in Mobile Devices
Translation Ready
Check out The West and see what you can create today.
16. SKT Fitness Lite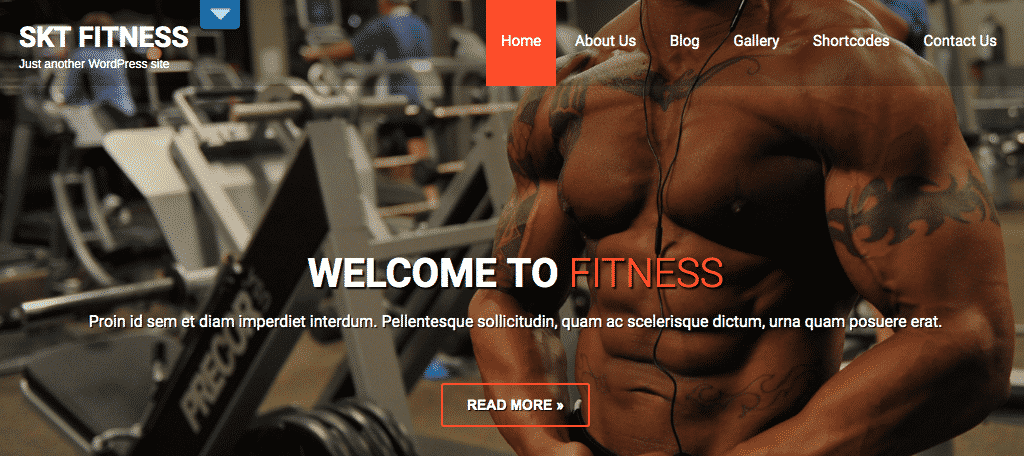 Yet another strong free fitness WordPress theme available is SKT Fitness Lite. The theme is perfect for displaying and showcasing images from your gym, providing coaching classes or listing options and information for sign-up.
The theme is fully customizable and fully responsive. Other features of SKT Fitness Lite include:
Mobile Responsive & Ready
Multiple Layout Options
Logo Upload Options
Sliders
Cross Browser Compatibility
17. GymPress
Rounding out this list of free WordPress fitness layouts is the GymPress theme. It's another which is perfect for a fitness website or blog. GymPress can be used to create multiple fitness style sites, and you can definitely let your imagination run wild with this one.
GymPress comes with an abundance of great features including:
Fully Responsive Layout
Sliders
Icons
Typography
Testimonials
Google Maps
WooCommerce Ready
The GymPress theme can provide you an easy to use platform for your fitness website. Give it a look today.
Final Thoughts
I hope you found this list of the best free fitness WordPress themes helpful. Sometimes it can be difficult to find a good appearance that is free. However, the list above has shown you quite a few, all of which will get your online presence up and running in no time.
Remember, most of the free themes above have pro (paid) versions as well. You are more than welcome to take a look at them. However, the free fitness WordPress themes listed will all provide you with everything you need for a clean, professional fitness related site.