Working out, staying healthy, fitness; these are all things that have become increasingly popular over the last couple of decades. The world of fitness and health is an $80 billion dollar-a-year industry, and people have started cashing in more by building websites using free WordPress fitness themes.
The idea that you need a website for your business is not something that should be surprising. Matter of fact, it should be one of the first things on your list when thinking about marketing and building your brand online.
Having a WordPress fitness blog is a good start. But taking it further with an entire website built around fitness and using overall workout themes will be much better for your business in the long run.
The main part of being able to create a website with workout themes is being able to find and access the best WordPress fitness themes available. You need a theme that is not only responsive, mobile-friendly, and easy to build around, but you may also need a free theme if you are starting out.
Below, you will find 17 of the best free WordPress fitness themes available today. Using one of the WordPress workout themes from this list will get your health and fitness business going in the right direction.
Before I present the list, let's take a look at some things you want to make sure you include when building your WordPress fitness blog and website.
What to Include on Your Workout and Fitness Website
When building a website using one of the free WordPress fitness themes from the list below, you want to make sure you include certain things on the website.
Including the following things and implementing these tips will allow you to not only achieve your goals but also get your brand out to the public.
Be Visual: Promote your gym or fitness center. Show pictures, and be visual. People like to view graphics and pictures. It helps them get a feel and understand what they may be getting into.
Have a Schedule: Present a clear and easy-to-read and understandable schedule of your hours, classes, etc.
Booking Page: Give people the choice to book a class or pay for goods online right from your website.
Have a Staff Page: Showcase your staff, trainers, front desk people, or anyone else that is involved with your business.
Sell Products & Supplements Online: Of course, you will sell products and supplements at your gym or fitness center. But make them available to purchase online as well.
Keep the above in mind when you are using a workout theme to build a WordPress website.
Fitness is such a broad term today and can mean anything from a gym to a yoga class. As such, you'll need a versatile theme that can adapt to any kind of environment and luckily the Fitness Hub is the perfect option.
It has everything you need to jump out and create a professional, mobile-ready, easy-to-navigate fitness website.
It has a variety of features geared towards fitness sites like a ready-to-use enrollment page, and 9 other widgets. You can also include an about section for each of your fitness personnel to help customers find the right instructor for their goals.
Besides its own list of customization options, users will also have the ability to install their favorite page builder to add even more customization options. As a result, you have a nearly endless number of options at your fingertips.
Benefits of Using Fitness Hub:
Ability to Build Unlimited Pages
A Responsive Slider
Customizable Sidebars
Enrollment Page
Social Media Integration
The FitClub workout theme is a responsive and intuitive theme that has been creatively designed in an effort to help you build a solid fitness website. Combined with an excellent performance, this theme has everything you'll need.
It comes with 12 pre-made starter websites that you can use as the foundation of your website, which just require a single click to import.
With a fully responsive design and multiple layout options, the FitClub theme tries to provide you with everything you need to get off the ground. It also integrates with popular plugins like WooCommerce to accept payments and sell products.
Not to mention it is fully compatible with most page builder plugins to give you even more customization. It's also worth noting that this theme is easily translated to ensure you can reach the broadest of audiences.
Benefits of Using FitClub:
A Fully Responsive Design
A Live Customizer
Multiple Widget Areas
Multiple Header Styles
Compatible with WooCommerce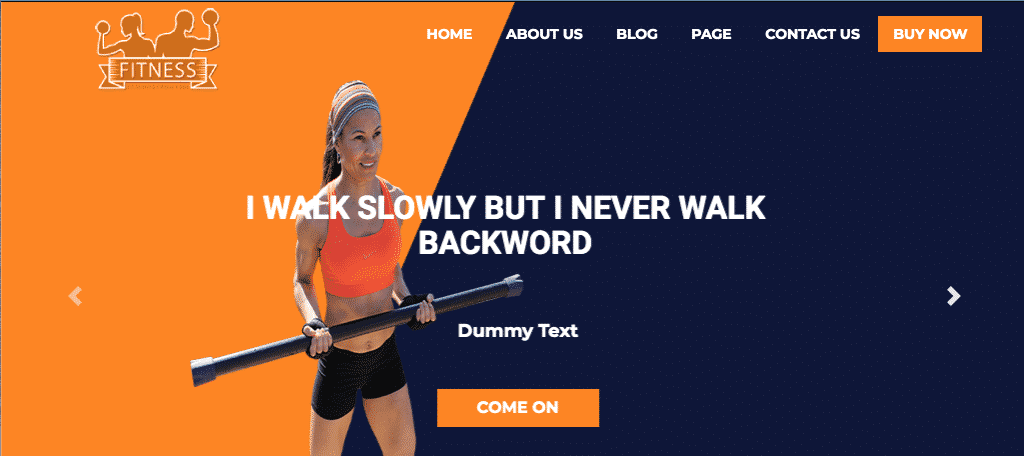 WP Fitness is a smooth, clean, professional free WordPress fitness theme that is designed to be compatible with anything fitness related. Gyms, yoga, fitness, personal training, weightlifting; If it is related to fitness, then the WP Fitness theme has got you covered.
It even has several page templates that can help you get started including a homepage.
This theme supports WooCommerce to ensure you can sell memberships for your gyms, classes, or personal trainers. This gives access to a variety of payment gateways you can use to accept payments.
You can easily display your trainers and coaches front and center. There's plenty of room for them to share their work ethic, credentials, and any other information they wish to share with clients.
Overall, it is a terrific free theme to use in WordPress.
Benefits of Using WP Fitness:
A Fully Responsive Design
Easy Social Media Integration
Sidebar Settings
Compatible With WooCommerce
Optimized and Secure Code
The Zakra theme is a multi-purpose theme that gives you access to over 80 templates that are ready for use. Each one can be customized to fit the needs of your website and you better believe they have several options for fitness sites.
Each template only takes a single click to import, making it a great option for beginners.
As you might imagine from a theme boasting so many starter sites, it is versatile, and its compatibility options make that as clear as day. WooCommerce, Yost SEO, Elementor Page Builder, and much more all work seamlessly with Zakra.
It is also compatible with LMS plugins like Masteriyo, which allow you to build fitness and health courses online that users can take. This is a great way to build equipment guides, safety courses, and more for your gym online.
Compatible With Gutenberg
GDPR Compliance Built-In
SEO Ready
Easy Social Media Integration
Great performance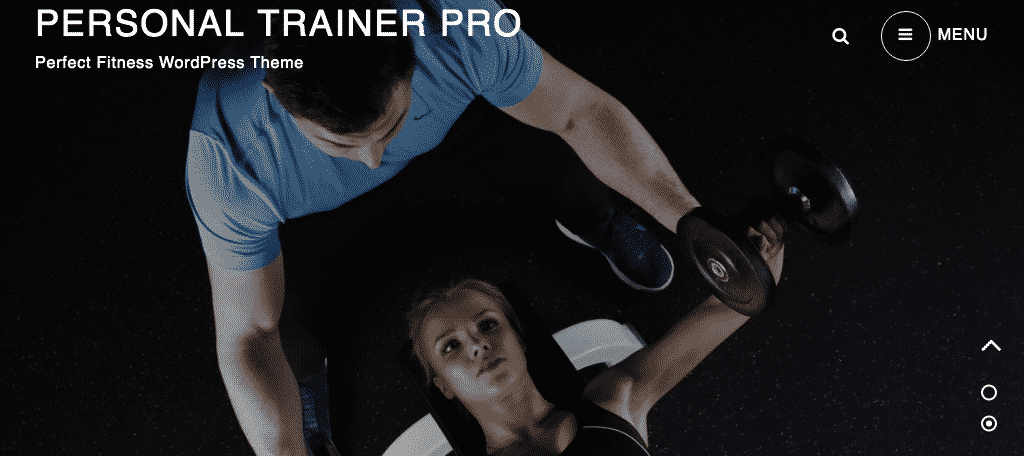 Personal Trainer is another highly customizable fitness theme. This theme will fit in perfectly if you are building a gym, fitness center, personal training, or just about any other health and exercise-related website.
With tons of features, Personal Trainer is one of the best free fitness WordPress themes available today.
Perhaps one of its strongest features is also its simplest, featured content. Many fitness centers offer a host of courses and classes, and sadly, not all of them are successful. You can try to help classes that are not filling by featuring them on your site.
Customization is the core of nearly every WordPress theme, as such, you can expect the Personal Trainer theme to have plenty of it. You'll be able to change every color, font, layout, and anything else you could want without much of a hassle with custom CSS.
Benefits of Using Personal Trainer:
Custom Header Image
Featured Slider
Testimonials
Reservations
Header Contact Info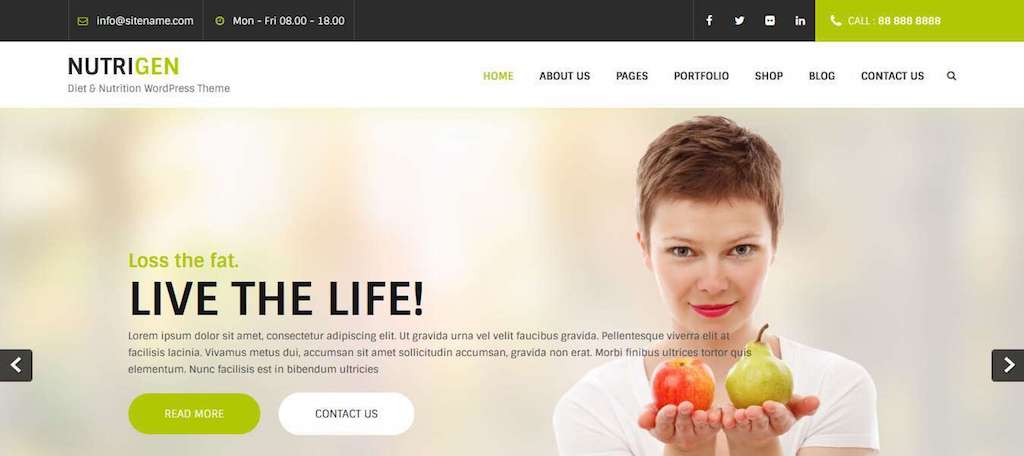 When many people think of fitness, their minds instantly go to weightlifting, jogging, and so on, but the truth is what you eat has a much bigger impact on your health and fitness than a workout routine.
Nutrigen is one of the best free fitness themes of WordPress and focuses on your diet.
This is a great choice for gyms that also want to provide an idea of what to eat before and after a workout. Doing so can help give you more energy and cut calories, which can help you achieve results faster.
The theme also includes a variety of pre-built pages that are common for websites like a 404 page. There are also multiple layouts to choose from to ensure your site has a lot of options to pick from.
Benefits of Using Nutrigen:
Customizable Widget Areas
Logo Upload
Fully Responsive
Ready For WooCommerce
Built-In Contact Forms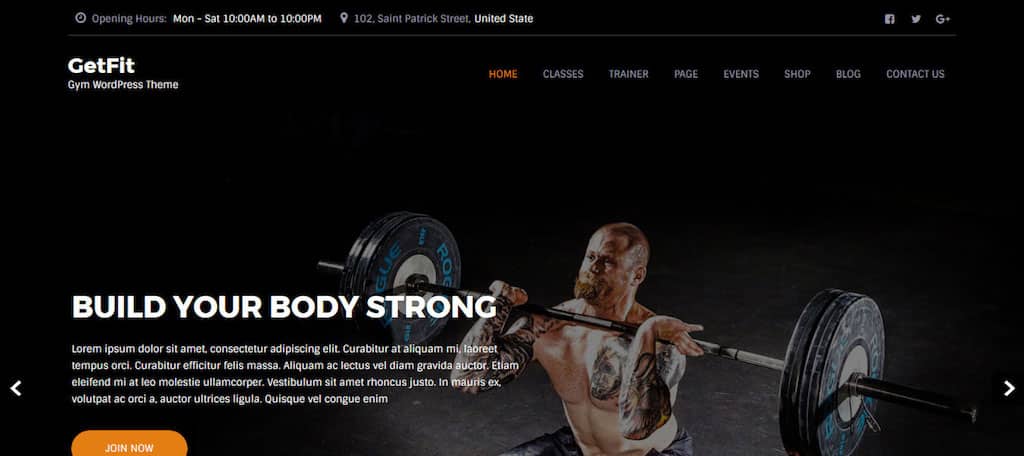 If you are into minimalism, then the Get Fit Lite theme may be exactly what you have been looking for. This theme is perfect for creating gym-style websites and is excellent for beginners due to the fact that it is easily customizable.
Create a smooth, clean website and show off your gym or fitness center.
One of the best features is the ability to upload your own logo throughout the theme. This gives you more branding power and can help make your website feel more professional. This can help match your flyers, business cards, and other marketing material.
When it comes to functionality, you can rest easy knowing this theme is compatible with some of the most popular plugins. For example, WooCommerce can be used to sell courses and memberships online, while Contact Form 7 can be used to create sign-up forms.
Benefits of Using Get Fit Lite:
Modern Style & Flexibility
SEO Friendly
Fully Responsive
Cross Browser Compatible
Gutenberg Friendly
The SKT Strong theme has everything you need to build a solid fitness site from the ground up. With features that include an easy-to-change and manipulate logo area and Google Fonts, SKT Strong is all you need to showcase your business.
For these reasons, it is easily one of the best free fitness themes for WordPress.
It's worth noting that it includes a multipurpose template, but you can get access to over 150 templates with the Elementor Template plugin (this is not free). Thus, it is perfect for any kind of website.
In terms of design, the theme has minimal content, which allows you to show off your gym, trainers, or other facilities as the center of attention. After all, people are more interested in those than the actual website.
Benefits of Using SKT Strong:
SEO Friendly
Compatible With Plugins
Custom Logo
Fully Responsive
Translation Ready
Don't let the name fool you, Fitness Elementor is not associated with the Elementor page builder theme, but it's still a terrific theme to build a site with. And since it is free, it deserves a spot on this list.
This theme offers a wide range of customization and a sleek modern design that's perfect for gyms.
It has a massive slider that can be used to show off your gym equipment, trainers, classes, and anything else your gym offers. It integrates with WooCommerce to help you sell gym memberships, merchandise, protein powders, and so on.
You can build biographies for your personal trainers and instructors including adding their own social media accounts to their profiles. You can even add a BMI calculator on your website.
The possibilities are truly endless when using Fitness Elementor.
Benefits of Using Fitness Elementor:
Includes Blog Layouts
SEO Friendly
Translation Ready With RTL Support
Responsive Design
Two Column Layouts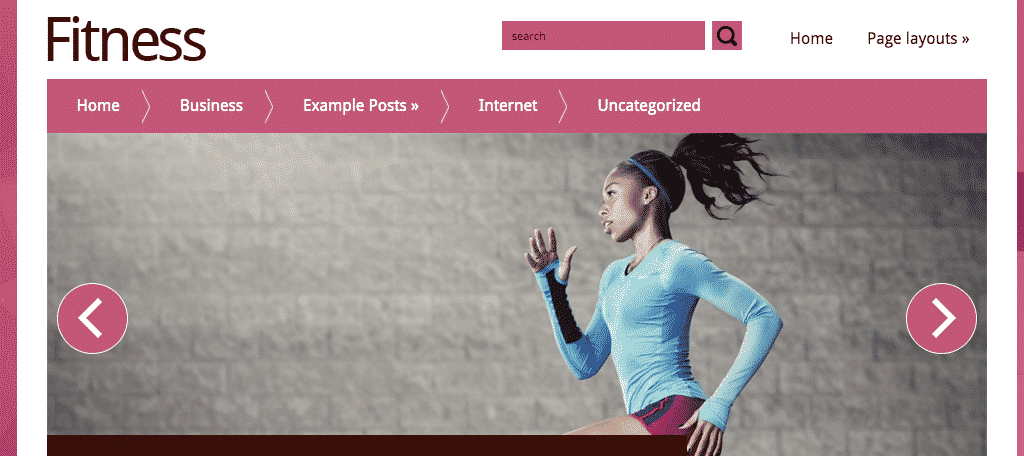 The name pretty much says it all in regard to this free fitness WordPress theme. Fitness provides a design that inspires and integrates the beautiful aspects of sports, health, nutrition, and more all into one theme.
This theme provides you with an excellent framework to build a fitness site and a variety of features to help you make it great.
Since you will most likely be including forms that customers need to fill out to sign up for classes, or to work with a personal trainer, you need to protect them against spam. This theme does just that by implementing CAPTCHA to protect forms.
But don't worry, they are simple to solve, so it won't impact your real clients. If you plan to include blog content, you can show off related posts and color-code them to help users identify topics that they are interested in.
Benefits of Using Fitness:
WooCommerce Ready
Google Maps Shortcode
Social Sharing
Custom Widgets
Translation Options
With Fitness Gymhouse, you get an exceptional WordPress theme that is best used for gyms, fitness centers, yoga centers, and other related websites. This theme offers various personalization options to help you give the look you require on your website.
It's very easy to navigate and fits various screen sizes with ease, which makes it a great choice for any site.
As you probably expect by now, this theme is compatible with WooCommerce. This allows you to sell products and set up online memberships for your gyms. You'll have a wide range of payment gateways at your disposal, so you'll never lose a sale.
Show off your trainers with trainer cards that include their images, name, social media profiles, and more. Even build them a full page to show off their experience and how they approach the courses they teach.
Benefits of Using Fitness Gymhouse:
Easy to Install and Setup
Shortcodes
Google Font Integration
Customizable Colors
Responsive Layout
Pranayama is another excellent Yoga specific free fitness WordPress theme to be featured on this list. This is because of two things: Yoga is popular and this theme provides everything you'll need to build a great site.
Not only can users sign up for Yoga classes, but they can also read your blog with several layout options.
The Pranayama theme is a beautifully designed theme that can be used to develop an appealing website for a Yoga Studio or Yoga teacher. You'll have 9 homepage sections to work with, several sidebar layouts, and much more.
To say you have a lot of customization options is an understatement. One negative note I need to point out is that the free version of this theme does display copyright info in the footer. You would need the premium version to fully remove it.
Benefits of Using Pranayama:
Responsive Design
Social Media Integration
Translation Ready
Optimized For Speed
Clean Code
Wellness is an all-purpose health and fitness theme that can adapt to any environment. As such, it is easily one of the best free fitness themes for WordPress and utilizes a minimalist design.
This is a great way to put your facilities, instructors, or happy customers front and center to help promote business.
Perhaps the best feature of this theme would be the massive post slider. It shows off the thumbnail of the post alongside a short excerpt of the text. Oh, and a "Read More" button so the user can continue reading.
You can create class and instructor cards to show off what your facility offers customers. This includes a picture of the trainer or activity and a short description of the activity. It has everything you need, so give it a try.
Benefits of Using Wellness:
Testimonial Section
Logo Uploader
Translation Ready
Homepage Sections
Responsive Design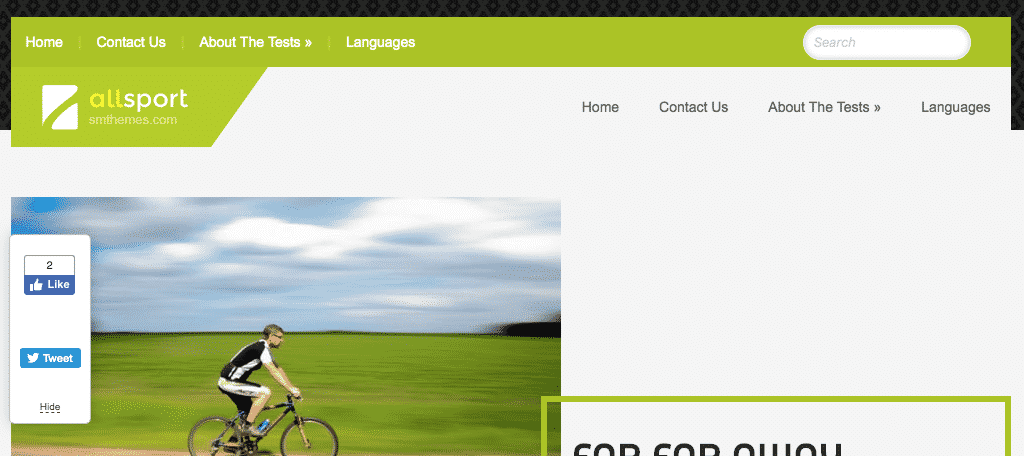 The All Sport theme is the perfect layout for a WordPress fitness blog. This free theme will let you create a news or health website easily. It is also suitable for a sports journal of your achievements, goals, or future plans.
It utilizes a calming green-on-white color scheme to help clients relax and focus on bettering themselves.
The layout of All Sport is clean, fresh, and professional looking. It will provide your readers with an easy-to-navigate website. It also protects your website from spam bots without implementing CAPTCHA on your forms.
This ensures that regular customers are not negatively impacted, while also keeping your forms spam free. It also has a recent post option that allows you to color them differently based on the topic.
Benefits of Using All Sport:
Google Maps Shortcode
Fully Responsive Design
Social Sharing
Sliders
Translation Options
FGymm is one of the best free fitness themes for WordPress. It offers a plethora of customization options to choose from and a sleek modern design. When combined, you really do have all of the tools necessary to build a great fitness site.
It also has several blog layouts for you to create other types of content like workout routines, diet advice, and so on.
If you are looking to sell products or allow customers to pay for their gym membership online, that won't be a problem because this theme is compatible with WooCommerce. As such, you'll have a huge selection of payment gateways for customers to pay with.
This theme also has a big focus on social sharing. You can place social icons in both the header and footer areas of your website. This is a great way to encourage users to share your content or tell their friends your site is the place they got a six-pack at.
Benefits of Using fGymm:
3 Footer Widget Areas
Full-Width Template
Translation Ready
Homepage Slider
Threaded Comment Support
16. SKT Fitness Lite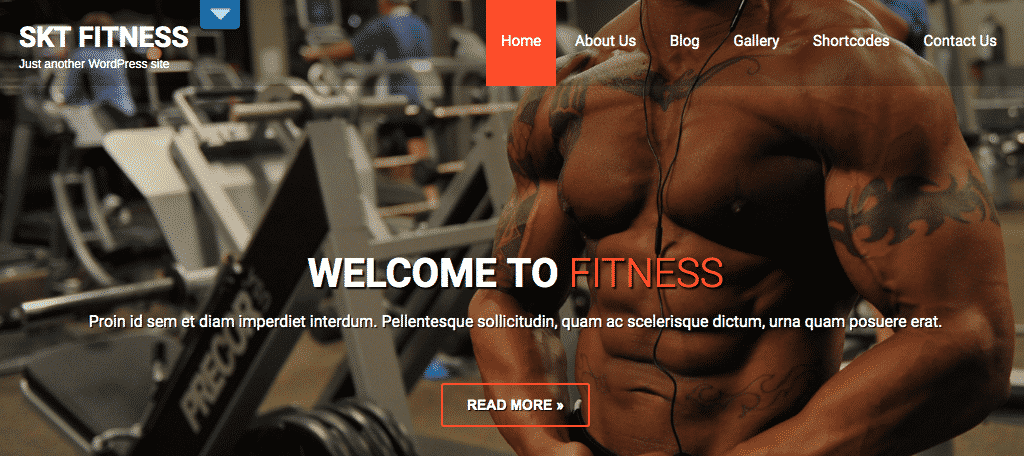 Yet another strong free fitness WordPress theme available is SKT Fitness Lite. The theme is perfect for displaying and showcasing images from your gym, providing coaching classes, or listing options and information for sign-up.
The theme is fully customizable and fully responsive, which makes it a strong contender for the best free fitness theme in WordPress.
It utilizes a minimalist design and a section-based homepage. This creates a great dynamic that allows you to show off the facility, instructors, pricing, and other important information front and center.
It is also compatible with most WordPress plugins. For instance, if you want to create pricing tables for your memberships, you'll have no trouble finding a plugin that works with this theme. It's a great option to consider.
Benefits of Using SKT Fitness Lite:
Mobile Responsive & Ready
Multiple Layout Options
Logo Upload Options
Access Sliders
Cross Browser Compatibility
Neve is one of the best themes in WordPress period and is multipurpose in nature. Its best aspect is having a template for any occasion, and it offers several templates that are perfect for fitness and nutrition sites.
In this case, the Neve Fitness theme is one of the best options for themes and you can use it for free.
As one of the top themes in WordPress, you'll be pleased to know that Neve is pretty fast. Your pages will load fast with clean code, and the theme works with pretty much every WordPress plugin that is properly maintained.
When it comes to design, the templates are professionally designed, but you can add your own spin by changing any element. Thus, it's a great starting place for beginners to work from. As such, Neve is a great choice no matter what kind of website you build.
Benefits of Using Neve Fitness:
Header & Footer Builder
Google AMP Support
Page Builder Compatible
Quick Template Imports
WooCommerce Rady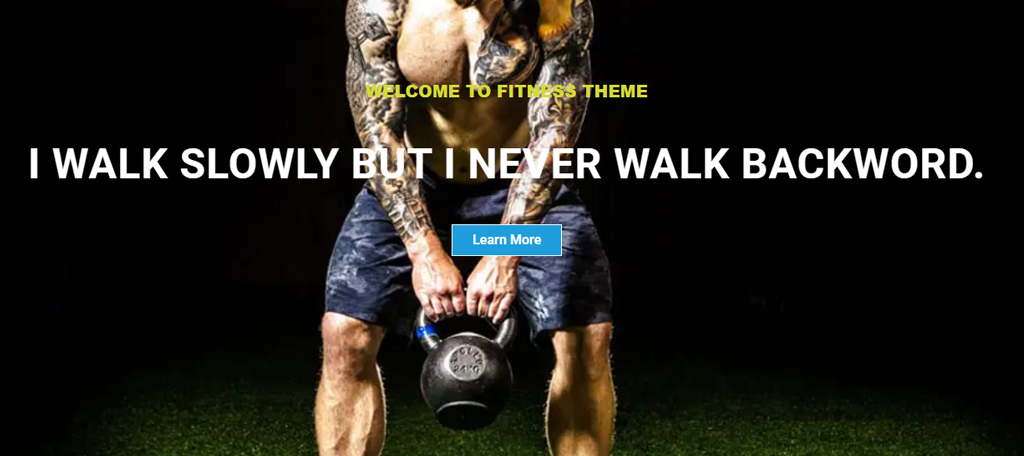 VW Fitness Gym is one of the best free fitness themes to build a site in WordPress. It offers a modern design with a great selection of features to handle any situation.
For example, it offers an in-built BMI calculator you can display on your site.
It also supports all of the other core features you would expect. This includes displaying class schedules, listing instructors, displaying pricing tables, and much more. If it's a normal item to display on a gym website, it is here.
As you might expect, it is fully compatible with WooCommerce. As such you can collect gym memberships online and even build your own merchandise store. It's really the perfect theme for a gym, so be sure to try it today.
Benefits of Using VW Fitness Gym:
Multiple Blog Layouts
Mega Menu Support
Homepage Featured Slider
Create Video Posts
Full-Width Templates
Blossom offers a ton of great themes, and Blossom Studio is no exception. In fact, it may just be the best free fitness theme on the market for WordPress. It offers all of the essential features and an excellent style to boot.
This theme is ideal for coaching, Yoga, and nutrition-based sites with its calm clean design.
Perhaps one of the most important things to display on a coaching website is what your customers think. You can do this easily with Blossom Studio's testimonial feature. That's right, you can place testimonials front and center with this theme.
When it comes to design, the theme is quite versatile. You'll have over 1,000 Google Fonts to choose from, a variety of layout options, and full control over the color scheme of the website. There are really no limits when it comes to Blossom Studio.
Benefits of Using Blossom Studio:
WooCommerce Compatible
Translation Ready
Responsive Design
Instagram Section
12 Homepage Sections
Build A Gym Website Today With These Themes
I hope you found this list of the best free fitness WordPress themes helpful. Sometimes it can be difficult to find a good appearance that is free. However, the list above has shown you quite a few, all of which will get your online presence up and running in no time.
Remember, most of the free themes above have pro (paid) versions as well. You are more than welcome to take a look at them. However, the free fitness WordPress themes listed will all provide you with everything you need for a clean, professional fitness-related site.
What fitness theme is your favorite? Will you ever consider using a premium theme?