Creating a short URL in WordPress comes with a myriad of benefits, and you must be familiar with the practice if you are going to maximize the viability of your website. A short URL can give you a marketable commodity as well as a redirect for many monetization opportunities.
Just think about it for a second, if both of these links led to the same place, www.example.com/agsjksodbwso/shsbsdosfgsdm/115 or www.example.com/my-product-review, which would you click on? My bet would be on the shorter and more descriptive one.
Here are the easy steps to create a short URL for your website that will last a lifetime.
Why Shorten URLs in WordPress?
Before I show you a few ways to create a short URL in WordPress, you want to understand the advantages of doing this. Making URLs shorter will give you a handful of advantages that are just too good to pass on. These include:
Easier Sharing Ability: This will be hard to pass up. It is much easier to share a shorter link than it is to share a long one. This can be applied anywhere from social media to sharing the custom short link on business cards and other marketing materials.
Improve CTR: We are always looking to improve CTR (click-through rates) on our WordPress blogs. Creating a custom short URL to fit your brand better has been proven to boost click-through rates by 34%. This is because it appears more credible to potential visitors.
Analytics: Improve your overall marketing strategy by using URL shorteners. When you create something like a bitly link, you are provided a lot of different analytics that you can use to your advantage. Take all the data provided and build a better brand.
Hide Affiliate Links: For many websites, affiliate links provide a solid amount of revenue for the website. However, regardless of how you present them, they are an ad in one way or another. You can cloak this from visitors and search engines by shortening the URL. Yoast SEO even recommends doing so.
Free or Very Cheap: Creating a custom short URL in WordPress is free, or very cheap in some cases. While you can buy a branded custom short URL, creating shorter links is actually free from the services below.
How to Shorten URLs in WordPress
1. Create Short URLs Using Pretty Links WordPress Plugin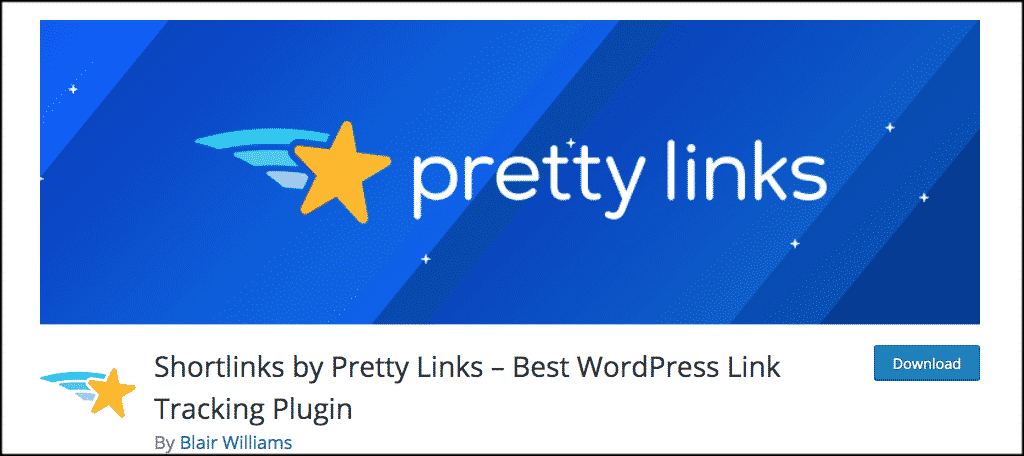 The Pretty Links plugin is a lot like other options on this list. It allows you to create shorter links right from the dashboard of your WordPress website. The plugin offers a ton of flexibility for users. However, perhaps the best thing about Pretty Links is that you can create clean, short, custom links that use your domain name.
Essentially, you can use a branded URL without having to purchase it as Pretty Links does the conversion for you. Furthermore, this plugin tracks all hits coming from your branded URL and provides you with detailed reports that include:
Where the Hit Originated From
Browser That Was Used
Operating System
Host
The plugin is easy to set up and start using and highly recommended for creating a short URL in WordPress.
2. Use WP.me Shortlinks in Jetpack
The Jetpack plugin for WordPress comes with a ton of tools and functionality that can be used to make your WordPress site better in a number of ways. One of the options it gives you is to create short links using the WP.me option within the plugin.
You want to install and activate the Jetpack plugin and go from there. There are a couple of cons to using the WP.me option, though. While it does help you easily create short links, you are not able to specifically brand them. Instead, you get the shorter URL using the wp.me format.
Also, the WP.me option within the Jetpack plugin does not offer any tracking data. So if you are trying to track analytics and click-throughs to use for marketing, this may not be the option you want.
That being said, it is very simple to activate and use this feature. Once the plugin has been installed and activated, go to Jetpack > Settings > Traffic.
Here you will find a switch called  "Create short and simple links for all posts and pages." This is located in the Shortlinks section. You can easily complete the rest of the process and start creating short URLs in WordPress from there.
3. Go to Bitly and Make a Custom Domain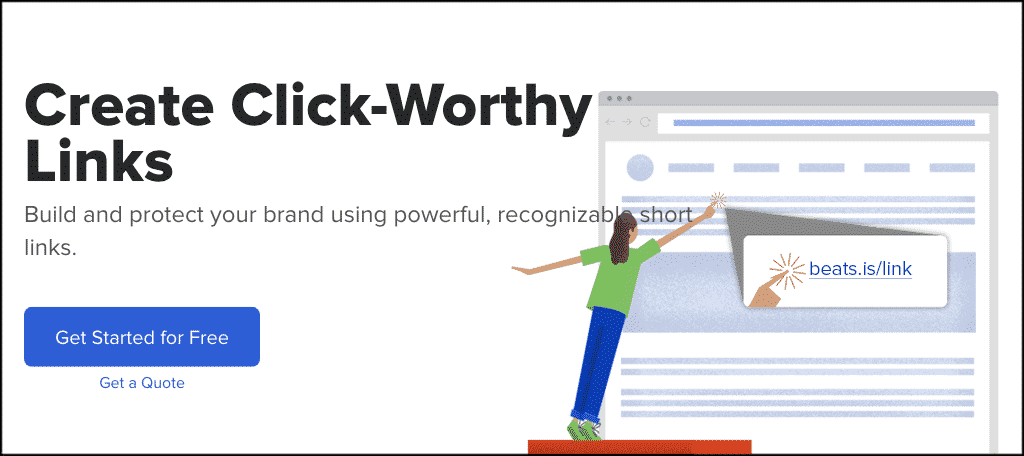 There are many different aspects to employing a short URL that may be beyond the financial scope of an individual or a small company. Fortunately, Bitly takes care of many of these things for you.
Even better for many businesses, these services are completely free from bitly.com.
Here are some of the things you can do with your Bitly account
Shorten and brand the 
links you share
Track individual link analytics
Gather audience intelligence
Measure campaign performance in one location
Collect insights on your performance
Optimize your marketing efforts
Give context to the click
Your first step is to sign up for a Bitly account. The good news is that this is completely free to make. After you set up the account, you will be able to find the listing for "Settings" under the drop-down menu to your username. Luckily, Bitly is really easy to use so it really just comes down to going through all of the settings.
In reality, setting up Bitly comes down to one thing.
Setting up a DNS host or a record that will point directly to your IP address. This may require you to set a CNAME record in order to complete the process depending on the registrar that you choose. However, once that is done, your link is ready to go, once it has been processed.
This may take up to two days for a short URL to point to your other properties online. However, the wait is worth the effort if it boosts engagement and improves traffic.
When the process is complete, you will be able to type in your short URL and get to your original web page. They make it pretty easy to create a Bitly link and use it as a shorter URL option.
4. URL Shortener by MyThemeShop
The last great way I will share is the URL Shortener by MyThemeShop plugin. This plugin allows you to quickly and easily shorten your website's URL. Unlike third-party tools like Bitly, everything can be done from the comfort of your own website.
The biggest advantage this plugin offers is the speed in which short links become available. Within minutes, the links you create can be used. It can be extremely frustrating to have to wait hours or even days for a short link to work properly.
This plugin also comes with tracking features to help you record just how successful changing to a shorter URL has helped you on other platforms. It is a one-stop-shop for all of your short link needs.
5. Linker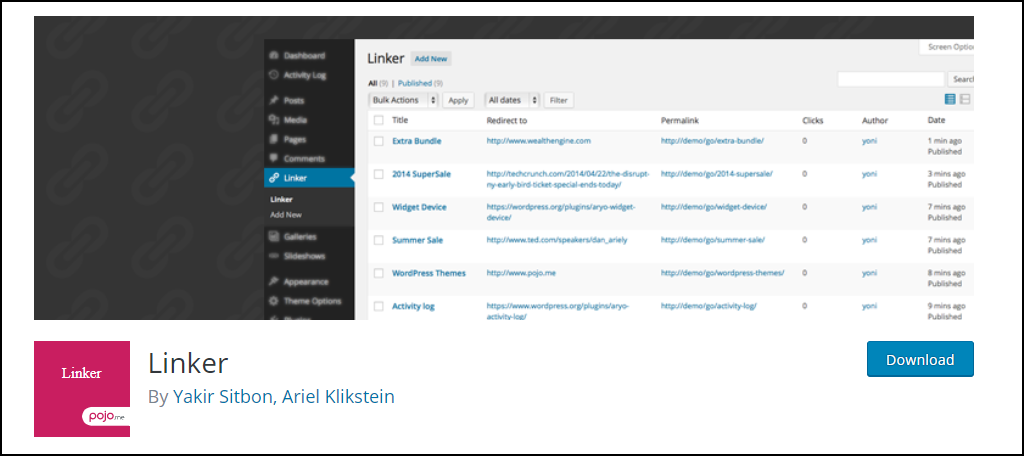 The Linker plugin is a great choice and not just for short links, but for redirections as well. The plugin utilizes your own domain to create the short links which means you can easily use Google Analytics to keep track of how successful these are for your website.
The plugin makes setting up 301 redirects a breeze with its intuitive design. Simply enter where you want a specific URL to lead and that's it. It really does not get any easier than what this plugin offers.
Don't Just Shorten Links, Make Them Descriptive
You may think that the shorter the link the better, but that isn't quite how it works. The reason why shortening URLs works so well is that it allows visitors to get a better idea of what they are about.
This helps them clearly identify what kind of information or content it will contain. This can be extraordinarily helpful on social media platforms where links appear in almost every post. In fact, they are so common, links are commonly ignored on these platforms.
Take a moment and ask yourself what was the last link you actually followed while surfing Facebook? Probably not that often, if you're like me.
Making your links look more credible, descriptive, and shorter is a great way to separate yourself in a sea of links. And making sure your brand and objective are clear in the link is a great way to do it.
Adding Shorter URLs in WordPress Works
The less time someone has to think of the URL when typing it into the address bar, the better. You want something that is quick and easy to remember. It'll also help when sharing content especially on platforms like Twitter and Facebook, where users tend to ignore larger posts and links.
Using any of the tools above to create a short URL in WordPress will benefit you through analytics, marketing, and make it much easier for you to post links to your business and blog content.
Have you noticed an increase in traffic since switching to short links? Do you think short link creation should be a built-in WordPress feature?