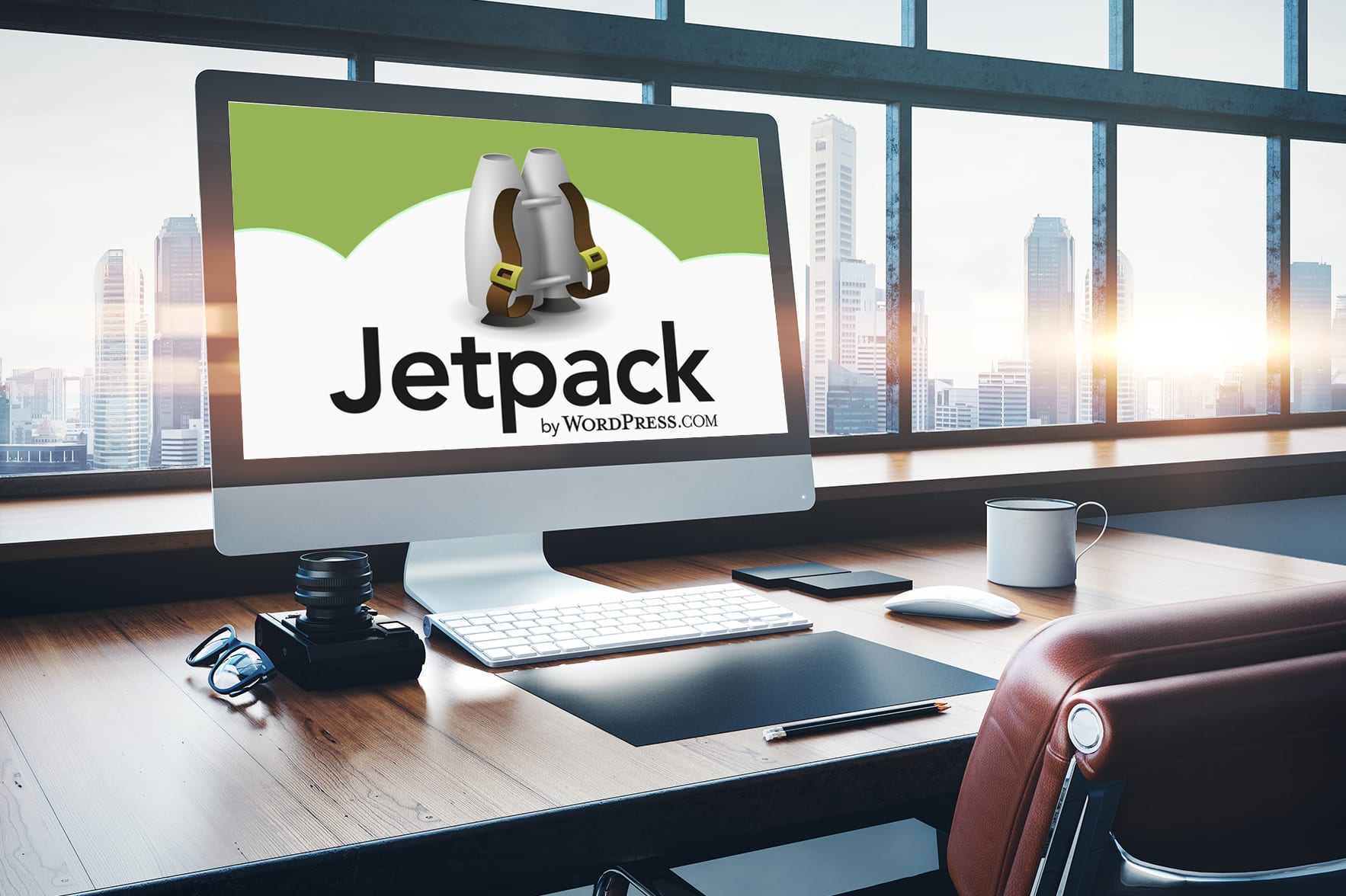 Jetpack is a series of tools and features created to add a great deal more to the WordPress system. This collection is usually installed automatically with newer versions of the popular content management system, but it can be added as a plugin if you don't already have it.
The collection of modules within Jetpack offers improvements to everything from the comment section to security and safety measures.
The WordPress Jetpack plugin delivers more than 30 integrated features that are easy to install and configure. Once you've made a free account with WordPress.com, you can vastly increase the potential of your website with the different tools available.
The following are five of the most important additions that you may want to implement once you have the system installed.
1. Brute Force Attack Protection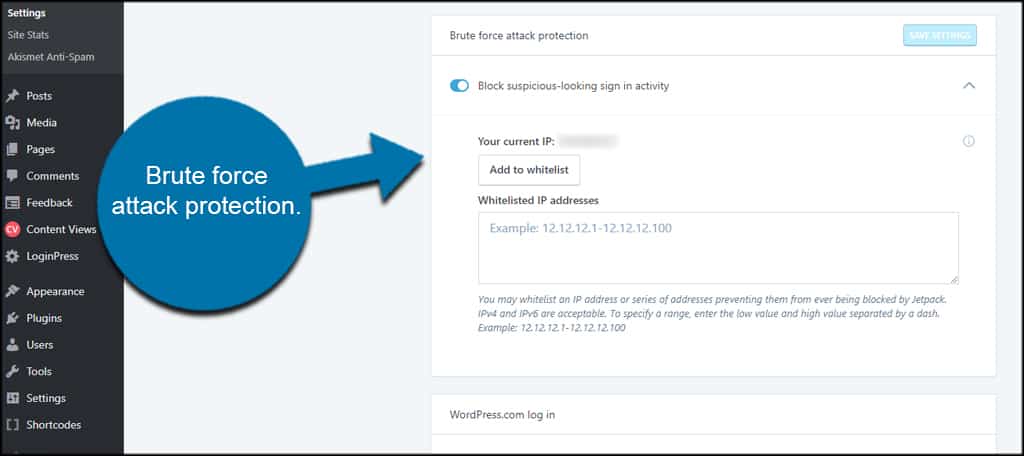 The Protect module keeps your site from being targeted by brute-force attacks from hackers. Essentially, it is a system that uses an extensive and growing database of online IP addresses known for malicious activities.
As part of the network, your site can contribute to this list automatically when someone tries to gain access. This is what makes the system so powerful.
When someone is blocked trying to access the back-end of your site, he or she is also blocked from accessing WordPress installations of other people simultaneously.
As an added bonus, you can whitelist certain IPs that you know are legitimate.
2. Publicize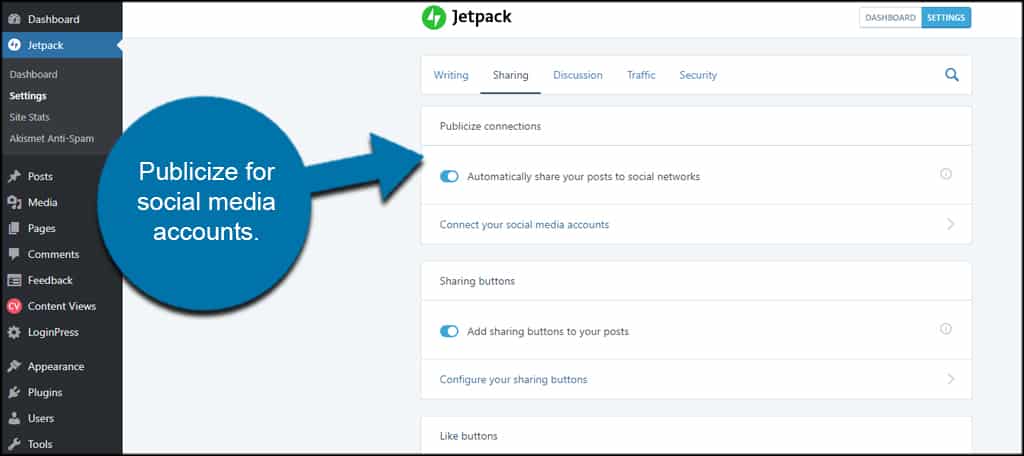 Social media is an important part of marketing your pages online. Publicize makes it easier for you to encourage others to share your content.
Buttons for the most popular social hubs are included as well as the ability to change the type. In fact, this module helps you include Twitter Cards onto your site to help promote your pages as well.
The platform uses a drag-and-drop interface allowing you to include what social media sites you want available for sharing as well as the ability to create your own services for other social hubs.
3. Related Posts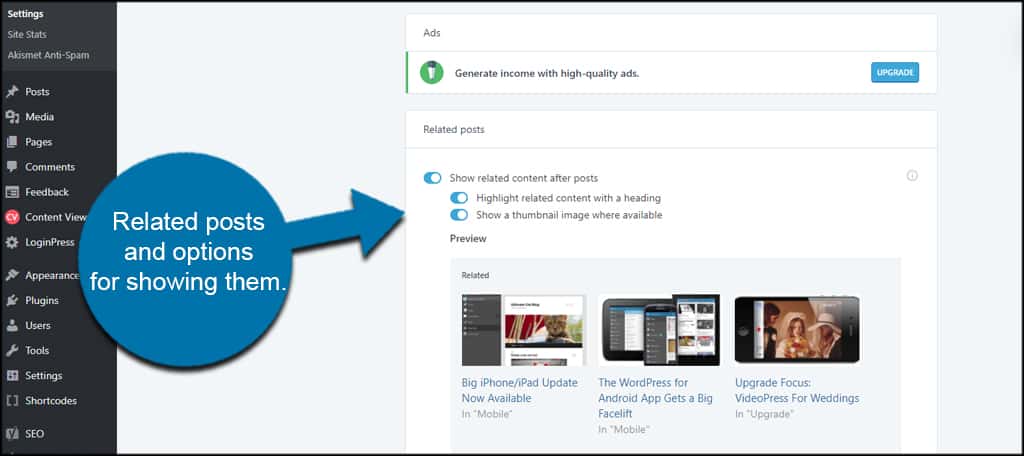 A site owner could spend hours looking for the perfect plugin to show related content on posts. Related Posts adds a section to your WordPress settings as a check box to display relevant content on every post you write.
Additionally, you can use a larger and more appealing look for this addition by clicking the available check box in Related Post's configuration.
Related Posts help keep users on your site by showing them content they may be interested in.
4. Sitemap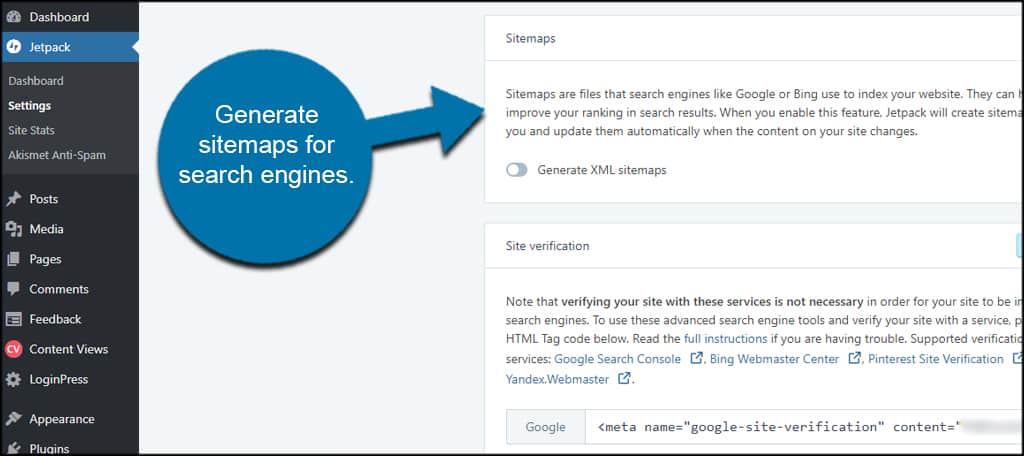 Sitemaps are imperative if you want the website visible on engines like Google and Bing. It's how these platforms find and index your content. Jetpack provides a module to create this file quickly and easily.
Like most other sitemap plugins for WordPress, Jetpack will update the information automatically any time there is a change to your posts or pages. In other words, you can set it and forget it once you add the XML link to Google and Bing.
5. Composing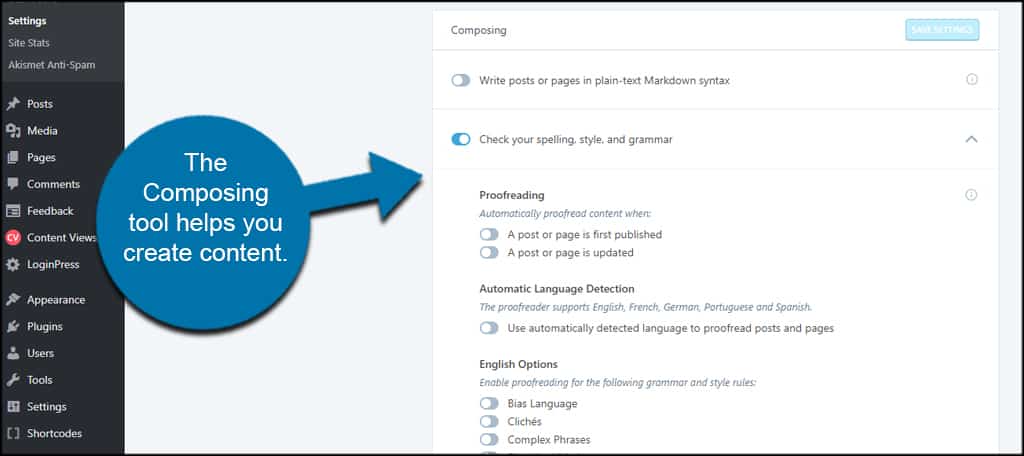 Spelling and grammar are important facets of content. Not only does the website look more professional, but it can also prevent confusion among readers. Jetpack comes with the "Composing" tool to accomplish this.
The function comes with a proofreading feature of the WordPress editor, automatic language detection and the ability to scan for jargon, cliches, passive voice and many more styles.
You also have the option to include specific phrases that may not be in the Jetpack module. For instance, many brand names may flag an error during proofreading. You can add those names and words to the ignore list.
Jetpack Has a Lot to Choose From
Currently, there are more than 30 modules that can be added to WordPress directly from Jetpack. These components are not necessary in order to develop an attractive and feature rich site, but they can be inspiring and very helpful once you play around with some of the more interesting features.
Since the WordPress Jetpack plugin is constantly updated, it may be worth your while to keep it installed even if you don't use any of the tools just in case something is added that you'll want to activate.
What Jetpack modules do you current have running on your website? Do you find Jetpack to be a valuable asset or a waste of space?