Using search engine optimization techniques is the most potent way to enhance how your website ranks during a search. While it's still possible to have your content crawled by search engines, SEO greatly improves your exposure. Luckily, SEO for WordPress isn't as difficult to obtain as you might think.
In fact, many aspects of this can be done automatically for you. Here are five ways you can help boost the awareness of your site in some of the largest search engines in the world.
How to Boost Search Engine Rank
1. Google Webmaster Tools
The first thing any site owner should do is sign up for Google's Webmaster Tools. This is where you add your sitemap and monitor how the popular search engine views the site.
The reports delivered can give you insights into how the world is accessing your webpages and what texts are found to be the most important.
Another key component to Webmaster Tools is the reports involving problems and errors. If Google is having a problem crawling your site, it will show you the type of error and what webpage was flagged.
This is invaluable when trying to keep your website primed for SEO as well as improve visitor experience.
2. Learn Writing Techniques
The way you create content will play a powerful role in how your WordPress site gets ranked by search engines. Taking the time to learn how to create relevant and optimized materials could vastly increase your exposure.
It's more than just keywords as search engines like Google also determine for relevance and word stuffing.
For the most part, many of these techniques are not that difficult to implement. Things like headers, shortening paragraphs and using bullet points are quite easy to add.
Thanks to various WordPress plugins such as Yoast SEO, you can keep an eye on how your content is developed. Don't be intimidated by learning how to optimize your writing style.
WordPress can do a lot of that for you automatically with the right plugins.
3. Create Backlinks
While relevant backlinks are a bit more difficult to accumulate than they were in the early 2000s, they still play an important role in SEO. These links help facilitate domain authority and can boost your company's reputation on the Internet.
This can be done in several ways such as using guest posts on other relevant sites.
You can find backlink plugins that will help generate these from your visitors. These often place a widget you can position in various places on your WordPress website that gives visitors the URL to use.
4. Improve Site Speed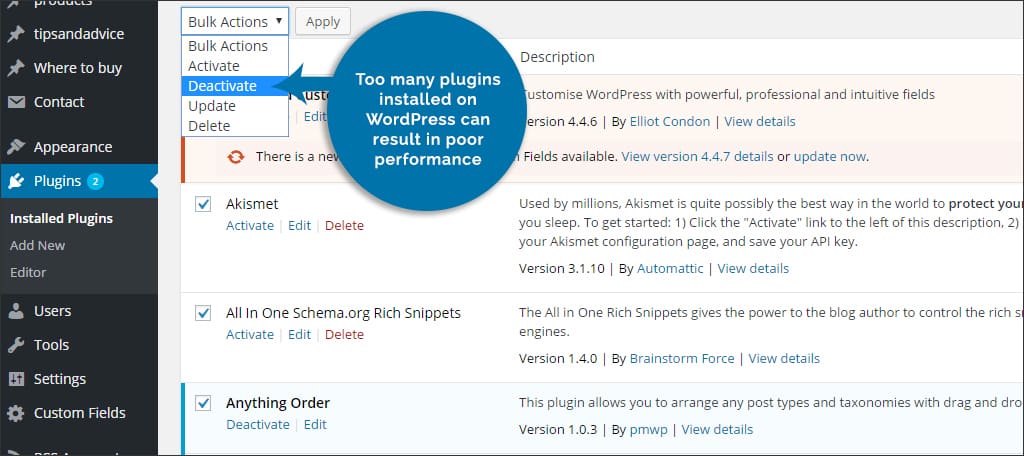 Site speed is another factor that will weigh how your pages are ranked. This can be modified in a number of ways. When considering speed, pay close attention to:
5. Yoast SEO
The Yoast SEO plugin is perhaps one of the easiest ways to implement SEO for WordPress websites. Loaded with a variety of controls, you can maintain a vast number of optimization techniques.
Not only does it give you control for managing things like sitemaps and social media exposure, but it also helps tighten your content.
Yoast will install an addition to your text editor that will guide you to creating optimized content. Using current algorithm techniques, the system will let you know when titles are too long or if key phrases are present.
It will also analyze images to make sure "alt" texts are used and if the content is easy to read.
Watch Search Engine Optimization Trends
Because SEO practices change so often, you need to keep your thumb on the pulse of various engines. The procedures that were successful in 2005 are not accepted by today's standards.
Implement the best SEO for your WordPress website and reap the rewards of greater exposure. According to statistics, even the simplest of these changes can impact sales and leads for your business.
What kind of SEO practices do you put into play on your site? How often do you search for your content on Google and other search engines?