Unfortunately, if you don't have a backup of your computer, all of your data is at risk. You need to protect your data, and the best way to do it is with backup software. However, there's a lot to choose from, which makes choosing the best one very difficult.
Transferring data to an extra or external hard drive can be confusing, but backup software makes it trivial. While the average hard drive can last anywhere from 3 to 5 years, if you take good care of it, they can also fail much quicker.
And that's because the average user doesn't take care of them or in many cases, just doesn't know how to. Thus, every computer owner should ensure they have a backup in place.
What Is Backup Software?
Backup software is used to make a copy of your computer's files that you can use in the event of data loss or hard drive failure. The software will duplicate or clone your files into a new folder that you can store in another location.
It is not recommended to keep a backup on the hard drive you are cloning. This is because if the hard drive fails, you just lost all of the information, and the backup intended to restore it.
Instead, you want to store the data in another location. This can be on an additional hard drive or using cloud-based servers. In most cases, it is recommended to use both, but it depends on how important the data is.
If it's just simple information, using One Drive or Google Drive will suffice.
The Best Backup Software for 2020
1. Acronis True Image
Acronis True Image is one of, if not the best pieces of backup software you can download. However, don't just take my word for it. They have over 5 million customers, with at least half a million of them being business users.
This is a company you can trust to back up your computer.
As you might imagine, it comes with a plethora of useful features that include backups that do not interrupt your computer usage, create both on disk and cloud-based backups simultaneously, mobile phone backup support, scheduling options, and much more.
However, just calling Acronis backup software is a bit of an understatement. On top of this, the software also protects your computer from threats. It comes fully loaded with antivirus and malware protection, which really makes Acronis a must-have.
Benefits of Acronis True Image
Includes antivirus & malware protection
Backups do not interrupt your computer usage
Supports both local and cloud-based backups
User-friendly interface
Pricing of Acronis True Image
Essential 1-year subscription starts at $49.99
Advanced 1-year subscription starts at $89.99
Premium 1-year subscription starts at $124.99
2. StorageCraft
If you are exclusively looking for cloud-based storage, then StorageCraft is the PC backup software for you. Backups happen automatically every 8-hours without impacting your computer usage.
Keep in mind, that this service is intended for businesses, so the prices are much higher than others on this list.
Most importantly, all of the backups created are cloud-based and are only stored in either Microsoft Azure or Amazon S3 data centers. These are two of the most powerful, secure, and most importantly, reliable data centers in the world.
Thus, you can be sure your data is going to be safe. On top of this, it includes other features like 24/7 access availability, the ability to manage multiple accounts in one location, detailed reports of your backups, encryption, and much more.
Benefits of StorageCraft
Utilizes Microsoft Azure & Amazon S3 Datacenters
Backups occur automatically every 8 hours
You can manage multiple accounts from one screen
Detailed reports are generated after every backup
Pricing of StorageCraft
Plans start at $395 and scale up based on your needs
3. AOMEI Backupper
The AOMEI Backupper software is intended for both home and business use, which means its perfect for everyone and everything. Most importantly, it has a free version for home users to take full advantage of.
Yeah, I said free.
The free version includes basic backup support that allows you to back up every file on your computer including your OS. However, if you own a business, you are going to need more advanced features, and AOMEI has you covered.
It has packages that work for businesses at any size and includes a wide variety of features like disk cloning, unlimited PC coverage (perfect for large offices), doesn't interrupt what you are doing on your computer, and much more.
Benefits of AOMEI Backupper
Free home version
The software can scale to your business
Disk cloning
Includes OS backup
Pricing of AOMEI Backupper
Free version available
Professional edition starts at $49.99
Workstation edition starts at $59.99
Server edition starts at $269
Technician edition starts at $499
Technician Plus edition starts at $899
4. NovaBACKUP PC
NovaBACKUP boasts that they are the #1 PC backup software for windows, which is quite the claim considering the intense competition. And what's not to love? It has plenty of great features to choose from and comes at quite an attractive price.
Keep in mind that there is no Mac support, it is exclusively a window 10 backup software.
One thing that really separates it from most of the other pieces of software on this list is that it has a US-based support team available 5 days a week. While backups are quite simple to handle, if you need additional help, these guys have you covered.
All plans now include 5 GB of cloud storage and come with a good selection of other features including automatic backups, single file restore (excellent for testing purposes), email notifications, compression, encryption, and much more.
Benefits of NovaBACKUP PC
Compression makes backups quicker than the competition
5 GB of cloud storage included in all plans
Support team available 5 days a week
Single file restore support
Pricing of NovaBACKUP PC
Single PC license starts at $49.95
3-User PC license starts at $79.95
5-User PC license starts at $99.95
5. Paragon Software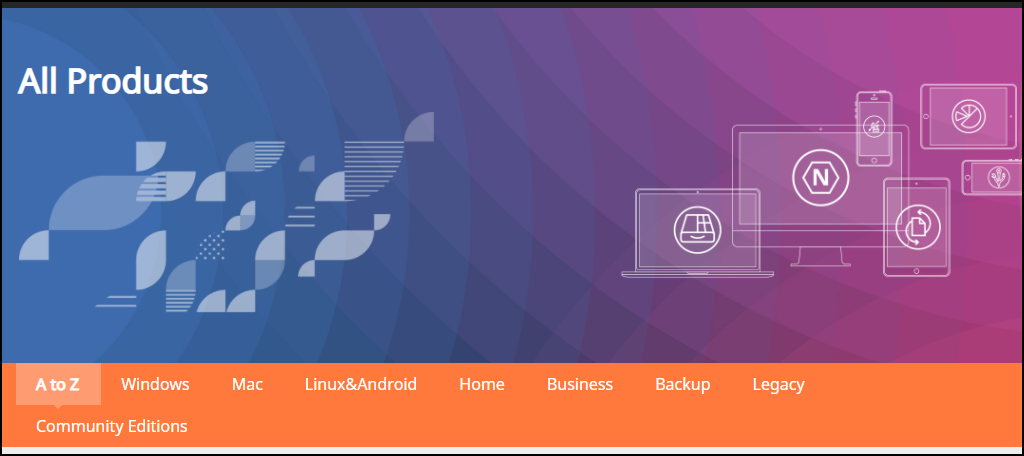 Paragon Software has a host of backup programs available and they cover just about everything. This software supports both Windows and Mac users, but be sure to download the right version, because they are all separate.
However, the free version is only available for Windows users.
With 42 pieces of software to choose from, there is something for everyone. The pieces of software are quite varied, with some being free, paid, for home use, professional use, and just about everything else in between.
If you are looking for a simple backup software take a look at the Paragon Backup & Recovery Community edition. It comes with everything you need for home usage, but be sure to check out the other amazing tools if you are looking for something more robust.
Benefits of Paragon Software
A large library of backup products to choose from
Supports both Windows and Mac users
Excellent user interface
Pricing of Paragon Software
Free software available
Various other packages available
6. NTI Backup Now EZ 6
NTI Backup Now EZ 6 is the latest edition of this long-running backup software series, which dates back to 1995. And with over 20 years of experience underneath their belt, this is a brand you can trust.
One of the best parts is that it's a one time buy, no subscriptions necessary!
It is one of, if not the fastest piece of software on this list when it comes to creating backups. However, it is worth mentioning that the interface tends to be a bit clunky and hard to use. At least when you are a beginner.
If this isn't your first rodeo, though, you should have no trouble figuring it out. It allows you to upload your backup on a variety of services including Google Drive, One Drive, and Dropbox. It also includes a variety of features to take advantage of.
Benefits of NTI Backup Now EX 6
Multiple cloud-based upload options to choose from
Backs up files fast
One time-purchase, subscriptions are optional
Pricing of NTI Backup Now EX 6
1 license starts at $49.99
2 licenses start at $69.99
5 licenses start at $129.99
10 licenses start at $199.99
7. Genie Timeline Home 10
Genie Timeline Home 10 is an excellent piece of backup software that offers a free trial to test it out. It has one of the simplest UI's on this list, which helps make it easy to use regardless of your skill level.
This product only supports Windows users.
It's definitely no slouch when it comes to features. Some of the main ones include automatic backups, a timeline view to keep track of files, easy to use recovery wizard, does not interrupt your computer usage, and much more.
The UI takes full advantage of color usage. If something is written in green, your good to go, but if you start seeing messages in other colors, you need to take a closer look. This makes it easy for anyone to monitor their backups.
Benefits of Genie Timeline Home 10
Amazing UI makes managing your backup simple
Automatic backups
Recovery wizard to reduce downtime
Pricing of Genie Timeline Home 10
1 license starting at $39.99
2 pack offer starts at $59.95
5 pack offer starts at $99.95
8. FBackup
Wrapping up this list is the hidden gem itself, FBackup. And just to be perfectly clear, the F stands for Free. Odds are you have probably never heard of this backup software, but I'm here to tell you, you've been missing out.
And the first tip-off should be its excellent design.
You might recognize it because it borrows heavily from Microsoft Word, but that's not a bad thing. In fact, it's surprisingly effective at ensuring just about anyone can create a backup without hassle.
This allows you to backup all of your computer files and even allows you to upload them directly onto Google Drive or Dropbox. And security shouldn't be a concern because important information, like banking, is encrypted.
Benefits of FBackup
Has one of the best UIs available
Encrypts important information
Schedule backups to Google Drive or Dropbox
Pricing of FBackup
The Importance of Backing Up Your Data
For some, the data they accumulate on their computers is irreplaceable. Sometimes this may mean thousands of family photos, video game save files, research notes, school reports, work programs, and more.
It's a nightmare, to say the least. And it could take hours to get your computer back to the way it was.
However, in some cases, there can be much bigger consequences than just losing a few photos.
If you run a business, it is very likely that your computer contains important records of your client interactions that may be needed for future projects or even tax purposes. And trust me, you do not want to be audited and try to say you lost all your tax records.
Thus, not only is losing your computer's data inconvenient, but it is also outright unprofessional for a business to not have a backup.
As a result, you need to keep a backup as a business owner.
Have Multiple Backups
The biggest mistake you can make is to only keep one backup.
Regardless if you store it in the cloud or an external hard drive, there's no reason to have both. In fact, you should look into making multiple cloud-based backups. After all, quite a few of them, like Google Drive, are completely free to use.
This makes it easy to access one when something happens or if one happens to be more up-to-date than the others. After all, I doubt you are updating that external hard drive every couple of hours.
So, make sure to keep multiple current backups available. You never know when you will need one.
Backups are Great
At the end of the day, a backup offers users peace of mind. They know that if something goes wrong, the majority of their information will be safe.
And that in and of itself is priceless.
Backups can help you get through technical difficulties, transfer data to a new computer, or clone your computer for testing purposes. Regardless of the reason you do it, there is always value in creating a backup.
Thus, finding a computer backup software that meets your needs and price point is extremely useful.
Which backup software do you use? How often do you backup your data?