Faxes? One question comes to mind when you hear this. "Who uses fax machines anymore?" Well, truth be told, there are still thousands of businesses that use faxes as a way to communicate. However, there is no physical fax machine involved. Instead, companies are using online fax services to send and receive faxes.
Chances are, you could still pay to use a physical fax machine at your local office supply store, but there is no need to do this if you start using electronic fax. There is a lot to consider when you are trying to narrow down the best online fax services available.
Below, we are going to go over what I think are the best ones out there. This way you have a place to start and have some to compare side-by-side. Before we do that, let's talk about online fax services and some of the other things you need to know.
How Does Faxing Online Work?
Faxing online and traditional faxing are two very similar office functions that work in two very different ways. For decades, individuals and businesses used dedicated fax machines. These machines converted scanned documents into a digital audio tone. This conversion was then sent out over a dedicated telephone line.
When that data reached another traditional fax machine, the data received would be turned into a facsimile of the original document. The concept was a brilliant one.
However, the additional needs for things like extra machinery, a separate telephone line, ink, and paper, slowly drove up the cost of traditional faxing.
Since cost continued to go up, other ways of communication were put into place. Through all of this, internet fax services started to become more and more popular. In comparison, faxing online works one of two ways.
Most electronic fax service providers allow you to send digital attachments through your email client. This happens when you type the recipient's fax number as part of a "special" email address. Email-based faxing can also be done through third-party integrations like Microsoft Outlook.
The second option you have is web-based clients. These use forms and upload prompts that happen on a proprietary website that handles all the incoming and outgoing messages.
There are even some online fax services that still integrate with the old-school physical fax machines. This is a way to bridge the gap between traditional and online faxing.
Benefits of Online Fax Services
There are several good benefits that present themselves when you choose to adopt an internet fax service. At the forefront of these benefits is the overall cost. Going this route will reduce costs significantly.
Think about it. A physical fax machine in an office can require constant attention, supplies, and care. Keeping up with regular maintenance, ink and toner, and dips in productivity while your employees stand around waiting to use the fax machine can really start to add up.
This entire cost and process can be eliminated by choosing one of the many excellent online fax services.
There is also a huge reduction in paper waste. You see, online fax services provide a way to store all your faxes in the cloud. This means no stuffing paper into file cabinets or anywhere else. This is also a great way to say your company in "going green."
What to Look for in an Online Fax Service
Before we dig into the best online fax services out there today, let's take a look at the things you should be looking for when choosing which electronic fax service to go with.
Remember, whether or not you need a HIPAA-compliant provider or only send faxes every now and then, the way messages are transmitted remains virtually the same. When researching online fax services, it is a good idea to take a closer look at what all is offered.
Some of the main things to look into and consider include:
Proprietary App Support: Since just about everyone has a smartphone these days, it is important to know whether or not the electronic fax service you choose has app support for your Apple or Android phone. This makes accessing all tools and sending faxes online much easier.
Encryption: Online security is as important as ever. Faxes oftentimes contain sensitive data and information. This information needs to be protected. The best online fax services will provide high-end encryption like SSL and PGP to protect your data.
Dedicated Fax Number: Most online fax vendors will provide you with a toll-free or local fax number that can be used. In addition, long-distance or international numbers can be added for a fee. That being said, if you already have a dedicated fax number, then most of the best online fax services will allow you to port that number over to your new service.
Cloud Storage: The amount of cloud storage you need to store all the faxes you will have coming in and going out depends on the size of your company and how often the system is being used. Always make sure that you have enough storage to save all your documents. You will also want to look at options regarding recovery, keyword search, and server uptime.
And last, look into email-to-fax-support and International faxing options.
The Best Online Fax Services
1. MetroFax
MetroFax is widely considered to be one of the best, if not the best, online fax services out there today. They have all the tools that make it capable of handling both small business and large corporation faxing needs.
They have a very easy to use and navigate web-portal, intuitive mobile apps, and so much more. MetroFax will support over 50 types of file formats. These include Microsoft Office files, Adobe PDF, and JPEG graphics.
You will also be pleasantly surprised that there is support for arcane formats as well.
They are priced fairly and offer a 14-day free trial. This will give you enough time to see if they are right for you or not.
Benefits
Smooth web-portal design

Intuitive mobile apps

Supports over 50 file formats

Dedicated faxing service

Email, web, mobile faxing

Cloud storage

Free trial
Pricing
$9.95/mo: 500 send and receive fax pages

$12.95/mo: 1,000 send and receive fax pages

$35.95/mo: 2,500 send and receive fax pages
*You can pay for any of the above plans annually and pay a lower rate.
2. Fax.Plus
Fax.Plus is another one of the best online fax services available today. They are trusted by more the 1 million users, and there are several reasons why. They have a wide range of different pricing tiers and options.
All of them will allow you to find something perfect for you.
That being said, their most attractive options allows you to send and receive 100 fax pages per month for only $5.99. This is a hard deal to pass up and one that is perfect for any individual user, like a freelancer.
Their service is easy to use, and the interface is intuitive and easy to navigate. Another thing Fax.Plus has going for it is that it is HIPAA-compliant. This means if you need to send confidential information, then Fax.Plus has you covered.
It is also a fantastic alternative to the much more expensive Sfax.
Their mobile app is very easy to use. Aside from the MetroFax mobile app, you won't find a better-built platform anywhere. It is very useful for sending faxes on-the-go.
The web-based service isn't far behind either. Schedule faxes, easily search through archives, and handle all cover pages quickly.
Benefits
Basic service is hard to beat

Clean and smooth mobile app

Clean web interface

Dedicated faxing service

Cloud storage

HIPAA-compliant

Free trial
Pricing
Free: 10 total pages per month

Basic, $5.99/mo: 100 send and receive fax pages

Premium, $11.99/mo: 300 send and receive fax pages

Business, $19.99/mo: 800 send and receive fax pages
*You can pay for any of the above plans annually and pay a lower rate.
3. SRFax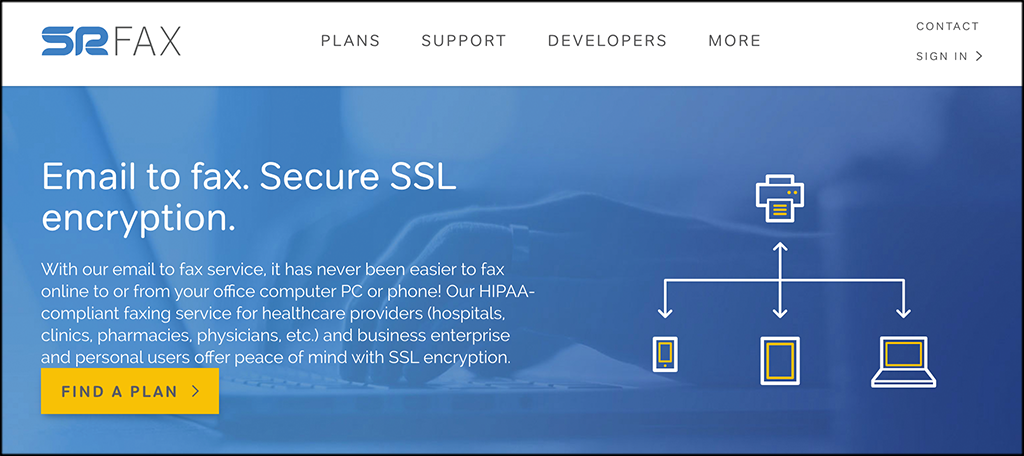 If you are looking for a solid faxing service with excellent value, then SRFax will be right up your alley. They are also HIPAA-compliant, though they have a separate pricing list for those services.
They compare and compete pretty well with MetroFax, especially if you don't have a lot of faxing to do each month. For instance, if you only need to send and receive 25 or fewer pages monthly, then they have a very low-cost plan that will only set you back $3.29 per month.
SRFax supports a wide range of file formats, and they have a web-based interface that is clean and responsive. While they do not have a mobile app, their interface does work well on mobile, so you should have no trouble navigating around.
Overall, SRFax is a very good service that offers enough features for a very fair price. It is definitely one worth checking out.
Benefits
Very well-priced basic service

Web-based works well on mobile

Clean design

Easy to navigate

Cloud storage

HIPAA-compliant

Free trial with certain tiers
Pricing
Basic, $3.29/mo: 25 send and receive fax pages

Basic Plus, $6.95/mo: 200 send and receive fax pages

Lite, $9.95/mo: 500 send and receive fax pages

Standard, $15.95/mo: 800 send and receive fax pages

Plus, $29.95/mo: 1,500 send and receive fax pages

Professional, $45.95/mo: 2,500 send and receive fax pages
*You can pay for any of the above plans annually and pay a lower rate.
4. Sfax
Sfax may be the best online fax service on this list when it comes to security. Now, they are a little pricer, but they justify it with the level of security and privacy that is provided.
They specialize in HIPPA-compliant faxing as well as a number of other features geared toward the health care industry.
I know, your first thought is that if it is geared toward healthcare, then it has to be clunky and difficult to use. The opposite is actually the case, as the product still delivers a very visually attractive, intuitive, and easy to navigate interface.
As stated above, Sfax is on the more expensive side. You can lower the cost by paying for a year up-front. However, even at a higher price range, the right businesses will appreciate the extensive support provided for different files, multi-user support, and the ability to store multiple types of cover pages for different faxes.
Benefits
Intuitive interface

Multi-user support

Mobile app is easy to use

Easy to navigate

Cloud storage

HIPAA-compliant

14-day free trial
Pricing
Standard, $29.00/mo: 350 send and receive fax pages

Plus, $49.00/mo: 700 send and receive fax pages

Contender, $99.00/mo: 1,500 send and receive fax pages

Enterprise, Customized solutions for 2,500+ send and receive fax pages
*You can pay for any of the above plans annually and pay a lower rate.
5. HelloFax
HelloFax is another good option, even though it does not have quite as much to it as some of the other options on this list. However, it is arguably one of the best free fax service available.
Really solid free fax services are hard to come by, but HelloFax makes the list because of the free service it provides. Now, you won't get a lot of pages, but if you only need to send a few here and there, then you will be very hard-pressed to find a better free online fax service.
They also have a clean, simple, easy to use interface.
Another bonus HelloFax provides is not forcing you to signup when you hit your free tier page limit. They offer no-obligation, per-page rates that are very reasonable. You'll pay $0.99 cents per fax for up to 10 pages and $0.20 cents for each page after that.
Their fax tracking and indexing are a little limited, but they make up with that some by supporting electronic signatures. HelloFax also integrates perfectly with cloud services like Google Drive, Dropbox, Box, OneDrive, and Evernote.
Benefits
Intuitive interface

Scalable

Free option

Easy to navigate

Connect to popular cloud storage services

Supports signatures
Pricing
Free: 5 send and receive fax pages per month

Home Office, $9.99/mo: 300 send and receive fax pages

Professional, $19.99/mo: 500 send and receive fax pages

Small Business, $39.99/mo: 1,000 send and receive fax pages
*You can pay for any of the above plans annually and pay a lower rate.
Conclusion
Thousands of small and large businesses are still using a fax service. The big difference is that now they use online fax services. These types of services still help connect people and keep information secure.
There are quite a few online fax services out there. I hope this article gave you a starting point and showed you some good ideas of where to look. You can't go wrong with any of the selections above.
Simply go through them, double-check what they all offer, and make sure the one you choose is right for you.
Good luck on your journey!