Remote VPN access is more popular, essential, and valuable than ever before. More and more people are now working from home, and trying to navigate through the best VPN services can be tricky.
Let's dive into the subject for a little bit and check out some of the best VPN services available.
Face it, there is going to be a lot to sort through and figure out when you go through the process of trying to find a good VPN service. Almost every VPN service you come across will tout itself as the best private network around.
Then they will list all the reasons they have to back that claim up.
To help you make a decision, we have decided to wade through the current VPN services available and narrow down the list of the best ones out there now.
Hopefully, after reading about a VPN, you will have a better understanding of it and what you can expect by choosing a certain VPN client.
In order to try and figure out what the best VPN services are, we are going to use several factors as part of the comparison and ranking process. These include:
Price

Ease of Remote Access

Number of Server Locations

Bandwidth Caps

Logging

Client Software

Dedicated & Dynamic IP

Customer Support
With that being said, let's talk about what a VPN is before jumping into our list.
What is a VPN?
Simply put, VPN stands for "Virtual Private Network." The software works as such to help make you more anonymous online. It encrypts all of your Internet traffic.
This essentially allows you to successfully trick your desktop, laptop, or mobile device into thinking that it is in another location.
The best VPN services are starting to be used as a replacement, or as an addition to, traditional online security that you are more familiar with.
That being said, they have plenty of other uses as well.
There are dozens and dozens of VPN services available out there. With the growing popularity, it is not surprising that so many are available. The trick is to figure out which ones are the best, or which ones may be the best for you.
While public WiFi networks are very convenient, they remain extremely vulnerable to attackers that are looking to compromise personal information. For this reason alone, using a VPN is a good idea.
Yet, many bigger companies that provide free public WiFi at their establishments are not using a VPN.
Whatever you may be thinking about using a VPN service for, the info below will help you make an educated decision on which one to choose.
What is the Best VPN Service?
Truth be told, even when doing a comparison and best-of list, the best VPN service may still have a lot to do with personal preferences. You have to take into account all the factors we listed above to better gauge a service.
You also want to measure streaming, security, ease of use, and overall simplicity. So, without further delay, here are the best VPN services available right now.
Best VPN Services in General
1. ExpressVPN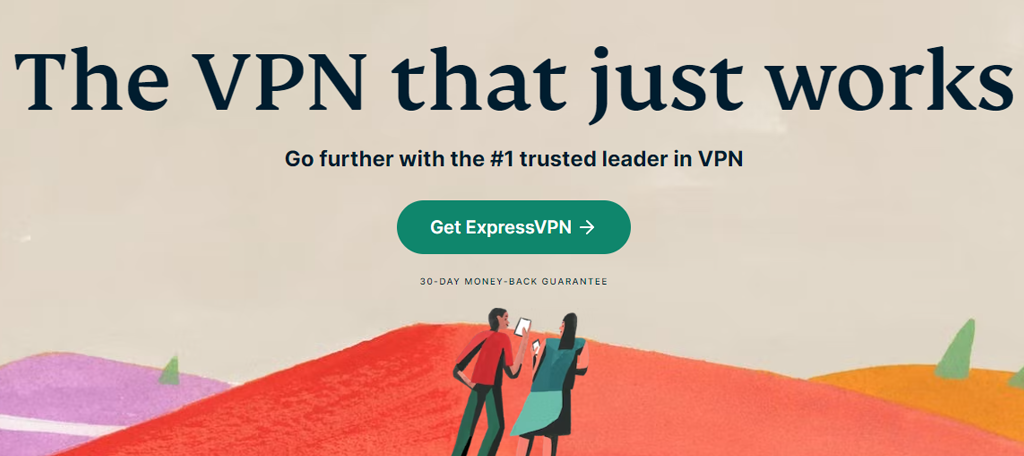 First up on our list is ExpressVPN, which is widely considered to be the best overall VPN service for speed, privacy, and unblocking. They offer you access to over 3,000 servers in 160 locations, across 94 countries.
If I said nothing else, those numbers alone are enough to make you at least go check the service out. However, you should be aware of just how easy ExpressVPN is to use. It doesn't matter what type of device you are on, you can download it, install it, and get it operational in no time at all.
This is also one of the best VPN services because the service supports five simultaneous connections per user (increased from three). Although, the pricing is a little higher than the others.
However, if you want top-notch speed and functionality, then ExpressVPN is a great choice.
Benefits of ExpressVPN
It is easy to run on almost any platform
Provides enterprise-level encryption
Blazing-fast VPN servers in 94 countries
Customer support is available 24/7
Price of ExpressVPN
One month starts at $12.95
6 month plan begins at $9.99 per month
A 12-month plan begins at $8.32 per month
2. Surfshark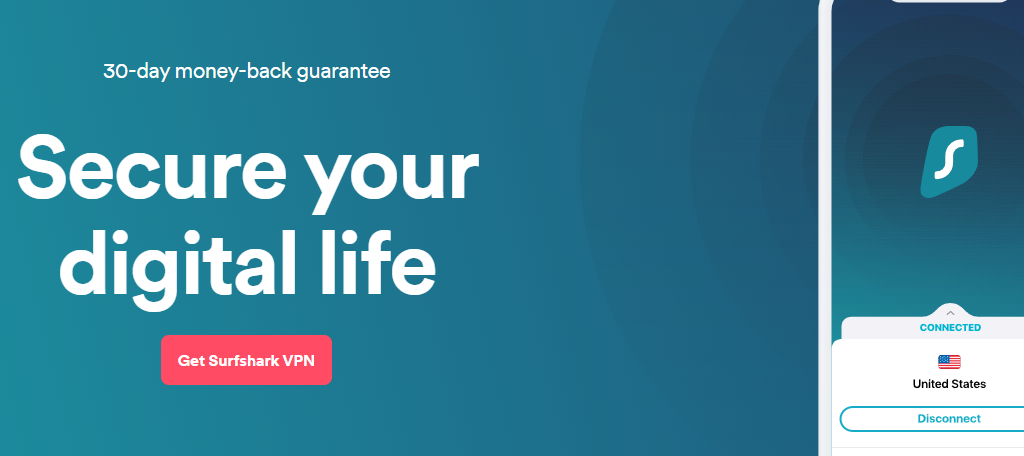 Surfshark is one of the fastest VPNs on this list and it's the only one that supports an unlimited number of devices. As a result, it is the perfect option for families that have multiple computers, phones, tablets, and any device that uses the Internet.
And trust me, that adds a lot of value when you compare it to others.
On top of supporting an unlimited number of devices at once, it has plenty of other features that make it worthwhile. Some of these include malware & phishing protection, WireGuard protocol, camouflage mode, whitelisting options, and much more.
However, the best part about Surfshark is its incredible upload speed. While most users generally focus on download speed, there are many instances where upload is more important. For example, live streams on Facebook or even Instagram stories.
Surfshark completely destroys the competition in this category.
Benefits of Surfshark
The best upload speed of any VPN
Can connect as many devices as you want
Clean interface that makes it easy to use
Price of Surfshark
1-month package for $12.95 a month
1-year package for $3.99 a month
2-year package for $2.49 a month
3. NordVPN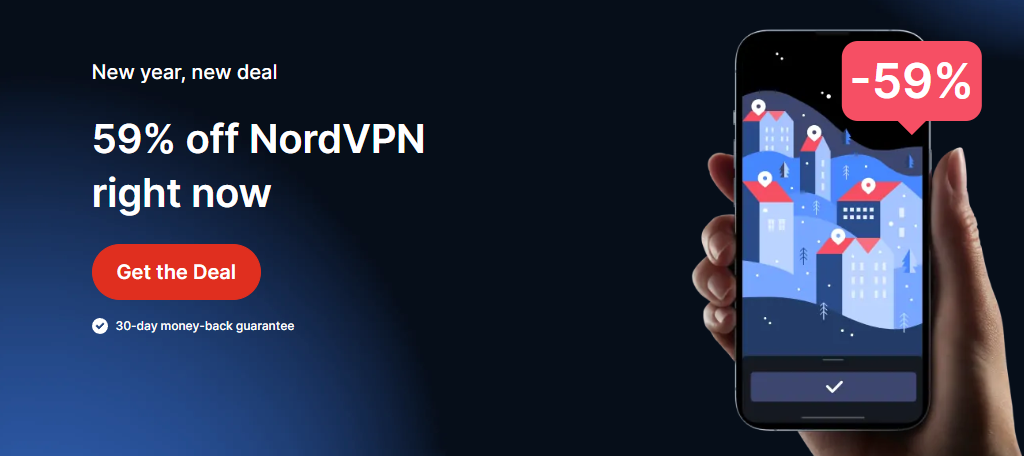 When it comes to VPN services, there is no bigger name than NordVPN. It is one of, if not the largest VPN on the planet. And as a result of its thousands of servers around the globe, it is also one of the fastest VPNs available.
However, speed is only one of the many benefits NordVPN offers.
As you can expect from a VPN, it protects all of your internet data from unwanted eyes, but that is only a small part of what it offers. Other features include access to 5,400 servers around the world, IP masking, malware protection, live chat support 24/7, and so much more.
However, perhaps NordVPN's biggest selling point is that it works with almost every major streaming service. You can view regional-specific content on Netflix, Hulu, HBO GO, Disney +, Amazon Prime Video, and more. As a result, your location will not determine what content you can watch.
Benefits of NordVPN
Supports almost every major streaming platform
Offers 24/7 live chat support
Allows you to choose from 5,400 servers around the globe
Price of NordVPN
The Standard plan starts at $11.99 per month
The Plus plan starts at $12.99 per month
The Premium plan starts at $14.49 a month
There are 1 and 2 year plans for each of these to save additional money
4. CyberGhost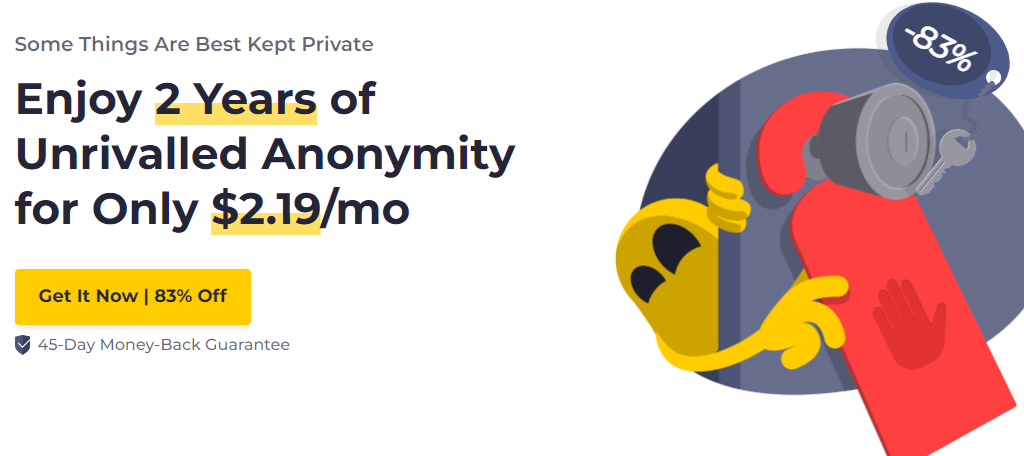 Another one of the best VPN services available is CyberGhost. With over 10 million users, they continue to gain popularity by offering a fantastic combination of power and ease of use.
Perhaps the major highlight and talking point of the CyberGhost VPN is the task-based app interface. They don't just leave you hanging to guess which server to use to unblock a website.
The app will auto-connect to the best server and open a browser window at the target site.
Tons of extras are included as well if you choose to go with this VPN service. Automated HTTPS redirection means that you are always using the most secure connection. The service will also automatically block ads, trackers, and malicious websites.
Finally, while most of the best VPN services offer a money-back guarantee, CyberGhost extends this and offers a longer one at 45 days. Even their 1-month plan comes with a 14-day money-back guarantee.
Give them a try and see how you like them, as they are definitely top-class.
Benefits of CyberGhost
Tons of smart features for clients to use
Protects 7 devices at the same time
Supports torrents
Automated HTTPS redirection
Price of CyberGhost
One month begins at $12.99
The 6-month plan begins at $6.99 per month
The 2 years + 2 months plan begins at $2.19 per month
5. IPVanish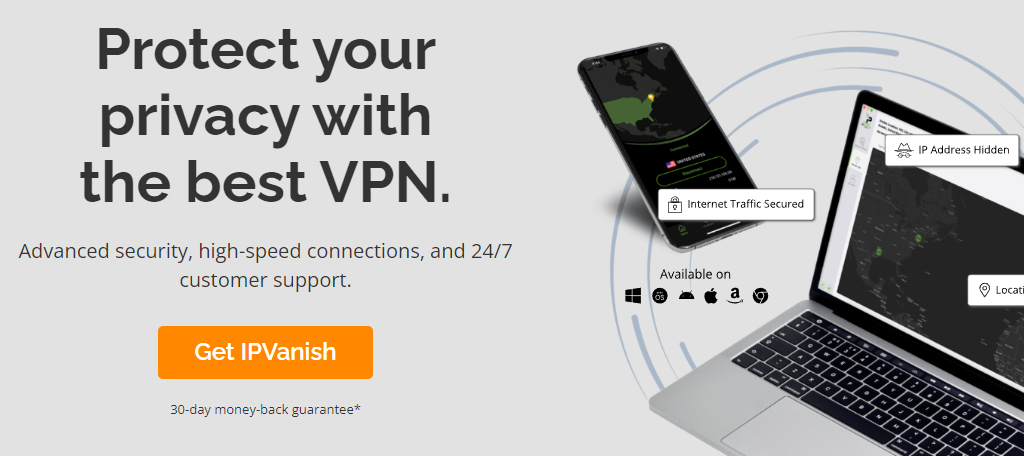 IPVanish boasts over 40,000 shared IPs, with over 1,400 VPN servers in more than 70 countries.
With the ability to give you 10 connections at once, as well as live chat support 24 hours a day, 7 days a week, IPVanish is definitely no slouch and one of the best VPN services you will find.
You can also directly access their support from both your Android or iOS app on mobile. The app is the biggest highlight of IPVanish, and it is packed full of amazing features, options, and settings.
The servers are always up, they connect very quickly, and download speeds are well above average. Torrents are also supported on every server, with the ability to unblock certain streaming sites in other countries.
If you need a bunch of connections running at the same time (up to 10) and want to enjoy the powerful app with all of its functionality, then IPVanish may be the VPN for you.
Benefits of IPVanish
Owns and manages all its servers
Solid live chat support is available 24/7
Apps are configurable and powerful
Download speeds are excellent
Price of IPVanish
Monthly plans begin at $11.99 per month
Quarterly plans begin at $10.00 per month
Yearly plans begin at $3.99 per month
6. Hotspot Shield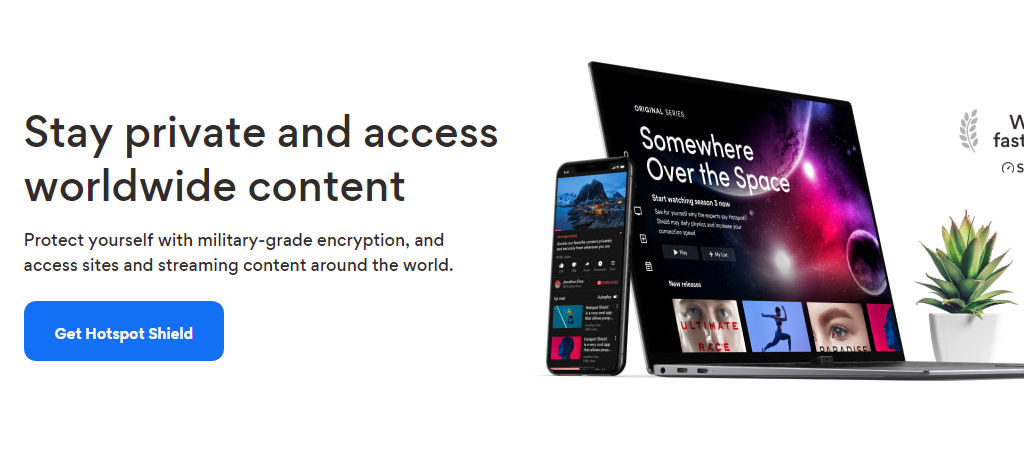 Hotspot Shield is a high-speed VPN that performs amazingly in almost every category. A big part of its terrific speed is its creation of the Catapult Hydra VPN protocol, unlike most of the other VPNs that use the standard OpenVPN.
As a result, it is one of the fastest VPNs available.
Hotspot Shield is feature-rich and comes with a variety of unique tools and features to take advantage of. Some of these include access to services like 1Password and Identity Guard, encryption technology used by the military and financial institutions, streaming service optimization (Netflix, Hulu, etc.), and 24/7 chat support.
However, the shining grace of Hotspot Shield has to be its interface. It has one of the sleekest and easiest-to-use VPN interfaces available. As a result, even if you have never used a VPN before, Hotspot Shield can get you exploring in just a few clicks.
Benefits of Hotspot Shield
Military-grade encryption technology
Bundles other subscription services for free (1Password)
Optimizations for streaming services like Netflix
Price of Hotspot Shield
There is a free plan, but only offers 2 Mbps
The Premium plan covers 5 devices for $7.99 a month and supports 1 Gbps
The Family plan covers 25 devices for $11.99 a month and supports 1 Gbps
7. Private Internet Access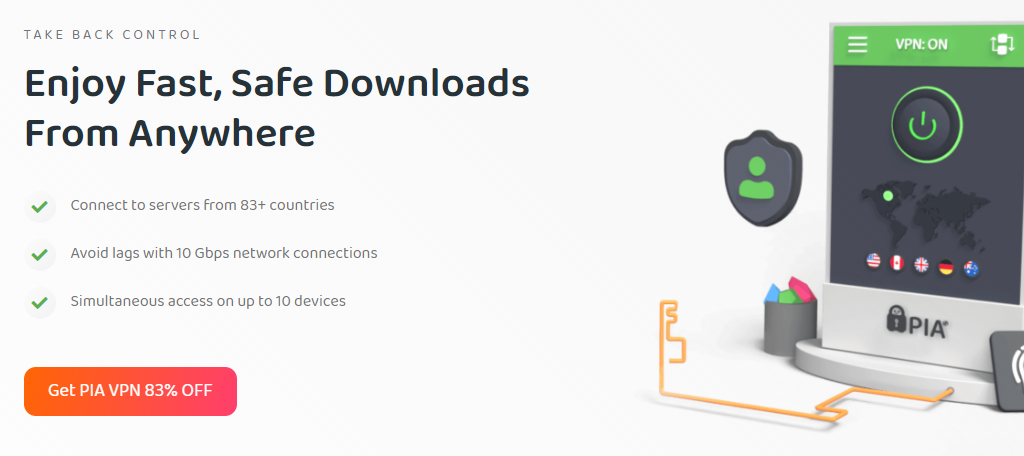 It is not the cheapest or most powerful service on this list, but because of its hard-to-fathom server amount of 18,000, Private Internet Access provides just enough features to make it a great addition.
The platform includes solid privacy features and security protocols (including the amazing WireGuard). These functions continue to its Chrome extension, which makes access to the features even easier.
With options to block location access, third-party cookies, and website referrers on the fly, Private Internet Access is definitely a VPN service that is worth looking into.
Benefits of Private Internet Access
Tons of servers
App features are excellent

Very good value for the money

Over 18,000 servers
Price of Private Internet Access
One month begins at $11.95
The One Year plan begins at $3.33 per month
The 3 years + 3 months plan begins at $2.03 per month
8. Windscribe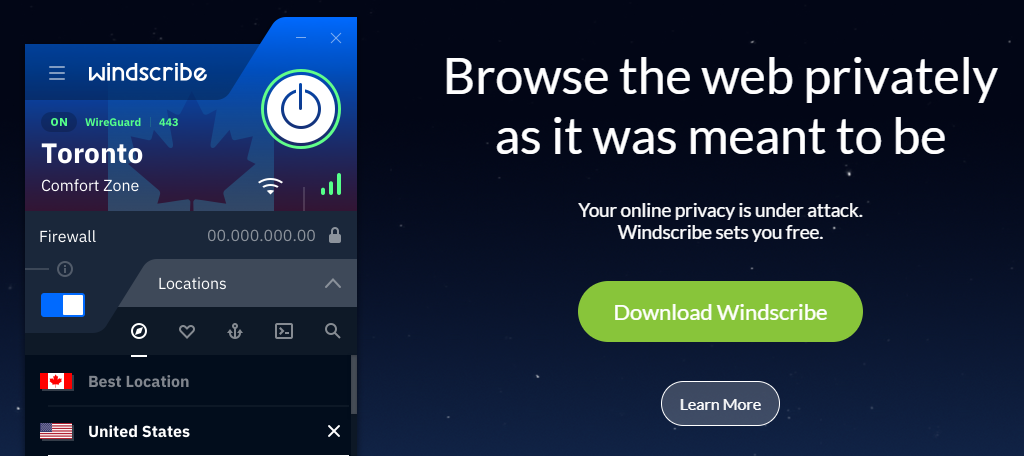 Another one of the best VPN services available is a platform called Windscribe. This is actually a trusted name in the VPN world and has been around for a while.
It makes our list because it is reliable, has some excellent browser extensions, and allows for unlimited device connections.
Speeds for Windscribe consistently show better than some of the other services on this list. While not all the same features are included, streaming of all the major services is possible. So, that is a huge upside.
The Windscribe network does have a pretty far reach. With locations in 110 cities spread across more than 60 countries, the service is definitely one to look into.
The main downside of this platform is that it only has around 400 servers in total. This is less than the other VPN providers on this list, but the other features make it worthwhile.
Benefits of Windscribe
Unlimited device connections
Very reliable security features
WireGuard protocol is supported

Excellent browser extensions
Price of Windscribe
Monthly plans begin at $9.00 per month
Yearly plans begin at $5.75 per month
You can build your own plan at varying prices per month
9. Proton VPN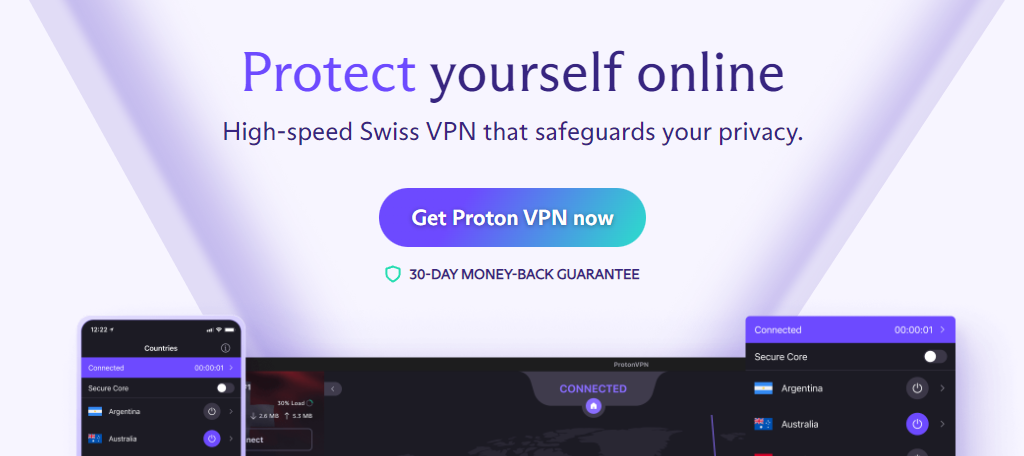 Proton VPN has been steadily improving over the years and has really come into its own. It offers users multiple plans including a free option. While the plans are slightly more expensive than other VPNs on this list, it offers a quality service.
This includes access to over 1500 servers in 61 countries around the world. It's really stepped up its game in recent years and now supports getting access to Netflix in multiple regions. The only real criticism of the service is the interface.
Both the web client and app could do more to help users have a better experience.
Benefits of Proton VPN
Free plan available
Built-in adblocker (NetShield)
Streaming service support
Torrent support
Price of Proton VPN
One month starts at $9.99
One-year plans begin at $5.99 per month
Two-year plans begin at $4.99 per month
10. StrongVPN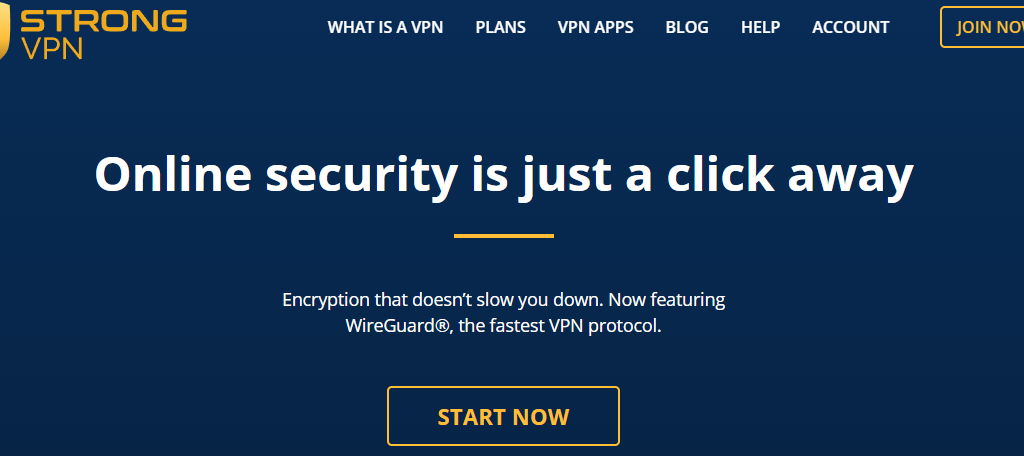 StrongVPN leaves nothing to the imagination with a name like that. It lives up to its name with over 60,000 VPN IP addresses, multiple protocols (including WireGuard for better speed), and much more. And it is very simple to use.
In fact, you could say it takes a minimalist approach. The interface is simple so users won't have any problems. In terms of streaming, you will have access to Hulu, Amazon Prime Video, and Netflix in multiple regions.
You can see if it is right for you without any worry because they offer a 30-day money-back guarantee.
Benefits of StrongVPN
Includes free cloud storage
WireGuard on all devices
Supports Netflix, Hulu, and Amazon Prime Video
Price of StrongVPN
The monthly plan begins at $10.99 per month
The annual plan begins at $43.99 per year
11. TunnelBear
TunnelBear is a serious option when it comes to free VPNs. For those of you who don't know, the security giant McAfee recently acquired it and they have taken it up a notch.
Once again, you are limited to 500MB of traffic daily. This seems to be a pretty popular cutoff number for daily traffic allowed by free VPN services. For this reason, it is a good idea to only use it when you definitely feel the need for extra security and protection.
One of the great things about the free version of TunnelBear is that it recently started collecting much fewer data on its users. You don't have to supply a name to sign up, and it has also ditched its record of the user's number of total lifetime connections.
Take a look at this option for a solid free service.
Benefits of TunnelBear
Amazing interface on the mobile app
Speedy servers
Tons of bear puns
Price of TunnelBear
1-year plan begins at $59.98
2-year plan begins at $99.99
12. PureVPN
If there is a service that understands the power of a good sale, it's PureVPN. You can get an amazing deal on Black Friday and other major holidays, which is why so many people end up using it.
Aside, from a great deal, you also get great service. Customers gain access to over 6,000 servers across nearly 80 countries. However, one thing holding back the VPN is its speed.
It hasn't adopted the WireGuard protocol yet, which is a downside.
However, with a money-back guarantee and ridiculous sales to take advantage of, it is one of the most popular VPN options.
Benefits of PureVPN
Access to a lot of servers
Great deals available
Accepts Bitcoin as payment
Price of PureVPN
1-month plans begin at $10.95
1-year plans begin at $3.24 per month
24 month +3 month plan begins at $2.08 per month
13. Cryptostorm
Cryptostorm is a popular platform for many for hiding browser activity. It uses open-source code and is transparent regarding how the program operates.
Meaning you can look directly at the code to see for yourself how it behaves…if you know how to code, that is.
The system uses a token-based network that is temporary. Each time you connect, it changes. This means it's next to impossible to track an identity, even if someone could. With anti-leak protection and unlimited worldwide access, you can browse almost anything without leaving a trace.
Benefits of Cryptostorm
Bit torrent Support
No data caps
Includes a killswitch in case you are disconnected
Price of Cryptostorm
The one-week plan begins at $1.86 for one device
The one-month plan begins at $6 for one device
Yearly plan begins at $52 for four devices
14. Hide.Me
Hide.Me is another system that guarantees no storage logs for data. As there is no system in place to record your activity, there is simply nothing to hand over to officials.
And if you need a free browser proxy, the organization has one of those readily available on its website.
This system delivers a fast free VPN service and caps you at 2GB of data per month. Which really isn't a lot if you plan on doing some heavy video-watching. Otherwise, you can pay for the premium service which is comparable to other VPN platforms.
Benefits of Hide.Me
Access to over 2100 servers around the world
No logs
Very easy to use
Price of Hide.Me
A free plan is available
One-month begins at $9.99
Twelve-months begins at $6.66 per month
Twenty-four months begins at $3.84 per month
15. Opera VPN
Opera VPN is tailored to protect computers and android devices. In fact, if you already use the Opera web browser, then you already have this as it is built-in.
The system monitors users as well as apps that allow admins to see your activity and keeps you aware.
This platform comes with a built-in ad tracker blocker, which gives you freedom of browsing without advertisement systems knowing your every move. The only downside is that torrenting is not supported for Opera VPN, which means direct peer-two-peer file sharing isn't going to happen across the system.
Benefits of Opera VPN
Easy to use from your Opera web browser
Completely free
Secures 6 different devices
Price of Opera VPN
Fastest VPNs
16. HMA VPN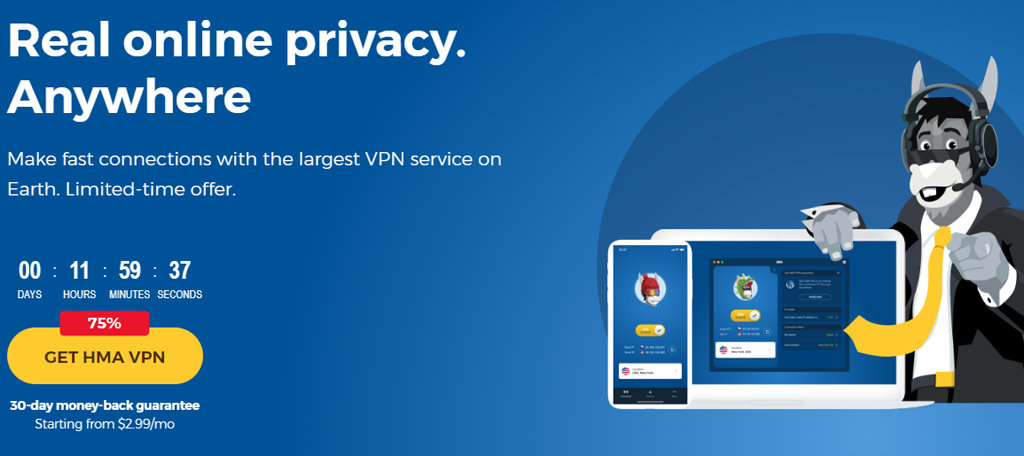 HMA VPN (formerly known as Hide My Ass…yes, that was their real name) is an excellent choice if you are looking for a fast VPN. And with servers in over 190 different countries, it has some really good results.
And as I'm sure you expect, it has plenty of bells and whistles.
Some of these include DDoS protection, military-grade encryption, a kill switch (if you lose connection to the VPN, your data is still safe), IP shuffle, and unlimited installs (supports 5 devices at one time).
HMA VPN also has plans for small businesses to take advantage of. If you are looking to increase the security of your office, this is the VPN to do it with and they will even customize the plan to meet your business's needs.
Benefits of HMA VPN
Unlimited installs for your devices (does not mean unlimited connections)
Multiple security features to keep your data safe
Business plans that are ideal for small business owners that need more security
Price of HMA VPN
They offer a 12-month plan for $4.99 a month
They offer a 36-month plan for $2.99 a month
17. Speedify
Those who use their mobile devices as primary Internet connections know how often speed is an issue. With Speedify, the system combines the power of cellular signals with that of Wi-Fi connections. This creates a faster and more reliable connection with fewer disconnects.
Speedify has a free VPN service, but it's limited to 1GB of data per month. However, it may be worth the investment if you can reduce LTE bandwidth by sharing it with Wi-Fi networks.
One of the claims of the company is to keep the VPN security while delivering twice the performance of standard virtual private networks.
Benefits of Speedify
Prioritizes streaming content to limit the amount of buffeting you experience
Channel bonding allows you to use multiple connections at once
Protects you on public networks
Price of Speedify
Monthly plans begin at $14.99
Yearly plans begin at $7.49 per month
Plan prices vary depending on if it is for an individual, family, or team
18. GOOSE VPN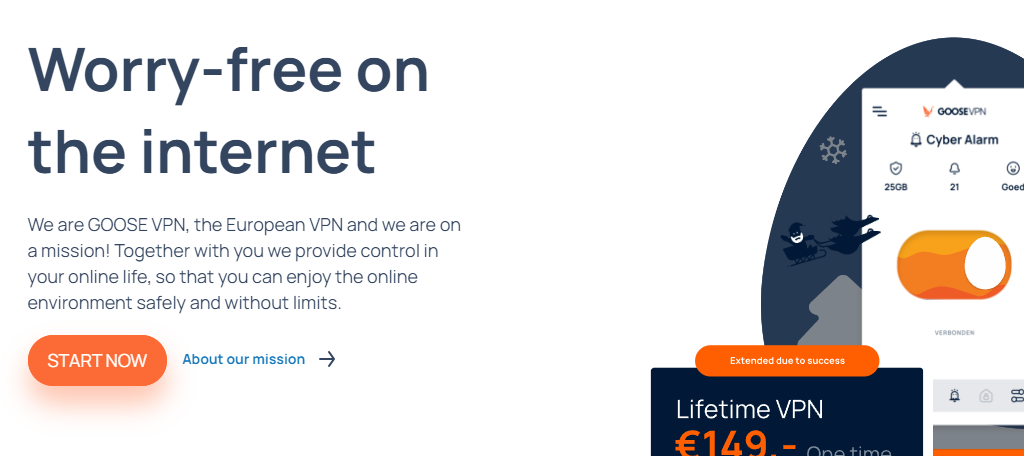 GOOSE VPN is log-free while allowing peer-to-peer networks to thrive. You can set it up on an unlimited number of devices ranging from desktop computers to Android TV.
For an additional dollar per month, you can also add anti-virus and extra firewall protection for your browsing needs.
Not everyone thinks about securing themselves when using a VPN. Anti-virus software and a firewall are definitely a bonus, especially if you see signs of your data being tampered with.
GooseVPN has several affordable plans for those who want more "umph" behind their Internet connections. It also comes with a 30-day trial package to determine if it's the right system for you before handing over money.
Benefits of GOOSE VPN
Support available 24/7
Cyber Alarm shows you exactly what is happening
View content from any region
Price of GOOSE VPN
One-month plans begin at €9,99
One-year plan begins at €4,99 per month
A lifetime plan is available for €149
19. VyprVPN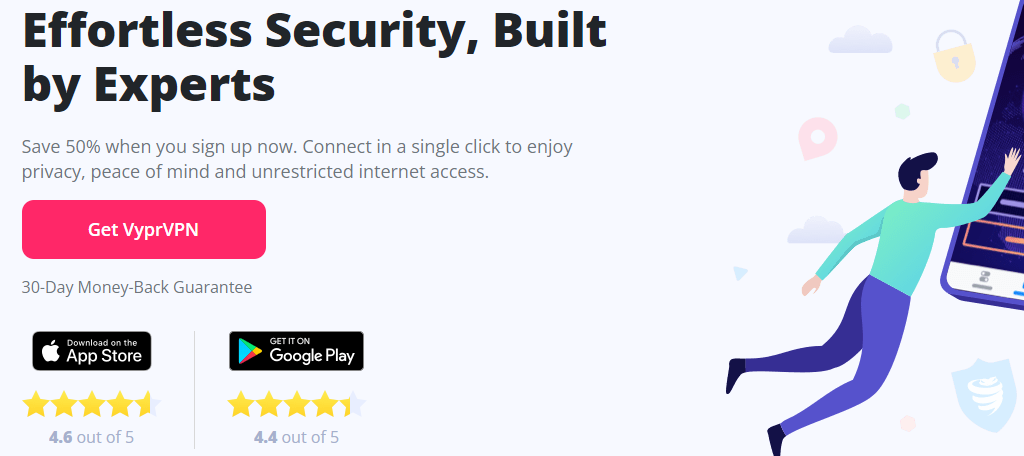 If you're looking for speed, VyprVPN may be the service you want. The organization writes its own coding specifically tailored to run on its system. This means it's optimized perfectly to give you the best experience possible.
The system provides unlimited speed and bandwidth to do anything you wish on the Internet from checking your email to playing games. VyprVPN also has one of the highest collections of IP addresses for its users for more than 700 servers.
As a result, there is something for everyone here.
Benefits of VyprVPN
No-log VPN service
78 global servers available
30-day Money Back Guarantee
Price of VyprVPN
One-month plans begin at $10 per month
One-year plans begin at $5 per month
Best Business VPNs
20. Perimeter 81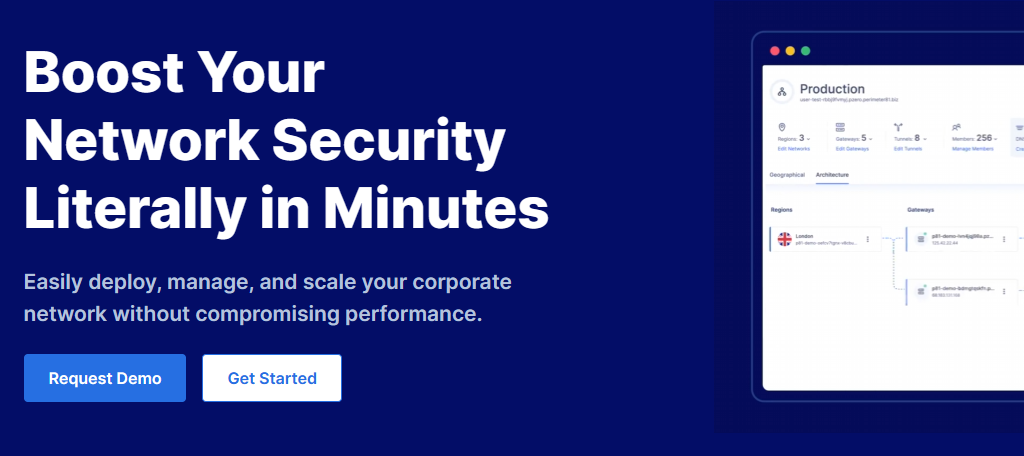 One of the best business VPN clients is Perimeter 81. They are actually somewhat of a specialist VPN. The software allows businesses to deploy private VPN servers that staff can securely connect to from anywhere in the world.
You can easily manage network activity for your staff, and you won't need a complicated dashboard or an IT degree to do so. Your employees can securely access files, apps, and other resources from their remote locations.
Perimeter 82 specifically caters to businesses with the unique security features they provide. One of these features is called network segmentation, which is used to isolate sensitive data from breaches that may occur.
Also, if your business has multiple offices, then you can easily set up site-to-site VPNs and connect the networks.
Benefits of Perimeter 81
Caters specifically to businesses
Deploy your own server
Supports site-to-site VPNs
Hosts all apps and files on the VPN server
Team and network management console
Price of Perimeter
Essentials plan begins at $8 per month
Premium plan begins at $12 per month
Premium Plus plan begins at $16 per month
Enterprise options are available upon request
21. Twingate
Another great business VPN client out there is Twingate. They are relatively new to the VPN world but have shot up to the top of many lists because of some interesting features they provide.
Many of these features set them apart from the other VPN providers on this list.
They are a cloud-based service that sets itself apart from traditional VPN solutions by using zero-trust access control and making gateways invisible to the Internet. The system can easily be deployed without changing any network infrastructure.
If you are worried about scalability, don't be. Twingate can be easily scaled when needed as well.
The software platform supports single sign-on (SSO) so that staff can only access the resources that IT admins give them. This includes on-premise apps and remote networks. Finally, they support split tunneling, which allows traffic to pass through the network only if necessary.
Benefits of Twingate
Zero trust access control
Supports single sign (SSO) on providers
Easy to manage and deploy
Built with IT admins in mind
Price of Twingate
A free plan is available
Teams plan begins at $5 per month per user
Business plan begins at $10 per month per user
Enterprise options are available upon request
22. Norton Secure VPN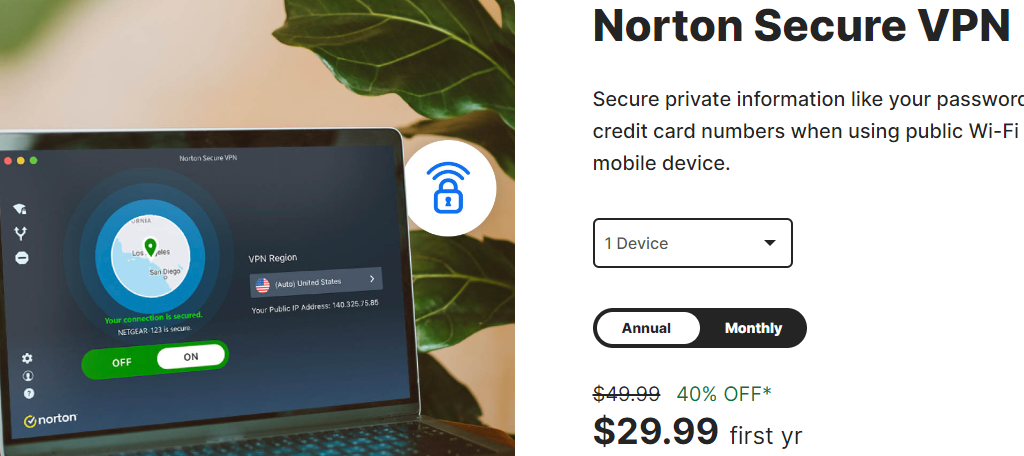 Another favorite anti-virus brand among many, Norton delivers the Norton Secure VPN to add even greater security to your computer or mobile device. You can even get the VPN and Internet security software in an affordable bundle package.
In terms of security, your purchase also includes access to a password and credit card protection, which is always a good thing to have. It blocks ad traffic delivers anonymous browsing and is backed by bank-grade encryption methods.
Using a no-log system, Norton doesn't track your movements or browsing information while using the highly encrypted network.
Benefits of Norton Secure VPN
Disconnects from the internet if VPN connection is lost
Supports split tunneling
Protects you even on public wifi
Price of Norton Secure VPN
The first month begins at $4.49
An annual plan begins at $49.99
The prices vary depending on the number of devices you wish to protect
23. TorGuard
TorGuard features a huge selection of servers. This means that you should not have any issues trying to find a reliable connection. The platform provides tons of options to set up your VPN experience on any OS.
While speed may be a bit on the slower end when compared to some other VPNs on this list, the trade-off for options is worth it.
They give you a 24/7 dedicated account manager and full access to a dedicated VPN management portal. The platform is also very solid when it comes to the security aspect of things, which is what we all regard as a significant priority.
They have all the regular and expected protocols including 256-bit AES encryption and a 'Stealth VPN' option that avoids deep packet inspection.
All-in-all, TorGuard is a solid solution for small and medium-sized businesses and provides custom price plans that will fit almost everyone.
Benefits of TorGuard
Professional security file encryption
Fast 24/7/365 support
Supports simultaneous connections
Price of TorGuard
Monthly plans begin at $9.99
Quarterly plans begin at $19.99
Annually plans begin at $59.99
24. Avast SecureLine VPN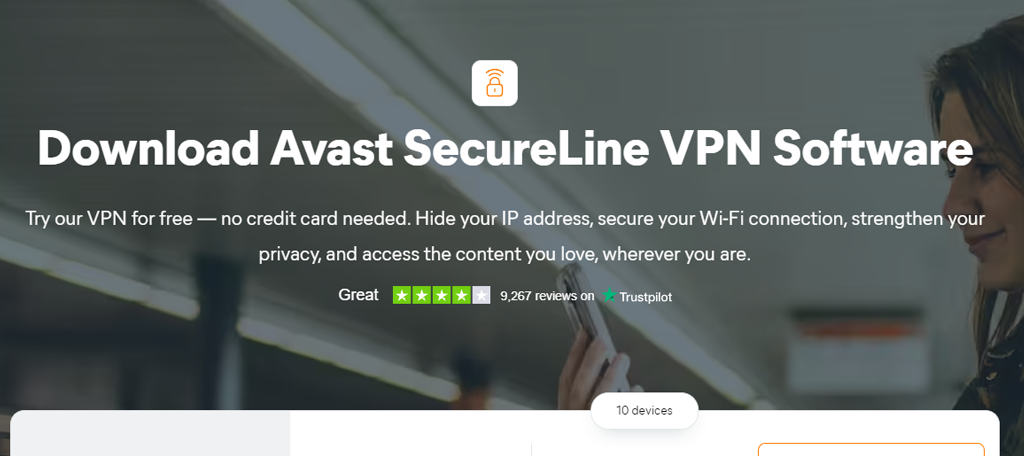 Some of you might recognize Avast as the company that provides your anti-virus security. The company also produces a secure system called Avast SecureLine VPN for your browsing needs.
Using fast servers around the world, you can easily get around content blocks put into place.
As SecureLine hides your IP address, you don't have to worry about ads coming in based on your location. The system also provides DNS leak protection and disables IPv6 requests while online. And like most other VPNs, there is no data logging within SecureLine.
Benefits of Avast SecureLine VPN
It's free to use
Includes password protection
Purchase a security add-on
Price of Avast SecureLine VPN
One-year begin at $4.59 per month
Two years begin at $4.39 per month
Three years start at $4.39 per month
FAQ
Why Should I Purchase VPN Services?
VPNs can serve multiple purposes, so it really depends on the individual.
The main reason they exist is to increase your security. For example, if you were connected to public wifi at a McDonald's and decided to do some online banking, it's not very secure. A VPN can shield your data and prevent it from falling into the wrong hands with encryption.
More recently, VPNs have become a way to view regional-specific content of favorite streaming platforms. Did you know that Netflix in the US and UK offers different shows? A VPN can allow you to access another region's entertainment and it won't change your streaming subscription price.
VPNs have also become quite popular in the gaming world. Many ISPs will throttle your data if they see you using large amounts of data for gaming, but since a VPN encrypts that data, even your ISP can't tell what you are doing. This helps prevent that throttling.
Overall, a VPN is a versatile tool that can benefit anyone that uses them.
Are Paid VPN Services Better Than Free?
The VPN market is huge and continues to grow each year with both free and premium options. This raises the question, which one is better?
In terms of features and uses, paid VPNs typically offer more than their free counterparts. In some cases, premium VPNs actually offer a free version of their tool. It really comes down to what you need the VPN for.
For example, do you want to use a VPN to view other regions streaming services? If so, no free VPN will let you do this. This is exclusive to paid VPNs because they typically need to work out a deal with that streaming service.
On the flip side, let's just say you are doing some light internet surfing and want to improve security. A free VPN will do the job. While they are less secure than paid options, most will still offer excellent protection of your data.
Why Are VPN Services Good For Streaming?
One of the most well-known features of a VPN is masking your location and using it to make specific platforms think you are from another country. This can open the door to view other media streaming services or accessing different video game servers.
A great example of this is taking a look at Netflix. If you think Netflix is the same around the world, I can assure you this is not true. Netflix changes its content library on a country-by-country basis. As a result, you can view shows that are not normally viewable in your region.
And this can be applied to almost any streaming service, and it can allow you to access plenty of other things including storefronts.
Note: Keep in mind that some services or countries do not want you to use a VPN to access their websites. As a result, there are many instances where you can still be blocked even with a VPN.
Find VPN Services That Work For You
As you can see from this list, there are a ton of great VPN services to choose from, with some of them even being free to use. However, figuring out the best one for you does require a bit of sleuthing on your part.
Some of the most important things to consider during the decision process include:
Does the VPN plan/service have servers in all the countries you need?

Be sure to check the number of simultaneous connections supported and make sure it fits your needs.

See if these VPN service providers list the connection protocols they use.

Does the VPN service you are interested in really not log or track any sort of data from you? Chances are, they do log at least some data like a log on time.

Finally, take into account the price and match it with available options. Does this suit your needs well?
Once you have all this info in place, you can use that to help you pick a solid VPN service. I hope the article was helpful in your journey toward making the right choice. Choosing a VPN service does not have to be daunting or difficult.
If you have the right info in place and know what to look for, then you will be able to make an educated decision.
You really can't go wrong with any of the VPN services listed above. They all have a ton of options and strengths. The one you end up with will be based on specific needs. You can also check periodically for specials that each service may have.
Aside from their solid money-back guarantees, most of these VPN services run really great sign-up deals.