Small businesses need a solid, cost-effective way to manage finances. With that being said, it can be difficult and time-consuming to try and find the best billing and invoicing software for your business. With so many options, where do you start?
Below you will find a list of some of the best invoicing software available for small businesses, freelancers, and entrepreneurs.
There are a lot of different choices out there. With this list, you will have a good starting point. From here, you will be able to see features, learn a little about small business invoice software, and make a solid decision based on the needs of your business.
What is Billing and Invoicing Software?
Simply put, billing and invoicing software can be used to easily and efficiently organize and automate the entire billing and invoicing process. This helps small businesses, freelancers, and entrepreneurs by ensuring that there is a timely and consistent collection of payments from clients.
Since there is such a wide range of industries that these invoice programs serve, most of them are highly customizable and have the ability to support various business models, pricing structures, and payment types.
A good example of this is the difference between a law firm and a freelancer. A law firm may bill for total time on a project, while a freelancer may bill for goods and services as well as time spent.
For these reasons, it is always a good idea to make sure you understand what invoicing software has the features and functionality that work best for your needs. Remember, the invoice program you end up choosing should be tailored specifically to your needs.
Let's take a look at some of the best billing and invoicing software available today.
Best Billing and Invoicing Software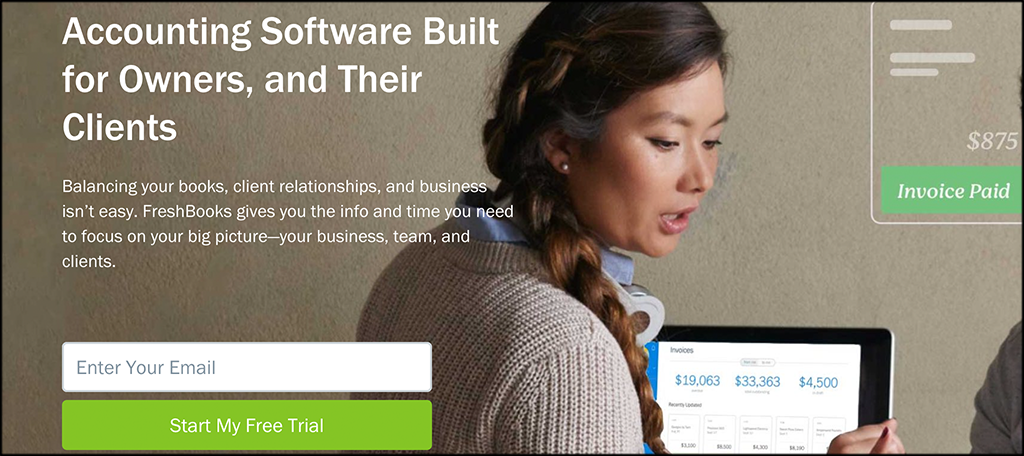 A long-standing top choice for small businesses, self-employed individuals, firms, agencies, and consultancies, FreshBooks is a complete, all-in-one tool for invoicing and accounting.
Create a professional invoice in just a few seconds. All you have to do is use the built-in invoice generator to choose a template, add your logo, and personalize an email. The system is very easy to run and has almost 25 million users.
FreshBooks also has an integrated payment system as well. You will be able to easily accept credit cards and ACH payments at any time.
As if that wasn't enough, the software comes fully equipped with a ton of automation features including recurring invoices, send payment reminders, and the ability to charge late fees automatically.
You can also use FreshBooks to do things like customize payment terms, add due dates, and automatically calculate taxes. FreshBooks comes in at the top of our list because it really does have everything you need.
With tools for time tracking, expenses, payments, projects, and reporting, you are going to be very hard-pressed to find better invoicing software than FreshBooks.
Features
Unlimited customizable invoices
Add late fees automatically
Notifications when clients receive and pay invoices
Accept payments, create invoices, and send bills in the mobile app
List time worked and expenses directly on invoices
Use invoices to request deposits
Send invoices in any language

Accept payments in multiple currencies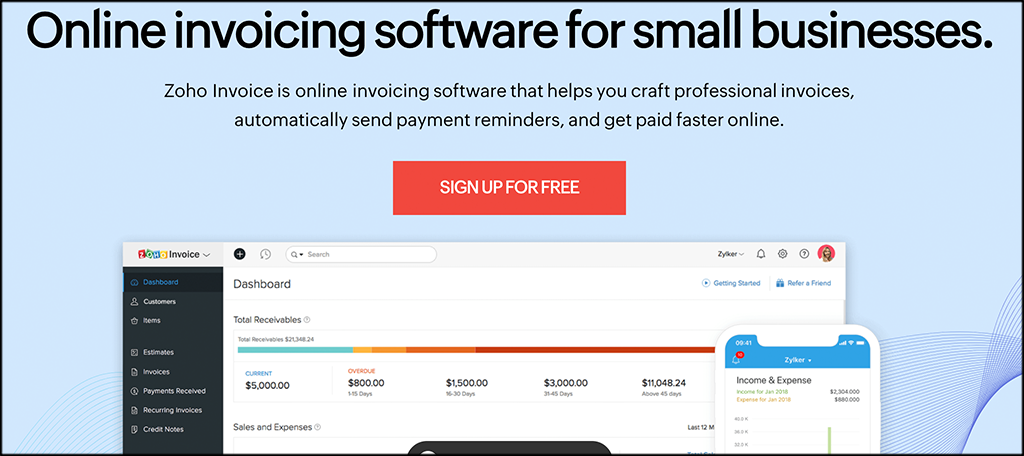 Looking for something that is well-organized and easy to use? Look no further than Zoho Invoice. It is a cloud-based software solution that is best suited for small to medium-sized businesses. The platform comes with a number of great features that make it simple the navigate and use, and easy to automate.
One of the standout points of Zoho Invoice is that it offers its own report generator that is run through the cloud. This means that you can access and update it through available apps.
Another great thing about Zoho Invoice is that it is easily integrated into the entire Zoho Suite of apps if needed. So not only do you get a great solution for managing invoicing, billing, quotes, contacts, and expenses, but you can also easily integrate it into other Zoho products.
This includes things like Zoho Mail, Zoho CRM, and Zoho Books.
Finally, as is the case with a lot of the Zoho products, you can use this software with up to five free users. This is very useful if you are trying to test a product out, or if you have a startup business looking for a free invoice and billing solution.
Features
Easy to use templates
Automated reminders
11 payment gateways available
Bill international clients
Automatic recurring invoicing
Customer portal
Expense tracking
Very well-priced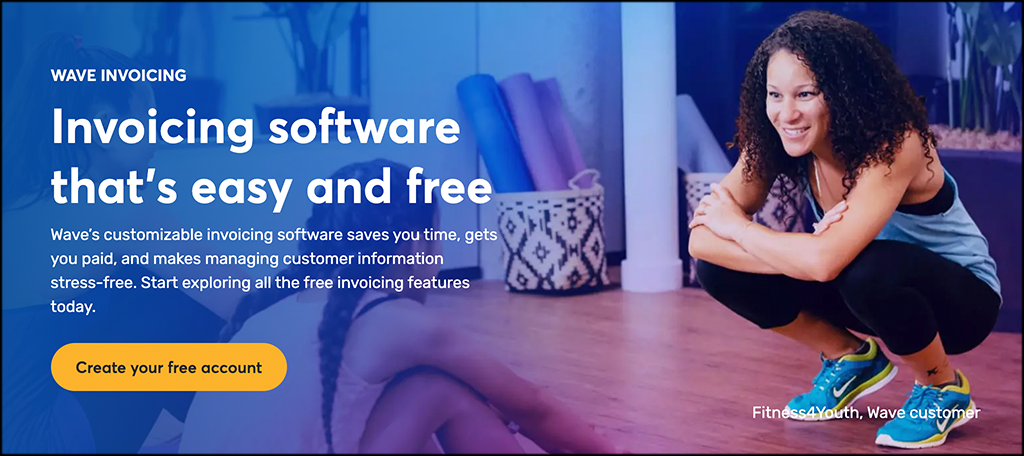 Wave might not have quite all the bells and whistles that a few of the other invoicing software platforms on this list have. However, it makes the list because it is completely free to use. That's right, the billing and invoicing is 100% free.
This is a fantastic option for freelancers, entrepreneurs, and small businesses that are trying to find something low-cost or free to use. You will be able to create and send an unlimited number of invoices to as many clients as you would like.
The templates are also fully customizable and very easy to use.
Furthermore, you will have the ability to manage your invoices from anywhere by using the available Wave app on the iOS and Android platforms. You may think there is some sort of string attached here but there isn't. As a matter of fact, Wave also offers accounting tools and receipt scanning for free as well.
The only thing you pay for in Wave is their payment solution, which is integrated. However, those fees are comparable to any payment gateway feature, so you still come out way ahead.
Credit card processing costs 2.9% + $0.30 per transaction for Visa, Mastercard, and Discover. American Express payments cost 3.4% + $0.30 per transaction. ACH payments are available as well for a 1% fee.
Honestly, Wave rivals most paid invoicing and billing software.
Features
Invoice in any currency
Send out estimates
Turn estimates into invoices once approved
Follow-ups with accounts past due
Automatic payment reminders
Recurring invoices
Drag and drop line items
Customize payment terms
Track all partial payments
Cash flow insights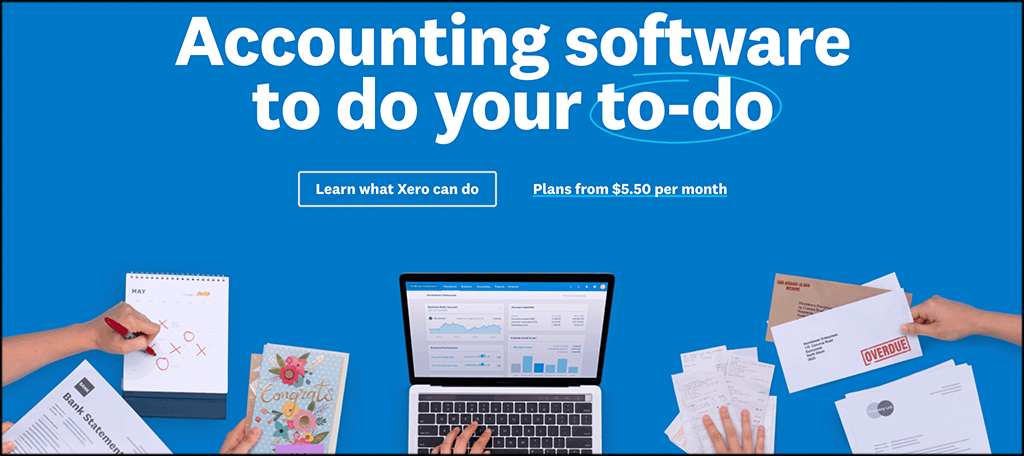 Another great all-in-one accounting and invoicing tool designed for small businesses is Xero. This is also a cloud-based company, so you can easily manage your invoices and the rest of your financials from anywhere.
Want to create professional and personalized invoices? In Xero, all you have to do is choose a template, add your branding, and upload a logo. From there, you are ready to start sending all the invoices you want to your clients.
It should be noted that Xero is one of the platforms on this list that does not have a built-in payment processor. However, they do work with Stripe and GoCardless for credit, debit, ACH, and digital wallet acceptance. So there are some choices, including the very popular Stripe option.
Last but not least, Xero easily integrates with over 800 other apps and tools. This includes platforms like Gusto, Insightly, Expensify, PayPal, Bill.com, Square, and Shopify.
Features
Automatically set up recurring invoices
Bulk invoicing
Mobile invoicing
Instant payment with the "Pay Now" button
Oncharge billable expenses
Replicate previous invoices
Sage offers business accounting and invoicing cloud services, and they take care of all the most important invoicing and billing features for you. This saves time and allows for tons of automation, which is something that you should be looking for when researching any invoicing software.
Some of the things that set Sage apart from the rest of the products on this list are their user-friendly dashboard and accounting reports. The interface is clean, smooth, easy to use, and easy to understand.
Once you sign into the Sage dashboard, you are shown everything you need to know in one place without having to click around. This includes information like outstanding and overdue invoices, quotes and estimates, and net sales.
If you need to act like an accountant, but you aren't one, then Sage may be the right choice for you because of the clarity of the dashboard.
Features
Reduce invoice prep time
Create, edit, and send invoices from anywhere
Easy customization
Terms and credit control
Invoice in different currencies
Discount items
Print packaging slips
Quotes and estimates
Available mobile and tablet app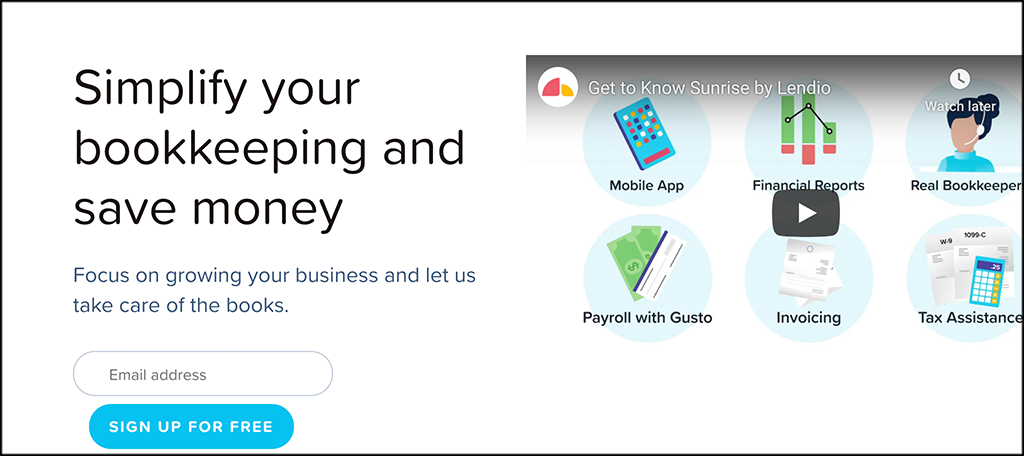 Sunrise by Lendio is a little different than the other billing and invoicing software on this list. Not only do you get access to the basic billing and invoicing service, but they also provide complete bookkeeping services.
They also provide what is called a "self-service plan," that allows you to start unlimited invoicing and sync your bank account.
Sunrise doesn't actually make much money on their invoicing service, though. Where they make their money is by offering high-end bookkeeping services.
If you are interested in that, they give you a dedicated bookkeeper that will record all your transactions and close the books on a monthly basis. The price of this service is based on the number of transactions you have per month.
Features
Free unlimited invoicing
Unlimited bank transactions
Cash flow reports
Double-entry accounting
Payment collection
Expense tracking
Estimates and quotes
Financial reports
Tax compliance
Another one of the best billing and invoicing software platforms out there today is Simplybill. It should come as no surprise that the name pretty much says it all. This is a simplified billing and invoicing system that includes all the basic features anyone needs to get easily set up and start sending invoices.
You can easily set up automatic tax rates (even for other countries) and the product runs in the cloud. This means you can easily access your account on the go from anywhere. Another feature is to elect to receive push notifications from the mobile app for things like an overdue invoice.
One main drawback of Simplybill is that there is no support for payment gateways as of yet. That being said, it does allow for PayPal subscription links. It is also very well-priced and a great solution for those who want to keep it simple and need a place to start.
Features
Tons of invoicing templates
Domestic and international tax rates
Back provide redundancy against accidental deletions
Mobile app
Pay for the number of invoices and not the number of clients
What Billing and Invoicing Software is Right For You?
There really are a lot of great options out there. In order to narrow down what might be the best billing and invoicing software for you, you should try to focus on certain features that each software program offers.
Here are some things to consider when narrowing down your choices:
Number of Clients
This is probably one of the most important things you want to examine. How many invoices will you be sending out each month? Remember, many of the invoicing software programs on the list above will limit the number of invoices you send out based on the plan you choose.
There is also the issue of gaining new clients. Finally, are you able to send estimates? Make sure the invoicing software you choose can scale as your business grows.
Automation
One of the things you want to consider when finalizing your choice is does the invoicing software make life easier? The answer, it should!
Look for specific built-in automation tools that will make billing and invoicing less of a time-consuming hassle. Recurring billing, follow-ups, late fees, payment reminders, and tax calculations should all be automated.
Payment Collection
As most of us know, sending invoices is only half the battle. The other half (the harder half) is actually getting paid. The best billing and invoicing software will have integrated payment processing tools.
If the tools are not built-in, then you should at least have the option of adding in third-party means. You will also want to consider fees for invoicing. The best platforms don't charge you any processing fees. You should only be paying a fee to the payment gateway you are using.
Accounting Tools
Last but not least, consider the accounting options that are provided by the different invoicing software programs out there. A lot of them brand themselves as "all-in-one counting solutions." Many others provide options for bookkeeping and tax services via a third-party provider partnership.
Remember, not all businesses need a full-blown accounting solution built-in. However, if you are running a business that does, then some of the tools you want to have added are expense management, financial reports, receipt uploads, time tracking, bank reconciliation, and reporting.
Conclusion
So, what are the best billing and invoicing software available today? Well, the answer to that question will depend on who you ask. Remember, different businesses are looking for different things, so the one you think is best suited for you may not be best suited for someone else.
You can't go wrong with any of the invoicing software options from the list above. They are all solid choices with a ton of built-in features and functionality. Use the list above as a starting point and compare features, pricing, and anything else you need in order to make a final decision.