Online learning has never been more popular as a result of Covid-19 shutting down traditional schools. However, it was already gaining popularity before the pandemic struck, which is why there are so many LMS available.
LMS, or Learning Management Systems, allow institutions to deliver high-quality education to online students. These platforms offer a variety of course-building options that help you create the perfect learning environment.
Today, I have assembled the best (LMS) learning management systems for 2023.
What Are Learning Management Systems?
Learning Management Systems are pieces of software that allow for the delivery of educational courses or training programs in a variety of formats. They allow educators to handle every aspect of the learning process from grading to document distribution.
Each piece of LMS software is built to deliver a specific solution for educational institutions. They are also built for specific learning levels like K-12, higher education, vocational learning, training programs, and more.
They also support very niche markets as well. However, some are more customizable than others.
Many of these systems include ways to not only track assignment progress but also how students or employees are engaging with the system. This can help you learn if they are enjoying the courses you put together and what areas you can improve.
Thus, you need to find the best learning management systems for your field.
Note: There are a variety of names for LMS around the world. Some of them include the learning experience platform (LXP), e-learning management system, online learning system, training management system, learning activity management system, and many other terms. Regardless of their title, they will be included in this list.
1. Moodle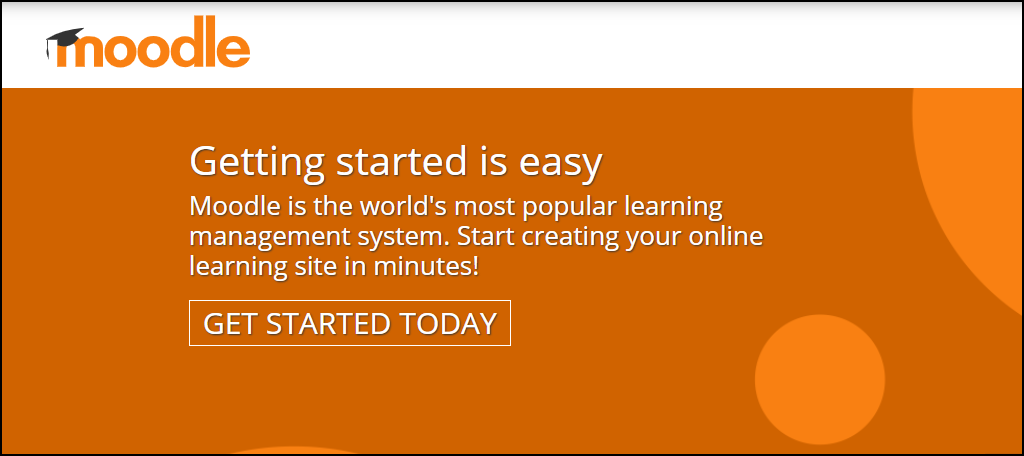 Modular Object-Oriented Dynamic Learning Environment, or Moodle, allows you to build your very own website with all of the tools you can expect with an LMS. It has by far the most customization an educator or business can have over their LMS solution.
Of course, you will need an excellent web host for your creation.
However, other than web hosting fees, Moodle is completely free because it is open-source. This also means that you are responsible for every element of your website. You will not have the benefit of a quick setup or a support team standing by.
Instead, you're essentially creating your own LMS solution, but don't let that scare you. Moodle is one of the simplest platforms to build a website on.
In fact, if you've dabbled in WordPress before, you are more than capable of using Moodle.
Benefits of Using Moodle
An open-source platform that has a huge library of helpful tools and guides
Supports real-time messaging to improve communication
It is modular (plugin) based, which makes it easy to add features
Moodle makes it easy to translate your courses to improve accessibility
Take part in Moodle forums to get support and advice from other Moodle users
Price of Moodle
Moodle is completely free, but you must purchase web hosting services
2. Canvas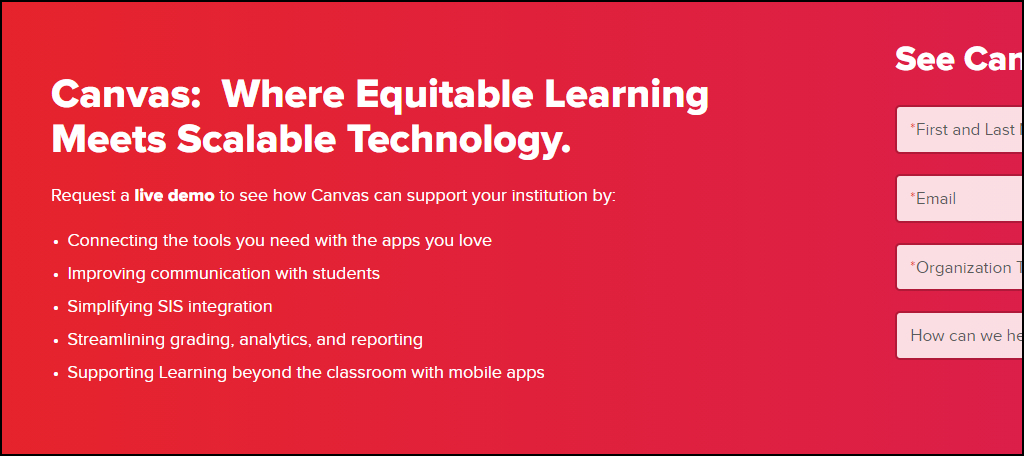 Canvas is one of the most well-known names in learning management systems. It currently has the largest market share in the LMS space at a whopping 31%, and it has been gaining traction since it surpassed Blackboard in 2018.
There's a very good reason for its surge in popularity; everything is streamlined.
Canvas understands that whether you are a staff member at an educational institution or if you are a student, accessing and using an LMS can be very annoying and not something you do voluntarily. As such, this platform was developed with simplicity in mind.
In fact, the ease of use is the reason that many colleges and universities are switching over. Of course, it has plenty of options for businesses with its Canvas Corporate plan. This allows you to build terrific training programs for employees in any position.
Benefits of Using Canvas
A streamlined UI to make navigation a breeze
Course creation is simple and highly customizable
Built to support multiple education environments and business needs
Students can easily enroll and pay for classes with the Canvas Catalog
Assign roles for every user (Teacher, Teacher Assistant, student, etc.)
Price of Canvas
Pricing for Canvas is not publicly accessible. Instead, you must contact them for a quote.
3. Blackboard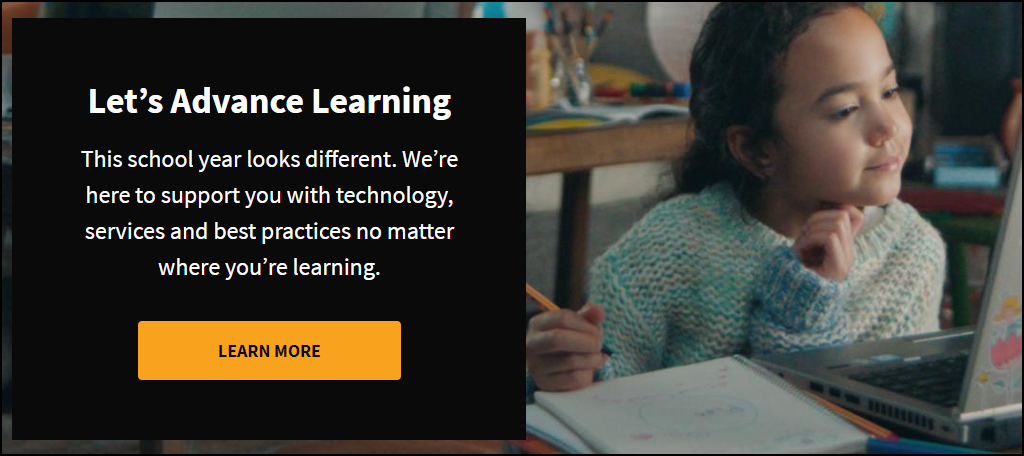 Blackboard sat at the top of the LMS industry for 20 years but has recently been on the decline. This allowed Canvas to surpass it. One of the main reasons for that decline was how obtuse the platform was to use and that the design was extremely dated.
However, I am here to say those concerns can be put to rest because Blackboard has undergone a huge overhaul.
The redesign of Blackboard has streamlined the platform and the addition of cloud-based SaaS introduced Ultra course view. As a result, Blackboard has never been more user-friendly and educators can take advantage of the tools this LMS giant has produced in its long history.
Of course, Blackboard is not only used by schools. Businesses can take full advantage of this LMS to build effective training programs. Not only can you build training programs, but you can even put together full certificate or certification training.
Benefits of Using Blackboard
Supports web conferences and collaboration
Mass notification system to easily alert students and employees alike
Sales training and other specific business solutions
Students always know their progress on a lesson or assignment
Built-in plagiarism detection tools
Price of Blackboard
Blackboard does not disclose its pricing information. You must contact them for a quote.
4. Google Classroom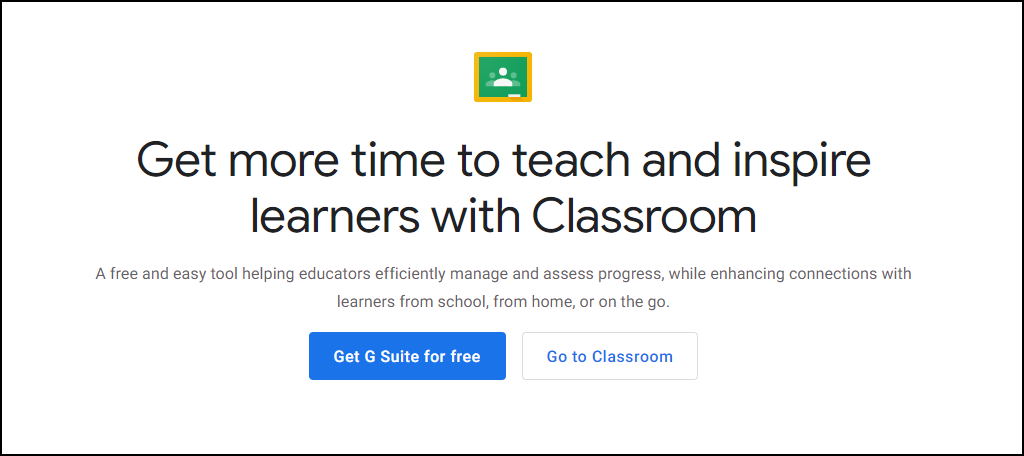 You might be surprised to learn this, but Google does, in fact, offer a free LMS called Google Classroom. While it is far from the best LMS on the market, what it lacks in features is made up of various integrations.
YouTube, Google Docs, and many other Google services have options available.
Now to be fair, the "management" aspect of Google Classrooms is close to non-existent, but it has its uses.
It allows educators to post materials, assignments, and quizzes, and thanks to the integration with YouTube, you could record an entire lecture and integrate it with your classroom.
While it is too basic for an education system, it is perfect for tutors and small businesses trying to save a few bucks. You can create simple courses to help train employees in an online environment, which is critical due to the state of our world.
Benefits of Using Google Classroom
Takes less than an hour to learn
Reuse documents or rubrics in future courses
The grading system is intuitive and easy-to-use
Easily one of the best platforms to use from a mobile device
Store frequently used phrases to help save time when creating course content
Price of Google Classroom
Google Classroom is completely free to use
5. Lessonly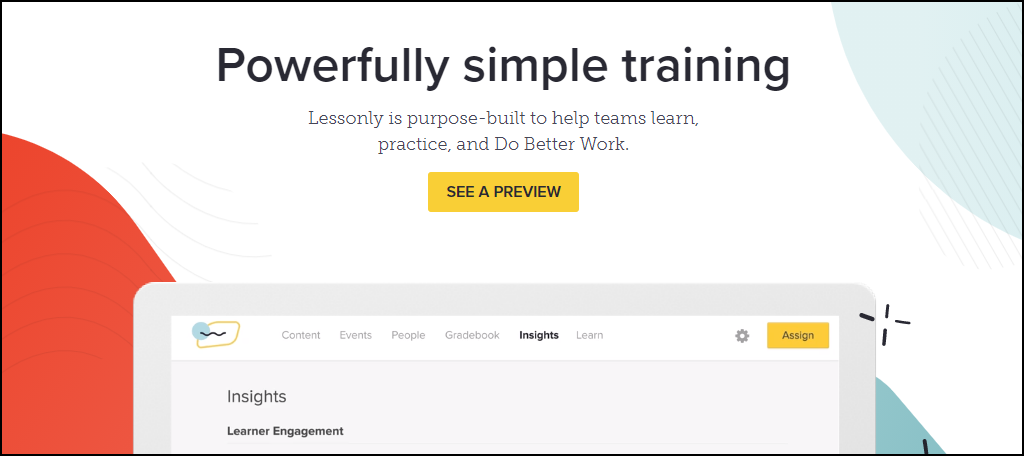 Are you looking for a corporate learning management system that was built specifically for businesses? If so, then Lessonly is exactly what you are looking for as it provides solutions to small teams and businesses.
Remote training has never been more important for growing businesses.
Lessonly, at its core, is training software. It is ideal for any business looking to improve their employee's skill set by providing training that can help them learn and practice new techniques to improve sales.
Over 1000 companies utilize Lessonly in their training programs because not only are they easy to set up, the software is compatible with a wide range of tools and services. There are solutions for remote workers, sales teams, customer service, and much more.
Benefits of Using Lessonly
Works well in business environments thanks to Slack integration
Set up scenarios for team members to practice in
Increases the chance sales representatives will reach their quotas
The platform is able to scale to both enterprise and small businesses alike
Shows outcomes based on real data in training
Price of Lessonly
Lessonly does not make its pricing public. Contact their sales team to receive a quote today.
6. Schoology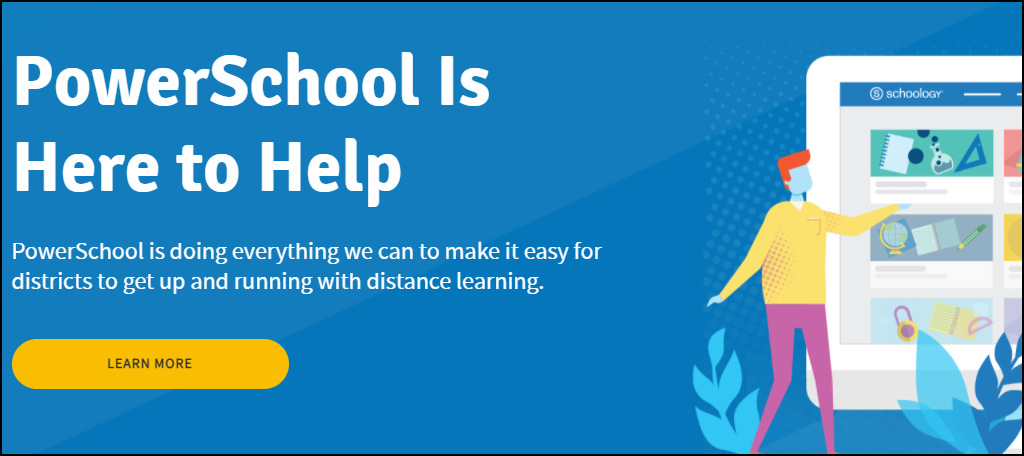 While most learning management systems are more prevalent in higher education, that's beginning to change. Schoology focuses on providing online solutions to K-12 institutions, and it has been very successful.
From a student's view, you might even be able to mistake this learning tool for a social media website.
That's right, Schoology breaks the mold with a more creative UI tailored for the young learners of today. And it even has integration with social media platforms to boot.
However, don't mistake these features as a gimmick. Schools can track more information about students and improve security as a result.
Building classes is extremely simple thanks to the drag-and-drop interface. Teachers can drag a variety of files and media into their lesson plans. These include videos, which can be a powerful tool in a remote learning environment.
Benefits of Using Schoology
Build courses with a drag-and-drop interface
Gain access to detailed student analytical tools
Create assignments through Google
Includes options for parent collaboration
Includes integration options for other popular educational software
Price of Schoology
Free for individual use
Free for educators in the public and private sectors
Paid licenses are available for educational institutions and businesses
7. Prosperity LMS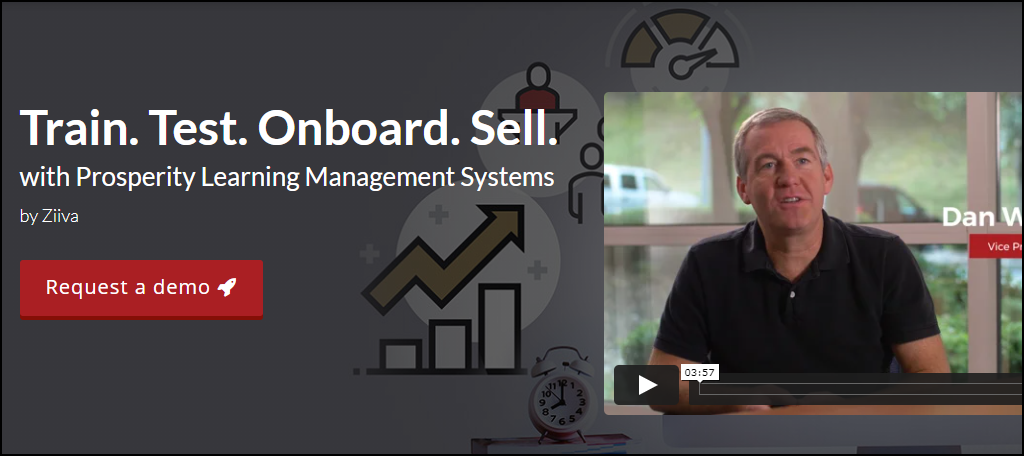 Prosperity LMS is another powerful tool businesses can use to train their employees. This system was designed to help businesses of any size and integrates nicely with corporate HR and training programs alike.
Also, almost all of the features are customizable.
One of the biggest problems a business has when adopting an LMS is the time it takes to get started. Unlike other solutions that may take weeks or even months to properly set up for use, Prosperity LMS can be set up in a matter of days.
This makes it perfect for businesses looking to switch quickly.
The LMS provides solutions for a wide array of industries that include corporate training, industrial, manufacturing, safety/compliance training, transportation, and much more.
It really is a one-size-fits-all training program perfect for business.
Benefits of Using Prosperity LMS
Includes integration options for SalesForce
Includes built-in courses that you can customize to fit your needs
This LMS can scale with your growing business
Smart workflows help eliminate repetitive work
Create personalized portals for different customers
Price of Prosperity LMS
Prosperity LMS does not offer its pricing information publicly. You must contact them to receive a quote.
8. Matrix LMS For Business
Businesses around the world work in an online environment in 2023, and that can pose serious problems when it comes to training new employees. Matrix LMS was made specifically to help train new staff members.
That said, while the focus is on business, there are solutions for more traditional education like K-12.
The bread and butter of this LMS are the employee training courses you can build. This includes building full onboarding courses that help to create the essential skills your business needs from its employees.
Of course, you can build specific training courses that employees can take and use to advance their careers. And this LMS can grow with your business and even have department-specific training courses.
Benefits of Using Matrix LMS
Increase user engagement with gamification
Create automatic renewal for employees who need to take compliance courses
Includes integration options for popular business software
You can see the software in action with a comprehensive demo to make sure its right for you
Course creation is very good and is easy enough for non-tech-savvy users to create with
Price of Matrix LMS
Matrix LMS does not make its pricing information public. You must contact them for a quote.
9. TalentLMS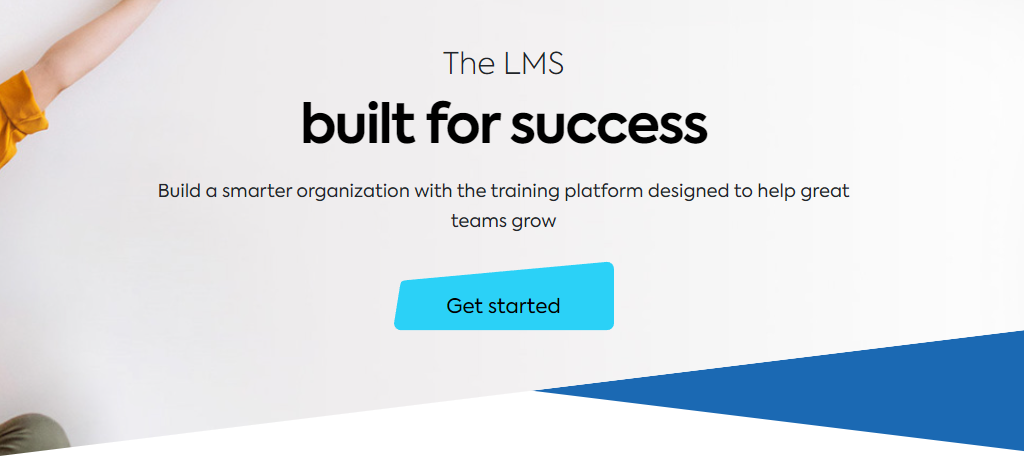 TalentLMS is another great option for businesses looking to train their workers in an online environment. It includes solutions for a wide selection of industries with tools built specifically for them.
These include manufacturing, health care, consulting, telecommunications, and much more.
Course creation is simple but robust. You can build courses of any kind and most importantly, make sure they are accessible to all employees. This includes translating them into different languages.
One of the best parts of this tool may be the gamification of the lessons. It really helps boost engagement and keeps users focused on their coursework.
Regardless of whether you need it for building an onboarding program or individual courses, this LMS is amazing.
Benefits of Using TalentLMS
Create compliance training courses with automatic renewal dates
Improve sales by creating sales training to help maximize your profits
Gain access to a variety of pre-made courses that you can customize to fit your needs
Includes access to a great support team that can help you every step of the way
Courses are accessible on any device
Price of TalentLMS
A free plan for 10 courses is available
The Starter plan begins at $69 per month
Basic Plans begin at $149 per month
Plus plans begin at $279 per month
Premium plans begin at $459 per month
10. Absorb LMS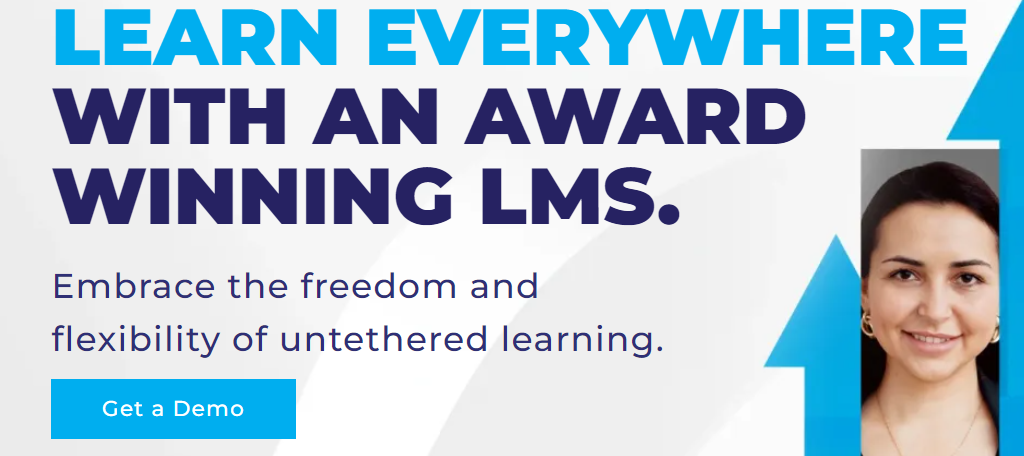 Absorb is a cloud-based LMS built with business in mind. With it, you can create courses for employees to gain the skills and knowledge they need to take your business to the next level.
The tool also allows you to sell courses. So, you can create training courses and sell them to other businesses.
One of the best aspects of Absorb is its flexibility. You can build courses for any kind of work environment and make sure they fit any type of schedule.
That's a big reason why so many companies use Absorb, to begin with.
One of the most useful aspects of this LMS is its administrative simplicity. You won't have to repeat the same task hundreds of times, which lets you spend your time more efficiently and productively.
Benefits of Using Absorb
Integrates with a variety of popular applications like Zoom
Collect eSignatures from those partaking in the coursework
Easily access coursework from the comfort of your smartphone
Create coupons and discounts for your courses
Sell multiple courses at once with bulk options
Price of Absorb
The pricing information of Absorb varies depending on the number of learners and courses you plan to build.
LMS Is Not Just For Schools
One of the biggest mistakes is to assume that learning management systems are just for educational institutions. That simply isn't true, and smaller websites or businesses can take full advantage of the features they offer.
For instance, you could integrate an LMS with your business to build a full training course for specific positions in your company. In fact, this type of usage is a great way to help new remote workers get used to their working conditions.
Especially if they are a brand-new employee.
Another terrific use of an LMS is to create a certificate program for a service you offer.
Of course, regular websites can take advantage of this by building free or paid courses about specific courses. For example, you could build a website about teaching people to cook and provide a full course on how to prepare each dish.
There are many examples of websites embracing the best LMS has to offer and building something really special.
Make Learning Easy With A Competent LMS Today
At their core, the top learning management systems, or LMS all help educators create a better environment for students or employees.
While you might be able to create a good foundation in certain fields without utilizing one, nothing can compare to the level of creativity and effectiveness that these platforms bring to the table. There is a reason that virtually all colleges or universities utilize an LMS.
And it's because they work.
What LMS do you plan to use on your website?