It's no secret that hard drives fail, and businesses cannot take that risk. Luckily over the years, cloud backup services have been able to help keep business data safe at an affordable price. No longer do you need to purchase an external storage device and manually copy your files.
Instead, it happens automatically, and it's stored securely.
What Is A Cloud Backup Service?
A cloud backup service provides an online backup for business by regularly copying files onto a cloud-based storage system. Unlike traditional backups that copy or clone files onto an external hard drive, everything is handled online.
These backups can be made manually or via automatic uploads or syncs. Generally speaking, most businesses will rely on automatic backups because they don't have to think about it. However, manual uploads still have a purpose.
For example, let's say you just received a new computer. You could manually upload the old computer's content and then download it from the cloud on the new device. It could also be used after making a big change.
Regardless of how you use them, backup services are powerful tools.
1. IDrive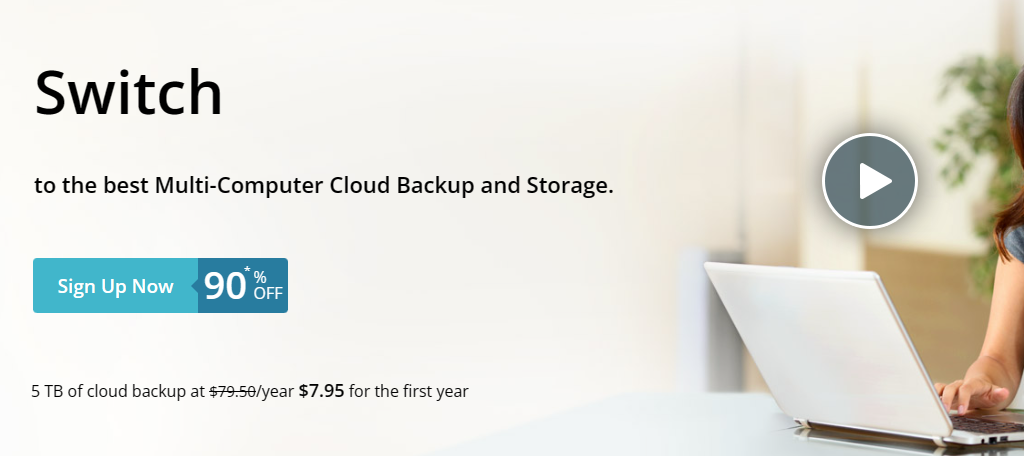 IDrive is the one-stop shop for business cloud storage. It allows for unlimited devices (computers or mobile devices), supports online file sync, and it's at one of the lowest price points on this list.
Thus, it's one of the best cloud backup services you can get.
One of the most impressive features the IDrive offers is true archiving. Other backup services will delete old versions of your data as new ones are uploaded. while this is to conserve space, it severely limits what you can recover.
However, on IDrive, files are never deleted unless you do so manually.
Without a doubt, the price point is perfect for small businesses. And it can support up to 10 terabytes of data, which is more than the majority of small businesses need. However, it is worth noting that there are no unlimited data plans available.
Benefits of IDrive Personel
Files are never automatically deleted from the cloud
Supports mobile backups
File transfers and recovery are incredibly secure
Price of IDrive Personel
The Basic plan is free for 5 GB of storage
IDrive Personal starts at $79.50 a year for 5 TB of storage
IDrive Business starts at $99.50 a year for 250 GB of storage
2. Acronis Cyber Protect
Acronis Cyber Protect might not be a dedicated cloud backup service, but it does provide the most comprehensive backup solution on this list. Although since it is bundled with a variety of other tools, the price can set you back a bit.
But it is well worth the cost since you will probably need those features anyway.
The Acronis backup system allows you to back up everything from individual files to entire computer systems. And it even covers full mobile device data.
Talk about covering all of the bases!
But what really makes it an impressive system is the recovery speed.
The cloud restorations of your devices are extremely fast and stable. They can be accessed at any time and anywhere. Restores are made even easier with the Acronis Survival Kit, which can be used in the event of a fatal computer error or a virus.
Benefits of Acronis Cyber Protect
Restoring your files is extremely fast and easy
The survival kit allows for quick recoveries after major problems
Supports mobile backups
Price of Acronis Cyber Protect
Essential 1-year subscription starts at $49.99
Advanced 1-year subscription starts at $54.99
Premium 1-year subscription starts at $124.99
3. Dropbox Business
Dropbox has built up a reputation for file storage over the years, and you better believe they have a solution for business, Dropbox Business. It is one of the best options for small to mid-size businesses due to its extensive feature list.
Especially thanks to how easy it makes collaborations.
In fact, I would argue that collaboration tools are what most businesses will find the most useful. The Dropbox Transfer allows for up to 100 GBs of data to be transferred at once, which is ideal for sharing files between collaborators and clients alike.
And most importantly is that it allows for unlimited data on some plans. This is ideal for businesses that have a lot of data that they need to keep safe. Most cloud-based services do not offer this, which really gives this service more bang for your buck.
Benefits of Dropbox Business
Powerful collaboration tools for both co-workers and clients
Unlimited storage capacities available on some plans
Excellent UI to make file transfers simple
Price of Dropbox Business
Professional starts at $16.58 per month
Standard starts at $12.50 per month
Professional & eSign starts at $24.99 per month
Larger businesses can call for more enterprise options
4. BackBlaze
If you are looking for value and ease of use, look no further than BackBlaze. It is one of the cheapest options you can find on this list, at only $6 a month for a single device. It is an ideal choice for a new business that only has a few devices.
However, don't let the price fool you, it is an amazing service.
The biggest advantage is just how easy this tool is to use. This is often under-appreciated by business owners, but let me assure you the moment you have to start putting effort into your backup, is the moment backups are not kept up to date.
Instead, you just have to set it, and everything is good to go. Keep in mind that while BackBlaze is very affordable, all of its plan options are tailored for one device. This means if you have an office-worth of computers to back up, you might want to consider a different option.
Benefits of BackBlaze
Extremely easy to use, one-time set up
Cheap monthly plans are perfect for new businesses
Files are encrypted and kept safe from ransomware
Price of BackBlaze
Monthly plans start at $5 per device
5. Arcserve
Arcserve is an excellent choice for businesses that need a comprehensive cloud-based backup service. This service is tailored for mid-size businesses that have a lot of computers. Thus, you can expect the service to be priced for such.
However, businesses can rest easy knowing that it is well worth the cost.
For instance, your data is stored in the world's best cloud servers such as Microsoft Azure or Amazon S3 servers. And the data is backed up every eight hours, so you will never lose a large amount of data if something goes wrong.
It provides a plethora of other features like detailed reports after each backup, the ability to manage multiple accounts from one screen, customization options for every type of work environment, and much more.
Benefits of Arcserve
Your data is safe and secure in the world's best servers
Plans are customized to fit your specific business needs
Protects files against ransomware attacks
Price of Arcserve
Prices are not made public, instead, you must contact them for a price quote
6. CrashPlan
CrashPlan is another excellent choice for businesses that do not have a lot of computers to back up. It uses a per-device pricing model. So, you pay for each device, which is ideal for brand-new businesses with only a handful of computers.
And it is no slouch when it comes to features either.
Some of the key highlights include no file size restrictions, you can backup external drives as well as computers, restore any files being held for ransom, 256-bit AES data encryption, and you can even decide how long CrashPlan keeps your files.
One of the best parts is that all of the uploads are automatic, which means you won't waste any time initiating a backup. And there's no need to worry about automatic backups impacting your computer's performance.
Benefits of CrashPlan
Allows you to backup external hard drives
Uses powerful encryption protection
Restorations are made through a handy desktop app
Price of CrashPlan
Small Business plan begins at $10 per month
7. Carbonite Safe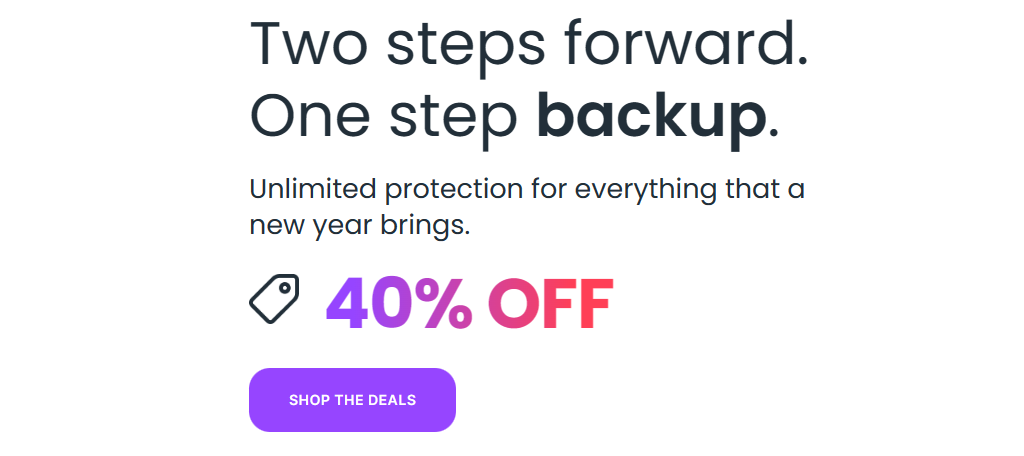 Carbonite Safe has an attractive pricing model for small businesses and its services are great. The simple user interface makes it easy for anyone to set up when a backup should take place, and it does not disrupt computer usage.
However, it is worth noting that Carbonite Safe does not handle video files particularly well.
Thus, if you regularly deal with videos, you might need a different solution, However, there are many other reasons to select Carbonite. For starters, it has the best mobile app on this list. That's right you can monitor everything Carbonite is doing on your computers while on the move.
And you'll never need to worry about data size because there are no upload limits. Just keep in mind that uploading large amounts of data can take some time, but it will not impact your computer's performance.
Benefits of Carbonite Safe
Excellent mobile app to monitor things on the go
There are no data limits, upload as much as you want
Simple UI allows for easy setup and automatic backups
Price of Carbonite Safe
Basic plan begins at $83.99 per year
Plus plan begins at $119.99 per year
Prime plan begins at $149.99 per year
8. Veeam
Veeam is another excellent choice when you are looking for the best cloud backup services to use for your business. It provides a variety of backup solutions and even some features that go way beyond that.
For instance, it also offers ransomware protection, which is quickly becoming one of the major concerns of all business owners.
In terms of usability, it couldn't be easier. You can create backups anywhere and instantly recover them at a moment's notice. And if you do need help, a support team is standing by to answer all of your questions.
Perhaps one of the best aspects of this tool is that you can store data in multiple clouds. This further protects your data because you simply have more copies stored in different locations, at least if you choose to do so.
Benefits of Veeam
Compatible with most third-party applications
Ransomware proof
Used by some of the biggest businesses around the world
Price of Veeam
Pricing is not publicly available. You must contact them for a sales quote.
9. DataDog
Looking for one of the best cloud backup services for your business? Do you want a free T-shirt? Well, both of these things can be accomplished when you use the DataDog cloud backup service.
It allows you to easily monitor all cloud storage services you use from a single interface.
Think of it like the master control panel of them. While this might sound useless if you only use a single platform, the truth is, that is becoming very unlikely for most businesses today.
Generally speaking, you will have multiple cloud services, even if you do not realize it.
Benefits of DataDog
See the performance of all servers on one screen
Includes a free trial
Access over 600 integration options
Price of DataDog
Datadog has a variety of plans that depend on the number of hosts you wish to include
Online Syncing is Not the Same As An Online Backup
A huge misconception that less tech-savvy business owners make is the difference between online syncing services (Google Drive, OneDrive, etc.) and cloud backup services.
An online syncing software clones a specific batch of files or folders on one of your devices. Afterward, those file copies are pushed to all of the devices you set up sync for, which allows you to access them.
The files are not intended to be used as a backup.
Instead, the services are intended to make sure you can access your files regardless of the device you use them on. These are great services to utilize if you allow employees to work from either the office or at home.
While you can always add new devices and sync the files to them as a makeshift backup, their scope is extremely limited when compared to real cloud server backups.
Cloud Backup Services Provide Your Business With A Peace of Mind
A business cloud backup can give your company peace of mind. It is not an exaggeration to say that cloud backups are the most powerful tool a business has at its disposal.
If something goes wrong from a device failing or an employee making a mistake, it can all be undone by using a backup. It also protects you from bad situations like ransomware. Holding your files for ransom isn't effective when you can just download them from the cloud.
An up-to-date backup can fix almost any situation, thus, they are the best defense you can add. That said be sure to have other defenses ready.
What do you think are the best cloud backup services for a business?