The Internet has been a massive gateway that has opened up the world and transformed the way we communicate. However, with this comes the fact that it can also be dangerous because it opens the door for all sorts of security threats that didn't exist before. Computers and mobile devices are under a constant threat from spyware.
That is why it is important to have good spyware protection.
Spyware does all sorts of things to our devices. Perhaps the most disturbing thing though is the fact that it tries to harvest data and use it inappropriately and without permission.
What is Spyware Protection?
Spyware protection, or spyware removal tools, is a type of protection software that helps detect harmful spyware on computers and mobile devices. It then removes all of the spyware from your system.
Most antivirus software today comes with a built-in, anti-spyware feature. This works with the entire software program to eliminate suspected spyware from the system or at the entry point.
With so many spyware protection options available today, it can be difficult to figure out which ones are the best or which ones may be most suitable for your needs. In this article, I am going to give you information regarding some of the best spyware protection and security software that is available today.
There is a lot to go over, and I narrowed the list down to the ones I think are the very best of the best. Let's dig right in and find you some virus protection software that you can use right away on your system.
Best Spyware Protection Software
Norton is a world leader and a very well-known name when it comes to fighting all types of spyware, malware, and viruses. Since Norton uses AI, it is able to continuously learn about new and emerging threats on the fly.
Norton claims that they are able to detect 100% of spyware on computers, and there are a lot of reviews around online that back up that claim. For this reason alone, it comes in at number one on this list of the best spyware protection and security software available.
Norton can be used universally, and while Macs don't need as many of the tools that are provided, it still works well with Apple operating systems. Windows users can benefit from some of the extra built-in features that are provided.
For example, Norton's "SafeCam" feature protects your PC's webcam. This prevents hackers from hijacking your webcam in order to spy on you.
Norton also features "PC Cloud Backup." This gives you 10 GB of secure storage where you can keep safe copies of your private files in case you fall victim to a ransomware attack.
All-in-all, Norton is a solid choice for anyone. However, it is particularly effective for Windows users who face constant spyware threats.
Features
Full spyware and malware scanning and removal
Online threat detection
Smart firewall
Deep Web monitoring
Password manager
Secure VPN (virtual private network)
McAfee is another solid choice when it comes to spyware protection. They offer an excellent package of cross-platform detection services that can effectively remove all spyware and other malicious threats from your devices.
The system includes a very wide range of protection tools. Some of the main features include identity theft protection, Wi-Fi protection, a password manager, encrypted storage, ransomware protection, and a lot of other bells and whistles.
This is all working together to keep you safe and secure from all threats.
It should be noted that the identity theft feature is only available to customers in the United States. However, the rest of the features are all there no matter where you live.
Features
Safe web browsing
Social Security Number monitoring
Performance optimization
Unlimited VPN
Dark Web monitoring
24/7 identity theft support (US-based customers only)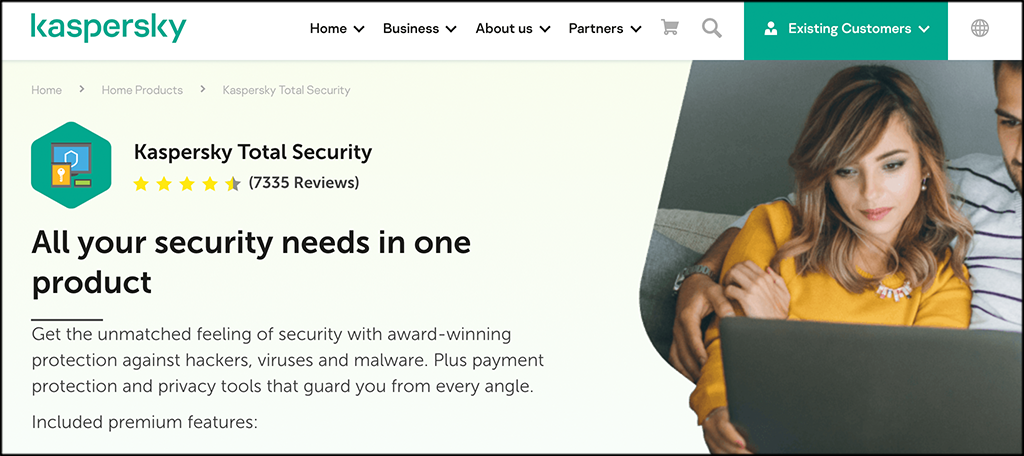 Another one of the best spyware protection within security software available today is Kaspersky Total Security. This system packs in a huge number of features that cover every aspect of security including spyware.
It would take quite a while to list all of the available features that are built into Kaspersky. However, some of the main ones include file encryption, a backup system, and a seriously enhanced parental control platform.
The parental controls really shine here, and if this is something that is important to you, then you won't find a better solution than Kaspersky.
This spyware protection is a little bit more expensive. However, with all the features that come with it, the price is justified. It just depends on what you are looking for.
Give Kaspersky a good long look if you are willing to pay a little more for some of the best built-in functionality and features of any program on this list.
Features
Comprehensive parental control

File encryption
File shredding
Full backup system
Cross-platform protection
Tons of bonus features built-in
Another very well-known and respected name in the world of cybersecurity is Bitdefender. Their Total Security product is one of the highest-rated when it comes to security and spyware control.
In the event that spyware does somehow make it through their defenses, Bitdefender also has a very powerful set of additional features to make sure you aren't spied upon.
Bitdefender really excels at protecting the financial information of users. While all of the platforms on this list protect financial security, Bitdefender goes the extra mile by providing a very secure browsing environment called "Safepay."
This helps protect you from all the banking trojans that are out there.
All-in-all, you will be hard-pressed to find a more secure service for banking and financial information privacy. They also offer a fantastic level of malware security alongside their long list of other security features.
Features
Microphone monitor

Multi-layer ransomware protection

Next level financial information protection
Safepay
Albine Blur allows you to shop online without having to show your true email address, phone number, or credit card details. It also manages your passwords. It's an impressive solution for online privacy. And it lands on our list of the best spyware protection and security software because of it.
Online shopping is more popular than ever, and it continues to get bigger. Using a solution like Albine Blur gives you the peace of mind you need while keeping financial and personal information safe.
What Blur does better than any other platform on this list is perfect the process of communicating and shopping online without giving away personal information. This can be a huge deal for many, as it allows you to shop and browse in complete privacy.
Blur comes with a ton of features, including the ability to block web trackers, mask your email address, and manages passwords. You will also be able to add masked credit cards and masked phone numbers while you shop.
Features
Blocks tracking of browsing activities
Manages all passwords
Masked email addresses and phone numbers
Masked credit card details and protects real details
Blocks unwanted calls
Protects personal information while shopping
With anti-spyware protection that can cover your entire family, Sophos Home makes it to our list because of its ability to provide the household with one solution. They also have a brand new mobile app that makes management across the board easier than ever.
If you have the right technical skills, then you can easily install across-the-board protection for friends and family and manage everything remotely. Their online dashboard is easy to understand and use as well.
It has a smooth layout that is easy to navigate.
To install Sophos on any new device, all you have to do is log into the dashboard and click on the "Add Device" option. Simple as that. Sophos is definitely worth looking into while you figure out which spyware protection is right for you.
Features
Convenient and smooth mobile app
Excellent malware test scores
Protects against spyware, ransomware, keyloggers, exploits
Ability to fully remote manage up to 10 PCs or Macs
Very fairly priced
TotalAv comes with a lot of additional features that help you keep your system secure. They specialize in anti-spyware protection, and over the years, have really come a long way in the arena.
There is a free version of TotalAV. However, the free version is not as useful as it needs to be, so the paid account is definitely the way to go.
Make sure you understand the pricing structures and layout of TotalAV. While their product is excellent, their pricing can be confusing until locked in.
They do provide an entry price that is almost unbeatable, but renewals are on you to figure out. Give TotalAV a look for solid features and excellent starter pricing.
Features
Spyware detection and removal
Adware cleaner
Remote access firewall
Device optimization tools
Spyware Protection FAQs
When trying to find the best malware protection for your situation, it is a good idea to ask yourself some questions and figure out some of the answers. Having certain information available can help you make a more educated and accurate decision.
Here are some questions you might want to consider or some that you may need answers to.
Why is Spyware Protection Needed?
Hackers are everywhere, and so is their spyware. Protection is needed to keep information and data safe. After all, you don't want any of your private or personal information being stolen and used online.
This is why it is important to find the best anti-spyware software for your devices.
What Are the Effects of Spyware?
Spyware and malware can affect your system in a number of ways. From causing systems to slow down to damaging files and stealing and spying on your data, Spyware can wreak absolute havoc.
Other effects include popup ads, and stealing information from a database. These are not things you want to have to deal with.
Are Spyware and Malware the Same Thing?
Yes, kind of. Spyware is actually a type of malware that gains access to your devices or system with the sole, malicious intent of stealing your data or spying on all your activities. It aims to do this without your knowledge.
Malware is more of a blanket term used to describe "malicious software" of any kind.
Do VPN's Protect Your System From Spyware?
There are a lot of excellent VPN's out there, and they should definitely be used for certain things. However, a VPN does not protect you from spyware. It can block or shroud your activities from Internet providers, so it does protect your privacy in that sense.
However, your system as a whole is still vulnerable to spyware and for that, you need to find virus protection software like the ones above.
How Do I Know If I Have a Spyware Infection?
Well, if you start seeing some of the issues from above take place on your machine, then chances are you have a spyware infection. If you have odd pop-ups happening, or a lot of spam email, or your system seems to be running slower and slower, then you definitely want to look into getting the best malware protection possible.
Conclusion
As the world of online activity and the Internet continues to expand, so does malicious activity and hacking attempts. At this point, spyware and other malicious viruses are a part of navigating the online world.
For this reason alone, you need to make sure you have access to good spyware protection. Even the best free malware removal can be of help to you.
Any of the spyware protection software listed above will be solid and do what is needed to offer protection. You can't really go wrong with any of those choices. What you decide to get will be based on personal preference, as well as what might be right for your devices and situation.
Navigating through all the spyware protection and security software out there can be intimidating if you don't have a starting point. Start with the suggestions above, try them out, research them, and figure out which one would work best for you.
Good luck on your journey!