Even if you have virus and malware protection, your information isn't entirely protected. To be safe, you need ransomware protection, especially if you have a business. Thus, I have put together a list to help you find the best protection for your business or PC.
What is Ransomware?
Ransomware is malicious software that steals or locks data from you and demands a "ransom" in exchange. The software will most commonly encrypt data that exists on your computer or network and make it inaccessible until a ransom is paid.
The ransom is typically an amount of money that may be asked in a variety of forms but has most recently been in the form of Bitcoin or other cryptocurrencies. This can range from a small payment to several thousand dollars.
It really depends on who the target is and what kind of data it has.
Encryption ransomware is only one form, though. Another popular one is screen-locking ransomware. This is where your screen completely locks down and does not allow you to do anything. And there are many more forms of it.
Ransomware protection is designed to protect you from these types of attacks and is a necessity for any business that relies on computers, which is just about every single one.
1. Bitdefender Antivirus Plus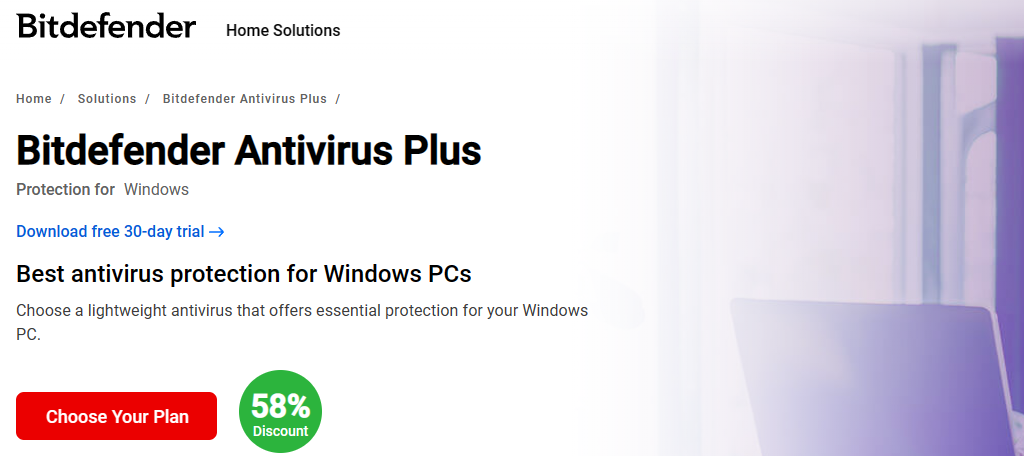 Bitdefender Antivirus Plus is an all-in-one security suite that protects against viruses, malware, and what we're after, ransomware. It does everything you need without impacting your computer's speed.
In fact, it might also double as the best malware protection on this list.
Some of the key features include a vulnerability assessment, multi-layered ransomware protection, network threat protection, anti-phishing, enable a rescue environment when booting up after a threat is detected, and a file shredder to name a few.
One thing you need to be aware of is that unlike other entries on this list, Bitdefender has separate versions for both Windows and Mac users. As such, you will need to make sure you purchase the correct version for the operating system you use.
Benefits of Bitdefender Antivirus Plus
Multi-layered ransomware protection
Banking account protection
Protects against the most common threats
Price of Bitdefender Antivirus Plus
1-year plans start at $59.99 for one device
2-year plans start at $89.99 for one device
3-year plans start at $119.99 for one device
Kaspersky Premium is a comprehensive security suite that protects against just about anything. It is one of the best options for small businesses looking to add ransomware protection to their work computers.
And that means it has several tools dedicated to anti-ransomware.
While there are a lot of features to talk about, Kaspersky's System Watcher is what is most important for ransomware. It can easily identify potential threats and either block them completely or remove them before they can encrypt any files.
Some of the other useful features include a full VPN, which can help prevent these hackers from finding your data in the first place. It also has a suite of other tools and excellent customer service.
Benefits of Kaspersky Premium
Includes a password manager
Online payment protection
Intuitive to use
Price of Kaspersky Premium
Kaspersky Premium begins at $77.99 per year for 3 users
3. Security Event Manager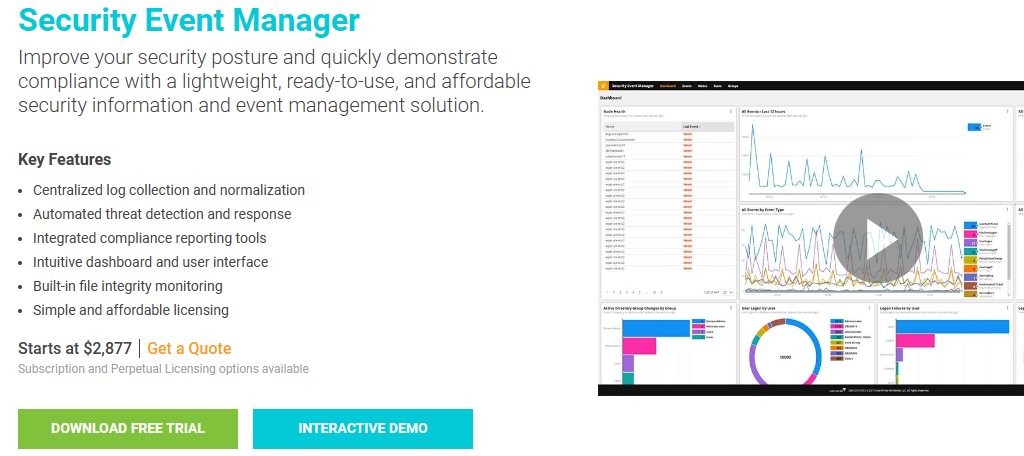 Solarwinds has built up a reputation over the years for delivering powerful solutions through a variety of software. The Security Event Manager is one of the best options to consider on larger networks where ransomware is a concern.
Keep in mind, that this service is intended for mid to large-sized networks, very small businesses should look elsewhere.
A few of the features include a detailed log collection, file integrity monitoring, a full view of your entire network's health, a variety of reporting tools, easy-to-understand charts and statistics, an excellent dashboard, and much more.
The best part of this software is its automated responses. Threats are dealt with automatically and some of the responses include blocking infected IP addresses, change user privileges (prevent hacked accounts from doing anything), or even disable accounts altogether.
Benefits of Security Event Manager
An intuitive dashboard makes viewing your network a breeze
Automatic threat detection and responses
Check the integrity of each file on your network
Price of Security Event Manager
This security suite starts at $2,877. However, the price largely depends on your business size
4. Webroot AntiVirus
Webroot AntiVirus is another excellent choice if you are looking for an all-in-one security suite for your business. It protects against viruses, malware, adware, and of course, ransomware. It works on both PC and Mac devices.
And it boasts to be 60 times faster than the competition when it comes to scanning your computer.
The software is very simple, but also very powerful. It can identify if a program is dangerous or not based on an extensive database. And if the program is dangerous, it does not allow it to connect to the internet and logs every action it takes.
As a result, it can reverse any actions the program or application takes on your computer. It's also worth noting that the software will identify other problems with your computer such as a large number of temporary files and other tips for security and performance improvements.
Benefits of Webroot AntiVirus
Has a large database of known threats
Scans your computer in a matter of seconds
Identifies ways to improve your computer's performance
Price of Webroot AntiVirus
1-year 1-device plans begin at $23.99 per year. Business options available.
5. ZoneAlarm Anti-Ransomware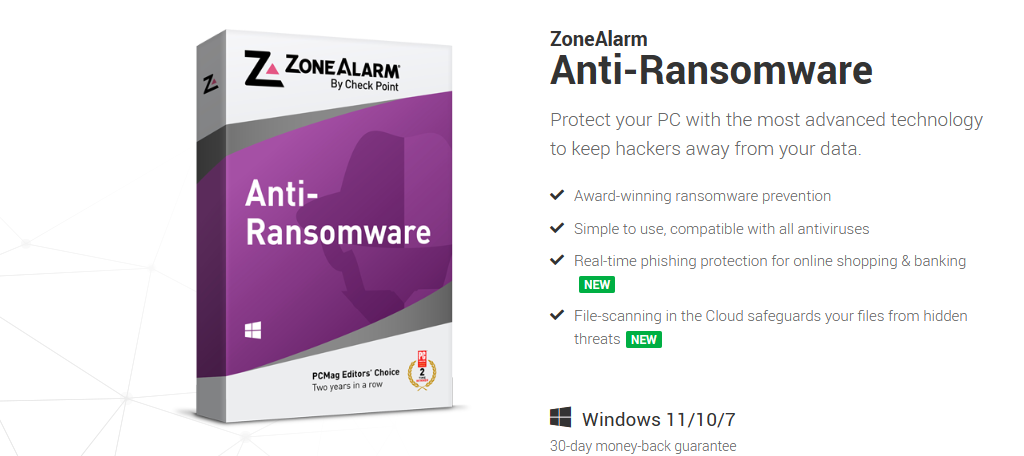 If you are looking for a piece of software dedicated to fighting ransomware, then look no further than ZoneAlarm Anti-Ransomware. It focuses exclusively on fighting ransomware, and as a result, it is the best ransomware protection software for the price.
And that may be the biggest factor for some small businesses.
Instead of focusing on the features, I want to discuss how easy it is to use. After installing the software, you will see one window that says "You're Protected!" and that's it. There are no settings to configures, no logs to check, or anything else.
Once you install it, you're good to go. You'll only see an alert if an attack is detected.
Unlike every other option on this list, you can actually pay for the service on a monthly basis. This can help smaller or newer businesses cope with the upfront cost of ransomware protection. And the best part is that it's only 2 dollars per PC every month.
Benefits of ZoneAlarm Anti-Ransomware
No settings to configure, everything is automatic
No notifications or scan reminders
Supports monthly payments
Price of ZoneAlarm Anti-Ransomware
1-year plans start at $25.95 for one PC
For three PCs the plan begins at $32.95
More plans are available based on the number of devices you want
6.

AVG AntiVirus Free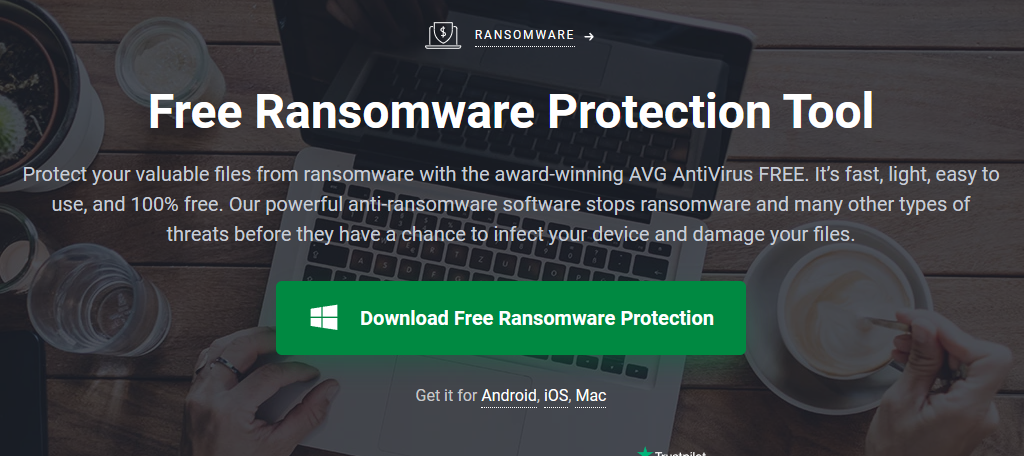 AVG has built up a strong reputation for delivering a powerful antivirus tool for free. And AVG AntiVirus Free also happens to be one of the best ransomware protection software you can choose to protect your computers.
This is an excellent choice for small businesses looking for free cybersecurity software.
The main feature of this tool is the ransomware scanner it utilizes. It is always on, constantly updated, and blocks ransomware before it can do anything to your computer. And all of this is done without impacting the speed or performance of your computer.
It's important to remember that AVG AntiVirus protects against viruses and malware on top of ransomware. As a result, it's the perfect choice for a very small business that is just starting out and might be all your business ever needs.
Benefits of AVG AntiVirus Free
It protects against virus, malware, and ransomware
Works on Windows, IOS, and Mac
It's free
Price of AVG AntiVirus Free
It's free to use on any device.
7. NeuShield Data Sentinel
According to NeuShield Data Sentinel, the war against ransomware is already over. It boasts that it is the only software that can recover any of your damaged data from a malicious attack without creating a backup.
However, it is important to keep in mind this is a different kind of protection.
Data Sentinel does not actively detect threats. Instead, it reverses what they do and protects your files with Mirror Shielding. They describe this feature as the attacker thinking that they have gained access to your files, but in reality, they are viewing a mirror image of them.
Thus, this prevents them from actually doing anything to your files. Each file can be manually mirrored at any time. However, the software recommends not doing it during the weekend because it is common for ransomware to aim for an infection on Friday.
Benefits of NeuShield Data Sentinel
Restores files without a backup
Protects local cloud drive folders (Google Drive, OneDrive, etc.)
Mirror Shielding keeps all of your files safe from ransomware
Price of NeuShield Data Sentinel
A free version is available
Single licenses begin at $23.99 a year
Multi-license plans begin at $71.97 a year for 3 workstations
The Family Pack plan begins at $119.95 a year for 5 workstations
8. Acronis Cyber Protect Home Office
While most businesses want to prevent the ransomware attack from occurring in the first place, another approach is to ensure your data is backed up in the event of an attack is successful.
Acronis Cyber Protect Home Office includes both of these solutions in a single product.
First, it will block malware, ransomware, and other threats in real time before they can ever impact your computer. And it can also run a scan to find any malware or malicious content sleeping on your computer.
In the event that something does go wrong, you can rest easy as the suite of backup tools it provides will ensure you have multiple useable backups that can restore all of the data that may be held for ransom.
Benefits of Acronis Cyber Protect Home Office
File sync between multiple devices
Customize what data gets backed up
Create cloud-to-cloud backups
Price of Acronis Cyber Protect Home Office
Acronis offers multiple plans with each one's price dependent on the number of devices
9. Avast
Avast is another terrific anti-virus software that also offers ransomware protection. And one of the reasons it is so popular is that you can start using it for free. That said, there are several premium plans for users with more advanced needs.
You can take advantage of this service on Windows, Mac, Android, and iOS.
Being available on just about everything makes this one of the best options out there. The anti-virus protection is quite good at detecting a wide variety of threats and rogue software, which will prevent ransomware from encrypting your data.
So you may be wondering, what do you get in the free version? Well, you get the essential anti-virus protection, which includes ransomware protection. Premium plans, add extra features like a VPN. Overall, it's an excellent service.
Benefits of Avast
Stop webcam spies
Prevent ads from tracking you
VPN includes 55 locations to connect from
Price of Avast
Avast offers a free version that offers essential anti-virus protection
Avast One begins at $8.33 per month for 5 devices
Premium Security begins at $8.33 per month for 10 devices
10. Malwarebytes
The previous solutions on this list generally focused on the prevention of a ransomware attack, but what happens if you already have an infection? Well, you are going to need a different tool, and Malwarebytes is one of the best options.
It excels at the removal of malware, ransomware, and other malicious infections on your computer.
That said, it does offer protection against malware, ransomware, and other threats for free. There are also business solutions that can accommodate small and medium-sized enterprises.
That said, the actual removal functionality is a premium feature. However, you do get a 14-day free trial, so you may be able to get by with just that. In any case, it's a great service that is very easy to use.
Benefits of Using Malwarebytes
Premium version includes VPN services
Works on Windows, Mac, Android, and iOS
Includes a browser guard for Google Chrome, Firefox, Edge, and safari
Price of Malwarebytes
A free version including basic protection is available
Premium plans are available and price is determined by the number of devices
Other Ways to Prevent Ransomware
While using ransomware protection is highly recommended, there are steps you can take to lower the risk.
One of the most common ways ransomware gets on a computer is through an email attachment. This is usually in the form of a PDF or word document that has been tampered with. However, avoiding this is very simple.
Never open an email attachment from any email that you do not trust.
Ransomware works similarly to malware, so all of those tips will also apply to ransomware. For example, a malicious advertisement (unbeknownst to the website) could do a drive-by download to infect your PC.
A simple fix is to run an adblocking extension on your browser and only whitelist creators you trust. And make sure to never download files from websites that you do not trust. In fact, stay off of those websites altogether.
Possibly the single most important tip I can give is to keep an active backup of your files. This will significantly lessen encryption ransomware's ability to impact you. After all, you can simply restore the backup to get access to your files again.
If you follow these guidelines, it is very unlikely that you will ever be infected with ransomware.
Security Is Crucial
If you own a business, cybersecurity needs to be a major concern. In fact, it should be one of the first concerns. Having any of your data stolen could not only impact your business, but it could even have legal consequences.
Trust me, you do not want to explain to your customers how their credit card information was stolen.
For most companies, this is a death sentence. And it is entirely avoidable by setting up protection against ransomware. So don't become a statistic and get protection today.
What ransomware protection does your business use?