In many industries, it is standard to run a background check on employees. This is for a variety of reasons, however, finding the right employment background check service to use is no easy task.
For that reason, I have assembled this list of the top services to consider.
What Are Employment Background Check Services?
An employment background check service is generally a web-based service that allows employers to see an employee's history. This typically includes information like previous work history, education verification, criminal records, credit checks, drug tests, and more.
This information is publicly available for everyone to see, but assembling it can be challenging. This is exactly why these services exist. They allow employers to view all of the data at once and then verify that the information on a resume is correct.
More recently, these searches have started to put a bigger emphasis on social media. Some services will crawl through all of the social media accounts under your name, after all, anyone can view this information.
By utilizing these services, employers can ensure that an applicant is a right fit for a job.
The Best Employment Background Check Services to Use
1. Good Hire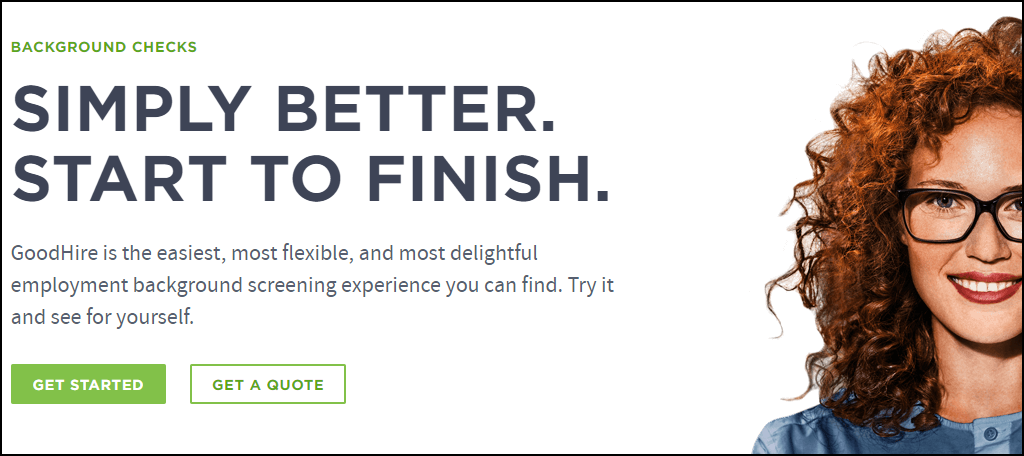 Good Hire started out as an employee background check service that targeted small businesses and grew to meet larger company needs. Even though it has grown significantly, this service is still the ideal choice for small businesses.
And that's saying something in such a crowded market.
The service covers a variety of background checks and verifications like criminal records, driving records, credit checks, education verification, international background checks, civil court checks, drug screenings, and much more.
The service is also one of the most affordable ones you can get. At just $29.99 a search, it's the most comprehensive at the most affordable price for the services it provides.
Benefits of Good Hire
Compliance policies are updated regularly to ensure your checks do not violate the law
Performs a variety of background checks
Scales for both small business and large corporations
Price of Good Hire
Basic starts at $29.99 for each search
Standard starts at $54.99 for each search
Premium starts at $79.99 for each search
2. B&B Reporting Inc.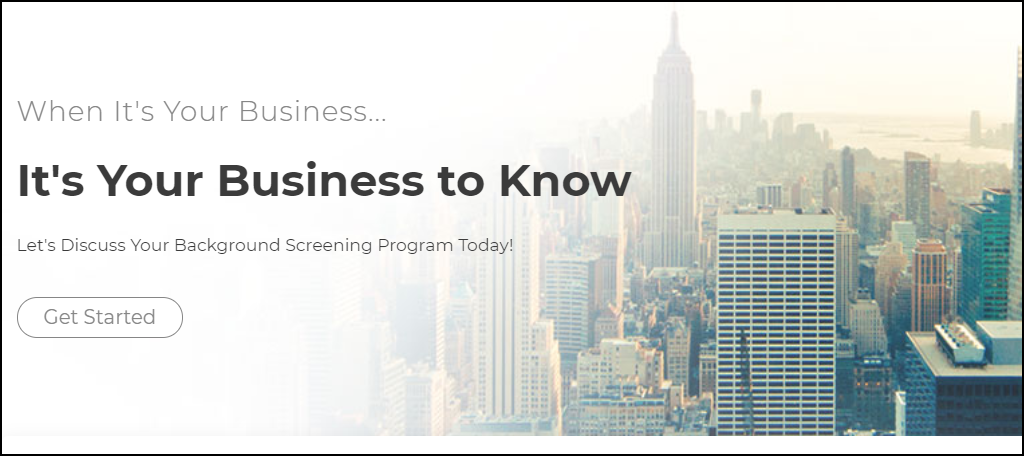 B&B Reporting Inc has been around for over 20 years and can help small to mid-size businesses with all of their background check needs. And most importantly it has an average turnaround time of 24 hours for the reports.
This can help significantly speed up the hiring process for any company.
Some of the searches you can conduct include a multi-jurisdictional criminal search, employment verification, credit checks, licensing and professional certification checks, motor vehicle check, and a federal criminal search.
Unlike others on this list, B&B Reporting Inc allows you to fully customize what types of searches are conducted. You can mix and match a variety of background tests and screenings. As a result, the prices are entirely reliant on what you select, therefore you must contact them for a quote.
Benefits of B&B Reporting Inc.
The ability to customize what background checks occur
It has a speedy 24-hour report turnaround time
a wide list of verifications and background checks are available
Price of B&B Reporting Inc.
The prices the company offers are tailored to your company's size, thus you must contact them for a quote
3. IntelliCorp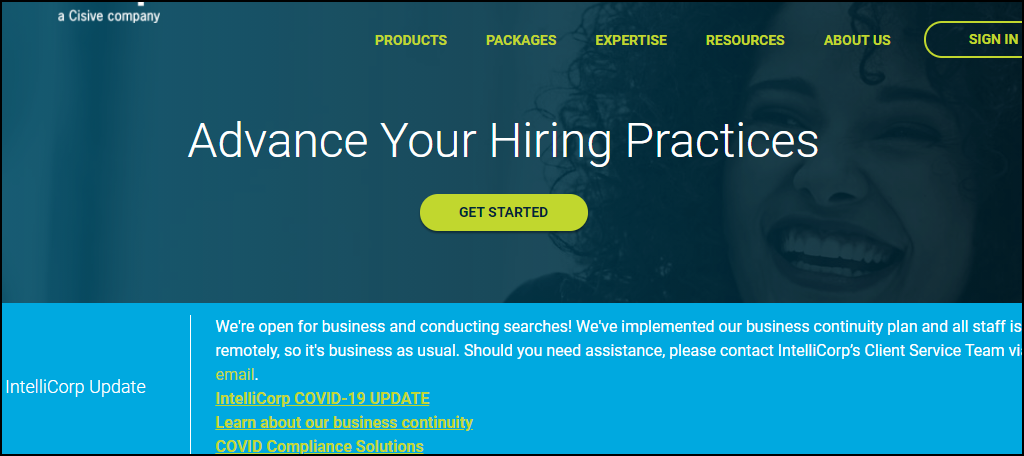 IntelliCorp has been around the block with over twenty years of experience underneath their belt. This means you can expect an excellent experience. It is one of the best employment background check services on this list.
And they are constantly adapting to the needs of businesses.
For example, they are the only service on this list to offer a Covid-19 tracing solution. It is called CONTACT19, and it helps track the contact employees make to help ensure that your workforce stays safe.
This can help prevent a large-scale outbreak in your business.
One of the more unique features is the tenant background screening package they offer. If you plan on renting a room or a house out, you are going to want to know how a tenant behaves. This is a comprehensive screening that looks at past evictions and a variety of other checks.
Benefits of IntelliCorp
Provides Covid-19 solutions to keep your team safe
Tenant background checks help property owners protect their property
A variety of background checks are available to meet your needs
Price of IntelliCorp
The pricing information is only available upon request
4. Accurate Now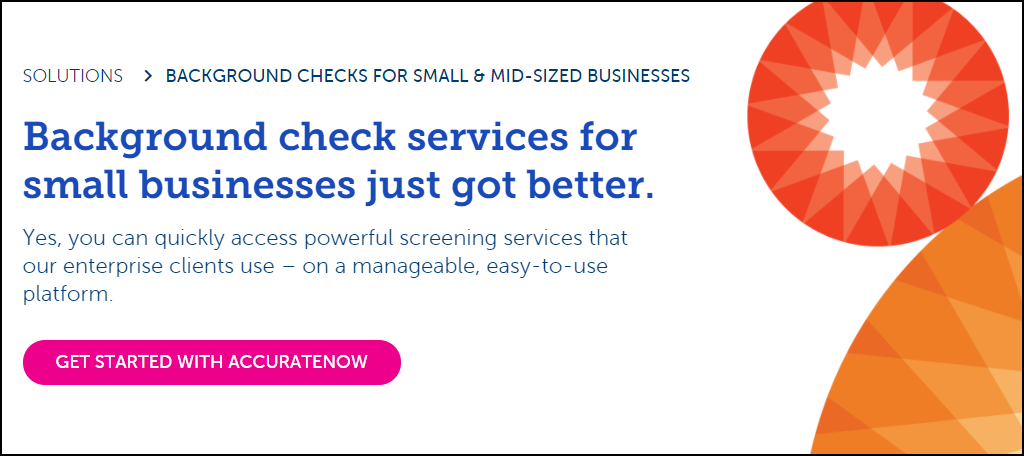 Accurate Now focuses on delivering affordable background checks for small businesses in a variety of industries. It also has one of the best UI's on this list, which will help owners view all of their reports online.
Each industry will have searches tailored to what employers look for.
It provides solutions for gigs and marketplace (contractors), healthcare, insurance, retail, transportation (trucking, aviation, etc.), and supports small to midsize businesses. And you can rest easy knowing that all of the reports are made in full compliance with the law.
One of the more unique features this employment background check service offers is the social media search. It will search for extremely negative posts that deal with bigotry statements, violent threats, explicit images, and more. What someone says online can tell you a lot.
Benefits of Accurate Now
Supports a variety of industry types
Provides a social media search to highlight problematic posts
An excellent UI to view reports
Price of Accurate Now
Basic starts at $29.95 per report
Standard starts at $59.95 per report
Premium starts at $74.95 per report
5. Checkr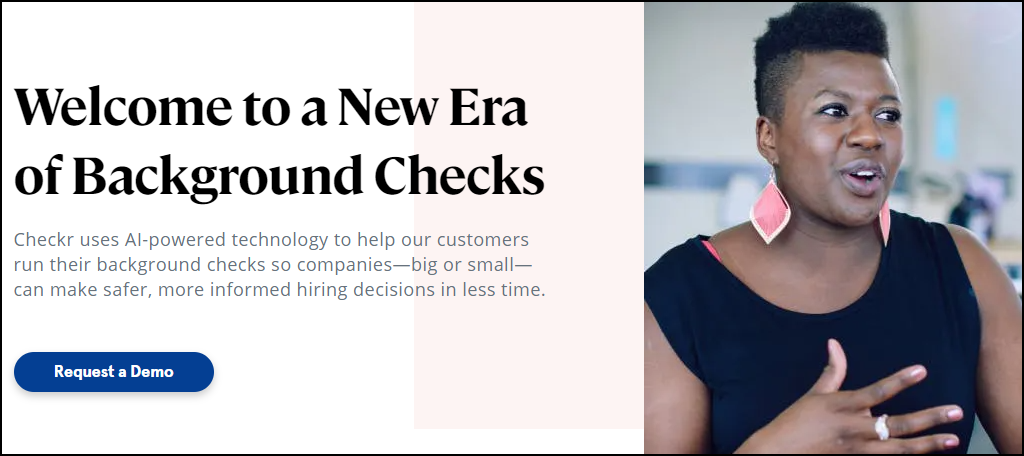 Checkr is one of the more unique entries on this list because it uses an AI to help speed up the background search process. In fact, unlike other employment background check services on this list, Checkr was built as an API for background checks.
This enables it to quickly integrate with any business's applicant tracking systems (ATS).
The service supports a variety of industries including technology, retail, hospitality, manufacturing, volunteers, and food services. Each one offers a variety of background checks and compliance features necessary for each field.
Without a doubt, Checkr provides the best user interface out of any of the services on this list. It's simple to navigate, easy to read, and can meet the needs of both small and mid-size businesses alike.
The simplicity alone will shave off hours during the hiring process.
Benefits of Checkr
Easily integrates with applicant tracking systems
It has the best UI on this list
Supports a plethora of industries
Price of Checkr
Price is available upon request for each industry type
6. eNannySource
eNannySource focuses on performing background checks for household employees (cleaners, chiefs, etc.) and nannies. It is the perfect resource for anyone looking to invite a worker into their home.
It is the best background check site for household workers and nannies.
Unlike other services on this list, this one focuses exclusively on household workers. It looks at the reports that are most prevalent to this type of work such as court records, driving records, national alias search, and reference verification to name a few.
One of the best features of the site is personality assessments. Everyone is different, and as a result, the type of personality they expect from employees is too. This can help you keep track of those that focus on organization versus those that are more creative.
Benefits of eNannySource
Specializes in background checks for household workers
Personality assessments help you find the perfect match
Searches over 300 million national criminal records
Price of eNannySource
Basic starts at $24 per report
Gold starts at $54 per report
Platinum starts at $94 per report
7. Accio Data
Accio Data is one of the best online background checks you can find online for a variety of reasons. And the best part is that you can significantly shrink the amount of paperwork by using their online features.
Not only does this help cut labor costs, but it also helps the environment.
Accio Data is a bit of a unique case on this list. Instead of actually being an employment background check site, they provide software to Consumer Reporting Agencies (CRAs) so they can do more background checks faster.
One of the most useful features Accio Data offers is that the I-9 form is 100% automated and done online. This can help you keep all of your paperwork organized, and allow you to create automatic email notifications in case of expiring work authorization.
Benefits of Accio Data
Allows CRAs to do more business
I-9 form is fully automated to help save time
Integrates with a variety of apps
Price of Accio Data
Pricing is available upon request and is based on your companies size
8. SterlingOne
Closing out our list is SterlingOne, but don't let its placement fool you, it's a great choice. It has a wide array of background screening options that make it one of the best employment background check services on the list.
In fact, it boasts having the largest list of industries compared to the others above.
They include construction, education, energy and utilities, financial and business services, hospitality, manufacturing, media and entertainment, nonprofit, retail, and more. It's truly the most encompassing list available.
The biggest advantage of using SterlingOne has to be its impressive mobile app. While it might sound strange to view this information on a mobile device, it is becoming far more common. After all, almost everyone carries their mobile device with them 24/7.
Benefits of SterlingOne
The best mobile app available for background checks
Supports almost all industry types
Offers Covid-19 solutions
Price of SterlingOne
Pricing is available upon request
What Businesses Need A Background Check?
Not every business needs to run a background check on employees. Generally speaking, only very large corporations can afford to run a background check on every single employee.
Instead, small businesses only run them when it is necessary for the field.
For example, it's quite common to run a background check in the financial sector or if a company is dealing with sensitive information. Many of these jobs require a certain level of education that must be verified.
This includes not being involved in criminal behavior and other factors specific to the industry.
If you are running a restaurant or mini-mart, a background check isn't necessary.
Keep in mind that there are legal requirements that must be met before you can run a background check that varies on a state-by-state basis.
Know Your Employees
Your company's employees represent your brand, and as such, you need to make sure they do it justice.
Any actions your employees take whether they are supposed to or not will have an impact on your business. Thus, making sure you know your employees is essential, which is why an employee background check is a must-have for many businesses.
What employment background check services do you use?