When it comes to daily business management, ERP software is the most critical for success. This software compiles information from each area of your company in one location. Thus, it allows you to see the status of your business's operations on a daily basis.
The market for ERP software has grown tremendously over the years. Thus, I have assembled a list of the best ERP software in 2023.
What is an ERP System?
Enterprise Resource Planning (ERP) software, or an ERP system, manages daily activities from every department of your business. This can include accounting, procurement, project management, human resource (HR), risk management and compliance, marketing, supply chain operations, and just about any other activity.
At its core, this software allows you to feel the pulse of your business on a day-to-day basis.
On top of managing your company's existing systems, full ERP suites also analyze this data to come up with financial assessments. These assessments allow businesses to create more accurate budgets and provide investors a clearer picture of the health of a company.
And perhaps the most important aspect of this software is its ability to scale with your company. As companies grow, so does the number of systems they need to manage and each ERP solution is tailored to a specific industry.
Thus, you need to find the one that fits your needs.
The Best ERP Software in 2023
1. Oracle Netsuite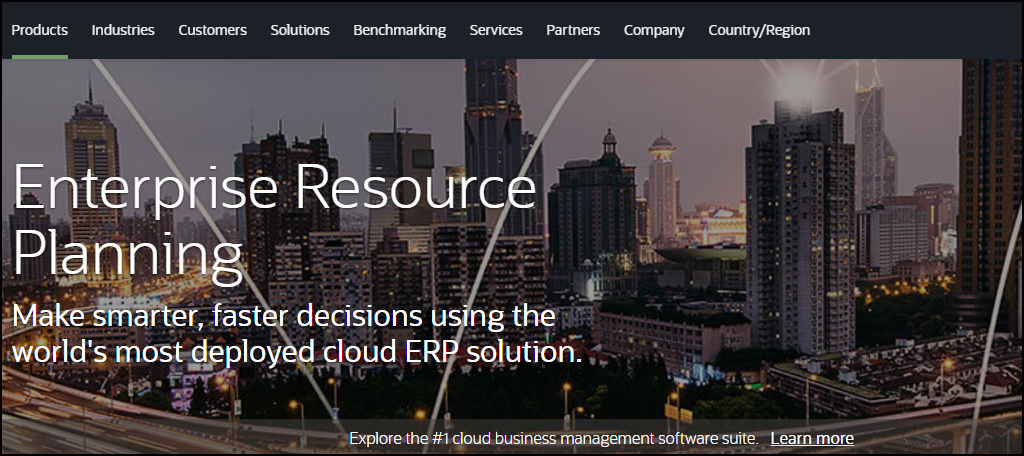 Oracle Netsuite is one of, if not the most, respected names in the ERP software industry. It provides ERP solutions for enterprises, start-ups, family-owned businesses, small businesses, and everything else.
And it does all of this while providing powerful tools to its customers. It really can accommodate any business size or model, which simplifies everything.
The bread and butter of Oracle Netsuite is its analytical tools. You can use them to turn data into easy-to-read visual charts, create the most accurate budget reports based on day-to-day activities, and supports your business's growth at all stages and sizes.
With this tool, you can manage finances, inventory, production quotas, supply chain efficiency, warehouse storage and fulfillment, procurement, and much more. It really is able to compile your entire company's day-to-day activities on one screen.
Benefits of Oracle Netsuite
The entire system is cloud-based
The dashboard is easy to navigate to make it simple for any skill level
Great CRM tools for any business
Price of Oracle Netsuite
Oracle Netsuite does not make its pricing public. Instead, you must contact them for a quote.
2. Sage ERP Software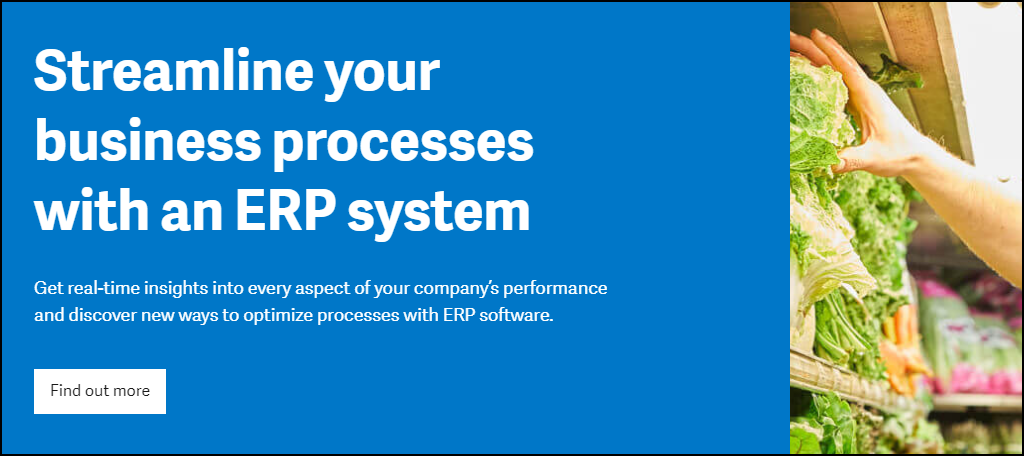 Sage ERP Software is an excellent choice for small businesses looking for their first ERP system. The interface can be accessed directly from your web browser on multiple devices, which makes the software accessible from anywhere.
And for business owners that have to travel on a daily basis, that's a crucial feature.
The software offer solutions based on your type of industry. They currently support food & beverage, manufacturing, distribution, chemicals, and service industries. Each one provides tools and features that cater to your business type.
It also offers a plethora of financial tools to take advantage of. Some of these include inventory management, sales & purchasing management tools, shop floor control, BOM planning, budgets and accounting, and even fixed assets to name a few.
Benefits of Sage ERP Software
The mobile interface is clean and responsive
Options available to add other Sage software to your business
A helpful FAQ and knowledge base is available
Price of Sage ERP Software
Sage does not make its pricing public. Thus, you must contact them to receive a quote.
3. Infor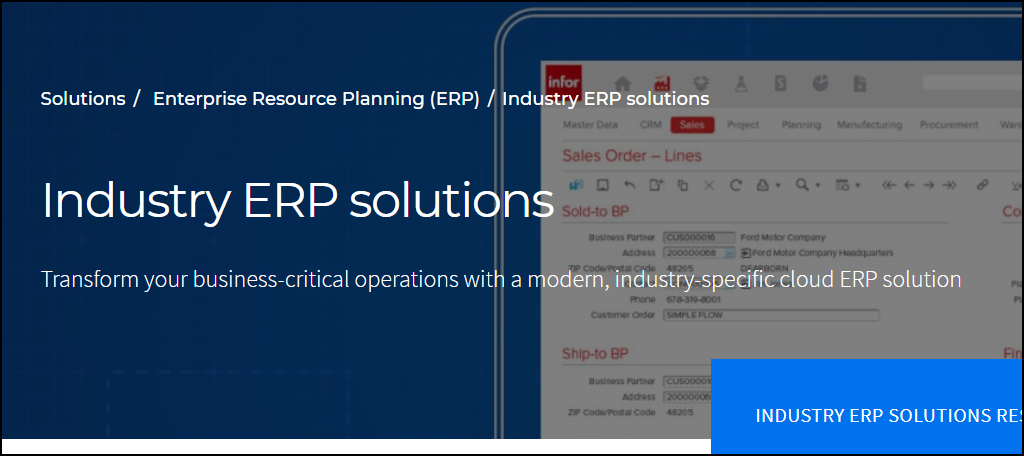 If you have a mid-sized business, software built for small businesses won't cut it. That's why Infor built a solution just for you. The entire software is cloud-based to make it accessible from any location, including mobile devices with a dedicated app.
And like most ERP software, the solutions are industry-specific.
They include a broad assortment of industries like fashion, food & beverage, distribution, automotive, manufacturing, chemicals, casino & gambling, hotels & resorts, education, banking & financial, health care, and plenty more.
And each solution is tailored for the specific industry.
To enhance your business's ability to operate effectively, you can take advantage of prepackaged workflows that similar businesses use. For example, you can receive tips from an AI that uses data to predict and recommend improvements to your business.
Benefits of Infor
Infor certification exams are available to help you learn the software inside and out
Ensures that your company is following regulations in your area
View a full report on your business's finances in a few clicks
Price of Infor
Infor does not provide pricing details. Thus, you must contact them for a quote.
4. Microsoft Dynamics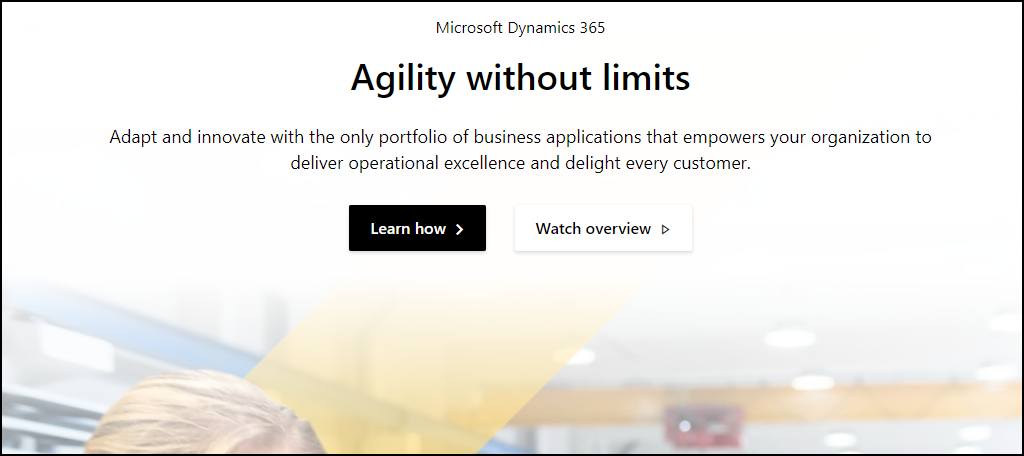 Many people may not realize this but included in your Microsoft 365 subscription, is a 30-day free trial of Microsoft Dynamics 365. While it lacks a lot of features offered by the top ERP software, it is a great option to consider when starting out.
Keep in mind that this service is only available in the United States and Canada.
The software focuses on small to midsize businesses and provides users the familiar Microsoft interface. Thus, it's really easy to use. And as you would expect, this software integrates with Microsoft Office and other Microsoft tools. In fact, you're encouraged to connect everything on the landing page.
One feature that really sets Dynamics apart from the competition is that it includes fixed asset support. In most cases, ERP software does not include this functionality or it costs a premium.
You can enter an asset and its value into the program and then use a straight line, declining balance, or depreciation to calculate the worth in a half-year format.
Benefits of Microsoft Dynamics
The launch screen provides an easy to read summary of day-to-day activities
The inventory system allows you to pair a picture with the item
Graphs are easy to read and simplify the data
Price of Microsoft Dynamics
Sales Professional plans start at $65 per month per user
Sales Enterprise plans start at $95 per month per user
And Sales Premium plans start at $135 per month per user
Microsoft Relationship Sales plans start at $165 per month per user
5. AccountMate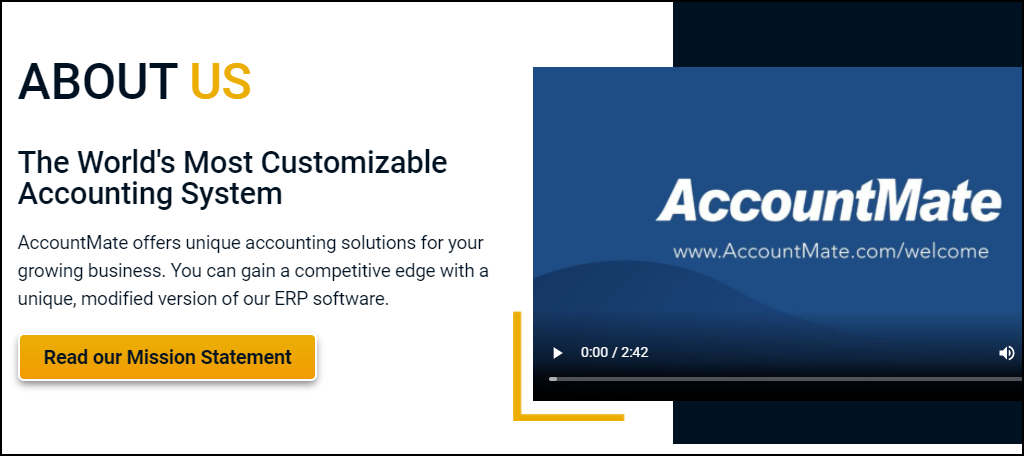 If you're looking for robust reporting tools and options in your ERP software, look no further than AccountMate. This software provides the most reporting options out of any software, but keep in mind that many of these options may only be available if you purchase certain modules.
However, it must be said that the visuals in this software are not the best.
This software is module-based. Each module adds or improves a specific functionality of the platform, thus it can grow with your business. However, this software really only works for small businesses.
There are many features or necessities that are not baked into the software, even with additional modules.
Yet, for small businesses that don't need all of the bells and whistles and want a simple ERP software, AccountMate fits the bill. As the name suggests, it has a strong focus on accounting needs and will make inventory management much easier.
While it's not flashy, it gets the job done.
Benefits of AccountMate
Only pay for the features you need
Utilizes a spreadsheet format for inventory that is easy to import and export
Supports local and hosted environments
Price of AccountMate
AccountMate does not make its pricing visible. Instead, you must contact them for a quote.
6. SAP Business One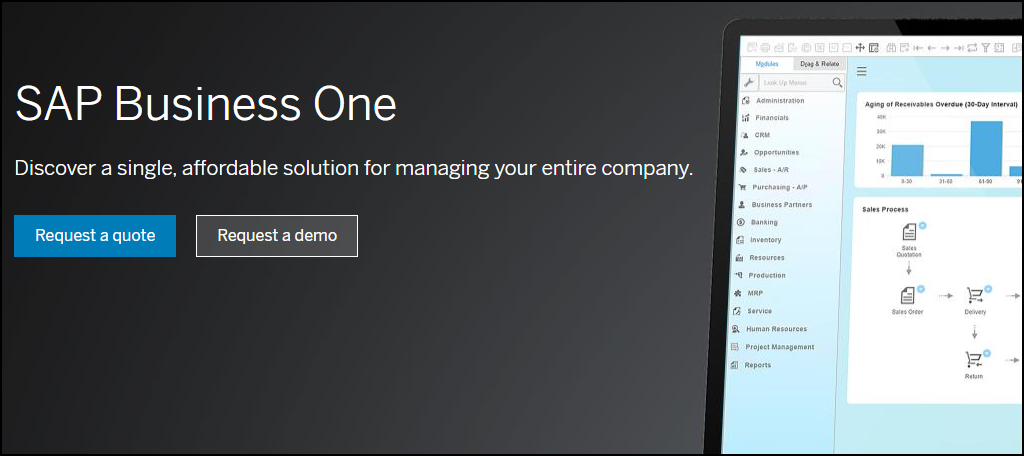 Last on our list, but certainly not least, is SAP Business One. This ERP software provides an excellent user experience, robust and powerful tools to handle day-to-day management, and can be accessed from any device, especially on mobile.
In fact, I will go as far as to say that this ERP solution has the best mobile app available.
The mobile app allows you to manage leads, customer accounts, view stock, scan QR codes, provide maps to customer residencies (great for contractors), and even place an order. It offers close to the same power that the desktop version offers.
However, there is one thing everyone needs to be aware of…the setup is not quick or easy. In fact, it's unlikely you will be able to get it working without help. That said, after you set up the software and connect it with your business, everything else is smooth sailing.
Benefits of SAP Business One
The dashboard shows important information for at a glance check-ins
Supports multiple currencies
Provides plans for small, mid, and enterprise-sized businesses
Price of SAP Business One
SAP Business One does not make its pricing public. Thus, you must contact them for a quote.
Understand Your Business Needs
It's important to understand that ERP software is not a one-size-fits-all. Each piece of software is built as a solution to a particular industry, thus, you need to understand your business's needs. Otherwise, the software will either not have the features you need or force you to pay for features you don't need.
It's also important to think about future goals.
While most of the software on the market is scalable, it's very possible that you can outgrow entry-level ERP suites. If you have a detailed growth plan in place, you need to consult it and find a piece of software that can scale with your company.
It's also important to understand how much money this software can save you in labor costs.
For example, restaurant owners typically need to spend hours manually counting their inventory on a daily basis. An ERP can automatically track your ingredient usage on every order and automatically update your inventory to reflect the usage.
Thus, while you may be afraid of adding extra expenses, ERP software can pay for itself.
Work Smarter With ERP Software
The entire premise of an ERP system is to help manage your business's day-to-day activities. And by using this data, you can build a more accurate budget and create a future where your business grows.
This software offers a variety of advantages including reduced labor costs, accurate financial analysis reports, view important information on one screen, improved inventory management, and much more.
And many of the services are starting to offer mobile apps so you can monitor your business on the go.
If you plan to run a business, ERP software is a must-have. You may also want to consider business management software as an alternative.
What ERP solution are you using? Has integrating an ERP system with your business improved its performance?