Contracts are an important aspect of every business, both big and small. Having a solid contract management system can mean the difference between proper management of those contracts and missing vital details that can lose your company some business. That is why picking the best contract management software is so important.
Even when you create, negotiate, and manage contracts the right way, it is still a very time-consuming process. Without good contract software, you open yourself and your business up to standard data entry errors, grammatical errors, and a variety of other issues.
However, having good contract management software can make this process faster, more efficient, and decrease financial and other audit risks. These are just a few reasons why your business should have top-of-the-line contract management software.
There is also a close rate and overall sales to think about. Having the right platform in place can also help with both of these issues, as the right management software will boost your sales and save your team a lot of time.
What is Contract Management Software?
Also know as contract lifecycle management (CLM), contract management software helps to automate the process of creating, tracking, and monitoring of all contracts. The best contract tracking software will simplify the entire process because it allows users to create, store, manage, redline, edit, and share complex business contracts.
This type of platform is a very important piece of the business operation because not only does it help with error elimination, but it helps eliminate bottlenecks that can happen when contract negotiations are going on.
Think of your contract management solution as something that is a part of your bigger business management portfolio. You want it to integrate with other technologies and be streamlined with the rest of your platforms, like a CRM.
Today, we are going to go over some of the best contract management software that is out there and available today. This list will give you a good place to start your search because it will offer solid choices that are all excellent tools for contract management.
Even if you end up not using any of the platforms on this list, it is a good place to start looking and could lead you to something else.
That being said, here are some of the best contract management solutions that are out there today.
Best Contract Management Software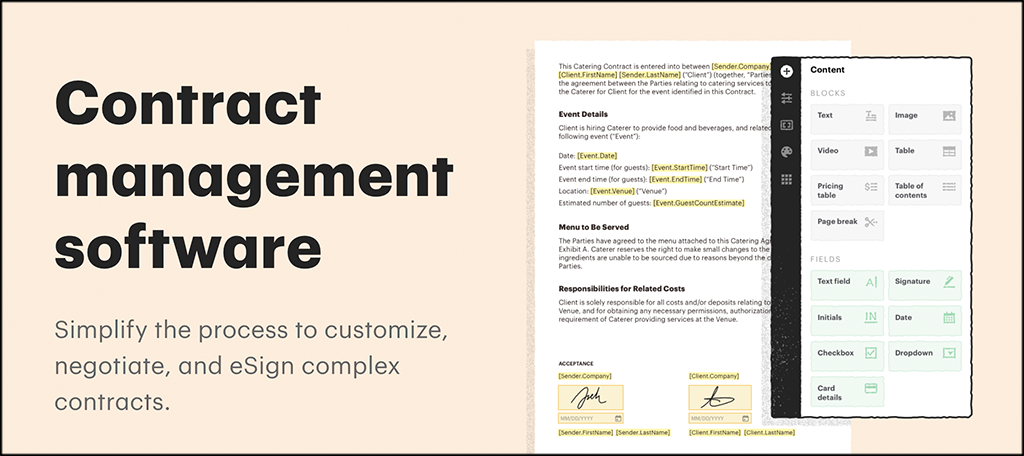 PandaDoc is a very affordable, all-in-one solution that can provide businesses with an easy-to-manage and robust contract and document management system.
If you are looking for something that can oversee the entire lifecycle of a contract with relative ease, then you should definitely look into PandaDoc's feature-rich software that is intuitive and easy to use.
This platform is probably one of the more popular choices for many businesses because it offers so many different features right at your fingertips. Things like document analytics, template embedding, multiple workspaces, e-Signature software, payments, and content and image libraries are just the tip of the iceberg with PandaDoc.
PandaDoc has everything you need to collaborate as well, running a smooth workflow and automation features. Everything is electronic and automated, so no delaying results or sales.
This is definitely a platform you want to take a look at.
Features
24/7 customer support
Unlimited documents
e-Signatures
Contract drafting
Renewals
Approval workflows
Payment processing
Reporting and analytics
Redlining and collaboration
CRM integrations
User role and permissions
Excellent security
ContractWorks provides a lot of great features and is definitely one of the best contract management software platforms out there. That being said, where they really shine is with their commitment to providing you with the highest levels of document security, privacy, and confidentiality.
Not only does ContractWorks allow you to easily, safely, and conveniently store all your contracts and sensitive documents in their management system, but they also provide a number of other excellent benefits including 24/7 support, quick search, electronic signature tools, customizable reports, and a rapid setup procedure.
This system is set up a lot like Google Search, so if you are familiar with that, then you shouldn't have too many problems learning to move around. You will be able to search and find all of your files, folders, and documents with relative ease.
Finally, there is no up-front commitment to make with ContractWorks. You can use their free trial to see how you like the system. After that, you can pay monthly or lower your rate by paying annually.
Features
Free trial
Milestone alerts
Central contact storage
Excellent privacy and security
Custom reporting
Document tagging
Advanced OCR text search
Quick review annotations
Contract data encryption
24/7 customer support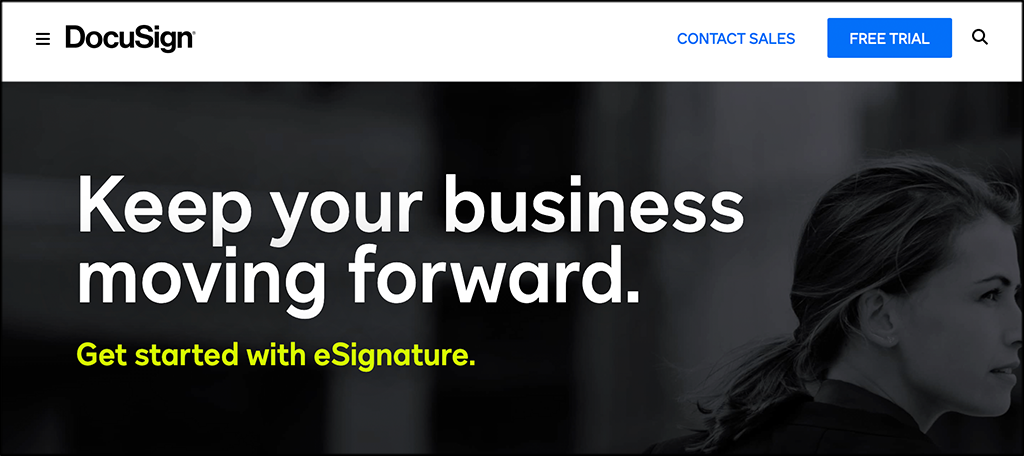 If you are on the lookout for a less expensive contract management solution, then check out DocuSign. They specialize in giving the smaller businesses full-access to inexpensive solutions. The software is very simple to use for all parties involved, and their e-Signature plans are really best for smaller businesses.
Customize all your contracts and emails with a personalized logo and select all the color themes you would like as well. The platform connects with more than 250 pre-built integrations, so you should have no trouble attaching it to the rest of your small business workflow.
DocuSign also helps you with any legal issues, as they provide court-admissible audit trails, secure storage centers, and General Data Protection Regulation (GDPR) compliance.
Give them a look if you have a small business that needs all the bells and whistles that a high-end contract management platform includes.
Features
30-day free trial
24/7 chat support
Very flexible workflow configurations
Reusable templates
Reminders
Payment processing
Real-time comment notifications
Content repository
Salesforce, Microsoft, Google integration
Pay annually or monthly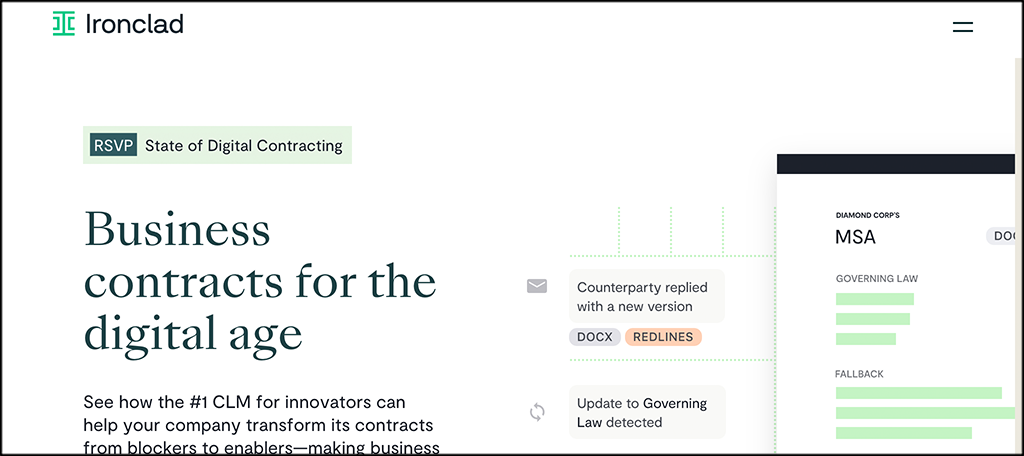 Another one of the best contract management software platforms out there today is Ironclad. They specialize in helping legal teams automate workflow and generate appropriate reports.
Processing contracts is also a breeze with the platform, as they provide a drag-and-drop interface that is both intuitive and easy to use.
The best thing about Ironclad is that you don't need to have any technical skills to run it. This is thanks to the aforementioned drag-and-drop system, which allows you to preview everything and make appropriate changes without ever having to leave the platform.
If you want to experience a seamless contract management process and use a smooth interface, then definitely check out Ironclad.
Features
24-hour live support
Secure infrastructure
Digital collaboration
Contract negotiation
App integrations
Contract authoring
Centralized repository
Approval workflows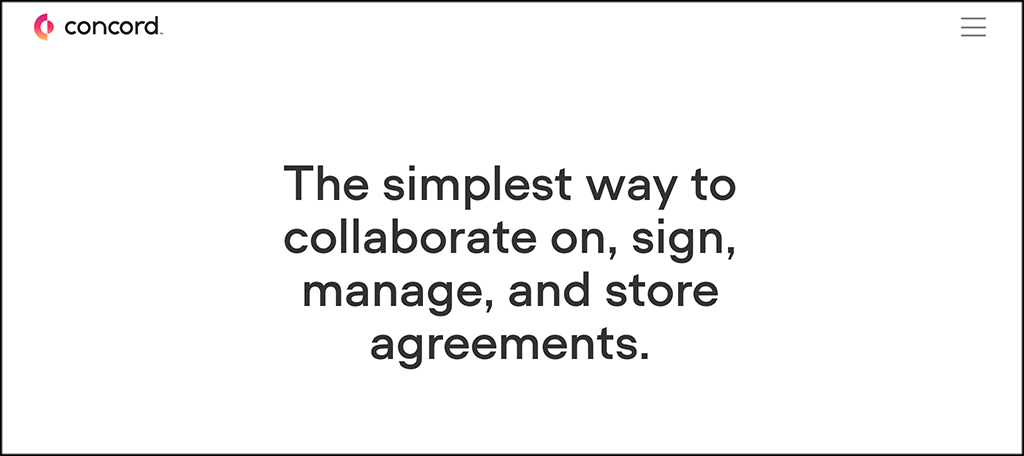 Rounding out our list of the best contract management software is Concord. Their software is perhaps the simplest one on this list and they make contract management fun and easy. You can easily have discussions with stakeholders and other reviewers right inside the platform.
Concord offers a set of unique features as well. For starters, they have something called conditional approval workflows. This means every contract is reviewed by the right person (and only that person) before it goes for final approval.
Concord also has private comments and versioning. This helps with more effective negotiations overall.
Last but not least, they provide a clause library for all pre-approved clauses, that you can add to contracts whenever you need to. Templates are also available to speed up the process.
Definitely give Concord a look for all your contract management needs.
Features
Contract generation
Automated approvals
Online negotiations
Redlining
Free fo customers
Report customization
e-Signing capability
CRM integration
What Features Should You Look for When Shopping for a Contract Management System?
There are always different things to look for when you are shopping around for a new platform for contract management. The things you need and the system you choose will be based a lot on exactly what your particular business is looking for.
That being said, there are several things you want to make sure you have access to when you make your final decision. All of the best contract management software should have:
Contract Creation
Contract Editing
Attachments Available
Easy Collaboration
Approval Process
Notifications and Reminders
Full Contract Database
Multiple Integrations and APIs
Reporting and Analytics
Intuitive Dashboard
From there, you can find all the extras you need, and that is a good start. Other really great things to have access to in your software include smart fields, automated alerts, automated approval process, redlining, e-Signatures, OCR capabilities, audit trails, and a full content repository.
FAQs
Even after you see several companies listed and have been able to go over some of the features, there still might be some questions you need or want to be answered. Here are some general questions about contract management software that people ask.
Who Has the Best Contract Management Software?
The answer to this is going to depend on both who you ask, as well as what specific functionality your company is looking for. There isn't a "one-size-fits-all" contract management solution that is perfect for everyone.
That being said, every platform listed above should have everything your company needs to properly manage contracts.
What Does Contract Management Software Do?
We touched on this a little at the start of the article. The goal of any good CLM is to totally automate the entire contract lifecycle into a simple, fast, easy-to-use, fair process that all parties can participate in.
The idea is that you get through the contract portion of the process as quickly and easily as possible so that you can get down to the real business at hand.
Why Is It Important To Have For Your Business?
It is important that your business runs as smoothly as possible. For this reason, you need something that will key milestone dates, eliminate redundancy and errors, provide critical performance metrics, and support real-time collaboration.
The best contract management software will do this. The best platform will also save a lot of time, and with that, money, which can be used toward other needed business purchases.
What is the Cost of This Type of Software?
Pricing models vary from provider to provider. You might be able to find a very low-cost plan that even has a free version you can get by with. There are also instances where this type of software with all the bells and whistles will run your business hundreds of dollars per month.
It really all depends on the functionality and features you need.
Do CRMs Have Contract Management Built-In?
Some do and some don't. It depends on the CRM you have and also depends on what they offer. Some offer a limited contract management system, some offer a more complex version. Oftentimes it is better to integrate one into your system than it is to use a limited one included in a CRM.
What Kind of Contract Management Software is Available?
There are basically three types of CLM that are available:
Cloud-Based
Hybrid
On-Premise
They are pretty self-explanatory. However, cloud-based allows a company to access contracts on a hosted IT server, hybrid allows access both on a cloud-based and on-premise server, and on-premise allows for access to files stored on a local computer.
Who Uses This Software?
All sorts of businesses use this type of platform because it offers so many benefits. There are definitely a few niches where contract management software is more popular. Sales teams, finance teams, and legal teams can all benefit even more from using this software.
Conclusion
The process of choosing contract management software for your business should not be taken lightly. This is one of those aspects that needs to click and work well right from the start. Not only is this important for legal issues that may arise, but the right process will also help your business close deals more easily and gain momentum in sales.
You can't go wrong with any of the recommendations above. Not only are they some of the best platforms around, but they all offer a wide variety of features and additions.
Take a few minutes to check them out, see what they offer, and figure out which one might be the best choice for your business. Happy hunting!