Do you need to keep tabs on employees that are working remotely? If so, you need employee monitoring software to give you the tracking tools you need. Luckily, there are many options to choose from, but that also makes it difficult to find the right one.
What is Employee Monitoring Software?
Employee Monitoring Software allows employers to monitor employees in a variety of ways. These include time tracking, work performance tracking, location tracking, view screenshots of employee computers, and task completion to name a few.
Of course, it is completely up to the employer to decide what features are necessary and which are not.
And those decisions are usually based on the type of industry they run. For that reason, you need to pick the best employee monitoring software for your particular business. However, that has become difficult as the features each software offers have increased over the years.
Thus, I have assembled a list to help you find the best choice.
The Best Employee Monitoring Software
1. ActivTrak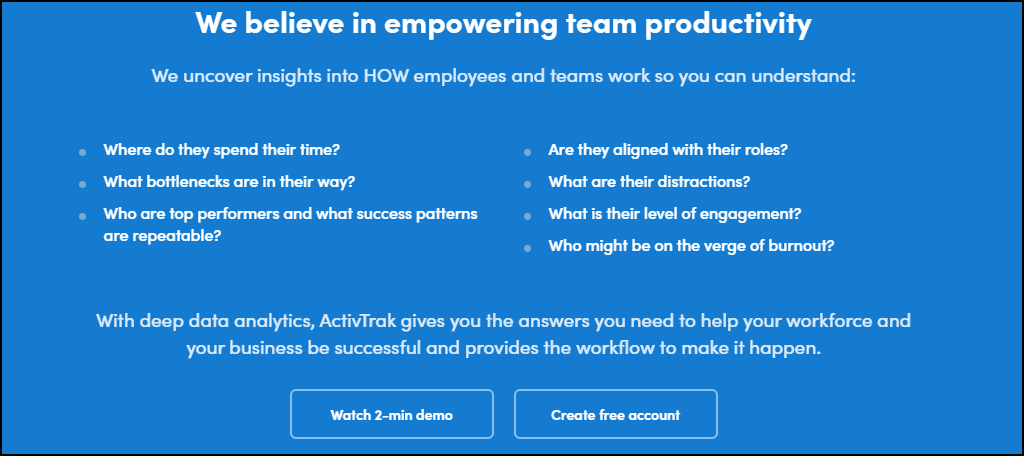 ActivTrak is a feature-rich employee monitoring software intended for small to mid-size businesses. And most importantly, its interface is simple enough for anyone to use, which makes it perfect for companies making a transition to working from home.
Due to the large number of features it offers, it's one of the best out there.
Some of the key features include monitoring work activity in real-time, protecting important employee information to increase trust, helping to identify unbalanced workflow distributions, monitoring appliance usage, and it can even find security gaps.
By far the biggest advantage ActivTrak offers customers is its pricing structure. It is the cheapest employee monitoring software on this list, and when you consider the numerous features it offers businesses, the value just can't be beaten.
Benefits of ActivTrak
Simple UI means anyone can use it efficiently
Monitor workflow in real-time
Identifies unbalanced workflows and suggests redistributions
Price of ActivTrak
A free account supports 3 users and up to 3 GB of data
The Advanced plan is $7.25 a month per user
2. SentryPC
SentryPC is built to help small businesses, and boy does it succeed. It has a simple interface to use, the prices are relatively low, and it gets results. And it is entirely cloud-based, so you can start immediately after signing up.
Thus, it's one of the best pc monitoring software to buy.
A few of the key features include using minimal CPU processing cycles to ensure it does not impact computers, blocking multiple chat services, taking random screenshots for your review (stores 500 of them), a variety of tracking and logging charts, and you can even set up keywords to notify you (like your phone number).
Unlike the vast majority of other software on this list, SentryPC does not require a minimum number of users. This can greatly increase the amount you pay, and for many small businesses, you might not even have enough employees to use them.
Benefits of SentryPC
Set up keyword notifications to alert you in real-time
Can block chat services to help keep employees working
No minimum number of users required
Price of SentryPC
Basic starts at $59.95 per year and costs $19.95 for each additional license
Business 50 starts at $995 per year and costs $19.90 for each additional license
While the Business 100 starts at $1,595 per year and costs $15.95 for each additional license
And the Business 250 starts at $2,995 per year and costs $11.98 for each additional license
3. Teramind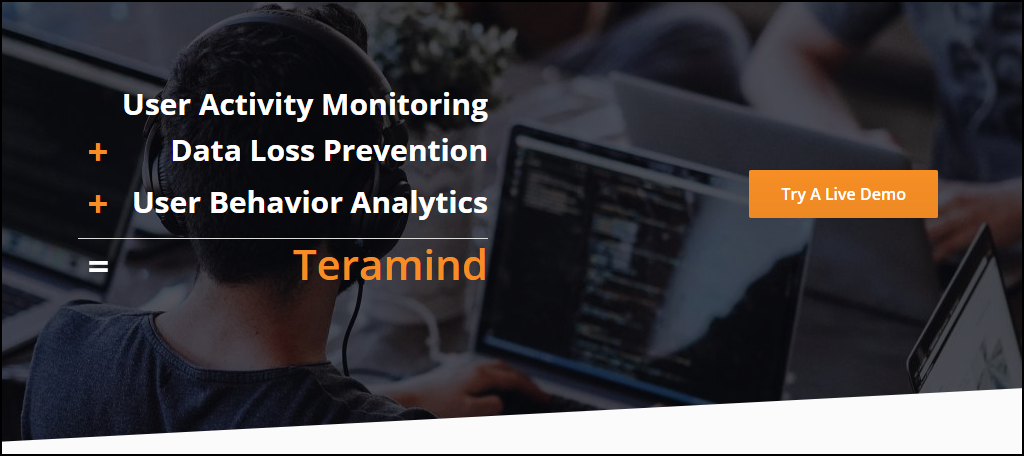 Without a doubt, no other employee monitoring software comes close to Teramind in terms of features and performance. It truly is the software to beat and can fit a variety of business sizes.
And it supports both cloud-based and on-site options.
Some of the more unique features include video capture via live session viewing, time tracking, project step completion tracking, can capture violations and report them to management, pre-built rule templates, and much more.
It is worth noting that while Teramind is the most comprehensive employee tracking systems available, some of its tools are complicated to use. Thus, it's important to remember there is a learning curve if you plan on using the more in-depth features.
Benefits of Teramind
Includes web page tracking
A variety of rule templates to choose from
Web browser and email monitoring
Price of Teramind
There are two sets of plans; one for cloud coverage and one for on-premise. The prices vary across plans.
Starter begins at $10 a month per user with a minimum of 5 users
UAM begins at $20.83 a month per user with a minimum of 5 users
DLP begins at $25 a month per user with a minimum of 5 users
4. Veriato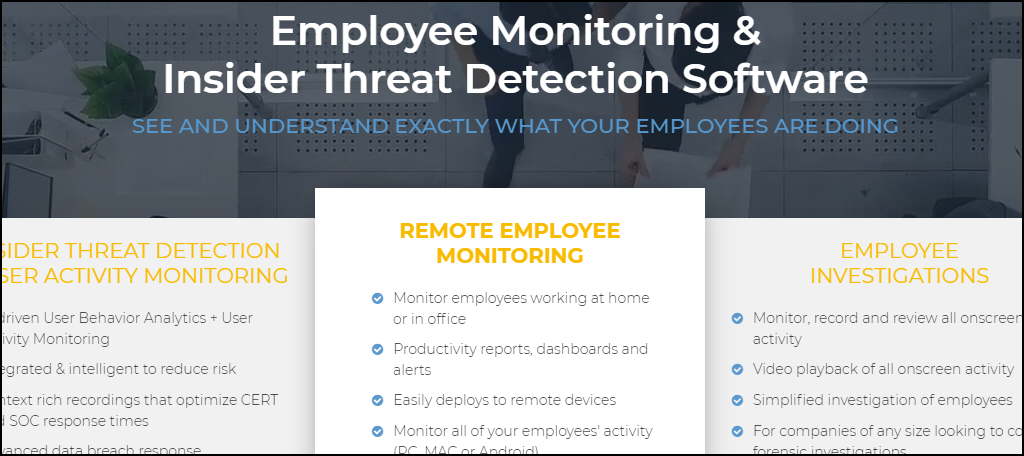 Veriato is a powerful piece of software designed for larger teams. Thus, small businesses will find the services it offers to be a bit on the pricey side. But for the people it's intended for, Veratio is unmatched in terms of security.
And considering many of its customers are defense contractors, finance, health, and other industries where security is important, it excels.
Security is the name of the game, and boy does this software deliver. It can monitor employees whether they are in the office or at home, offers video playback of their screen at any time, and offers powerful forensic tools to aid investigations.
The real goal of Veratio is to find potential threats from within your company. Again, this is for industries where discretion is key. It uses AI to calculate the risk probability of all of your employees and alerts you of threats before they may happen.
Benefits of Veriato
Uses a powerful AI to detect threats
Video playback is available from any screen
Makes internal investigation simple
Price of Veriato
The price of licenses reduce as you buy more
3-9 licenses cost $150 per license per year
10-19 license cost$135 per license per year
20-49 license cost $121 per license per year
5. StaffCop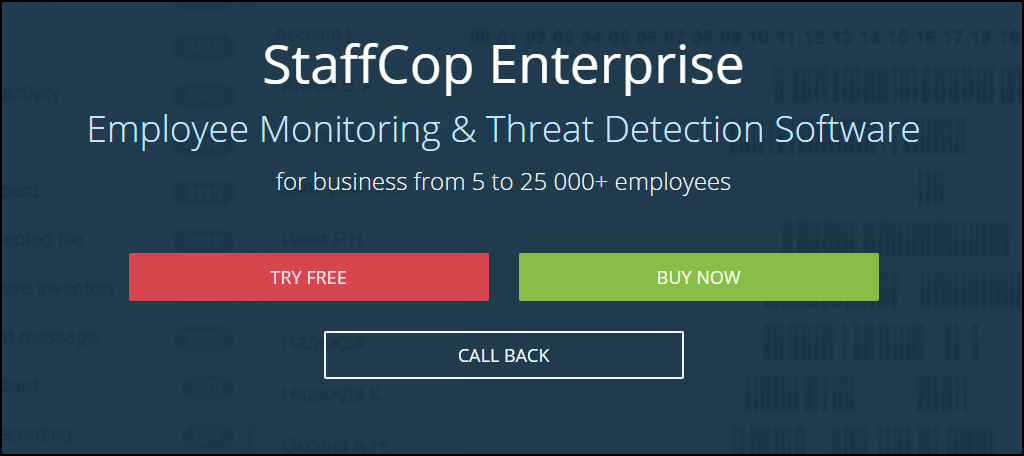 StaffCop offers customers a variety of powerful set of threat detection and employee monitoring tools. It is intended for large companies and can even support up to 25,000 employees on a single account.
Thus, it isn't something a small business may need.
Its focus is on security, and some of the features include detailed user cards to analyze every aspect of what an employee does at a workstation (web browser history), monitoring communication in several services like Skype, and you can work on a company computer remotely.
One of the most useful features is how customizable the screen capturing is. You can even customize it to take more screenshots for specific applications. This can help you keep track of employees with access to sensitive information.
Benefits of StaffCop
Remote control company computers
Supports up to 25,000 employees
Monitor communications across multiple services
Price of StaffCop
StaffCop has a variety of plans that are based on the number of licenses you buy and the length you wish to buy them.
You can purchase 3-month, 12-month, or Perpetual licenses.
License amounts are highly customizable ranging from 5-25 to over 1000 licenses.
6. Hubstaff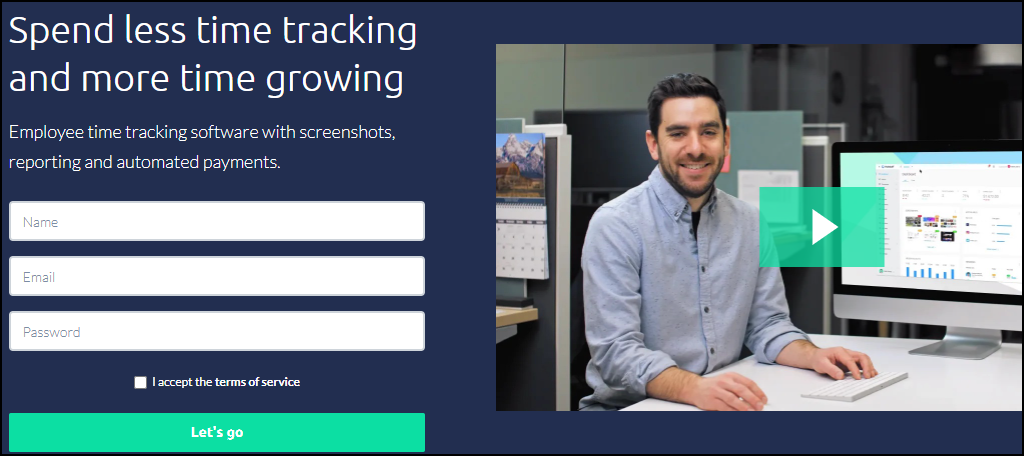 Hubstaff is one of the best time tracking tools on the market, and it has quite a few employee monitoring tools as well. It is also one of the more affordable options on the list, which makes it great for small businesses.
Although, keep in mind that every plan requires a minimum of 2 users.
The list of features is quite long and includes invoice, payroll, and payment options, scheduling options, set limits for the hours employees to work, 24/7 support, timesheet approvals, and the ability to customize unique options for each user.
One advantage this software has is the free trial, and it's unlimited for 1 user. It's a great way to test the service, but keep in mind that it is a very limited free plan that only includes activity tracking, screenshots, and payments on a limited scale.
Benefits of Hubstaff
Individually customizable user settings
Multiple payment options
Support is available 24/7 via phone, live chat, or email
Price of Hubstaff
A free plan is available for 1 user
Basic starts at $7 per month per user
Premium starts at $10 per month per user
Enterprise starts at $20 per month per user
7. InterGuard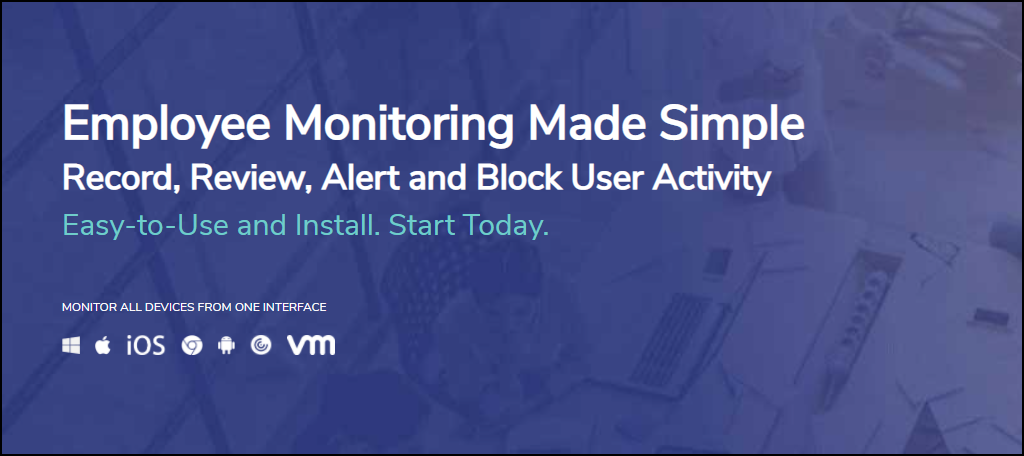 InterGuard has been around for a while, and you can expect its experience to show. It's a cloud-hosted service that provides teams of any size the tracking tools they need.
As a result, monitoring computer activities has never been easier.
There are a variety of features to choose from including detailed reports based on your employee's work performance, video playback from any screen, automatic screenshots, and you can even set up notifications if certain actions are taken by employees.
Keep in mind when looking at the pricing options that the license comes in a pack format. The more licenses in a pack, the better the deal. However, expect your monthly price to increase significantly nonetheless.
Benefits of InterGuard
You can set up suspicious behaviors that trigger notifications
Takes screenshots and supports video playback
Email monitoring support
Price of InterGuard
Monthly plans start at $25 a month per user
1-year plans start at $156 a month per user
2-year plans start at $132 a month per user
8. VeriClock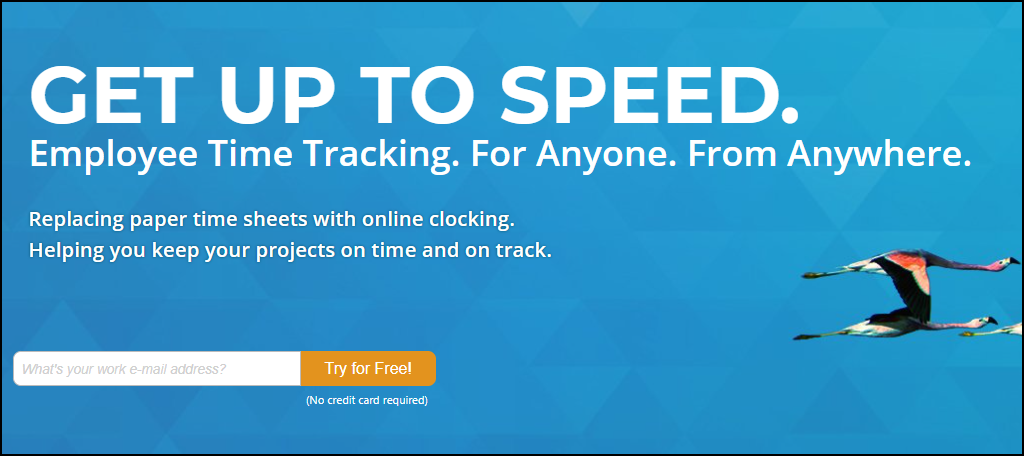 And last on our list, but certainly not the least, is VeriClock. It's another excellent choice for small businesses to consider if they are on a budget and are looking for variety when keeping an eye on employees.
However, it does lack most of the in-depth monitoring tools of alternative platforms.
Benefits include integration options with Quickbooks, automatically sign employees out when their shift ends, schedule creation, a variety of time tracking tools including TSheets, and it can even track the location of where employees last logged in.
To be perfectly honest, Vericlock is not pure employee monitoring software. Instead, it focuses on time and location tracking. And for a variety of businesses, this is more than enough, especially at such an affordable price range.
Benefits of VeriClock
Apps for both Android and IOS available
Geotracking available, which is perfect for employees who travel
Makes creating schedules a breeze
Price of VeriClock
$10 account fee charges each month
$5 dollars a month for each user
Does Employee Monitoring Software Get Results?
Absolutely.
Being able to track how long a task takes can help you ensure that each project you undertake is getting the proper amount of staff to meet deadlines. It can also help improve productivity and deter employees from surfing their Facebook page.
However, just keep in mind that not all of them are positive.
For example, it is commonly cited by employees and analysts that it can sometimes be considered insulting to be tracked as you work. After all, it's sending a pretty clear message, I don't trust my staff to perform their jobs.
And even the idea of productivity-increasing is up for debate.
For example, according to Clutch, 79% of workers feel that being monitored did not make them more productive at work. That's a lot.
So keep in mind, you might be sending the wrong kind of message to your staff and you may be better off buying project management software instead.
Be Understanding
For many businesses, transitioning to working from home presents a variety of challenges. After all, it's easy to get distracted from work when you are home with your family. And while these are unique circumstances, employees are still getting paid to do a job.
This can put employers in a weird situation.
After all, they are paying for a job to be done, but the employee cannot give work 100% of their attention. And this situation is outside the control of both of them.
As such, expect productivity to suffer slightly and adjust accordingly.