Every business, small or large, needs HR software as its teams grow. This software keeps track of sensitive information like sexual harassment training, hiring and firing info, payroll and so much more. And there is no shortage of amazing HR software to choose from.
What is HR Software?
HR management software allows users to manage employee records, payroll, incentives, personal information, absences, in-house disciplinary actions, and records, and in-house awards and certificates to name a few applications.
This software can generally be accessed via a web browser or mobile device to help improve accessibility. Over the years, HR software solutions have become a necessity and have started branching out the features they offer.
As a result, the different HR software you can find contains unique solutions for different business models and staff sizes. Some solutions are tailored for small businesses, while others are intended for larger corporations.
The Best HR Software for Your Business
1. Gusto
The Gusto software excels at simplifying and organizing the payroll for small businesses. In most cases, this is exactly what new businesses are looking for when they are starting out.
And it's got an attractive pricing point for new businesses.
After all, managing payroll is not easy regardless of size, but it is essential. When it comes to payroll, Gusto is unmatched in ease of use. It's highly functional and does everything right.
It can calculate payroll taxes, 1099 contractor support, integration with tax software like Quickbooks, and much more. While its main selling point is the easy-to-use payroll management system, it has a lot more to offer.
For instance, it can help businesses find benefits for their team at better rates. Health insurance is one of the best benefits you can offer, and Gusto makes it simple.
Benefits of Gusto
The simple interface makes navigation a breeze
Easily manage business health and dental plans
Supports both W2 and 1099 workers
Price of Gusto
Simple starts at $40 per month
Plus starts at $80 per month
2. BambooHR
BambooHR is one of the most comprehensive HR solutions available, but don't just take my word for it. The system currently supports over 19,000 businesses, which together represent over 1.8 million employees.
Talk about impressive numbers!
Its key features include keeping track of detailed employee records, tracking paid time off, onboarding and offboarding, a mobile hiring app, benefits tracking, and tracking employee satisfaction and engagement to name a few.
One note I must bring up is that BambooHR does not handle payroll support. Thus, you must find an alternative that focuses on payroll calculations and tracking. However, thanks to all of the other features, it's a great choice, especially with its amazing mobile app.
Benefits of BambooHR
It has a fantastic mobile app
Makes onboarding and offboarding a breeze
Track employee engagement to help keep morale high
Price of BambooHR
BambooHR does not make its pricing public. You must call for a quote.
3. People HR
People HR is a great software to choose if you are looking for powerful hiring tools. It really focuses on making sure that tracking employee information is simple to help save time and boost office engagement.
And that's to be expected, after all, "people" is literally in the name.
Unlike most HR software, People HR has a full training course for its users. After all, if you can't figure out how to use the software, it won't help you improve your business. The course is led by expert trainers who know the software inside and out.
By far the most important aspect of People HR is the hiring tools. It helps you publish job adverts to attract qualified candidates. It sorts out the candidates you receive to view the best of the best, which saves time when hundreds of applications come in.
Benefits of People HR
Training courses are available to help you get started
Create a shortlist of the top candidates
Helps produce attractive job adverts
Price of People HR
Professional starts at £5 per month per employee
Enterprise starts at £7 per month per employee
Elite starts at £9 per month per employee
4. Cezanne
Cezanne is a powerful modern and flexible piece of HR software that works on both desktops and mobile devices. It was built for small to mid-size businesses (SMBs) but can handle staff sizes of up to 5,000 employees.
Cezanne is feature-rich, with some of the key features including the automation of redundant tasks, absence management, time tracking, payroll management tools, tracking key talent in your business to make sure they get promotions, and a variety of integration options.
This software uses modern technology to improve the experience. For instance, it was built for the cloud, so you can rest easy knowing that all of your important documents and information are safely stored away.
Benefits of Cezanne
Automates redundant tasks to save time
All documents are protected in the cloud
Keep an eye on key talent to make sure they are put in appropriate positions
Price of Cezanne
Cezanne does not make its pricing public. Instead, you will need to contact them for a quote.
5. Sage Business Cloud People
Sage Business Cloud People was built for a specific audience: businesses that have a global presence. If you regularly hire employees from different countries, complying with international regulations can be a nightmare.
Luckily, Sales Business Cloud makes them manageable.
It has a host of features to offer customers like powerful reporting tools to understand your employee's performance, talent acquisition software, compensation management tools, and most importantly, a global cloud to help team members regardless of their location.
Even more impressive is that the software has solutions for individual business types that include construction, manufacturing, wholesale distribution, chemicals, food and beverage, professional services, and more. These are all fields that operate on international levels.
Benefits of Sage Business Cloud People
Built for global businesses
Provides individual solutions tailored to specific industries
Integrates with Salesforce
Price of Sage Business Cloud People
Sage Business Cloud People does not make its pricing public. Contact them to receive a quote.
6. Deputy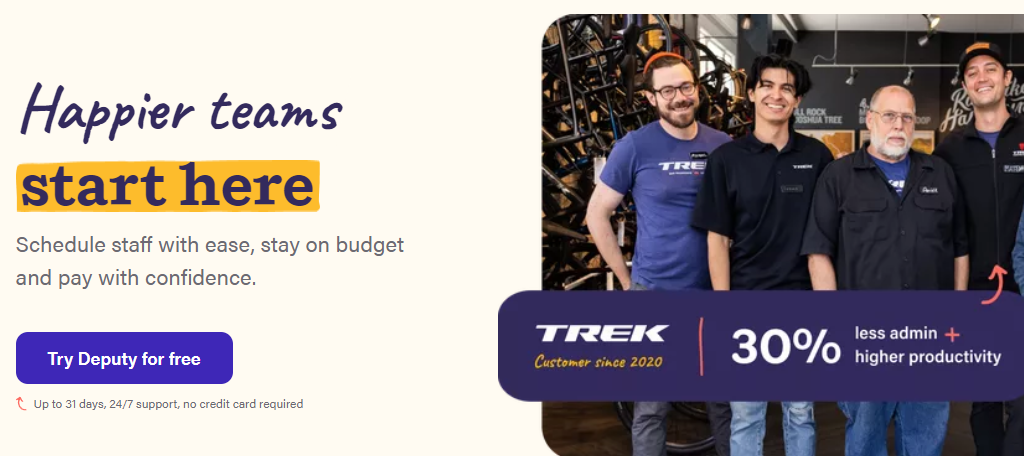 Deputy is another great choice for small to mid-size businesses looking for HR software. It has some of the best employee scheduling tools in the market and that's saying something in such a competitive market.
Part of what makes it so good in this area is the stellar UI design.
Of course, it has a variety of features to take advantage of like auto-scheduling, meal and rest planning, payroll integration, color-coded timesheets, and introduces the ability for workers to clock on or off directly from their smartphone to name a few.
One of the best parts about Deputy is its fantastic customer support. It is available 24/7, which makes it ideal for business owners that work unusual hours. As a result, it's one of the easiest pieces of HR software to learn.
Benefits of Deputy
24/7 support available
Clock on or off from your smartphone
Timesheets are easy to make and easy to read thanks to color options
Price of Deputy
Scheduling starts at $3.50 per user per month
Time & Attendance starts at $3.50 per user per month
Premium starts at $4.90 per user per month
An Enterprise is available and pricing is available upon request
7. Zenefits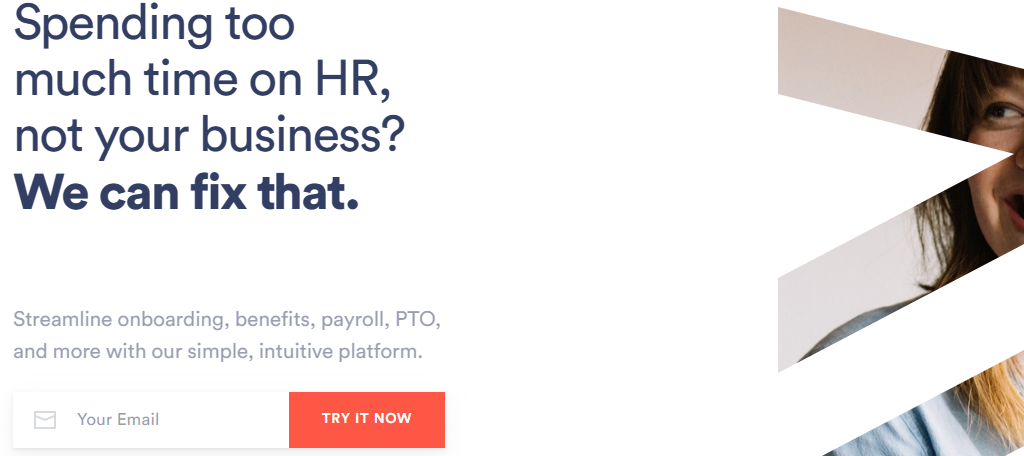 Zenefits started in 2013, making it one of the newest pieces of software on this list, but don't let its age fool you. It has quickly made a name for itself by being one of the best options for small businesses through excellent design.
And as you might expect, it was built with more modern technologies in mind.
Zenefits is full of useful features to aid your business including a variety of ways to manage employee data, a simplified time-off request system, payroll tools to simplify the process, and benefit compensation tools for health care.
One thing that should be clear from just a glance at their stellar website, is the style. You can expect those sleek design elements in your HR solution and trust me, it helps make the entire experience better because it feels less like work.
Benefits of Zenefits
The best UI available
Requesting time off has never been easier
Easily send job offers with key details to new talent prospects
Price of Zenefits
Essentials starts at $8 a month per employee
Growth starts at $16 a month per employee
Zen starts at $21 a month per employee
8. Namely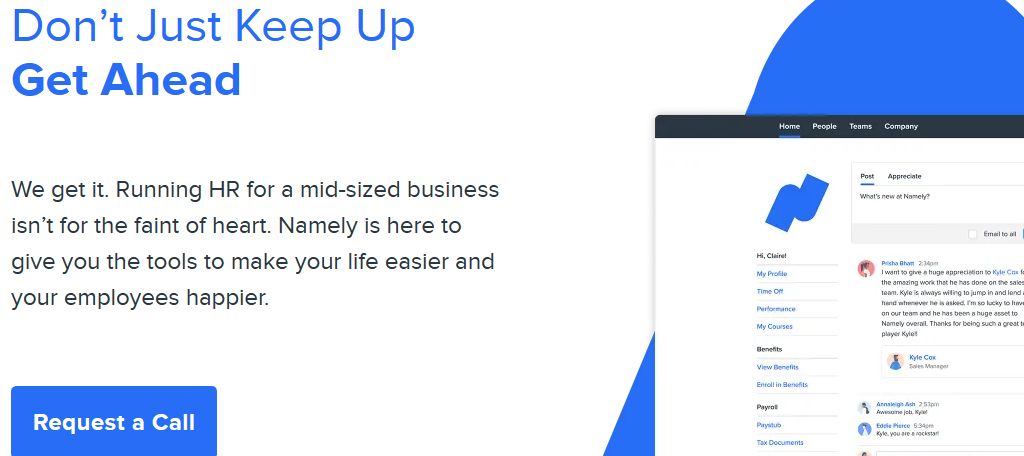 Namely is a great choice to consider. It has a focus on small to midsize businesses that deliver an exceptional experience and a plethora of features that make it worth considering for any business.
And most importantly, it's easy to use.
As a full HR package, you can expect a slew of features to benefit your business like talent management, onboarding, a large compliance database, powerful analytic tools, payroll tools, and benefit tracking to name a few.
One thing that cannot be underestimated is just how easy the service is to use. This software can shave off hours of work each week through its simplification of systems like payroll, scheduling, and more. It's definitely worth giving this service a try.
Benefits of Namely
Sleek UI and very easy to use
A large compliance database to help compile information
Mobile support for employees to connect from anywhere
Price of Namely
Namely does not publicly release pricing information. You must contact them for a quote.
9. Rippling
Rippling is another incredible piece of HR software that is worth trying out. Its biggest advantage is most certainly its ease of use. Unlike other HR software that is clunky or has steep learning curves, Rippling is easy from start to finish.
The interface is broken up into individual sections like onboarding, offboarding, and much more. This makes it easy to find the tools and information you'll need to carry out your operations.
One of the best features is that this tool helps you create a handbook for each employee. This will help you get key information about them at a glance.
Another strong aspect of this tool is the scalability it provides. It works great with small teams, or with large teams of up to 2,000 members. Overall, Rippling is impressive and provides everything you'll need for success.
Benefits of Rippling
Create workflow automation to help save time
Choose from hundreds of templates to help you get started
Track employee time and attendance
Price of Rippling
Starts at $8 per month, but you must contact the sales team for a quote
10. Paychex
Paychex is HR and payroll software bundled into a single incredible package. It is incredibly flexible and provides multiple pricing options to give your business the price it deserves based on the number of employees.
The bundles are also tailor-made to meet the needs of businesses of these sizes.
This results in most businesses having the tools they will need in easy-to-locate places. It has a lot of tools for automating your workload like daily HR task management which can significantly cut down your workload.
It's also important to remember that this goes beyond just HR. The payroll features are fantastic and can really help streamline the entire process with an easy-to-use interface that businesses of any size can enjoy.
Benefits of Paychex
Includes tools to manage employee retirement and 401Ks
Works for self-employed environments
Operates multiple processes seamlessly
Price of Paychex
Pricing is not public. Contact Paychex for a quote.
11. ADP
And finally closing out this list is ADP, but don't let its placement fool you, it is one of the best. This is a terrific piece of HR software that does just about everything well from onboarding to payroll.
Combine that with excellent analytics and it's no wonder it is a must-have.
In terms of features, the software has options for hiring, benefits, payroll, employee engagement, and one of the most detailed analytics dashboards available. It's also worth mentioning that this software integrates with other popular business apps.
This ensures that it can easily fit into any business environment. It is also built for businesses of any size from small to large, thus it can scale to any business. Overall, ADP is a great choice to consider when looking for an HR solution.
Benefits of ADP
Inflation calculator helps employers adjust wages to match the economy
Post job listing on over 100 job boards
Easily deliver powerful and rewarding benefit packages
Price of ADP
ADP does not make its pricing public. You must contact them for a quote.
When Should You Purchase HR Software
The big question for many new owners is, "When does my business need to purchase HR software or does it need it at all?"
The short answer is, "as soon as possible."
Let's not beat around the bush, modern HR software plays a huge role in the hiring process. It tremendously helps you find new talent for your business, and with many businesses getting ready to ramp up their hiring, it's more vital than ever.
Regardless if you have a handful of employees or hundreds of them, there are laws and regulations that need to be met. And they are different for every country. HR systems are built with these regulations in mind with helpful features and documentation to make the process quicker.
This can also save you money in the long term.
On top of the money, they also save a tremendous amount of time. Business owners that take the time to manage HR requirements without software spend a lot of time. HR software automates the most redundant parts like spreadsheet copying, to save you time.
It's money well spent.
Start With A Good Foundation
Many small businesses try to cut costs by handling HR tasks without the appropriate software. However, most regret this decision once they actually have the software in hand.
It simplifies the process and saves valuable time. The benefits speak for themselves as you get better recruitment results, payroll management, absentee tracking, and much more available on any device. It should be considered a cost of doing business in 2023.
What human resource software do you use for your business?