In the grand scheme of things, magazine-style layouts are becoming more and more popular with website builders. Not sure what a magazine theme is? Don't worry, we are going to cover it together. Let's take a look at some of the best magazine themes for WordPress.
Why a WordPress Magazine Theme?
If you are starting to build a website with WordPress, you will have a lot of different choices when it comes to themes. However, if you have a news or informational website, then a magazine-style theme is very ideal.
WordPress news themes provide a specific content layout, unlike other themes. Sure, a lot of your website traffic comes from Google searches. That being said, many people still see the front page of your website.
The best WordPress magazine themes provide a selection of layout styles that allow you to categorize and display a lot of different articles and content on the front page of your site.
This is ideal for someone who is both a first-time visitor and a returning reader. Displaying content options in dynamic layouts not only makes your website more interactive but also creates an easy-to-navigate layout that your visitors can use.
Instead of displaying a blog roll-style layout with all articles in a row, you can display categories, features, videos, music, articles, and photo galleries. These can all be accessed from the homepage of your website.
You will see more of what I am talking about by viewing some of the following magazine themes in WordPress.
Let's take a look at 30 of the best WordPress magazine themes available.
The Best Magazine Themes for WordPress
1. Newspaper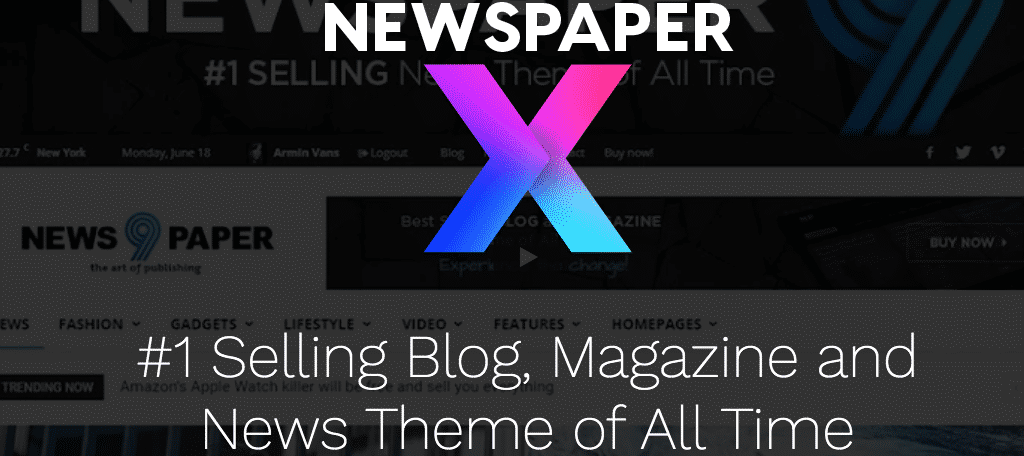 The Newspaper theme allows you to create all sorts of content with relative ease. It is a newspaper-style template and is widely considered to be one of the best WordPress news themes around.
With a ton of built-in functionality, you can't go wrong with this one.
For instance, with the Opt-in builder, you can build lead-generating calls to action to help boost subscribers, and by extension, revenue.
It is also compatible with plugins like WooCommerce, so you can build a full online store. However, no matter what you build with it, you can rest easy knowing that it will get a great performance, as the theme is optimized for speed.
Benefits of Using Newspaper
Choose from over 150 pre-built templates
Use the Header builder to create your own header styles
Google AMP ready
Gain access to a talented support team that is standing by to help
Easily create your own YouTube or Vimeo playlists
2. Magazine Pro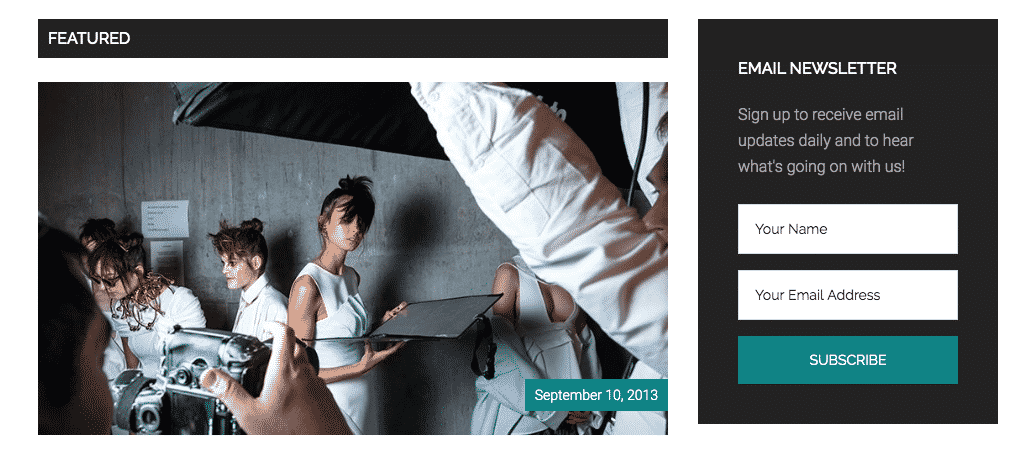 Magazine Pro is one of the best magazine themes for WordPress even now. The theme has been around for several years, but the developers keep updating and upgrading it.
This theme features several versatile layouts and provides you with a media-ready design.
For instance, one of the first things you will want to do is brand your website with your own logo. This theme allows you to easily upload your logo to replace the default one in seconds.
It's also worth mentioning that you can load all of the demo content in a single click. This will act as a great starting point when building a website as everything can be customized to fit your needs.
Benefits of Using Magazine Pro
Built using the Genesis Framework
Includes several accessibility options
Great responsive design to keep mobile users happy
Supports WooCommerce integration
Utilize the theme customizer to make sitewide changes in a minute
3. Gillion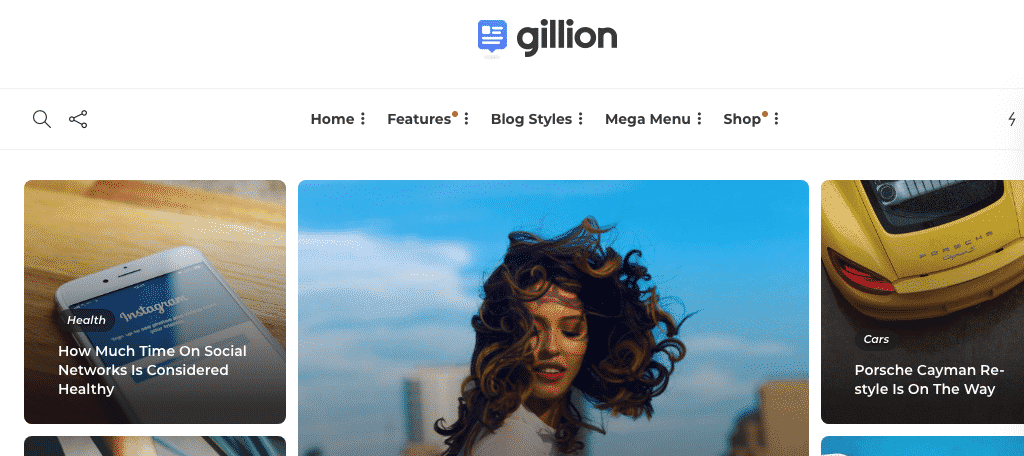 Gillion is a multi-purpose design and is one of the most recommended magazine themes in WordPress. It allows you to easily create magazine-style websites in just a few minutes thanks to a great selection of pre-built layouts.
With over 15 different one-click installations available, there is a pre-built layout for everyone. It also includes over 50 modular sections that you can build with.
These are small pre-built sections you can add to a page or post. They can blend in seamlessly with one another and allow you to create unique content for your site, which can save a lot of time.
Give this WordPress magazine theme a shot for simplicity of use.
Benefits of Using Gillion
Choose from multiple layout options
Create sliders with ease with Slider Revolution
Build your own modules that you can reuse
Choose from over 9 header variations
Includes access to the WPBakery page builder
4. Divi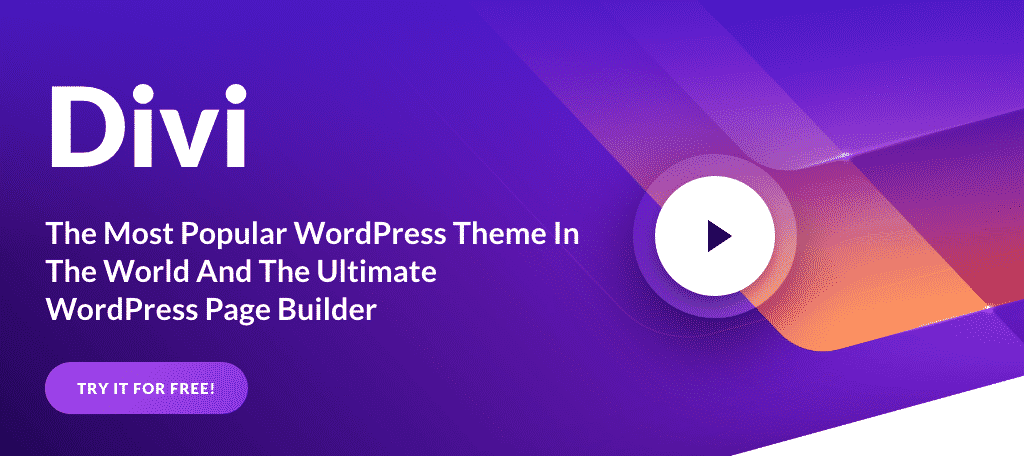 The Divi theme makes the list of magazine themes for WordPress because it is a multi-purpose designer that you can use to build anything. As such, building a magazine-styled website is quite easy thanks to the built-in page builder.
The theme has pre-built templates you can use to get started, including several for magazines. However, you could also choose to build your own site using the tools and features within the excellent page builder.
One of the best parts about Divi would be making large-scale global changes to your site. This allows you to easily and quickly change the colors, font size, font type, and other general elements throughout your site in a few seconds.
Benefits of Using Divi
Undo or redo any move in your site editing history
Add your own custom CSS anywhere in Divi
Everything within Divi is naturally responsive
Choose from over 200 pre-made websites
Easily add hover styles over any site element
5. SmartMag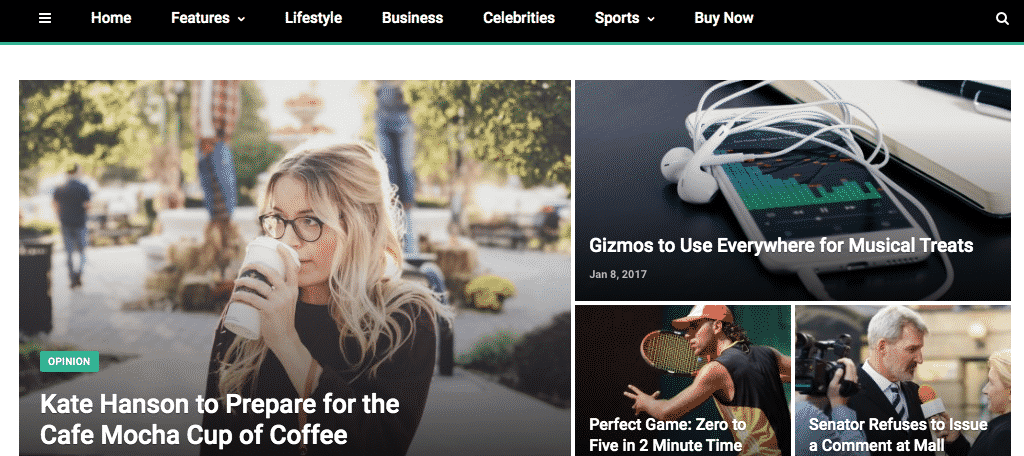 SmartMag is a modern, clean, responsive magazine theme for WordPress. It also includes a drag-and-drop page builder that allows you to create stunning homepage layouts for your audience.
This is also another theme that has been around for some time and continues to deliver regular updates and improvements. For instance, one of its latest updates included a Footer builder to add even more customization options.
Perhaps one of the more unique features is the ability to include a Dark Mode button for visitors to use., This allows them to seamlessly switch between Light and Dark Modes, which is always a great option.
Benefits of Using SmartMag
Autoloads the next post to help keep visitors engaged
Access 26 pre-built headers or make your own
Supports Google AMP
Offers integration options for Elementor
Control your image ratios from a single area
6. Astra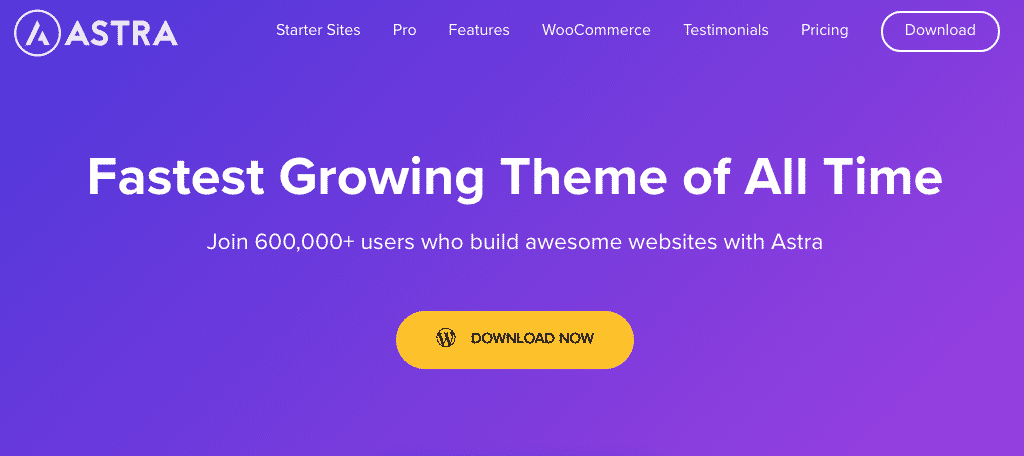 Considered by many to be the best multi-purpose WordPress theme on the market, Astra comes fully ready for you to create the magazine layout theme you have always wanted.
You can add a WordPress page builder plugin if you want or use one of the many starter site layouts it comes with. In fact, it boasts having the largest selection of pre-built sites, with many focusing on the magazine style.
That said, you'll be able to easily make sitewide changes by just using the built-in tools. It also includes its own header and footer builder to ensure you have all of the options you will need.
Benefits of Using Astra
Integration with the most popular plugins like WooCommerce or Yoast
Take advantage of limitless Hook & Filter options
Translation and RTL ready
Great performance with pages loading in just half a second
Live editing allows you to see the changes you make in real-time
7. Tribune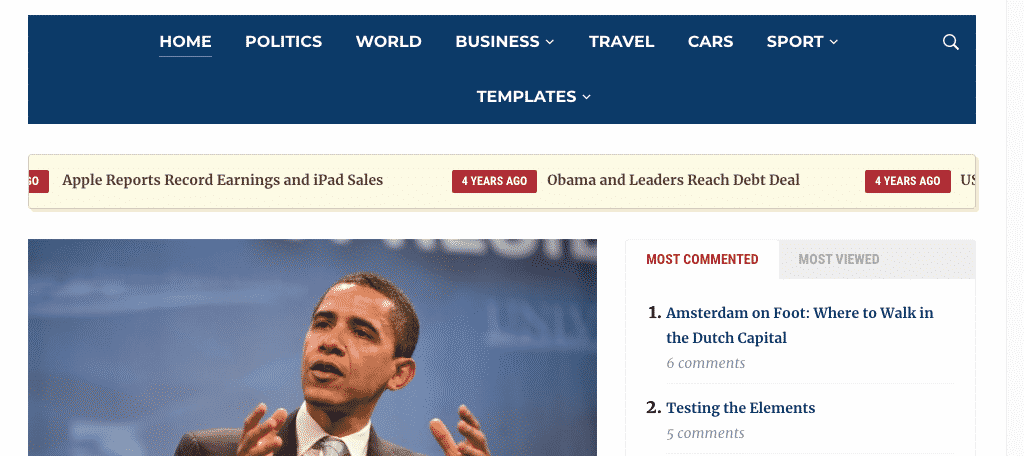 The Tribune add-on is a very powerful WordPress news and magazine theme. Display your articles, categories, and videos in a number of ways on the front page. You can also highlight featured posts with a carousel-type display.
What's even better is that the carousel is at the top or the bottom, so you have complete freedom in how it appears. You can add a lot of features via the Jetpack integration. This includes things like anti-spam to other features like lazy loading.
Another one of its core features is the inclusion of Infinite Scrolling. This will allow your pages to display more posts as the user keeps scrolling, which increases the time they stay on a page, and can keep them engaged with more content.
Benefits of Using Tribune
The custom video widget makes it easy to embed videos anywhere
Translation ready and supports RTL
Gain access to a breaking news ticker to show your latest stories as they go live
Easily match site colors with your logo
Compatible with popular page builders
8. MagPlus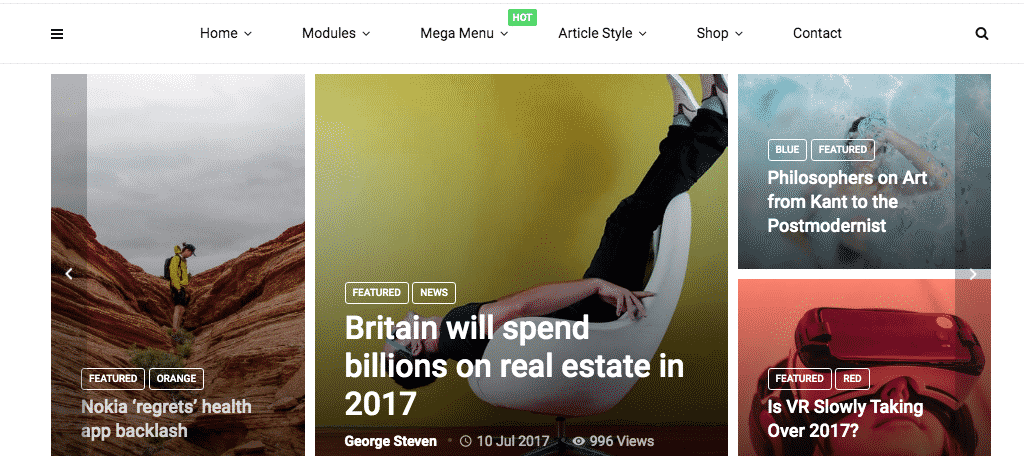 MagPlus not only gives you a solid magazine-style theme, but it also leaves plenty of room for advertising. The theme comes with multiple layouts and styles to choose from and it even includes over 40 demo sites.
And yes, that means you'll have a demo site specifically made for a magazine-styled website.
It also offers you the ability to build and display ads in a number of pre-built locations, all of which are Adsense approved.
When it comes to general web design, you'll have a great selection of freedom. This includes control over the colors, fonts, images, and just about everything else you would expect from a modern WordPress theme.
Benefits of Using MagPlus
Add YouTube playlists to your website
Choose between 18 header styles to find the right fit
Gain access to an impressive selection of over 10 custom widgets
Create your own Mega menus
Integration options for WooCommerce
9. JNews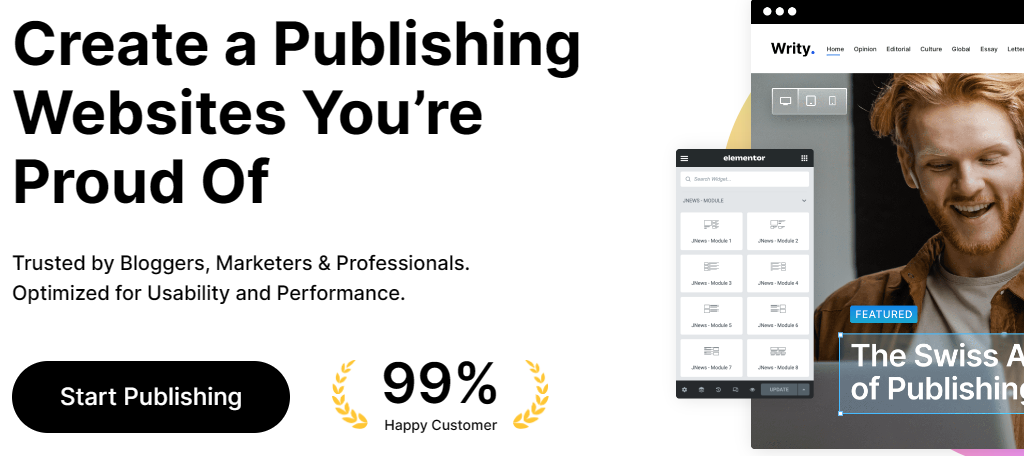 JNews is one of the best premium magazine themes available in WordPress. It has an excellent modern design for news websites to utilize, with a lot of freedom when it comes to where elements go.
Its most unique feature is the JegAI Assistant, which is an AI-writing assistant that can help you write content quicker and improve quality. And it also works in both Gutenberg and the Classic editor.
JNews was also built with the employees in mind. It offers several tools that allow you to keep track of writers' performances and even keep track of any payments you make to them. As such, it is well suited for team environments.
Benefits of Using JNews
Pay writers directly using PayPal
Easily set up a donation button to your site
Includes a built-in audio player that is perfect for delivering sound bits
Gain access to over 8 style options
Allow users to switch between light and dark mode
10. Webify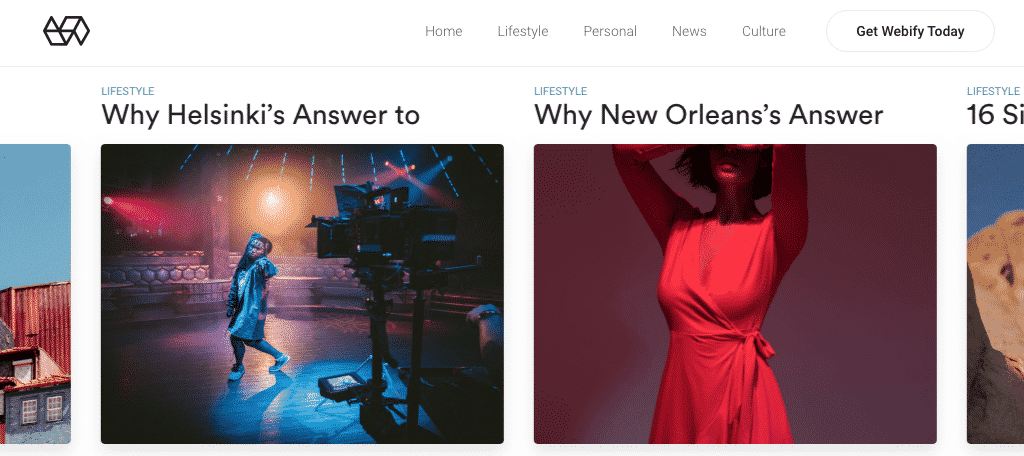 Webify is another multi-purpose theme that comes complete with a ton of pre-built layouts. One of these layouts is a magazine-style and news-style option that is ideal for displaying the latest in breaking news.
You can also use the Elementor page builder that is included in the theme to easily add drag-and-drop functionality to the front-page design. This can boost your creative freedom to new levels, and virtually eliminate limits.
You can also save time when designing pages by utilizing over 60 shortcodes. They allow you to quickly add site elements like a testimonial slider or a YouTube video playlist. There are a lot of options and shortcodes to make them easy to add.
Benefits of Using Webify
Excellent typography options from margins to fonts
Plenty of options for video and audio file displays
Translation ready with WPML support
Integration options for popular form builders like Contact Form 7
Excellent UI & UX design helps both developers and visitors alike
11. Gridlove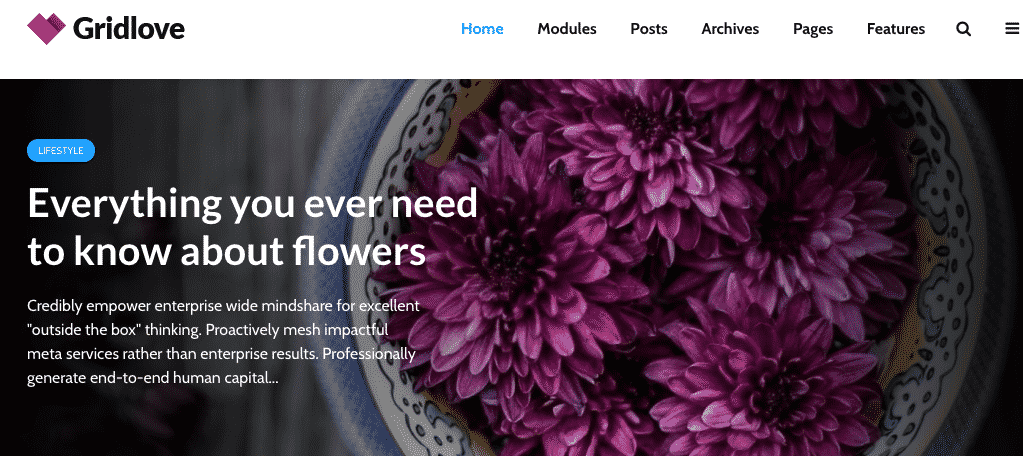 Gridlove continues our list of magazine themes for WordPress. It is a creative WordPress theme built specifically to focus on magazine and news-style sites. You'll have all of the tools needed to design your own layout.
That said, it comes with several pre-defined masonry layouts that you can use to build and create the front page of your website in a quicker fashion. It also has an amazing header and footer builder you can take advantage of.
You can easily highlight popular posts by adding an accent color to them. This helps them stand out when visitors are scrolling through your posts, which can help keep visitors on the site.
This is just scratching the surface as Gridlove has a lot more to offer.
Benefits of Using Gridlove
Create unique templates for each category
Compatible with your favorite plugins like Disqus or MailChimp
Includes plenty of room to run advertisements
Optimized for high speed with nearly perfect ratings from Pingdom
Includes features to make it GDPR compliant
12. The Wonderwall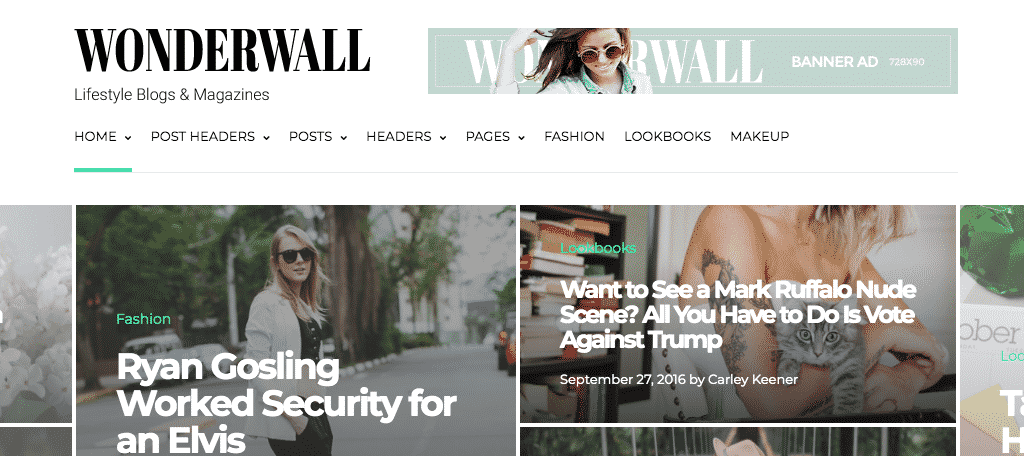 The Wonderwall theme is a very stylish and flexible WordPress theme that is built to tailor to magazine and news-style websites. The theme comes with 9 pre-built front-page layouts that you can pick and choose from.
This will allow you to build and customize your magazine-style website how you want. It also has tools to help you gain followers and subscribers like a built-in newsletter subscribe widget.
There are also a variety of social share buttons you can utilize to help make your content more sharable on social media platforms like Facebook or Twitter.
Overall, it is a terrific theme for building a magazine-styled website.
Benefits of Using Wonderwall
The theme is easy to customize and does not require a line of code
Includes several areas created specifically for ads
The theme was built with performance in mind, thus you can expect fast load times
Includes a 7-day money-back guarantee
Notification will appear inside the WordPress dashboard when updates are available
13. TheGem
TheGem is one of the best magazine themes for WordPress around. It is very versatile, highly responsive, and modern. The theme comes complete with a huge collection of demos, demo content, layouts, and styling options.
Perhaps one of its most powerful and versatile features would be the popup builder. With it, you can build any kind of popup from cookie consent to email newsletter opt-ins.
You can do more than just build a news site as it integrates with WooCommerce and even has an extended WooCommerce builder to help flesh out your storefront.
Simply put, if you need a WordPress news theme, then TheGem is worth a look.
Benefits of Using TheGem
Choose from over 400 pre-built demos
Offers a great performance and it is optimized for high search rankings
Includes access to the WPBakery page builder
Create your own templates and reuse themes throughout your site
Choose from over 2500 font icons
14. Felt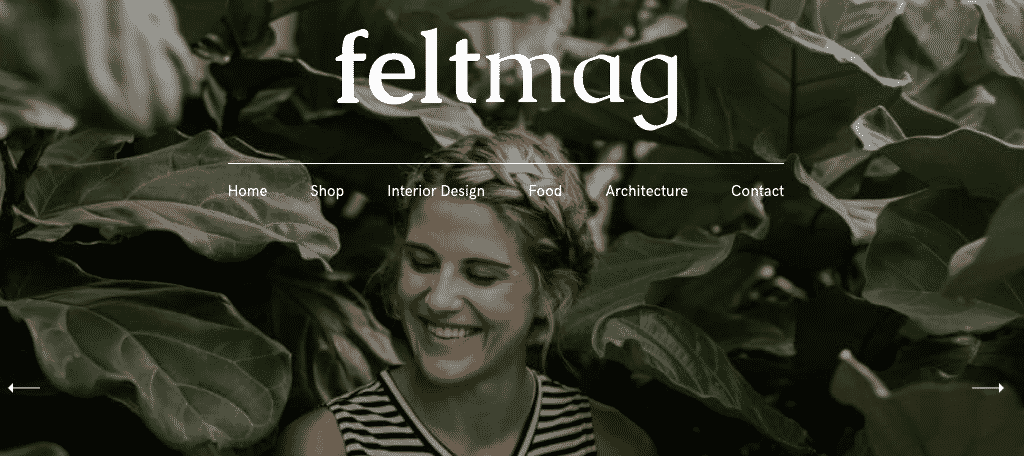 Felt is the perfect theme if you are looking for flexibility and style, and it excels at both of these when it comes to building a magazine website. It offers you the ability to create a simple, yet modern magazine-style appearance with a lot of creative freedom.
It also includes a dynamic carousel and slideshow widget that can be used in a number of ways. Like showcasing your most popular posts or the latest in breaking news. There's a lot you can do with it.
It's also worth mentioning how easy it is to use this theme. The UI is really intuitive and everything is where you would expect it to be, which makes it great for beginners.
It's definitely one of the best magazine themes for WordPress out there today.
Benefits of Using Felt
Gain access to excellent customer support that is ready to help
Compatible with WPML to ensure translations are quick and easy
Excellent performance
Compatible with WooCommerce
Use CSS to customize the theme into whatever you want
15. HitMag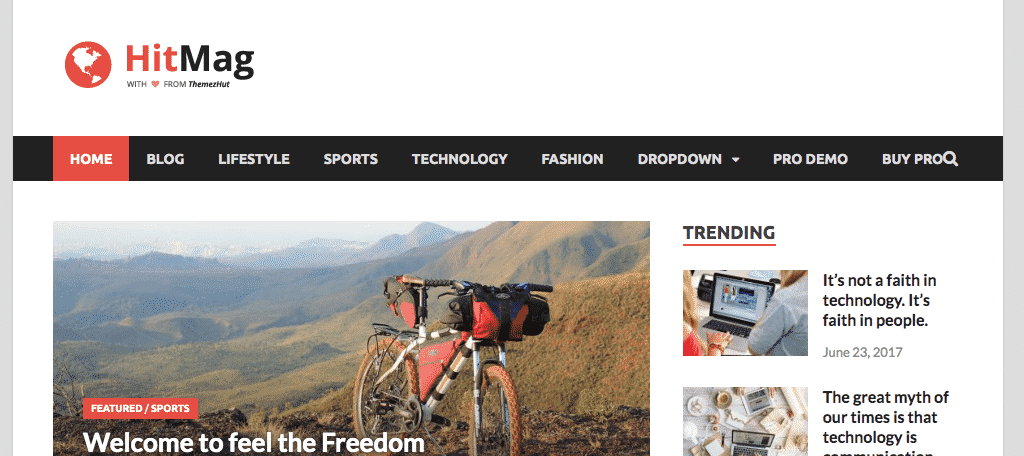 HitMag is not only a fantastic magazine theme for WordPress, but it is also free. This is one of the better free magazine themes for WordPress available due to the high level of customization it offers.
In terms of design, it gives you access to four-page layouts to switch between a variety of magazine widgets to build a great home page and access to an amazing image slider. All of this allows you to build your website the way you want.
If you are looking for something that offers a ton of features and functionality for free, then HitMag is worth a few minutes to try. And since it is free, you lose nothing by exploring what it offers.
Benefits of Using HitMag
Display posts by category to help visitors find what they are interested in
Utilizes three footer widget areas
Clean code ensures that pages load fast
Use the live customizer to see changes in real-time
Display your latest posts in the image slider
16. Journo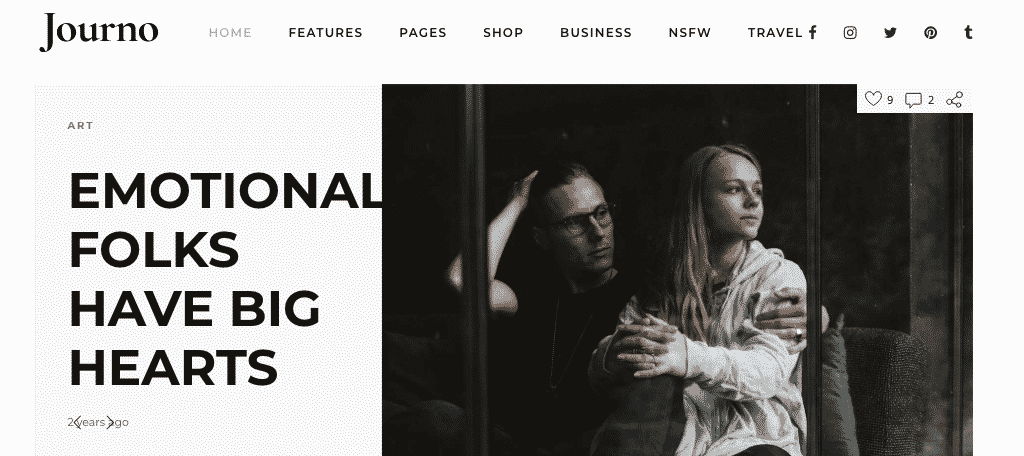 The Journo WordPress magazine theme gives you the ability to create a stunning website. The theme has limitless header and footer styles available, which allows you to build your site any way you want.
It also comes with several pre-built layouts that you can install in a single click. Another neat feature would be the flexible social media share buttons that you can place just about anywhere. There's one for every major social network.
It's also worth pointing out that you can do more than just magazines with this theme. Blogging and eCommerce are also in the realm of possibilities.
Add all this functionality together and you have a fantastic WordPress magazine theme to work with.
Benefits of Using Journo
Gain access to the Slider Revolution plugin
Create stylish Mega Menus to improve navigation
Integration options with Contact Form 7
Utilize dedicated ad space to get more eyes on your ads
Utilize the WPBakery page builder to build your site the way you want
17. The Essence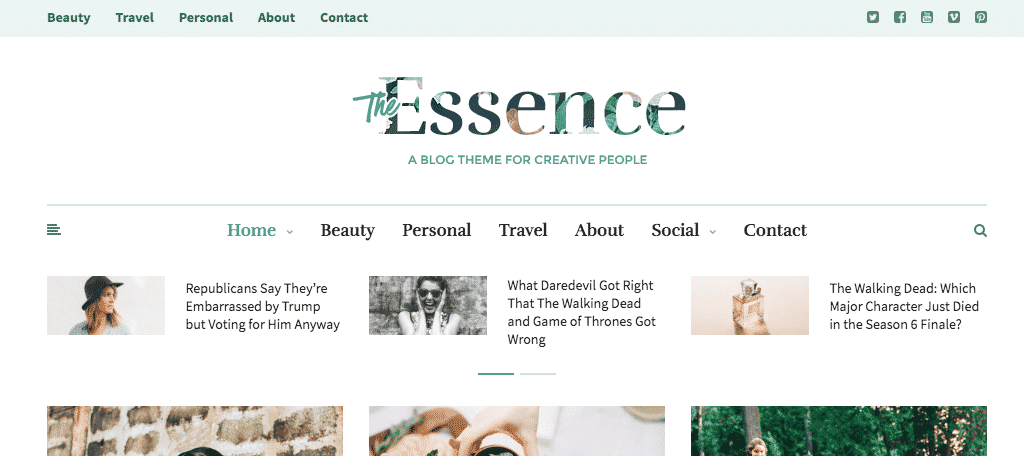 While you can create a feminine WordPress magazine layout with a lot of the themes on this list, The Essence is specifically made and designed to be more feminine from the start.
With 17 different blog and magazine-style layouts, as well as a mobile-friendly look, It also has built-in social network sharing buttons that you can take advantage of to help share your content on popular platforms like Facebook or Twitter.
There are also some custom-built widgets that you can use like the Instagram Photos widget to easily share photos straight from your Instagram account.
Overall, the Essence is great for anyone wanting to create a more feminine-focused website.
Benefits of Using The Essence
Utilize custom home page promo boxes to show off specific content
Make detailed changes without writing a single line of code
Includes access to a knowledge base and one-on-one support
Setting up is quick and easy
This theme was built with performance in mind
18. Soledad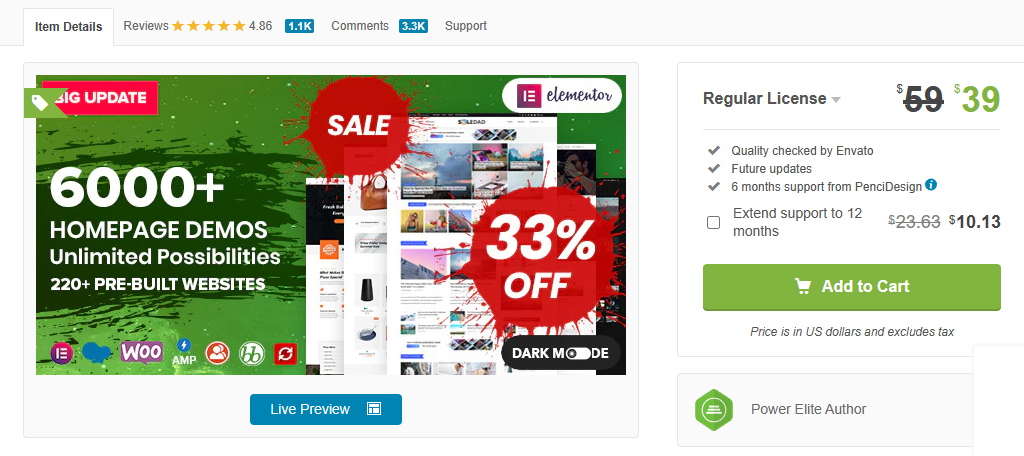 When it comes to the best magazine themes in WordPress, Soledad is certainly among them. It offers users an incredible level of customization that very few themes can match.
This includes access to over 220 pre-built templates and an additional 6000+ homepage designs. By using these, you can build your website quickly and ensure it has a professional quality behind it.
While it has several options for magazine websites, it is a multi-purpose theme at its core, so you can build just about anything with it.
Overall, it's a terrific option to choose when building a website in WordPress.
Benefits of Using Soledad
Includes an RSS Aggregator plugin
Gain access to the Penci Podcast System plugin
Track your writer's content and issue payments to them
Switch between a light and dark mode
Includes access to a footer builder
19. Barta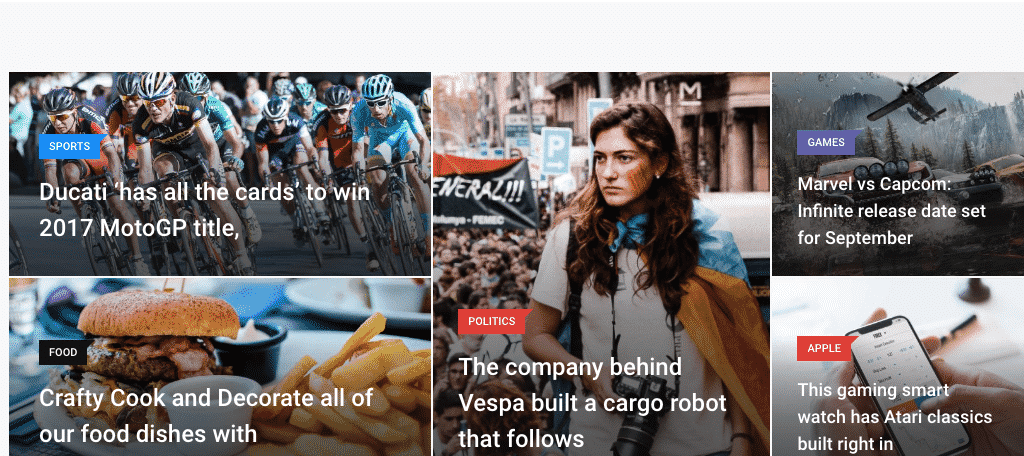 The Barta theme is a very clean, smooth, and fresh magazine theme for WordPress. You can build and display content in boxes, grids, sliders, tabs, and lists. It really has something for everyone.
You'll be able to choose between 7 unique homepage designs that give your website a professional touch. Each one is customizable, so you can make changes to make it your own.
Magazine themes often have specific spaces dedicated to ads, and this theme offers several areas you can use. The theme is easy to work with and leaves a lot of options available for displaying advertising as well.
Benefits of Using The Barta
Includes access to the Elementor page builder
Excellent responsive design
Include a reading progress bar for users to see their progress
Includes WooCommerce compatibility
Install demo content with a single click
20. The Issue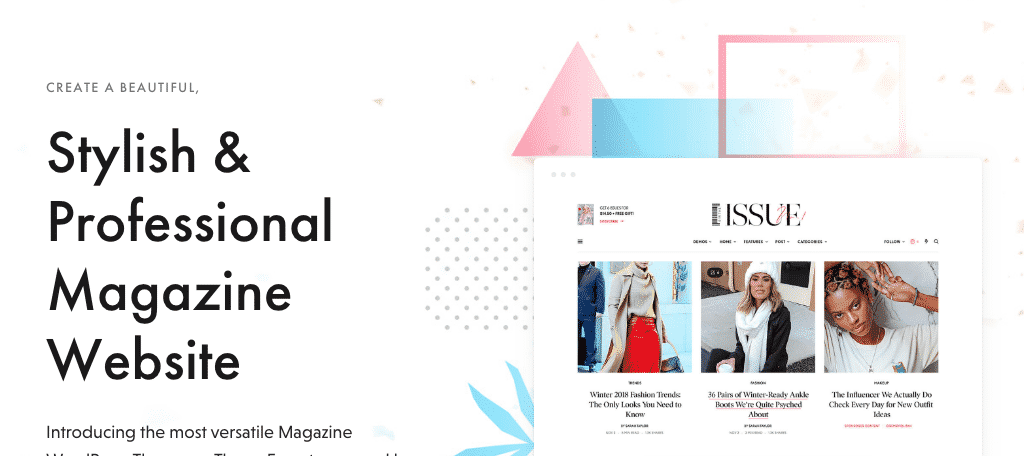 The Issue is a very stylish and professional-looking WordPress magazine theme. It comes with a ton of features and support. Some of the highlights include WooCommerce support, page builder integration, and more.
It has excellent social media network integration. For example, you can display content based on the number of likes it gets, or in other words, share it based on popularity. And this is just one social feature.
It also ensures that the theme is translation ready by including .po/.mo files which are compatible with most major translation plugins. This is a dynamic theme to consider if you have a professional agency.
Benefits of Using The Issue
Fully responsive design saves you time and ensures the website looks great on any device
Built with SEO in mind for higher rankings
Includes access to design files
Install demo content in a single click
Excellent performance
21. Navigation Pro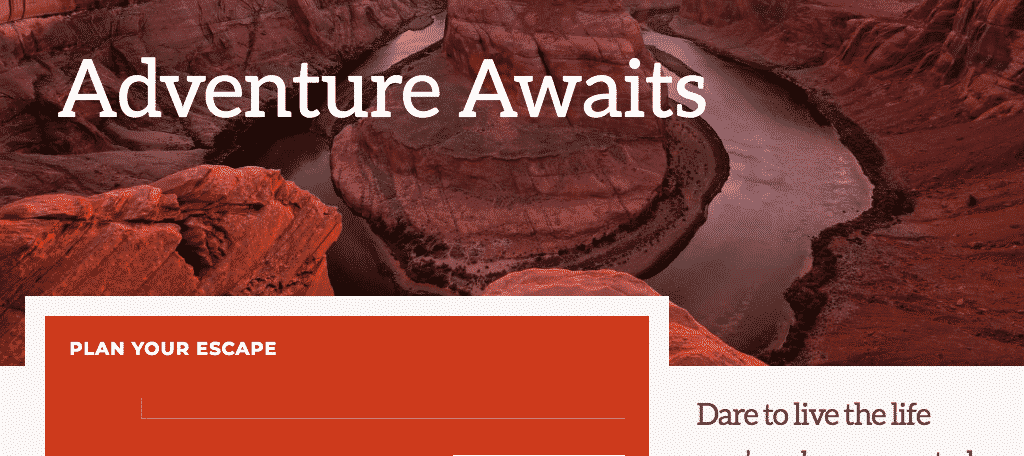 Navigation Pro is one of the newer magazine themes for WordPress. That being said, the theme offers you a whole new way to build and display your content. You can use bright colors, bold images, and several different display options.
The theme also uses Atomic Blocks and the Gutenberg block editor to style and build the homepage. And with the theme Customizer, you can see the changes you make in real-time, which is perfect for beginners.
This theme also makes it easy to upload your own logo to properly brand it as your own. Overall, this theme is truly great for making a magazine-styled website and worth checking out today.
Benefits of Using Navigation Pro
Includes several accessibility options
Load demo content in a single click
Includes WooCommerce support
Built on the Genesis Framework
Mobile responsive design ensures it looks good on any device
22. Newsmag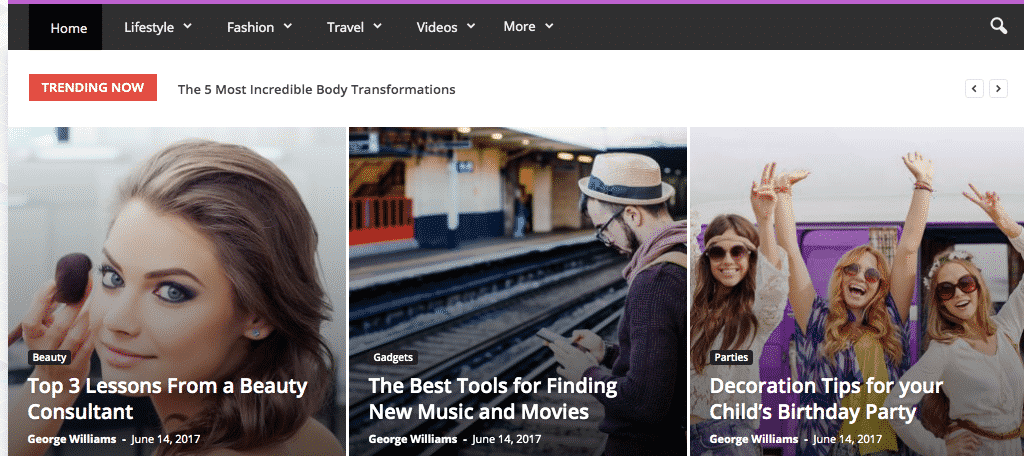 Newsmag is a very modern WordPress magazine and news theme that allows you to create content quickly and easily. The theme is packed with both basic and pro features.
It also has an excellent mobile design. Everything is naturally responsive and it was built with Google AMP in mind. This ensures that mobile users get the best performance and experience possible.
What you can do with Newsmag is create a stylish and unforgettable magazine website. Newsmag is considered one of the best magazine themes for WordPress because of its functionality.
Benefits of Using Newsmag
Integration options for Mailchimp
Includes a custom weather widget you can display
Gain access to the Exchange Widget to compare currencies
Excellent ad system that is recommended by AdSense
Build galleries with drag-and-drop controls
23. Public Opinion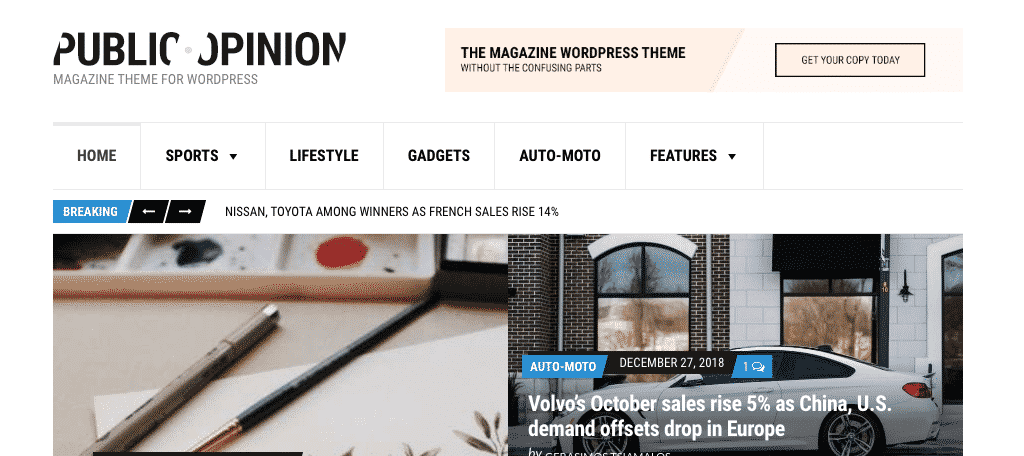 The Public Opinion theme was designed to help publishers create flexible and dynamic content for their readers. It comes complete with multiple layouts, unlimited colors, plenty of custom widgets, and advertising sections.
In terms of delivering the news, it has a featured post layout, and a dedicated section for breaking news, which highlights your most recent posts. It even tells visitors the category at a glance to help pique their interest.
The theme gives you everything you need to create a WordPress magazine website, and you can take it to the next level by incorporating a page-building plugin like Elementor. With it, you have an unlimited amount of customization available.
Benefits of Using Public Opinion
Make global changes in a single location
Choose your favorite Google font
This theme is translation ready
Compatible with most major plugins like Yoast SEO or HubSpot
Built for speed
24. Buzzy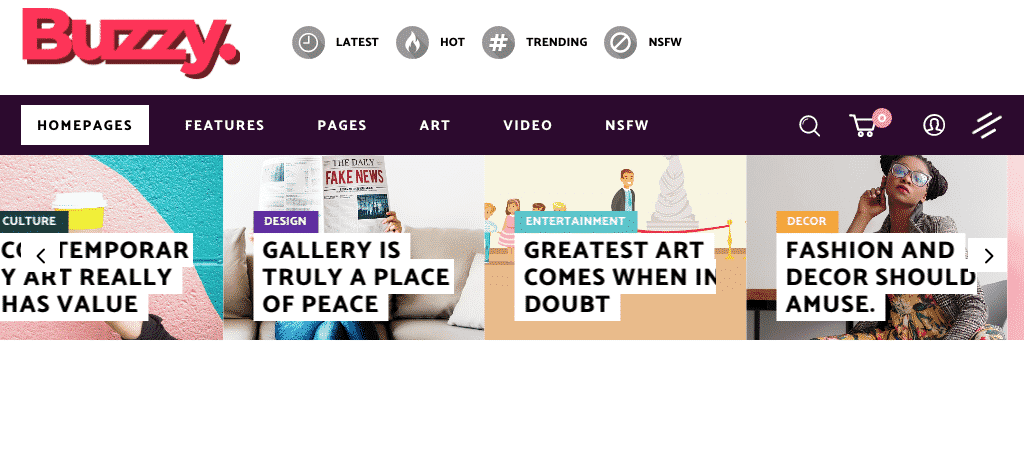 Buzzy is yet another creative magazine theme that helps you publish content like a pro. It is a contemporary magazine-style WordPress theme that will have you up and running in no time at all.
There are plenty of post and page block templates for you to choose from. There is also a built-in selection of shortcodes that you can use to display content where and how you would like.
You'll also gain access to a page builder plugin to give you even more design options to explore. It uses a drag-and-drop interface, which makes it perfect for beginners, but has great options that veterans will appreciate.
Benefits of Using Buzzy
Choose from over 800 Google Fonts
Display the weather using the custom Weather widget
Anchor functionality for One Page sites
Utilize three different pagination styles
Compatible with most major plugins
25. OriginMag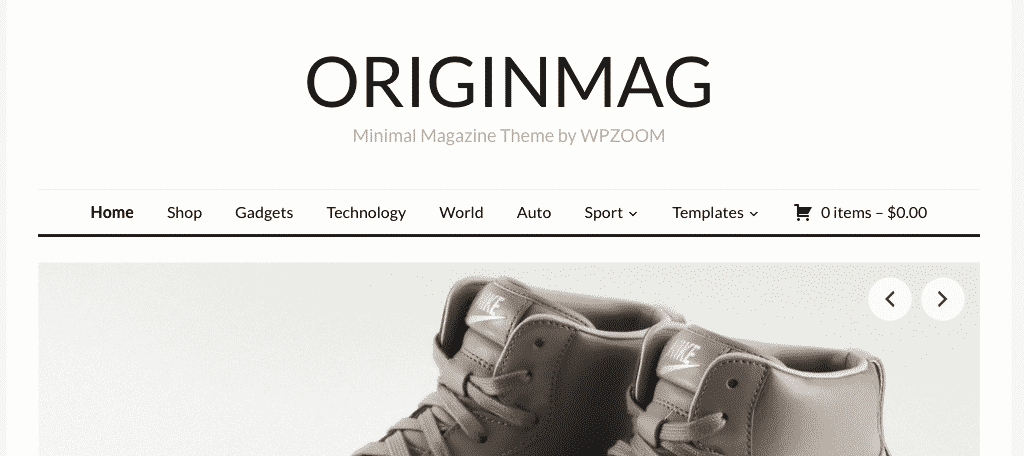 OriginMag touts itself as a simple, yet sophisticated magazine theme for WordPress. It has a very customizable homepage that you can make your own. It also offers eCommerce support.
So, if you are selling physical or digital goods from your website, OriginMag has you covered.
One of its signature features would be the Featured Slider, which allows you to showcase the most popular or latest posts on your site.
Another key feature to be excited about would be its Video Widget. With it, you can easily embed video content from your favorite video streaming site like YouTube or Vimeo.
This theme really has something for everyone.
Benefits of Using OriginMag
Mark specific categories as featured to promote them further
Add eCommerce support by integrating with WooCommerce
Easily import demo content in a single click
Translation ready & WPML compatible
Clean code ensures the theme is SEO friendly
26. Jannah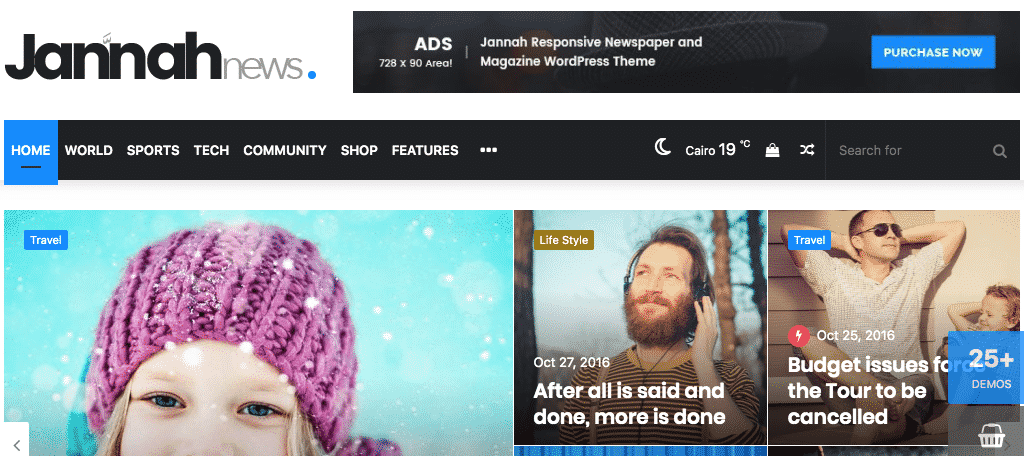 The Jannah theme is one of those magazine themes for WordPress that is also perfect for content marketing. With responsive designs, one-click install, and Gutenberg support.
In terms of design, there is a lot to talk about, but perhaps the most unique option is block shadows. You'll be able to control the shadow effects within any block, and even have different effects on the same page.
You'll also be able to customize your widget styles or you can create your own. The Jannah theme is everything you need to market a website and add magazine and news-style content.
Benefits of Using Jannah
Control the size of featured images from one location
Includes a short link box that you can use to quickly copy the links for use elsewhere
Utilize sticky share buttons to improve sharability
Add an author signature to the bio box
Auto load post system to improve load times
27. PenNews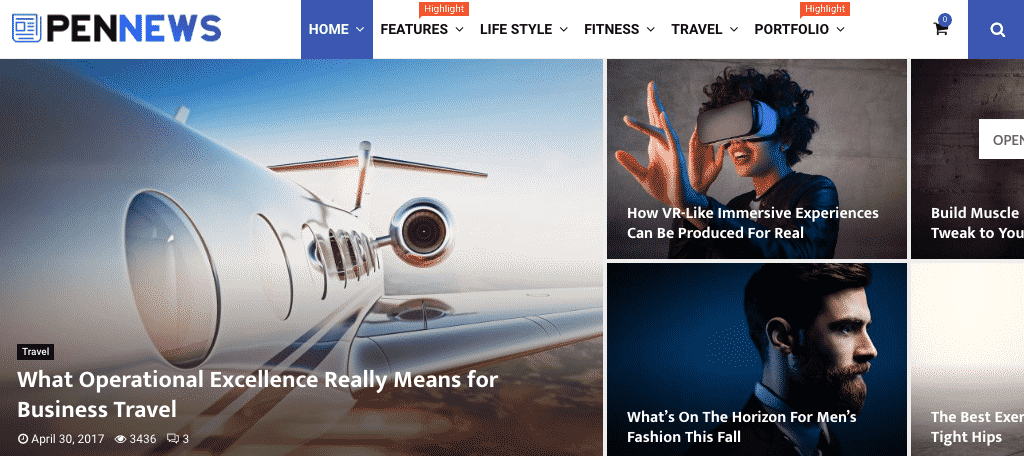 If you want to create a magazine-style website in WordPress in a short amount of time, then PenNews is the theme to use. It gives you powerful design possibilities by coming with an intuitive drag-and-drop page builder in the back end.
The theme is multi-purpose, thus you can actually build any kind of website with it, but it has several features that are perfect for magazine-style websites like multiple post styles for different categories.
In terms of design, you'll have access to over 150 demos that you can import in a single click. Each one can be customized to fit your needs and has a professional touch to it. Overall, it is a fantastic theme.
Benefits of Using PenNews
Supports Google AMP and Facebook Instant Articles
Includes a white label tool to help with branding
Utilize the WPBakery plugin to build pages with
Autoload the next post when scrolling down
Several social counters and share buttons are available
28. Patch
Patch is a more minimalistic magazine theme for WordPress. You can create and display amazing content, while at the same time keeping it simple, clean, smooth, and professional.
It comes complete with a flexible design and layout system that automatically adapts to any screen size and device. Thus, mobile users will get an excellent experience and it can help boost rankings.
It also excels at handling different types of content. Thus, regardless if you plan on just sticking to text, using tons of images, or inserting plenty of video content, Patch can handle it and has several tools to help you maximize the effect.
Benefits of Using Patch
Easily translate your content
Adaptive design will work with content of any size
Provides detailed documentation and offers support
Built for high SEO rankings
Mobile responsive
29. The Voux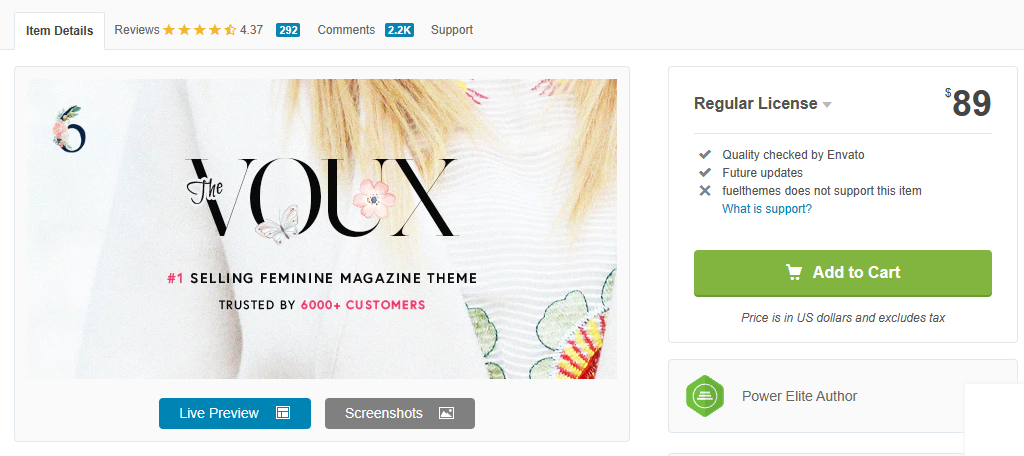 The Voux is another one of the best feminine magazine themes in WordPress. It offers users a wide variety of layouts and features that allow you to build beautiful websites with a nearly unlimited amount of freedom.
It also comes with built-in access to the WPBakery plugin, so you can really build anything you want. That said, you'll also gain access to a variety of pre-made demo sites that you can use as a basis for your website.
It also has eCommerce functionality as it integrates with WooCommerce. With it you can build a beautiful online store to sell merchandise or list the products you review inside your magazine.
Benefits of Using the Voux
Includes sharing buttons for your favorite social networks
Add infinite loading to your posts or products
Choose from multiple header styles
Includes unique video monetization options
Easily insert lightboxes or create entire galleries around them
30. Click Mag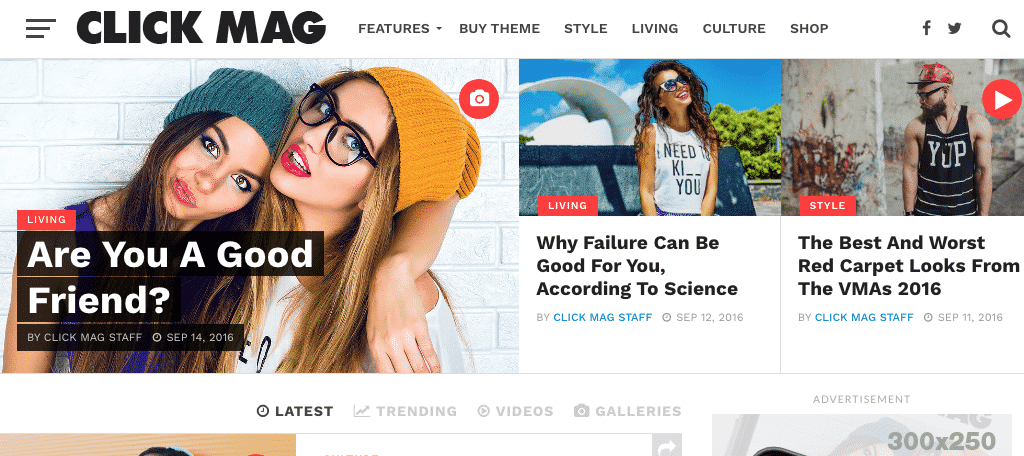 Click Mag is a fully responsive WordPress news theme. It is an older theme that still provides a ton of features and functionality for anyone using it. Thus, there is a lot to love about this theme.
The featured posts layout function is particularly stunning, as it gives you several ways to display important content that is important to you and your readers. It also has some features that normally require plugins to add.
For instance, you can show small excerpts of your content that contain a "Continue Reading" button. It's a great way to get visitors excited about the content and get more visitors to your post content.
Benefits of Using Click Mag
Choose between three featured post layouts
Includes access to over 800 Google Fonts
Translation ready with RTL support
Easily embed YouTube and Vimeo videos in your content
Integrations options for WooCommerce
Final Thoughts
Creating a magazine or news-style website in WordPress has a lot of the same functions and steps as creating a business website. That being said, the layouts and delivery of content are much different. That is why you need to find certain magazine themes for WordPress. Using some suggestions from the list above will put you on the right track.
These are some of the very best magazine themes for WordPress. They all offer different features and functions, but all of them give you the ability to design and create the magazine-style website you have always dreamed of.
Take a look at some of them and see if you come across a few you like. There are a lot of choices, so you should be able to find the perfect one to fit all your needs.
Is there a current magazine theme for WordPress that you use and love? We might have missed it, so feel free to tell us about it.