Oftentimes you come across a real estate website that does not have all the features and tools it needs for users. This can be disappointing. If you are building a real estate website, then it is important to know what real estate plugins are the best.
With so many WordPress real estate plugins available, it can be hard to narrow down which ones are the most useful.
You need to have a firm grasp of what each plugin does, as well as figure out if the money spent on some of these plugins will give your real estate business the right return.
Why You Need WordPress Real Estate Plugins
There are several reasons why you will need WordPress real estate plugins. The bottom line is this, WordPress provides you with an amazing CMS (content management system), but after you have built your site, you will still need to add some niche-related functionality.
This is why knowing what certain real estate WordPress plugins can do will benefit you tremendously.
If you want to create a fantastic WordPress real estate website, then choosing the right plugins is key. Here are some other reasons you want to add WordPress real estate plugins to your site:
Default features of WordPress may not be enough without the plugins
WordPress real estate plugins will add functionality and custom features to your site
You may find some great free ones, while others will be fairly priced
Each plugin is designed with a particular purpose in mind
Adding the right plugins will make your site more functional and more memorable
So, if you are going through the process of creating a real estate website, then the plugins below are definitely some of the ones you need to take a look at. These all serve a purpose and will extend the functionality of your site.
The plugins range from property management to listing and other real estate-related plugins. Enjoy.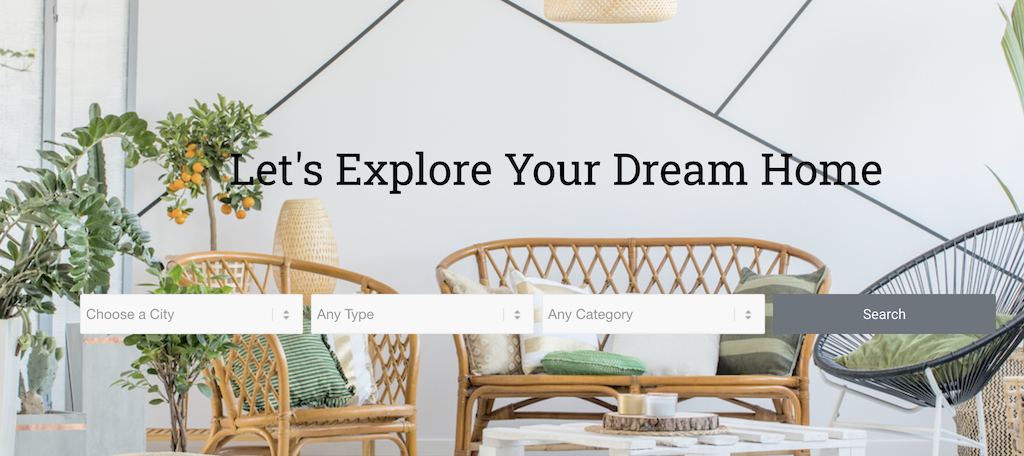 Real Estate Pro is a premium real estate WordPress plugin. It will allow you to easily list and manage all of your available properties. Once the plugin is installed and running, you will be able to add listings, claim listings, sell properties, manage client reviews, and much more.
Your website's visitors can also bid for properties that are listed, leave a note for the listing owner, contact property owners, and subscribe to all your property lists to get updates over time.
This plugin works with all themes, is translation-ready, and supports tons of important third-party services that you will want to add to your site. This includes services like Stripe, PayPal, and MailChimp.
Lastly, the plugin integrates perfectly with Visual Composer, a very popular website page builder. Combined, you will have the ability to create a fantastic real estate website that gives users a ton of interactive options.
Another one of the best WordPress real estate plugins out there today is IMPress for IDX Broker. First off, this plugin provides a pretty hefty free version that gives you a lot of features and functionality.
From there, you can always upgrade to the pro version of the plugin when it is needed.
Formerly known as IMPress Listings, this plugin now houses all of the IMPress real estate-related tools in one place, allowing you full access to the entire library.
When you attach your IDX Broker-enabled account to this plugin, you get full access to your MLS data feed, which you can easily import, design, and display on your real estate website.
This plugin provides so many different tools that can benefit a real estate website that it is hard to even know where to start.
You will be able to manage leads, create automated social media posts including posts about new listings and listing updates, use a selection of maps and widgets, and import all your IDX data where you want.
There is also a built-in agent directory and Google My Business settings. All-in-all, you will be hard-pressed to find a more useful real estate plugin than this one.
Making this list of the best real estate plugins is the WP VR plugin. This is a must-have for any WP Realtor, as it provides one of the most valuable tools that any real estate agent can have at their disposal.
Simply put, this plugin will allow you to create virtual tours that clients and potential clients can view from any computer or mobile device.
Visitors to your site will be able to navigate a 360-degree view of your location/property, switch between several scenes, get information on items on the location, zoom in and out to get a better view and get an overall idea about how your place may look in reality.
A tool like this has become even more popular since the pandemic, and now it seems like it is a must-have for real estate professionals.
The plugin is such an advanced tool, that the only thing you need to do is provide 360-degree panoramic images. Upload those, and WP VR will do the rest for you.
Use multiple scenes, create image hotspots, and give your potential buyers every piece of information they need. All of this from the comfort of their own space.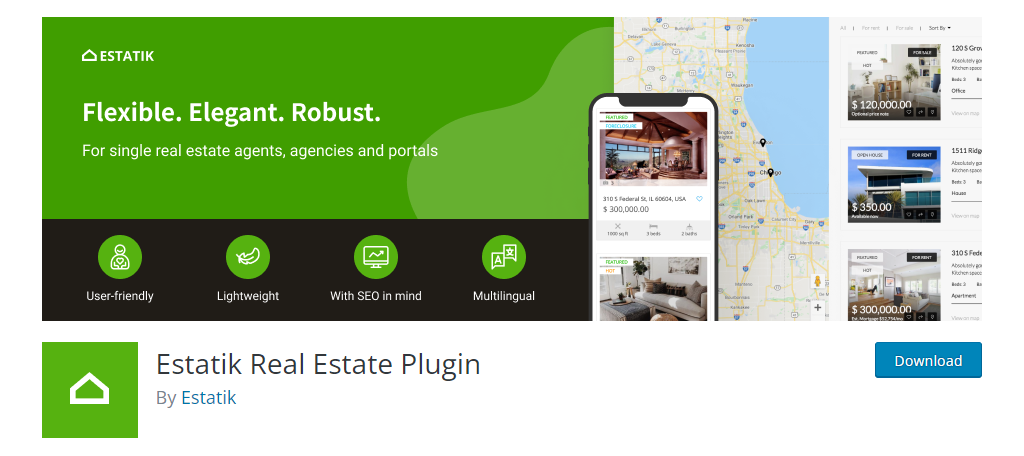 Estatik Real Estate Plugin is a terrific option available. It has a free and premium version for you to consider, and for most people, the free version will be more than enough.
However, for professionals, the Pro version is certainly worth the price of admission.
Regardless of what version you choose, you can rest easy knowing that the plugin supports multiple languages.
The free version allows you to create an unlimited number of fields, which gives you plenty of room to hype up any home or apartment. It also comes with a variety of social media integrations for Facebook, Twitter, and more.
The pro version allows you to get support from the developers for an entire year, create private fields that only other agents can see, MLS import tools, PDF file generation, and a slew of other features.
One other thing worth mentioning is that the interface looks really good on mobile devices. This is especially important for agents that will often work off of their phones while meeting customers.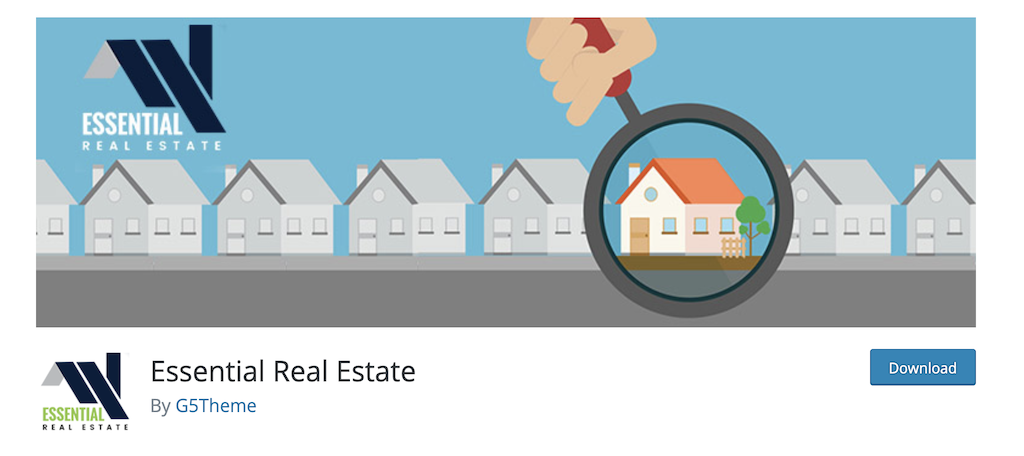 Another great real estate WordPress plugin is Essential Real Estate. This is another feature-packed plugin that also provides a ton of related real estate style templates to use and design around.
This plugin provides everything that an agent needs to build, configure, design, customize, and manage a real estate listing website.
The Essential Real Estate plugin gives you access to well-designed default listings, property pages, agent profiles, and tons of other useful content that you can use to build a website that stands out from the rest.
There are custom data fields for extra listing options, listing types, and also value-add features. It really is a complete WordPress real estate plugin that has every feature an agent would ever need already built in.
With multiple layout options, Google Map integration, a front-end, and back-end customizer, and tons of marketing features, ERE should be at the top of your real estate plugin list.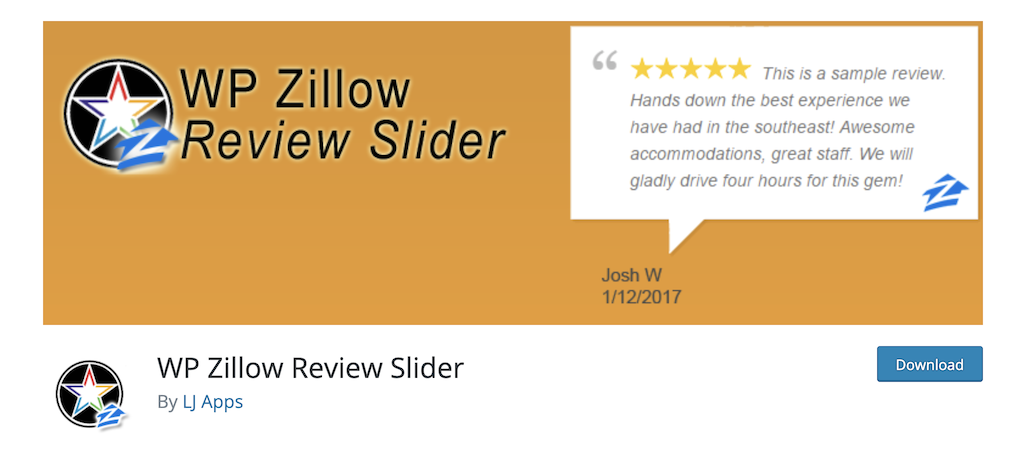 The WP Zillow Review Slider plugin makes it onto this list, not because of the functionality that it can provide for your real estate website, but for the ease of use, it gives users that need to pull in their Zillow reviews to their WordPress website.
Most agents know how important good reviews can be for their careers. When it comes to real estate agent reviews, it doesn't get any bigger or more viewable than Zillow.
This plugin is actually very straightforward and easy to use. It is dedicated to one thing; it allows you to download your reviews from Zillow into your WordPress database, and then easily create a slider or grid for them on your site.
This Zillow widget will allow you to display your reviews in a grid or slider-style layout. It automatically pulls in any new reviews, so once you set it up properly, you are good to go.
You can use the widget portion of the plugin to show reviews in any widget area of your theme. However, you can also use shortcodes to display reviews on any post or page you want.
With built-in options that allow you to customize the layout and look of the reviews, this simple, yet powerful plugin is one all real estate agents should take a look at.
Note: The free version of this plugin supports reviews for realtors. It does not support mortgage professionals, contractors, or other types of agents.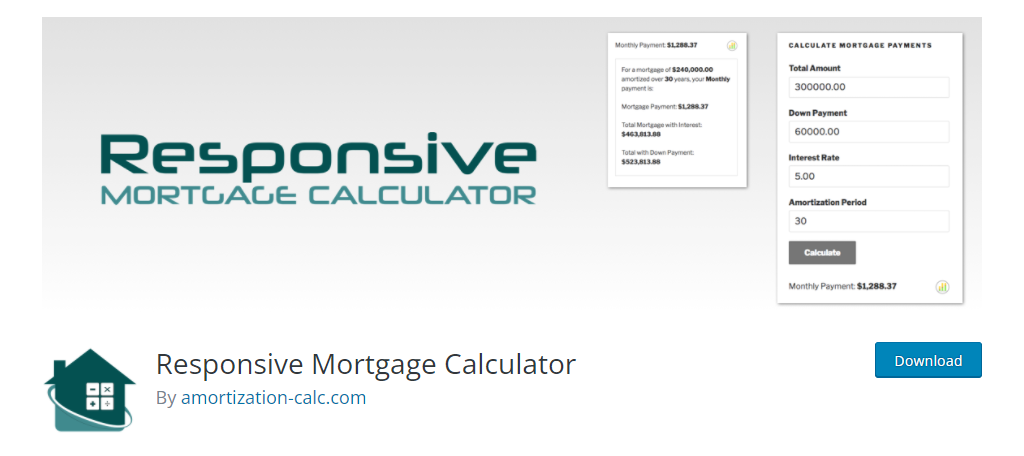 There's no denying that price is one of, if not the biggest factor when purchasing a home. Agents showing off a home know this, and being able to give those customers a quick quote is very helpful.
Enter the Responsive Mortgage Calculator.
This plugin adds a simple calculator anywhere on your website. And I really mean simple.
The agent or customers just need to enter four pieces of information. The total amount, down payment, interest rate, and the amortization period (how many years). With this info, the calculator will provide an accurate mortgage estimate.
The reason it is important to use the term "estimate" is that things change when you sit down to discuss finances in full. For example, the interest rate can change drastically depending on credit scores and whatnot.
That said, it is a very useful tool that can benefit a lot of real estate websites.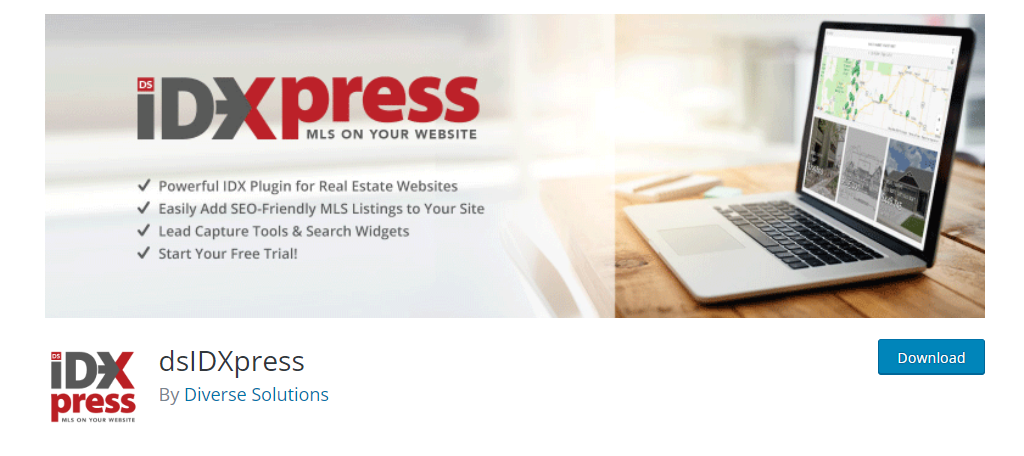 If you are looking for a great way to capitalize on your leads, then the dslDXpress plugin is the tool for you. It allows you to easily add SEO-friendly MSL listings anywhere on your website.
This makes it easy for visitors to find what they are looking for regardless of where they are on your site.
This is accomplished because the plugin offers users access to a variety of customizable shortcodes, widgets, and even custom pages to help you display the information you want.
And it's all easy to use.
More importantly, if your real estate business utilizes multiple MLS, don't worry, that is fully supported by dslDXpress. It also offers SEO benefits like unique indexable listings pages, sitemap generation, and page title optimization tools.
All things said, it is one of the best real estate plugins available.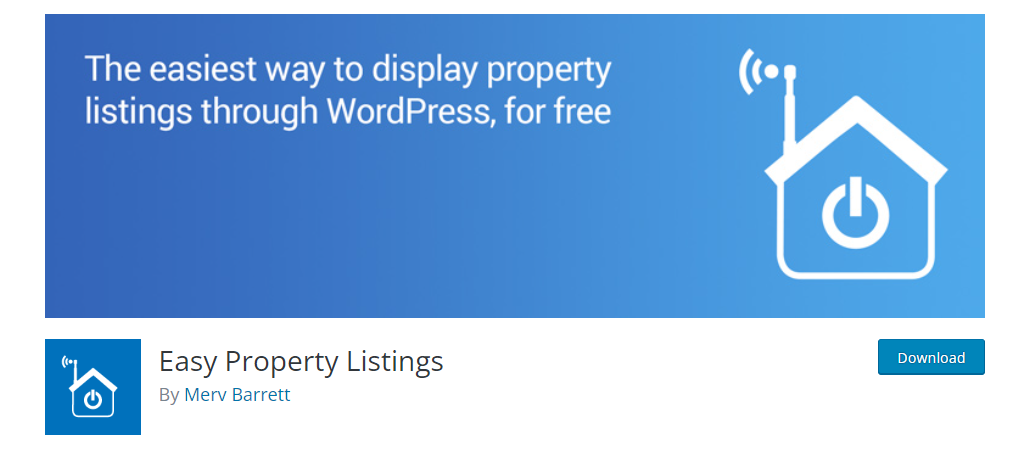 When it comes to customizable real estate plugins, Easy Property Listings is a favorite of many. And the best part is that it is easy to use, so, beginners won't have any issues adding it to their site.
Of course, experts will be pleased to know that there are several advanced design customizations available.
Users can sort all listings by a variety of filters (price, location, etc.) to help make it easier to find a specific listing. And you can create your own agent profile box to easily share your contact information with visitors.
There's even an area where you can link visitors to a virtual tour of the property, but just keep in mind the plugin won't let you create one. Most things are done by using shortcodes or customizing the widget.
It has all of the basics a real estate site needs and it really nails them.
Besides Plugins, What Else Do You Need to Build A Real Estate Website?
Before you can start adding real estate plugins, you first need to build the actual site. While this may be easy for some, others don't know where to start.
Here are a few things you need to do in order to get a real estate website built.
Purchase a Domain Name and Choose Web Hosting
The first thing to do here is to go find the domain name you want and purchase it.
You may not be able to get the exact domain name you want, but don't worry. There are so many different domain names and domain name extensions available that you should be able to find something close to what you want.
Once you have purchased a domain name it is time to go find a solid web host. You will have several to choose from, but you want one that has everything you need to get your community website up and running smoothly.
GreenGeeks is a fantastic choice because they offer domain name purchases and hosting, all in one spot. They will also provide you with all the tools you need to get your real estate site up and running.
Build Your Website Using WordPress
Once you have opened a web hosting account, you will l find that there are several different CMS platforms available to use to build your website. I recommend you go ahead and use WordPress, and there are a few reasons behind this.
WordPress is very user-friendly and will offer you a lot of resources to help you build the real estate website you want. Furthermore, WordPress is open source. This means that anyone can contribute and you always have someone to refer to and access while you are building your site.
Need to talk to a theme developer or a plugin creator? Chances are you will be able to when using WordPress.
Choosing the Right WordPress Theme
As is the case with building any type of site, you want to find the right type of theme to build around. WordPress offers a lot of great real estate-related themes to choose from.
When you combine these themes with the plugins above, the end product will be a professional, memorable site that you can be proud of.
Pick the Best Real Estate Plugins For Your Website Today
You can see by the list above that WordPress real estate plugins come in all sorts of categories. With so many available, it can be difficult narrowing down which ones are the best.
Ultimately, it will come down to personal preference as well as what exactly can benefit you the most as an agent with a website.
You can't go wrong with any of the plugins above. They are all solid options and can extend the functionality of your website across the board.
Have fun searching through them and good luck on your journey.