Have you ever had to do any type of public speaking? Ever had to host an event or webinar? Have you ever had to present a product? If you answered yes to any of these questions, then you know how important it is to have the best presentation tools possible.
No matter what type of slideshow or what industry you need to create it for, the presentation software on this list will help get you through the process.
You may be familiar with some of the older presentation tools out there. That being said, the new generation of software gives you access to an entirely new suite of tools and features.
These allow you to create and collaborate more efficiently and effectively than ever before. With tools that help keep the audience's attention, as well as a more streamlined experience, the best presentation software available today will help take your exhibitions to an entirely new level.
What is Presentation Software?
Simply put, presentation software is an application that is designed to display relevant and important information in the form of a slideshow. While there are a lot of different interactive presentation software platforms available today, all of them must have three important features:
A Well-Built Text Editor
Import Functionality
Slideshow or Presenter Mode
Since most, if not all, slideshows are a combination of text, video, images, and charts, every presentation tool must be able to display clear, readable, and summarized data to an audience.
When done properly, this captures the attention of the audience and keeps them engaged properly for the duration of the presentation.
Presentation software can be a desktop or cloud-based application. Both are still very popular, and the type of application you prefer to work with will more than likely be based on personal preference.
Best Presentation Software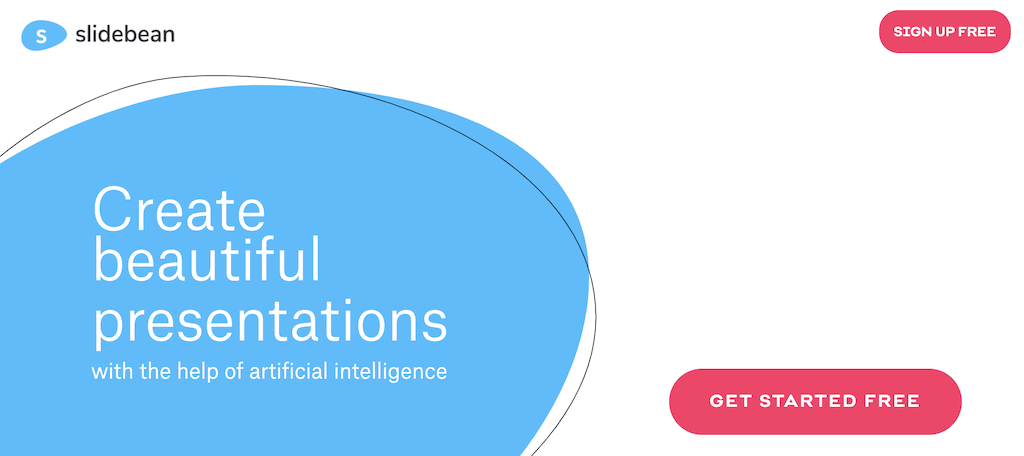 Starting off this list of the best presentation software is a platform called Slidebean. It provides a very easy-to-use, intuitive interface with a solid amount of templates and customizable content blocks.
There is a free plan that will allow you to at least see how the software works. However, in order to get full functionality, including the ability to export, you will need to upgrade.
Perhaps the most interesting and unique feature of Slidebean is the fact that it uses AI (artificial intelligence) to help you create and build the best possible slide layouts and configurations.
The editing of the content blocks is somewhat limited, but because there are so many different blocks that you can customize, the platform really sets itself apart from some of the others.
You basically add content blocks to your presentation and Slidebean takes care of all the formatting for you. This saves you time and ensures your presentation will be perfectly formatted.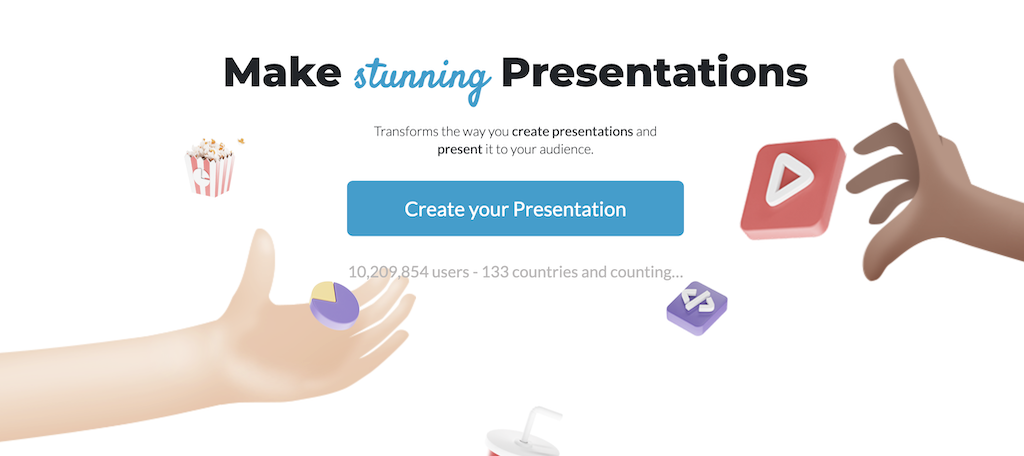 Right up there with Slidebean, and one of the most complete presentation software platforms anywhere, is Visme. Making presentations for any audience or niche can be simple and fun when you use this platform.
It provides a ton of content, all of which is highly customizable and can be moved, updated, or fixed almost any way you want.
Yes, Visme provides users with an intuitive interface that is easy to navigate and pleasant to work with. There are also a ton of templates available.
Visme actually excels as a presentation software platform because of its ability to help you create highly visual content.
Infographics, reports, and interactive charts can all be easily created and managed. More importantly, they are very customizable so you can create content that is visually stunning and will keep the attention of any audience you are presenting to.
As stated above, the interface is very easy to use. It presents users with a custom sidebar that houses all graphics and data tools. You can easily search for anything you need here. When you find it, use the drag and drop editor to build and create the best slideshow presentations imaginable.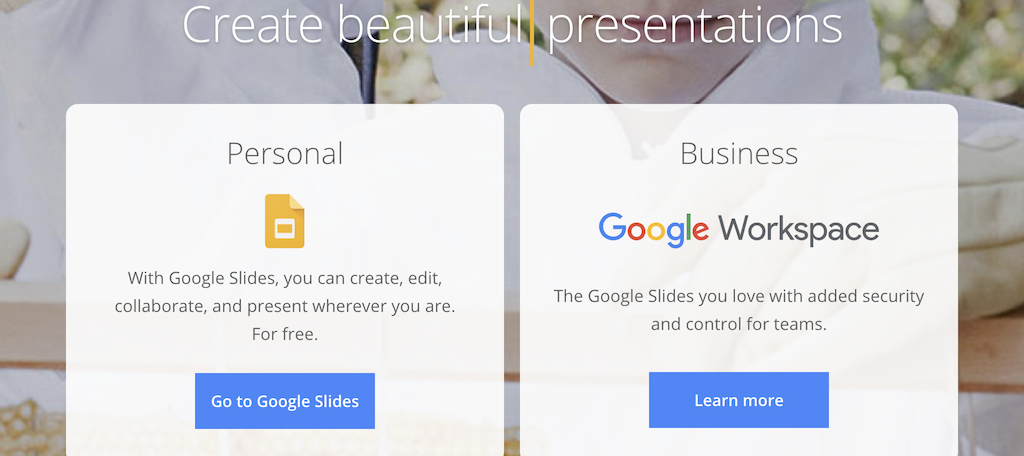 Google Slides makes our list because not only does the platform allows you to create beautiful, interactive presentations, but it also allows for amazing and easy collaboration.
This platform is actually centered in and around the Google Workspace family of apps.
This presentation platform works as part of the rest of Google. This means you actually build and create inside your browser. If you have ever worked with PowerPoint, then you will have a pretty good idea of how Google Slides works and operates.
The app excels not for the amazing tools and features you get access to (there are plenty), but because it was designed around the thought of collaboration. The platform makes it very easy for users to collaborate together and create presentations.
It also has something called a Q&A tool. This built-in tool allows you to make your presentation more interactive. You simply turn the option on, and it adds a banner with a link to the top of your presentation. Visitors can use this link to ask questions and interact.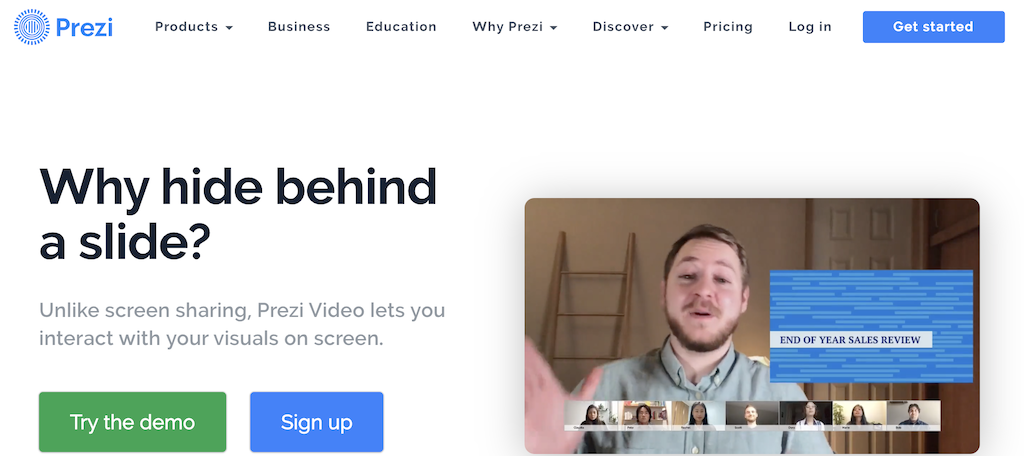 Another one of the best presentation software platforms out there today is Prezi. This platform is quite a bit different from the others on this list. It actually allows you to create and present slideshow presentations in a much different way.
The alternative layout and presentation idea behind Prezi is that you have the ability to create an animated, non-sequenced, flow of topics and sub-topics. All of these animations and topics only show when you zoom in and, until then, remain hidden to the audience.
Prezi has a little bit tougher of a user interface to get used to, and the learning curve is a little bit steeper than other presentation tools on this list.
That being said, it does provide a very unique option for creative use that no other presentation software platform on this list can provide.
Ludus is arguably the best-looking presentation tool available today. The platform provides users a clean black screen to edit on. Furthermore, the number of integrations and importing capabilities allow you to create and build almost any type of content you can imagine.
Photography, .svg, code builds, video, you name it, you can probably pull it off with Ludus. The platform is very easy to use and gives users the ability to build and design using a set of keyboard shortcuts.
Once you learn them, then you can create beautiful presentations pretty rapidly.
One thing Ludus doesn't have that some of the other presentation software platforms on this list provide is templates. You have to start the build from scratch.
That being said, it gives you a lot of creative freedom and also gives you the ability to create something called "Smart Blocks." These are blocks that you can build and store in a library to use and customize over and over.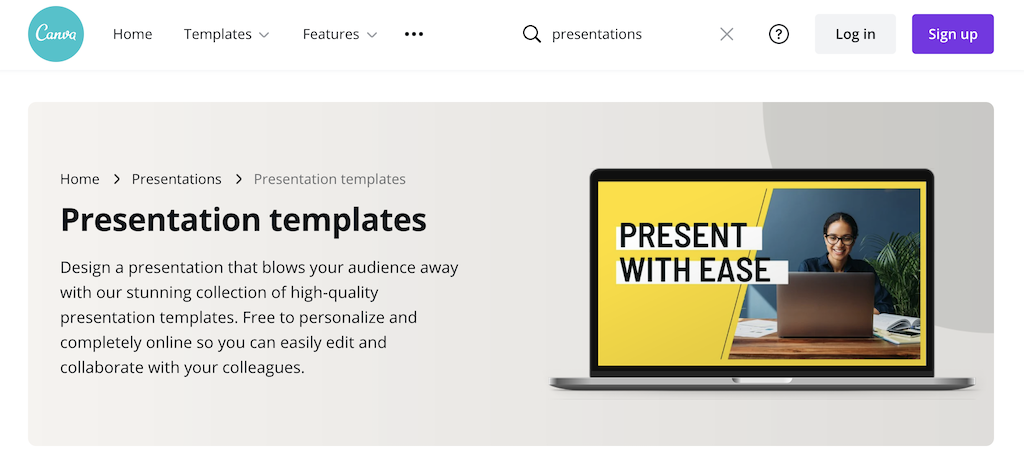 The idea behind Canva is to offer very easy-to-use services across the board. Whether it is design, presentations, or otherwise, Canva offers a massive template library with thousands of elements built in.
The interface is very easy to use and you are provided with a drag and drop layout that allows you to design and create anything you want. You will not need any sort of coding knowledge to create slideshow presentations using Canva.
The one drawback of the platform is that editing the slides and templates can be time-consuming. However, it is still worth a look, as Canva gives you access to a very large library and lots of features for free.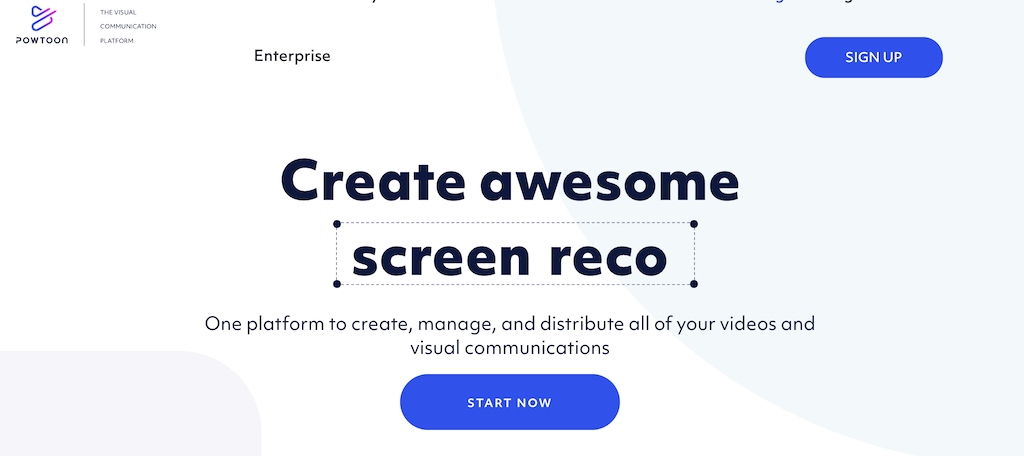 Powtoon makes this list because if you need to create a professional video presentation and you don't know where to start, they provide everything you need and more to get the job done.
You can customize and edit every aspect of a slide. But when you play it back, Powtoon presents it in a way that is a video presentation with animations moving throughout.
The idea is to create an animated video explainer presentation that keeps audiences involved and interested. The Powtoon platform configures all the layouts and timing automatically.
Also, one of the more unique and interesting features Powtoon provides is the ability to orient your video.
What this means for you is that you are able to choose horizontal orientation, which would work best for a normal presentation. Or, you can choose vertical orientation, which would work best for mobile presentations.
You will even have the ability to choose a square orientation, which works perfectly for social media.
Rounding out our list of the best presentation software platforms is Haiku Deck. Originally launched as an app for iPad in 2011, Haiku Deck has now transformed into a fully functioning presentation software platform.
It provides users with a ton of great tools and features.
The interface is very intuitive (which as we know is important), and it also provides users with a lot of nice templates to build from. Even if you choose not to use one of the templates to build, they have a system that makes content input clear and easy to learn.
Their app is still very good, so you have that option with them as well. Give them a peek as part of your presentation software rundown.
What Makes the Best Interactive Presentation Software?
Presentation software has really evolved over the last couple of decades. From initial simplicity to advance software that offers tons of tools and features, these systems will continue to evolve.
That being said, in my opinion, there are three main aspects that make up the best interactive presentation software.
Ease of Use
As is the case with most anything, people want to know how easy it is to use, navigate, and understand. If the software platform has an intuitive interface that is easy to use and easy on the eyes, then chances are it is going to be very popular.
People don't want a platform that will require extensive training to use. They want a platform that everyone can use and manage with relative ease.
Combine this with the amount of time it takes to create a presentation, and you have a much lower learning curve that a lot of users will hop on.
Customization
Right behind ease of use is customization. The ability to customize a presentation even down to the smallest detail carries a lot of weight.
Of course, customization options will vary based on the platform. Some will allow you to customize slides and other graphic info, while others may take it further and allow you to customize elements, font size, and even the code.
Make sure the presentation software you end up choosing has a lot of customization options, as this will open up a lot of design avenues for you to explore.
Final Product Results
The final result is the most important aspect of the entire presentation. If you use a platform that gives you good features but a poor final result, then you are only hurting yourself in the long run.
What you are looking for is a smooth, clean, professional final result. You want to be able to accomplish this without a lot of technical skills.
Other important questions to consider when trying to finalize your presentation software choice include:
Overall pricing and budget?
What is the program geared toward?
Are there templates?
Is there an extensive graphic library?
Can you embed content and gifs?
Are you able to add music?
Can elements be animated?
Is it desktop or cloud-based?
Can presentations be viewed offline?
How easy is collaboration?
How easy is it to share the presentation?
Are there analytics and custom reports?
How is the security?
Conclusion
Remember, presentation software has come a very long way. The best slideshow software for your company may not necessarily be the best one for another. This is why it is important to take your time and try out a few different ones available.
Not only will this help you break your choice down and make it easier, but it will allow you to experience different platforms and figure out which one works best for your situation.
You can't go wrong with any of the presentation software platforms on the list above. They all have the tools and features necessary to build and create fantastic slideshow presentations.
Enjoy your search!