Every website is trying to make money, and one of the best ways to do it is by using affiliate links in WordPress. However, trying to keep track of every one of these on a larger website without some tool, is a nightmare. Instead, you should use a WordPress affiliate plugin.
That's why I have assembled a list of the best WordPress affiliate plugins to use in 2023.
What Is An Affiliate Plugin in WordPress?
An affiliate plugin is designed to manage affiliate links on your website. This includes tracking their location, performance, create shareable links, set up redirects, and much more. If it's related to an affiliate link, these plugins do it.
When you first start a website, you might not see the need of having an affiliate manager. After all, it's not that hard to manually track a handful of links. However, the story changes when you have hundreds of posts with unique affiliate text and banners.
Not using a tool could result in hours of work, and website owners do not have that kind of time.
Instead, using an affiliate manager will not only save you time but increase profits. Understanding which links perform the best on your website is critical to planning and with the analytical features of some of these tools you can do just that.
Thus, regardless of if you only have a single affiliate link or a hundred, I highly recommend having an affiliate plugin for WordPress.
Yet, this is only one type of affiliate plugin. Others exist that will allow you to create your own affiliate program. They include the ability to generate affiliate links and track when purchases are made and send out commission payments.
This list will include both types.
The Best WordPress Affiliate Plugins to Use in 2023
1. MonsterInsights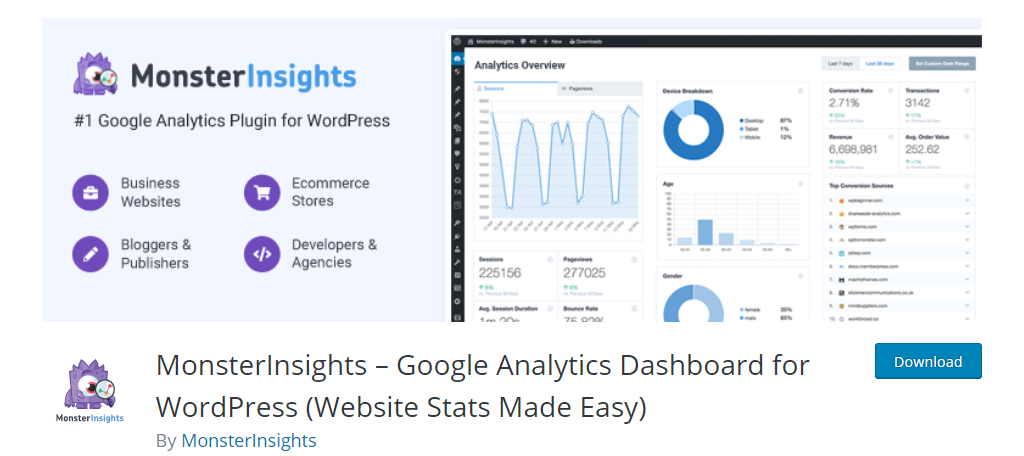 MonsterInsights is one of the most popular plugins in WordPress with over 3 million active installs. While its main purpose is to help connect your website with Google Analytics, it also has a suite of affiliate tools.
As a result, it's an amazing WordPress referral plugin to use in 2023.
Just like how you can view Google Analytics data from your dashboard, you can also view affiliate data. You can see how much traffic links get and identify successful and unsuccessful affiliate links at a glance.
One of the key advantages is how it collects affiliate data. Instead of doing everything on your site, it uses Java to collect and send the data to Google Analytics. This prevents impacting your website's performance and keeps speeds fast.
2. Pretty Links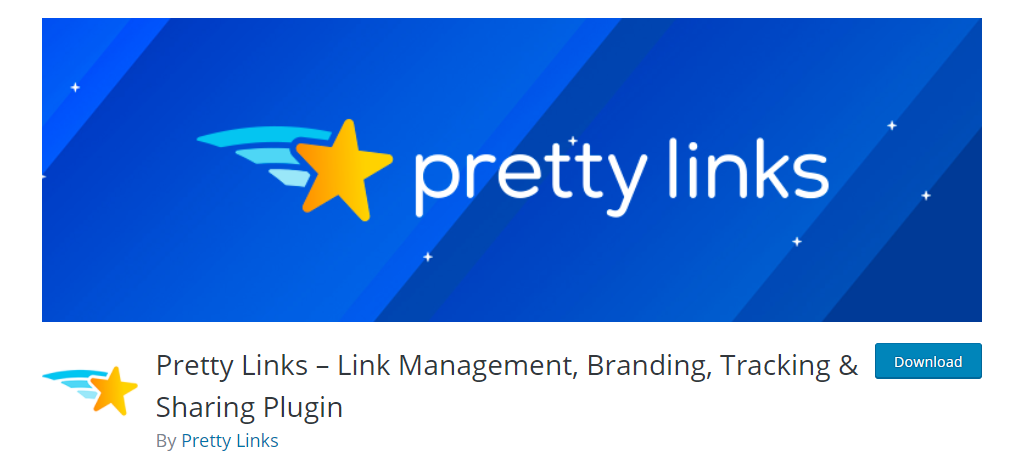 Pretty Links is a powerful tool for affiliate links. Not only does it shorten the links, it excels at managing them. That said, some of its features, such as its URL shortener, can be used for more than just affiliate links.
Therefore, it's a powerful too that all websites can take advantage of.
As its name suggests, it makes links "pretty." Or to put it another way, makes them short. Anyone who has seen a raw affiliate link knows that they are extremely long and messy. This plugin shortens them and can even help conceal or make them sharable on social media.
It also has affiliate tracking tools that help you identify how these links are performing. If you upgrade to the pro version, you can even have it automatically add affiliate links anytime you use a specific keyword.
It's very powerful and feature-rich.
3. Amazon Affiliate WordPress (AAWP)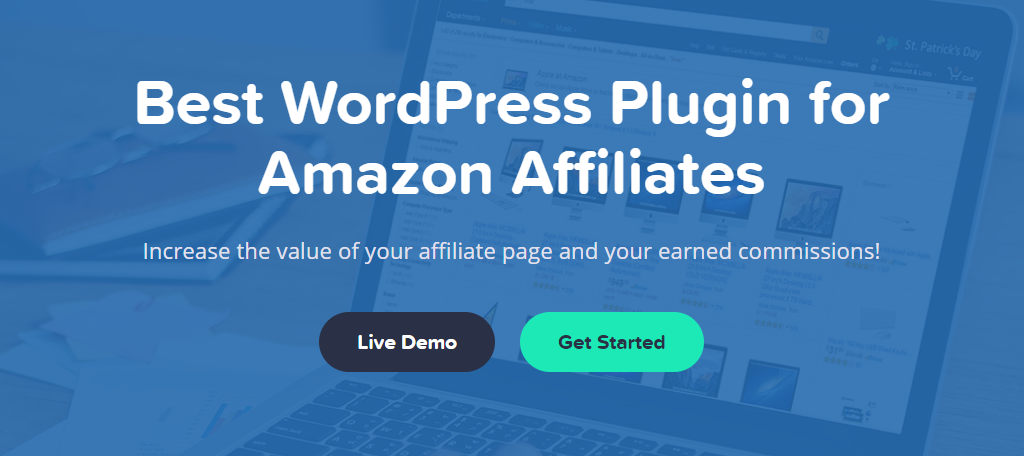 AAWP is a premium plugin designed for websites that focus on the lucrative Amazon affiliate program. And yes, this plugin focuses exclusively on Amazon affiliate links. So if you hope to manage others, this plugin probably isn't for you.
With that said, Amazon really is the only affiliate program you need.
This plugin really helps you integrate WordPress with Amazon by allowing you to sell from bestseller lists with Amazon product boxes, and the same applies to new products.
And you can keep track of analytics directly from your website.
On top of this, all of these features can be added to your posts and pages. Or, you can use the plugin's widgets to display them on the sidebar. This is highly effective because visitors will be able to see these products on any page.
4. ThirstyAffiliates
ThirstyAffiliates is a great choice for websites that are seeking to shrink affiliate links to improve shareability. It also provides a host of other features like sending affiliate data directly to Google Analytics.
And since just about every website uses Google Analytics, it fits in everywhere.
This is probably the simplest plugin on the list in terms of usability. All you need to do is add your affiliate link into the plugin, and it will shorten it for you. Afterward, the link is ready to go.
The data is then collected and sent to Google Analytics.
That said, it also adds analytical tools directly in WordPress. Therefore, you can view all of the important information without leaving your websites. Simple is truly better in most cases, and this is no exception.
5. Affiliate for WooCommerce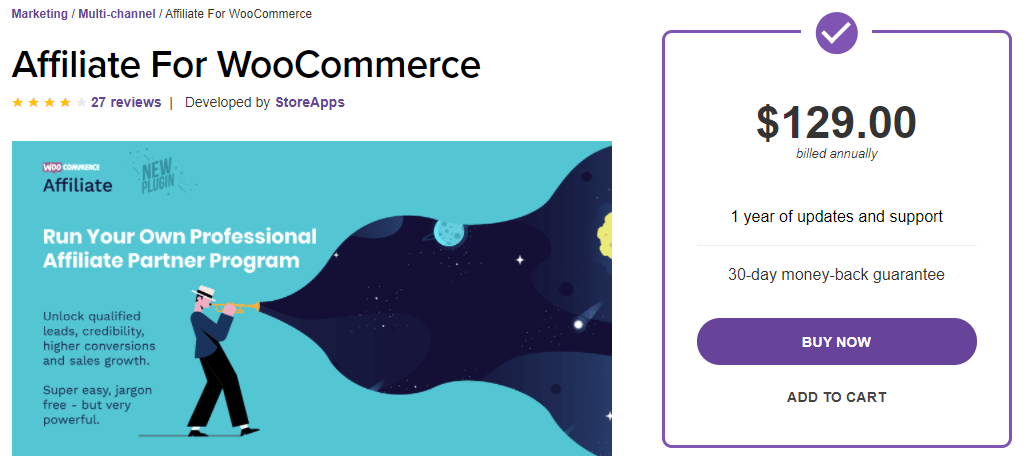 Have you ever considered starting your own affiliate program? If so, you've probably already discovered it can get pretty complicated. However, if you run a WooCommerce shop it doesn't have to be with the Affiliate For WooCommerce plugin.
This WooCommerce affiliate plugin was specifically designed to build an affiliate program of your own.
While this concept won't appeal to new stores, it is worth considering once you build your brand. There is a reason every major storefront or business has an affiliate program after all.
And that's because it gets results. Getting your store and products advertised by an influencer for a small commission is well worth the cost. This tool allows you to hand out affiliate links and coupon codes to those who would help you sell the goods.
6. Affiliates Manager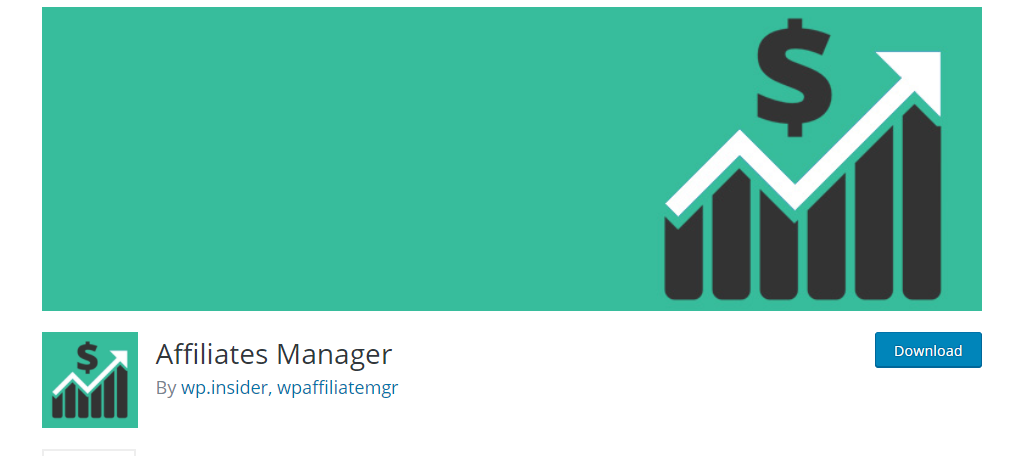 Affiliates Manager is another great choice if you're looking to build your own affiliate program. And unlike the last option, this plugin is completely free, although it does have fewer features.
However, it's perfect if your testing how successful running an affiliate program can be.
The main difference with this tool is that it is not limited to WooCommerce. Instead, it supports a variety of other platforms like WP eCommerce, Jigo Shop, Stripe Payments, and many others. If it's on WordPress, this plugin can help.
One of the most useful features is that all affiliate data is available in real-time. That means the moment one of your affiliates makes a sale, you can view it on your end. And you can fully control how pay rates are handled. It's a comprehensive affiliate program creation tool.
7. Amazon Auto Links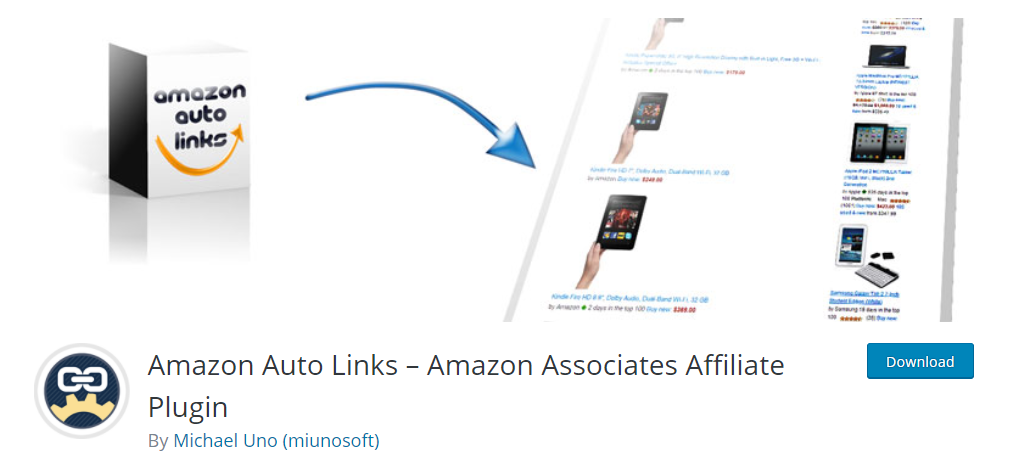 Amazon Auto Links is a free option for websites that want to properly manage their Amazon affiliate links. As the name may suggest, it has a lot of automated features, which can really save some time.
And let's be honest, that's the main purpose of using a WordPress affiliate plugin.
With it, you can search for a specific category on Amazon and the plugin will provide products with affiliate links you can use. You can also search for specific products and get the necessary affiliate link for them.
One of the really cool features of this plugin is the ability to display a product in any post. And no, it doesn't require a shortcode. Instead, you just need to paste the product URL and it will display.
It doesn't get any easier than this.
8. YITH WooCommerce Affiliates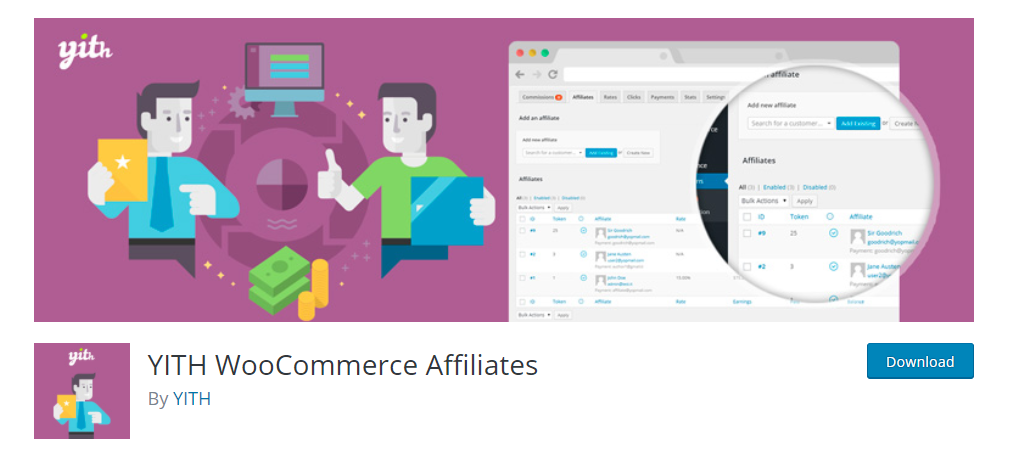 YITH WooCommerce Affiliates is another excellent choice to consider when you want to build your own affiliate program. And as you may expect from the name, it focuses on building an affiliate program through WooCommerce.
And did I mention it is completely free to use?
To put it simply, the plugin will save all of the referral IDs in a query string. Every time a purchase is made using that ID, the commission is sent out to the affiliate. It's simple but highly effective.
Cookies are created as well.
This ensures if a purchase does not happen during the initial visit, that affiliate will still receive credit if the visitor changes their mind. Affiliates simply need to register on your website and they can begin adding links to their own.
9. Easy Affiliate Links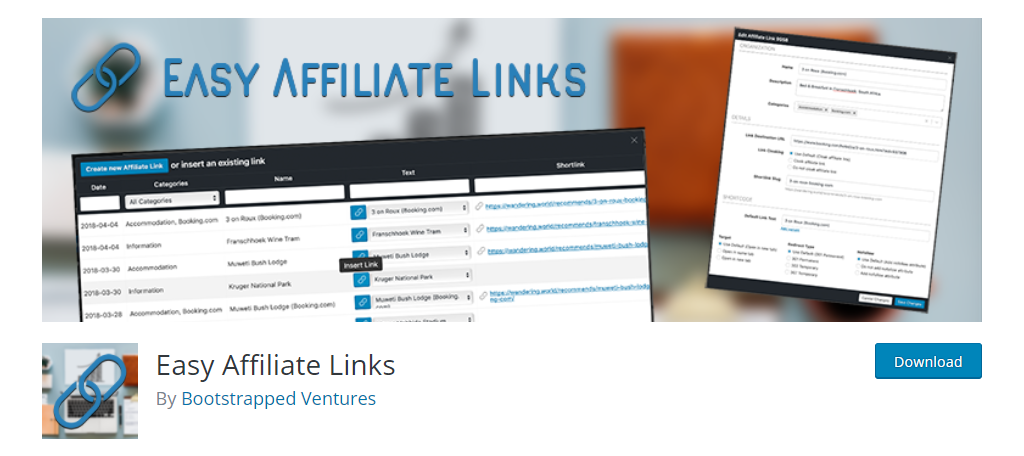 Closing out this list is the Easy Affiliate Links plugin, and as its name suggests, it's really easy to use. In fact, it's one of the best picks for beginners, so don't let its placement fool you.
Since it's so simple, I'll walk you through the process.
Install the plugin, enter affiliate links, go to any post or page, click on the Easy Affiliate Links icon, and choose which affiliate link to use. That's really everything you need to do.
It's even compatible with both Gutenberg and the Classic editor.
The only negative with this tool is that the analytical side of the plugin is locked behind the premium version. Thus, if you want to keep track of how the links are performing, you either need another tool or you're going to have to upgrade.
You Must Let Your Audience Know It's An Affiliate Link
In the early days of affiliate marketing, affiliates used some questionable tactics to stealthily make affiliate sales. That doesn't fly in 2023. Instead, the FTC requires you to fully disclose affiliate links on your website.
This is a legal responsibility that all websites must follow, so no, it's not optional.
And it's not just websites, even platforms like YouTube have to follow it. In fact, this is why your favorite YouTubers mention if there is a sponsor for the video right at the start and include a "Paid Promotion" identification.
There are two acceptable places to place these disclosures on a blog. At the top of the blog post that contains an affiliate link (yes every single post or page), or mentioning that the link is an affiliate link in close proximity of the link.
Perhaps one of the easiest ways is to show a "Disclaimer" box in the sidebar, if your theme has one. This way, the promotion identification is seen on every page at all times.
So what can happen if I don't disclose an affiliate link?
If the FTC learns about it, you will normally be issued a warning first. If you continue to do it, this can result in a cease and desist notice and even a fine (very extreme cases). You could also be removed from the affiliate program entirely.
Install A WordPress Affiliate Plugin Today
Affiliate links provide extra income for websites and can even be the focus of content like reviews. They are an important aspect of any modern website and properly managing them is essential. And to do this, you are going to need a tool.
And if you're on the storefront side of things, creating an affiliate program of your own can help improve sales. The better your affiliate program, the more likely you are to attract bigger influencers. It's a win-win situation.
This list contains the best affiliate plugins WordPress has to offer, but let us know in the comments if we missed your favorite.