The ultimate goal of most websites is to make money. And when it comes to making money with a website, there are a ton of ways to do it. However, perhaps one of the most lucrative and easiest methods is affiliate marketing, and there are plenty of themes that can help.
For those unaware, affiliate marketing is when a site includes a link that leads to another site's product or service. And if that visitor makes a purchase while using that link, the website owner gets a small commission from the sale.
These commissions can add up fast when you have thousands or even millions of visitors, which is why it is one of the best ways to make money in WordPress.
It is especially effective when you include affiliate links for products your visitors would enjoy.
Today, I will share 21 themes that are perfect for affiliate marketing in WordPress.
If there's one thing I can say confidently, it would be that Astra is easily the best theme in WordPress because it does everything exceptionally well. Affiliate marketing is no exception to this rule.
It sports a drag-and-drop page builder that allows you to craft pages and posts exactly the way you want, which means you can build them to show off your affiliate products in the most eye-catching ways you can imagine.
It's also worth pointing out that due to Astra being the most popular theme in WordPress, nearly every affiliate plugin is compatible with it. Thus, it really is one of the best choices in terms of design and function.
Benefits of Using Astra
Gain access to over 240 pre-built websites
Excellent site performance with nearly perfect scores amongst site performance tools
Includes a header and footer builder
Seamless integration with WooCommerce
Responsive design ensures your website looks good on any device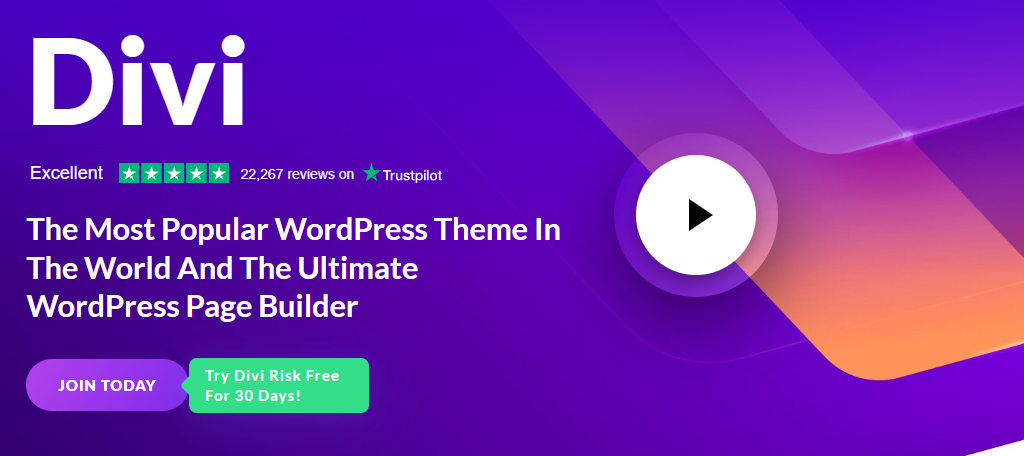 When it comes to amazing affiliate themes for WordPress, Divi stands among those at the top. It is an excellent multi-purpose theme that can build any kind of website with its drag-and-drop page builders.
This gives you complete freedom over the design of your website, which can be used to build areas exclusively for affiliate links and products.
Of course, you don't have to build anything from scratch if you don't want to.
Divi is home to a robust selection of pre-built websites with several being ideal candidates for affiliate marketing. You can choose from 200 pre-made websites and utilize over 200 pre-made elements to customize them.
Benefits of Using Divi
Add hover effects to your affiliate links
Add shape dividers to banners and sections
Apply filters and effects to any page
Gain complete control over shadows
Excellent site performance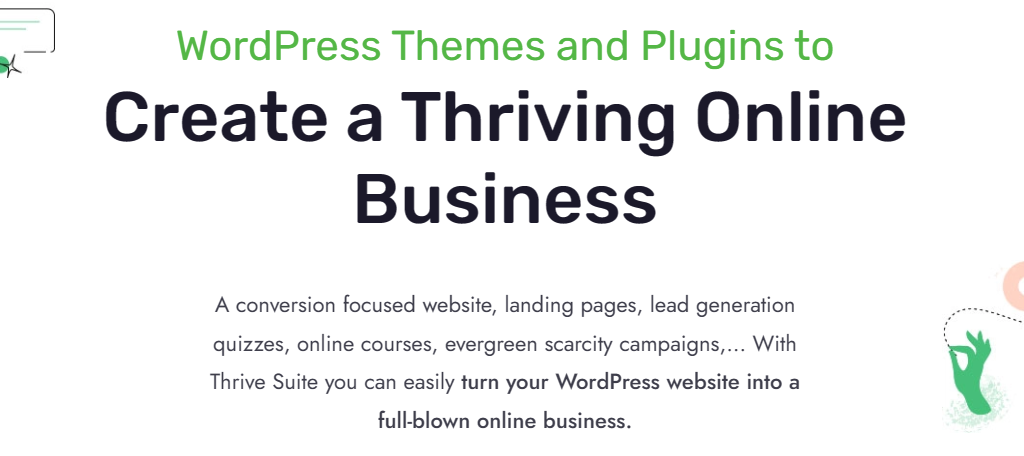 When it comes to lead generation and affiliate marketing, Thrive Themes really has everything a website could need. It comes equipped with a variety of tools focused on these very areas.
For instance, landing page templates are designed with lead generation and affiliate marketing in mind. They offer dedicated areas to display the links and products you are showing off as well as a slew of other tools.
Once such would be the built-in signup forms that you can use to increase your email subscribers. These emails can also be used to add affiliate links.
Of course, it also has excellent design options, thus it is really the best of both worlds.
Benefits of Using Thrive Themes
Supports all types of opt-in forms
Create quizzes that can be used to see what kind of products your visitors are interested in
Create and sell online courses
Utilize FOMO marketing to increase sales and conversions
Compatible with popular plugins and third-party services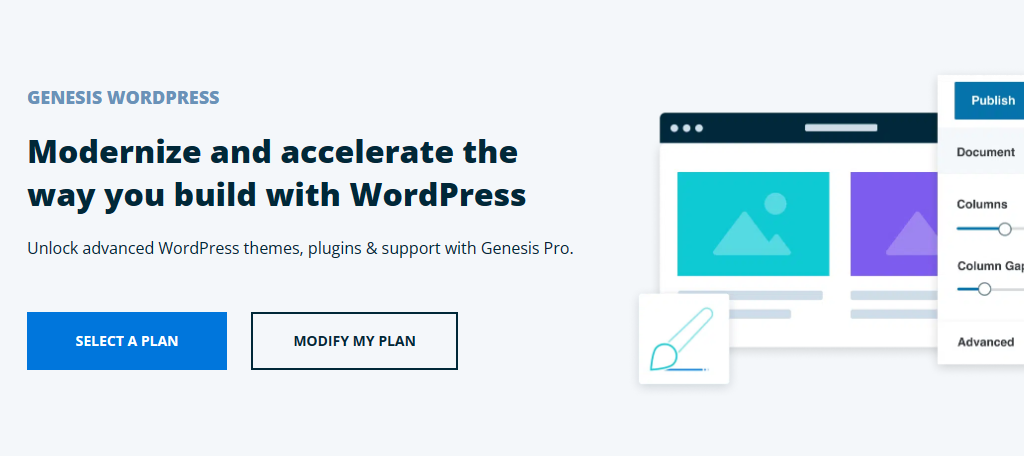 Genesis is a unique case because while it is a theme, it is more or less a framework for themes to follow. This is often why so many themes boast being built on the Genesis Framework. So what makes it so great?
It utilizes a modern design to allow you to craft any kind of website using optimized code for the best performance possible. It uses a block-based design with multiple pre-made blocks you can use to build a website fast.
They are highly customizable and reusable, so you can easily create a block for an affiliate link and reuse it throughout your site or customize it for another link or product.
Genesis is one of the best "themes" in WordPress, which is why so many use it as a base.
Benefits of Using Genesis
Optimized for search engines to help boost traffic
Gain access to 24/7 support that can help troubleshoot
Includes a fully customizable sidebar area
Easily change your color scheme
Gain access to a variety of custom blocks
When it comes to choosing the best themes for affiliate marketing, Clipper is easily one of the best as it was designed specifically for showing off coupons and deals for other websites.
As such, it is naturally made for affiliate marketing and showing off products and deals for other websites. Now, its actual focus is on coupons, which provide several unique tools that make it one of the best.
For instance, it has a dedicated store directory that you can use for customers to find coupons from their favorite stores. The coupon codes are hidden and just require a click to reveal. And each one can be easily copied for easier usage.
Benefits of Using Clipper
Includes link cloaking and tracking features
Create your own custom email templates
Allow visitors to share coupons that you can post on your site
Create personalized dashboards so customers can view what will be useful to them
Easily change the sites color scheme
SeedProd is another unique case because it is technically not a theme, but instead, a theme-building plugin. Instead of being limited by pre-made designs, SeedProd puts you in the driver's seat and allows you to build your own theme from scratch.
Now you may think this would require a lot of code to achieve, but you would be wrong. It's as simple as using a drag-and-drop editor.
With it, you can easily create your own page designs that are perfect for showing off products and affiliate content.
You can even combine your affiliate deals with FOMO marketing as this tool allows you to create timers for your content. It is a highly effective marketing technique that can do wonders for your conversion rate.
Benefits of Using SeedProd
Includes over 80 pro blocks
Gain access to powerful anti-spam tools
Utilize pre-built sections to make building pages more efficient
Includes pre-made maintenance and 404 pages
Create a sales funnel with WooCommerce
Blurb is another amazing affiliate marketing and coupon-based theme. That said, it also has great potential for blogging, so it can really do a lot of things if you need it to. And most importantly, it is really easy to use.
It has a lot of specialized features that are perfect for affiliate marketing. These include showing affiliate product details, a coupon code finder, allowing customers to add products to their wish list, market comparison, and much more.
In terms of design, you can make the website look however you want with a great selection of customization options. And you can even use a page builder plugin like Elementor for even more options.
Benefits of Using Blurb
Create highly customizable sliders
Utilize product carousels to showcase products
Excellent responsive design ensures everything looks good on mobile devices
Take advantage of a variety of pre-made content
Allow users to leave reviews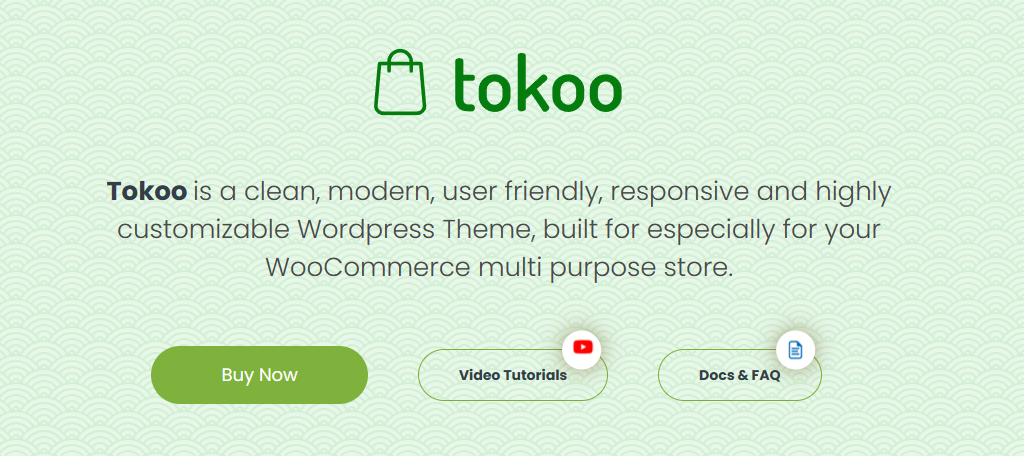 Tokoo is another eCommerce theme that was built with affiliate marketing in mind. It has several features that are perfect for getting more clicks on affiliate links and an excellent design to boot.
Speaking about the design, it boasts a storefront layout that gives your products and other content the room they deserve. It has less white space than a minimalist theme, which keeps visitors' eyes on your content.
You'll be able to choose from 5 unique homepage designs, 17 custom blocks, and 4 different header styles to build your website the way you want it.
Overall, Tokoo is an amazing theme to consider when pushing affiliate content.
Benefits of Using Tokoo
Compatible with Elementor
Choose between 6 color schemes or create your own
Utilizes the Algolia search for quicker results
Import demo content in a single click
Supports a multivendor environment
When it comes to free WordPress themes for affiliate marketing, Pressbook Media is one of the best. This theme was built for businesses and affiliate marketers alike and has a host of features you are sure to find useful.
In terms of design, it sports a modern format that is perfect for highlighting the latest news for your business, or for showing off the latest products or posts. This makes it easy to share affiliate content with visitors.
You'll also be able to choose between a light and dark color scheme.
There is also a lot of room for CTAs like "Request A Quote" buttons, or FOMO timers, which are great for affiliate marketers.
Benefits of Using Pressbook Media
Utilize a sticky floating sidebar
Easily change the color scheme of your website and buttons
Compatible with major page builders like Elementor and Divi
Translation ready with RTL support
Mobile responsive design enables any device to view the content
REHub is another premium eCommerce theme that offers users a variety of excellent tools for their storefront including many that are suited for affiliate marketing, not to mention, it has an excellent design.
In fact, let's focus on design for a moment.
It has a great selection of tailor-made demo sites that are perfect for all kinds of niches like selling online courses, online stores, review websites, coupon sites, and much more.
No matter what site you want to build, there is an excellent demo site that you can use to get started. And you'll have lots of options to customize it including access to a dark mode.
Benefits of Using REHub
Supports AMP for faster load times
Easily import the demo content in a single click
Use the Listing Builder directory to create listing pages
Create comparison charts for your affiliate products
Gamify your deals to better engage your audience
OceanWP is another multipurpose theme that just excels at everything it does, and affiliate marketing is no exception. It has fabulous design options and an impressive selection of demo sites tallying over 220.
All of this demo content just takes a single click to install. Many of the demo sites are perfectly suited for affiliate marketing and just about anything else you could imagine. That said, you are free to build your site from scratch.
The theme has excellent customization options that you can use to build anything, and you can even use your favorite page builder to help. This will make it easy to create a website that is perfect for showing off affiliate content.
Benefits of Using OceanWP
A fully responsive design ensures the website looks great on any device
Translation ready with RTL support
The beginner-friendly design ensures that it's perfect for all users
Use global options to control fonts and typography
Choose from 7 header styles
Many affiliate marketers focus on a specific niche, and perhaps one of the most popular is electronics. This can range from anything like computers or smartphones to printers or cameras. And if this is your focus, the Techmarket theme can help.
The theme was built specifically for an electronics online store, but there is plenty of room to also advertise other sites' electronics. That said, you can use it for online stores that don't focus on electronics.
As you probably expect, it is compatible with WooCommerce for even more storefront options. In terms of structure, it offers a sleek modern design that is perfect for keeping the attention of the products.
Benefits of Using Techmarket
Show off product categories in a carousel
Create a store directory to easily show off products from other stores
Includes access to 7 other store demos
Includes Wishlist functionality
Integrated with Google Fonts and Font Awesome
Ultra is another multipurpose theme that excels at just about everything it does. This means it is a natural candidate for any site looking to focus on affiliate marketing. And it has a lot of templates that are well-suited for it.
In fact, it has a pre-made site for just about any niche, which just makes it a good pick no matter what you are building. It also comes with 12 plugins which range from things like sliders to countdowns and progress bars.
It also has pre-made layouts that you can use to build your own site or customize an existing demo. Again, there are just so many options available that you'll never run into a limitation other than your own imagination.
Benefits of Using Ultra
Choose from over 17 header styles
Includes section scrolling so visitors get the whole message
Create beautiful mega menus
Use popular page layouts like grid, mansory, and more
Create animated background colors
When it comes to the best affiliate themes for WordPress, Iffiliate may just be the most promising. It was made for affiliate marketers and has all of the core features you'll need to be successful.
For instance, it has several templates that are well-suited for a variety of affiliate marketers that want to focus on niches like book sales, VPNs, furniture, web hosting, and just about any other niche you can imagine.
It also has built-in support for multiple vendors, so you really have the option to include all of your favorites. It also has tools to help create blogs that are perfect for including affiliate links or reviews of affiliate products you created yourself.
Benefits of Using Iffiliate
Compatible with the WooCommerce Amazon Affiliates plugin
Create mega menus and primary menus
Create affiliates for online courses
Translation ready
Templates available for most affiliate niches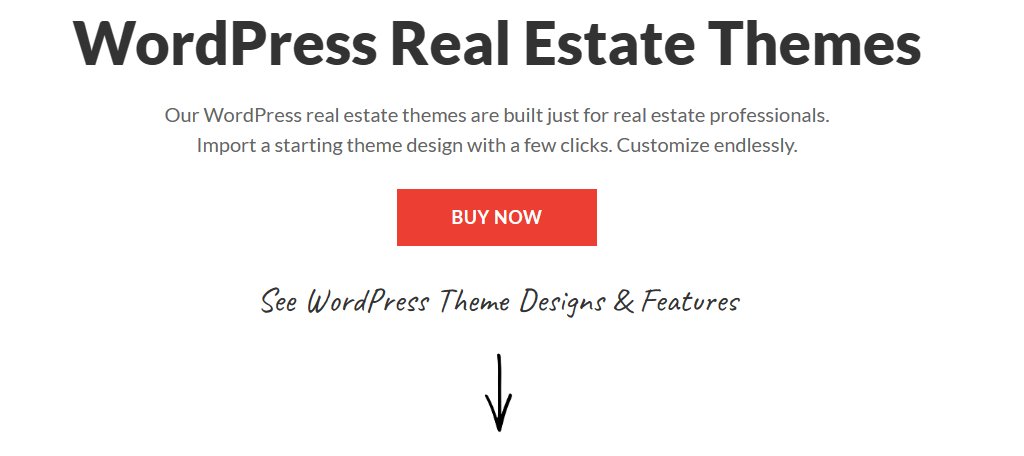 When many people think about affiliate marketing, they think of selling products or services, but what about property? It is possible to build a site around real estate affiliate marketing, and the WP Real Estate theme is one of the best options.
You'll essentially be the middleman that leads the customers to the real estate agent, and you'll get a nice commission when a sale is made. This theme can help you get started quickly by providing multiple demo sites that you can utilize.
WP Real Estate also seamlessly integrates with the WordPress Real Estate plugin, as it is made by the same team. This allows you to easily create listings for properties and apartments. Overall, this is the best option when it comes to real estate affiliates.
Benefits of Using WP Real Estate
Has excellent blog layouts to write about the property
Gain complete control over what pages your sidebar appears on
Choose from several unique site layouts
The theme offers great performance thanks to clean code
Easily import any demo content
No matter what you are in the business of marketing, the Marketing Pro theme is among the best option available. It has a robust selection of tools that are ideal for affiliate marketing.
Not to mention it has excellent design options. It has a variety of demo sites that you can use as the base of your website that are great for a variety of topics. And you can install any of them with a single click.
For example, you can create beautiful sliders that can be used to showcase affiliate products.
It also comes with a variety of pre-made opt-in forms that can be used to build your email subscribers for even more affiliate link opportunities.
Benefits of Using Marketing Pro
Choose from 6 unique header options
Utilizes an SEO-friendly design
Choose from over 700 Google Fonts
Translation ready
Seamless WooCommerce integration
Perhaps one of the most popular niches in affiliate marketing is fashion. Everybody needs clothes, and building a website around affiliate marketing for the latest fashion trends is a surefire way to make money.
There is no better theme than Silk for building your website. It offers a stylish modern design that lets the products stand out from the white background. That said, you are free to change the background color to whatever you want.
It also has social media integration, so you can send out your affiliate links on your favorite social media platforms, or have your visitors share them for you. Overall, it is a terrific theme with a lot of great features to take advantage of.
Benefits of Using Silk
Display your Instagram feed that contains your products
Include subtle animations to help entice visitors to products
Choose from a variety of stylish fonts that are sure to impress users
Gain access to premium customer support
Excellent mobile design
If you are in the market for the best affiliate marketing themes for anything related to gaming, look no further than Cloux. This theme was built for everything gaming including reviews, eSports coverage, and much more.
Naturally, it is perfect for displaying affiliate links for video games, controllers, gaming merch, and just about anything else. It has a game listing feature that allows you to list all of the games you may be covering or have reviews for.
It also includes excellent tools for reviewers like scorecards for the bottom of your reviews. They include the actual rating out of 100 and progress bars for specific topics like gameplay, graphics, story, etc.
Overall, it's one of the best themes you can use for a gaming site.
Benefits of Using Cloux
Use BBPress to build forums
Includes an excellent search system to find any game
Translation ready
Integrates with MailChimp for powerful email affiliate marketing options
Sell your own products to visitors with WooCommerce support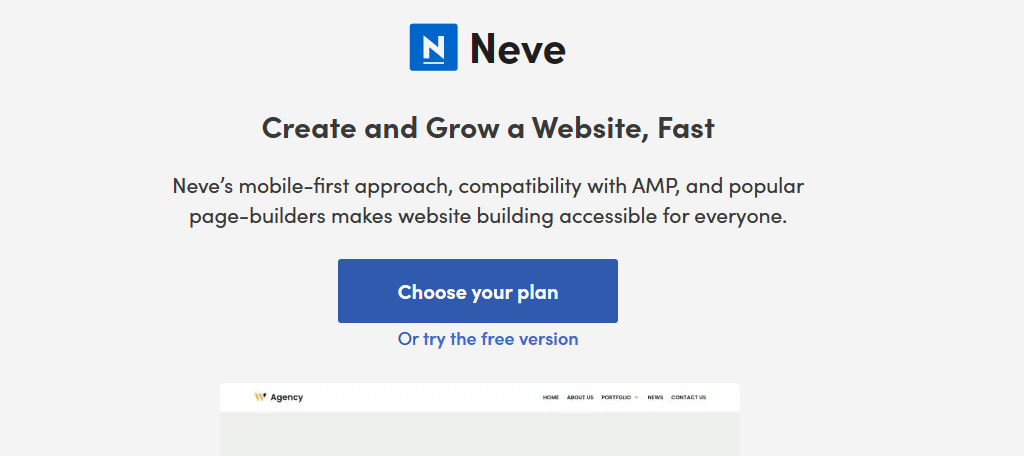 Looking for a theme that can do anything? If so, look no further than Neve. This is a multipurpose theme that has a starter site for just about any niche. And you can easily install them in a single click.
This includes several that are perfect for online shops and affiliates. Naturally, it is fully compatible with WooCommerce to meet all of your shopping needs, and its lightweight design ensures that it provides excellent performance.
It's also worth pointing out that there is a free version of this theme you can use. No matter what kind of site you are building, it will look like a professional made it with a great selection of design options at your fingertips.
Benefits of Using Neve
Create your own unique header or footer areas
Supports most major page-building plugins for even more options
Change colors on a global level
Includes access to over 100 starter sites
Utilize video tutorials to show you how to use the theme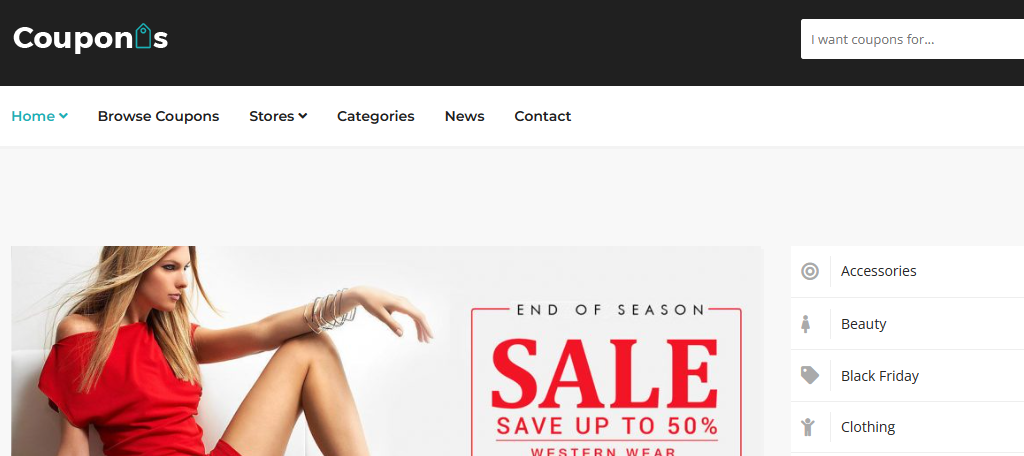 Couponis is one of the best themes for affiliate marketing. As you might have guessed from its name, it is a theme built for coupon sites, thus naturally, it is perfect for affiliates.
It gives you access to a visual drag-and-drop page builder for you to style your own site.
One of the more unique features would be the ability for users to submit coupons they found. You can then use this info to add them to your coupon directory to improve your offerings.
With a stunning design and an incredible selection of features, Couponis is certainly a theme worth checking out.
Benefits of Using Couponis
Import demo content in a single click
Translation and RTL ready
Allow visitors to sign in using their social media accounts
Create coupons that are for a specific time period or forever
Utilizes a smart search to help visitors find what they are interested in
Closing out this list is the incredible Yozi theme. It is a multipurpose eCommerce theme suited to build any kind of online store you want. That said, many of its templates are suited for electronics, which is safe to say is its specialty.
You'll have access to 8 unique homepage designs, over 5 header designs, and many other options. Thus, you can really put together a stylish online storefront. And the best part is that it is extremely intuitive to use.
As you probably expect, it is fully compatible with WooCommerce, so you can easily sell your products and effortlessly create affiliate links. Overall, it's another great option to build an online shop with that wants to focus on affiliate marketing.
Benefits of Using Yozi
Free premium support that can answer all of your questions
Easily create your own product catalogs
Translation ready with WPML support
Includes a pre-built 404 page
Gain access to unlimited colors and Google Fonts
Are Themes Actually Important For Affiliate Marketing?
This might sound odd after listing 21 themes, but not really.
You see, WordPress is a versatile platform that is home to tens of thousands of plugins. Many of these plugins specialize in affiliate marketing, which ends up doing more of the heavy lifting than the themes themself.
Any theme in WordPress can be used for affiliate marketing with the right plugin. The main difference would be that the above themes have sections that were built specifically to show off affiliate products and links, which can help boost conversions.
Again, this can be achieved by using a page builder plugin. Using one of the above themes can save you some time as they have all of the features you will need built-in and are ready to go.
Make Sure the Affiliate Products Fit Your Audience
Even if you are using the best affiliate marketing theme in WordPress, it won't mean much if you are trying to push products that your customers are not interested in.
For example, if you run a video game news website, trying to push home appliances in your affiliate links isn't going to go over so well. Instead, make sure the products reflect your website's content and flow naturally into any content they are placed.
If you can accomplish this, your website is sure to be successful at affiliate marketing with one of these themes.
What kind of plugins do you use to help with affiliate marketing? How important is your theme when it comes to affiliate marketing?