The WordPress database is like the brains of your WordPress site. It contains all of the information and tells the website how to use it. For this reason, it is extremely important that every website manages the WordPress database with a plugin.
Doing so can lead to several benefits for your website like increased performance, less space being taken up on the web server, and several other key features.
The problem is that there are a ton of database plugins that deal with different issues. In fact, you could actually save money by reducing the size of your database because it means you need fewer resources to store a backup!
There are plugins for backing up a database, optimizing it, editing, and much more. If you can imagine it, there is probably a plugin that does it.
However, if you make a mistake, you can actually cripple your website, thus, you need to be mindful of what you're doing.
Today, I will share the best WordPress database plugins to use for your website.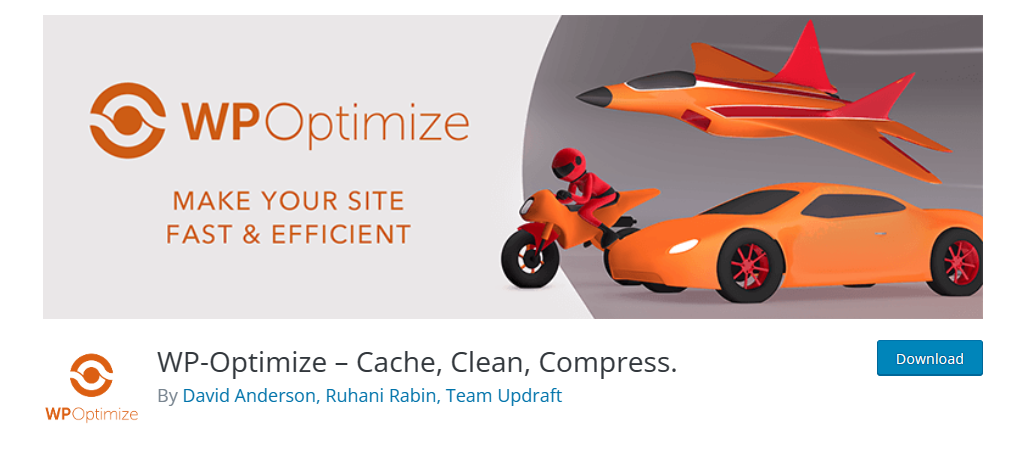 If there is one thing everyone can agree on, it's that speed is king. When a website loads slowly, this doesn't just lead to a bad user experience but also can have a negative impact on your search engine results.
That's where the WP-Optimize plugin comes into play. It can help optimize the database to boost site performance.
It's an all-in-one package that handles everything from image compression to caching solutions. Due to how feature rich it is, it isn't hard to understand why this plugin has over one million active installs. And did I mention that it is easy to use?
Making changes to a database is risky, but you can rest easy with WP-Optimize. The plugin does all of the work for you, which significantly lowers the potential of user error, but there are some advanced options if you really want more control.
Benefits of Using WP-Optimize
Defragments the MySQL tables in a single click
Compress all of the images on your site at once without sacrificing quality
Deletes old revisions of posts and pages that clog up the database
Fully compatible with UpdraftPlus (same plugin creators)
Cache pre-loading ensures your pages and posts load fast
Many developers may create blank testing environments to try out plugins, themes, and custom code. But what happens when the test is over? Well, you need to actually delete everything to restore the test environment back to normal.
When it comes to this, Database Reset is easily the best plugin in WordPress because you can do it with a single click.
While you can reset the entire database to its default state, it also offers individual reset tools.
For example, let's say you install a plugin, make some changes to it, and want to revert it to normal. Well, Database Reset has a plugin reset feature to do just that.
The same also applies to themes as well as to the database itself. You can reset individual parts of the database like the tables, which makes it an incredible tool for testing environments.
Benefits of Using Database Reset:
Requires the entry of a security code to prevent accidental resets
Includes shortcodes to view table names and to perform full resets
Work from the command line
Speeds up development time by saving time by not having to go through WordPress's initial setup
Simple interface makes it easy to select the tables you want to reset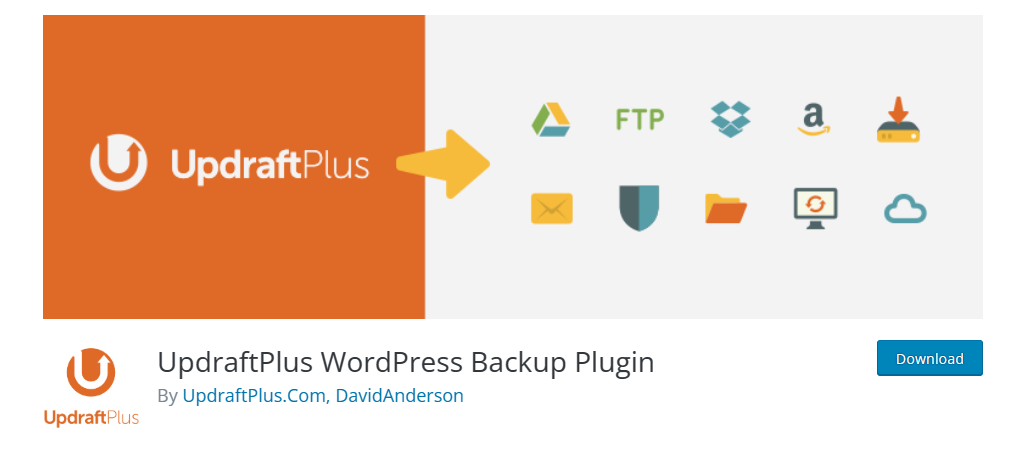 Speaking of testing environments, sometimes using a blank one isn't very effective when you want to test how a new plugin or code works on your actual website. In this case, you'll need to duplicate your website and import it to the test environment.
While there are many plugins that can do this, UpdraftPlus is definitely the best WordPress database backup plugin for the job.
It simplifies the entire backup process with automation. Once the plugin is set up, you can decide when backups are formed, and more importantly, what is backed up.
While you can do everything on a website, you can also focus on specific areas like the database. You can then import this data to other sites, like a testing environment.
It's definitely one of the best ways to duplicate a database in WordPress, and it is compatible with several file storage solutions, which makes it great for any website.
Benefits of Using UpdraftPlus:
Restoring your backups is incredibly simple and just takes a few clicks
Works well in a multisite environment
Supports popular storage destinations like OneDrive, Azure, SFTP, and more
Encrypts your database files for extra security
Schedule backups at any frequency or time interval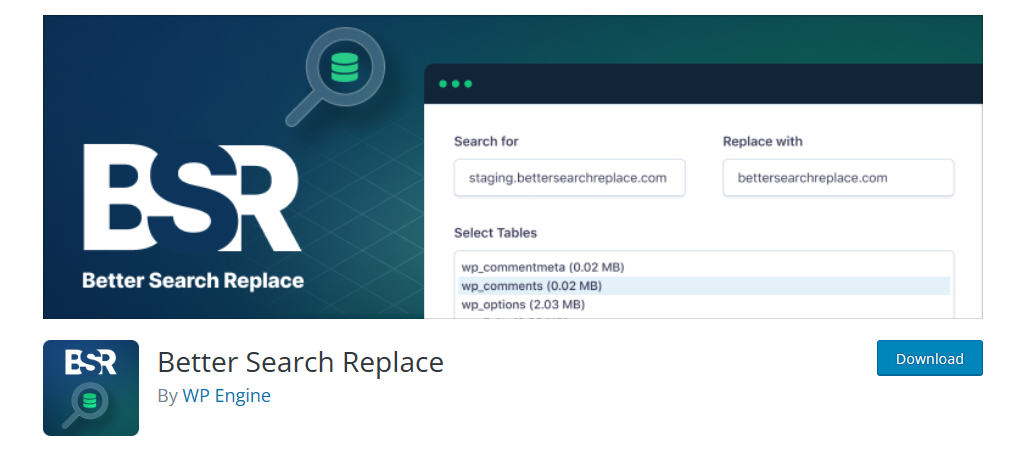 Perhaps one of the scariest parts of managing your WordPress database is trying to edit it. Making a mistake could have catastrophic consequences, but sometimes it is necessary to do so. Luckily, there are some great plugins that can help with that.
And without a doubt, Better Search Replace is the best WordPress database plugin for the job.
As the name implies, this plugin allows you to search for every instance of a term in your database and replace it at once.
For example, let's say you have changed a URL. You could replace every instance of the old URL with the new one in seconds without creating a redirection path.
Obviously, this could have some big implications if the wrong data is entered, which is why the plugin has a dry-run feature. This allows you to see the results of what you are replacing without actually doing it, which can avoid a lot of errors.
Benefits of Using Better Search Replace:
Supports English, French, German, and Spanish
Replace specific terms in a single table or the entire database
Works in a multisite environment
View a detailed log of what actually changed when a replacement is made
Intuitive design ensures that this is the easiest way to edit your database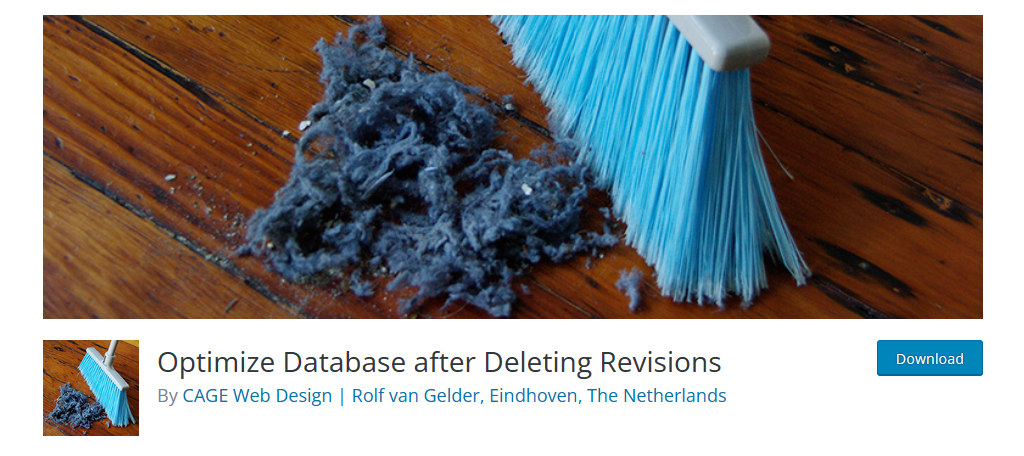 Many users are unaware that WordPress actually saves every revision of a post or page you make. As you can imagine, the amount of space these revisions take up is not negligible, which can negatively impact your website's database.
The Optimize Database After Deleting Revisions plugin is simply the best tool WordPress has for this task.
The plugin gives you complete control over how this revision data is handled. You could set the plugin up to automatically delete all revisions WordPress generates.
Alternatively, you could set it up to delete the revisions after a certain amount of time has passed.
This plugin's functionality extends past revision data. It can also remove unused content like trashed posts & pages, spam comments, and other content that just takes up space.
It's an extremely effective tool that can help you improve site performance in minutes.
Benefits of Using Optimize Database After Deleting Revisions:
Choose what kind of content revisions will be deleted for
Includes an "Optimize Database" button in the admin panel
Creates a log of all optimizations performed
Simple interface makes it a great choice for beginners
Deletes pingbacks and trackbacks data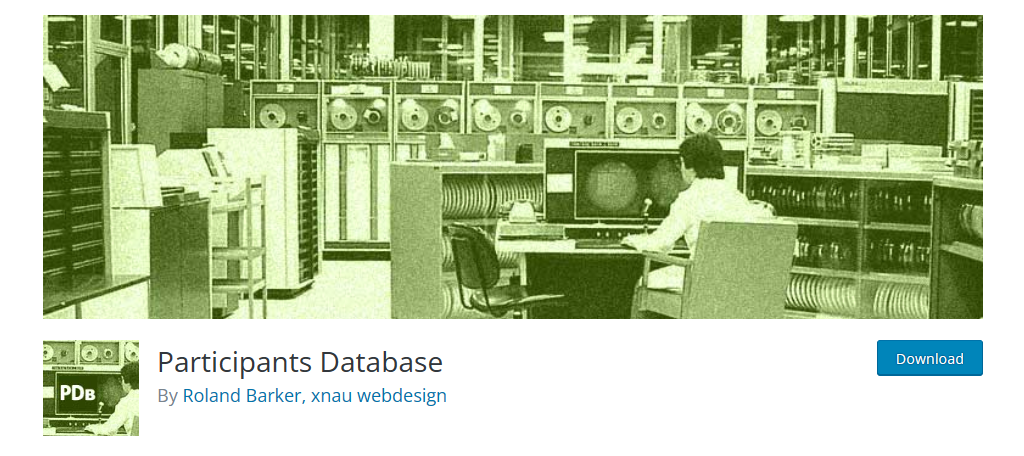 Your database can be used to store all kinds of information, and perhaps the most useful would be contact information. With the right connections, your website can reach more people, and there are plugins that can help.
The Participants Database plugin is the best at building a contact directory in WordPress. The database you create is fully customizable, which actually means it can be used for just about anything.
For example, you could create a table that contains a list of contacts with their name and email addresses.
All of the data can also be imported to a CSV file for further availability. Building a database of visitors that have similar viewpoints can help you create custom marketing campaigns for those users, which can be a huge boon as your website grows.
Benefits of Using Participants Database:
Includes customizable forms for collecting data
Receive email notifications when the database is edited
Add forms anywhere by using shortcodes
Display the database information using a shortcode
Easily import and export using CSV files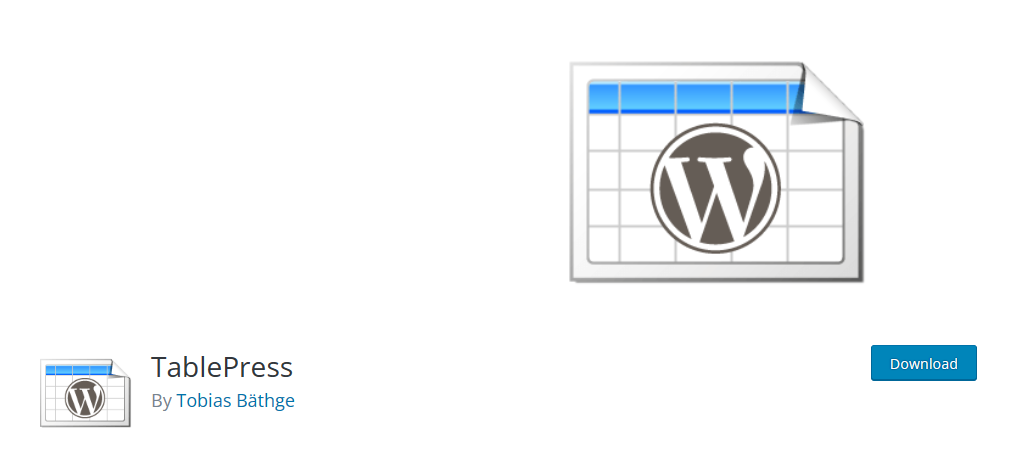 Accessing your database to make any kind of change to a table is not a straightforward process, but what if it was? The wildly popular TablePress plugin makes it extremely easy as you can create tables without writing a line of code.
Instead, it uses a visual editor where you can build any kind of table and manually enter the values like an Excel spreadsheet.
As such, you can easily import and export data with CSV, Excel, HTML, and JSON formats. In terms of limits, there are none. You can create any kind of table that is possible in WordPress with this tool directly from your website.
It also improves the entire process by including several filtering options to make it easier to find your data. You can also make the table more interactive by setting up pagination.
Benefits of Using TablePress:
Use custom CSS to style your tables
Gain access to priority email support with the Pro version
Create an unlimited number of tables
Create math formulas in your tables
Embed your tables on any post or page using a dedicated block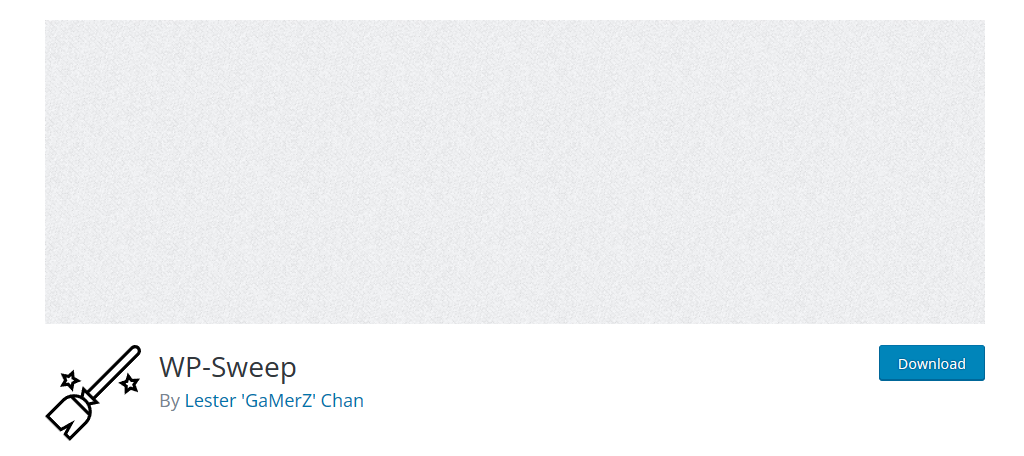 Are you looking for a simple and free tool to keep your database clean? WP-Sweep is a great option for removing unused files that take up space in your database and cause your website as a whole to slow down.
And all it really takes is a quick installation and a few button presses to keep your website clean.
Once installed, the plugin will list a variety of file types that include things like revisions, auto drafts, deleted posts, spammed comments, duplicate comments, and much more.
Next to each entry, you will have an option to "Sweep" the content.
By clicking the button, all of those detected files will be deleted from the database. There is also a details option that you can use to view what the plugin is going to delete first.
As always, it is recommended to take a look before deleting anything.
Benefits of Using WP-Sweep:
Includes a one-click "Sweep All" button to save time
Shows you the percentage of files a deletion will remove from that file type
Only shows 500 files at once for deletion
The plugin is lightweight to avoid site slowdown
Sweeping files is a very quick process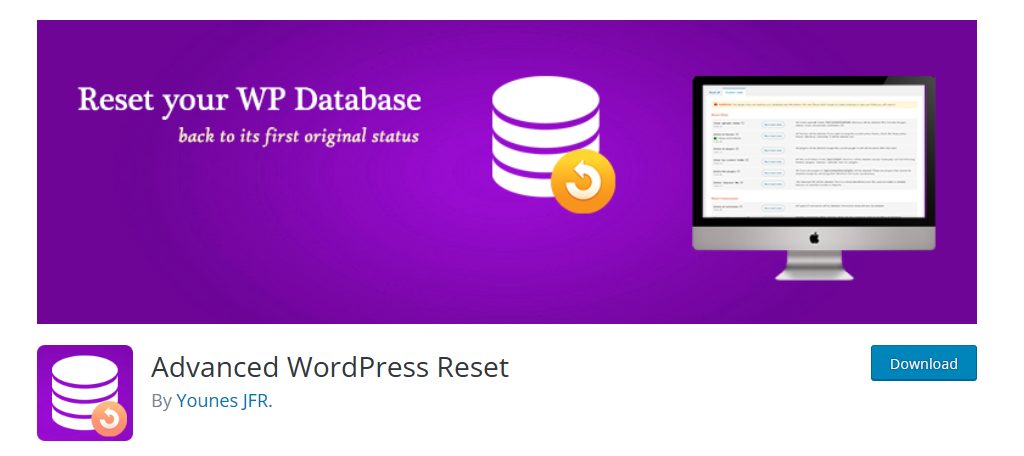 Advanced WordPress Reset is another excellent plugin for resetting your WordPress database to the default state. As you can imagine, this is an extremely important tool for testing environments, as you often want to start from a clean slate.
This plugin makes that very easy to achieve, as all it takes is a single button press.
Of course, this isn't the only thing this plugin can do. On top of doing a complete reset, you can also do smaller targeted resets to specific tables and folders within WordPress like the Uploads folder.
You can also target specific files such as the .htaccess file. It also works on comments including unapproved, spam, and duplicates. Thus, it is a highly valuable tool for any website to take advantage of.
Benefits of Using Advanced WordPress Reset:
Avoids going through the initial WordPress setup when in a testing environment
Preserves the admin user through the reset to save time building an account
Only the core WordPress database is reset (plugins, themes, and custom files are preserved)
Deletes annoying pingbacks and trackbacks that take up space
Works in a multisite environment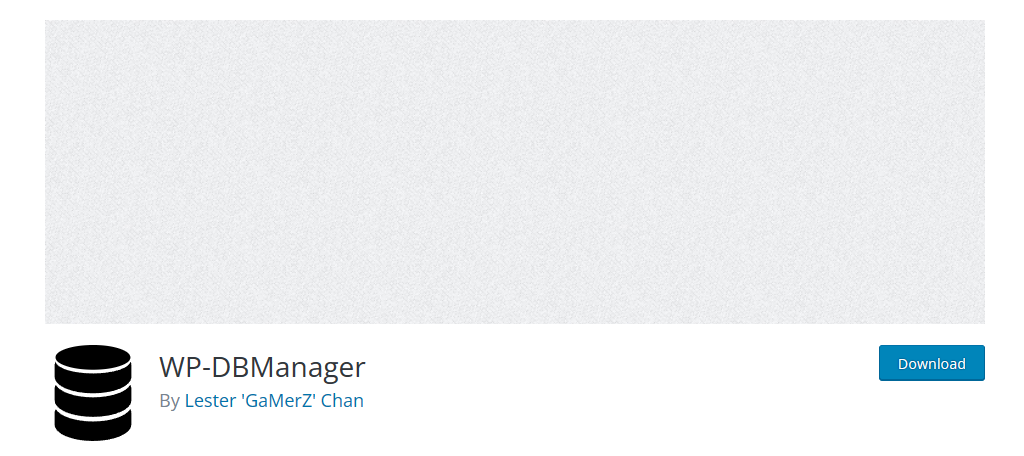 If you are looking for a one size fits all database manager plugin for WordPress, then look no further than WP-DBManager. This is a feature-rich plugin that handles everything from resetting your database to repairs.
And despite the long list of features it brings to the table, it still remains a beginner-friendly tool that anyone can utilize.
Upon installation, this plugin will create a backup of your database. Once this is complete, you can begin going through the features the plugin provides.
They are spread out across multiple areas to help make the process easier for beginners.
In most cases, the pages will simply consist of a list of the files, tables, backups, and whatnot with buttons at the bottom giving you the option to either optimize or delete, depending on the type of content.
It's a simple, but effective, database manager.
Benefits of Using WP-DBManager:
Consists of simple Yes and No radio buttons
Create multiple backups of the WordPress database
Automate your database optimization to run in the background
Repair tool tracks down problems and attempts to fix them
Schedule when backups and optimizations occur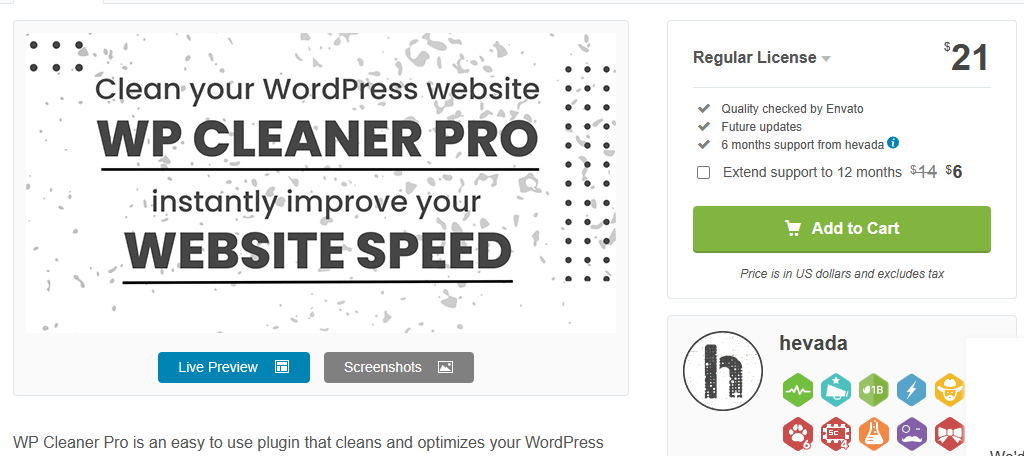 The performance of your pages says a lot about your site. A slow website is often avoided by visitors, and users are less likely to make purchases on a slow website.
Slower websites also lead to lower search rankings as well, as speed is a factor for Google.
If your looking for a way to boost your website, the WP Cleaner Pro plugin is one of the best options available.
In total, this plugin allows you to manage data from 26 types of content from comments to revisions. Each one of these types of comments can be cleaned on an individual level, or alternatively, you can use a bulk option to clear everything at once.
In terms of using this tool, it is extremely easy. After a quick setup, you can clean your website manually, by clicking the clear buttons, or you can set up a schedule for your website to do this automatically.
For most, automating the process is the best option.
Benefits of Using WP Cleaner Pro:
View the details of what will be cleaned before it happens
Creates backups of the WordPress database
Displays how much data will be removed by an action (in terms of MB)
Includes a search functionality to find files you want to optimize
Intuitive interface makes it a great choice for beginners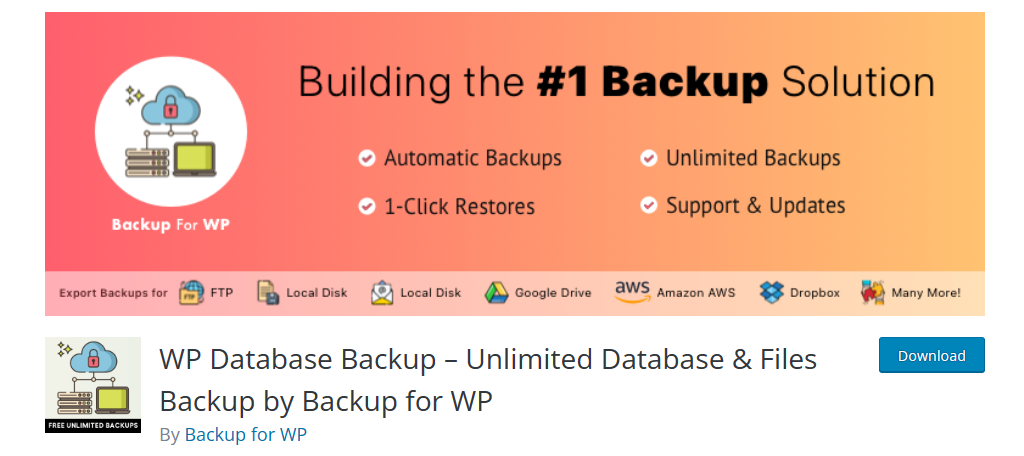 When something goes wrong on your website, you need to quickly restore services. Unfortunately, trying to troubleshoot a problem when you are under pressure to do it quickly is a nightmare. Thus, the fastest way is to use a backup to restore your website.
There are several amazing backup plugins to choose from, but WP Database Backup is one of the best options to consider.
This is a free plugin that makes it easy to create backups. You can create them manually at any time, or alternatively, create a schedule for the plugin to follow in the background. And yes, you can create multiple backups.
Obviously, a backup is only useful when you can use it, which is why it needs to be stored safely. This plugin supports some of the most popular storage solutions like Google Drive, Dropbox, Amazon, and more.
You can also store it on your own dedicated hardware.
Benefits of Using WP Database Backup:
Choose to exclude specific tables from being backed up
Quick initial setup will get you started in minutes
Backup individual parts of your database
Perform search and replaces with your database backups
Zip your backups to take up less space on local drives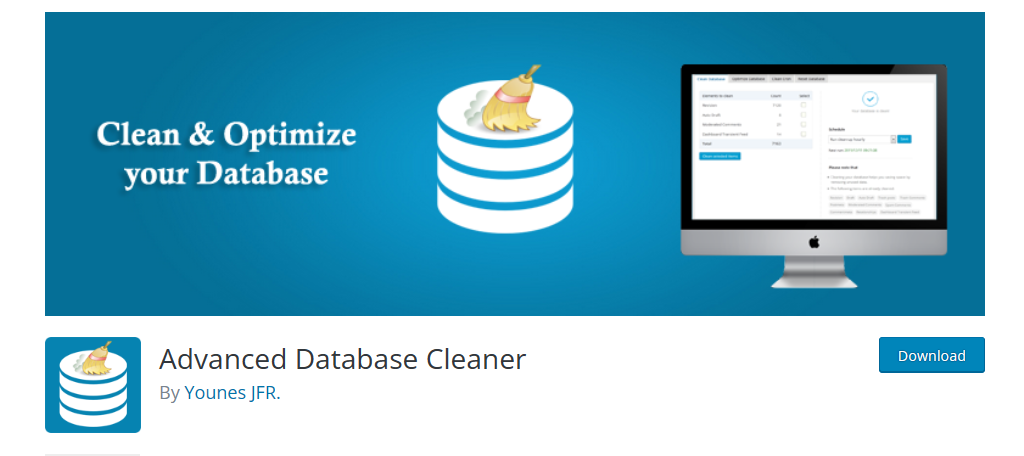 Closing out this list of the best database plugins for WordPress is the Advanced Database Cleaner. This is yet another amazing tool for keeping your WordPress database clean to ensure that your website's performance is up to par.
As the name implies, it focuses on removing unnecessary files that typically clog up a WordPress database such as revisions.
It supports the removal of all of the most common sources of junk like trashed posts, orphaned tables (tables from deleted plugins), pingbacks & trackbacks, and much more. And it only takes a single click to accomplish this.
Of course, you can also choose between doing everything at once, or individually selecting the content you want to delete. Manually doing this takes more time, but it does help ensure that you don't delete any important data.
Benefits of Using Advanced Database Cleaner:
This plugin works great in a multisite environment
Gain complete freedom to schedule your backups at any time and frequency
View an active list of cron jobs with all of the arguments available
Simple user interface ensures that the tool is perfect for beginners
The Pro version provides premium support to help you troubleshoot any problems
Do I Need A WordPress Database Plugin?
While many users are quick to use plugins in WordPress, and for good reason, sometimes they are not necessary.
When it comes to database management, it is an integral part of running a website. Thus, web hosts ensure that developers have access to the tools they need.
For instance, if you visit the cPanel and access phpMyAdmin, you can optimize the tables.
It's quite easy to do and just requires you to select the table, right-click it, and select the optimize option.
With this as an option, you may be asking, are plugins worth using? Well, truth be told, the plugins will generally do a better job and have a better interface to work with. Not to mention you can do everything from the comfort of your website.
More importantly, these plugins are designed by people who know where to look.
For example, I mentioned how WordPress creates a revision every time you edit a post. Most users are not even aware that this feature exists, thus they would never know to delete these.
Or, another popular overlooked item that clogs up a database is orphaned content. Orphaned content is things like tables that were created by a plugin but is no longer installed. Those tables are not actually deleted, thus they just sit there.
With all of this said, it is still possible to fully manage your database without using a plugin. However, without extensive knowledge of WordPress, doing so is very difficult.
Watch Out For Compatibility Issues
Making changes to your database is tricky business, which is why most websites opt to use plugins, however, not all plugins work well together and that is especially true when it comes to database tools.
Running into compatibility issues with database plugins can cause your website to stop functioning completely.
For instance, some plugins may try to delete files from other plugins that it deems as "trash." This can lead to that plugin stopping functioning correctly, which can sometimes cause fatal errors in WordPress.
As such, it is generally recommended to only use a single tool when it comes to choosing a database manager plugin for WordPress.
However, since database plugins can vary so wildly from one another, if you do want to use multiple, test them on a dummy website first.
This can prevent you from running into problems on your live website and you can get a feel for how they work before adding them. This is a great way to avoid those early mistakes when learning how to use a new tool.
Manage Your Database With These Amazing Plugins
As you can see from this list, WordPress has a ton of plugins that specialize in managing your database. There are plugins for just about any situation that make editing your database easier, and more importantly, safer.
Making even a small typo when editing tables in a database can stop your website from working correctly. Luckily, these tools provide safeguards that prevent some of the most common user errors from taking place, but remember, it's not perfect.
It is still possible to make mistakes, which is why you should always back up your WordPress website. When something unexpected happens, being able to restore the website before the mistake or incident took place is the best option.
Did we miss a plugin? Let us know in the comments section what some of your favorites are.