Many WordPress websites start with just one person, but as that website grows, you'll need more help. Yet, as your team size grows, it becomes challenging to manage projects. Luckily, WordPress has a great selection of project management plugins that can help.
Not all project management plugins are created equal in WordPress. Some of them focus on specific niches, while others are general purpose, thus, you need to take the time to identify what you need from a project manager to get the most out of it.
Due to the popularity of the WordPress platform, this can be challenging due to the sheer number of plugins available. As such, it can take some time to find the best tool for the job, but this list can help you narrow down the search.
Note: Some of the options on this list lack an official plugin. Instead, you'll only be able to use it in WordPress through integration options with other WordPress plugins.
What Are Project Management Plugins For WordPress?
Simply put, a project management plugin is a tool designed to help you organize project development teams to meet deadlines and streamline collaboration between members. Using one can significantly speed up development and improve team synergy.
This is even true in non-team environments. Freelancers and contractors regularly use these tools to improve their workflow.
For example, let's consider something simple like a new blog post. On the surface, creating a blog may seem simple, but a lot more time and energy goes into creating one than most realize.
First, you need to come up with an idea that ranks well on search engines like Google. This includes coming up with a title and selecting the keywords that you are going to rank for. Next, you actually need to write the blog.
It's quite common for many companies to outsource the images they use, thus your next step is to get all of the images, or other media in place. Once all of this is ready to go, you'll need an editor to go through it and check for spelling, grammar, and other common issues.
You're not done yet.
Now it's time to schedule the blog post and make sure you also promote it on social media as a final touch.
Clearly, this is a lot and a single blog post may require multiple teams or individuals to work together before it goes live on a website. Using a project manager can help streamline this process by assigning each member their role, and alerting them to updates.
Remember, an editor can't exactly do their job before the blog is written, and likewise, a writer can't begin without a topic and keywords.
This is just for a "simple" blog. Projects can get extremely complicated, thus, using a tool to organize and bring all of those pieces together is essential.
Here are the best project management plugins WordPress has to offer:
The WP Project Manager is easily one of the best project management plugins for WordPress. It offers both a free and paid version, which makes it a great starting point for any website, and has the ability to meet the needs of larger teams.
Even if you just use the free, version, it offers a robust selection of tools that you can choose to enable or disable as necessary.
So what can you do with the free version? Well, you can create new projects, assign assignments to specific users, track how long it took for that user to complete the task, leave comments on assignments, and much more.
If you upgrade to the premium plans, you'll gain access to the drop-and-drag assignment builder, the ability to create subtasks, and much more. Above all, it is easy to do and all of the tools are accessible from the WordPress dashboard.
Benefits of Using WP Project Manager:
Generates a progress bar based on the number of tasks that have been completed
Users can file share documents and media files with one another
Send out email notifications to remind users about upcoming assignments, due date changes, and anything else
Gain access to a massager system to allow team members to discuss a project
Integrates with WooCommerce to create a project when a purchase is made to ensure a quick delivery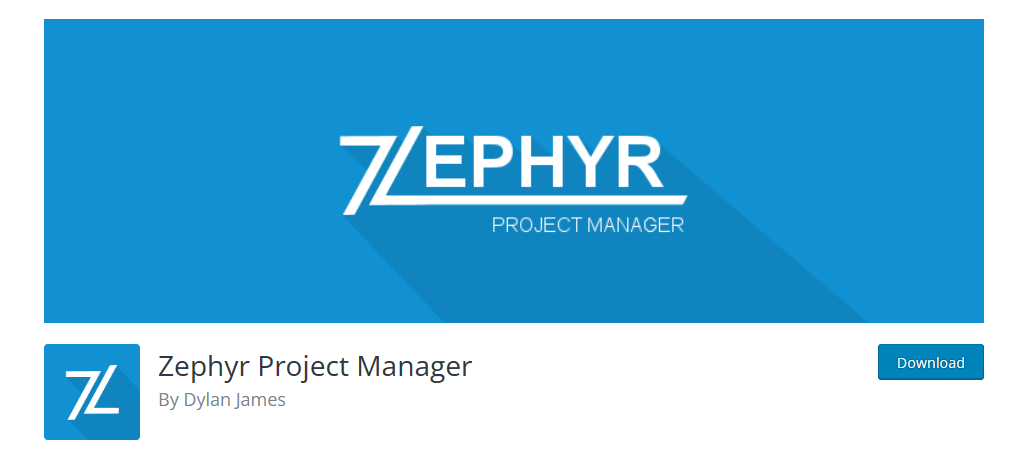 Have you ever had an idea for your WordPress website while on the go? If so, you'll be pleased to know that you can create projects for your WordPress site while being mobile with the Zephyr Project Manager plugin.
This has an official app that allows you to create projects on your smartphone and access them from your WordPress dashboard.
The plugin starts out as free and offers you all of the basic features you would expect from a project manager. There are no limits in regard to the number of projects you can make or the number of tasks within a project.
The Pro version expands the project functionality, but more importantly, adds integration options that your website can take advantage of. Most notably, you can integrate with Asana to easily import tasks from Asana to WordPress and vice versa.
Benefits of Using Zephyr Project Manager:
Users can create their own personal dashboards to meet their needs
Create discussions boards for individual projects to help team members stay in communication with one another
Customize when email notifications are sent for overdue tasks, due date reminders, task completion, and more
Allow users to share files with one another and upload as many as necessary
Generates progress charts that can be printed for meetings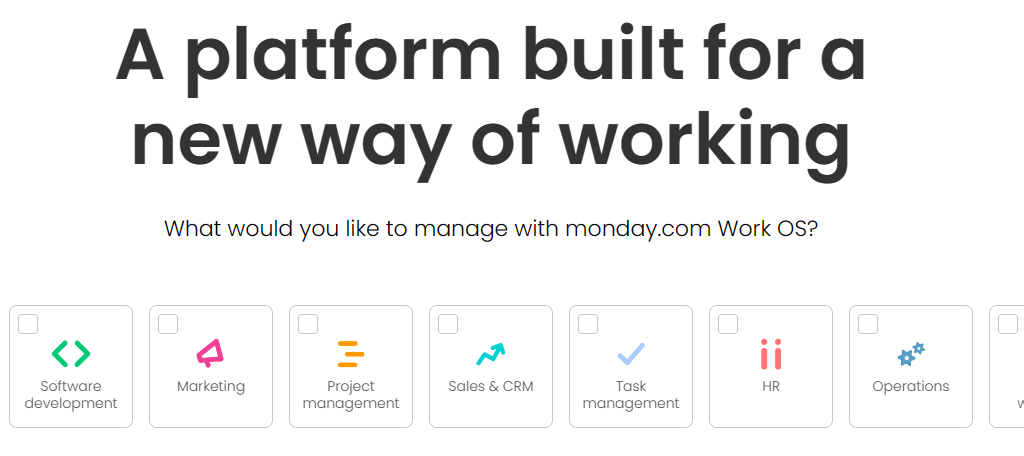 Monday.com is one of the most popular project managers on the internet and you can use it within WordPress through its WooCommerce integration add-on. Of course, it offers a lot more than just project management, which makes it a great pick.
It can also help with Customer Relationship Management (CRM), Human Resources (HR), Marketing, and more.
As you can probably tell by now, it is for businesses. And since it requires WooCommerce, you'll most likely be using it for an eCommerce site. One popular way is to create a project when a customer places an order that assigns someone to fulfill the order.
In terms of project management features, Monday.com utilizes a visual project builder that makes it easy to use at any skill level. As you might expect from such a feature-rich tool, you will need to pay for a subscription, but it can quickly pay for itself.
Benefits of Using Monday.com:
Limit project visibility so only those involved in the project can see details
Integrates with the most popular business tools like MailChimp
Provides a dedicated mobile app that you can use on the go and sync with WordPress
Includes multiple ways to view projects like calendar view, list view, and more
Assign user roles to specific tasks for better workflows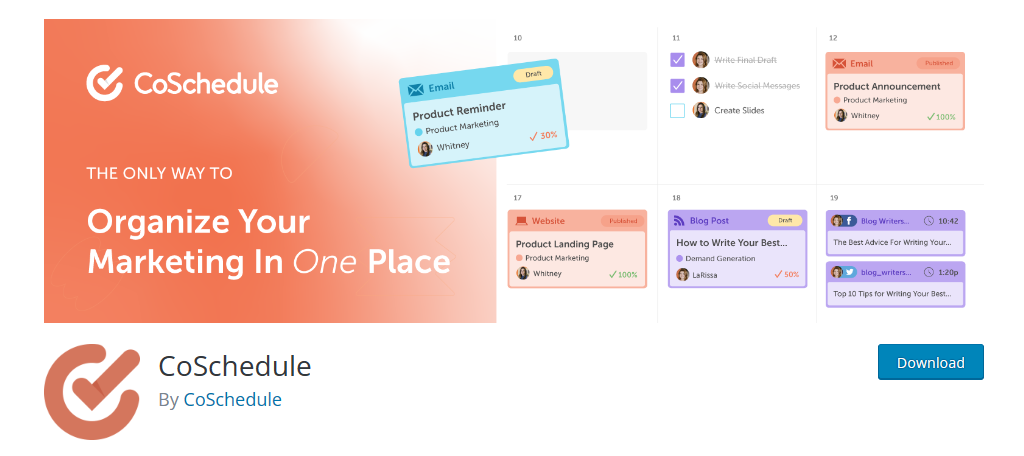 When people think of project management, they often think of things like building software, fulfilling orders, and creating content, but what about marketing? While marketing has gotten more accessible for small businesses, it is still pretty complicated.
That's where the CoSchedule plugin comes into play. With it, you can schedule marketing dates and tasks for your whole team.
It utilizes a calendar view that allows you to easily assign tasks to your marketing staff, or yourself, that can help you break up a marketing project into smaller pieces.
For example, think about when a new post is about to go live on your website.
You're going to need to time a post on Facebook, Twitter, Instagram, and any other social media platform you use. You may also have a deal with another website for them to insert a backlink to your latest post.
The CoScheduler can help you manage marketing projects and campaigns.
Benefits of Using CoSchedule:
Utilizes drag-and-drop controls within the calendar to easily move tasks as needed
Receive notifications when a team member completes a task, or if a date is changed
Helps you determine the best time to engage your audience on various social networks
Determines what content is the best to reshare to increase user engagement
Integration options for other popular platforms like Hubspot
UpStream is a task management plugin for WordPress that is free to use. The big focus of this plugin is to create a visual plan for your project that clients can keep track of to see your progress and ensure it is on track to meet the deadline.
As such, there is a big emphasis on style and design since it is something intended for a client to see.
This is done by inserting your own custom CSS code to match the design of your website. All of the elements can be customized, so it is a really great option in this regard.
Creating a project plan is not quite as simple as other entries on this list, but it isn't overly difficult.
Most of the options are entered through text boxes or selected from drop-down menus, which is easy, but can sometimes be frustrating to find what you are looking at when compared to visual builders.
Overall, it is a great plugin to consider.
Benefits of Using UpStream:
Adds new user roles to WordPress to ensure they get the proper view of the project
This plugin is translation ready to ensure it is readable by anyone
Send out email notifications to both team members and clients when updates are made to the project plan
Create custom fields to work for any kind of project
Choose which parts of the project plan a client can view on the frontend
Panorama is another excellent project management plugin for WordPress that focuses on providing progress reports to clients and keeps team members in the loop. It does this by making a front-end view of the project plan.
This makes it a great choice for businesses that regularly take on projects for clients like software design, graphic design, and more.
Having a visible progress report that clients can look at can reduce the number of inquiries you receive. This can help you save time by not having to engage with the customers more than necessary. It's also quite an easy plugin to build project plans.
It utilizes a module approach, where you can create modules for individual tasks and group them together under a single project. You can even duplicate content to use as a template for similar projects.
Panorama also has plenty of customization options to make it pretty for clients.
Benefits of Using Panorama:
Communicate with other team members through the project portal
Clients can interact with the project portal to accept or reject certain reports
Send back assignments as revisions when something is not correct
Assign time for projects that can be altered to better reflect the amount of time a process will take before completed
Team members can upload files to the project planner to easily share data
Task Manager Pro is a premium plugin and comes with a host of useful features when it comes to project management. It's also worth mentioning that while it is a premium plugin, it is much cheaper than most of the Pro versions of other plugins on this list.
One of the more unique features this plugin brings to the table would be creating groups and projects separately.
This means you could create a group for your sales, marketing, or development teams, and then create projects that are assigned to groups, or even specific members in that group. This makes it much easier to organize your staff and assign tasks.
There's also a lot of customization. For instance, you can customize the progress bar to any color, or even change it from a bar to a circle that fills up as more progress is made.
There are tons of little things like this that make the plugin a great choice.
Benefits of Using Task Manager Pro:
Import and export tasks to other programs as necessary
Send out notifications when tasks are assigned, or when task details change
Supports multiple languages for more accessibility
Create tasks by filling out forms and assigning the correct team members
Create a task board to show available tasks (perfect for handling support tickets)
When it comes to the simplest project management plugins for WordPress, the Kanban Boards plugin is one of the best options. It focuses on ensuring that any user can create project plans that their teams can follow.
Of course, this plugin goes beyond just project planning. You can also track job applications, create sales pipelines, and much more.
It comes with all of the standard features you would expect from a project manager. It offers tools such as assigning tasks to users, allowing team members to communicate with one another, and sharing files.
One of the bigger focuses of this plugin would be the emphasis on sales data. It works really well in an eCommerce environment for assembling sales reports and generating product campaigns based on what is and isn't selling.
Benefits of Using Kanban Boards for WordPress:
Users can leave comments on tasks as reminders for themselves, or to communicate with other team members
Create unique task boards for different groups of teams
Color code tasks by department, users, or anything else you can think of
Includes CRM functionality to help you determine how customers interact with your products
Gain access to powerful premium add-ons to add more functionality to the plugin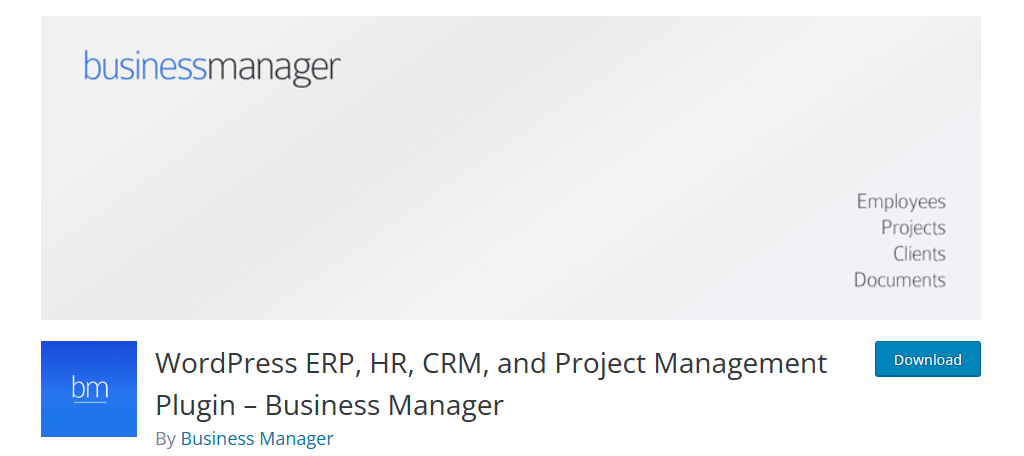 Business Manager is another all-in-one solution for businesses and comes with ERP, HR, CRM, and project management functionality. As such, it is a great choice for any business that is seeking to improve customer relations.
You'll be able to create departments and assign employees to each group, which can be used for both project management and HR.
The project management tools have two forms. The first is the employee view which allows you to assign team members to a project, view progress, and allow team members to communicate with one another.
The other part is the client's view. This is where the client hiring your company or team can view the progress of a project. This can help reduce the amount of progress reports your team sends out and can reduce the number of inquiries from impatient customers.
Benefits of Using Business Manager:
Create timelines to show how a project has progressed over a period of time
Gain access to a contractor extension to easily store and assign work to contractors your company hires
Supports all file types that WordPress does (PDFs, word documents, etc.)
Drag and drop tasks around your project boards to easily change timelines and assignments
Store team notes on projects for management and client viewing
Projectopia is one of the best premium project management plugins for WordPress. It is suitable for both freelancers and team environments, which makes it a strong choice for any kind of situation.
It has tools that are ideal for any business that handles support tickets, creating quotes and estimates, and general project building.
Each of these comes with its own pre-built form that you can fill out to create tasks and assign them to team members. You can set due dates and keep track of how long it takes for an employee to complete a task.
Projectopia also has payment collection options. You can utilize PayPal, Stripe, and other popular options to send out invoices to clients and collect payments. There are also integration options for WooCommerce and other popular business plugins and tools.
Benefits of Using Projectopia:
Generate progress reports for projects to share with clients or display at meetings
View a detailed report of your team's workflow to find problem areas to help improve efficiency
Create a client dashboard to ensure clients are always aware of any progress updates
Allow clients to increase the priority of their tickets after a certain amount of time without a resolution or reply
Check out the plugin through a great demo to see both the development and client side of things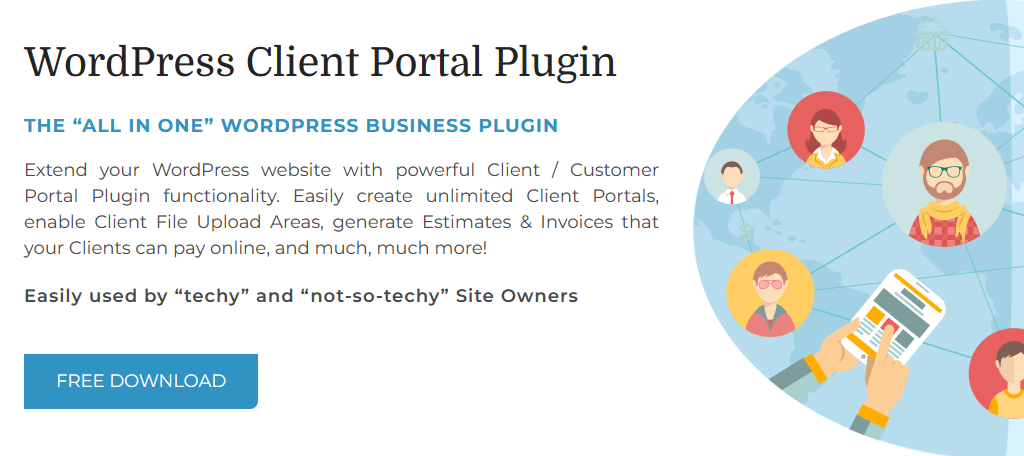 If there's one thing that employees learn early in their careers is that customers want to know how progress is going on a project they commissioned. The WP Client plugin was built with this problem in mind and allows you to create a client portal in WordPress.
This portal allows clients to sign in and view the progress of a project they commissioned from your company.
It also has some project management tools that you can use to help manage teams, assign tasks, and keep clients front and center. It includes multiple communication options like Team Talk and Client Talk.
True to their name, team talk allows your team members to communicate with each other, while client talk is designed for the client to communicate with the team and vice versa. It's a great tool if you are hoping to improve the customer experience.
Benefits of Using WP Client:
Setup recurring projects for repeatable tasks like producing progress reports for the client
Send out invoices to clients with the ability for them to pay online
Easily add your company logo to any progress report, invoice, or email your client receives
Allow for both team members and clients to upload and download files
Supports eSigning for your documents and invoices
Freedcamp is an amazing project management service that utilizes modern design systems like drag-and-drop tasks to ensure anyone can use this platform. Unfortunately, it does not have a dedicated plugin for WordPress.
Luckily, there is a workaround. If your business is using WooCommerce, there is an integration option to link Freedcamp to WordPress.
Freedcamp is a terrific service and allows you to build a series of triggers that can carry out certain actions when a task is completed. For example, it can be something simple like sending out an email notification.
Or, you could create a task for a manager to review a completed task to ensure it is correct. There is also a big focus on security with projects being password protected to ensure only the correct team members get access.
Benefits of Using Freedcamp:
Gain access to a forum-like discussion section for team members to discuss their work
Add more functionality through add-ons like CRM, invoicing, and more
Includes a variety of templates to help you create tasks quickly
Add two-factor authentication for additional security measures
Create subtasks and even recurring tasks for tasks like progress reports
Avaza is another popular project management solution that sadly lacks any official plugins for WordPress. It is an all-in-one solution for businesses when it comes to planning out and collecting payments for projects and commissions.
While there is not a dedicated plugin, do not fret, it is possible to utilize this tool in WordPress through Zapier integration.
In terms of features, there's a lot to enjoy. Not only can you schedule the tasks for projects, but also manage project resources. This includes things like money, equipment access, and more. Its versatility makes it a great option for larger businesses.
It's worth pointing out that Avaza is not cheap. It is for larger teams that need a powerful toolkit for project management. With that said, there is a free option that is limited in functionality but does allow for an unlimited number of collaborators.
Benefits of Using Avaza:
Avaza chat is available through smartphones to ensure team members can communicate at anytime
Easily track the amount of time a project or task takes to complete
Helps handle customer invoices and digitizes your receipts
Gain access to amazing reporting functionality that can be shared internally or with clients
Integrates with popular business tools like Slack, Jira, Google Drive, and more
FAQs About Project Management Solutions
What About Non-WordPress Project Management Solutions?
There's no denying that when it comes to project management, there are a lot of choices on and off of WordPress. While this list looked at just plugin solutions for WordPress, there are a lot of options worth considering off the platform.

One reason, why many opt for this approach is because as companies get larger, oftentimes, not everyone has access to the backend of WordPress. This makes having a project manager on WordPress a problem.

This is mainly for security purposes, as you want to avoid giving access to your website's backend. This helps prevent content from leaking, mistakes from non-tech savvy users, security concerns, and a slew of other reasons.

As such, most larger companies will opt for solutions that are not dependent on WordPress.

There is also another key advantage of using a project management solution off of WordPress, it doesn't use site resources.

Every plugin you install in WordPress uses resources such as CPU, memory, and server space. The more you use, the slower your site will run, which negatively impacts everyone.
Why Use A Project Manager Without A Team?
Many beginners make the mistake of thinking that a task management plugin in WordPress is only for teams, but that's just not the case.

The truth is a task manager can help an individual tackle a project. They allow you to break a big project into smaller easier to complete tasks that help you make steady process, and more importantly, streamline content creation.

It's also worth mentioning that it allows you to keep track of multiple projects at the same time. If you regularly switch between projects, you'll probably understand that you might need to refresh yourself on the current project.

A task manager helps speed that up by providing you with how much progress you have already made. And you can even add notes in most cases to leave yourself a reminder when you return to it.
Are Premium Plugins Worth Purchasing?
As you can see from this list, WordPress has a great selection of paid and free plugins to work with. This raises a very simple question, are the premium tools worth paying for in WordPress?

Generally speaking, premium tools offer users more features, high levels of customization, and usually dedicated support options. Thus, it is definitely fair to say that premium tools are better than their free counterparts.

When it comes specifically to project management plugins for WordPress, the main difference is usually the number of teammates that can connect to it and the integration options available. As your team grows, it may not be possible for everyone to connect to a free plugin.

However, that doesn't necessarily mean you should buy them. The truth is there are some amazing free plugins when it comes to project management. If a free plugin can no longer meet your needs or save you money, then you'll need to upgrade.
How Much Information Should Clients Receive on Project Progress?
You might have noticed that many of the plugins on this list include some kind of reporting feature, or a dedicated client portal. These are vital features of a project manager because the customer is the boss.

Without these types of features in place, it is very common for customers to contact the team on a regular basis for status updates. This can become very tiresome for teams that don't want to interact with the customer.

In fact, it can cost the business money. You see, if someone is interacting with the customer from the team, that means one less person is actually working on the project. This problem can get out of hand if you are working with an especially "needy" client.

For this reason, having a client portal that they can visit to see regular updates on a project with timelines can save your teams from having to engage with the customer directly. Just make sure there are regular updates or a client may decide to look elsewhere.
Take Command of Projects in WordPress Today
As you can see, WordPress has an incredible selection of project management plugins that you can choose from. They come in a variety of sizes and price points, so it really comes down to what your website needs.
Using one of these plugins can dramatically improve your website's workflow. This can lead to both higher-quality content and faster releases. Of course, it can take time to perfect, thus like everything in web design, it may take some time to see the results.
Has using a project management plugin improved the quality of your content? Which plugin does your website use?