Search engine optimization has evolved quite a bit since the development of the first result page. As the years go by, it's often difficult to keep a handle on all the different algorithm changes and procedures.
However, there are a handful of common SEO mistakes that even the best of us make.
On average, people use mobile devices on the Internet more often than desktop computers. Because of the nature behind smartphones and tablets, optimization needs to be tweaked to accommodate those users.
Even though good web hosting platforms can solve a lot of performance issues when it comes to SEO, the bulk of develop still relies on the developer. A wicked fast server means nothing if the web designer implements poor optimization practices.
Below are 11 of the worst mobile SEO mistakes anyone can make and how to avoid them. By keeping an eye on any of the following, you can improve your chances of scoring well in search engines as opposed to the competition.
1. Not Using True Responsive Design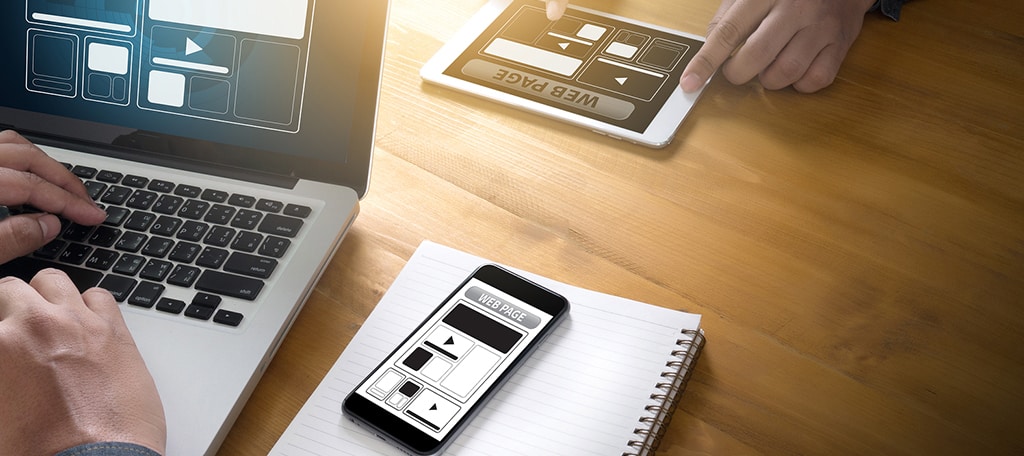 Since the development of smartphones, many have scrambled to develop responsive websites. This is when the platform recognizes the visitor is using a small display with less capability than the traditional desktop or laptop monitor.
However, responsive optimization is still not a priority for a lot of developers.
Approximately one-third of people on mobile devices start researching a brand based on the company's website. This means that creating an elegant appearance that works well on all devices plays a very important role for online success.
Never underestimate the value of having a mobile-friendly website in today's market.
Not all "responsive" designs work well on smartphones and tablets, though. Everything from the layout of the site to the number of images used can impact a great website in a negative way.
Even the layout of headers and links will poorly affect search engine optimization.
Navigation, interstitial pop-ups, ad banners and even bad development of the footer can play into a poor experience. Because of the excessive use of mobile technology on the Internet, your website needs to look better on a smaller display than it does on a 24-inch widescreen.
2. Not Focusing on Site Speed
Speed is a vital importance when developing a site. Unfortunately, not everyone takes into consideration the elements that affect mobile technology more-so than traditional computer systems. This often leads to poor performance from a hand-held device.
Some of these include:
Not using optimized image practices.
Filling the site with too many third-party calls such as Ad sharing networks and affiliate marketing.
Over-saturation of JavaScript and CSS coding.
Most people are looking for instant gratification when it comes to accessing a website from their smartphones. It's the whole aspect of getting more done while on the move that drives them.
Quick answers and immediate interaction are what the majority of visitors are looking for in a site.
You should explore various ways to speed up the site regardless if you're focusing on mobile or desktop users.
From a search-engine perspective, not focusing on speed will actually affect rankings in result pages. It's all part of delivering a "quality" experience to search engine users, which slow speeds does not qualify.
3. Mobile Keyword Research
How could I make an SEO checklist without adding keyword research of some kind? Mobile technology often shifts how keywords are used in a website dynamic. In fact, it can be one of the more important SEO mistakes for mobile technology. Let me explain how.
During a search for specific content on a desktop computer, people often have access to full-sized keyboards. This can directly affect how people are looking for specific information. However, roughly 60% of searches on average are performed from mobile devices.
So, how does this impact SEO? Because of two distinct methods of searching: typing with thumbs and voice recognition.
Two-thumb Typing
Two things can happen when typing on a mobile device. People will often misspell a word here and there or they often use shorter terms. When building a keyword strategy, try to imagine how someone would look for the content using a smartphone.
Voice Recognition
A lot of people prefer to use voice recognition such as Siri, Cortana and Google. Because of the ease of use, voice input can be quite longer than an average search term. Try to image how someone speaking would find your website.
4. Not Making Buttons "Tappable" or Identifiable
A huge issue many developers have is making buttons and mobile interactions too small for the average smartphone user. Smaller buttons and links may look good on a desktop computer, but they may appear horrid on a smaller display.
This says nothing about how difficult they can be to tap with a thumb.
While pinch-to-zoom technology is useful to get a closeup of the website, it's an extra step that can annoy visitors. Buttons need to be large enough to easily tap to accomplish the goal.
When designing the button, test to see what it would look like when using a 4-inch smartphone display.
Common SEO mistakes to avoid include not using ALT tags in your buttons and images. This information essentially tells the search engine what the graphic represents. It's an identifying marker that works for bots much like a larger button works for humans.
5. Not Separating Touchable Elements
Small buttons are only part of the problem when it comes to interacting with a website. Having elements too close can also cause issues for users. Remember, mobile users do not have the fine precision of a mouse pointer.
Even though some themes and browsers will open closely-linked elements to a bigger window to make it easier for users to click the right one, it's still an extra step.
Remember when I said people like instant gratification? Being able to navigate the website in as few steps as possible plays into that.
Besides, an over abundance of links often plays poorly from the perspective of a visitor. Remember, search engines like Google are looking for relevance to topic when determining page ranking.
In fact, some experts believe that too many of these outbound links can be distracting making content more difficult to explore.
Although not building outbound links is a common SEO mistake to avoid, too many can make navigation more difficult on smaller screens.
6. Fonts Matter
One issue I see a lot of when browsing from different devices is the use of fonts. Font colors and sizes don't always port well from one unit to another. In fact, I've seen vast changes in how some headers render on a smartphone as opposed to a computer monitor.
For instance, the spacing between lines if the header is too long often gets squished.
Even colors will make a profound difference when it comes to mobile technology. This is a tough one to tackle simply because not all manufacturers produce the same quality of display. However, it is something you need to bear in mind when you want to avoid mistakes for mobile users.
Although the visual display of fonts really doesn't affect SEO, the use of headers within the content does.
For example, you want to use headers correctly if you want to develop something that becomes a Google Featured snippet. This will mean very little if users are unable to read the text, though.
7. Not Using Optimized Menu Items
In the days of old, it was commonplace to see top navigation menus and sidebars loaded with various links. I've seen top menus fill three rows worth of visual display. Unfortunately, this is no longer a good practice from a mobile perspective.
The more elements that are across the top menu bar means more space taken up on a smaller display. It's distracting and takes away from the user experience.
It also increases the likelihood that someone with slippery thumbs will accidentally click a link when trying to scroll down to read the content.
Having menu links improves SEO for those pages, but they need to be optimized. Mobile-friendly themes and additions essentially pack those menu links into a small menu button that appears on mobile devices.
With a tap of a finger, people can find what they're looking for without it interfering with the content.
8. Showing Too Many Ads
One of the worst SEO mistakes to avoid is displaying too many ads on your content. I know a lot of people who build blogs for the sole purpose of generating ad revenue.
Unfortunately, trying to cram too much into a small display does two very harmful things: it takes away from the content experience and slows the site.
I mentioned earlier how third-party data affects site speed. This is because information is pulled from external servers to display on your website. If these servers are further away or on sub-par hosting platforms, your page rank will be affected.
I'm not saying that things like Adsense or Infolinks should be avoided at all costs. However, you need to examine just how you are using them and if there is simply too much on the site.
Nothing angers a visitor more than accidentally clicking an advertisement when trying to scroll through the content.
9. Not Monitoring 404 Error Logs
Common SEO mistakes for mobile sites often include the dreaded "404 Not Found" page. This is often the case when developers create mobile-only versions of their website.
It happens when a link to a resource or page isn't apparent on the mobile site although it's available on the desktop version.
Unfortunately, many developers will forget to check the 404 error log to find these kinds of issues. In reality, not everyone is going to inform you that a link is broken. There are a few ways you can avoid this kind of a problem.
Use a broken link checker.
Broken link checkers are nice as they will crawl the site and let you know when a link essentially goes nowhere.
Keep an eye on Google Webmaster Tools.
Webmaster tools will display when there are errors on your site according to the Google crawler. If the bot comes across something that doesn't work, you can bet Google will let you know.
Switch to responsive design.
The 404 error is only one issue that is solved by moving from mobile-only to responsive design. However, it may take a great deal of work depending on your website's development.
One of the worst SEO mistakes is not keeping an eye on errors and logs. These can hurt your rankings in search engines and reduce the popularity of your site rather quickly.
10. Poor Content Accessibility
Content accessibility is often a problem for mobile device users. Things like Flash-based video and other elements that take a lot of processing power simply cannot be rendered well in a mobile environment.
And Adobe will no longer support Flash after 2020, which demonstrates how non-essential the once popular platform has become.
Because of this, the site could easily perform poorly. Case in point, YouTube videos are far more effective after moving from Flash to HTML5.
Of all the content SEO mistakes for mobile, video is perhaps the most prolific. That is, aside form sharing documents that are not supported by smartphones and tablets.
Have you ever tried to open an ODF file on a smartphone?
Approximately 70% of marketers state how video delivers more conversions than other types of material. It's this conversion rate that should inspire any website developer to consider adding video to content strategies. However, that video needs to be rendered well in a mobile environment.
11. Not Testing Platforms
Perhaps the worst SEO mistake anyone can make centers around testing the environment. Back in 2001, it was easy to develop a website and test its basic functionality across the handful of browsers and operating devices. Today, this process can be quite convoluted. But it's one that needs to be done.
Not everyone uses the same technology or the same screen resolution. By not testing the website fully, you are possibly alienating a very large visitor base.
I'm not just talking about performing speed tests such as using Pingdom tools. An easy and cheap way to test how the site appears on mobile devices is to shrink the size of your computer's web browser.
While this isn't a fully accurate test for mobile technology, it does show how the screen would look on a responsive design.
Perform tests regularly. It will greatly improve your chances of performing well in search engines as well as engaging the audience.
Deliver the Best Experience Possible
Even the best marketers will make SEO mistakes once in a while. Like I said, it's difficult to keep ahead of the game when technologies keep changing so rapidly. The best you can do is try to avoid making some of the more common SEO mistakes and give your site a chance at being successful. Sometimes even the slightest changes can create profound differences.