Plugins are the tools that boost the functionality and performance of any WordPress website. They can do everything from improving your ability to create content to protecting the site from the malicious attacks of hackers.
With more than 45,000 of these tools to choose from, which are considered the best WordPress plugins?
Although many plugins are specific to the type of site you want to build, some can be viewed as universal. For instance, there are several that I install immediately when setting up any WordPress hosted website simply because of what they offer.
Here is a list of 27 essential WordPress plugins everyone should use on their website. Many of these will have a direct impact in popularity as well as online reputation.
1. Yoast SEO
Yoast SEO is one of the more popular plugins for helping users score well in search engines. One of the things that makes this tool so attractive is the number of functions it provides.
Sitemap development, Webmaster tool integration and readability scoring all work to help improve how your site performs. Although it does have a premium service, the free version is exceptionally powerful for search engine optimization.
2. Jetpack
Jetpack is one plugin loaded with more than 20 modules. It comes with proofreading, image galleries, social media sharing and a slew of other valuable assets for developing the site.
Each feature can be turned on or off depending on your needs with a simple click of the mouse. A lot of people use it for the traffic monitoring as Jetpack will show how many visitors are reading your content as well as the interactions your site receives from other WordPress users.
3. Page Builder by SiteOrigin
Page Builder is a well-known plugin as it has an incredible level of versatility for creating everything from an engaging home page to a beautiful landing page.
Its functionality allows users to place sidebar widgets anywhere within the content of a post or page while offering superior customization. It comes with pre-defined layouts or you can directly alter the sizes of columns and rows directly from a drag-and-drop interface.
4. Wordfence Security
Wordfence Security is a free plugin that has an overwhelming positive rating among users. The tool incorporates a firewall, has a variety of blocking features, prevents threats from the login screen and scans files for malicious code.
Additionally, Wordfence supports the WordPress Multi-site functionality meaning it can protect the network as well as a single domain. It does all of this for free with the option to upgrade the system to a premium service.
5. Broken Link Checker
Whether internal or external, links are an important part of search engine optimization. Broken Link Checker will make sure they are all still relevant on your site.
From the admin dashboard, this plugin will give you a warning when something is wrong and allows you to fix the link without actually going into the post or page.
6. W3 Total Cache
W3 total Cache is one of the easiest ways to enhance the speed of your website. It supports Secure Socket Layers, caches feeds and databases, works on content delivery networks and is compatible for mobile devices.
On average, the plugin has potential to save up to 80% on bandwidth thanks to minify and compression techniques. This is among some of the best WordPress plugins you need simply because of what it can do for site speed.
7. TinyMCE Advanced
TinyMCE Advanced is a plugin that expands what the editor can do in WordPress. It adds several functions and allows users to drag-and-drop features to customize the layout and appearance of TinyMCE.
You can add additional rows, font features, formatting, change background colors and much more.
8. searchIQ
If you want to improve the search ability from your WordPress website, searchIQ may be a good choice. This plugin uses real-time analytics and indexing to bring the best results to your users.
Many people also make use of the image thumbnails and cross-site searching functionality and auto-complete capabilities.
9. BuddyPress
Many people love the idea of adding a social element to their website. This can inspire conversation while making the site more interactive for users.
BuddyPress is a plugin that brings that social element to your pages. Users can create profiles, send private messages and interact with each other.
10. Contact Form 7
One of the most important elements for any business website is that of the contact form. The Contact Form 7 plugin offers versatility and customizable features that help you create something unique.
CF7 supports CAPTCHA, spam filtering and Ajax-powered submissions. It's one of the more common plugins for integrating with other systems.
11. WooCommerce
Perhaps the most effective way to sell goods from the website is through the use of WooCommerce. This plugin features everything you'll need in an online store and is capable of being integrated with a long list of external management tools and themes.
WooCommerce will handle everything from inventory control to recording taxes. This is among some of the best WordPress plugins for business websites and is one of the most popular on the system.
12. Icegram
Icegram allows users to create options and call to actions in a variety of ways on the website. These popups can be placed in various locations around the website, include clickable links and buttons and will offer a method to set reminders for subscribing to your newsletters.
The plugin uses flexible targeting rules allowing you to modify how the campaigns are delivered. If you are trying to grow leads and sales, Icegram is among the "must have" WordPress plugins.
13. Buttons X
Buttons X is an incredibly useful plugin for those who want to develop CSS compliant buttons for the website but don't know how to code. Creators can use a variety of customization options to develop button imagery that is both easy to click with a mouse or tap with a finger.
Shadows, gradients and even animations are available. Buttons X is among the best WordPress plugins when you consider how versatile it is for engaging mobile users.
14. Responsive Menu
Mobile devices use the Internet more than desktop and laptop computer systems. As a result, designers are focusing more on mobile-friendly design. Responsive Menu helps engage those hand-held device users while organizing your site's menu options.
There are a variety of options to customize the menus appearance including changing the background imagery and colors.
15. Custom Login Page by SeedProd
Want to add a bit of customization to the login screen? Custom Login Page gives you a great deal of control when it comes to branding.
Users can alter the color and image of the login screen while changing the traditional WordPress logo to another graphic of their choice. This all can be done within the real-time customizing editor.
16. Google Analytics Dashboard
The Google Analytics Dashboard delivers your websites stats directly into the admin panel. From the moment you log into WordPress, you can see where your statistics stand in real-time without logging into Google.
The tool offers a variety of metrics to choose from such as watching daily visitors or examining the most viewed webpages.
17. Smush Image Compression and Optimization
Optimizing images is very important when it comes to site speed and mobile readiness.
Smush takes your graphics and optimizes them, which enhances the performance of your website. It works for jpeg, gif and png file types and will optimize all web-sized images of 1MB or less. This is perfect for those who show image galleries or have graphic-heavy websites.
18. Shortcodes Ultimate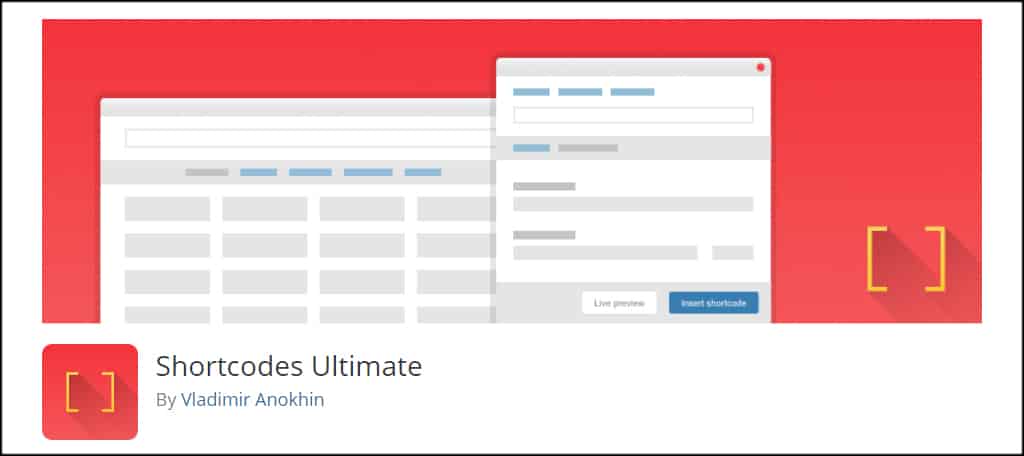 Shortcodes are useful when it comes to developing rich WordPress pages and posts. They can be used to control a wide variety of things such as fonts, colors, image placements and much more.
Shortcodes Ultimate expands the list of what WordPress can do with these snippets. Buttons, tabs, image galleries and more can be quickly placed on a site without extensive programming or extra plugins.
19. WP-Optimize
Images are not the only aspect of a website that needs to be optimized. Even the database can cause issues in performance.
WP-Optimize removes the unnecessary data that is no longer needed by the system and de-fragments the MySQL tables for smooth operation. It can be set up for automatic clean-up or done manually with a press of a button.
20. User Role Editor
User roles are how WordPress associates certain tools with people who are logged in. For example, a contributor may not have access to administrative features in the backend.
The User Role Editor gives you control over what can and cannot be done by those who use your website. This can be useful when customizing accessibility for users.
21. Polylang
Need to build a multi-lingual website? Many people market to other countries around the world, and Polylang may be a good tool to use to engage those individuals.
This plugin allows translations of posts, pages and other content related to the website. You can arrange one subdomain per language, which essentially duplicates the site for those specific users.
22. Custom Facebook Feed
Social media plays an important part in marketing. This is why many people will display Facebook feeds for the brand directly onto the website.
Custom Facebook Feed does this while providing a customizable interface. Users can display feeds from multiple Facebook pages or groups and use the shortcode to embed that content directly into pages or posts.
23. Really Simple SSL
Secure Socket Layers encrypt website data moving from your pages to the visitor. This improves security while simultaneously improving SEO. This is because sites like Google hold secured websites in higher esteem.
Really Simple SSL takes a great deal of the work away from activating the SSL on your WordPress website. It only takes a click of the mouse and the plugin will do the rest.
24. Easy WP SMTP
By default, WordPress uses PHP mailing techniques to send messages. However, you can use Easy WP SMTP to set up private email servers to do this task for you.
This is often a preferred method of sending messages because it can help reduce spamming, looks more professional and supports encryption methods such as SSL and TLS. The plugin allows you to implement Gmail and Yahoo's SMTP servers for those who have accounts on those platforms.
25. TinyMCE Templates
If you have a set template for creating reviews or want to use a quick shortcode insert for banners or other blocks of information, TinyMCE Templates is incredibly useful.
I've seen this plugin used to save content layouts for review articles so that each post is uniform. Code such as that offered by Google Adsense can be saved as a template as well which can make placing advertisements easier according to your own set categories.
26. Social Media and Share Icons
Adding the ability to share content is part of most marketing strategies. If you don't want to be limited to the simple icons available in Jetpack, Social Media and Share Icons has more to offer in terms of design.
With a simple click of the mouse, you can choose from a good selection of 16 icon designs to use within your content. Some will also offer other functions such as the Facebook icon providing the option to "like" your Facebook page.
27. UpdraftPlus
Last, but definitely not least, is the UpdraftPlus plugin. This tool is an excellent solution for creating backups of your website. Part of what makes it such an attractive addition to your site is that it will save your backups to a myriad of supported Cloud storage sites.
Dropbox, Google Cloud, OpenStack, Google Drive and more are supported by the plugin and it even has the ability to send the files via email. You can restore, migrate and duplicate with just a few clicks of the mouse.
Find What Works for You
In reality, this is a small list of some of the most essential WordPress plugins available. There are many that can do a variety of tasks depending on the type of site you want to build.
Whether you're trying to build a community hub or simply want to blog about buying stocks, there are many tools to add to the site. Take some time and explore the possibilities of what you can add to WordPress.