Instagram is a constantly growing platform for sharing images and short video clips. It's also an extremely popular method of reaching out to a wide audience. And using the right Instagram growth tools can prove exceptionally beneficial to any business platform.
You just need to find the ones that work best with your marketing dynamic.
Today, I'll go over some of the best Instagram tools for 2019 and how they can help you achieve social success. You can add any one of these to a list of social tools to expand your campaign and get more out of the experience.
The Importance of Marketing on Instagram
Instagram is an effective tool for marketing products. In fact, as many as 72% of users have purchased something they say on the social media app. Considering how it's estimated that nearly 105 million people in the US used Instagram in 2018, that's quite a number of sales!
As for connecting to an audience, about 80% of users follow a business on Instagram. This means it's a ripe system for engaging consumers and making greater strides in a marketing campaign.
This just goes to show how much of an impact Instagram makes on the general populace. And although it's not as heavily used as some of the other mainstays for social media, it's constantly growing and expanding.
With that being said, let me show you how to grow your Instagram audience with these awesome tools.
Though, keep in mind that this list is in no real particular order.
Best Instagram Tools to Grow Followers
Crowdfire is a social media management tool that lets users control several profiles from one platform. This includes offering a free solution to help you gain Instagram followers.
The free account only lets you manage one account, but the premium services can handle up to 50 spanning across several social media sites.
It comes with a Chrome browser extension to help you quickly share articles, and the system aids in content curation. You also have access to hashtag recommendations, social analytic data, and auto-tailoring posts to fit perfectly on each social platform.
With the tailored posts, Crowdfire will show a preview of what the content will look like on Instagram as well as other social sites. This gives you a chance to make sure everything fits before sending the post out to the Internet.
One of the highlights of this tool is the image curation feature. It will provide recommendations of images to share on Instagram. These images are already approved by creators so you won't have to worry about using copyright materials.
Crowdfire comes with engagement metrics to show you just how well each post performs regarding each of your social media accounts. The data can help you develop strategies concerning what methods work best with Instagram for your audience.
Hootsuite is among my favorite tools for managing social media profiles, including Instagram. Its free version is a bit more flexible than some of the others on this list and offers a range of tools to boost engagement.
In the system, you can set up tabs to view various aspects of each social media network. You can add a stream of homepage posts, your own posts, and much more from Instagram.
In other words, you can view the entire social account from a single dashboard. It makes monitoring various aspects of Instagram and other social profiles easy without logging into each one separately.
This tool is equipped with analytics, scheduled posts, and integration with several apps to streamline your campaign. For instance, you can connect the Asana team management app to assign specific tasks for social media.
Hootsuite also comes with a limited free account if you want to try the service out for yourself. It allows up to three social profiles so you can see the tool in action on various platforms.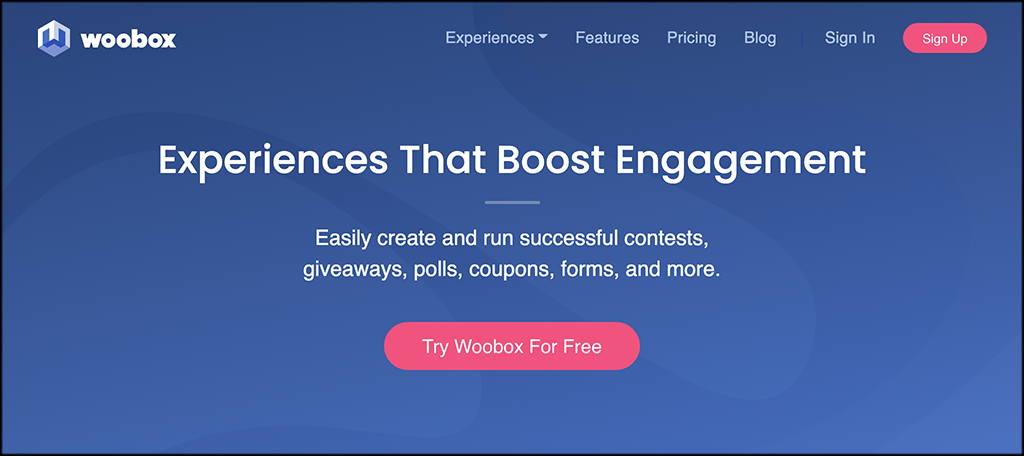 If you're looking to really engage an audience, Woobox offers a platform that lets you run a variety of interactive content on systems like Instagram. It's gamification at its finest as you can promote polls, giveaways, coupons, and much more.
The system provides everything you need to run a variety of different campaigns. For instance, you can deliver engaging contests to drive a following while offering polls and quizzes to be more interactive with your audience.
And that's what it's all about, really: being social.
One of the more unique features of Woobox is being able to age-gate your contests and feedback. This is great for businesses that are not necessarily geared towards users of a particular age bracket.
The only real downside to Woobox is how you need the lowest-paid service to access the Instagram features. The free version only allows limited Facebook contests and interactions.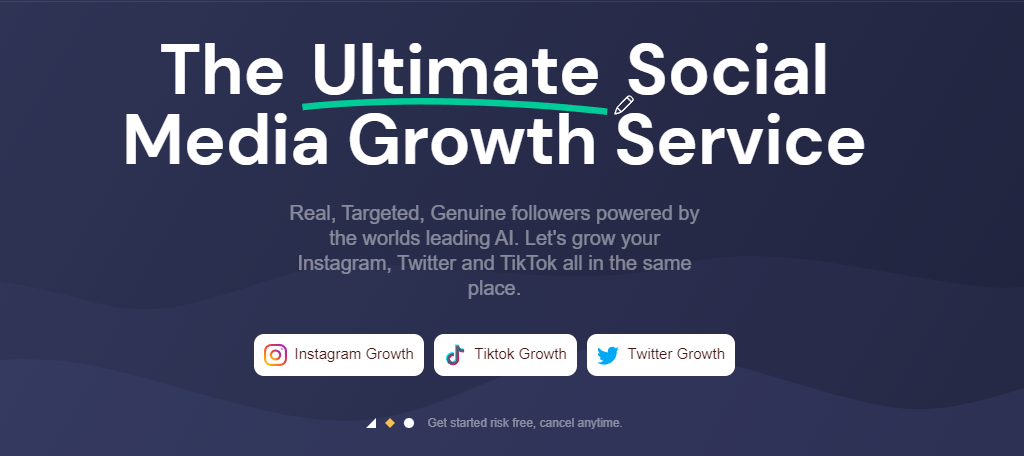 It's no secret that having a lot of followers on social media helps add credibility to your account. And that's where Seek comes in. It utilizes an AI that can help grow your Instagram account with real users who are interested in your content.
This helps avoid the problems that other services provide by using fake accounts to boost followers. These accounts are 100% genuine.
More importantly, services that provide fake bots can typically lead that account to be banned. Seek has been around for over six years, and has a great reputation, so you do not have to worry about any account suspensions or penalties by using this service.
The process is overseen by social media experts that utilize an advanced AI to help your account grow. All you need to do is set up your Seek account and select the target audience you want them to find for you.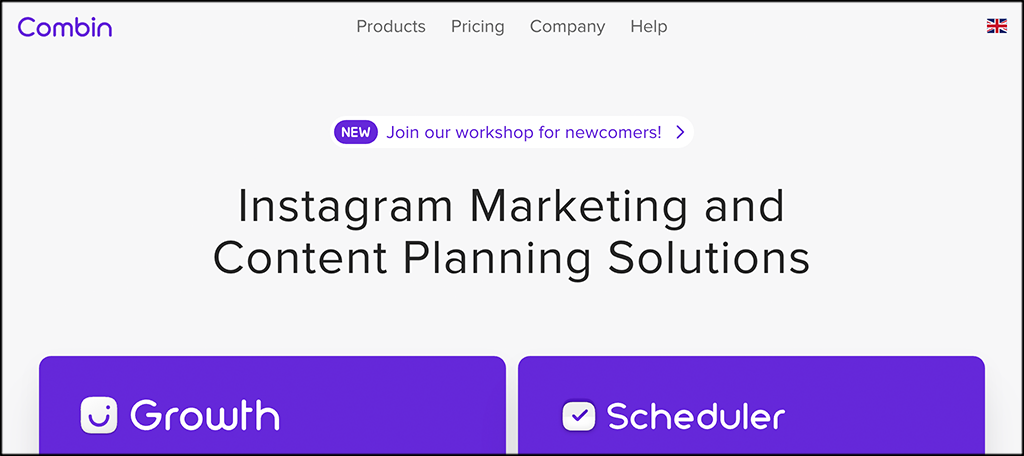 Combin is a platform that centers around Instagram account management. You can sign up for the free version to test out all of the major features offered. However, the paid accounts offer far more in terms of engaging users.
You can search through Instagram according to hashtags, location, and followers. You can even keep an eye on the comments of your competitors throughout the entire system.
As a result, you can target specific users and gain insight into what your target audience finds the most engaging. And since you can keep an eye on the competition, you can see how they're engaging those users as well.
One of the features users like is the ability to various comments across multiple accounts in bulk. This gives your account the presence of being exceptionally social, which many potential fans relish on social media.
Combin also has statistical analysis for the premium accounts. You'll have access to various data points to determine what campaigns are working best for you and which you should revamp.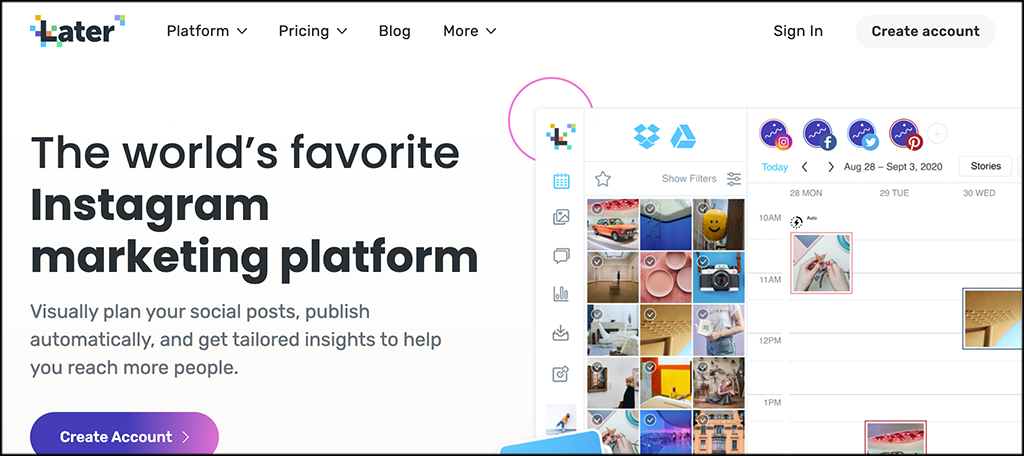 Another popular Instagram tool for growth is Later. In this platform, you can manage several social media profiles including Instagram. It does have a free account so you can explore the system without buying into it.
With Later, you can schedule photos and posts while tagging locations and users. Hashtags suggestions and Instagram Story management are also included in the premium services.
Later provides analytic tools including hashtag monitoring. This means you can see statistical information regarding tags and find the ones which work perfectly for your campaigns.
Analytical information also shows when the best time to post is according to the activity of the target audience.
One thing you should bear in mind is how Later also supports an unlimited amount of media for your campaigns. From images and video, you can keep track of everything you upload.
For retail businesses, Later offers the Linkedin Bio landing page. This resembles your Instagram feed and makes it easier for users to shop. It includes integrating with Google Analytics so you can get greater details from Instagram posts and sales.
Foursixty is an Instagram management platform tailored more for making sales from your audience. Essentially, you turn your feed into a gallery where users can view and shop from your images.
One of the greater features of Foursixty is the ability to capitalize on user-generated content. This is when fans of your brand are creating content and helping you by creating awareness.
The system's aggregation engine will monitor anytime users tag or mention your brand or product. The process helps by streamlining content creation while saving you a lot of time.
Plus, you can sort the user-generated content according to performance, which may increase the likelihood of sales.
Foursixty also makes Digital Rights Management easy so you can use customer photos without worry of copyright strikes.
Another aspect of Foursixty which separates it from many tools is the ability to track influencer marketing. You can discover new influencers through Instagram while tracking their performance according to engagement.
What this means is that you're more likely to find high-quality influencers to help your business grow on Instagram.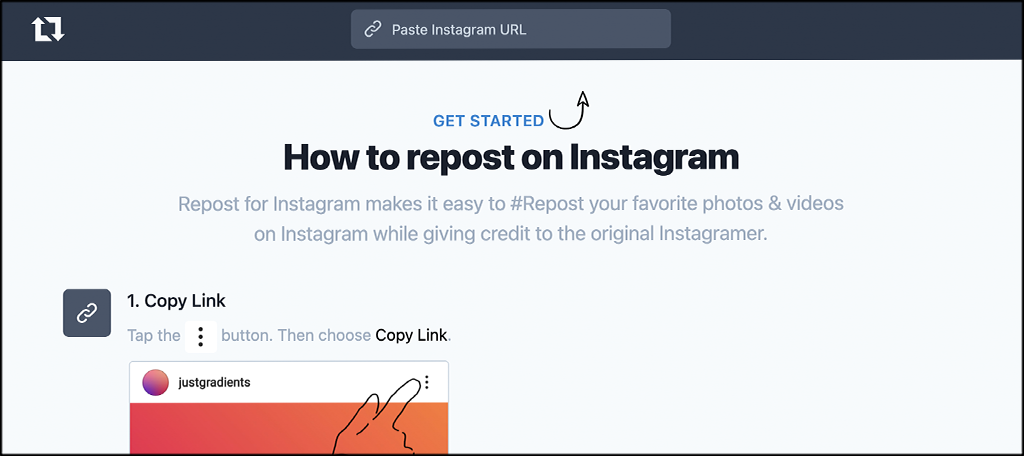 Repost is a mobile app many will use as part of their Instagram growth tools. It's available for both Android and iOS, although, there is no desktop user interface.
This tool lets you repost user-generated images and videos while providing credit to the original uploader. This benefits your account by showing followers of the brand that you value their input.
You'll also have the ability to bookmark content for later and search for images using either hashtags or by a specific user's name.
It's all about building trust and improving relations between your business and Instagram users. By sharing the posts of others, you deliver a sense of interaction which makes those people feel good about themselves as well as the brand.
Think about it; how often do you feel pride when a large business shares something you've created on any social platform?
I geek out every time even when the smallest business mentions anything I post. And that's the engagement Repost provides.
The app itself is free to use and has a few in-app purchases to add more to the experience.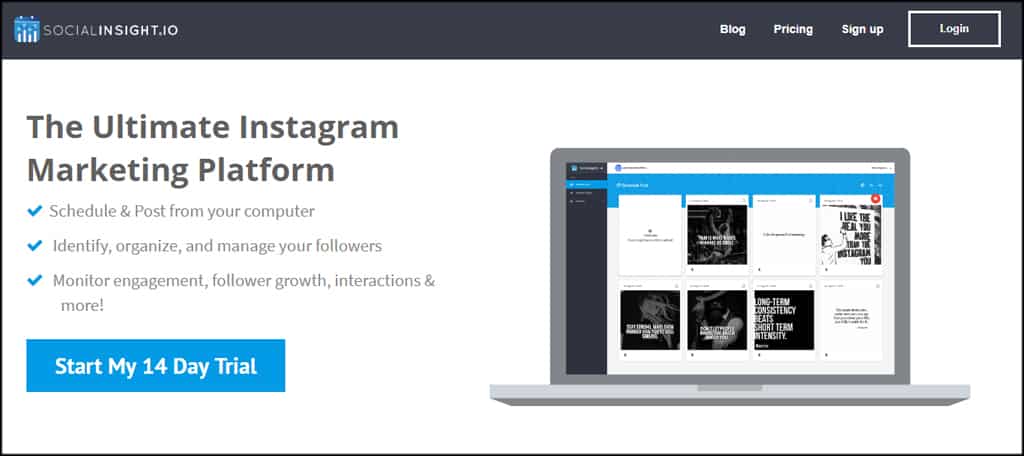 Social Insight is an elaborate system that offers a lot in the way of analytic data and functionality. With the sheer number of metrics and tools available, almost anyone can come up with a brilliant marketing strategy for Instagram.
The system lets you organize your posts and set scheduled releases in a timely manner. You can post according to prime times of the day and easily move content around according to your strategy.
Through its algorithms, you can identify influencers and find partnerships to increase your brand's awareness and drive interest. Instead of manually sifting through Instagram, Social Insight will find those who already know and love your brand.
Another point of interest for Social Insight is team collaboration. This lets you add several people to the platform without handing out your Instagram credentials. You'll still have absolute control over the account without fear.
Although Social Insight doesn't have a free version available, it does come with a 14-day free trial. It might be worth considering if it helps improve engagement depending on your needs.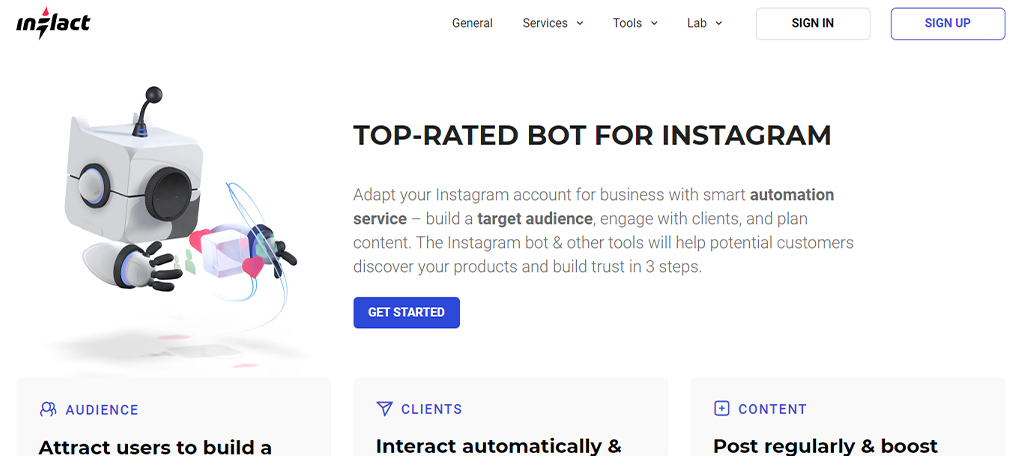 Rounding out this list of the best Instagram tools to use to help grow your followers is Inflact (previously known as Ingramer). This platform will help you attract users and help you build a solid community.
It also allows you to interact automatically and manage customers using a variety of tools including a direct messenger system and an auto-response chatbot.
Perhaps most importantly, the Inflact tool allows you to easily post regularly and increase your audience reach using appropriate hashtags. You can schedule posts, use the AI hashtag generator, and also scan for hashtag trends.
All-in-all, you will be hard-pressed to find a better all-around tool than Inflact when it comes to building your Instagram base and getting a solid audience in place.
If you are trying to actively build customer trust, while at the same time trying to save time and money, then give this platform a serious look.
How Instagram Growth Tools Can Help You
While you could simply produce a new image or Instagram story through the app, it's not always the most efficient. Using Instagram tools for growth provides a bit of freedom as many help you streamline posts.
For instance, some of these tools give you the opportunity to release posts on a certain schedule. This means you can engage your target audience better when they are more active.
This is aside from the fact that some of the best Instagram growth tools also include data analytics regarding your target audience.
Instead of throwing images against the social hub and seeing what sticks, data can help you determine the best course of action.
Get More Followers on Instagram
With the right tools, you can grow your Instagram followers to increase your online reputation. All it takes is finding those that best serve your purpose. Explore what these tools can offer and reach a wider audience.
You never know when an occasional viewer might turn into an ardent fan who promotes your goods through word-of-mouth.