Want to create better content to engage your audience? Practicing good grammar and spelling can mean all the difference when trying to connect with visitors. And the more legible the material, the more professional you look. This is why many will turn to proofreading tools online.
Why are Good Grammar and Spelling Important?
When building a website, its content reflects the type of business you're creating. Style and tone are often seen as reflections of company professionalism. It also plays into brand reputation.
It's much harder to earn the trust of customers if you're unable to spell the simplest of words. In fact, approximately 42.5% of people are influenced by grammar associated with a brand.
Think of it like this. When people go out to a job interview, most will dress for a more professional appearance. Why is this? Because first impressions are vital to securing a job.
Dressing the content on your website is similar.
Never Underestimate Grammar
Spellcheck can only do so much in terms of creating engaging content. Sure, you'll spell words correctly. But sometimes good spelling can still lead to disastrous results.
For instance, let's take the phrase:
"Let's eat, Grandma."
At first glance, it looks like a child asking his or her grandma for food. But what happens when you remove the comma?
"Let's eat Grandma."
Now the sentence means something far more dark and sinister.
This is the difference of good and bad grammar. You see, it's more than just spelling things correctly.
Some content management systems like WordPress have grammar tools to help structure good material. However, some of these are lacking in power.
And this says nothing about fine-tuning grammar in email. In fact, you should add proofreading to the ideas behind creating superb email messages.
Below is my list of the best proofreading tools available on the Internet. While they may not help construct a good topic to engage readers, at least you can make sure the material is legible.
Creating interesting and engaging content is your job.
1. Grammarly
Grammarly is perhaps one of the most popular proofreading software on the Internet. Well, at least it's among the most advertised. This is especially true if you do as much content research as I do in any given day.
Currently, there are two prominent ways to use Grammarly: free and an annual billing.
The free version lets you fix critical errors, punctuation and context errors. The premium account includes a slew of tools such as vocabulary enhancements, content style checking and hundreds more abilities.
One feature that stands out the most for me is the plagiarism check. This is extremely useful to make sure your content isn't already published out there in the world.
Consider that more than 3,800 blog posts are created every minute in the world. That's a lot of content!
Are you sure you're publishing something that is unique? This isn't to mention how the feature is helpful when proofreading content from writers you might hire.
The last thing you want is your brand being associated with plagiarism.
Another element to Grammarly are the apps for Windows and Mircosoft Office as well as the Chrome browser extension. This means you have several ways at your disposal to check content online and off.
2. PaperRater
PaperRater is another free online proofreading tool that has a bit of flexibility when it comes to features. While it's somewhat limited to that of Grammarly, it's still a viable option for checking your work.
The free version allows you to check up to five pages per submission, and only 50 submissions per month. So, this means you can theoretically scan through 250 pages of content for grammar and spelling checks.
You also get writing suggestions and an automated scoring for your overall content.
The advanced reporting system from PaperRater breaks down the content and is quite detailed regarding word usage, readability, style breakdown and originality. In fact, it will even show you the URLs of webpages that contain similar content.
The "Auto Grader" section will provide a score regarding the scanned content. You're graded much like a school paper from "A" through "F."
PaperRate also has a vocabulary builder tool to help you expand what words you put into content. It's like having an interactive dictionary always available to give your material a unique appearance.
3. SpellCheckPlus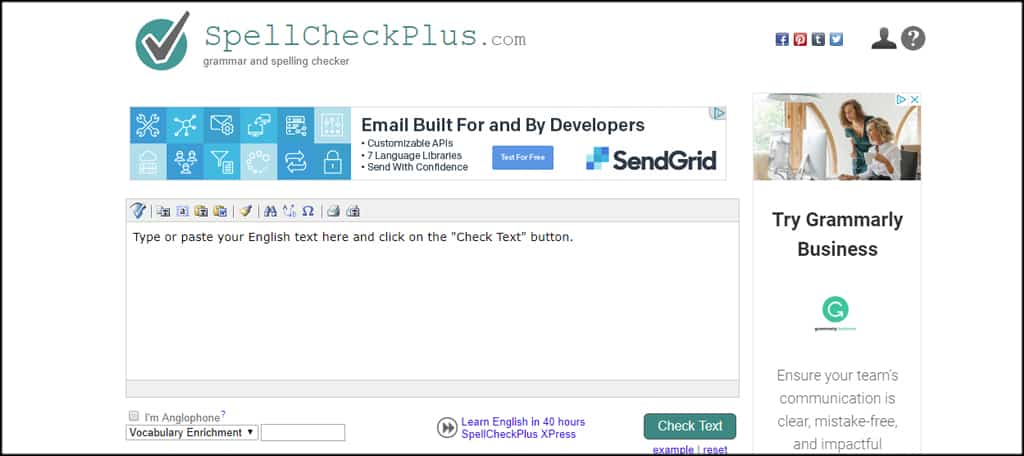 SpellCheckPlus is a very basic tool which offers free scanning of content you paste into the editor. It delivers a report of spelling errors and a list of suggestions to use.
It will also give suggestions regarding the actual grammar of certain phrases in content.
As this is an incredibly basic tool, there are no automated features to speak of. Your edits will have to be entered in manually according to your needs.
The "Grammar score" that SpellCheckPlus provides is more of an arbitrary calculation of the number of errors it finds within every 100 words. It doesn't take into consideration things like readability.
The trade-off for using SpellCheckPlus is you don't need to register, sign up or enter any other information aside from your content. It's one of the quickest ways to proofread your material.
If you're in a hurry and just need a quick scan of your texts, this is probably one of the better options.
Just don't expect a lot of tools or features in this one.
4. editMinion
The editMinion online proofreading tool is another quick and easy app to scan through content for errors. It's also another which you don't have to sign up or register for an account.
Just visit the website, paste your content and click the "Edit!" button.
As opposed to SpellCheckPlus, though, editMinion comes with features you can enable or disable depending on your needs. For example, you can turn off cliché or passive voice scanning for specific types of content.
Once scanned, editMinion will provide a results page regarding spelling and grammar. It will show a list of word usage, frequently occurring words, characters and places as well as color-highlighted areas you may need to address.
Most of the features of this tool seem to be more geared towards college students. For instance, you can enable Latin and Germanic roots of words which really doesn't impact writing online content for the business.
While it may not have the advanced features as some of the other apps in this list, it's among the most easiest to use. This is especially true for those who just want a quick glance at their work before hitting the publish button.
5. Proofread Bot
Proofread Bot offers simplicity for checking errors. It's yet another online app that doesn't require registration and is free to use.
Perhaps the biggest issue with this editor is the fact that it will scan for serial commas. Unfortunately, this contradicts AP style writing of today. As long as you're comfortable with ignoring this problem, though, the tool works well enough for a free app.
The end report includes the readability score from the five major factors such as the ARI, Coleman Liau, Flesh-Kincaid Grade level, SMOG and Gunning Fog score. Essentially keeping these in the green is ideal whether you're writing for college or online posts.
One thing that stands out of Proofread Bot for me is the ability to teach the bot. If you come across errors you know are true, you can submit grammatical fixes.
Proofreading Bot is available for a myriad of platforms as plugins such as Google Docs, Android, Chrome, WordPress and Drupal. You can even use it to fix grammar issues in Facebook posts.
6. ProWritingAid
ProWritingAid has a lot of features to help you create engaging content. It delivers a word-processor-like interface complete with tools ranging from basic spell checking to including a thesaurus.
Each tool provides a report regarding the text. For example, you can scan for readability by simply highlighting your text and clicking the "Readability" button. The tool will then break down the text and deliver a detailed report.
When ProWritingAid finds something you can edit, the system will offer fixes and suggestions regarding how to clean up the text.
The thesaurus feature is another that stands out in this app. However, it will highlight a very large number of words if it finds you can use something different in text. This can help you create something unique for your own website.
Not to mention how helpful it is for creating content that is optimized for user intent.
Another aspect you may want to pay attention to is overused terms. When something is repeated throughout a piece of content, it's easier to lose the interest of readers. ProWritingAid will scan the content for this and offer fixes.
7. Slick Write
Slick Write is primed for those who want to create SEO content for businesses or simply want to hammer out some fiction of their own. It also has extensions available for both Google Chrome and Firefox.
This proofreading software is built with a word processor, which allows you to write new content directly into the system. Then, click the "Check" feature and the app will do the rest.
Perhaps the most notable feature of this system is the Statistics screen. It will break down the content according to passive voice, prepositional phrases, ARI index, word variety scores and more. It'll even provide an estimation regarding how long it takes someone to read the text.
You may also be interested to know that Slick Write lets you save the content when you're done. However, it only saves as a TXT file at the moment.
This is OK as long as you're prepared to fix the formatting later, such as adding bold, headers or other font modifications.
If you're feeling playful, you can also jump into the Word Association Game within the system.
8. Grammark
Grammark is a simple tool to help you straighten up your content. Once the text is submitted, the system will scan for the most common issues of writing. This includes things like passive voice, sentence structure and basic punctuation.
However, Grammark is quite limited in what it provides and does not affect more serious issues. As long as you need a basic and quick scan, this web-based app is perfect.
On the upside, you can select from various reports such as wordiness, academic style, grammar, nominalization and other facets that will help you create amazing content.
For example, you can get a breakdown of how many transition words your text has. These make for better writing, and are featured in a wide range of online SEO plugins for WordPress and other systems.
Grammark is an open source project. If you feel inclined, you can add to the code yourself or easily include it into your own projects. For those who are handy with code, you can make this system as advanced as you'd like.
9. PerfectIt
PerfectIt has two ways you can use the software. You can either download the app for Windows or use it on the Cloud for Windows, OSX and iOS. The downloadable version supports all version of Word while the Cloud only supports Word 2016.
The system provides the same tools and functions you get from a myriad of editing apps. However, it also comes with an element called, "House Style." This lets you customize the preferences of the editor to reflect your brand.
This means you can fine-tune certain words, phrases and other elements to hold priority for anyone writing content regarding your company. For instance, what if you want writers to avoid certain phrases? This proofreading tool can help.
Another feature you might find interesting is the ability to streamline bullets and lists. PerfectIt will scan through the content and ensure that things like bullet points and list elements are unified.
This provides an element of consistency in writing for delivering a better first impression.
Something else I'd like to point out is how PerfectIt can also scan for legal terms and their capitalization. If you create legal documents for any purpose, this may be among the best proofreading apps to try.
It's Not All About Proofreading
Spelling and grammar are only tools to help your content appear more professional. It's the context and topics you cover that drive the audience to visit in the first place. Creating viral content takes more than just proofreading.
However, using the best grammar checker available does make a serious impact in how well your content is received. Spruce up your material and see for yourself how more professional it appears.