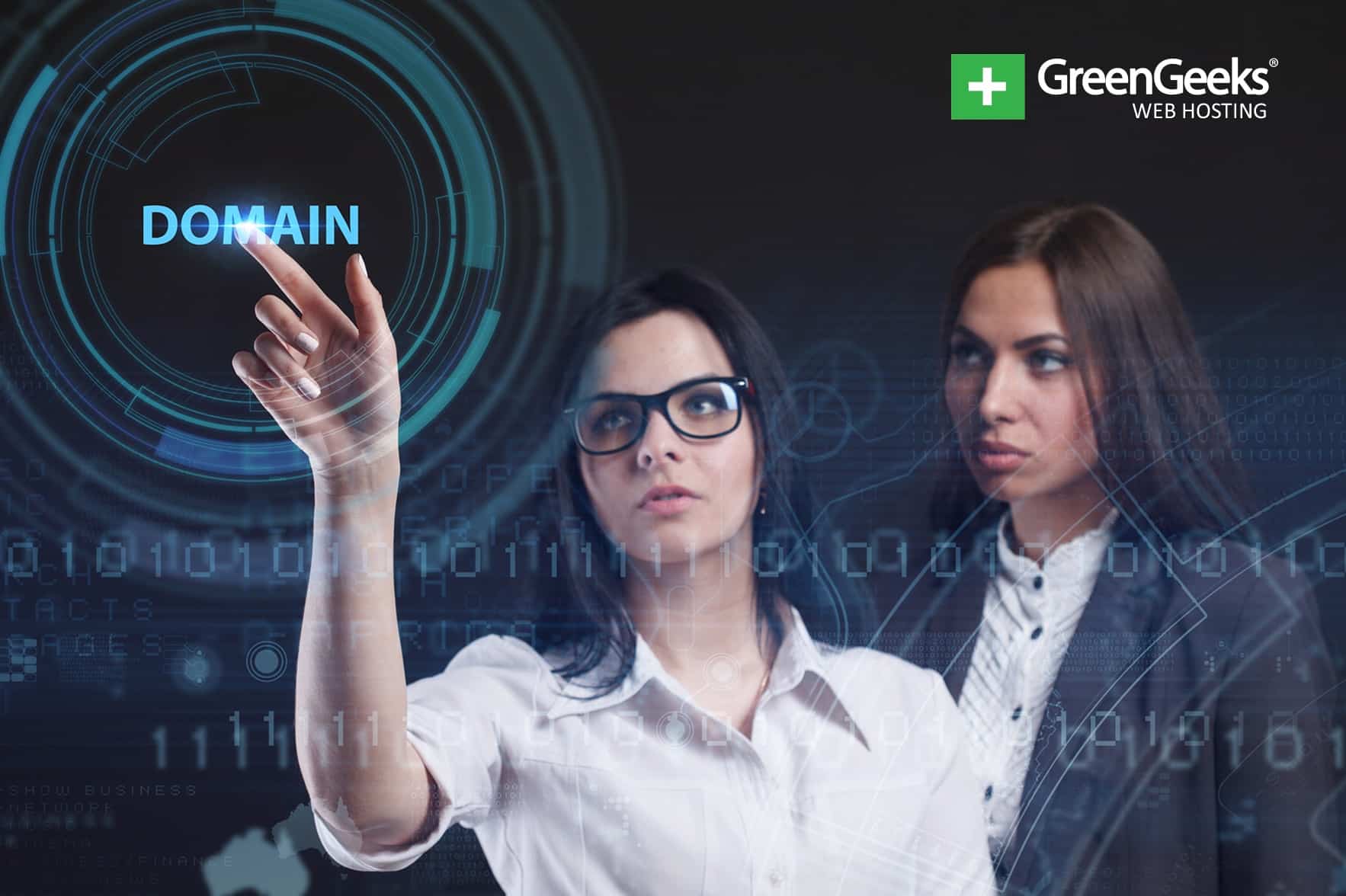 Choosing a domain name is not an easy task. Gone are the days of one-word domain names. It can be confusing. You think to yourself; how do I find the best domain name? Or, how do I create a unique domain name?
As I stated, it can be very difficult to find short, one-word domain names these days. Even when you do, they will more than likely cost you way more than you can pay.
You want your domain name (or website address) to be both memorable, and to represent your brand in the best way. Even if you find something catchy that you love, you may try to find it and see that the .com is already taken.
Of course, there is always the option of using a different domain extension, as there are many different ones available today. Most of these are also tailored to a specific niche, so this could be a great option to look at.
All that being said, there is another way to choose a catchy domain name. You can use a domain name generator tool. Below you will find some of the best domain name generators available.
You can use any one of these 20 top domain name generators to help you come up with a catchy, effective, and memorable domain name for your business, blog, or brand.
20 Top Rated Domain Name Generators
Note: These domain name suggestion generator tools are in no specific order. Check them all out and see which one you like best.
Once you have used one of the below top domain name generators, you will want to find a place to buy your domain name and host it. Here are 20 top rated domain name generators you should try.
1. Nameboy
If you are looking for the oldest and most popular blog domain name generator available on the web, then Nameboy is the domain name generator tool you want to check out.
Nameboy is free and easy to use. Simply enter your chosen keyword(s) and click the "Submit" button. Then, it will generate tons of creative blog names based on your keywords.
For example, if you want to search the term "diet," put it in the search box and all the related results will be populated for you to view and choose from. Check out this great blog domain name generator now.
2. IsItWP
IsItWP is a free domain name generator tool that will help you search for new company name ideas and get the domain name instantly (if it is available). IsItWP is actually powered by Nameboy, which we have already discussed.
The IsItWP domain name suggestions generator allows you to specify one or two words in the search box. You can also use this tool as a business name generator, website name generator, company name generator, URL generator, etc. It is good for everything.
Simply enter your chosen keywords in the search box and click on the "Generate Names" button. You will see a list of names given to you once they have been generated.
3. Domain.com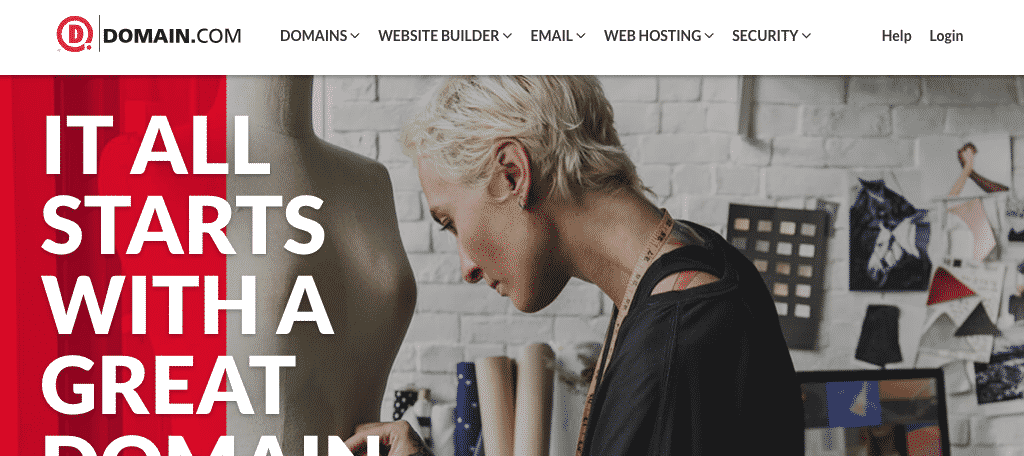 If you are looking for one of the best domain name generators and domain name registrars out there, look no further than Domain.com. This tool is both a domain name generator and a registrar. Make sure you know and understand the difference between the two.
Domain.com comes with a very powerful blog and business domain name generator. It has the ability to shows you dozens of generated domain names when you punch a keyword in. However, it also has the ability to show you the respective cost for registration of the domain name.
When you search a keyword the generator will first check the availability of the .com domain for the word. If it is not available, then it will reveal other related names for you. It shows both new and premium domain names.
4. Lean Domain Search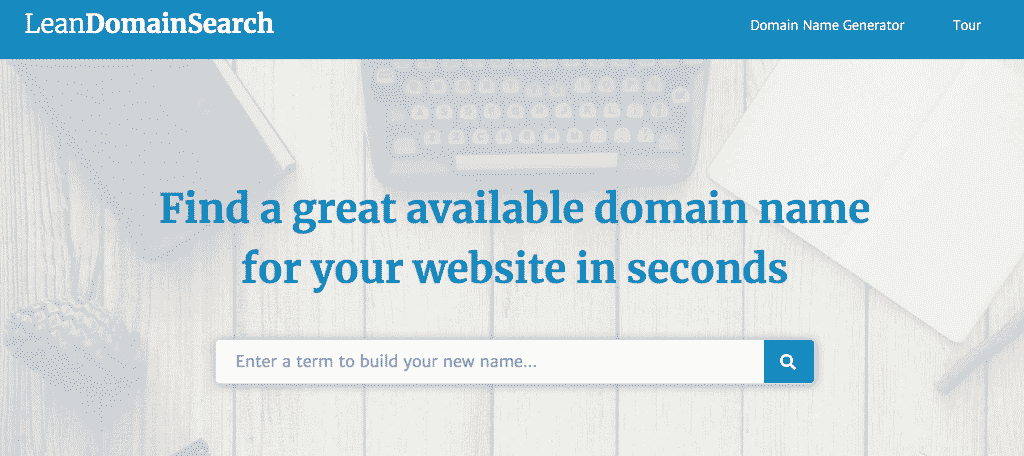 You can start with a single keyword and search all domain options here on Lean Domain Search. Don't let the title of this domain name generator tool fool you.
Once you enter a keyword and click on the search glass icon you will be presented with hundreds, if not thousands, of domain name ideas. Granted, there will be many in there that you won't be able to use, but the list is impressive nonetheless.
With this domain name idea generator you can also:
Filter Alphabetically
Filter By Length
Filter By Popularity
Save Favorites
Track Search History
Share Search Results
Instantly Search Your Unique Ideas
5. Domain Puzzler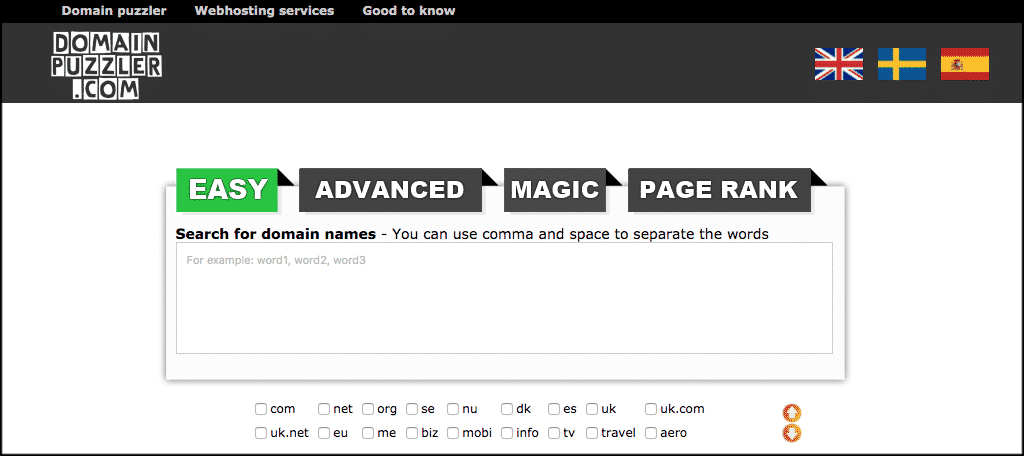 Domain Puzzler is a very simple domain name generator tool with a ton of options. It comes with a number of unique options including:
Easy
Advanced
Magic
Page Rank
You can start with the "easy" version, and insert your chosen keywords, choose your domain extensions, and search for ideas. This domain name generator tool allows you to include numerous keywords, versus just one or two like the other tools on this list.
You can also combine keywords into different variations, add results to your "Favorites" list, and perform advanced searches. Perhaps the most unique distinction of Domain Puzzler is that you can also use the tool to compare the page rank of different domain names.
6. NameMesh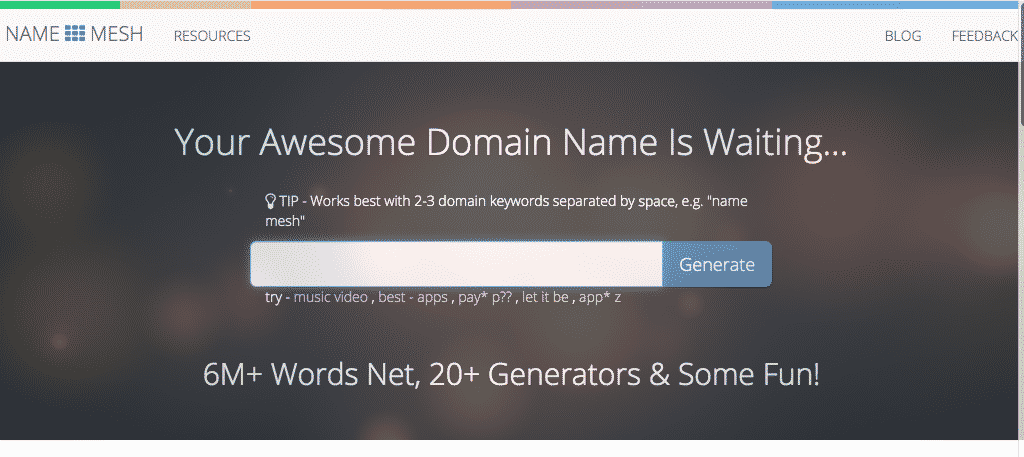 Another fantastic domain name idea generator is NameMesh. They offer versatile search options based on different categories.
When you enter a word or phrase, NameMesh offers you up options in different categories. Some categories they will cover may include:
Fun
New
Short
Extra
Mix
Common
Similar
SEO
You can also create domain names with them by keywords with the tlds (top level domans), like del.icio.us, foc.us, citi.es, etc.
7. NameSmith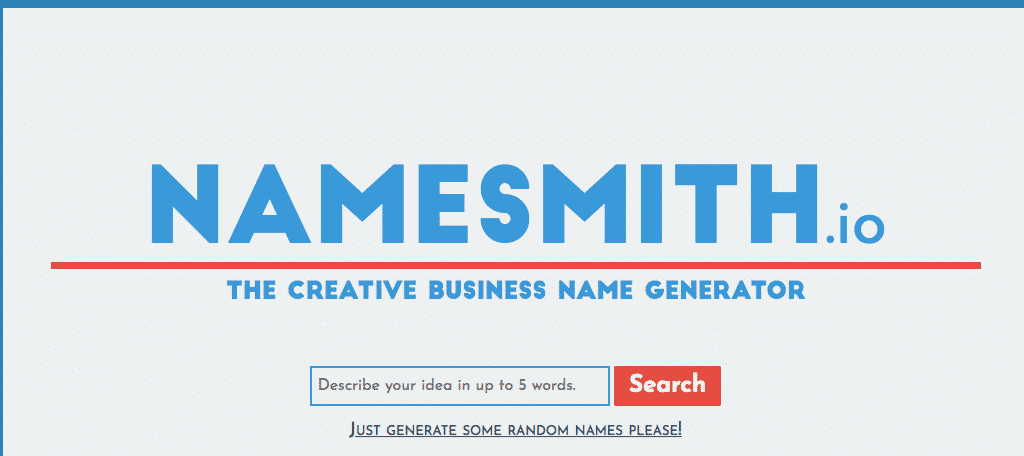 NameSmith is knows as the creative business name generator. They are one of the best domain name generators out there, especially for business related domain names.
They run a very flexible domain name idea generator. You are able to type in keywords or ask for random names to be generated. When you enter your chosen keywords, the results generated are based on top-level domains.
The NameSmith generator also uses a combination of language, word blends, rhymes, modified versions of your keyword, and prefixes and suffixes. They also provide you with an option to register the name if you decide to choose one of the many options provided.
8. Domain Wheel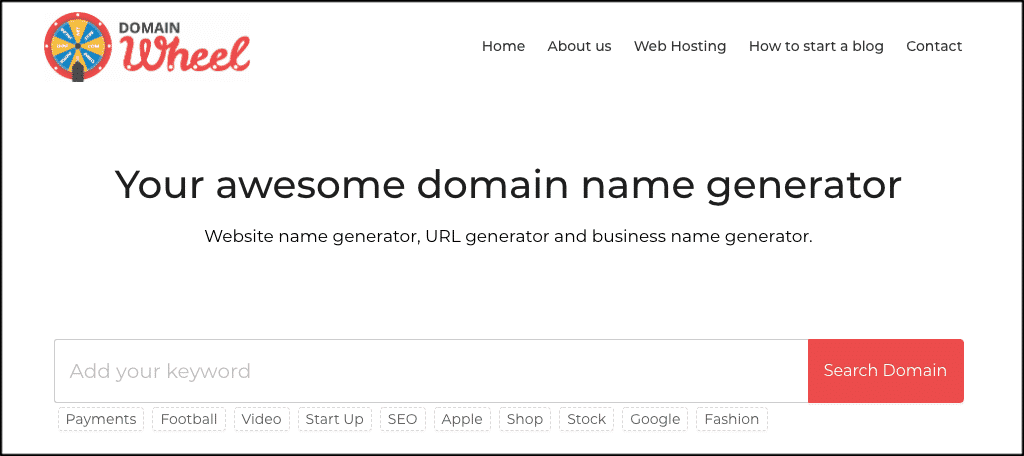 Another amazing blog domain name generator is Domain Wheel. They will help you identify the available domain names for your blog with the desired keyword you have put into the search field.
When you type your keyword in and click on the "Search Domain" button, The Domain Wheel domain name generator will give you an extensive list of top-level domain names available.
Keep scrolling down the list to see all the short names that Domain Wheel thinks would be good to start you brand.
9. Panabee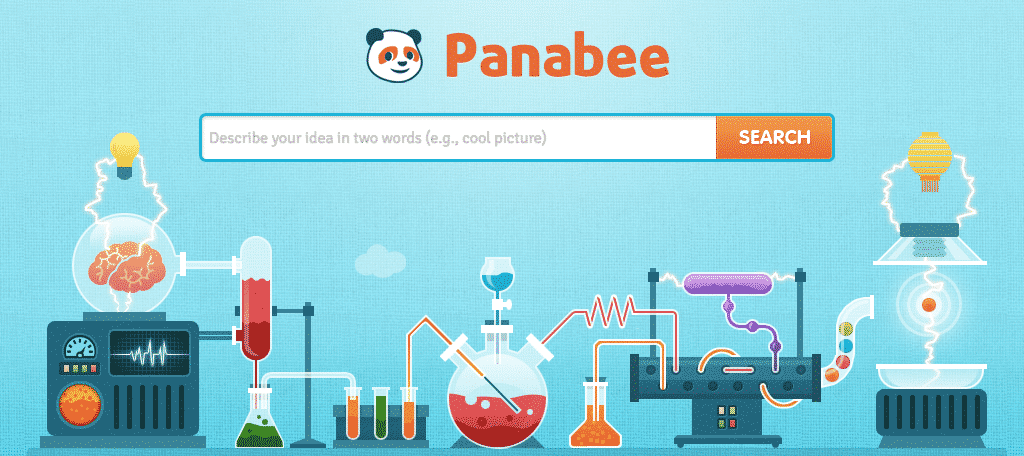 Similar to other tools above, Panabee gives you a search field where you can describe your idea in two words. Enter your chosen keywords and click on the "Search" button.
Panabee makes it very easy to figure out if certain domain names are available or not. The names with blue heart icons are available for registration, but the names that have those broken hearts in orange color are already taken.
Note: Many of the domains names that are showing as taken will be available to purchase as premium domains. You will pay a much higher price but it may be worth it to you.
10. Domain Name Soup
This domain name idea generator works a little differently than most of the other top domain name generators. Domain Name Soup actually saves you a step. You may not want this step saved, but it does it anyway.
First you have to put in the keyword or keywords that you want to use into the search box and check if the name you want is even available. If it is available you can use it, if it isn't, then Domain Name Soup gives you some suggestions for other options you can use.
You can also choose a name or modify a name by using the list on the left side of the screen. This list includes options like word manipulators, letter searches, word lists, and more.
11. Bust A Name
Bust A Name uses several filtering options when it generates domain names. It offers users two available options on the screen, a name search and a name maker.
Enter in the keywords you want to use for your business and this domain name generator tool will automatically help you choose a domain name that is appropriate for your business or brand.
They also use a number of filtering options to help you narrow down your choice to the best one. Don't forget to try out the "quick check" feature . This feature will show you if the name you want is available or not.
12. Shopify Business Name Generator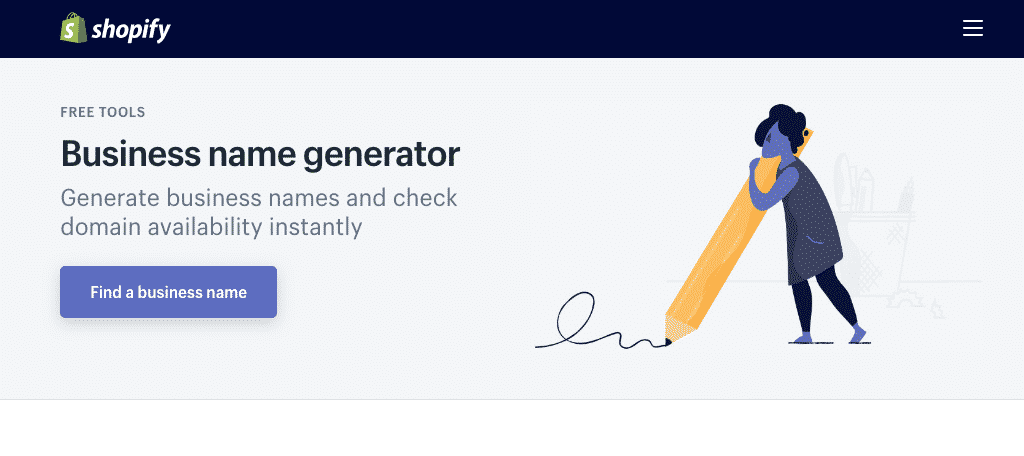 Don't be fooled by the name. The Shopify Business Name Generator gives you results for any available domain names, not just business related ones. The best way to start is to simply choose a keyword you want your domain name to have and go from there.
Enter the word you want and the Shopify domain name generator tool will give you hundreds of selections to choose from. Now, the Shopify site will try to encourage your to use the domain name on a Shopify website, but you don't have to do this. You can start an online store several ways if you want.
You can use the domain name generator tool and then take the results and purchase the domain name elsewhere. Remember, you can always transfer a domain name as well, even if you buy it with Shopify.
13. Wordoid
I recommend you use the Wordoid domain name generator tool if you are looking to use offbeat, unique, fun, made up words as part of your domain name. After all, Wordoids are made up words.
Using made up words like this might give you a very unique name (one you may not have thought of), which can be a good thing. You can be sure that if you find the right name everyone will remember you.
Wordoid is the most creative way to find a catchy name for your new business, blog, or brand venture. You can choose one or more languages, select the preferred quality level, type in a keyword, and Wordoid will come up with plenty of name ideas.
14. Naque
Much like the previous domain name generator discussed, Naque is a great tool to use when you need inspiration for a domain name. This domain name suggestion generator provides users with a word mixer that jumbles up your keywords and comes up with something very unique for you to look at.
You can enter up to 5 different keywords and Naque will take care of the rest. You will be provided a number of word options combining the keywords you provided.
This is a great way to come up with a domain name no one else has ever seen or heard of.
15. NameStall
The NameStall domain name idea generator offers a pretty well rounded number of tools to help you along with your domain name search. Start by simply using their domain name generator tool, which will help you search by keyword and other filters.
These other very helpful filters include:
Parts of Speech
Popular Keywords
Basic English Words
Industry Categories
NameStall also allows you to choose if you want a keyword specifically at the beginning or end of your domain name. They also feature a similar domain name suggestion tool, as well as an instant domain search tool, brandable domain name list, and high paying keywords search tool.
16. DomainsBot
Turn your ideas into names with the DomainsBot domain name generator tool. This generator acts as both a domain suggestion tool and a domain search tool.
You can start by searching a keyword you want and DomainsBot will find available ideas based off that keyword, combined keywords, or similar keywords. You can also simply search the exact domain you want to see if it is available.
You will see other suggestions from DomainsBot based on similar domain names. You can then take this info and filter it by extension and language, or add your own synonyms, prefixes, or suffixes.
17. Name Station
To get started with the Name Station domain name generator tool, you will have to first signup for a free account with them. You can do this using your email or Facebook account.
Once you have signed up for an account, you will have access to several great tools including:
Domain Name Generators
Instant Availability Checker
Public Name Contests
Keyword Suggestions
Enter the keyword you want in the search field and click on the green "Get Name Suggestions" button. If you don't like what comes back in search, or don't have any other keyword ideas, try searching your industry for some.
Name Station has been featured on TechCrunch, Mashable, SEOMoz, and other big names online. It is definitely worth checking out.
18. Impossibility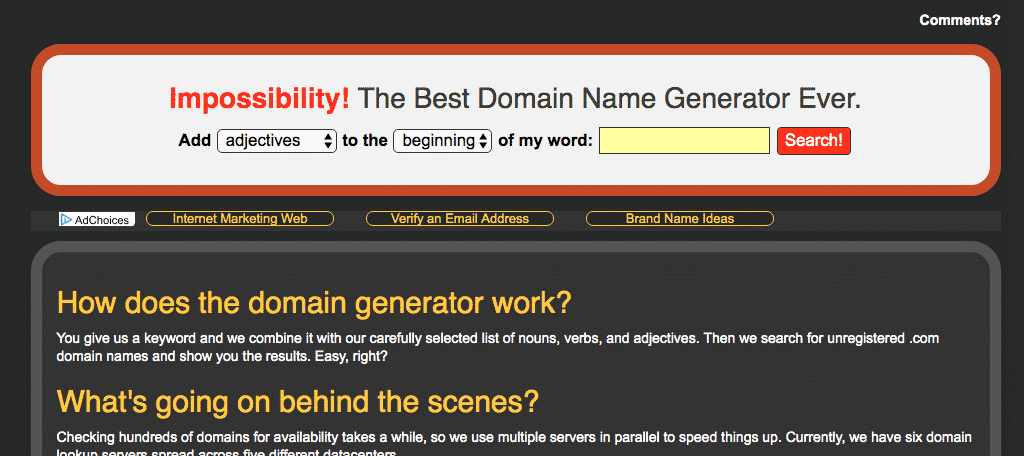 Impossibility boasts that they are the "best domain name generator tool ever!" Now I can't say one way or the other how true that is, but they do use a slightly different approach than the other tools on this list.
You start the process by choosing a keyword you want to use. Then you can choose to add adjectives, verbs, or nouns to the beginning or end of your keyword.
Take it one-step further and choose from 4-letter, 5-letter, and 6-letter options, or simply decide to mix anything with your keyword. This technique ensures that you will come away with a lot of different and fun options to choose from.
19. I Want My Name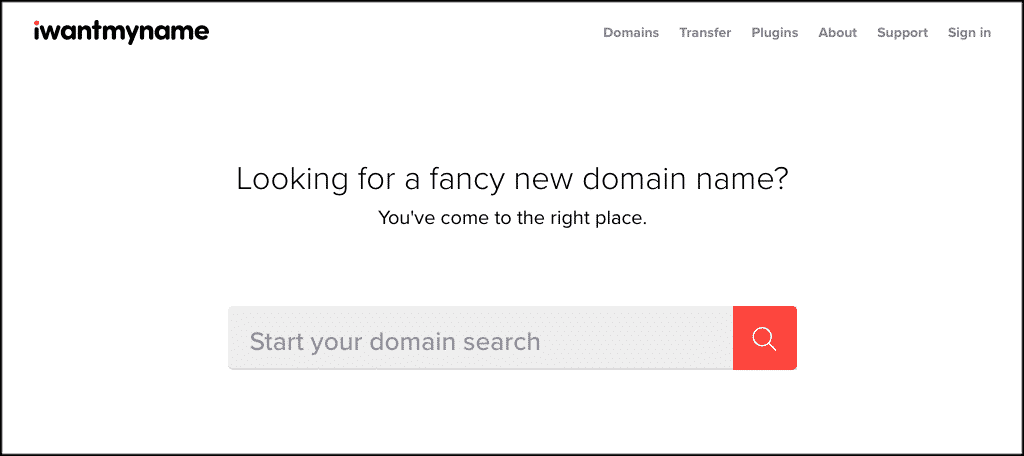 I Want My Name is best used if you already have a specific name in mind. You simply enter the URL that you want and I Want My Name will let you know if it is available or not.
If the domain name you are searching for is not available, then they will present you with a list of some alternative options, along with pricing info. You can also filter by using the unavailable names tool.
20. Cool Name Ideas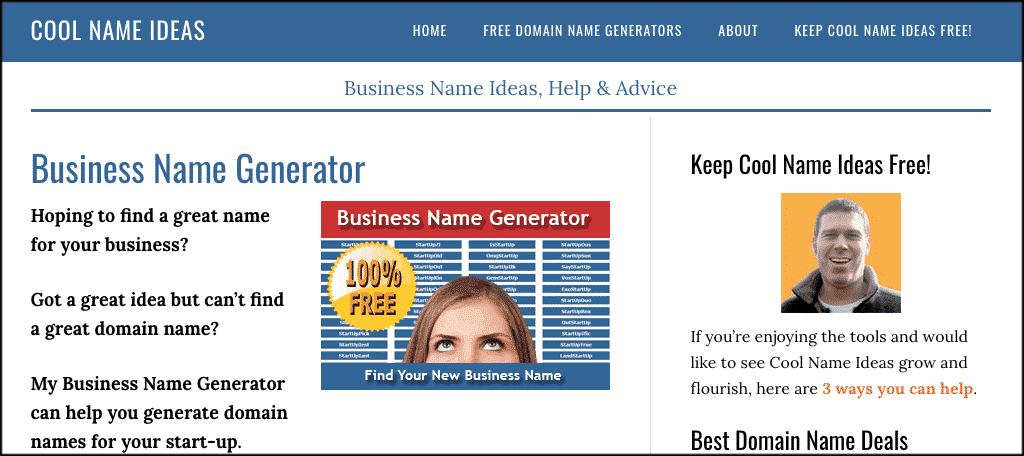 Cool Name Ideas features a business name generator that also tells you if the matching domain name is available. Cool Name Ideas sets itself apart in this way. You can search for both and see if they are both available.
This domain name generator is also different in the fact that they allow you to choose filters based on your business size and customer base. This allows for better matching of names and businesses.
Advanced options allow you to choose character length and the location of the keywords that you have chosen. Not only can you see if the domain name is available, but you can also check if the Twitter handle is taken as well. Since you can do so much with Twitter this is important.
Conclusion
Remember, picking a domain name can be both fun and very challenging. These top domain name generators can really help you with creativity and help you find something that will fit your brand.
Keep in mind that many of today's top websites, businesses and brands started out with very uncommon words that were used for domain names.
Have fun with the process and take your time. With all the available names and extensions still available you will have your new domain name figured out in no time.