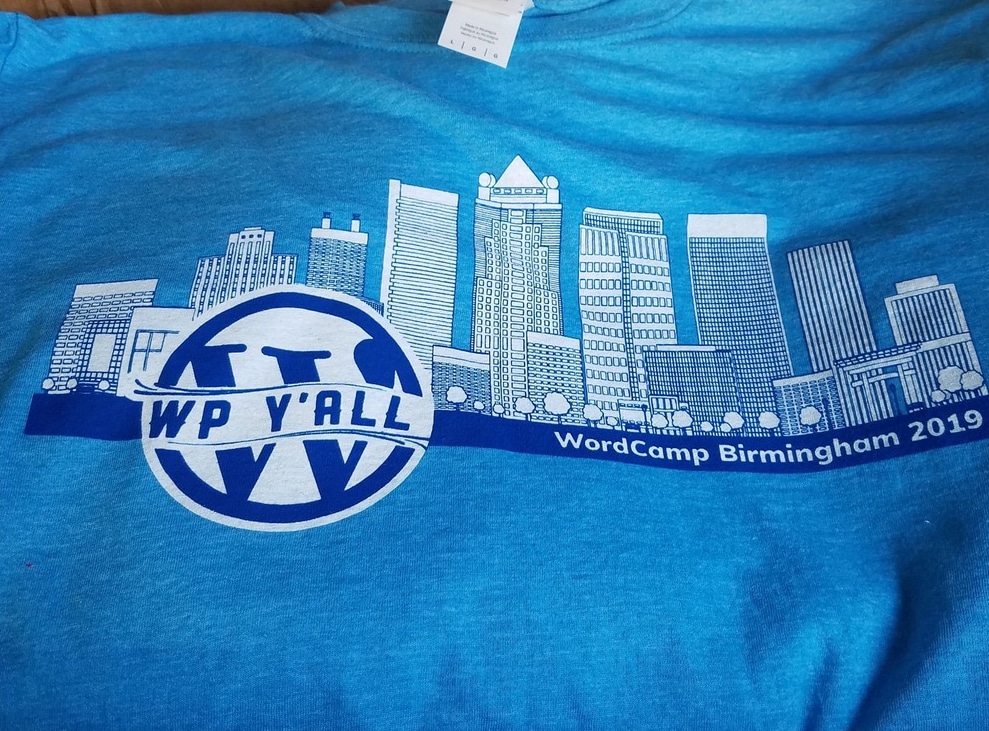 I was mentioned in the opening remarks of the camp as being the guy who came from the furthest place of all. And yes, they said I came from Costa Rica. As the camp unfolded and people asked me where I was from, they all said: "oooohhh you are that guy".
Yes, I was that guy.
It was a WordCamp of firsts for both Birmingham and myself. For me, it was the first US WordCamp I ever spoke at. More on this in a bit!
Getting There
I arrived a day before the camp, traveling all the way from San José, Costa Rica, to Birmingham International Airport. It took me half a day to get there. The flight time ran about 5 hours, and the other half, well, let's thank airport waiting time plus TSA checks.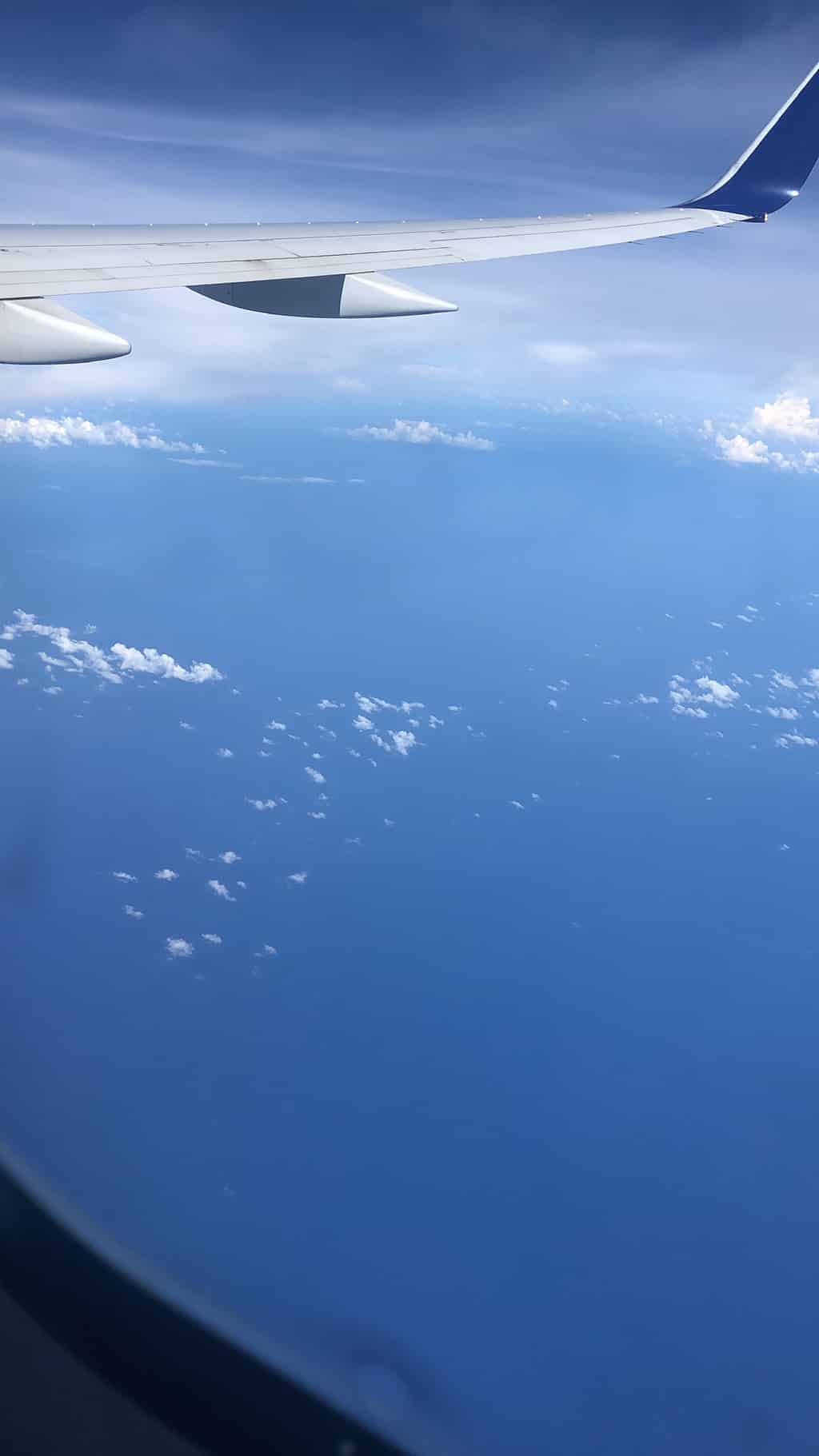 Luckily, there are laptops whilst we wait!
Unlike the Managua WordCamp I attended wearing my GreenGeeks colors, this time I had the chance to go to with Sandy Edwards. She also helps with GreenGeeks.
Teamwork makes things easier. And in no time, Sandy and I had the table ready to go.
The Speaker Party
Having arrived earlier, it was possible to attend to the speaker and sponsor's party. I was very excited because as I said, this was my first time speaking in a US WordCamp.
Thus, the excitement of being a beginner, less sure about everything and everybody at the party made the rush all the better.
The speaker party was at the Birmingham Zoo. I entered the party, and this little guy was waiting.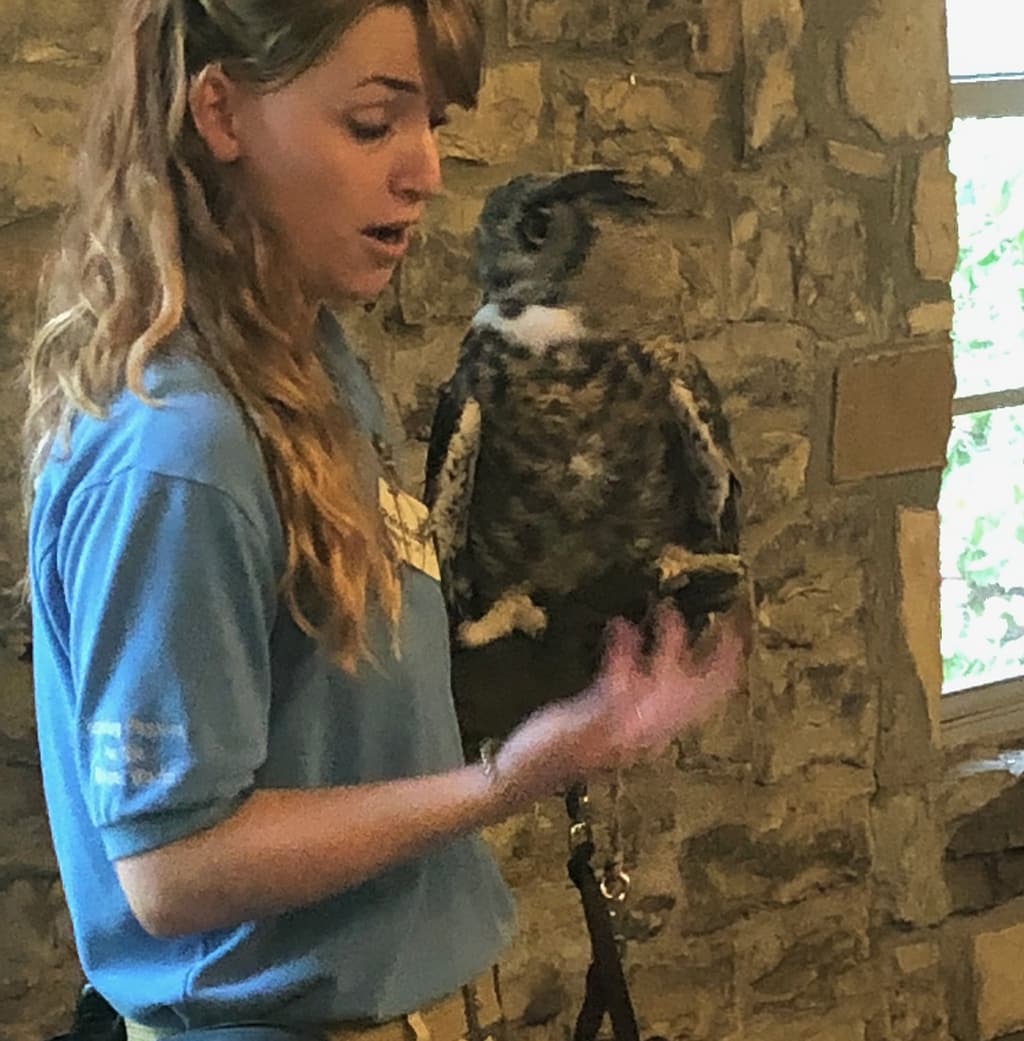 After being greeted by Nathan Ingram, and having a gazillion tacos, I started to talk to other people around who were mostly speakers from the southern US. I knew some people from past camps, and they are just flat out rockstars by now.
It was great to see them again.
Then, all of us headed back to the hotel that was close to the camp. But not before grabbing everybody's attention because I am a huge coffee drinker.
A huge one.
Traveling to Birmingham, I brought my own coffee. This is because it's just better coffee and the process of making it is just flat out better. But I forgot my French press and only brought the coffee.
The guys (speakers) were tremendously surprised at first that I brought my own coffee. However, they were helpful in shipping a press to me at the hotel. So I was ready to go to bed knowing I had my coffee waiting tomorrow for the big day.
Thanks, guys. I made a promise to give a taste of this coffee to all, so they knew I was for real about my drinking habits.
The Venue
It was the Rosewood Hall, which was confusing at first to go to. City Hall is also there, so the sign outside read "City Hall" and not Rosewood. Thanks to @WPYALL, it was easy to spot that it was the right place.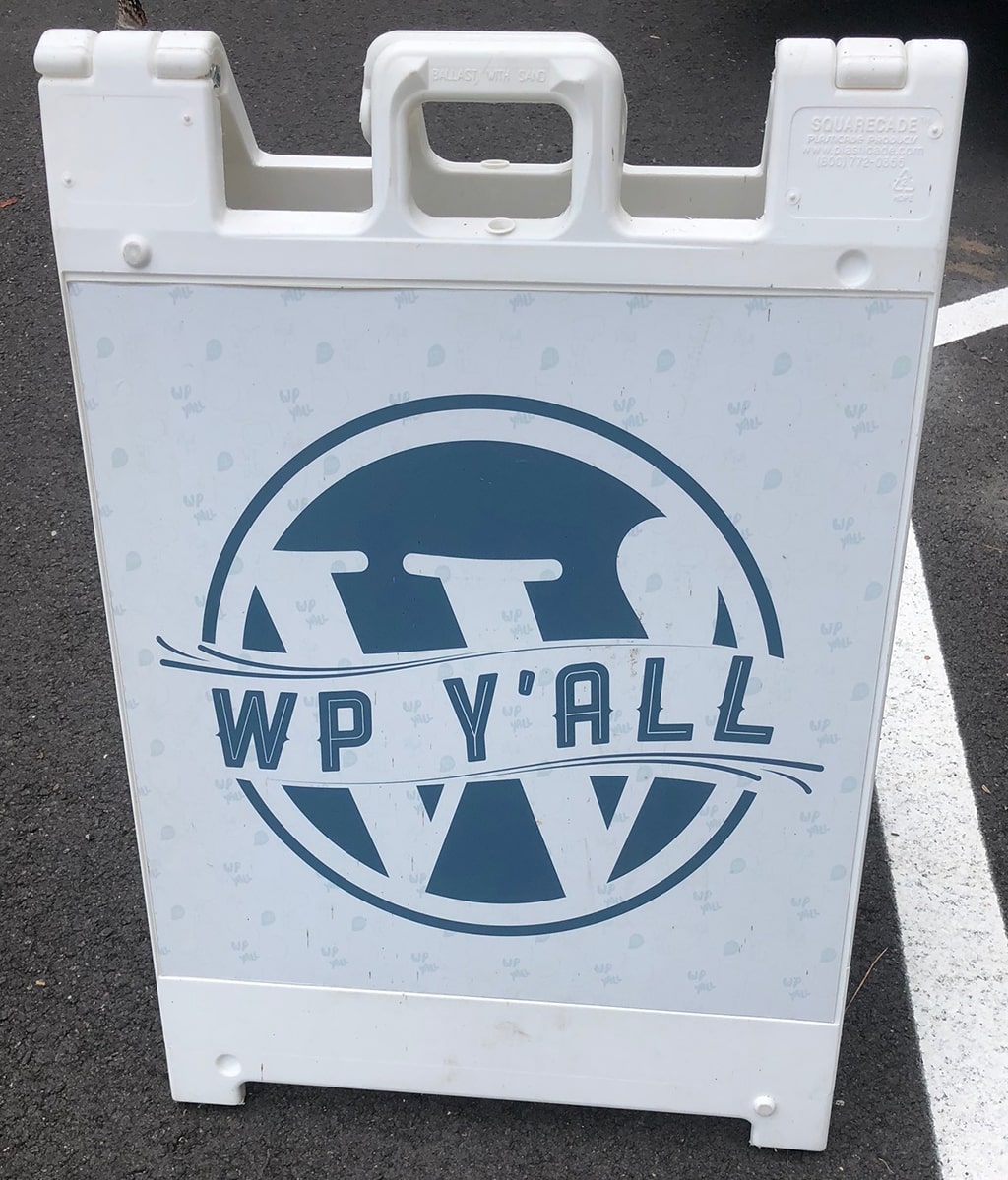 The aisle that connects the three conference halls was where we decided to set up. After making my own coffee and sharing it with my fellow organizers and speakers, they said I was right. It was the bomb.
With coffee done, it was time to offer our fellow WPYALL attendees the goodies we brought from GreenGeeks.
What many didn't know, and was revealed to us after the camp, is that within that building there is also a..jail! Apparently, it is on the upper floors of the building. It's a bit scary, but fun at the same time.
Representing a Company that Sponsors a Camp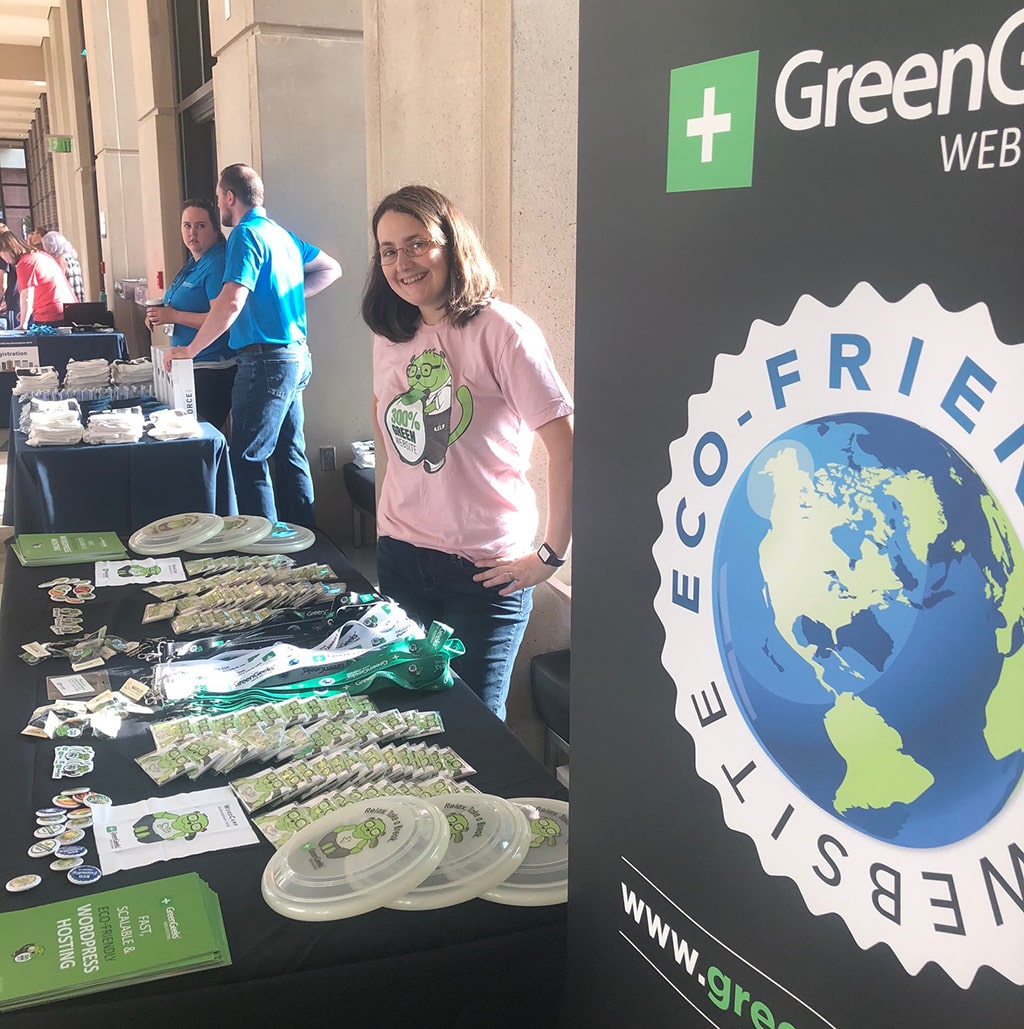 I love WordPress. I have been around the ecosystem for almost 10 years. Up until recently, I started to give back to the community as to what I know at MeetUps and speaking at various WordCamps.
I didn't know how sheer knowledge can help others so much. The other day, I was asked why did I help others out if I gain nothing monetary by doing so.
It was a good question.
To answer it, I have to quote Winston Churchill yet again, as I did in my WordCamp Managua Recap:
"You make a living by what you receive, but you make a life by what you give."
And that quote sums up my sentiment. And working for GreenGeeks, who as a WordPress hosting provider is also a global sponsor for WordCamps around the world, makes me extremely proud to be out there. I can engage with fellow business owners, designers, marketers, people that are around the Alabama area, who come to these conferences to gain insights and knowledge.
Offering them solutions as a Web hosting company in order for them to grow is a great sentiment to have.
So we spoke to a lot of people, answered their questions, and gave out lots of swag. And we even customized one.
Just take a look at this. I mean, is this WPYALL love or what???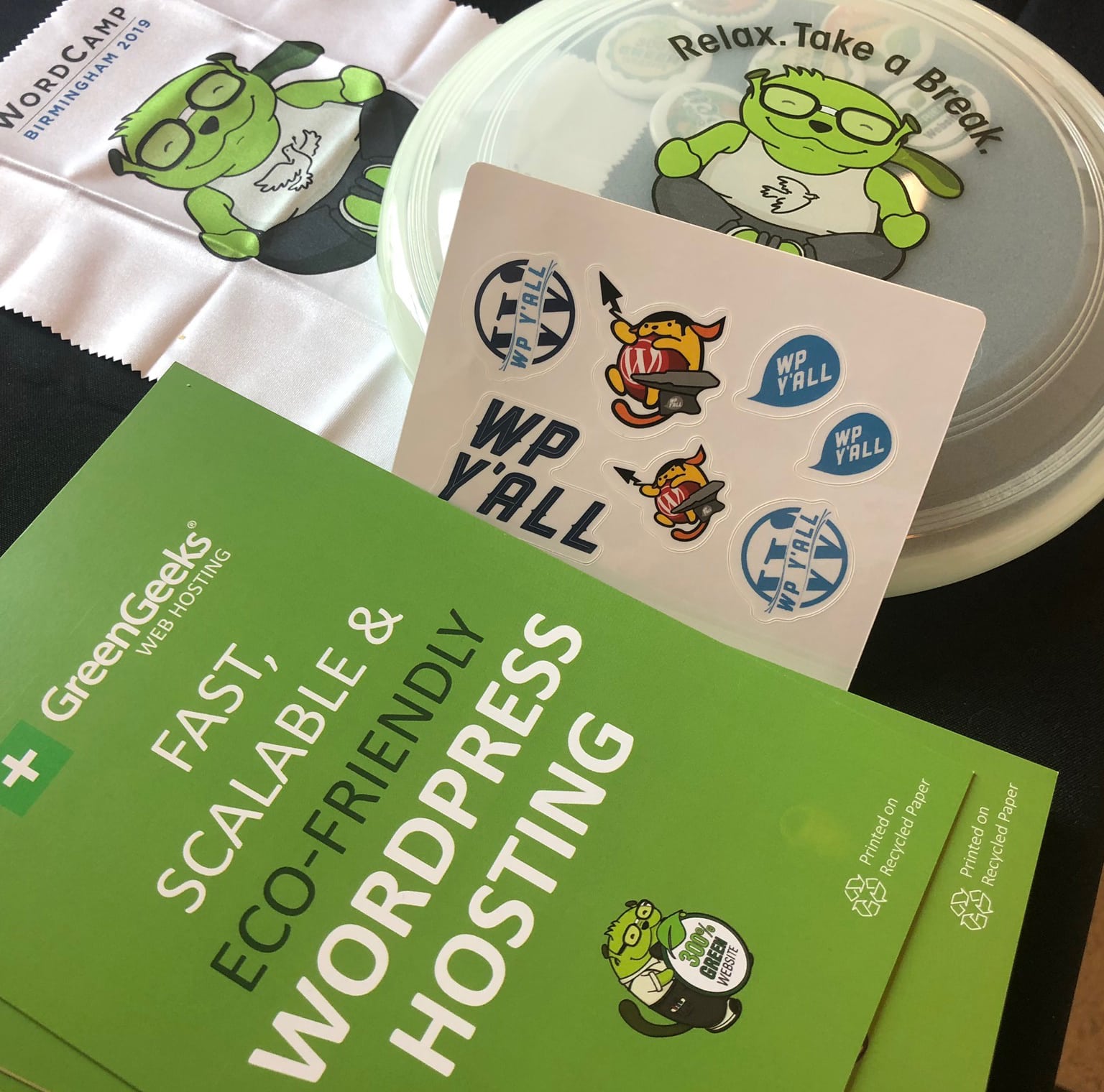 Day 1: The Talks
After the opening remarks by Ryan Marks, we started strong. My talk was amongst the first ones of this camp.
My subject was WP_Query for beginners, and it was pretty much about how to make custom queries (loops) with WordPress. Both the syntax to run the query and the arguments that allow you to control what gets queried can be done using a custom loop.
Man, was I nervous starting to speak! But as the talk unfolded, I think I was handling it better and better. In the end, I was back to my old self. I think my anxiousness stemmed from the fact that I had never spoken in English, (it's not my native language) plus I didn't know what to expect from the audience.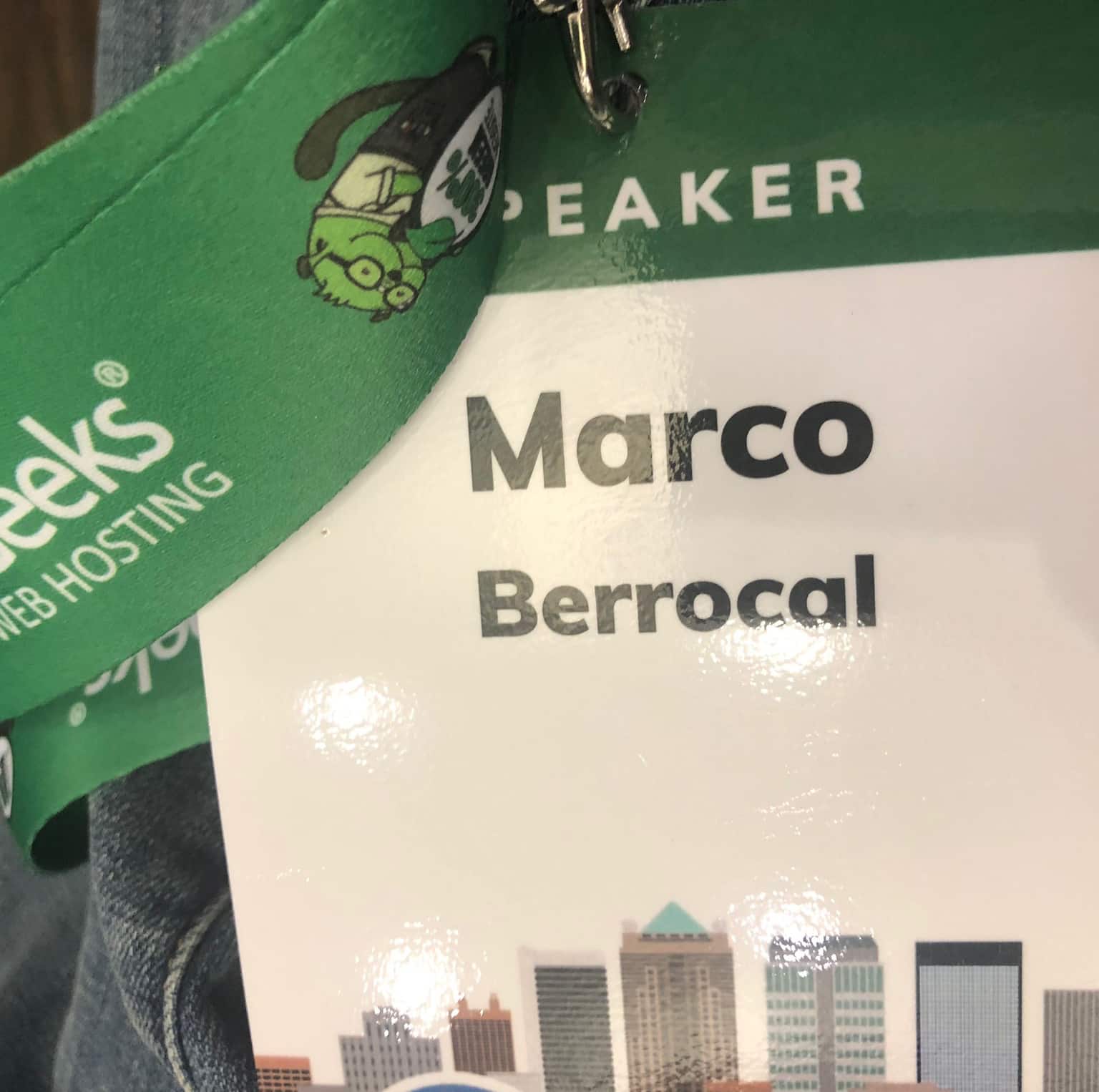 Those questions to myself were revealed to me as the talk went on. The answer is pretty simple: audiences are pretty similar from camp to camp. It's business owners, entrepreneurs, employees, speakers and people who want to expand both professionally and personally all using WordPress.
They have the same doubts, concerns and obstacles as other camps I've been to. Once again, I cannot stress the fact of how great it is to be able to listen to them all and help everyone out.
I even took some time to go to the Happiness Bar and help people out with concerns about different topics all related to working with WordPress.
Attending WordPress Security: Beyond the Plugin
During the afternoon, I was able to attend WordPress Security: Beyond The Plugin, by Stacy Clements. I was particularly interested because I have to be honest, I don't pay much attention to security and implement it as an afterthought.
Well, sometimes this can bite you really bad when you get hacked and have nothing in place. Security is about managing risks, was the takeaway from the talk. It is a process and not a product or a one-time thing.
The talk was aimed at exactly that: at the ongoing process one must go through in order to manage said risk.
Despite that we backup stuff regularly at GreenGeeks and that your files are isolated from the rest, you should always take care of your site in order to manage the risks.
The Party
After a long day, it was time for the After Party. It was held at the Vulcan Park located atop Red Mountain.
Vulcan Park is a symbol of birminghamians. The statue here is the largest cast-iron one in the world. This makes sense given Birmingham's history and roots in the iron and steel industry.
The statue resembles the god Vulcan, a Roman god, who is the god of fire, according to Roman mythology. You could take the elevator or the stairs, which there are 160 of them, in order to have a breathtaking view of Birmingham.
I am scared of heights. But, I was able to climb the stairs and take look. You get a sticker for taking the stairs, by the way.
Some of us decided to go out for some Birmingham nightlife. After asking the locals what was good on a Saturday night, we decided to go to the Atomic Lounge.
This is a bar that in a word can be described as "unorthodox".
The bar itself has a very retro feeling, and to make matters even weirder, there are board games at every table. This is an incredibly fun thing to do whilst you sit and have beers with friends.
There is a menu of "costumes" one can wear while playing board games and drink with friends. I mean, sitting with someone dressed as a toucan next to you isn't exactly an experience you live every other weekend.
It's a very nice concept!
Day 2
The second day of WordCamp Birmingham saw a decline in people. This is normal with every camp I have been to. Well, except when I went to WordCamp US, which had so many people you couldn't tell.
And this led me alongside the organizers, Nathan, Ryan, Kathryn and Jake to ponder about this.
WordCamp Birmingham is a small camp of about 200-250 people compared to WordCamp San Jose, Costa Rica, which had 700-800 people. Even a US WordCamp can have as many as 2000 in attendance.
So, which one is better?
I like the intimacy of small camps. You really do get to meet everybody, whereas a big camp has a lot of things going on, lots of sponsors and lots of swag. I mean you need a suitcase for it.
I would say they are different, and not necessarily one better than the other. What you gain out of each camp is pretty much the same: knowledge, connections, friendships, and new opportunities no matter what your participation is.
This is why it's so great to go.
Attending Your Brand in a Voice-First World
The talk I enjoyed the most and went to on the last day, which also happened to be the last talk of the camp, was: Your Brand in a Voice-First World, by Chip Edwards.
It had to do with SEO for voice searches one does over the phone. It was an "AHA" moment because it never occurred to me that people actually do use these features on their smartphones, especially for accessibility reasons.
So the talk was geared towards putting the shift on content. In the voice world, the content is the brand. You need to focus on things such as your image captions, alt texts and titles. Those are the tags that voice searches go to when looking for content online.
So the key takeaways are that we must generate well-structured content. We can expect new opportunities in the voice searching world. There is no doubt, the technology is here to stay.
Closing Out WordCamp Birmingham 2019
And with that, WordCamp Birmingham Alabama came to an end. At the closing remarks, we took the stage to announce our lucky 1-year hosting winner, Tonia Myers!
Happy to have you onboard for all your WordPress hosting!
Later that night, after everybody had left, it was just 4 of us speakers. Jessi Gurr (see you in Costa Rica!), Chip Edwards, Teressa Ott and myself talked a bit more. And after that, the following day, it was time to go home.
Final Thoughts
I loved going to this WordCamp because it was my first of many things. I loved the place, the people, organizers and hope to see them next year. You guys did great, and it is always bittersweet to say "goodbye" to people you admire tremendously for their hard work to make the WordPress magic happen.