The weather was a bit muggy on July 13th in Michigan. And we wanted to arrive 30 minutes early to ensure a prime location at WordCamp. Although there were a lot of closed roads during the summer construction, we still managed to get upfront in a prime location.
The fun part was navigating around Portland. With the sheer amount of construction, it was surely an obstacle.
Arriving at WordCamp Grand Rapids 2019
When it came to the construction I had to drive through, Grand Rapids was no exception. I had to circle around the block a few times before finally making to the L William Seidman College of Business School. But luckily, I still made it with plenty of time to spare.
Setting Up at WordCamp
Regardless of the traffic, GreenGeeks was the first sponsor to arrive at the college. After meeting up with Topher DeRosia and Nicole Paschen, I set up "camp" with my pick of the available tables.
Taking a bit of artistic license, I was able to incorporate a bronze bust of Bill Seidman behind me at the booth. And his presence complimented the layout, I must say.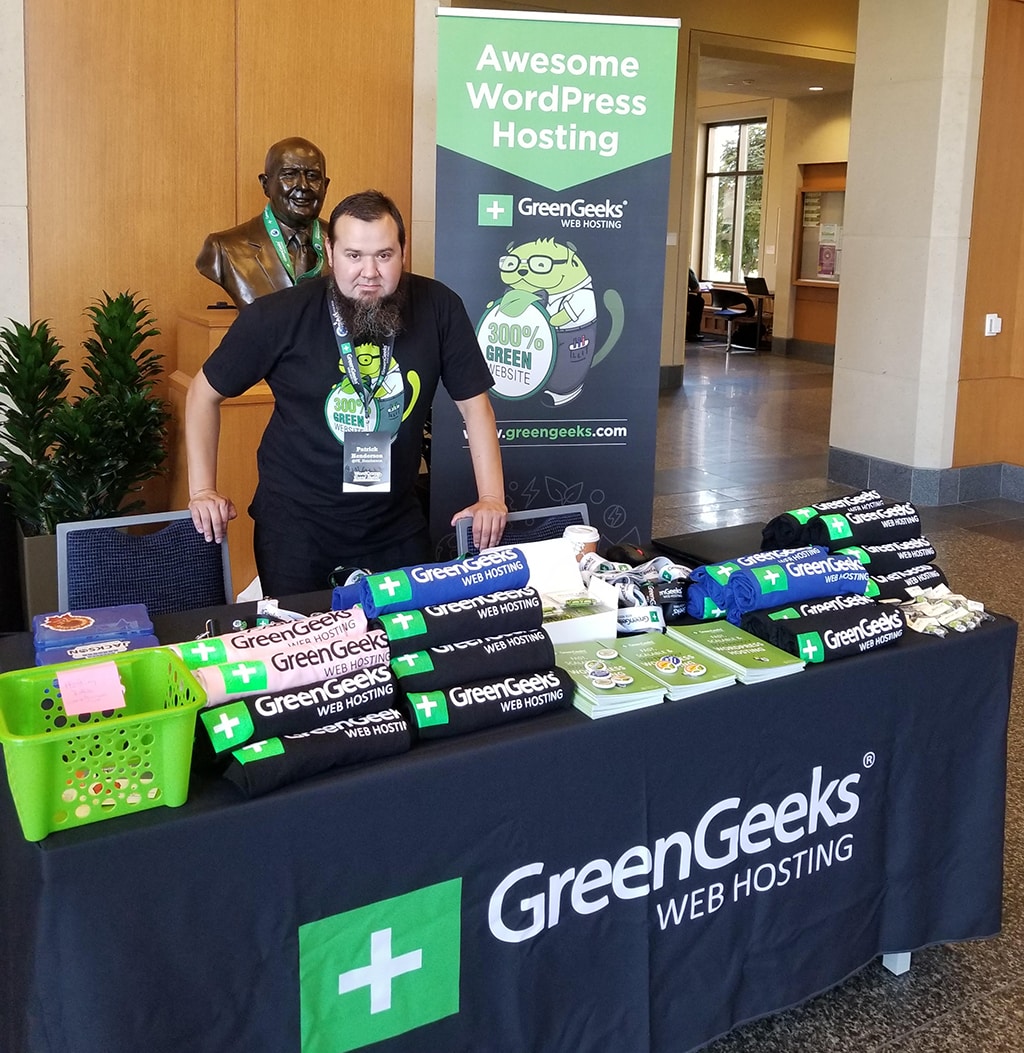 Because of the prime location, GreenGeeks was one of the first things visitors saw when attending WordCamp Grand Rapids. The table was adorned with our log, awesome swag across the top and of course myself and Mr Bill Seidman sitting behind it.
I discovered many of the attendees came from all over Michigan and some from as far as California. It goes to show the dedication people in the community have to help these camps succeed.
Introductions and Networking
I met quite a few new people at WordCamp Grand Rapids 2019. Approximately 100 attendees arrived including Joe Simpson from California. But I was impressed to discover that people came from Detroit as well as Ohio.
I also came across Chirs Mills, whom I've worked with remotely for almost a year and have never met face to face.
Until now.
Having Lunch
Since my morning was spent caffeinated on strong Starbucks coffee, I was eager for lunch. Although, I did switch from the caffeine to water to help adapt to the Michigan heat. Getting away for lunch gave me a chance to charge my phone and laptop.
While I may have had a prime location for WordCamp, I didn't have immediate access to power outlets.
More Networking
After lunch, I was approached by Anita Carter. She brought her white poodle by our booth, and it was a nice visit. Anita had heard about GreenGeeks from one of her clients.
It was her first time speaking at a WordCamp as she delivered tips for supporting themes and documentation. From a developer's perspective, this would be valuable information.
After the nice conversation we had, she said she would recommend GreenGeeks to other clients in the future.
As the day continued, I was able to speak with Lansing WordPress Meetup group members. Daryl and Jeremy spoke of looking for content, sponsorship and attendees this summer. So if you're in the area, perhaps you can join this group.
I also spoke with Greg Miller from the Toledo WordPress Meetup group. He, too, was looking for others to join in any capacity.
Ending WordCamp Grand Rapids 2019
At closing remarks for WordCamp, GreenGeeks gave away five EcoSite Lite Hosting plans to the attendees. After handing out some swag to the Lansing and Grand Rapids Meetup orgnizer, it was time to call it a day.
All in all, I felt it was a good Saturday spent as I had the chance to engage many people, some of who didn't realize GreenGeeks existed.
I would like to thank all of the organizers, sponsors, volunteers and attendees for helping make WordCamp Grand Rapids 2019 a success. Without your support, I wouldn't have the chance to meet a lot of amazing people.
See you next year.