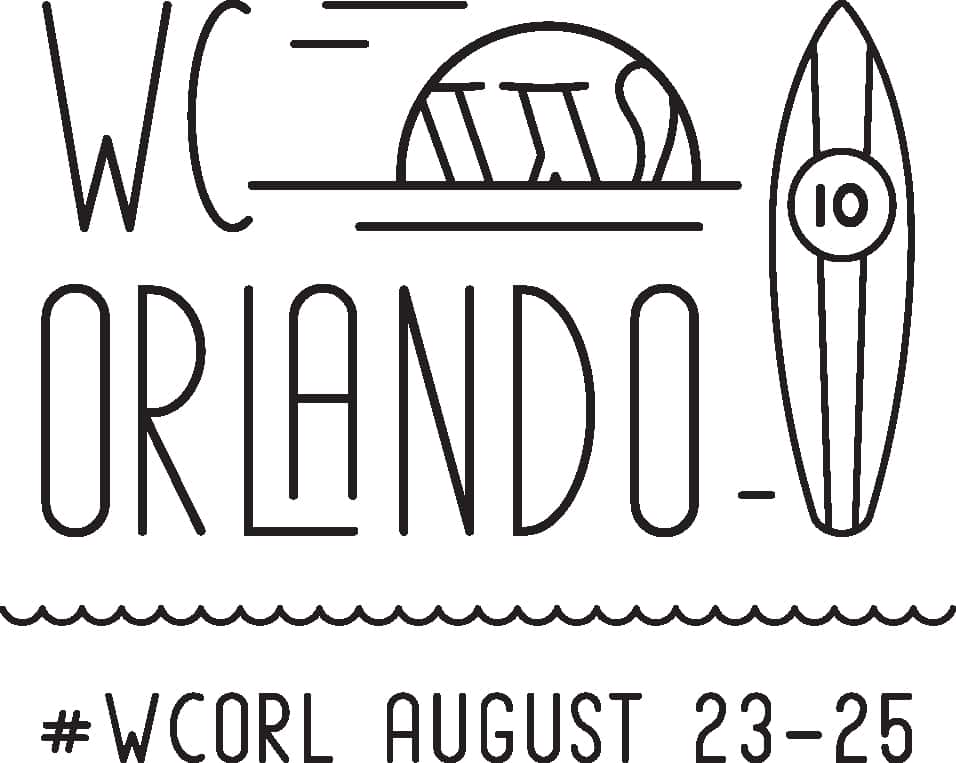 WordCamp Orlando 2019 was held at UCF Rosen College of Hospitality Management in south Orlando. The campus was charming with a great fountain, plenty of outdoor space, and a great layout for moving between sessions as well as visiting the sponsor area.
Of course this being Orlando, Disney World and Universal we easily accessible for those arriving before the conference or staying on after the camp.
Friday, August 23
While Saturday would be the day to kick-off the official WordCamp, Friday was a Workshop day. Three tracks ran throughout the day, Business Development, WordPress 102, and WordPress Development.
Each track focused on key topics to take you along a journey whether begging a new business or keys to WordPress.
As with every WordCamp, there was a speaker and sponsor dinner at Tony Roma's. This packed affair of seasoned professionals in the community showed how strong and vibrant the passion for WordPress is.
I was honored to be both a panelist on Saturday and speaker on Sunday.
Saturday, August 24
Our requisite booth was good and ready to go before 8am. Huge crowds quickly swamped all of the sponsors for the first couple of hours. People were registered and eager to learn (and grab some swag) from all the booths.
Throughout the day, people filtered in and out asking about speed, security, and support. They were thrilled to learn about our ability at GreenGeeks to be carbon negative (that's right, we are anti-polluters).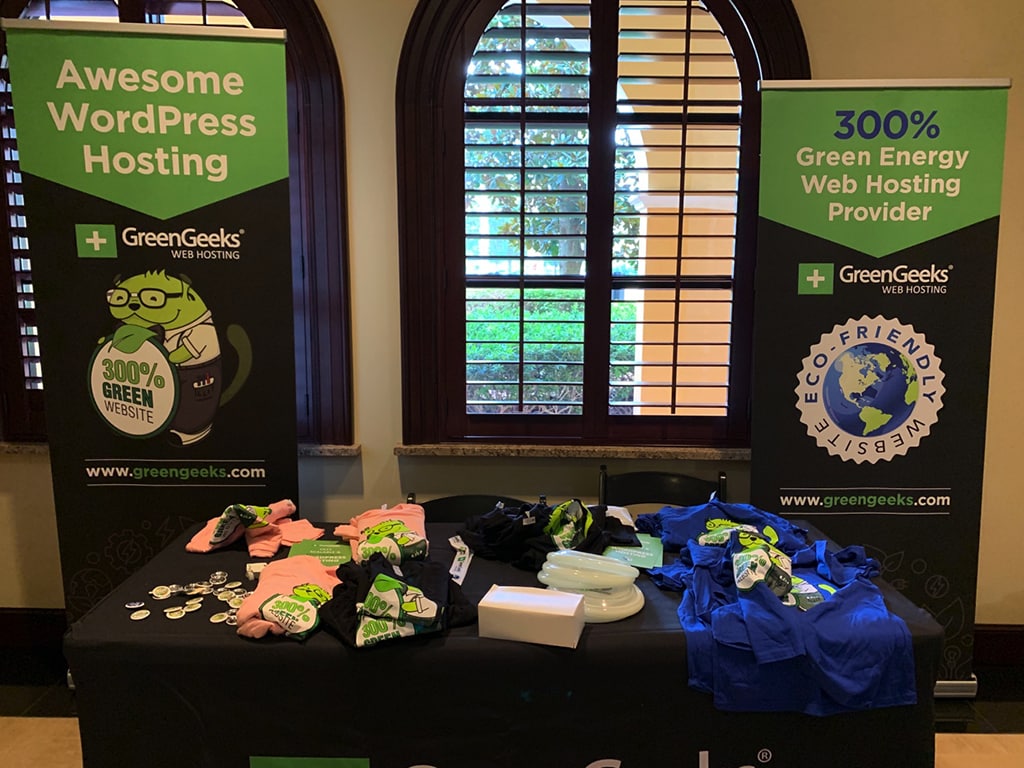 One of the most attended sessions has historically been the Business Panel. For two hours starting at 11:00am, I was honored to be sitting with some great minds in the WordPress ecosystem.
This included the likes of Jason Coleman, Tricia Clements, Beth Livingston, and of course myself.
Later in the afternoon, we had an amazing Sponsors and Snacks break. Healthy and not-so-healthy snacks filled the sponsor area creating the same crowds as we had seen in the morning.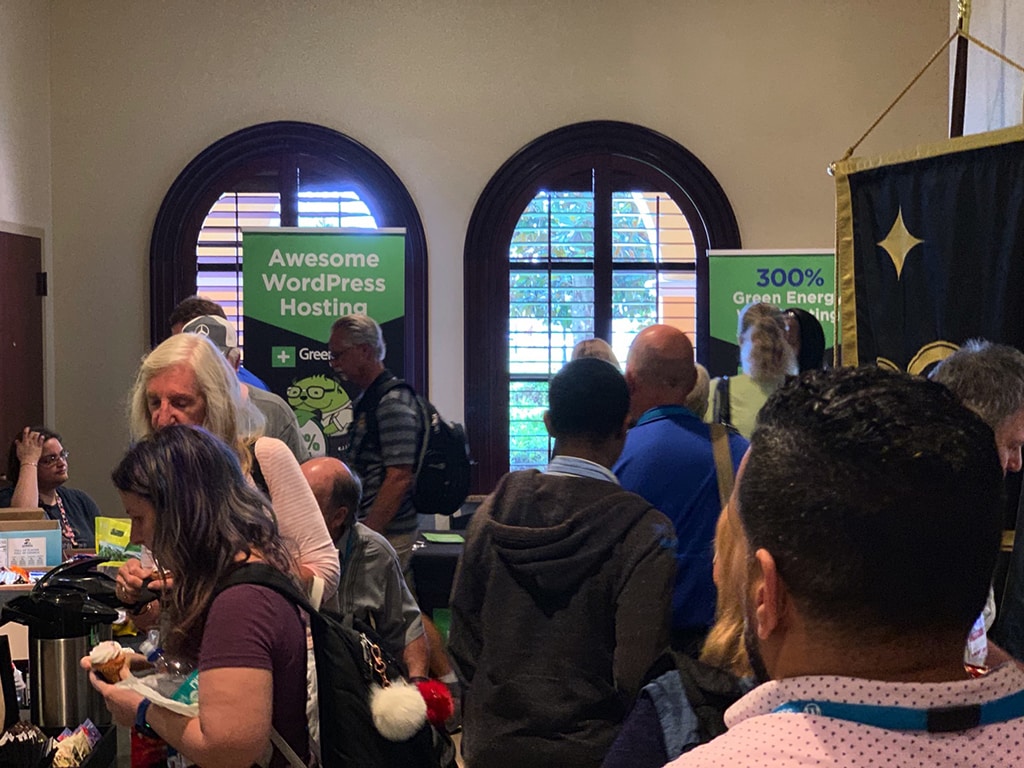 One thing that should be mentioned is the WordCamp Orlando had a KidsCamp running throughout the day. It's so invigorating seeing the next generation getting excited about creating their first websites, marveling at the hugeness of a WordCamp, and so polite and thankful to get a little bit of swag.
Of course, there were definitely some exhausted parents and guardians.
It was one of those camps where I didn't get a chance to jump in on any of the sessions. This was a real shame as there were some great presenters scheduled throughout the day.
Note to self, find the time!
With a full day of networking and speaking, it was time to jump straight to the After Party.
Joining the After Party
Who doesn't love a good after-party? There was some fantastic food but even better company. Making the time to sit down at tables where you don't know anyone is a great way of getting people (or yourself) out of the wallflower shell.
You'll really never know what new partner, customer, or friend you'll make. Also, having a few drink tickets helps.
Sunday, August 25
You never have much time to rest at a WordCamp. Sunday morning began with a two-hour networking brunch. This was a brilliant idea, and I hope more WordCamp organizers steal it.
Sunday's are always late starter days with people either taking care of Sunday business or recovering from the After Party. This usually means that early sessions might be sparsely attended.
Having the networking brunch allowed people who were morning motivated to be doing something yet allowed late starters to take full advantage of the rest of WordCamp Orlando.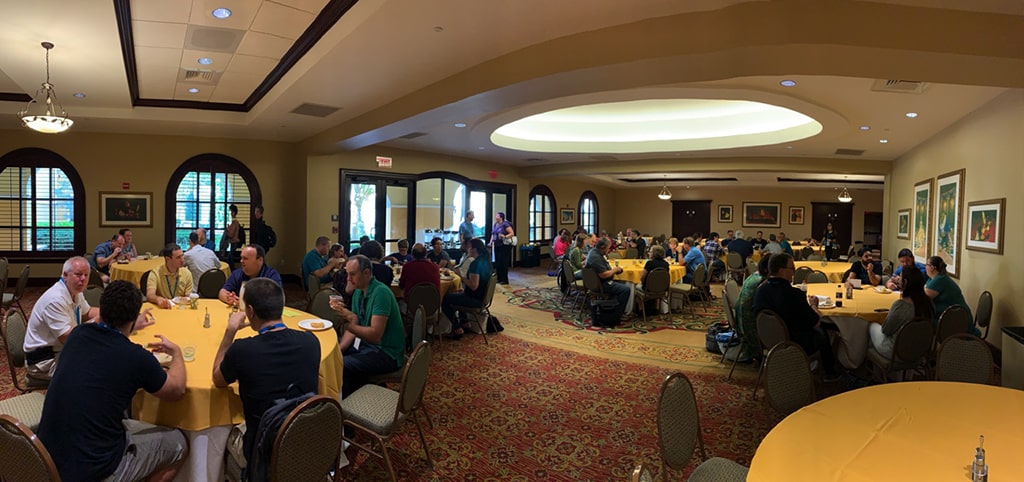 An afternoon of sessions was on my agenda. We were able to learn about Gutenberg Blocks, Project Management, and Partnerships. By the time we got to closing remarks, you could see that people's brains were on fire from ideas and melted down from a non-stop WordCamp.
Let's pretend the humidity and heat weren't a factor, either.
Wrapping Up WordCamp Orlando 2019
The organizers of WordCamp Orlando should be certainly commended for putting on a camp with great speakers, awesome attendees, and zero hitches. This was an extremely engaging and successful WordCamp.
I can't wait for 2020!
Wait, didn't I mention Disney earlier? So the camp is over, and many don't travel back to their homes until Monday. There was a small group that quickly drove off to the park for all sorts of entertainment, and then the great meetup at Trader Sam's Grog Grotto.
Make this a post-conference stop!