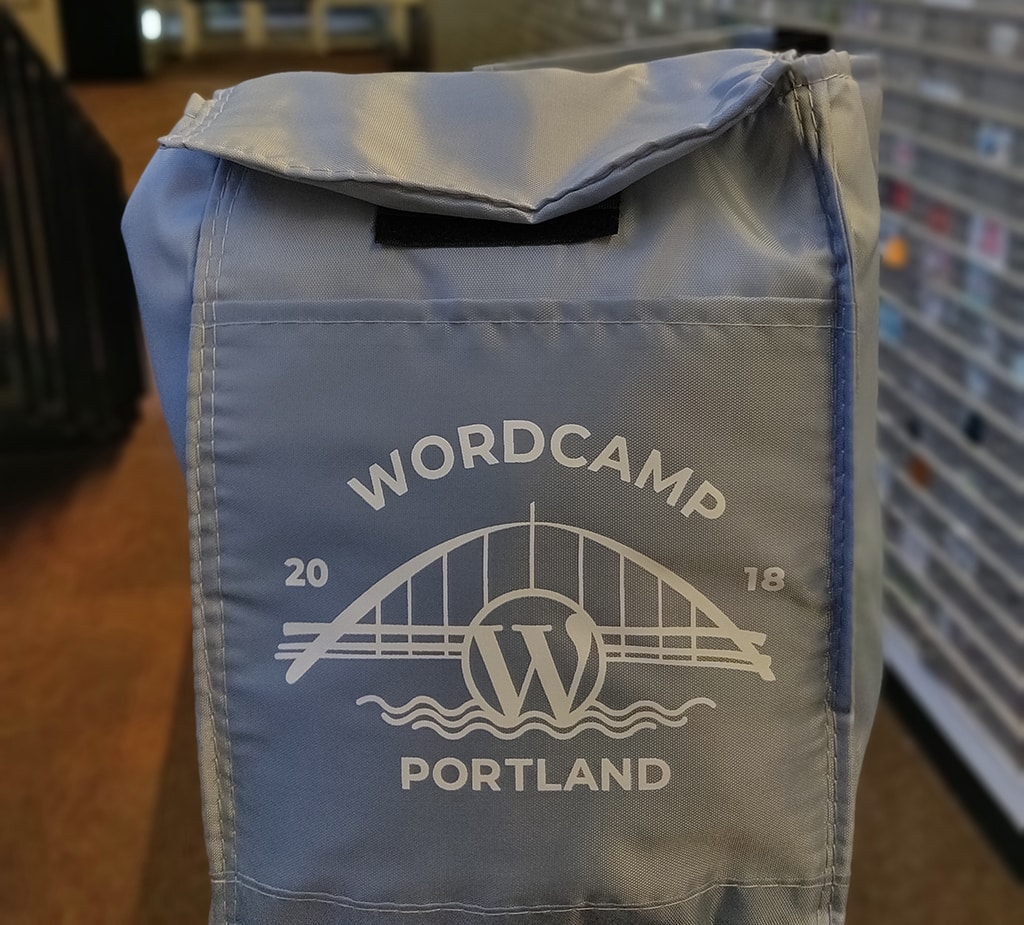 This year's WordCamp Portland, Oregon was held at the Lewis & Clark College in the Templeton Student Center and Gregg Pavilion, near the center of the campus, Saturday November 3rd. The weather was delightful, the camp was full of happy campers and the learning took place!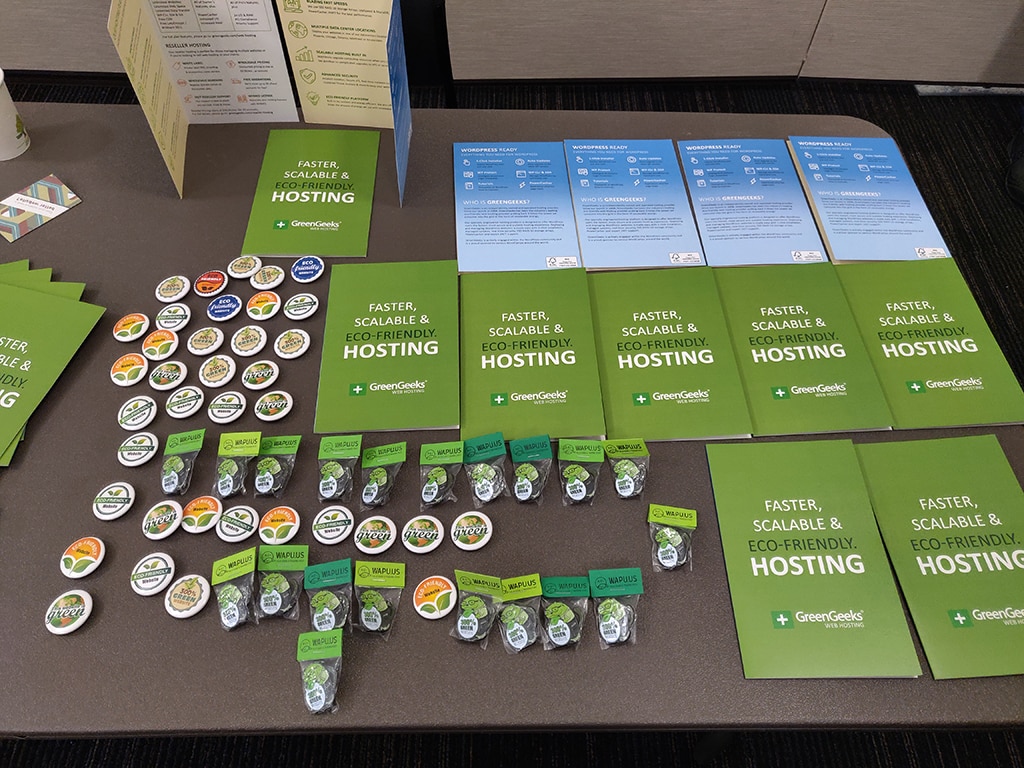 At WordCamp Portland, Oregon we unveiled our wapuu on the swag table. I handed out about 75 pins out of the hundred I grabbed before I left Salt Lake City.
WordCamp Dallas, I hope you're ready to take some Wapuu's, pins and new GreenGeeks shirts home in your swag stash!
The Meet and Greets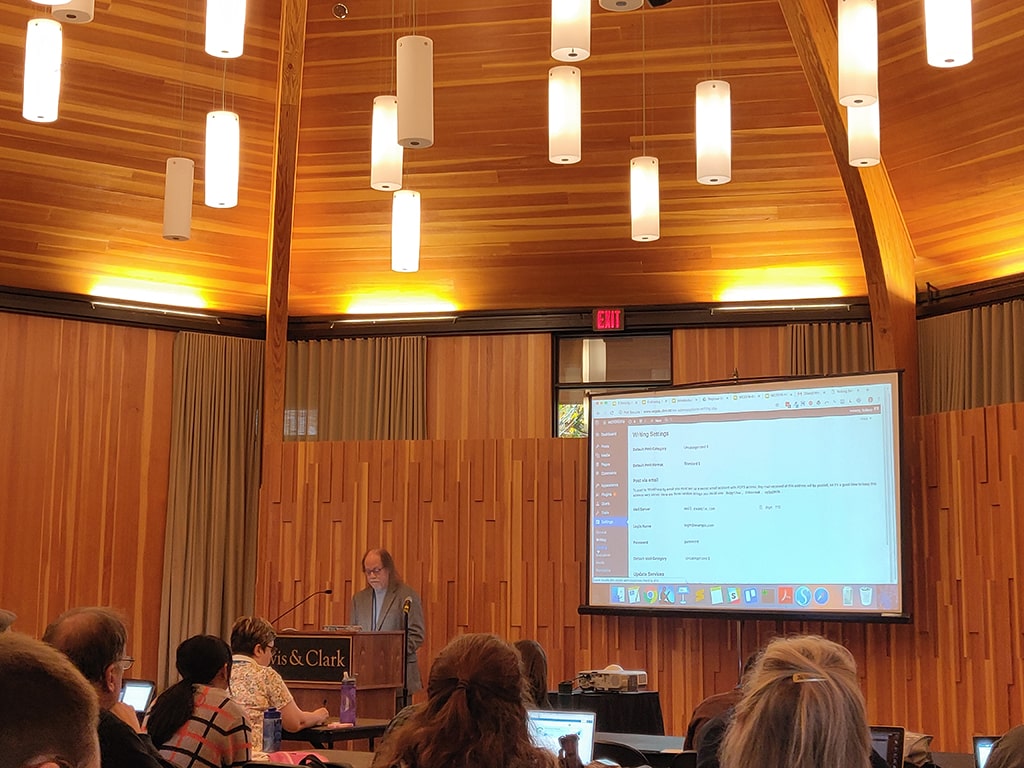 I met Bob Dunn from bobwp.com who talked about and introduced attendees to the WordPress dashboard. I sat in on his talk, and he had wonderful information to share in regards to how the dashboard works.
For instance, Bob provided tips and tricks on what to do and what not to do and touched slightly on Gutenberg, the new editing experience in the next major WordPress release (v5.0).
Thanks Bob, it was wonderful to meet you and learn from you.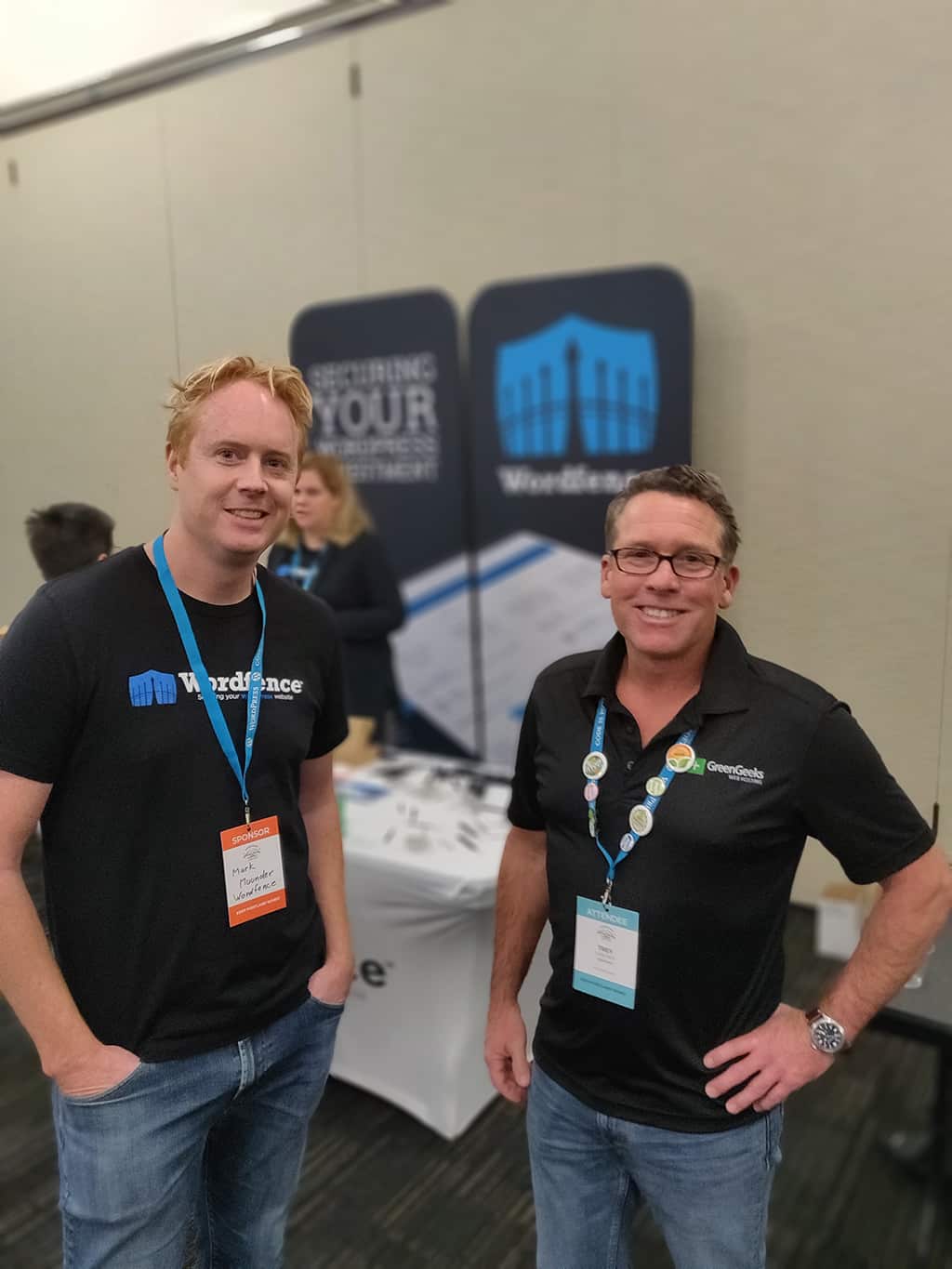 Mark Maunder, the CEO of Defiant and creator of Wordfence, shared a few thoughts with me and answered a couple of questions. Here is what Mark provided:
What is Wordfence?
"Wordfence is the most downloaded security plugin for WordPress websites. Our WordPress security plugin provides the best protection available. Powered by the constantly updated Threat Defense Feed, Wordfence Firewall stops you from getting hacked."
How did you start Wordfence?
Mark's personal website was hacked some time back. When he was hacked, he sifted through the logs and figured out how it happened. Mark submitted a bug report and security threat to a company that owned the website software. After learning what he did through this experience he started Wordfence and grew it into what it is today. Boasting an amazing culture and even better security, Mark sure has succeeded and is continuously growing his company into something greater.
How can I get Wordfence?
You can download the Wordfence WordPress Plugin for free and you can learn more about it through the developer's website. It's also available through the "Add New Plugin" area within the WordPress admin dashboard.
Michelle Levine
"Dig in on Grid"
You've heard of CSS Grid, but you aren't quite sure what it is. Or maybe you have started looking at it, but don't know where to get started. Join me to get hands-on experience in building modern layouts using CSS Grid (and Flexbox).
Learn where we came from (hacks, floats and more hacks) and where we are going. Discover solutions to "impossible layouts", how to handle users in older browsers and about the power of Firefox debugging tools for grid."
Michelle may seem like an extremely technical person, which she is. However, she can explain these technical topics in a way in which you will resonate. At least that's how I felt when I walked away from her talk on grid and CSS.
Thanks Michelle for the awesome insight.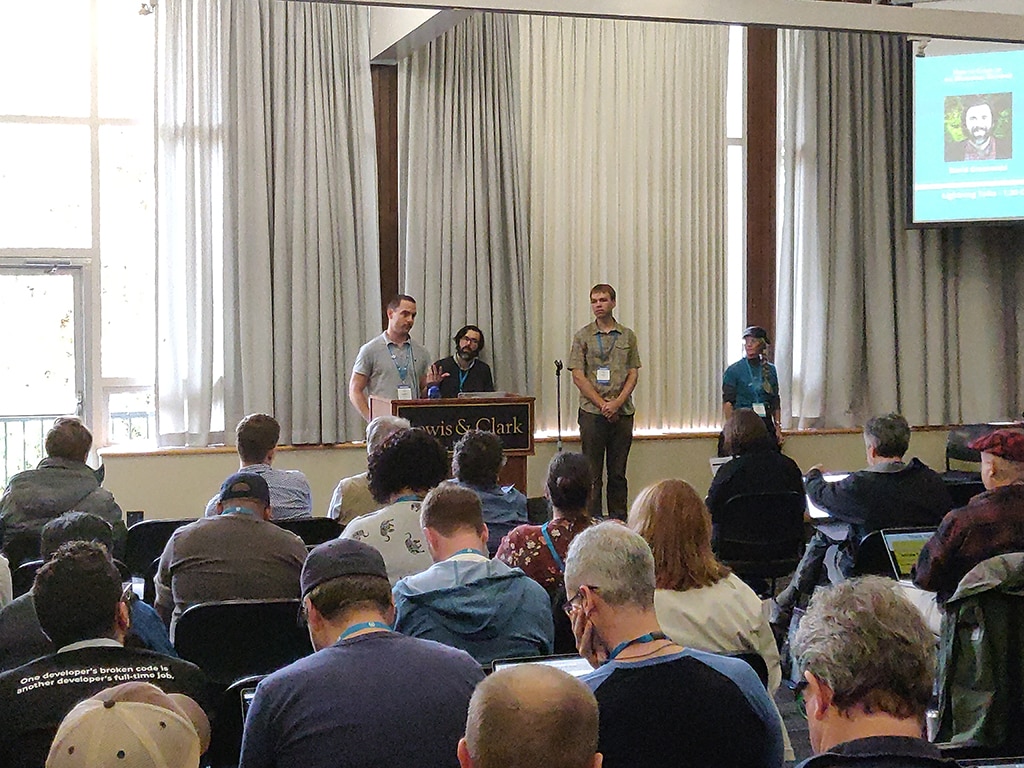 Andrew Taylor, David Greenwald and Corey McKrill
"Lightning Talks"
These talented people went over useful development tools and into details about their topics. These were a little over my head, but the topics were explained very well. If you knew anything about it, I am sure you had some huge takeaways.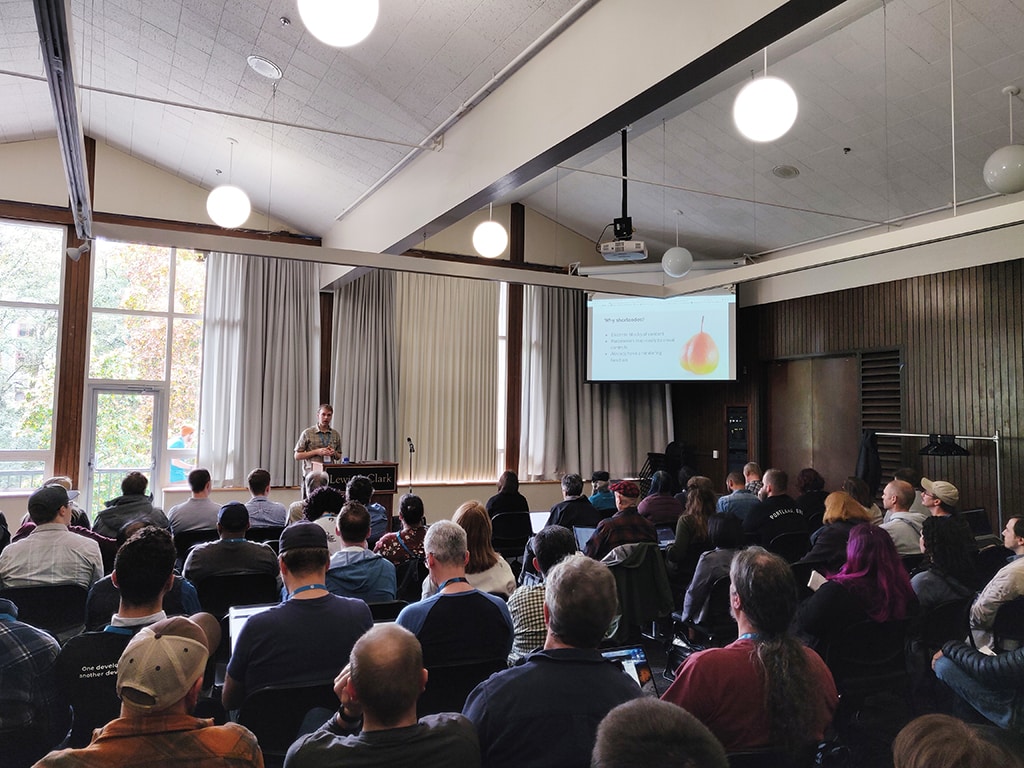 Felix Arntz
"Meta Options – An Abstract View On Data Structures in WordPress"
When we work with WordPress, we deal with data that we commonly known as posts, pages, media, comments, options etc.
However, the REST API has required us to rethink what some of these data structures are and how they should work.
This is in particular in regards to metadata and options, which have historically been an undefined dump of arbitrary data.
This session provides an abstract overview of how data in WordPress is structured and gives insight on questions like: How are post types and taxonomies related? What makes metadata different from options? Where does my own data fit in?
If you are developing for WordPress, it is crucial to know some of these concepts. In recent years, WordPress has started to make some structure out of its previous data mess, but is still only touching the surface.
And we can all contribute to figuring it out together."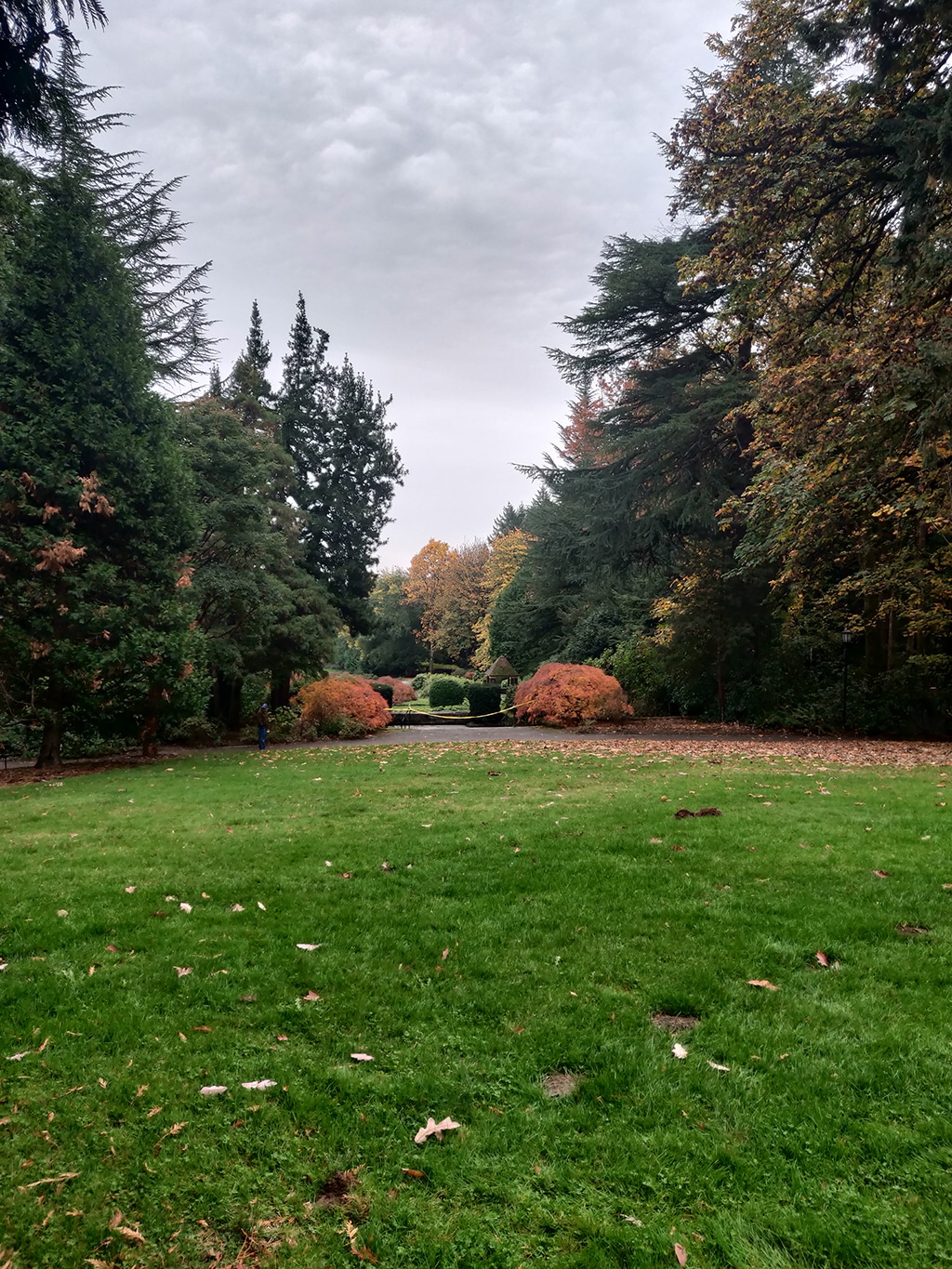 During the Portland WordCamp, I was asked to be a part of an interview for a documentary that is coming out in the next 6 months or so. I won't go into details about it, but it is based on the open source community of WordPress.
Keep your eyes open for that documentary.
I will do what I can to share with the community when it is released. Thank you Kathy Zant and Mark Maunder for the introduction to the videographers in charge of the shoot and thank you Mikey Veenstra for teaching me to pick locks!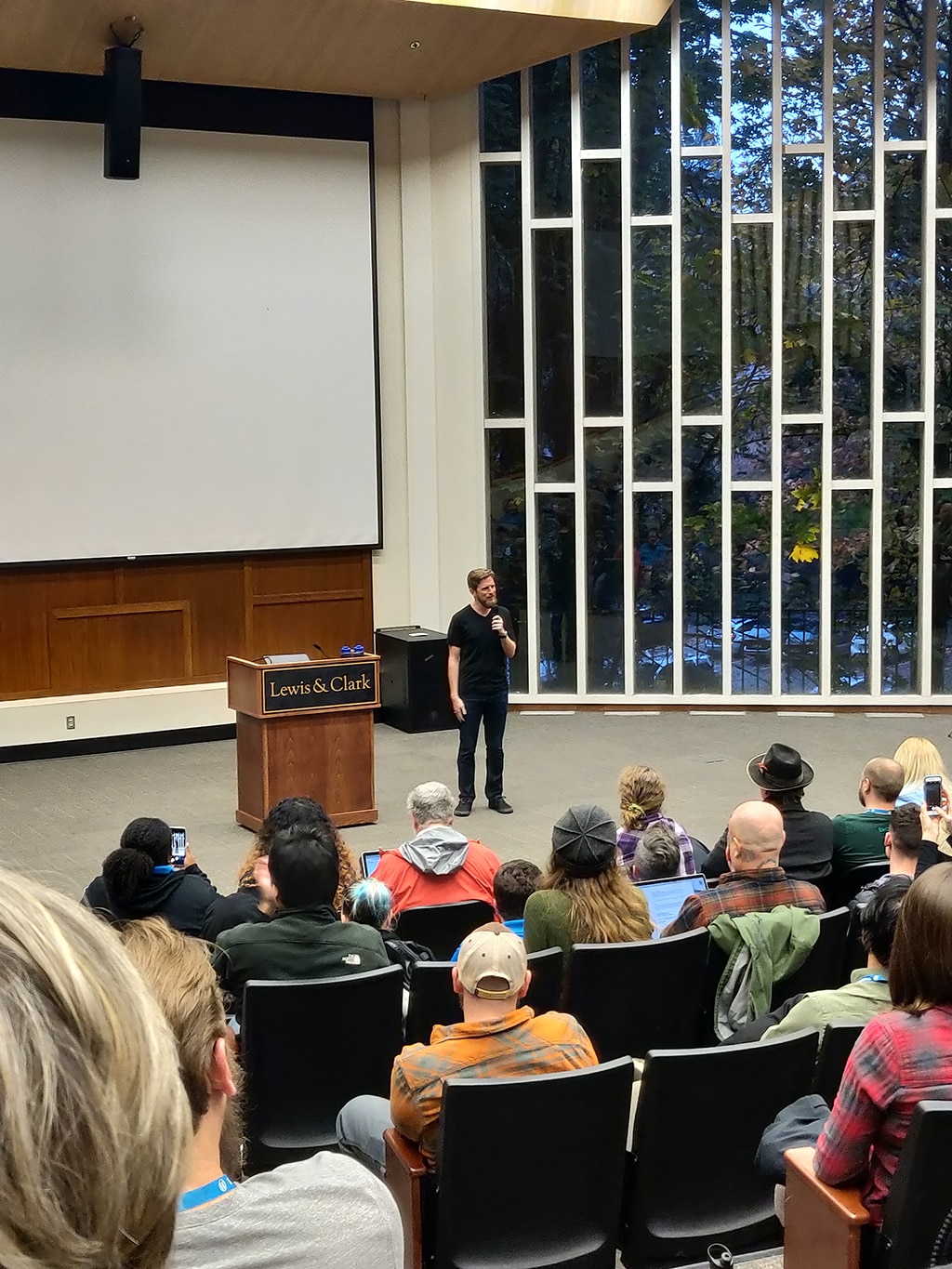 The creator of WordPress and CEO of Automattic, Matt Mullenweg, surprised the Portland WordCamp by jumping in for a Q&A at closing remarks. Matt answered some questions people had in regards to the Gutenberg release and gave away some great information about what he'll be touching on in Nashville for WordCamp US.
Make sure you get your ticket for WordCamp US! You don't want to miss Matt's talk.
I got a chance to meet Matt while in Portland, although it was very brief, I had lost my voice and couldn't talk much. I said hello and hung out at the after party with the community for a bit and ended the night with an Uber ride back to my room.
This camp was awesome and the speakers from it had endless knowledge to share. Even after several camps, you still learn something and have major takeaways.
"Everyone seems to be afraid of change. If we don't provide feedback and help update the user experience alongside the Gutenberg journey, who are we to complain? Contribute to make it better, since inevitably, it's coming." – Chris Wales
Thank you to the Portland organizers as well as volunteers. You all did such a wonderful job! We look forward to sponsoring Portland again next year.