Ready to make your WordPress content truly amazing? Although the basic tools you're given work well to write, certain plugins can make all the difference when it comes to human and search engine visitors. What are some of the best WordPress content plugins you can use?
That really depends on what you're trying to create. However, some plugins are simply good to help engage an audience. Although stellar content still requires an ability to write well and convey a message, the best WordPress blog plugins will help guide you. Combined with stellar WordPress hosting, you could easily create a feature-rich, efficient and popular website in no time.
Below are 13 of my favorite tools for WordPress that will help you create awesome content for your site.
1. Yoast SEO
Yoast SEO is an excellent tool to help the website's search engine optimization. And part of that optimization is how you structure content. Yoast comes with tools that will guide you when creating content in WordPress.
For example, you'll have a real-time report of readability and optimal structure for paragraphs. It will also provide suggestions when using passive voice and transitional phrases, which play a part in how easy content is to read.
The plugin uses a color-coded format ranging from red to green. If you can turn all elements of your content "green," it has a better chance of performing well for visitors and search engines alike.
This means the content is more likely to rank well in search results.
The free version of Yoast is quite extensive and works exceptionally well. However, the premium plugin includes additional keywords to track as well as a few additional options to expand your SEO practices.
2. TinyMCE Advanced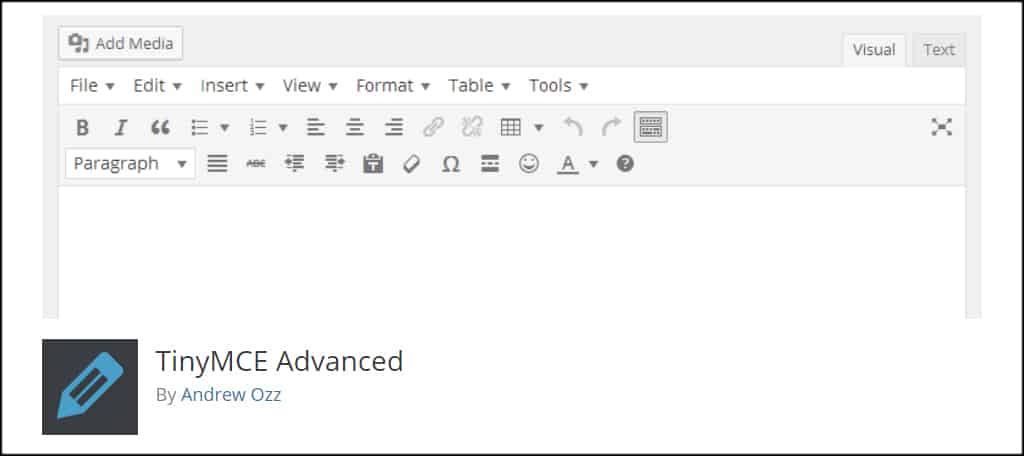 TinyMCE Advanced is one of the first plugins I install in any WordPress site I work on. It expands the tools available in the content editor screen while giving you control over what elements to add.
By default, WordPress comes with a decent editor. You have basic formatting tools such as bold and italics. However, TinyMCE Advanced goes beyond this simple editor and delivers a complete word processor that you control.
After installing the plugin, you can go to its settings and add or remove features to create the perfect layout for yourself. You can customize any of the four toolbars available to fit your precise needs when creating content.
TinyMCE Advanced is among the best WordPress plugins for writers who use apps like Word to create content. It's flexible and comes loaded with a drag and drop feature for creating the perfect interface.
3. OneSignal
Want to use notifications on your WordPress website? OneSignal makes it possible while being easy to set up and manage. It works by immediately broadcasting new content you create to anyone subscribed to your push notifications.
You've probably seen this if you subscribe to any YouTube channel. Anytime a new video is published, your web browser will show a small box.
In some ways, push notifications work better than email lists and blog subscription forms. Subscribers are immediately made aware of new content, which has greater potential for drawing an audience in a short amount of time.
These notifications are sent to users whether they are on a desktop computer or a smartphone. OneSignal also offers use of their secured servers for distributing these notifications if you don't install your own SSL.
4. WP Product Review Lite
Depending on the industry,  some of the most effective content you can create are reviews. And WP Product Review Lite is an exceptional tool to accentuate your material.
WP Product Review gives you a way to assign a star rating system, pros and cons and even affiliate buttons for platforms like Amazon to make money from your website. The plugin will take the score of your points and generate an overall rating of the product you're reviewing.
One of the things that draws many people to use this plugin is the fact that it also includes rich snippet schema to your posts for Google. This increases the likelihood of people seeing the system displayed in search results.
If you want to add a bit of user engagement, you can also activate user input on the review. However, your theme needs to support the design for the comment box.
5. Edit Flow
When creating content in a team environment, communication is key. Edit Flow delivers that interactivity while helping you create a content and editorial schedule for your site.
Edit Flow provides things like a calendar, comment systems, notifications and even helps maintain a content budget. Using a drag and drop interface, you can move assignments and articles around to suit the needs of your writers.
If you have users in other departments, you can organize them in the system. At a glance, you can see who is capable of creating what type of content for your organization.
One of the nice features of Edit Flow is the ability to benefit from a WordPress multisite network. This means you can govern over the content of all your websites from a single location.
6. ImageInject
Images play a crucial role in user engagement as well as social sharing. In fact, adding images to your posts makes them more likely to connect with the reader. Unfortunately, not everyone has software to create graphics.
ImageInject helps by giving you access to thousands of free creative commons images you can use on the website. The plugin does this by giving you access to platforms like Flikr and Pixabay directly from your WordPress admin panel.
If an image requires an attribution link, it's automatically added by the plugin. ImageInject will also automatically populate ALT tags for better search engine optimization.
The plugin offers an easy search field and will scan external sites to find images fitting your keyword. To improve efficiency, images you choose are then downloaded directly to your media library.
7. WP Word Count
The Internet is full of studies regarding the perfect length for website content. About 69% of professional bloggers are creating content that are over 1,000 words. WP Word Count helps you discover the length of the most effective content on your site.
By comparing the development of your content to the amount of traffic each post and page receives, you can determine for yourself the "perfect length" for your website. After all, every audience is different…and you want to create material catered to those who visit your website.
WP Word Count gives you a report regarding the number of words you use in content as well as an overall average. This includes published and unpublished articles you may have.
Want to know who the top article producer is on your site? This plugin does that as well by analyzing the number of words each author contributes to the site.
8. WP Keyword Suggest
Usually I don't like using outdated plugins, but this one deserves a mention. WP Keyword Suggest adds a tool to the sidebar of your WordPress content screen. You enter a keyword or phrase and are presented with ideas based on current search results.
It's a good way to get ideas for content or to include certain keywords or phrases in your posts. I can see how this would benefit those with writer's block or trying to discover search intent.
The only thing that gives me pause on this tool is the fact it hasn't been updated in several years. However, I did verify the plugin to work with WordPress 4.9.7. It works great for its specific purpose.
Just be wary of outdated plugins. Sometimes they can pose a security threat to the website.
9. TinyMCE Templates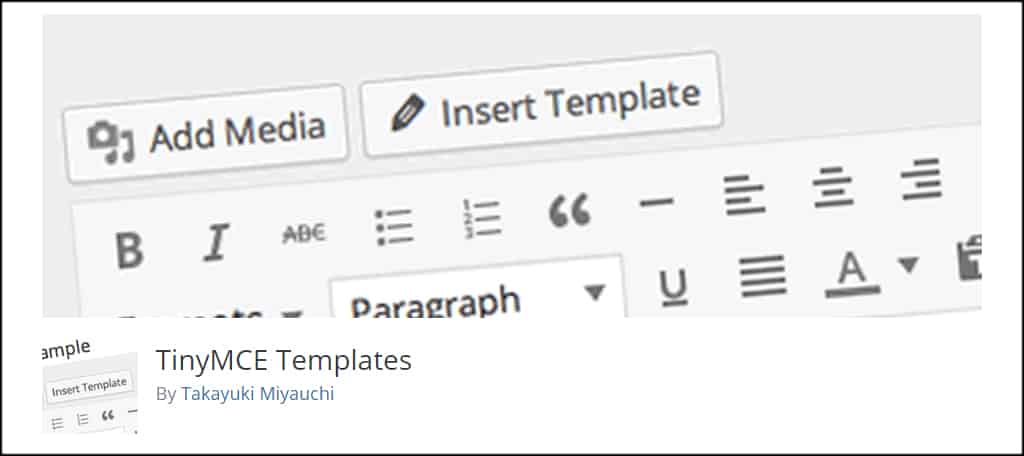 TinyMCE Templates is a great tool for building structured content or including specific elements to posts and pages as you work. With a click of a button, you can add any predefined text or coding.
For example, you can input a Google AdSense code into TinyMCE Templates and tell it to show as a shortcode. Then, you can add the AdSense code block anywhere in your content without copying and pasting.
TinyMCE Templates makes things like affiliates and advertisements much easier to input.
Another way to use these templates is to create specific structure for certain types of content. For example, you could create content headers for the purpose of writing reviews. This way, all of your reviews follow that structure.
This plugin adds a button to the top of the WordPress editor for easy access. Once clicked, it opens a list of all the templates you've created.
10. SearchIQ
What's the use of creating amazing content if people are unable to find it? SearchIQ revitalizes the search function on your website. Although this doesn't do anything for SEO, it does add more capabilities to the WordPress search ability.
The AI that powers SearchIQ is similar to that of Google – in that it often identifies typos, synonyms and other uncommon terms. This means people using your search field are more apt at finding specific content you create.
This plugin comes with a slew of customization options. For instance, you can choose to show a thumbnail and snippet in the auto-complete segment of the tool. It can also handle custom taxonomies and fields within your website.
The only real downside to SearchIQ is you have to create an account with the developer. However, this account is free.
11. Publicize in Jetpack
Jetpack is a plugin that comes loaded with all kinds of free tools. Although it's another plugin that requires a registration, this one through WordPress.com, the modules you get are worth the trouble.
In this instance, you may be interested in Publicize. This module will automatically publish your articles to select social media sites such as Facebook and Twitter. This means you don't have to worry about logging into those systems to share new content.
Publicize adds a feature above the "Publish" button in the WordPress editor. From here, you can change the message that accompanies your post's link such as adding hashtags and mentions. It's a simple and hassle-free way to update your followers.
Currently, Publicize freely supports:
Facebook
Twitter
Google+
LinkedIn
Tumblr
Path
12. SEO Post Content Links
Internal linking is just as important as building backlinks for SEO purposes. When you create content, it's usually much easier to set WordPress to find these links automatically. Enter the SEO Post Content Links plugin.
This plugin gives you the option to ignore blacklisted words, linking posts to categories, add links to H-tags and more. The free version has a somewhat limited ability, but it works well nonetheless.
However, the paid version provides far more in terms of building internal links.
How it works is that you input specific anchor text that will propagate a link. Once you run the plugin's creation tool, all of them will be created for you automatically.
As an added bonus, you can choose to have SEO Post Content Links get words and phrases itself based on the content it finds in your specific category.
Zedity
Looking for a content maker from WordPress plugins that is easy to use? Zedity is worth the time to explore. It uses a visual interface that gives you complete control of what a post or page will look like on the site.
Although it doesn't have the extreme flexibility as something like SiteOrigin's Page Builder, Zedity offers quite a bit of functionality within its interface.
Zedity adds a new button to your WordPress visual editor that opens up in its own display. From there, you have access to image modifications, adding text, importing video and even adding your own HTML elements.
After creating the layout, you can edit the HTML markup in the Text tab of the WordPress editor to add even more customization.
One of the biggest reasons why Zedity is popular among many is the easy-to-use interface. Everything is visual and scalable while providing in-depth options to control the content.
For instance, you can modify an image directly from the Zedity screen to perfectly fit your post or page.
Expand What WordPress Can Do for You
Some of the best WordPress plugins for content marketing can make all the difference for engaging an audience. While you'll still need to create the material, the above tools will greatly impact success.
Find the best plugins for your needs and get more out of the WordPress experience.