A URL is how the online community views your site. A good URL can make or break a page sometimes. Known as "permalinks" in the WordPress community, these should be carefully considered when crafting a post or a page. Another thing that needs to be considered is how to change permalinks in WordPress without hurting your overall SEO structure.
Remember, once you publish a post or page, the URL (permalink) is then cached and indexed by Google and other search engines. Changing permalink structure after the fact can be devastating to your website SEO if this is not handled correctly.
Let's dive into this issue and discuss it some. If you need to update your permalinks, then you have come to the right place.
What is a Permalink?
So what is a permalink in WordPress? Well, we touched on it a little above, but let's dive a little deeper. Simply put, a permalink is the unique URL (web address) for any webpage on the internet.
Permalinks make it much easier to search, find, and link to specific web pages across the Internet. This reason alone makes permalink structure important.
The name actually comes from two words smashed together, "permanent" and "link." Essentially, you are saying that when a page or post is published, the URL created become the "permanent link," which is one that should never change.
If you really want to break it down even further, a permalink is just the fancy name for a URL that people use to access websites and web pages that they want to find and view. It's the link people use to click on in text or through images and buttons.
Are Permalinks Important?
In a word, yes! Your permalinks are indeed very important for a number of reasons. First and foremost, they are important for the SEO of your website. Second, they are important for navigation, page identification, and sharing. All three of these things are made easier for visitors on your website if you have a good permalink structure in place.
Think of a good permalink structure in this way:
It is like dialing a specific phone extension to get to a specific person when you're calling a big company. Solid permalinks make this possible on a website.
A bad permalink structure, or different permalinks everywhere coming from your site would be like being routed through the main phone number every time.
There are certain instances when you would use a permalink. Of course, when you are building a page or post, you want to make sure the permalink is custom and that it matches what you want. However, you would also use permalinks in situations like:
When linking to a specific post or page.

Creating deep links for affiliate marketing purposes.

Sharing on social media.
Also, consider how some permalinks have the date a blog post was published. As a result, some people may not visit your content if they deem it to be "too old." Many online users like content fresh and current.
Setting Custom Permalinks in WordPress
WordPress offers a number of different custom permalink options within the WordPress admin dashboard. To access them, click on Settings > Permalinks located in the left menu area of your dashboard.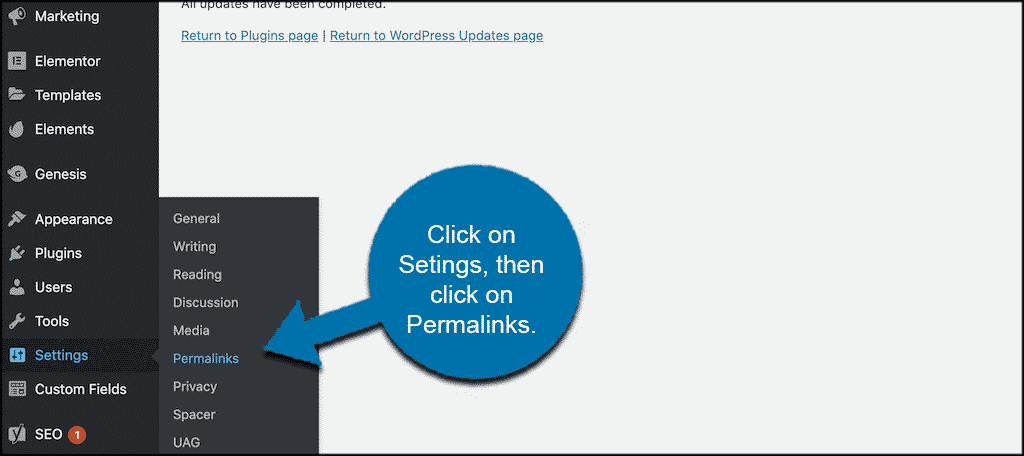 This will take you to the custom permalink setup that WordPress offers. From here, you can adjust and set your website permalinks to exactly what you want them to show.
Please remember, this is just showing you where you can set or change permalinks. You will see the following warning if you try to change this on a live website that has a lot of permalinks already in place.
You can dig into permalink structure even more if you wish.

Warning: Changing your permalinks settings can seriously impact your search engine visibility. It should almost never be done on a live website.
Why Change Permalinks in WordPress?
If you are about to tackle the process of changing permalinks in WordPress, then there is probably a good reason. More often than not, website owners change their permalinks because they do not like the original structure that was put into place.
Maybe you want to take out the date in your current URL, or add tags like categories or other structural settings. You may be changing permalinks because your site is moving, or getting a new domain name. Even changing your protocol from HTTP to HTTPS required you to deal with 301 redirects and permalinks.
Other reasons for doing this include things like:
Your old post and page structure is not user friendly.

Maybe your existing permalink structure has no SEO advantages.

You are trying to rebrand your website.
Whatever the reason may be, let's take a look at how to successfully perform a WordPress change of URL and keep your SEO intact.
Change Permalinks in WordPress Without Hurting SEO
Now that you have a good idea of what permalinks are and how important they can be to your website and SEO, let's take a look at how to change a permalink in WordPress without destroying your current links and SEO structure.
So, there are actually a couple of ways to do this. You will need quite a bit of database and cPanel knowledge to perform this all manually. With that being said, let's go over the steps needed to get it done using a combination of plugins that will make the process much easier.
There are three main steps you need to perform in order to change permalinks in WordPress successfully without hurting your SEO.
Backup your website (just in case)

Change Your Permalink Structure

Create Permanent 301 Redirects
Let's go over these together. I will talk about each step a little, and link you to the relevant tutorials that will take you through each process. There are also a couple of other plugin suggestions for you if you are interested.
1. Backup Your Website
Backing up your website is something you should do whenever you are making any sort of big changes. Even though your web host probably makes backups, it is still a good idea to backup your WordPress website yourself. You can do this manually or use a plugin, the choice is yours.
You won't actually be using the backup for anything in the process, but you will have the files and database in place and ready if something goes terribly wrong while changing your permalinks.
If so, you simply add backup website files and the database into place and you can start from the beginning.
2. Change Your Permalinks
After you have made the backup of your website, then you can go ahead and change the permalinks. You can do this using the WordPress admin dashboard and their built-in permalink features as discussed above. Or you can do this with the help of a plugin.
Here are a couple of solid plugins to consider using to change permalinks in WordPress. These are especially helpful if you need to change a large amount of permalinks.
Custom Permalinks
Custom Permalinks allows you to set and change the permalinks of any post, page, tag or category to anything you want. The best part about this plugin is that it will automatically redirect old permalinks that you are changing to the new permalinks.
Essentially, this takes out the step of having to set up permanent 301 redirects using a plugin. Remember though, this plugin shouldn't be used as a replacement for the WordPress built-in permalink structure. This is a tool to help the process if you want it.
It is also worth noting that if you stop using the plugin, your permalinks will revert back to the old ones. This plugin is only useful for assigning custom permalinks for individual posts, pages, tags or categories.
It is a solid plugin option to use to change permalinks in WordPress.
Permalinks Customizer
Permalinks Customizer is another plugin that gives you the ability to change permalinks in WordPress very easily. The plugin is useful because it helps set different permalink structures for different Post Types and Taxonomies which are publicly available.
Essentially, you can create different permalink structures for different types of posts and pages. This means you are not locked into one type of structure for the entire site.
Using either one of these plugins, or using the WordPress built-in permalink setup will get you through this step.
Now, on to the final step.
3. Setup Permanent 301 Redirects
The last step of the process is also the most important one. You backed up your website, and at this point, your permalinks are changed to what you want. If everything went according to plan, you don't have to use your backup.
To finalize the process, it is time to set up permanent 301 redirects on your website. Again, we are going to use a plug-in to do this, as this makes the process simple, fast, and easy. I recommend the Redirection plugin.
Redirection
Redirection gives you the ability to quickly and easily manage all of your 301 redirects and 404 error pages. In this case, the plugin will help you redirect all of your old permalinks to the new ones you have created.
There are a ton of tools included, and using this plugin will ensure that your SEO stays intact even after all your new permalinks are in place.
Using the Redirection plugin is the final step in this process. At this point, you should have successfully changed permalinks in WordPress. Try clicking on your new permalinks and make sure they direct properly. If they do, then your SEO should be unharmed throughout the process.
If for some reason this isn't working, you can troubleshoot, or make use of the backup you made at the start of the process.
Final Thoughts
As long as you follow the steps above as they are given, you should be able to successfully change permalinks in WordPress and keep all of your SEO structure and rankings intact.
This isn't something you should do often, so make sure you are satisfied with your new permalink structure.
Did this process work for you? What other tools or plugins did you use? Do you prefer to complete the entire process manually?
Growing up in Hawaii, Jeremy started his freelance writing career doing resumes, business plans, article writing, and everything in between. He now specializes in online marketing and content writing and is part of the Content Marketing Team at GreenGeeks.