Finding free medical themes for WordPress might seem like a difficult task, but I've pulled together a great list for you to choose from. We're also going to talk about some essential "do's" and "don'ts" for websites that provide any medical services, information, or advice.
Any good WordPress theme is responsive, modern, and intuitive to use. But a theme for a medical business has to be much more. It has to have a professional, reassuring feel, and spotlight the relevant information a visitor or patient is looking for.
A lot goes into creating a good medical site. Some things you need to consider include:
doctor and staff information and photos
details on the services you provide
the ability to book appointments and perform other scheduling
your location
operational hours
service pricing
I've rounded up 21 of the best WordPress themes for doctor's offices, hospitals, clinics, urgent care, and health and wellness sites. If you're building a site for a medical facility of any kind, you should be able to find a theme in this list.
But first:
Your Money or Your Life
No, this isn't a stickup. It's about Google.
Google applies special scrutiny to websites that contain content that can affect someone's health, happiness, safety, or financial stability. They call this kind of content, "your money or your life" (YMYL).
A pair of Google search algorithm updates had a serious impact on a lot of medical, health, fitness, and healthy lifestyle websites. This came in the form of the "Medic" update in 2018 and a 2019 core update.
One of the ways Google gauges the quality of YMYL information is by using actual humans. That's right. Google isn't only an impenetrable forest of emotionless computer algorithms, it's also people. Therefore, your content has to please both bots and humans even more so than before.
This means your content and site are subject to actual human interaction and understanding. Unfortunately, this also means that content can be subject to a person's belief or biased opinion on the material.
21 Free Medical Themes
1) Astra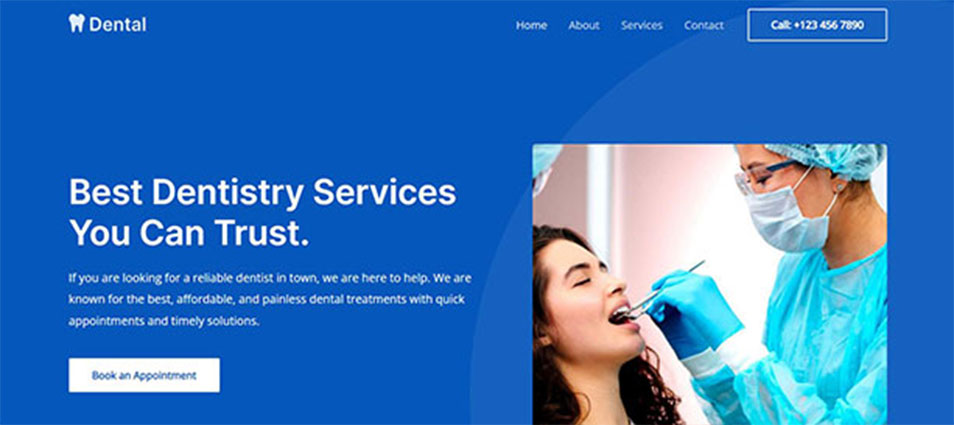 Astra offers two premium medical themes for WordPress. Both provide the professional persona you want to portray with the benefit of modern fonts, clean layouts and superb design.
All Astra templates have been designed to deliver impressive performance alongside ease of use. They are lightweight, load fast and are fully compatible with leading page builders like Elementor and Beaver Builder.
2) Mediciti Lite
Mediciti Lite is fully responsive and built with Elementor, so usability is top of mind, along with an advanced theme panel, call to action, call out section, and custom widgets.
The premium version of the theme includes a "Layout Pro Plugin," custom post types, an online appointment form and a testimonial section.
3) MedZone Lite
MedZone Lite is perfect for doctors, dentists, clinics, hospitals, medical research facilities, and pretty much any other medical institution you can think of.
It is responsive and includes helpful sections like doctor listings, contact forms, hero sections, and call to action sections.
4) Eightmedi Lite
EightMedi Lite is a free responsive medical WordPress theme ideal for creating websites for doctors, surgeons, medical personnel, health centers, hospitals, clinics, pharmacies, etc.
It boasts a clean and elegant design, a featured posts section, and a news or blog section. If it's a doctor appointment WordPress theme you're looking for, EightMedi Lite also has an appointment form section.
5) Medical Heed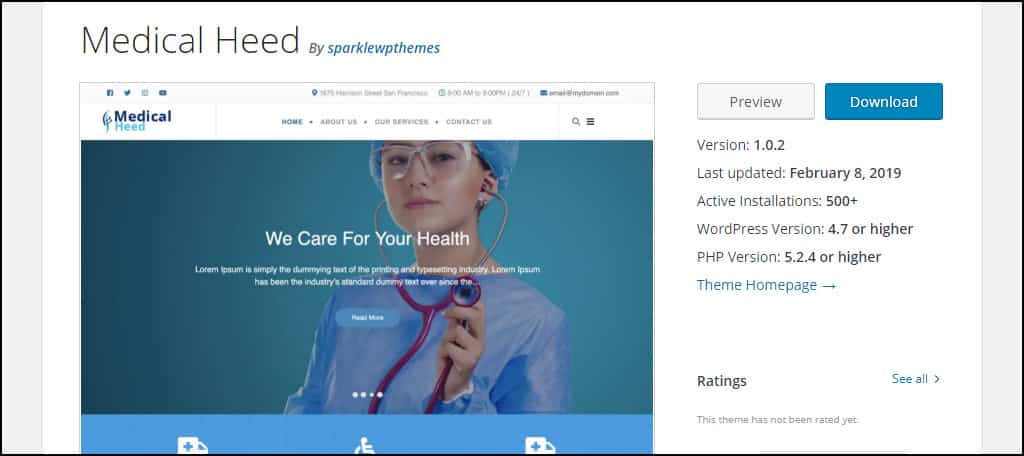 The authors of Medical Heed say it is suited for hospitals, general clinics, nursing homes, dental offices, gynecologists, and pediatric clinics. It also serves as a personal portfolio site for doctors, surgeons, and all manner of medical professionals.
It's fully responsive, cross-browser compatible, translation ready, SEO friendly, and ready for social media integration.
6) VW Medical Care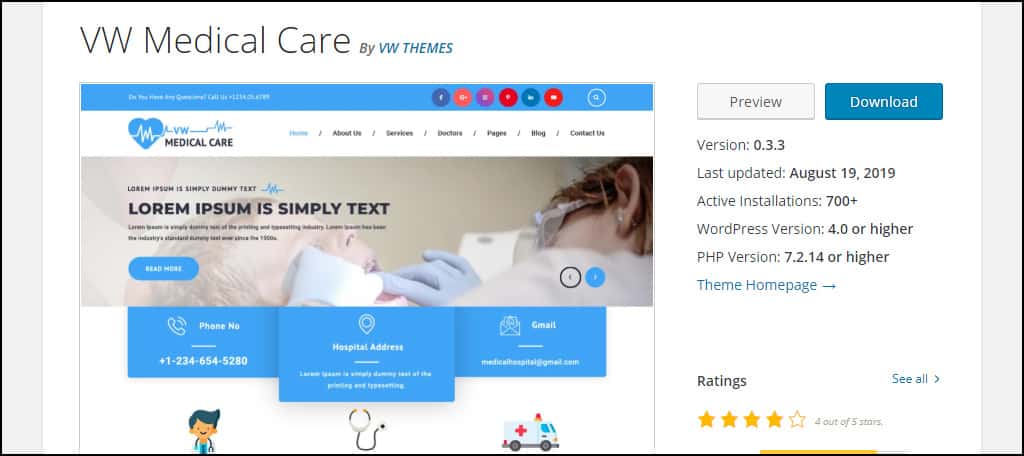 The VW Medical Care theme is not a repair site for your Volkswagon Beetle, but it is made to help you knock out a personal or commercial website in a matter of minutes.
This theme is ideal for websites for hospitals, clinics, nursing homes, ambulance services, pharmaceuticals, physiotherapy centers, even spa and massage centers. It's also designed to be used as a blog by health consultants, nutritionists, health coaches, and bloggers.
7) VW Hospital Lite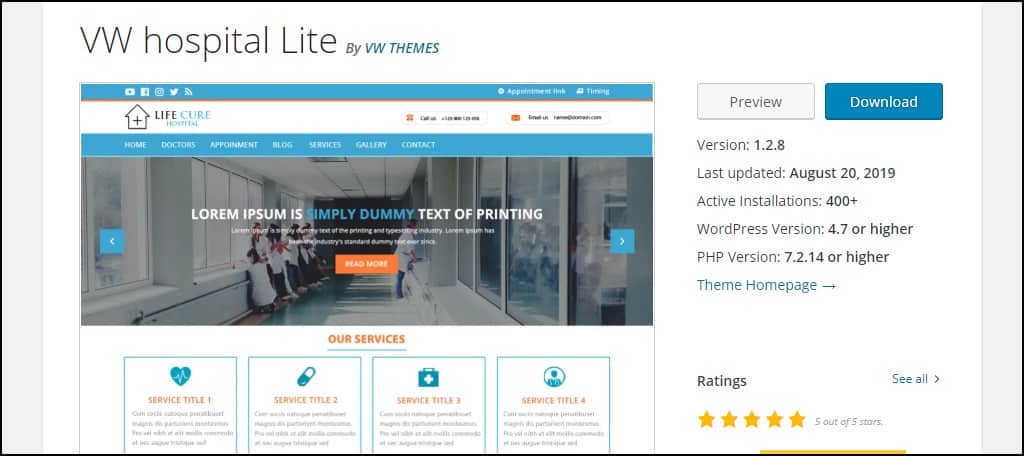 VW Hospital Lite may be a misnomer because this theme is not light on features.
Look for a Call to Action button, appointment form, and testimonial section. It's built on Bootstrap and is compatible with WooCommerce.
8) Doctorial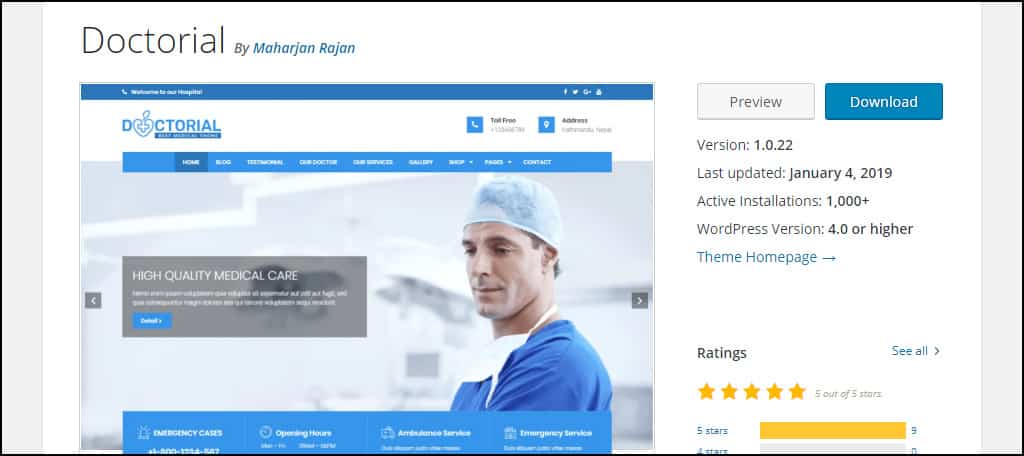 Doctorial is a free medical WordPress theme for doctors, nurses, pharmacies, hospitals, and other medical organizations and companies.
It is a clean, responsive theme that uses animation to set itself apart. So, you can provide an active layout to engage visitors.
9) Better Health

The Better Health theme is a professional, robust, responsive WordPress theme with one click demo import feature.
Better Health was developed as a powerful platform for crafting feature-rich medical industry websites.
10) Medical Hub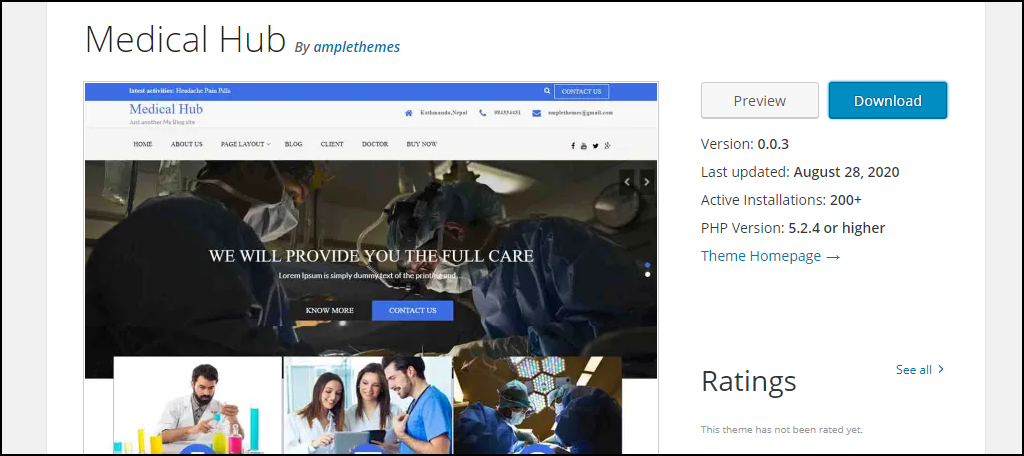 Medical Hub focuses on providing a stunning appearance for websites that are focused on medical research. It comes full of useful features like custom widgets and even a testimonial section.
The layout and design of the home page are superb. Due to the high level of customization, it can adapt to any website type.
11) Medical Consulting

If you're looking for a WordPress consulting theme that's free, Medical Consulting is packed with features, responsive, and optimized for all modern web browsers.
This is a child theme of Business Consultr, so you must have that theme installed to use the Medical Consulting layout.
12) Medics

Medics is a lightweight, fast, flexible bootstrap-based responsive theme. The home page layout contains a touch-friendly slider based on the owl carousel.
The sleek design is often ideal, and the reason why it's among some of the best free medical themes in WordPress.
13) Medical Way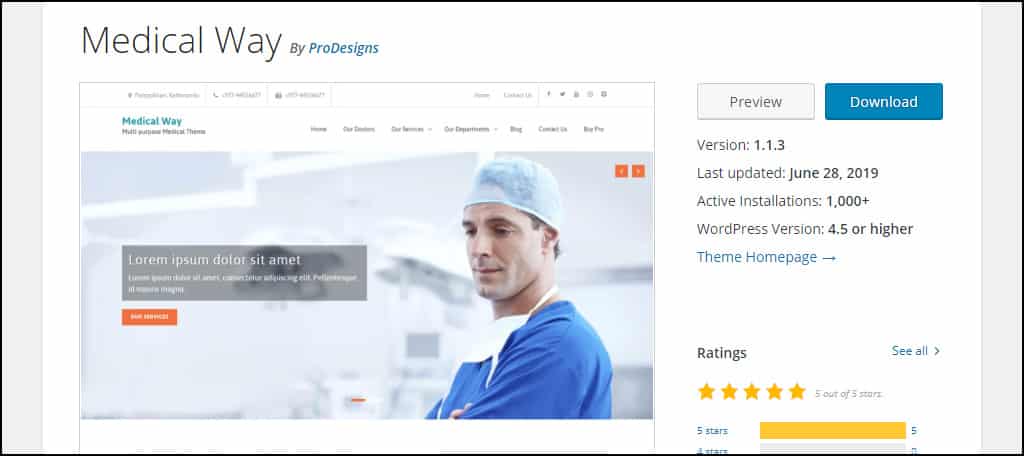 First, you'll notice the demo has the same stock image of a kind of smug-looking doctor as the Doctorial theme. However, it is indeed different.
Medical Way is a responsive health theme made for doctors, hospitals, medical clinics, and all medical websites.
14) Doctorsline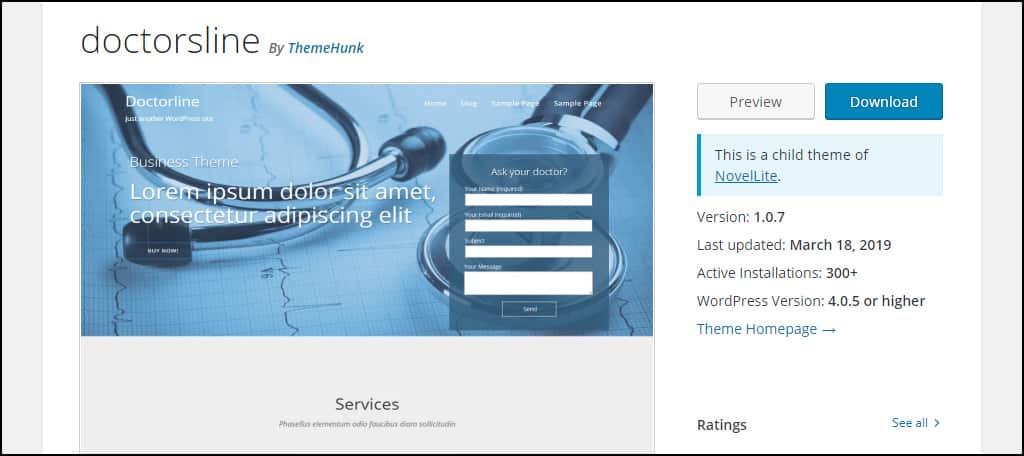 Doctorsline is a simple one-page responsive theme for WordPress that supports six widget areas (two in the sidebar, four in the footer) and featured images (thumbnails for gallery and blog posts).
It has sections for services, testimonials, WooCommerce, pricing, recent posts, team, and contact. This is a child theme of NovelLite, so you will have to install NovelLite to use Doctorsline.
15) Mediclean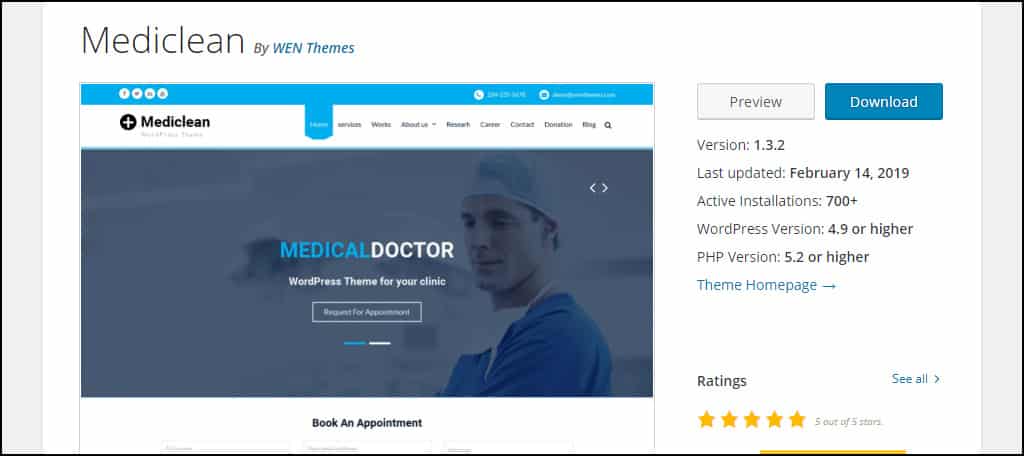 There's that smug doctor again. I wonder if he knows how popular he is?
Mediclean is a clean, simple WordPress Theme created for medical or health-related websites. It has a responsive layout with a slider and a range of elements and features specially created for medical-related sites.
16) Medplus

Medplus is another free medical WordPress theme designed for use by hospitals, clinics, pharmacies, dental offices, even spas.
It's compatible with WooCommerce, Nextgen gallery, Contact Form 7, and many other popular plugins.
17) Mediquip Plus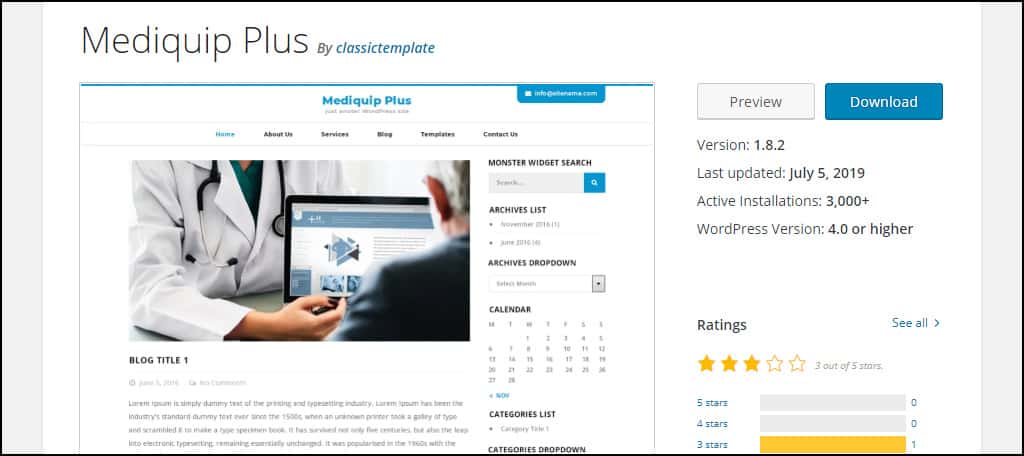 Mediquip Plus is one of the top free medical WordPress themes.
It's clean and modern, perfect for any medical site. Fully customizable and very easy to use.
18) Medical Hospital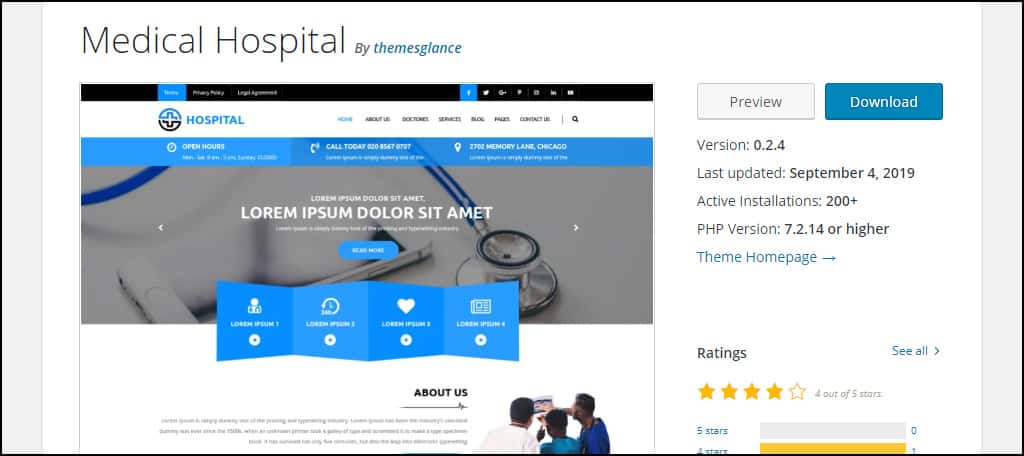 The Medical Hospital theme is flexible and designed to be used by everyone from small clinics to large hospitals.
It's fully responsive with a testimonials section, embedded social media icons, and a call to action (CTA) button. It is also search-engine-optimized with an interactive yet simple design.
19) MediHealth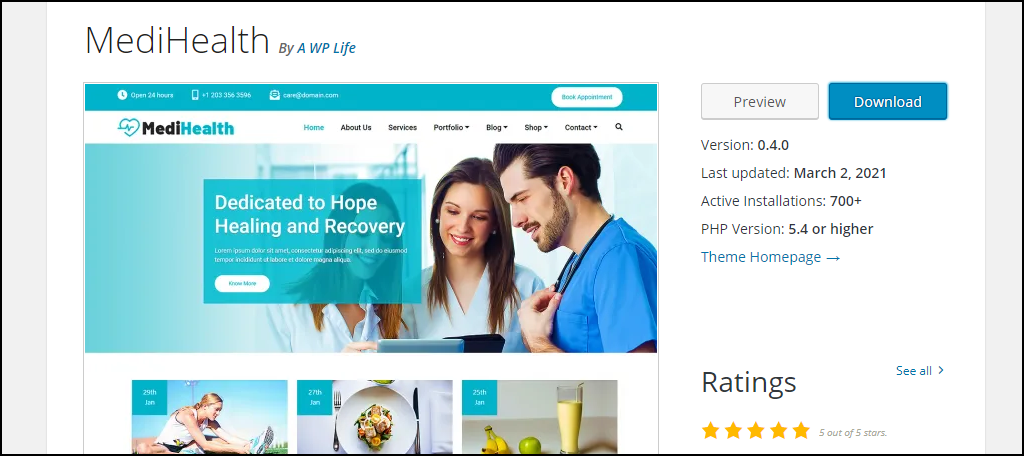 MediHealth is another great theme to consider. It's flexible and customizable enough for clinics, medical stores, and hospitals to use.
One of the best features of this plugin is the built-in testimonial slider. This is a great tool to help get customers to trust your medical services.
20) RT Health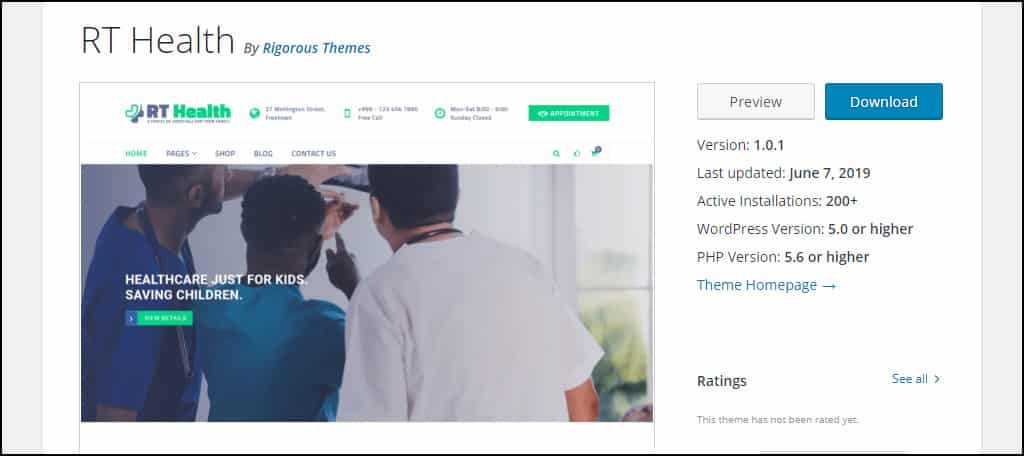 RT Health is a clean, versatile WordPress fitness theme for trainers, yoga instructors and gym or lifestyle coaches.
It's also great for personal trainers, consultants, nutritionists, and similar professionals.
As an added bonus, the theme is responsive and compatible with most popular page builders. For instance, this includes tools such as Elementor, Visual Composer, and SiteOrigin.
21) Cardio

Cardio is a responsive WordPress theme for fitness, gym, health, medical, and spa use.
It's compatible with WooCommerce, Contact Form 7 and Jetpack.
22) Wellness

Wellness is a responsive theme designed for health, fitness and wellness content. If you're looking for a health blog WordPress theme, look no further.
Subsequently, the theme features built-in widgets for an about page, classes and training, services listings, and client testimonials.
How Google Determines Website Quality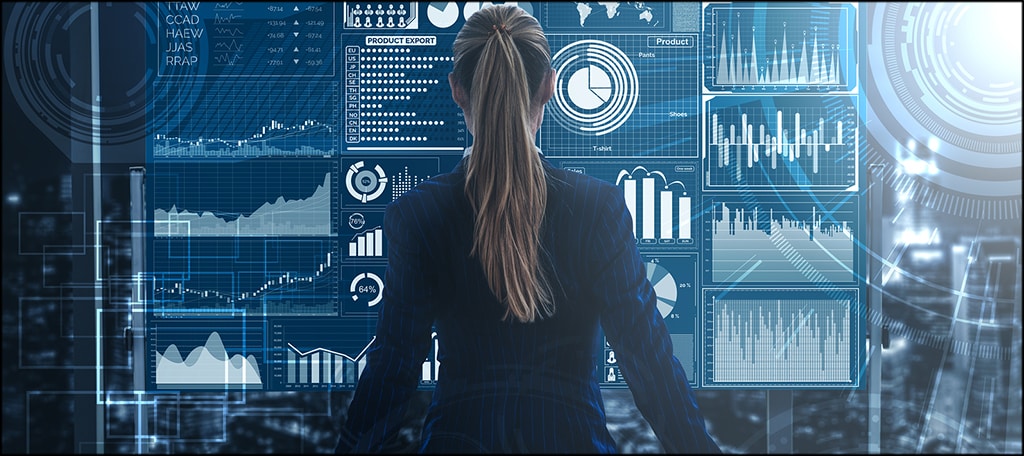 The people involved are called "quality raters," and there are more than 10,000 of them. They rate all websites, but their determinations about the quality of YMYL websites weigh very heavily on how a medical or wellness site is going to rank in search results.
So if you want your site to rank well, you have to jump through a few hoops. Not only do you have to perform the normal SEO optimization, but you also have to make sure that nothing on your site can be interpreted as potentially harmful by a quality rater.
If you're up for some light reading, you can look at the official Google quality rater handbook. It's full of valuable information, not only on the YMYL issue but how Google looks at websites in general.
How Medical Professionals Can Avoid YMYL Problems
Okay, I know you aren't going to read that entire handbook. Let me boil down the essential YMYL information that could affect you.
The quality raters measure every website against Google's E-A-T standards:
Expertise – Is the writer of the article or information an expert on the subject?
Authority – Are they a well-recognized authority on the subject?
Trustworthiness – Is the content of the article or page accurate?
E-A-T appears on about half the pages of the guidelines manual, so you know that Google places a lot of importance on the standards.
Expertise and authority can take some time and effort to establish. But you can do it if you keep the E-A-T standards in mind when you are creating content for your site.
How to Build Expertise, Authority, and Trustworthiness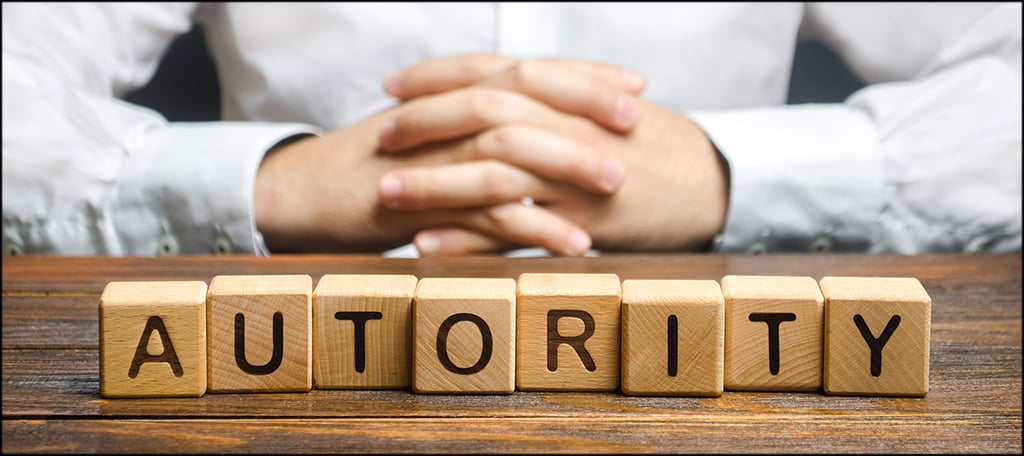 Here are some helpful reminders that will keep you focused on what's important for your site.
Update older articles. The best SEO practices change very often. Things like preferred text size and page responsiveness change over time.
Make sure your contact information is prominent. A visitor should never have to dig to find out how to get in touch with you. If you don't already have one, build a contact page. If you already have one, bring it to the forefront. At the very least, provide a link to the page in your header and footer.
Avoid deceptive content. You may not have any intentionally deceptive content but check your keyword usage. Make sure keywords are relevant and that you aren't "stuffing," or misusing keywords. Honesty builds trustworthiness (the "T" in E-A-T!).
A person with a name (and a photo if possible) should be part of your contact information. That means an actual person who deals with the site content and another person who deals with the business itself. Providing names of responsible parties is another link in establishing trust.
Make sure your articles are well written, reputable, and authoritative. Have a friend or a colleague read a few articles or pages of your site and ask them if the site comes across as knowledgeable and trustworthy.
Keep these things in mind and you'll never be considered deceptive or harmful by the quality raters.
More Free Medical Themes for WordPress
As always, any time you test new themes you should try to do it in a staging or development environment. And it's always a good idea to create a backup.
Yes, there are even more free medical themes for WordPress out there, but this list should give you a good start. There's also a healthy market (see what I did there?) for more advanced paid themes for medical businesses. However, I was focusing on the free options here.
I hope you find a theme that works for you. And whatever you do, don't forget E-A-T! In short, your theme is important…but content is king.