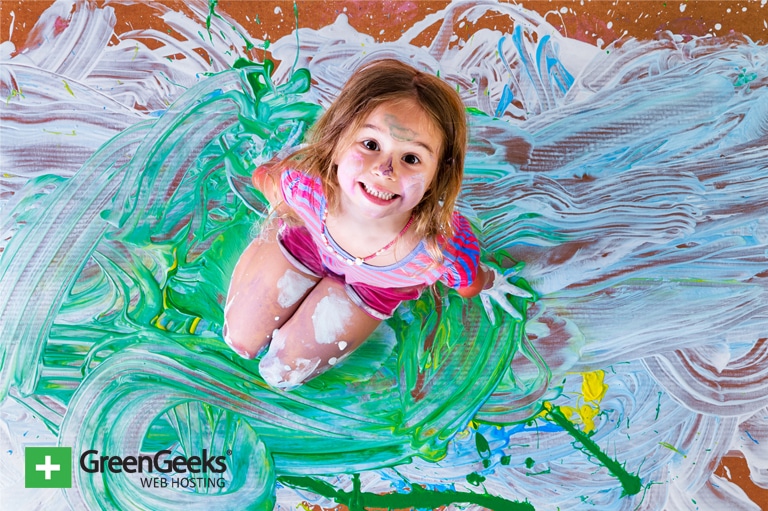 One of the most valuable parts of WordPress is its ability to be modified in mere moments. In a blink of an eye you can change the entire look and feel of the site by simply changing its theme.
The hardest part is finding an appearance that fits your website's purpose. Whether it's strictly eCommerce or a personal blog about cookies, finding that perfect layout can be time-consuming.
Luckily, WordPress hosting can be easily modified for visual appeal just with a couple clicks of the mouse.
Here are 30 of the best creative WordPress themes I've found on the Internet. While I'll try to keep the list centered around neutrality, some may be better suited for specific types of businesses or topics.
1. Food Hunt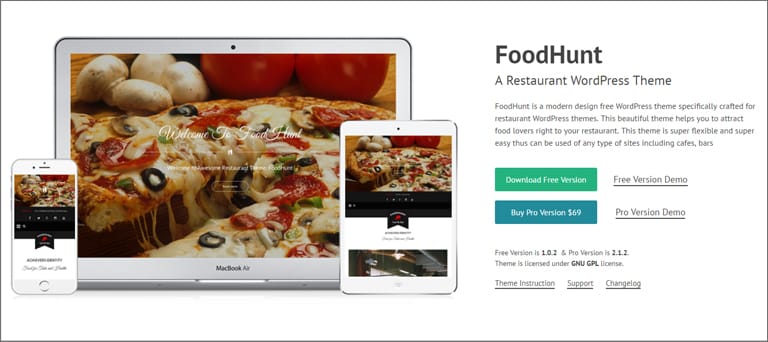 Food Hunt is an excellent example of building a food-based website. Whether it's for a restaurant or you just want to show off your favorite local coffee houses, it's an elegant theme that looks good on all devices.
The free version comes with several perks that may pique your interest.
In this theme, you have access to integrated social icons, custom CSS fields, additional widgets, parallax backgrounds and more. Because the theme handles hexadecimal color schemes, you can give the website a completely unique appearance while adding your own images to a graphic slider.
2. Venture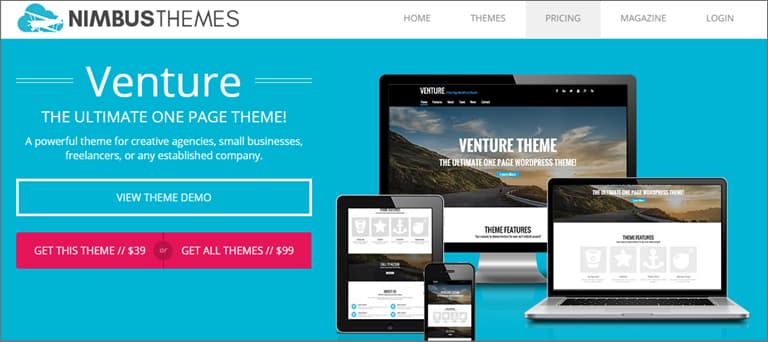 The Venture theme by Nimbus Themes has an attractive layout whether it's on a desktop computer or on a smaller smartphone. Because of the way it was designed, the color scheme can be easily changed to match any business or blog palette.
One of the reasons I've included it in this list is the use of custom shortcodes and scripts that are available. Buttons, columns and FontAwesome icons are just a few of the other additions that come in Venture.
Since social media engagement plays such an integral role in the world today, this theme also comes with options to connect with those users.
3. Plum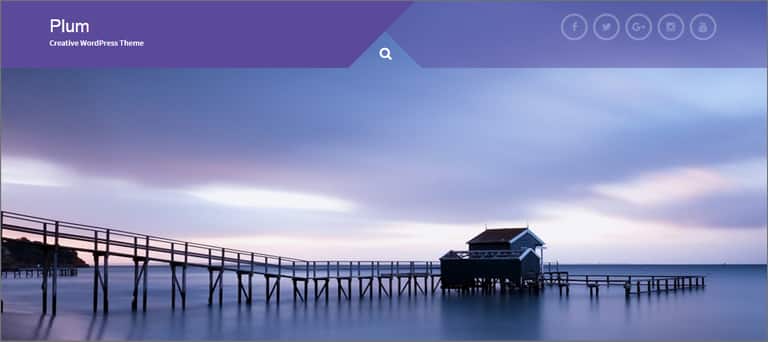 The Plum theme is a great example of what can be done with interactive controls. Menus seem to roll into existence when hovering the mouse and images swipe to show headlines. Various components of the overlay change during control as well.
For instance, clicking the search icon in the top middle causes the header to slide up while revealing a larger search box.
If you're not a fan of the purple, Plum can be changed to reflect orange and green in the WordPress Customizer. The theme uses advanced navigation, is retina ready and is compliant with CSS3 and HTML5 development for efficiency.
4. WP Store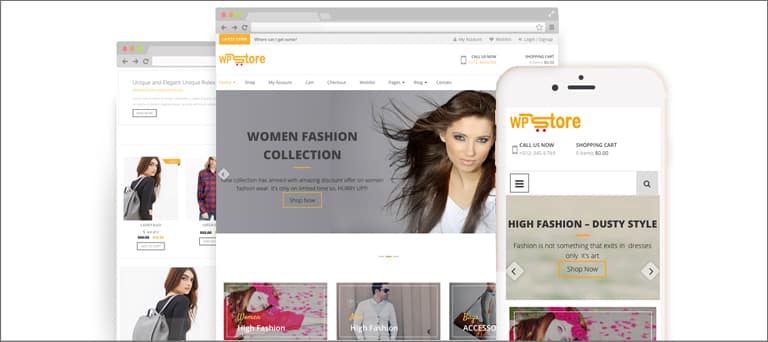 For those looking for an eCommerce platform, WP Store may be a good choice. It uses an easy-to-manage interface for visitors while offering a nice visual appeal.
This theme has a good feel to it when viewed on a smaller screen while keeping the most important information readily available for customers.
The layout is completely customizable. Custom widgets, brand displays, promotional sections and more deliver everything a site needs to engage an audience.
Various options for the homepage can be turned on and off depending on how you want the site to appear.
5. Grace
One of the things I like most about the Grace theme is the transparent header it uses. The theme has a stationary background while the header text scrolls across.
Aside from that, Grace is a simple theme that has a minimalist look and feel.
Like other themes in this list, Grace offers the ability to install custom CSS coding. However, you can also override the theme's original CSS code and take customization even further.
The theme even gives you the ability to modify excerpts and the text for "Read More…" links from within the Customizer.
6. Avada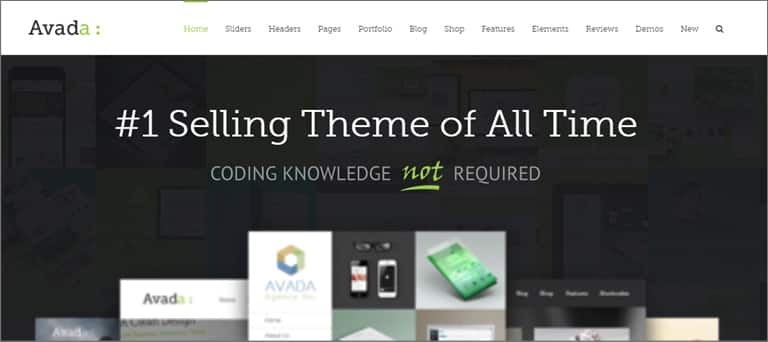 Probably one of the most versatile themes in this list, Avada has been at the top on Theme Forest for quite some time. The theme comes with its own customization module for WordPress and can be edited in a vast number of ways.
The sheer number of combinations it can handle is probably one of the reasons it has been one of the most downloaded themes.
Arvada comes with the ability to change virtually any aspect of the layout from headers to footers. Sliding bars, bbPress integration, blog specifics, portfolios and lightbox controls are only a handful of what this theme can handle.
The extensive features and elements give you the ability to create something completely different.
7. Ztudio X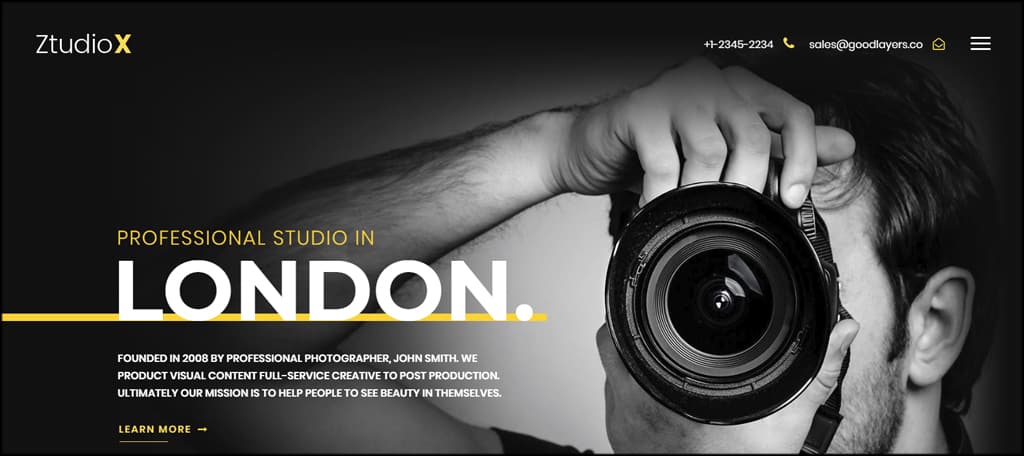 Ztudio X comes with a drag-and-drop content builder and includes a variety of header styles. Perfect for those building a graphic portfolio, this theme has an intuitive admin panel perfect for fine-tuning your custom options.
Unlimited sidebars, a slider creator and an effective wrapper system for external video makes this a great choice for those getting their creative juices flowing.
Ztudio X is probably among my favorites for those who want to show off their artwork. From photographs to video development, this theme does it all.
8. Airi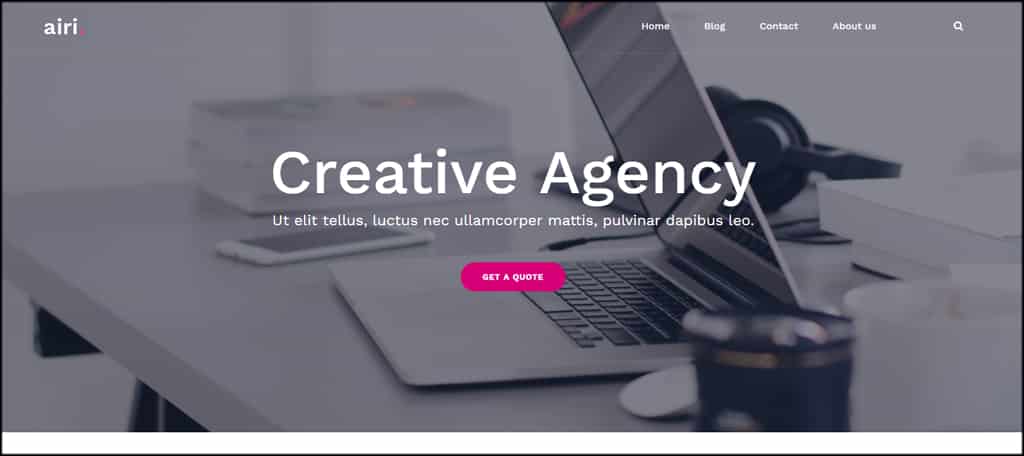 The Airi theme is a simplistic yet effective theme for showing off creative works. It supports the page builder platform Elementor while providing a wide range of options…even in the free version.
Some of the highlights of this theme include a variety of Google fonts, integration with WooCommerce and several pre-designed layouts to help you get started.
9. Fashionista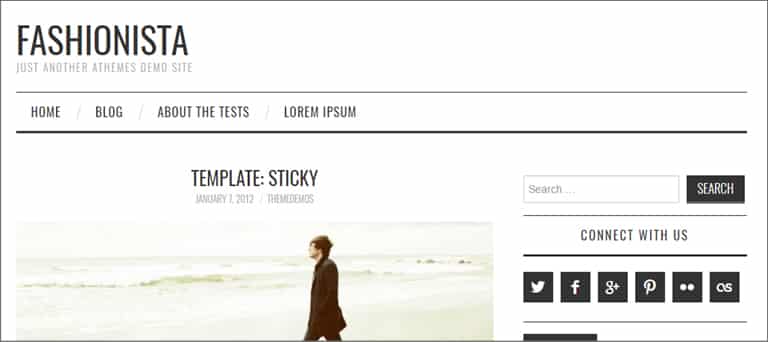 The second theme in this list from Athemes, Fashionista is reminiscent of a newspaper-style layout. Its simple design is what makes it a nice addition to any website. Although it does come with an array of options for customization, its basic layout also plays into site speed.
Fashionista makes good use of tabs, integrating sidebars and offering social media buttons. This means you have fewer plugins to install in the back-end to give the site greater functionality.
Unlike similar themes I've come across, I can actually read the font on this one. Too many times have I come across a white background using ultra-light grey fonts making it difficult to read. This one is easy on the eyes to skim content.
10. Arcade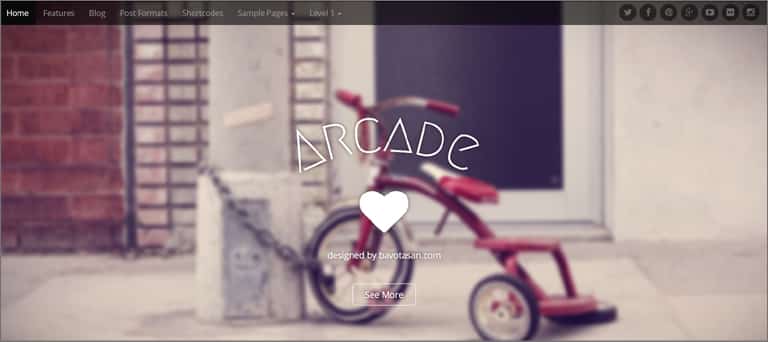 Arcade delivers a wide range of customization options that can make anyone feel creative. It uses a transparent top menu bar which is optimized for mobile devices. Integrated social buttons give it a nice touch as the menu remains stationary while visitors scroll through the content.
One of the more intriguing aspects of Arcade is the inclusion of custom shortcodes. With a short copy and past snippet, you can do everything from creating a color button to placing a circle around images.
Carousels, tabs and tool tips are also available for those who want to add even more interactive elements to the site.
11. Travelify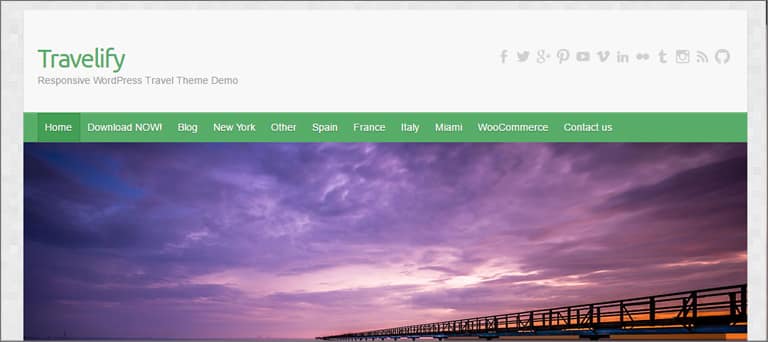 Although Travelify may seem simplistic, that's part of what gives it an allure. The header images can be set to cycle through a collection of graphics while using a nice fade effect and the layout is an easy to manage design.
One of the reasons I've included it in this list is the available options for customization it offers.
The theme comes with multiple layouts, is HiDPI ready and supports the most popular plugins. Travelify also has been optimized for translations and is ready to become multilingual.
The social icons across the top illuminate with their respective colors when hovering with the mouse making each one more obvious.
12. Grid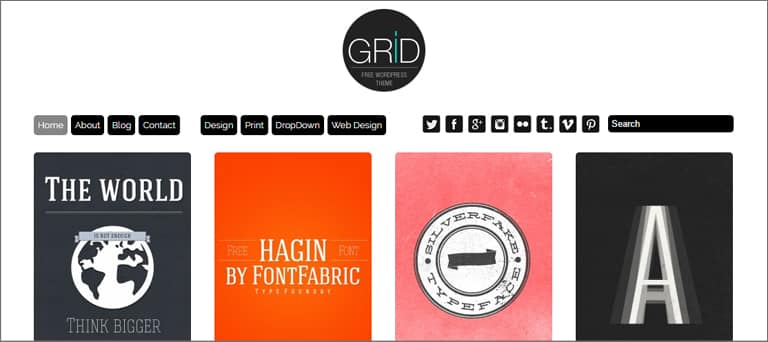 You have to marvel over the simplicity of the Grid theme. Using a library-style layout, posts are arranged like books with the ability to select each title. The size of the images makes it easy for those on mobile devices to tap and the top menu is less obtrusive than many other themes.
Perhaps the only thing I would change with this theme is the ability to implement a more mobile-friendly menu bar.
When viewed on a smaller screen, each option is still prevalent, which may eventually fill the screen with menu options on the homepage. However, this can be easily thwarted by using optimizing plugins for mobility.
13. Esteem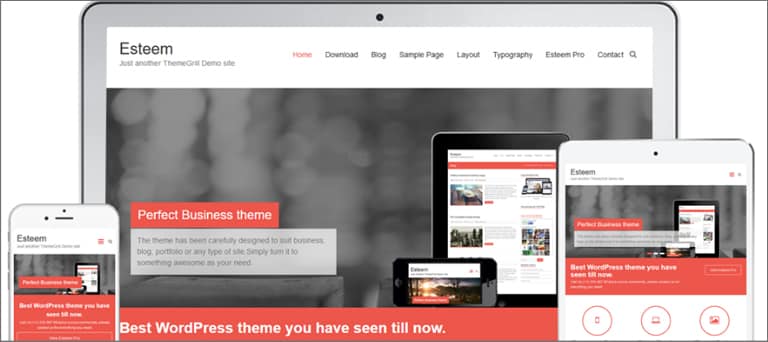 Esteem is the second ThemeGrill design in this list, and for good reason. It comes with all of the goodies you'd expect from a feature-rich layout including color options, various sidebars and several display types for a blog.
However, it also comes with integrated widgets such as services, call to actions and testimonials.
The overall design of this theme is more centered around businesses and professionals. Although Esteem can be used in virtually any environment, there may be better options if you're not focused on a company or freelance presence.
From a business standpoint, it has a lot of possibility.
14. Sensitive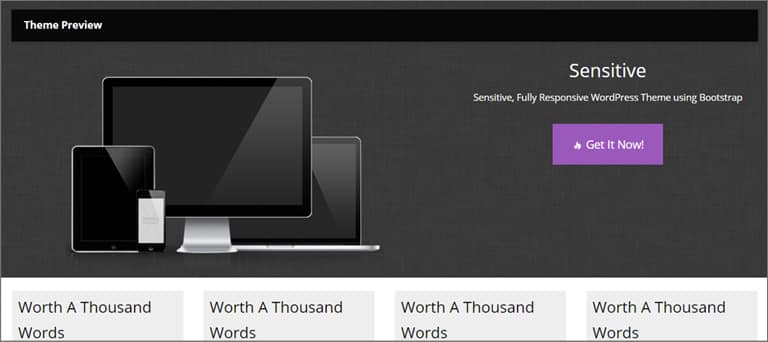 The simple design of Sensitive is absolutely responsive. When I say this, I mean that it shrinks down nicely while implementing an optimized menu. It offers several different styles of buttons, a homepage that is customizable, header and footer backgrounds and a few different layouts to choose from.
Although this theme hasn't been updated in quite some time, I did verify that it works with WordPress 4.7 without problems. However, it doesn't have access to sidebars.
If you use widgets in these areas, you may want to continue looking. Otherwise, this sleek design loads fast and works well for how simple it is.
15. Livo
If you're looking for a modern contemporary site design, Livo may be worth exploring. Not only is this theme minimalist, but it also makes good use of the coding technology available today.
The theme itself comes with a variety of different homepage styles ranging from a single page layout to a more convention form as you would see with other websites.
Livo has integrated SEO tools that help the site in search engines while providing a variety of modules. This may help you save a bit of money and time as these modules can take the place of plugins you may want to use on your site.
16. Stack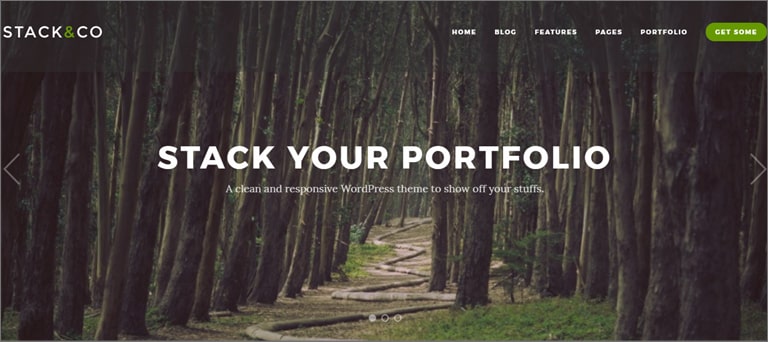 Another premium theme on this list, Stack has a lot of options when it comes to customizing the experience. It comes with easy homepage options, controls for the integrated portfolio, slideshows and more.
For those with CSS experience, you can also input custom code to control even more of the theme.
One thing you might find interesting is the custom styles toolbar. The WordPress editor gets an upgrade as this theme adds a few new features that lets you control the typography even more while creating content.
Although this theme is more geared for sharing photos or artwork, it may have potential for other uses with a bit of imagination.
17. X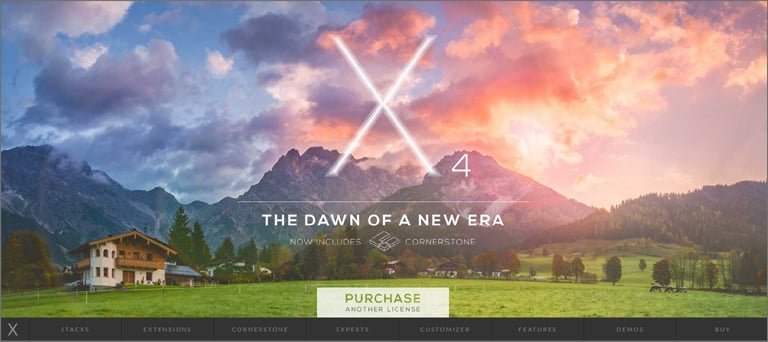 Simply titled, "X", this one offers a beautiful appearance while integrating a lot of the tools you would want in a WordPress theme. Users can integrate everything from content docking to building custom 404 pages.
One attraction many may find useful is the addition of many premium plugins that come with the theme when you buy it.
Diqus, Envira Gallery, Facebook Comments and much more are additions to the theme itself. From optimization to customer relations management, this theme is stocked with everything you'll need for just about any purpose you can think of.
18. Parallax One
Parallax One is a rather fun theme that includes a layer of interaction for visitors. For instance, the background shifts automatically with the move of a mouse pointer.
This theme offers a single-page design as well as custom content blocks for specific information. These blocks give you a quick way to highlight testimonials, reviews, staff members and more.
The layout is great for those who need an effective and elegant appearance for just about any cause.
19. Panoramica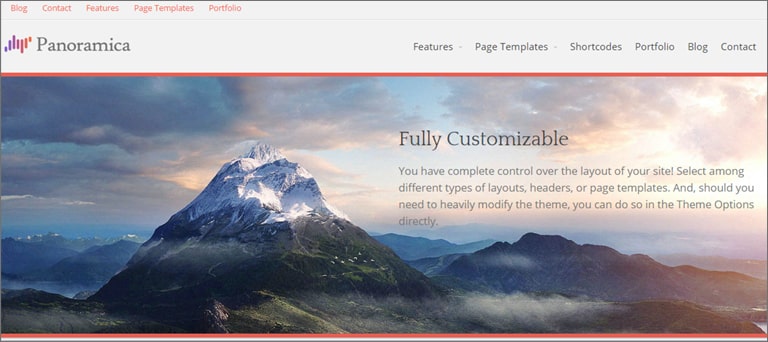 Panoramica is very versatile when it comes to options and customization. Not only does the header image support full screen, but the entire site is responsive to fit perfectly regardless how wide that display is.
It comes with a few different styles to choose from in case you don't want a full-width graphic.
This theme also comes with additional shortcodes to expand what you can do in posts and pages for WordPress. This includes varying buttons, accordion style content, message boxes, tabs, features and more.
You may also find the customizable typography of use as well.
20. Sydney
Another Athemes design, Sydney comes with a variety of front page blocks that can be arranged in a variety of ways to give the site a unique appearance. It also makes use of parallax scrolling, Google Fonts, different styles of header images and social icons to engage your visitors.
Sydney is more focused on the professional side of things. It would serve as a company website quite well, but may be lacking when it comes to an elaborate blog.
However, it wouldn't take much to add a few plugins to make this theme a perfect choice for just about any niche.
21. Hestia
Hestia is another theme that comes with similar components as others such as parallax design and responsive layouts. It includes a degree of interaction as images move during a mouse-over, and the live Customizer lets you make changes in real-time.
The content blocks and overall structure of the site has been optimized for SEO. However, it's also compatible with any other optimization plugins you want to use.
The most attractive feature of this theme is the addition of practical widgets for the site. For example, calls to action, maps, images and video players are only a few of the integrations of this theme.
22. ColorMag
I've mentioned ColorMag in previous pieces before. That's because it's an incredibly versatile and feature-rich theme that fits almost any type of website.
Whether you're building a health blog or selling cosmetics through eCommerce, this theme comes with a range of options to boost success.
The content widgets are some of the finer options as they let you create nice-looking blocks of recent articles complete with excerpts and images.
ColorMag comes with several ways to display graphics of all kinds and comes with pre-measured widgets for those who need specific sizes for advertisements or banners.
23. OnePress
OnePress is another theme that can be modified with its own Customizer. However, it also comes with page templates of pre-made items as well as built-in language support.
Like others in this list, it focuses on speed and search engine optimization while delivering a professional look and feel.
Custom blocks include contact forms, galleries, news layouts, video integrations and more. Because it has such a high-degree of elements, this theme can fit in just about any online dynamic regardless of what you're trying to build.
24. Newspaper
If you're looking to build a blog or share news of any kind on your site, the Newspaper theme may be the one you want to buy.
Not only does it come with an extensive customization experience, but you also get some of the most profound premium widgets for free in addition to the theme.
The layout can accommodate a wide range of styles to create just about any informational site you can think of.
From adding image headers to the top of the website to promoting more of a recipe center for food, almost anything is possible with this theme.
25. Reviewzine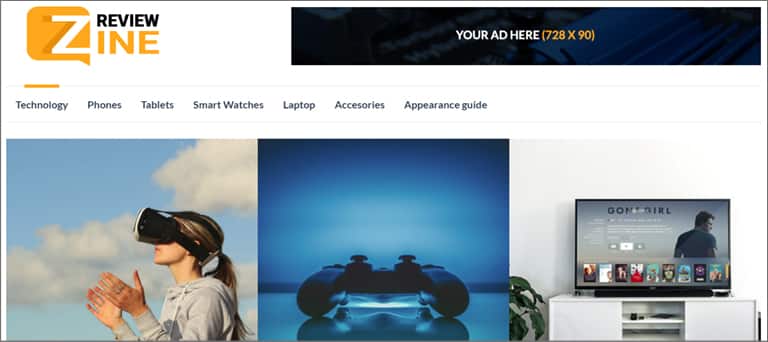 Reviewzine is a fun theme for those who are basing content around reviews. This layout comes complete with everything you'll need to create a rating-based content delivery system for your visitors.
It comes with the ability to rate products while showing pros and cons of individual items.
In addition to delivering reviews, the theme can also serve as a platform for sales as purchase options can easily be added to individual articles. This doesn't include eCommerce plugins such as using WooCommerce.
26. Vignette
The Vignette theme by CSS Igniter is a nice template for those who are sharing a lot of media. The homepage is made up of three widgetized areas much like the ColorMag example I mentioned earlier.
This means you have far more options when setting up the front page to look amazing.
There are several different layouts available, and the theme comes with its own widget elements. These center more around image sharing and social media, which will reduce the extra plugins you may have to install later.
Vignette works well with Elementor, Divi and SiteOrigin Page Builder.
27. Zillah
Zillah is another stylish theme that is simple yet elegant. When scrolling through the pages, the top menu bar vanishes. However, it reappears as soon as the page is scrolled up regardless where the visitor is on the site.
This folding menu bar can be quite useful for visitors when going through long-form content.
This theme is fully compatible with Page Builder by SiteOrigin and uses a live customizer for making edits on-the-fly. You can add a wide range of media to the background such as images and video.
And Zillah is optimized for speed, which will directly affect search engine optimization.
28. AccessPress Parallax
AccessPress creates a lot of different components for WordPress. I've used the social media plugin in the past, and it's a great system. One of the things that the company is known for is providing variety.
In Parallax, the designer provides many options to customize the look and feel of the website.
Not only can the appearance be modified through the WordPress Customizer, but the theme also provides its own option control for even more fine-tuning.
It's an excellent addition for those looking for an all-in-one as it incorporates elements for businesses, galleries for graphic designers or even setting up a something attractive for bloggers.
29. Pixgraphy
Another theme for those sharing images, Pixgraphy delivers a nice element for those who need an online portfolio. It was developed to support the most popular of plugins for the best use of those tools such as Breadcrumb NavXT, Contact Form 7 and bbPress.
Pixgraphy has several options listed in the Customizer specifically for the theme such as Photography Layout, Disable Entry Format, Meta and more. You also have control over how the theme operates like disabling the search forms or top social icons.
In the widgets area, users are provided easy sections designed for WooCommerce widget areas, contact forms and even displaying contact information within the header.
30. Enfold
Enfold is another premium theme in this list with some amazing features. It uses a drag-and-drop interface to place material in various blocks of the site, has a variety of color schemes to choose from and uses a great deal of interactive elements that engage visitors.
Because Enfold is such a felxible system, it can be used for nearly any purpose while delivering stunning visual effects.
Thanks to supported shortcode editions, it's easy to set up a wide range of extra elements that can take your design ideas a bit further.
Customize Your Own Website
There is just a lot that can be done when you use WordPress hosting. From a simple blog to a corporate eCommerce powerhouse, the versatility of the system is magnificent. Find the best WordPress themes that fit your own style and see what kind of personal experience you can deliver.
After all, first impressions for your site are just as important as they are in the real world. The best WordPress themes will play a part in that appearance.