By default, websites are open to everyone, but some might want to be more exclusive and limit access to members. Clubs, organizations, or even a local golf course may need this. To do this, you are going to need membership management software and there is no shortage to choose from.
Thus, I have constructed a list of the best membership management software in 2023.
What is Membership Management Software?
Membership management software provides the functionality to manage and support an association's member list. This includes storing member information, collect payments and donations, granting access to private storefronts, generate polls and surveys for members, and much more.
In the past, all of the important information would be stored in a large spreadsheet. It was a nightmare for large organizations.
However, today, most membership management systems are cloud-based and extremely easy to use for both large and small organizations alike. And they provide both developers and members far more options when it comes to interacting with a website.
For instance, many of these tools allow you to set up custom UIs for certain members. This is particularly useful for organizations that may have very large donors, as it is a great reward.
It also helps the members feel like they belong to something bigger.
Here are some of the best membership tracking software to use in 2023.
The Best Membership Management Software
1. Wild Apricot
Wild Apricot is one of the best membership solutions on the market. It's easy to use, automates simple tasks, sets up quick registrations, looks professional, and much more. And it's extremely affordable with a wide variety of plans to choose one.
Each one offers the same features, but the number of members is different. And there's even a free plan available for up to 50 members!
Wild Apricot truly is the one-stop shop for any membership website. The management software allows you to simplify member acquisition, automate membership renewals, set up administrator privileges to the necessary staff, promote events and special offers to members, and so much more.
It even includes a full website builder. The website builder utilizes a drag-and-drop interface and allows you to pick from 50 themes that can easily be customized with your brand's name and logo.
Thus, not only can it help you manage your memberships, it can help you get started.
Benefits of Wild Apricot
Send out emails and newsletters that are custom branded
Create specific groups and send out custom messages and notifications to them
View all event attendees from your mobile device
Price of Wild Apricot
A free plan is available for up to 50 members
Personal plans start at $40 per month for 100 members
Community plans start at $90 per month for 500 members
2. Zen Planner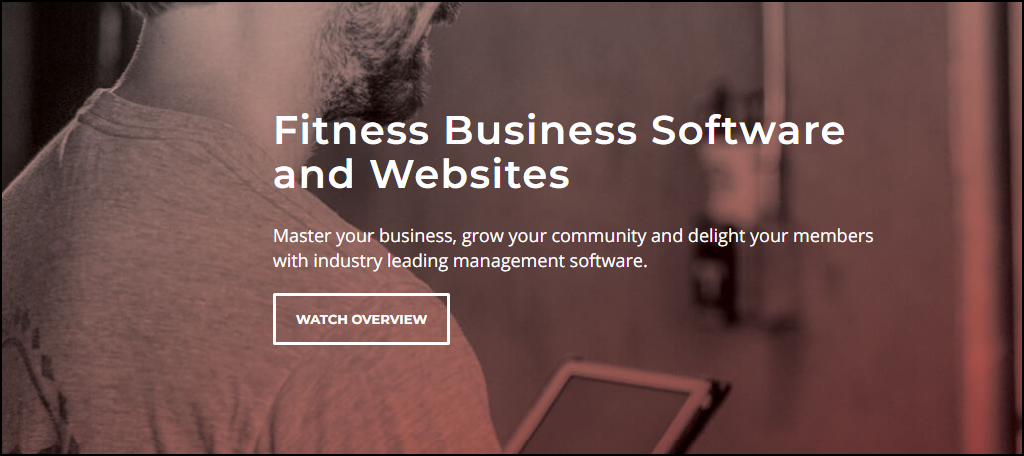 Zen Planner is focused on providing fitness websites with the tools they need to manage their members. And it does an excellent job at providing a unique lineup of tools for gym, yoga, and martial art websites that keep members engaged.
Just keep in mind that many of the tools will not be useful if you do not run a fitness business.
One of the best parts about this software is that it knows how to keep members happy. And happy members don't quit! It does this by providing key information like skill and belt training and progress alongside many other specific, but customizable options.
All of this is fully automated by the software and members can view the information from both a desktop or their mobile device. And you can also expect more common features like automatic billing and a great selection of reporting tools.
Benefits of Zen Planner
You are not charged for inactive members and can change your plan to meet your needs
Individual apps for both staff and members are available
Marketing tools are available to help you reach out to new customers
Price of Zen Planner
Each plan is based on the number of members you have. Here is the breakdown:
0-50 members cost $117 per month
51-100 members cost $1157 per month
101-150 members cost $197 per month
251+ members cost $227 per month
3. Glue Up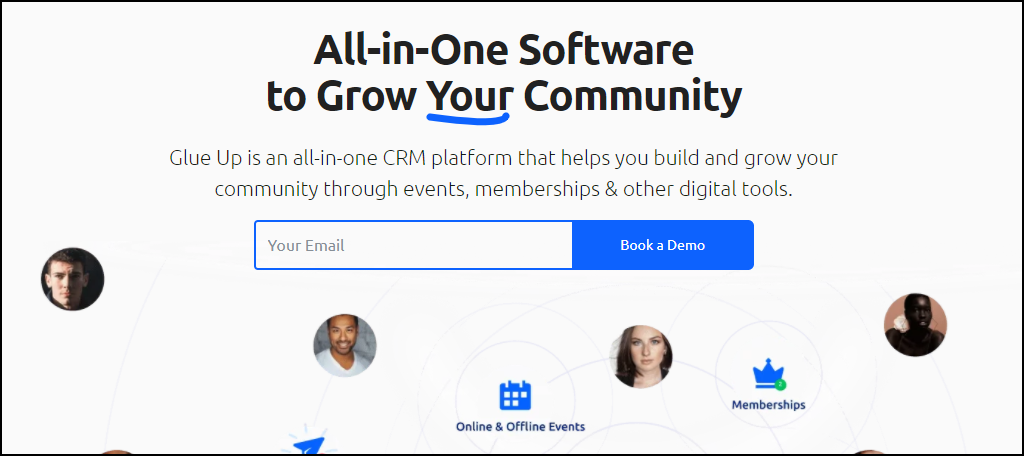 Glue Up is a terrific choice for any website looking for powerful membership management software. It provides a robust list of features to help you manage, engage, and grow your membership list, and they are all easy to use.
And it even provides a mobile app for both your staff and members.
This tool allows users to manage renewals automatically, create event pages, run as many events for members as they want, handle all membership emails and newsletters, allow one-on-one communications between members, and so much more.
Arguably the best part of this software is the mobile app. You can do just about everything the desktop client offers and more. For instance, you can scan tickets on your phone, which is an excellent tool for employees to take advantage of.
Dedicated hardware could cost you quite a bit, but everyone has a smartphone.
Benefits of Glue Up
Integrates seamlessly with your social media accounts
Create custom registration forms for each event
Send out automatic reminders to customers about billing
Price of Glue Up
Glue up does not make its pricing public. Instead, you will have to contact them for a quote.
4. GrowthZone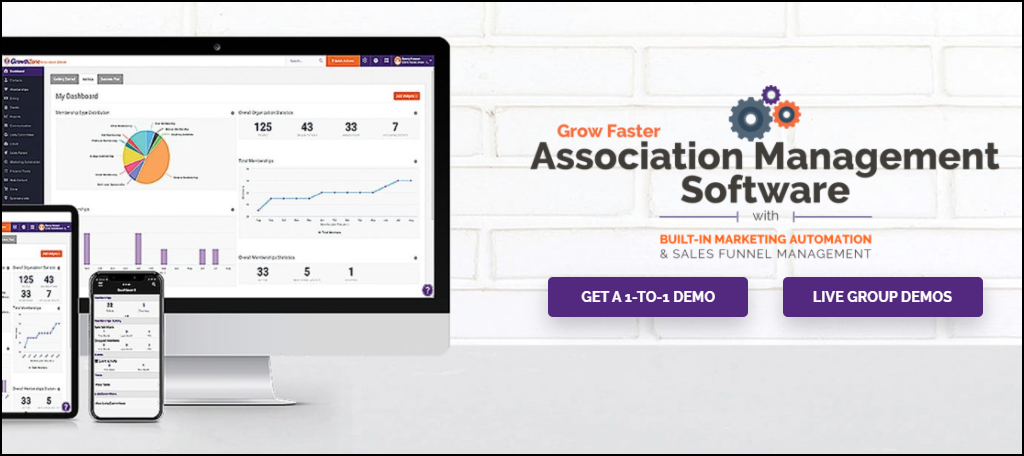 If you're looking for powerful membership directory software, look no further than GrowthZone. It has every feature a members-only site needs and most importantly, it's easy enough for anyone to use.
And even the analytical tools are easy to read because they provide multiple options to view the same data.
Its powerful toolset includes a database directory to view all member information, mobile apps for both members and staff, event creator with integration options for Zoom, allows you to process both one-time and reoccurring payments, and send out emails.
But, this is only a small glimpse of what is possible.
One of the best parts of GrowthZone is the excellent support you receive. You can contact the support team via live chat, email, or call them on the phone 5 days a week. This level of support really stands out when compared to other membership management software and can help beginners out immensely.
Benefits of GrowthZone
Group members and contacts into lists for different messaging options
Use the phone app to scan business card for contact details
Eliminate duplicate data in the directory automatically
Price of GrowthZone
Essential plan starts at $149 per month
Premier plan starts at $299 per month
Pro plan starts at $449 per month
Enterprise options are available upon request
5. MemberSpace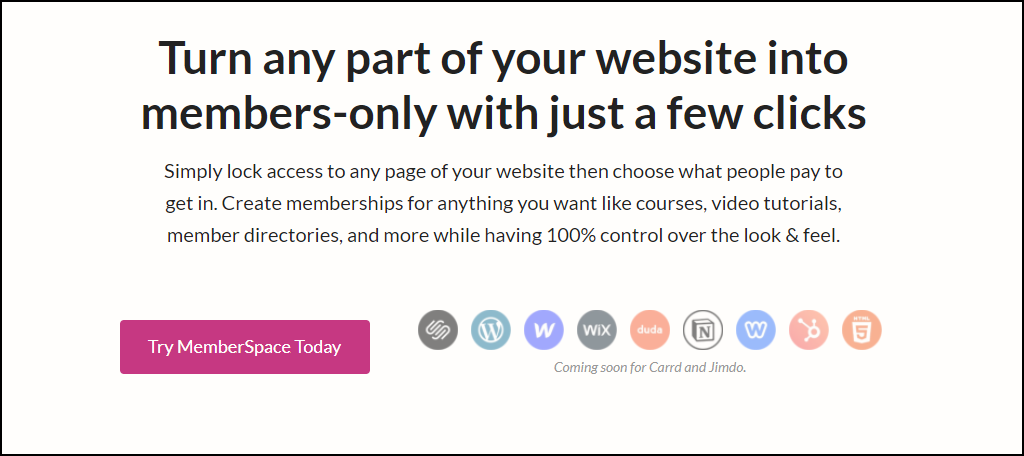 MemberSpace is another excellent option to choose if you want to add a members-only section to your website. It allows you to customize the appearance of these sections for members and determine the price you will charge to join.
And regardless of the plan you choose, you can have an unlimited number of members.
It supports 12 different CMSs including the most popular, WordPress. You can seamlessly transfer between any of the supported platforms. On top of this, there are a host of other features like adding forums to your website or sending out emails to members only.
It is important to highlight the one downside of MemberSpace, which is the transaction fee. It starts at a 4% fee on top of the Stripe transaction fee. However, the transaction fee is lower as you get more expensive plans.
The most expensive plan, which is still quite reasonable, has a transaction fee of 0.5%, which is much better.
Benefits of MemberSpace
Great customer support via email
All of the membership management happens on your website
Migrating from one CMS to another is a free service
Price of MemberSpace
Just Starting plan begins at $25 per month
Growing Business plan starts at $50 per month
Thriving Business plan starts at $100 per month
Unlimited Business plan starts at $200 per month
6. NationBuilder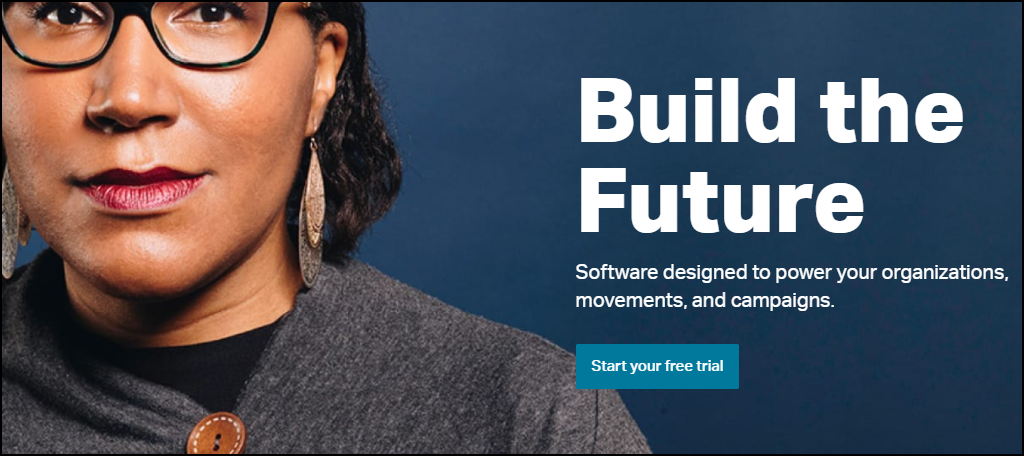 While NationBuilder is more about finding new members than managing them, it still offers tools for both. And in some cases, growing your membership list may be more important than managing, especially for new businesses.
And with the free trial, you can give it a try without spending a penny.
Since the focus of this tool is to grow your membership list, you can expect to find a toolset that complements this goal. For instance, you can use dynamic data to personalize the emails you send out.
And you can filter and group individuals that may respond better to different messages with the segmentation feature.
You can also create event pages in minutes by using the pre-built templates. In some cases, all you will need to do is personalize it and change a few values before it's ready to go. And the mobile app ensures that you can interact with members on the go.
Benefits of NationBuilder
Set up different permissions for volunteers and staff members
All data can be viewed in real-time
Create fundraiser pages and collect donations and membership fees
Price of NationBuilder
Starter plan begins at $29 per month
Pro plan starts at $139 per month
Enterprise options are available upon request
When Do I Need Membership Management Software?
So the big question for most is when should they purchase membership software?
It truly depends on the size and type of organization you plan to start. For instance, if you were running a golf course membership, members would expect a great user experience, after all, golf isn't cheap.
Even if you are just starting out, having the right feel is critical for growth.
On the flip side, if you were opening a local gym, members probably wouldn't expect anything super fancy. Thus, it really depends when you feel storing member information on a spreadsheet becomes too much of an inconvenience for the business.
That said, you can save yourself a lot of headaches and extra work by adopting a piece of software early.
Most of these will include a feature to collect payments, membership dues, and even donations from members. Thus, it can help you stay on top of finances and avoid going down a long list to make phone calls about overdue payments.
Make Members Feel Special
The most important part of any organization with members is making them feel special. Adding personal touches to their login, placing their name on a members page, inviting them to member-only events, and other activities are crucial to a membership site.
And if you don't manage to make them feel that their membership is justified, then you probably just lost a member.
What membership management software do you use?