Many business structures charge customers by the hour, which makes tracking the amount of time you spend critical to doing business. Customers want receipts with this information included, thus you are going to need time-tracking software.
And like most of the software industry, there is a lot of competition to choose from. Therefore, I have assembled a list of the best time-tracking software in 2023.
What is Time Tracking Software?
Time tracking software allows businesses to keep track of when their employees carry out specific tasks. This information can be vague and simply record the number of hours at work or be extremely detailed and include every task carried out in a specific amount of time.
The versatility of the software really depends on the needs of the business.
Most of these tools come with a time-tracking app that allows employees to update their timesheets on the go and can even have punch-in/out functionality. Or, the app can simply show when an employee is scheduled to work.
And over the years, additional functionality has been integrated with traditional time-tracking tools. For instance, some of these tools will allow you to calculate hourly wages, while others have integrated project management software into them.
Overall, most businesses have some form of time-tracking software in their business, but the functionality can vary greatly.
The Best Time Tracking Software
1. Quickbooks Time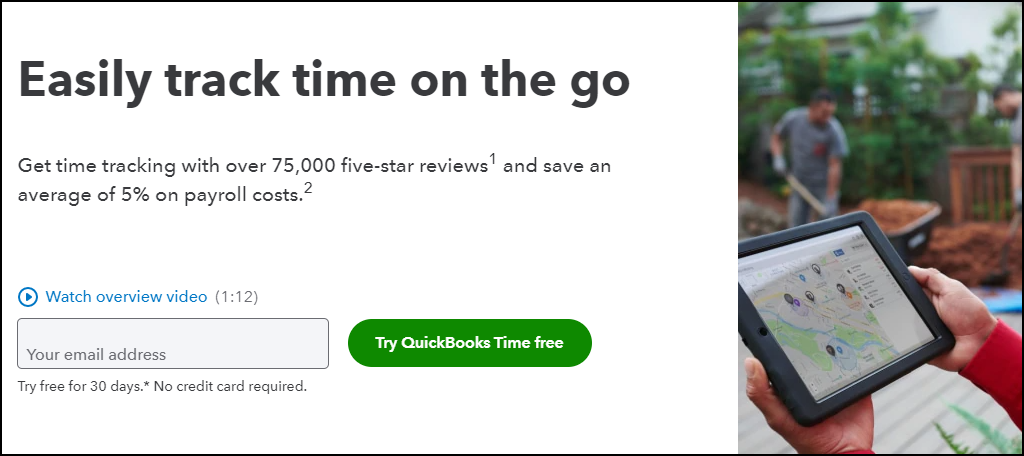 QuickBooks Time (formerly known as TSheets) is an amazing piece of time-tracking software that is strictly dedicated to time tracking. This software is browser-based, thus it can be accessed on any device and even has a dedicated mobile app, which many businesses require.
In addition, it fully integrates with QuickBooks and other Intuit products.
For many businesses, the mobile app is crucial for day-to-day activities, and Quickbook Time understands this. The mobile app can be used to not only allow employees to punch in and out on the go, but also track their position when they are on shift.
The biggest appeal of QuickBooks Time is the UI. It is, hands down, the best-looking time-tracking software on the market and utilizes color-coding to make everything clear. It also alerts employees whenever new schedules go live or if a change was made.
Benefits of QuickBooks Time
See who's working or on shift at a glance
Set it up to generate payroll reports and export them in multiple formats
View the number of hours employees are working in real-time
Price of Quickbooks Time
The Premium plan starts at $20 per month plus $8 per user
The Elite plan starts at $40 per month plus $10 per user
2. Toggl Track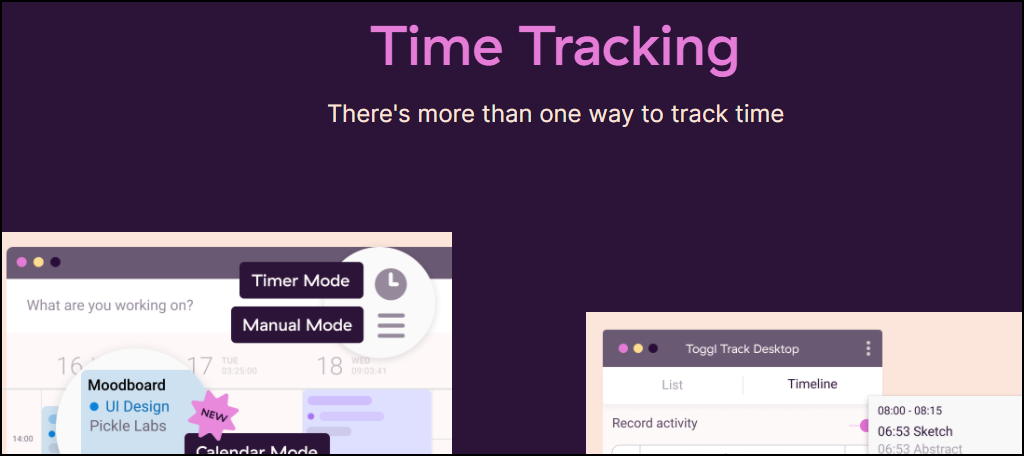 Believe it or not, there are amazing free time tracking software available, and Toggl Track is one of them. While there are paid packages available for those that want a more robust option, the free plan includes everything you would expect from a time-tracking app.
Thus, it is the perfect option for start-ups looking to save a few bucks.
One of the biggest appeals of Toggl Track is its integration capabilities. With it, you can connect with over 100 of the most popular business tools on the market. Some include names like Asana, Slack, WordPress, Gmail, Zoho, Google Docs, Zendesk, and many more.
Toggl Track really excels at web-based work. For instance, with the Google Chrome extension, you can begin a clock the moment you open the browser. It even has a feature that will remind you to take a break at scheduled intervals to increase your efficiency.
Benefits of Toggl Track
Allows you to set required fields to ensure all of the information is entered
Send out an email notification to employees who have not submitted their times
The mobile app is can keep you connected on the go.
Price of Toggl Track
The Free plan supports up to 5 users
Starter plans begin at $9 per month per user
Premium plans start at $18 per month per user
Enterprise options are available upon request
3. Hubstaff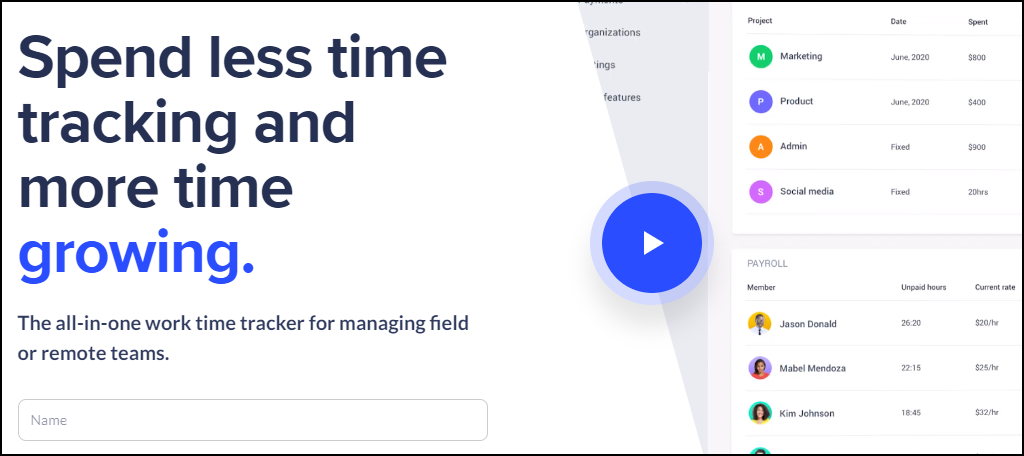 When it comes to small to midsize businesses, Hubstaff is one of the most used time-tracking solutions. It has a powerful time tracking toolset, it's affordable, and offers additional functionality like HR and payroll support.
It is worth mentioning there is a free plan, but due to the limitations, it's not enough for a small business.
One of the most important features of Hubstaff is the proof of work feature. Making sure your employees are getting work done is important, and has been a major concern during the Covid-19 lockdown.
Hubstaff allows employers to capture screenshots from an employee's computer.
This ensures you can see exactly what employees are looking at during specific times and the event interval is customizable. As a result, employees are less likely to take a break and look at Facebook on the clock.
Thus, not only does this help you track time, it helps you ensure that the time is being spent productively.
Benefits of Hubstaff
The phone app supports geolocation to keep track of employees (on shift)
It's easy to set up a teams schedule
Keep track of project spending and progress
Price of Hubstaff
Free plan available
Basic plans start at $7 per month per user (min 2 users)
Premium plans start at $10 per month per user (min 2 users)
Enterprise plans start at $20 per month per user (min 2 users)
4. Harvest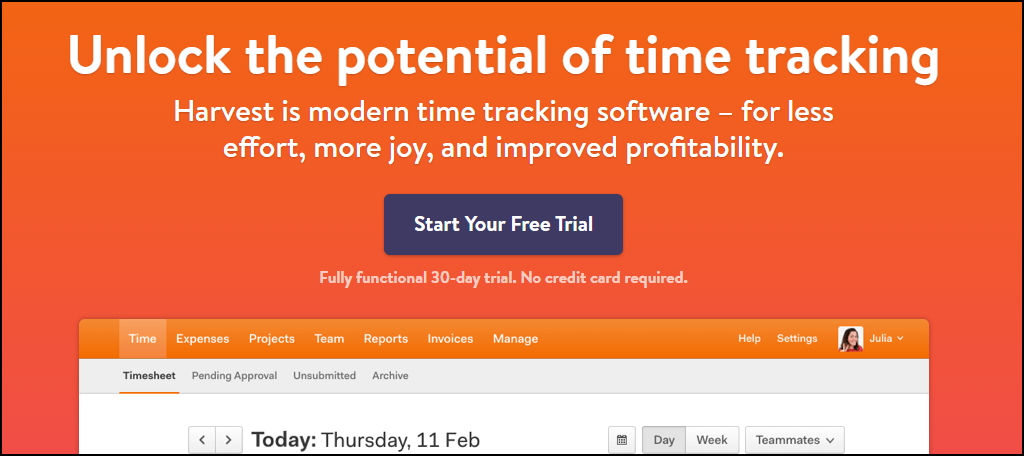 If your looking for a better time-tracking solution for small teams, look no further than Harvest. The tracking app was designed for collaborative projects and allows you to manage the time spent on a project, how funds are spent, estimated time remaining,  and share confidential reports in one location.
And all of this is available for an excellent price.
Speaking of price, if you are planning a solo project or simply work alone, a free plan is available. And it even offers the same functionality, but only supports one user. Regardless of the plan you choose, you can access Harvest on both a web-based app and mobile device.
If you are interested in also using Harvest for a regular team schedule, you will need to purchase Harvest Forecast. This will allow you to easily build staff schedules for your business and fully integrate them into the regular Harvest app.
The difference is that one is intended for project time tracking and the other for schedules.
Benefits of Harvest
The interface is simple and easy to use
Integrates with other apps like Slack and Asana
All schedules are color-coded
Price of Harvest
A free plan is available for 1 user
The Pro plan is $12 per month per seat
5. Time Doctor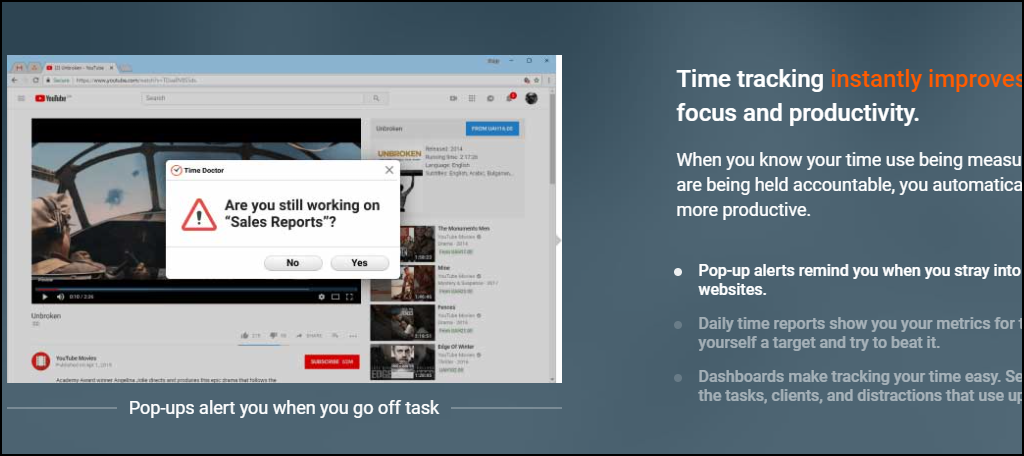 Another excellent choice to consider is Time Doctor. This software allows you to handle time tracking for both projects and business schedules. And it also provides multiple schedule view options, which can help you spot gaps in a schedule.
And most importantly, it makes sure that employees stay on track.
With many companies switching to remote positions for the first time, as a result of Covid-19, one of the biggest concerns is efficiency. Time Doctor allows you to send notifications when the software detects a time-wasting website like YouTube or Facebook.
Thus, not only are you tracking time, but ensuring it's time well-spent. It is worth mentioning that you must download either the desktop app or the Chrome extension to begin recording time.
The phone app also supports GPS tracking, but alternative platforms do this better.
Benefits of Time Doctor
The app allows you to create invoices
Setup is extremely quick with an estimated time of 10 minutes for admins and 3 min for employees
Prevents employees from overlapping time
Price of Time Doctor
Basic plans start at $7 per month
Standard plans start at $10 per month
Premium plans start at $20 per month
6. RescueTime
Closing out our list is RescueTime, which is equal parts time tracking software and work monitoring app. It's simple, employees download the RescueTime app onto their device and it logs their computer activity when active.
However, it should be noted that this is more for individual use than business-wide.
It labels every website and program opened as either productive or very distracting. For instance, Facebook is listed as very distracting and it can even be set up to block websites that are considered as such.
And in the hands of a distracted business owner, the tool is worth examining.
However, keep in mind that some jobs may actually interact with social media websites as part of the job. Thus, you could get bad data if the websites are not business-centric. This tool also integrates with Google Calendar.
You can also schedule focus time while using the software.
Benefits of RescueTime
See a breakdown of productive time and distracted time
Send the reports to employers to receive payment for the time
Works in your computer's background
Price of RescueTime
A limited version is available for free
Premium plans start at $12 per month or $78 per year
Your Time Tracking Solution Is Unique
Like most types of software, the best choice for your business is unique.
For example, the needs of a small retail store will be very different from a law office. Lawyers charge by the hour and need to document the time they spend researching and preparing a case. Whereas a retail store would simply need to record the number of hours employees work.
However, while the needs are different, they both need a time tracker that meets their demands.
Thus, before you begin looking at time-tracking solutions, you need to understand what your business requires. To find out, look at the structure of the business, the number of employees, any legal requirements you need to adhere to, and how your time is being spent.
Save Time with Time Tracking Software
Many new business owners try to avoid software whenever possible, and this is a huge mistake. Software is designed to save time and make everyday business easier. Yet, in an attempt to cut down on initial costs, it's typically avoided.
It is entirely possible to create a timesheet using simple software like Excel, but that can eat up hours of time and requires manual input. This is time that could be better spent analyzing your business to discover new opportunities or solve existing problems.
Virtually, all businesses use time-tracking software and the prices are quite low. Thus, there's no excuse to not have one.
What is your favorite time tracker app? Has using a work time tracker saved you time?