If there is one thing virtually every business has in common, it's the usage of office suites. A text editor, spreadsheet, and slideshow have become the bare minimum to be considered an office suite in 2023.
Today, I have assembled a list of the best office suites to aid your business.
What is An Office Suite?
Office suites are a collection of software and applications that are intended to simplify the workload in an office environment. One common trait all office suits share is the inclusion of a word processor, spreadsheet, and slideshow software.
However, office suits have gotten much bigger over the years and now contain far more software in them.
For instance, Microsoft Teams has really gained popularity as one of the best ways for team members to communicate with each other in a remote environment. Even schools are using this feature, but these software options vary on a case-by-case basis.
Is It Safe to Not Use Microsoft Products?
When it comes to office suites, there is no bigger name than Microsoft Office (our top pick). In fact, this is the first name someone thinks of when they hear the term office software. It is by far the most widely used office suite around the world for businesses.
In the US business world, Microsoft Office 365 has a 47.63% market share.
However, this raises the question, is it safe to not use Microsoft Office?
While it is perfectly reasonable to not use a Microsoft product, you need to be aware of file formats. While non-Microsoft alternatives have the ability to save in those formats, it can get really annoying to do so.
Trust me, when you have to save hundreds of documents over the course of a week (or even a day), that time lost is not negligible.
And if you forget to do so, you could trouble your clients or business partners.
Simply put, it is safe to not use Microsoft Office products, but it can cause extra work.
The Best Office Suits of 2023
1. Microsoft 365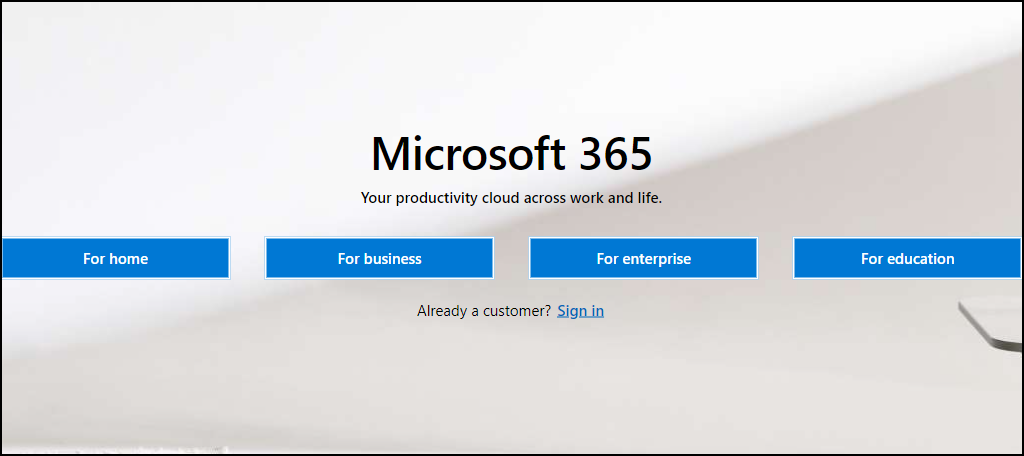 Without any hesitation, Microsoft 365 takes the top spot on our list, and is anyone really surprised? It still remains the most powerful and user-friendly experience on the market. And most importantly, the price tag is perfect for businesses of any size.
This office suite also includes a variety of cloud-based services like OneDrive and Microsoft Teams.
When it comes to the number of offerings, nothing can compare with Microsft 365. This office suite includes access to Microsoft Word, Excel, PowerPoint, Outlook, Publisher (PC Only), Access (PC Only), Teams, Exchange, SharePoint, and OneDrive for all of your storage needs.
Microsoft software is the most recognizable in the world and easy to use, which makes it an ideal pick for anyone managing a team. After all, your employees should already know the basics from school (it's free for students).
You can also try any plan for 1 month free.
Benefits of Microsoft 365
The editors are some of, if not the most powerful available
The file formats are the most common in the business
All of your files can be backed up and stored on OneDrive at no extra cost
Price of Microsoft 365
For Personal Use:
Personal plans start at $69.99 per year
Family plans (2-6 people) start at $99.99 per year
For Business Use:
Basic plans start at $5 per month per user
Standard plans start at $12.50 per month per user
Premium plans start at $20 per month per user
Business Apps plans start at $8.25 per month per user
2. Google Workspace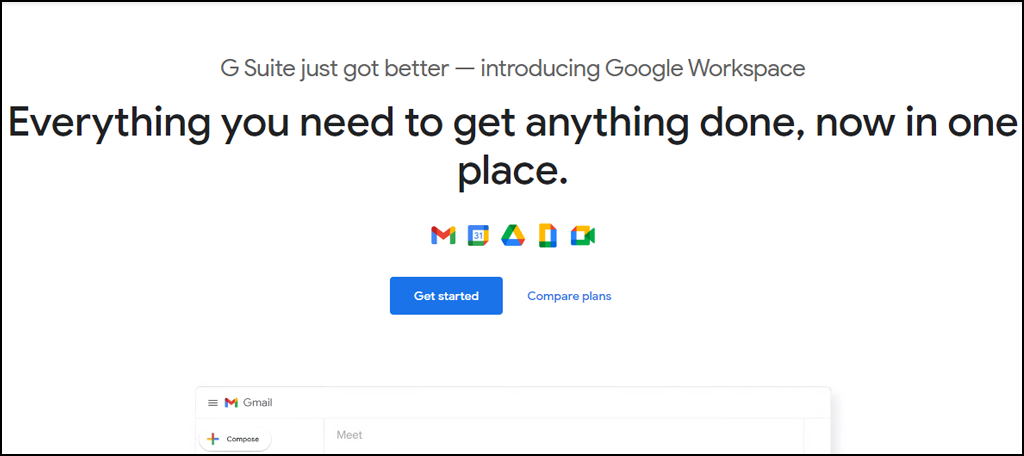 Google Workspace (formerly known as G Suite) is the most popular office suite in the world when not just looking at business. It holds a remarkable 59.41% market share in the United States, which may surprise a lot of people.
And that's because it's cloud-based.
As a result, you can access your workspace from any device, anywhere in the world. This office suite includes access to Business Gmail, Meet, Chat, Calendar, Drive, Docs, Sheets, Slides, Forms, Sites, Currents, Keep, Apps Script, Cloud Search, and additional security features.
The main advantage this option offers is its collaboration potential. Having multiple users editing a particular document, spreadsheet or slideshow can significantly speed up creation and will benefit teams working on a single project.
Benefits of Google Workspace
No install required, it's in the cloud
Easily manage your personal and professional email in the same space
Each user gets access to 2 TB of storage
Price of Google Workspace
Starter plans begin at $6 per month per user
Standard plans begin at $12 per month per user
Plus plans begin at $18 per month per user
Enterprise options are available upon request
3. iWork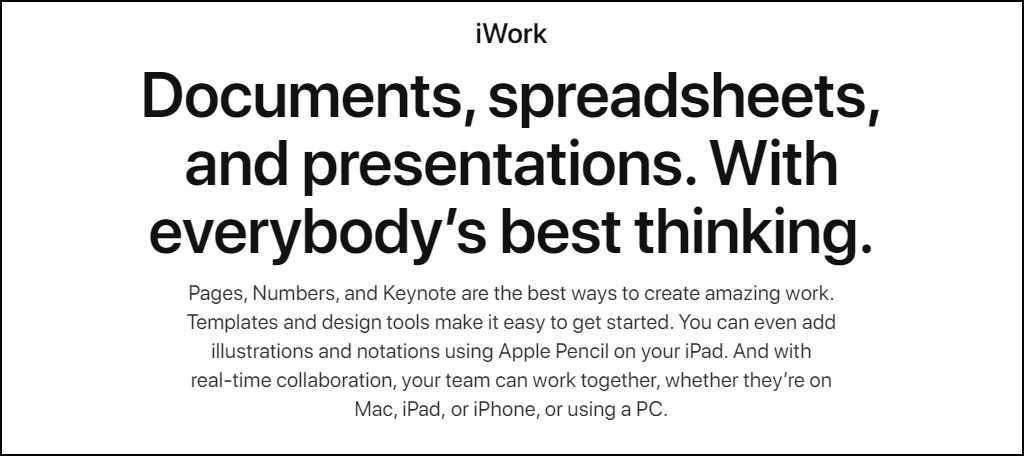 You may actually be surprised to learn that Apple has its own office suite, iWork, and it's not new. In reality, it's been around for years. If you regularly use Apple products like the Mac, iPad, or iPhone, you might want to consider this office suite.
As a result, it is the best free office suite for Apple devices.
iWork only contains 3 pieces of office software that includes Pages (word processor), Numbers (spreadsheets), and Keynote (slideshow). These are feature-rich editors, and most users actually find the interface easier to use than many alternatives, which is ideal for teams.
And when it comes to teamwork, collaboration has never been easier, as long as everyone has an Apple device. Multiple users can edit a single document in any piece of software in the suite. Unfortunately, since it only works on Apple devices, it can prove problematic in the Windows-dominated business world.
Benefits of iWork
Seamlessly transfer and work on files on any Apple device with the iCloud
Allows you to send documents to any other Apple device
The user interfaces much simpler than other office suites
Price of iWork
4. LibreOffice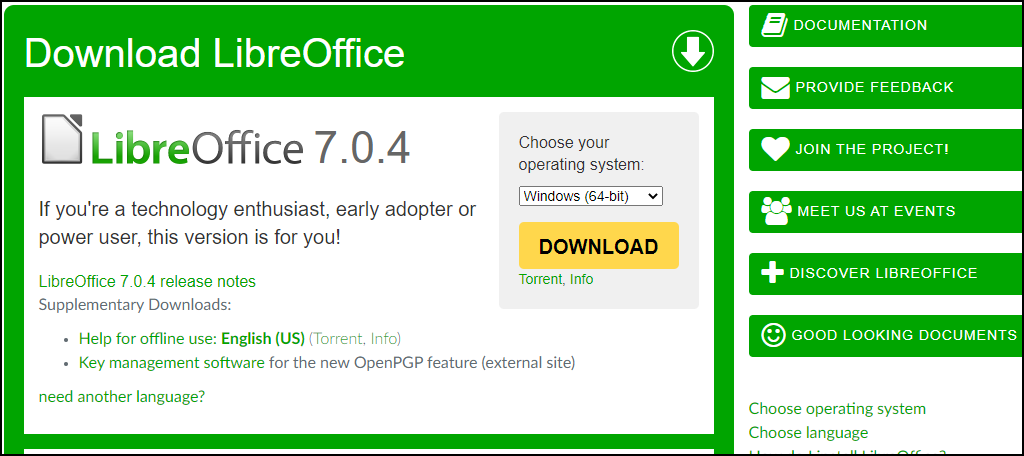 Some users or business types may be suspicious of information collection by big-name companies like Microsoft, Google, and Apple. Instead of using this proprietary software, they can use the best open-source office suite, LibreOffice.
And as you might expect, it is free to use.
To put it simply, as a user of proprietary software like Microsoft Office, there is no way to know what is happening to your data when it is collected or transferred to remote servers. While this doesn't stop millions of customers from worrying, some individuals or businesses can't take that risk.
LibreOffice includes access to Writer (word processor), Calc (spreadsheets), Impress (presentation app), Draw (vector drawing), Base, and a math editor aptly named Math. While these tools are not as powerful as other office suites, they are transparent and free.
Benefits of LibreOffice
Works on Windows, Mac, and Linux
The best tool for reading old file formats
Regularly updated with new features and stability improvements
Price of LibreOffice
5. WordPerfect Office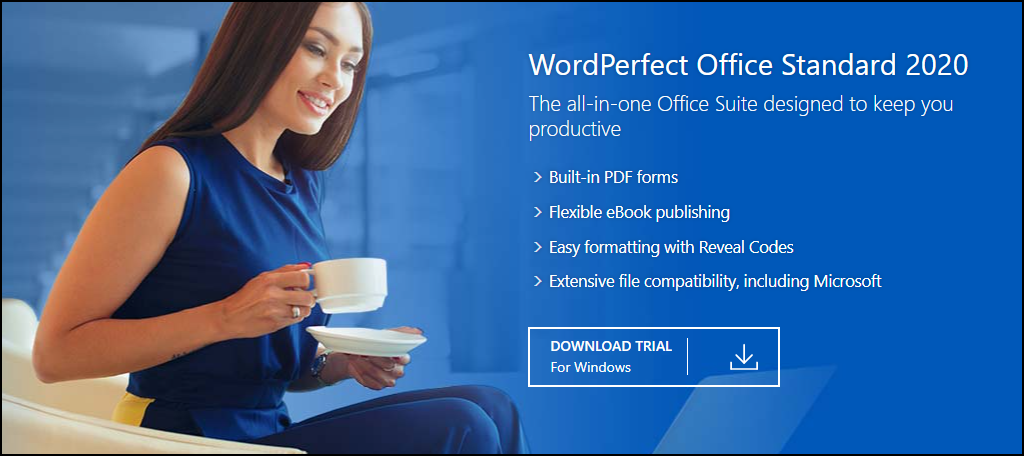 While most office suites have tried to emulate the power of Microsoft Office and its offerings, WordPerfect Office is one of the oldest existing suites in the business. It originated in 1979, and for a time was the leader of the pack.
While it has since lost that throne, it's still an excellent alternative to consider.
The WordPerfect Office includes access to WordPerfect (word processor), Quattro Pro (spreadsheets), Presentations (presentation app), WordPerfect Lightning, and even gain access to Corel AfterShot 3. And instead of a monthly plan, it's a one time purchase.
WordPerfect really excels in the word processor department. It does things differently than Word and as a result, you have far more control over your documents, especially when they are on the longer side. Most importantly, unlike Word, WordPerfect will not change the appearance of your document.
Benefits of WordPerfect Office
The only word processor that is more powerful than Word
No monthly subscription fee
Allows you to export documents as PDF files with fillable form fields
Price of WordPerfect Office
One time payment of $249.99 per license
6. Polaris Office
If you currently own a Samsung smartphone, you have probably heard of Polaris Office. It is installed by default on Samsung devices and unlike many default apps, Polaris Office is one you should think twice about before deleting.
It really is one of the best when it comes to editing documents on a smartphone.
While most businesses will focus on creating documents, presentations, and managing spreadsheets from the office, there is a growing number that would like this ability on their smartphone. And luckily it already exists with Polaris Office.
No other phone-based editor can match the usability of this brand.
Of course, it's no slouch when it comes to office use wither. Polaris Office comes with access to Word (word processor), Sheet (spreadsheets), Slide (presentation app), PDF (PDF editor), HWP, and ODT.
You can also easily edit any files created in Microsoft Office.
Benefits of Polaris Office
Works on Android, iOS, Windows, and Mac
The interface is familiar and simple to use
The Ui is customizable to match your personality
Price of Polaris Office
Smart plans start at $3.99 per month
Pro plans start at $5.99 per month
Business plans start at $7.99 per month per user
Free on Android
Does Every Business Need A Full Office Suite?
It really depends on the scope and nature of the business.
For instance, most retail stores or restaurants will surely need access to spreadsheets software like Excel to keep track of inventory. But they may not have a need for much else within an office suite, especially when starting out.
In fact, many of these industries might have specific software solutions that are better suited for their needs.
However, it is important to keep in mind that some of these products can get really expensive if individually purchased or they are not available separately. And that is by design.
Most premium office services want you to pay for the bundle.
Of course, if you have to write reports, create presentations for clients, and communicate with team members among other things, you probably will want those features anyway.
Don't Be Incompatible with Other Businesses or Customers
While there are many fantastic office suites to consider using, it is essential to pick one that will not interfere with customers accessing your files or makes it difficult for other businesses to work with you.
After all, if you have to convert files on a regular basis, it eats up your time.
A great way to get around these types of issues is to utilize the PDF format. PDFs are the most popular file format in the world, and any office suite worth its salt has an option to create and import PDFs. However, this can still lead to problems when converted within certain software, so the industry standard is the best choice.
What office suite does your business utilize? Were you looking for a full Office Suite or a single piece of software?