Without a doubt, the Amazon Affiliate program is the most popular and profitable one available in WordPress. In fact, many websites have become dedicated Amazon affiliate stores. And as I'm sure you can imagine, a variety of dedicated WordPress Amazon plugins exist.
Today, we're going to discover which ones are the best WordPress Amazon plugins available.
What Is An Amazon Affiliate Plugin?
An Amazon affiliate plugin is any plugin that makes it easy to insert Amazon affiliate links and uses the Amazon API. And as you can imagine, this is a pretty broad spectrum of tools in WordPress.
Let's go over both of these factors.
Adding Amazon affiliate links is no different than adding any other type of affiliate link in WordPress. Many of these plugins allow you to get affiliate links without leaving your website, which can save a lot of time and frustration.
However, the most important part is the Amazon API. This will allow your storefront to connect with Amazon to ensure you display the latest price information. And this is absolutely essential because displaying incorrect pricing is against the affiliate plan rules.
In fact, you could even be removed from the program for doing this. And Amazon doesn't make it easy either, as they are constantly updating their prices. Thus, unless you are ready to manually change prices 24/7, you need the API.
Of course, there are a variety of plugins that do a lot more than these two basic features. Some might even lack these but work well with others that do.
A Quick Note On the Affiliate Program
If you are new to the Amazon affiliate program or are considering joining it, there is a very important rule to keep in mind.
You must make three sales within 180 days of signing up to be eligible for approval. Once the third sale is made, Amazon will review your website, in which it will either approve it, reject it, or tell you to fix something.
Until your website is approved, you will not have access to the official Amazon affiliate API. This will severely limit your ability to use some of these plugins that require the API to function. Thus, until you are actually in the program, your plugin selection will be limited.
Even if you are approved by Amazon, it can still take several weeks to receive the API access.
1. AAWP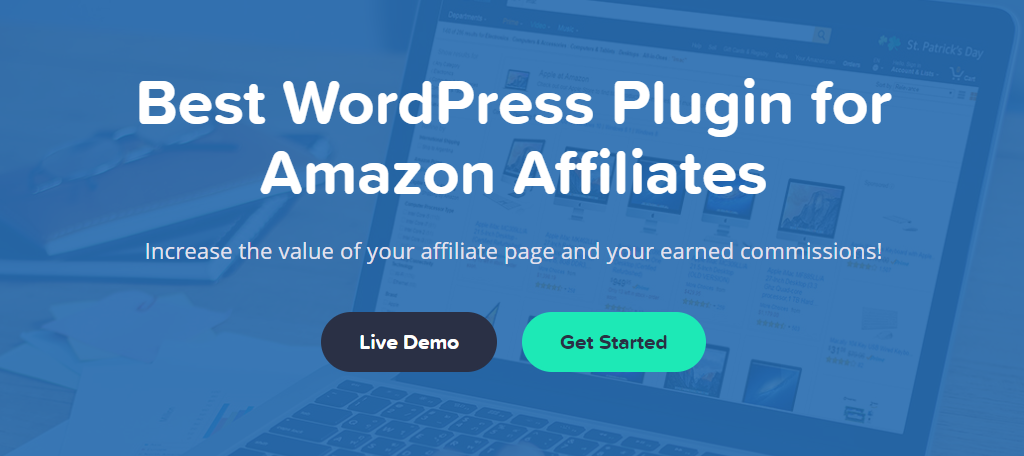 AAWP is the all-in-one Amazon affiliate plugin solution that deserves the top spot. It does everything an affiliate plugin for Amazon needs, and in most cases, you would need multiple plugins to get the same functionality as this one.
However, this level of excellence does come with a price tag, as this is a premium plugin. But, it is well worth the cost.
The most important factor in any of these plugins is the ability to automatically update product information. This includes everything from the description to the price tag and it requires zero input on your part. And that's exactly what you get with AAWP.
It also excels at creating lists in WordPress. For instance, you can create a list of the best-selling products for a certain category or list the most recent additions with all of the relevant product information ready to go. This is a great way to introduce visitors to new products.
2. AzonPress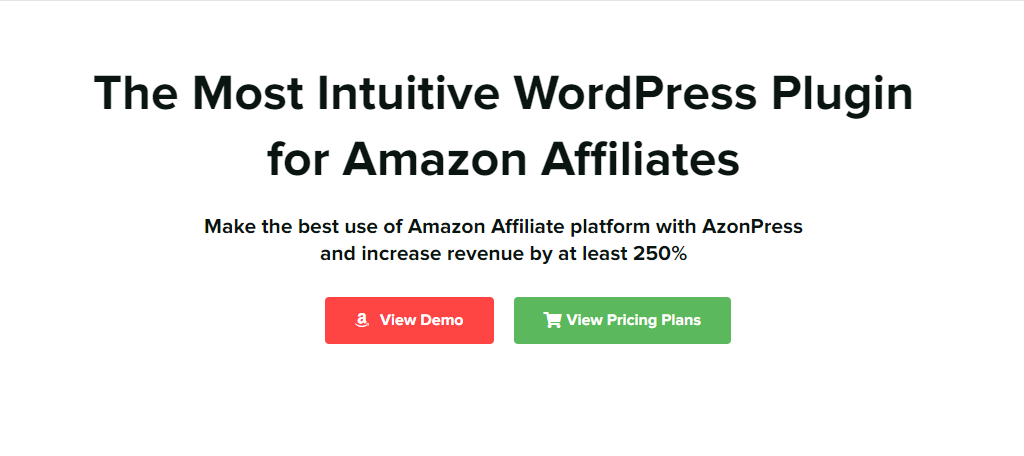 AzonPress is another all-in-one solution for the Amazon affiliate program. In fact, it works very similarly to AAWP, but offers a few unique features and is at a more affordable price point.
And it proudly states it can increase your Amazon affiliate revenue by 250%! Talk about confidence.
One of the key features this plugin offers is its ability to create product comparisons. With it, you can create a one-to-one product comparison to help visitors find out which product best fits their needs. You can also do a more traditional product comparison table.
You can take this a step further by adding a "best pick" display on the product. This is essentially the product you are recommending in the comparison and it's a very powerful addition. It can help drive your traffic to a specific product.
3. WooCommerce Amazon Affiliates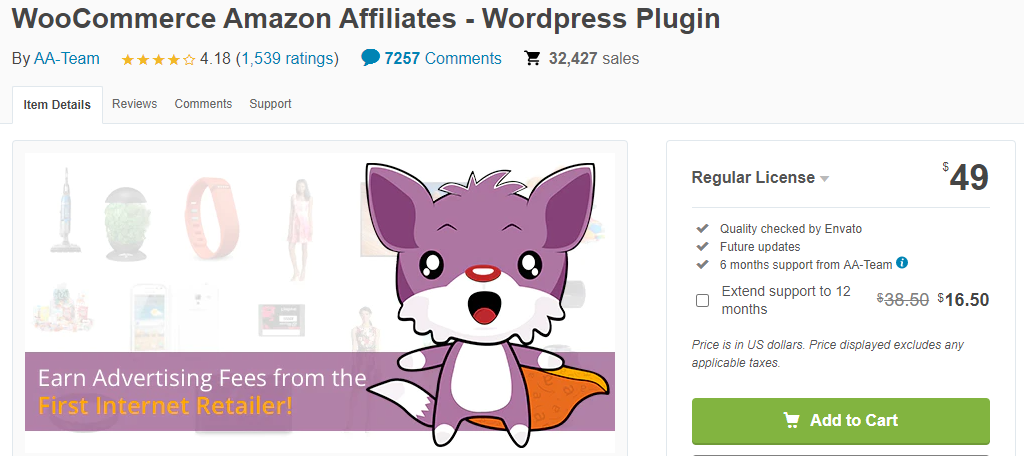 WooComerce Amazon Affiliates is one of the best Amazon dropshipping plugins available for WordPress. And as the name suggests it fully integrates with any existing WooCommerce store on WordPress.
It is important to point out that you do not need access to the Amazon API keys.
In fact, this plugin was specifically created to get around that requirement. The goal is to help website owners set up their pages for Amazon affiliates from the get-go. After all, it's very likely that you will not make a sale on a new website for some time.
If you are located in the United States, you can get access to an associate's report. In it, you can view the number of clicks a product receives, the number of products shipped, and how much affiliate revenue you are generating.
4. AAPro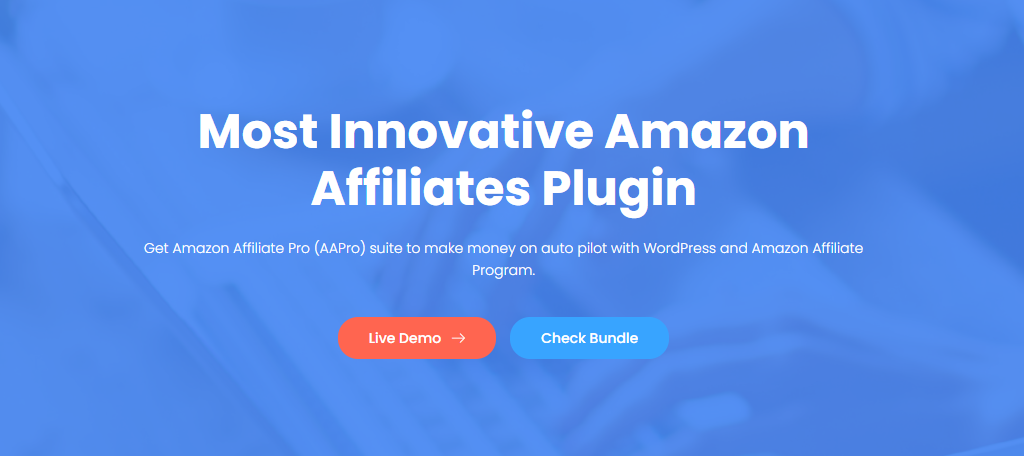 AAPro is a great choice for websites that want to add Amazon products to their WooCommerce store. This allows visitors to search for products in your store, then check out on Amazon, which allows you to collect that affiliate money.
It has a variety of features that help improve the shopping experience.
One of the most essential is the ability to directly add a product to the customer's Amazon shopping cart from your website. This ensures that the checkout process is very smooth. It also enables customers to pick out multiple products from your site at once.
You can likewise enable price alerts. Amazon is famous for lowering its prices whenever possible. Every time a price is lowered, customers can opt-in for price alerts to make sure they get the best deals.
And once again, this is all done on your website, not Amazon.
5. Amazon Auto Links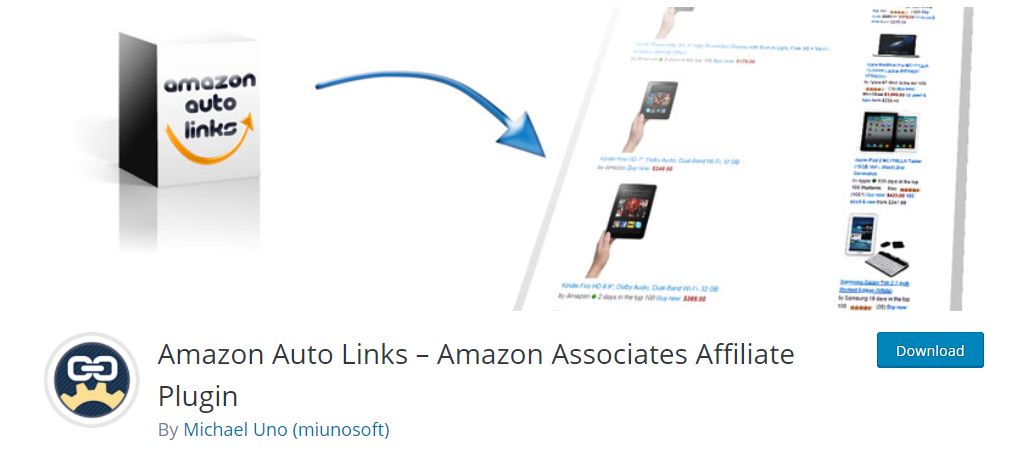 Amazon Auto Links is a free plugin that allows you to display Amazon products in WordPress. And it cuts out a lot of the work by automating a large portion of the process. It's as simple as picking a category and the best products will appear.
Just keep in mind that this plugin only works if you have access to the Amazon API.
And this is because the API keeps all of your products up to date and allows you to pull all of the products from Amazon to WordPress. It's actually one of the simplest ways to set up an Amazon affiliate store from a WordPress website.
It also offers geotargeting for all links. This means that all affiliate links will be converted to links in their country. For instance, Amazon.com in the US versus Amazon.co.uk for the UK. It's perfect for websites with international traffic.
6. AffiliateX
Some website owners might just want to add an Amazon product into a post and the AffiliateX plugin is perfect for the job. This is particularly useful for review sites that might want a link to the product they review for some extra income.
This is all accomplished by using the AffiliateX blocks in Gutenberg.
Simply add the Single Product block to the desired WordPress post and you can display any product from amazon. You can take this to the next level by using some of the other blocks as well. For instance, you can use the Pros and Cons block to list…well pros and cons.
You have complete freedom on where you can place the block, but in most cases, people will opt for the bottom or top of the post. In my opinion, the bottom of the page is preferable for reviews because they can read your content and then decide if they want it.
7. Zonify
Zonify was developed as a WooCommerce add-on to help earn amazon affiliate commissions and run a drop shipping business. It makes importing any product from Amazon to your WooCommerce store a breeze.
Of course, if the focus is just on Amazon Affiliates, this plugin is a great choice.
Once you choose Amazon Affiliates from the plugin menu, it will replace any product you import "But It Now" button with a "View It On Amazon" button. This will give you the full commission from Amazon when a purchase is made.
Thus, it works even if you don't have your own WooCommerce store in place. Just keep in mind that this is a paid service. There is a free trial, but as soon as it ends you will be billed accordingly.
8. Amazon Link Engine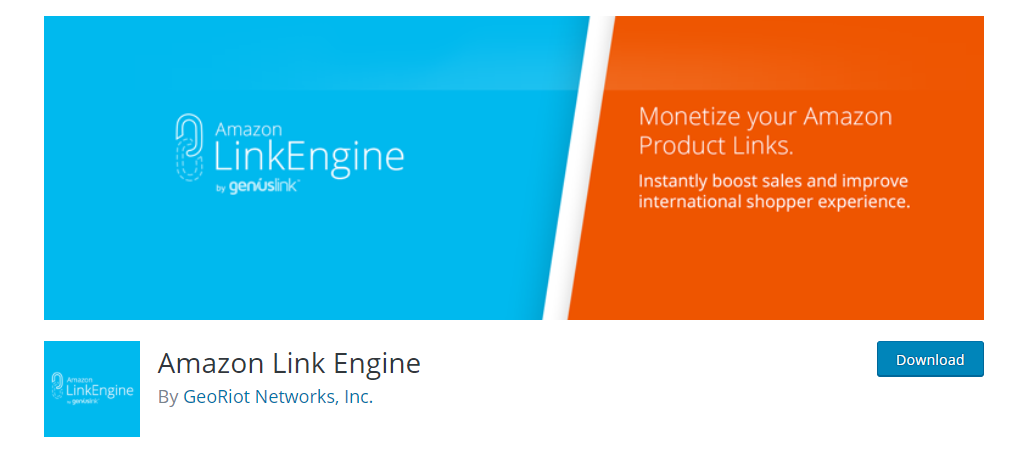 Amazon Link Engine is a terrific tool for international websites that want to cash in on affiliate deals around the world. Upon activation, the plugin automatically converts all affiliate links to the visitor's country.
That's right, you actually don't have to do anything to get this plugin working.
Most importantly, this can save you a lot of time. Trying to figure out an international link can take up a lot of time, especially for hundreds of products. With this plugin installed, you just need to add the link from your country and it will appear correctly for each visitor.
It's worth noting that to actually earn affiliate commissions, you must set up a Geniuslinks account. Without it, the plugin will not allow you to earn commissions. Luckily, it's very simple to sign up.
9. AMALinks Pro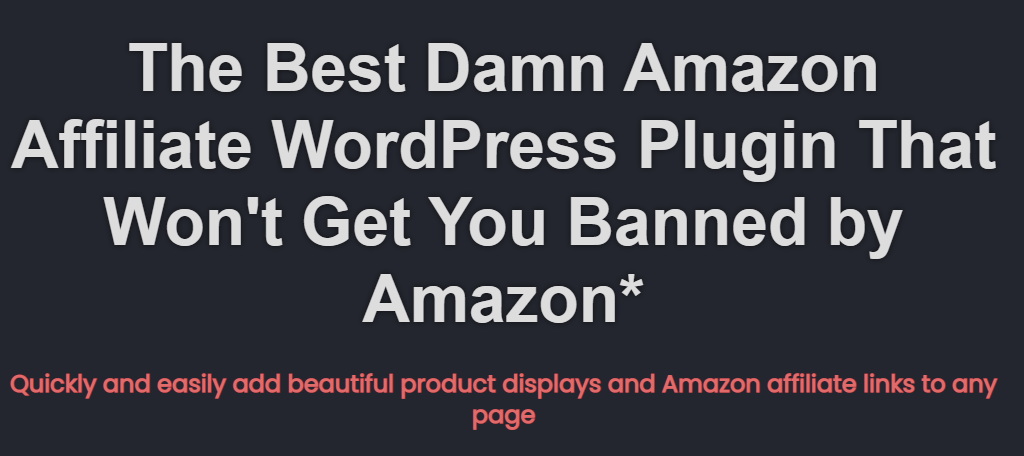 AMALinks Pro is one of the best premium plugins for adding amazon affiliate links in WordPress. It also adds a variety of useful premium features to make the process more streamlined.
For instance, it includes beautiful Call to Action (CTA) buttons like "But on Amazon" that are customizable.
One of the main staples of this plugin is the professional quality it presents to visitors. Seriously, everything you can add with this plugin looks amazing and that adds to your website's trustworthiness.
Let's face it, if your website looks shady, most people will not put their personal information in, let alone click on links.
10. Affiliate Super Assistent
When it comes to the best WordPress Amazon plugins, the Affiliate Super Assistent plugin is one of the best options. This plugin utilizes shortcodes to add affiliate links throughout your website.
All you'll actually need to do is enter the Amazon API, which allows you to insert products.
You'll also gain access to multiple product templates you can use to display the products on your website. It's a great tool that can fit into just about any website seamlessly.
Do I Really Need WordPress Amazon Plugins?
If you plan to heavily use the Amazon affiliate program, I strongly suggest getting a dedicated plugin.
These plugins can reduce the amount of work you need to do significantly. They also ensure more accuracy in your product information, assuming they utilize the Amazon API, which is a massive benefit.
That said, not every website is going to be using Amazon to the same extent.
If your website just plans to use an Amazon affiliate link here and there, you probably don't need a dedicated Amazon plugin, but that doesn't mean you shouldn't have an affiliate plugin. Affiliate links are very long and just look terrible.
That's why most websites use an affiliate plugin to clean up and shorten the affiliate links. This also helps them disguise affiliate links on their website and most of these will work with Amazon's affiliate program.
After all, it's the most popular one available.
Follow The Affiliate Guidelines
Amazon is very strict on its affiliate program. All affiliates must adhere to the guidelines and if they do not, it can result in your immediate expulsion.
One of the biggest issues developers have is shortening a link. While shortening a link by itself will not cause a problem, not mentioning that a link that goes to Amazon will violate the program rules.
To put it simply, Amazon does not want you to deceive your visitors.
Your language must be very clear and mention Amazon if you choose to shorten a link. In many cases, WordPress Amazon plugins will automatically do this for you, so you must make sure the appropriate language is in place.
Check the Amazon affiliate program for a full list of rules.
Not an Affiliate? Sign Up Today!
One of the best parts of the Amazon affiliate program is just how easy it is to get started. Just about any website owner can sign up for the program in a matter of minutes and start earning extra income.
As most veteran developers and bloggers are aware by now, affiliate programs can really help take your website's revenue to the next level. And it's never too late to start using affiliate links on your website.
Amazon is a name that customers love to hear and offers some of the fastest shipping around the world. Sign up today!
What's your favorite Amazon WordPress plugin? Do you think Amazon has the best affiliate program?