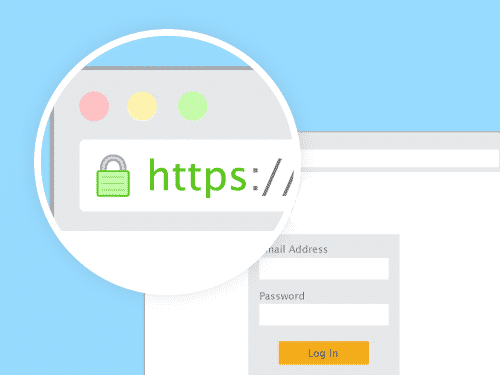 Update: Google announced on December 18, 2015 that they have begun to index HTTPS URLs by default. This means that if both an HTTP and HTTPS (the secured version of the url) are both available, they will automatically choose to index only the HTTPS version. This is the case even if inbound links point mainly or only to the HTTP version of the url. According to Google this is the next step in their "HTTPS everywhere" initiative.
It's not often that Google divulges any information about how it ranks websites on its search engine and usually leaves the process up to businesses and SEO experts to focus on creating quality websites. However, recently Google announced that the use of HTTPS on a website will be considered a ranking signal in their search algorithm. This will ultimately help the Internet become much safer and secure as webmasters work to take advantage of the search result benefits.
From Google: "Over the past few months we've been running tests taking into account whether sites use secure, encrypted connections as a signal in our search-ranking algorithms. We've seen positive results, so we're starting to use HTTPS as a ranking signal."
After introducing HTTPS by default on all its services such as Search, Gmail, Docs, etc as well as promoting the HTTPS Everywhere initiative, Google is encouraging stronger security once again by reviewing their algorithms to reward webmasters that are using SSL on their websites.
To sum it up, if your website is accessible via HTTPS, your website will rank higher on Google's search results.
What's SSL?
SSL also known as Secure Sockets Layer) is the standard security technology for establishing an encrypted link between a web server and a browser. This link ensures that all data passed between the web server and browsers remain private and integral. This is most commonly referred to as the "lock" on the browser. In order to enable HTTPS, your website will need an SSL certificate.
How can I get my website to be HTTPS?
Over the course of the next few months and into the future, the weight of the ranking signal in the search algorithms will increase. The announcement by Google will only speed up this effect. As a webmaster, there is no better time to obtain a SSL certificate for your website and to take advantage of the HTTPS ranking signal benefits along with the security benefits.
GreenGeeks makes it easy to obtain an SSL certificate for your website. You can also contact us at 1-877-326-7483 or use the live chat at the top of our website.