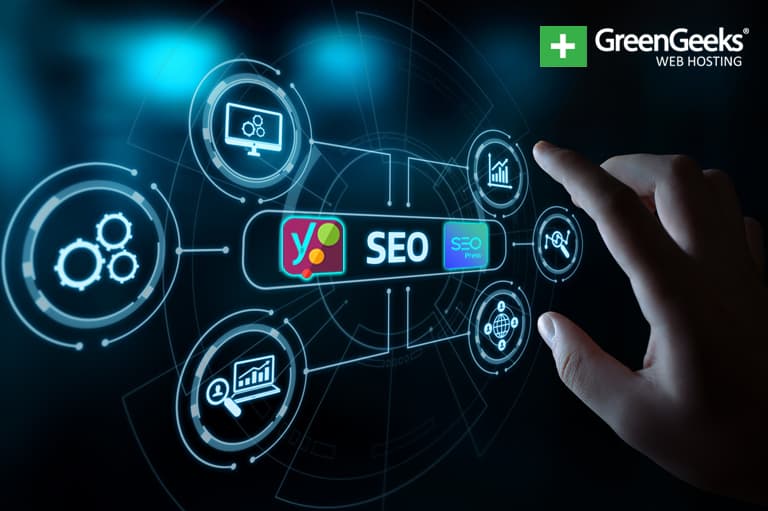 WordPress SEO is an ongoing debate among many website owners. Most of the major SEO plugin options are constantly being updated and reconfigured. It can be tough to keep up good SEO practices with all the constant changes. With that being said, let's take a look at two WordPress SEO plugins and see which one may be better for optimizing your website.
What is SEO?
All major search engines like Google, Bing, and Yahoo have primary search results. These search results are where web pages and other content like videos or local listings are shown and ranked. Rankings are based on what the specific search engine feels is most relevant to users.
While there are specific things you can do to help get your pages and website to the first page of search results, algorithms are constantly changing and each search engine has a specific set of rules.
You want to always employ certain SEO strategies that will help you be successful. However, since SEO is always being updated and developed, it is also important that you have a solid WordPress SEO plugin at your disposal.
What is an SEO Plugin?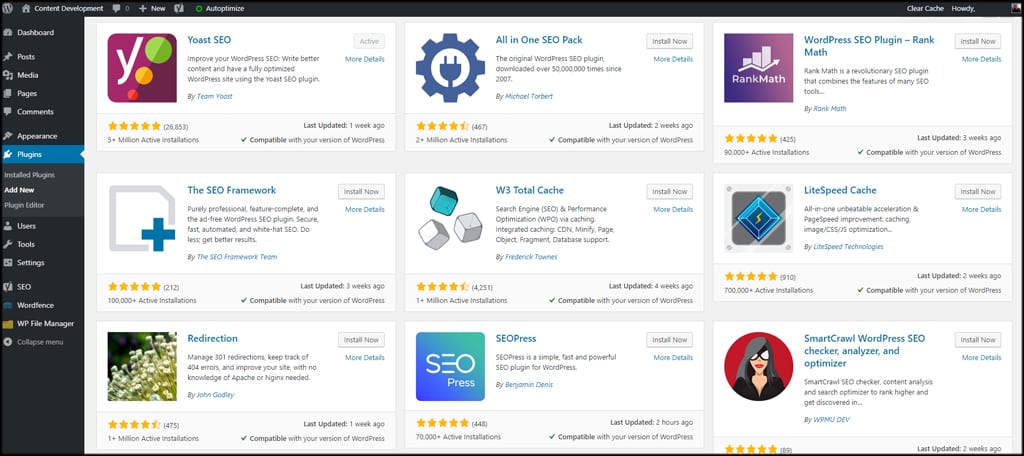 When you build and create using WordPress, you also have the luxury of using an SEO plugin to help you optimize your website the correct way for search engines.
There is no shortage of really good SEO plugins available for use. However, a few of the same ones always pop up in conversations. You have the big boy on the block, Yoast SEO, and then most of the other ones fall behind it.
This is, of course, depending on whom you talk to. While Yoast SEO is the most popular WordPress SEO plugin, there is always an ongoing debate about whether or not it is the best.
Recently, there has been a lot of chatter about being somewhat of a newcomer to the WordPress SEO plugin arena. This specific newcomer is called SEOPress. They claim to be a very simple, powerful, SEO plugin for WordPress.
They have started to get a lot of attention and the plugin now has 70,000 downloads and an overall 4.9/5 ranking on their WordPress plugin download page.
Let's take a look at SEOPress vs Yoast SEO and see how they stack up against one another. We will detail both and then talk about some pros and cons.
SEOPress Plugin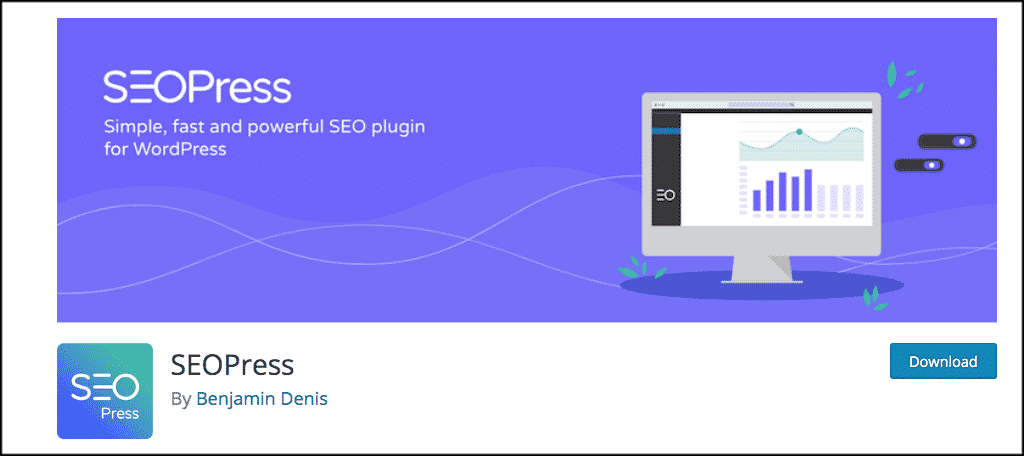 The SEOPress plugin is a powerful SEO tool that can be used to boost your website traffic, build custom HTML and XML Sitemaps, create optimized breadcrumbs, add schemas / Google Structured data types, and manage 301 redirects. However, that is just the beginning, as this plugin is absolutely packed full of options and functions.
Titles & Metas: The ability to Manage your titles, meta description, meta robots (noindex, nofollow, noodp, noimageindex, noarchive, nosnippet) for every post, page, custom post type, and archive page. The plugin leaves no stone unturned in this aspect.
Give a Sitemap to Google: You can vastly improve your search engine rankings by providing XML sitemaps of your posts, pages, custom post types, and terms taxonomy. This also works well for images, videos, and news content.
Improve Social Networking: Improve social networks sharing with Open Graph tags (Facebook and Pinterest), Twitter Card, Google Knowledge Graph and more. SEOPress allows you the ability to both get your site up in the rankings as well as get you better indexed and noticed on Social Media.
The SEOPress plugin also easily and beautifully integrates with all of the popular WordPress plugins and third-party apps including:
WPML
Easy Digital Downloads
WP Rocket
Google Analytics
Visual Composer
Divi
They have both a free version of the WordPress SEO plugin as well as a paid version. The free version allows you to set up a solid SEO structure base and you should be fine without paying for the pro version.
However, the price is low. So if you feel the need, go ahead and give the pro version of SEOPress a try.
Yoast SEO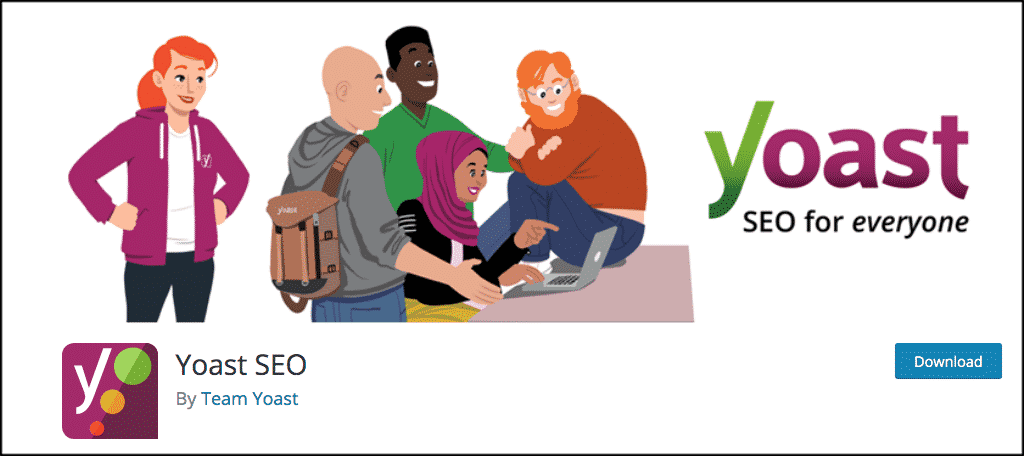 Yoast SEO is far and away the most popular WordPress SEO plugin. It has over 5 million active installations and the plugin offers a ton of functionality. The setup is not difficult, and the results speak for themselves if it is used correctly.
The main thing with Yoast is the difference between the free version and pro version. The pro version of the plugin gives you everything imaginable. However, you will definitely pay a higher price for it. Some of the functionality of the Yoast SEO plugin includes:
SEO & Readability Check: Yoast SEO will tell you exactly how to create content. A lot of this is based on scientific research on readability such as the Flesch Reading Ease score. The plugin helps you with all the things you need to turn both the SEO button and the Readability button green.
Always Updated for Google's Algorithm: As I mentioned above, search engine algorithms are constantly changing. Yoast SEO is also always updated for the latest changes being made.
Preview Your Page in Google: Yoast SEO allows you to fill out all the options and then view what your entire page will look like in Google before you publish it. It is a unique tool to have.
Furthermore, the plugin really covers anything you can possibly imagine when it comes to WordPress SEO best practices and how to implement them on a website. You will also enjoy other options like:
Keyword Optimization
Breadcrumb Control
No Duplicate Content
Internal Linking Suggestions
Content Insight
Works with Classic and Gutenberg Block Editor
Clean Permalinks
Google XML Sitemaps
Again, Yoast SEO has a pro version but you will definitely pay a higher price for it.
SEOPress vs Yoast SEO Comparisons
So, now that we have gone over a little regarding both plugins, let's take a look at some important comparisons. This will help you make a choice when it comes to SEOPress vs Yoast SEO and which plugin you may want to try.
Pricing: Both plugins have free versions. Or, $9 a month for SEOPress, $89 one time fee for Yoast SEO.
Domain Usage: SEOP gives you use on unlimited domains for one price. Yoast has a fee structure that charges you per domain. While they are one-time fees, they can definitely add up.
Keyword Optimization: Yoast allows you to optimize for one keyword in the free version. SEOP analyzes your content for multiple keywords, even of those keywords that are different.
Meta Settings: Any good WordPress SEO plugin will have solid meta settings. Both of these plugins give you a ton of options and abilities in this regard. You are good to go either way.
Social Media Integration: Neither plugin provides direct social sharing buttons. However, both will allow you to see a preview of how your posts may look when shared on certain social platforms.
Content Analysis: Both of the plugins offer unique features when it comes to content analysis. With that being said, content analysis is a complex topic anyway, so both do their best to provide tools. Yoast has the readability check based on the Flesch Reading Ease score. SEOP goes further and gives you latent semantic indexing. This basically shows you how Google identifies similar phrases and keywords without needing to use a specific phrase.
Technical Details: Both plugins cover basics like your robots.txt file, your .htaccess file, and your permalink structure. They will also both generate XML sitemaps. Which you can then submit to Google for fast indexing and full site coverage.
Linking & Link Management: Yoast provides basic WordPress ability to nofollow links. SEOPress allows for full nofollow management. However, internal linking is where the importance really lies. The free version of Yoast does not include any additional features for internal links. The pro version does. SEOPress includes "smart linking" and a smart link manager.
Updates & Support: Support and updates are critical for this type of plugin. The free version of Yoast is frequently updated, but the support is very lacking except for their FAQ page. However, the pro version of Yoast SEO includes around the clock support via email. SEOPress updates all the time as well, but they are not on a regular schedule. This is to say that just because Google updates something does not mean SEOP will at the same time. You do get priority support though if you are paying for the plugin.
How to Install and Use an SEO Plugin
The concept of installing and activating a WordPress Seo plugin is the same as it would be for any other.
In this example, we will quickly install and activate SEOPress. However, you can perform the same steps for Yoast SEO.
Go to the Plugins page in your WordPress admin dashboard and search for the WordPress SEO plugin you want to install and activate.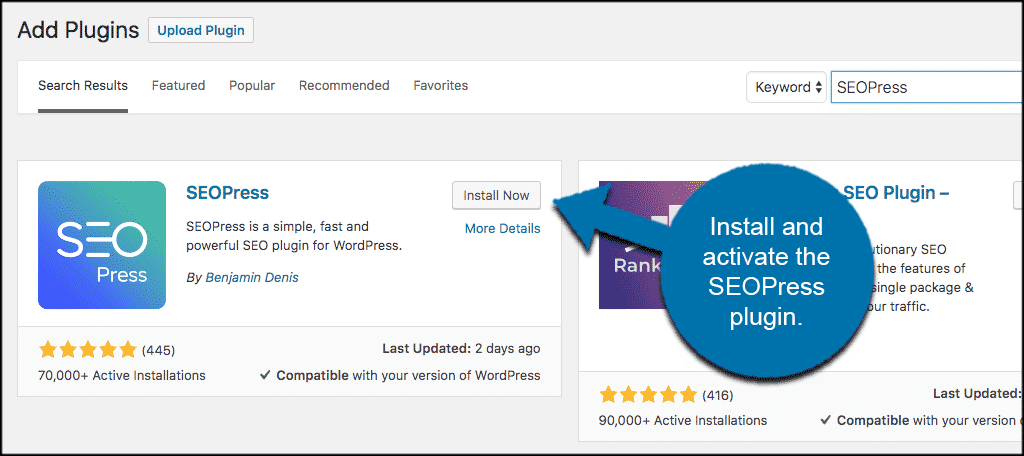 Once the plugin has been installed and activated, click on SEO > Dashboard. You will see it in the left side menu of your admin area.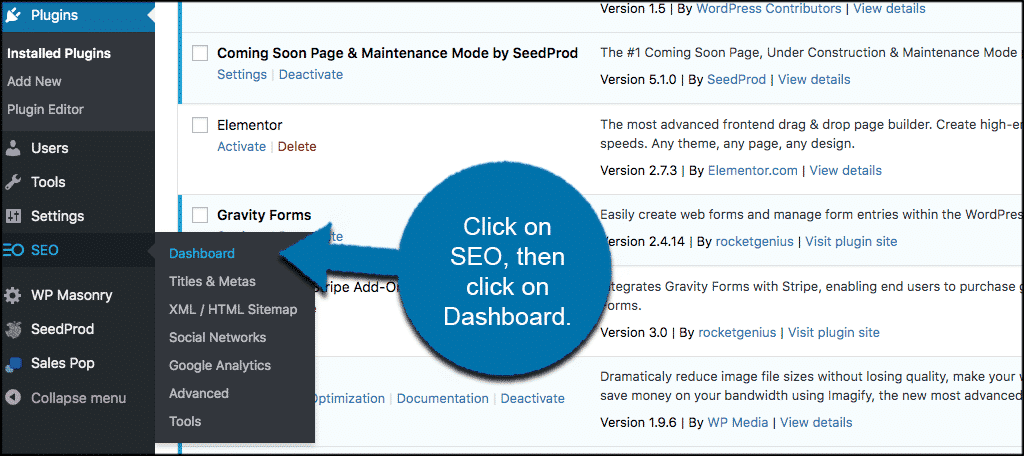 From there you can go through and set up the WordPress SEO plugin however you see fit.
If you installed Yoast SEO instead, then go ahead and do the full configuration of the plugin and see how you like it.
Final Thoughts
WordPress SEO is extremely important if you want your website to rank properly in all the top search engines. Luckily, there are several really good SEO plugins for WordPress that can help you more easily manage this aspect of your website.
Using all the information above properly will allow you to make a pretty educated decision on which WordPress SEO plugin is right for you.